Please note this post contains affiliate links.
Watermelon Feta Salad is the ideal last-minute recipe to whip up for your summer dinner table. The sweet juiciness of the watermelon paired with creamy, salty feta makes this a truly memorable recipe. With a burst of fresh basil, mint, and a simple dressing, it's simple to whip up and is always a crowd-pleaser!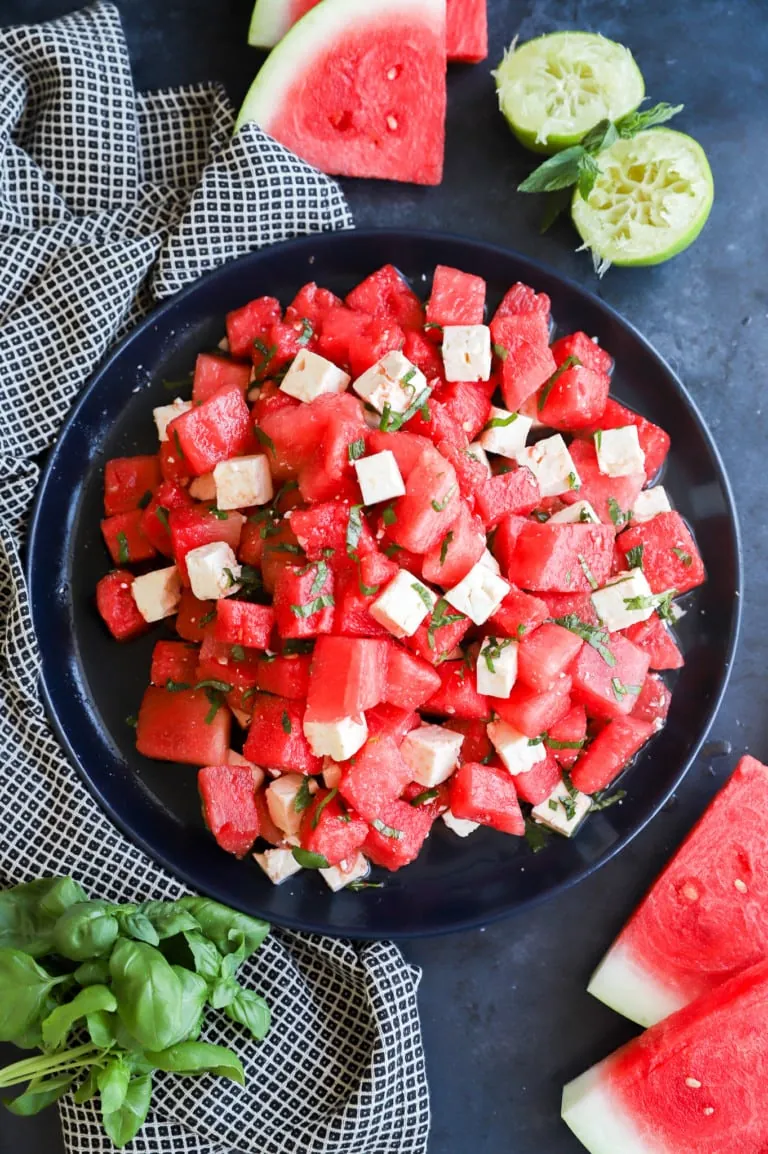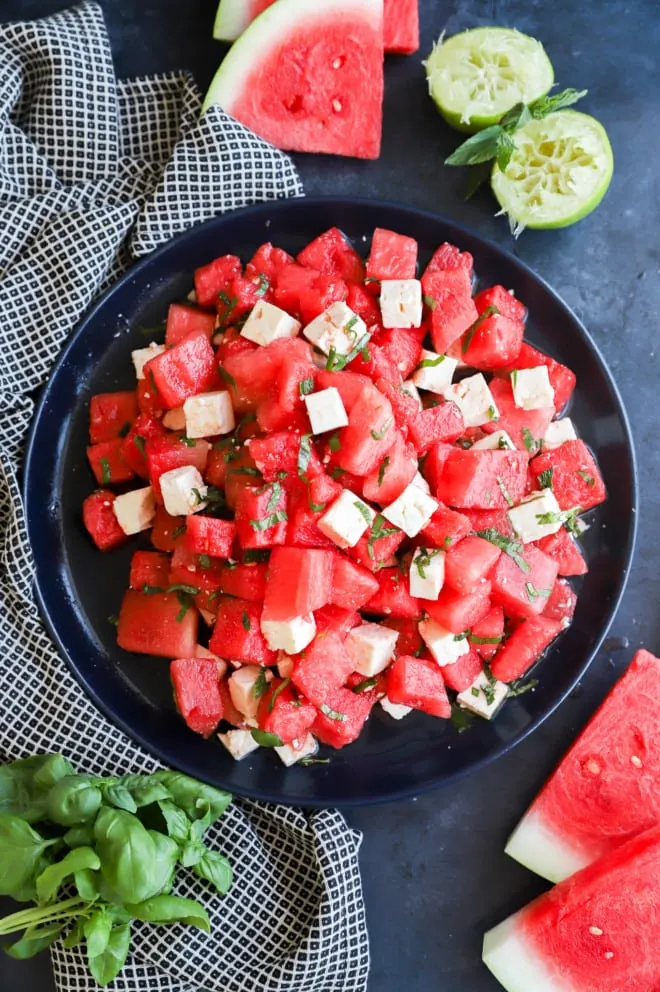 about this watermelon feta salad
Watermelon is the ultimate sign of summer, therefore it's a must for my summer gatherings no matter how big or small.
When I think of watermelon, I'm hit with a wave of nostalgia. All I can think about are childhood summers spent working the lemonade stand with my friends on the corner of the cul de sac or sitting by the pool as we anxiously awaited the "adult swim time" to be officially over. During all those flashbacks, I distinctly remember the flavor of fresh watermelon and the feeling of the sweet juice dribbling down my chin.
While the fruit is perfection on its own, sometimes you want something a little different to serve as a side to all those meaty main dishes coming off the hot grill.
This refreshing watermelon feta salad is in a league of its own. The natural sweetness of watermelon when pair with salty feta and fresh basil and mint is tangy, simple, and irresistible.
If you haven't had watermelon combined with feta yet, you are truly missing out. It's kind of like adding salt to pieces of watermelon (again, if you haven't done that, be sure to try that too!). The saltiness brings out the sweetness of the watermelon in a whole new way. However, feta is superior in my book because you also get the creamy element that contrasts with the crunch of the fresh fruit.
The simplicity of the ingredients are what makes this salad really stand out. Each element shines through in its own way, making this four-ingredient salad an easy addition to any summer meal.
Plus, it comes together in mere minutes! It's the perfect last-minute option, particularly if you are short on time.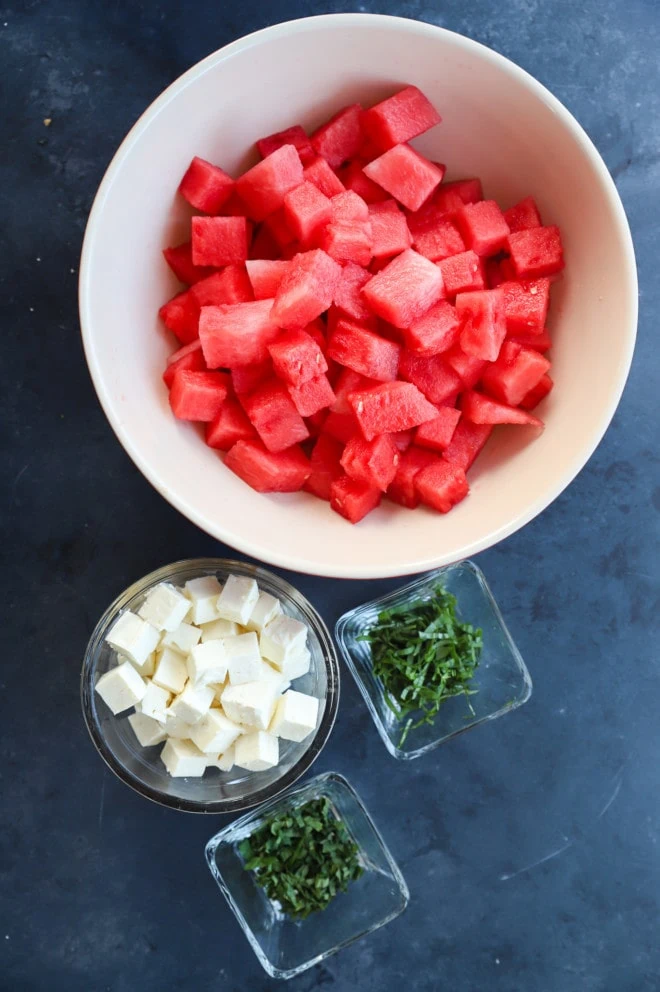 ingredients
watermelon. You will need a total of 6 cups of fresh watermelon chunks. I recommend using a seedless watermelon so you can avoid those giant chunky black seeds.
herbs. Fresh basil and fresh mint are the combination of herbs that I use for this salad.
feta. I prefer to use a block of feta (they come in 4 ounce blocks at the store generally) instead of crumbles. However, crumbled feta cheese will also work in the salad.
lime juice. Fresh lime juice is always best! If you need to, you can also use store bought lime juice.
vinegar. I like to use champagne vinegar here, but you could also use white wine vinegar.
honey. You can also use agave, if you prefer.
oil. Use extra-virgin olive oil for the dressing. I recommend using one that is higher quality as the dressing is made with limited ingredients, so the flavor will come through.
this recipe's must haves
You don't need much to make this salad. A couple of bowls from your set of mixing bowls is ideal for making the dressing and the salad.
To make the dressing, you will also need a whisk!
Finally, make sure you have your cutting board and chef's board ready to chop up the watermelon, basil, mint, and feta.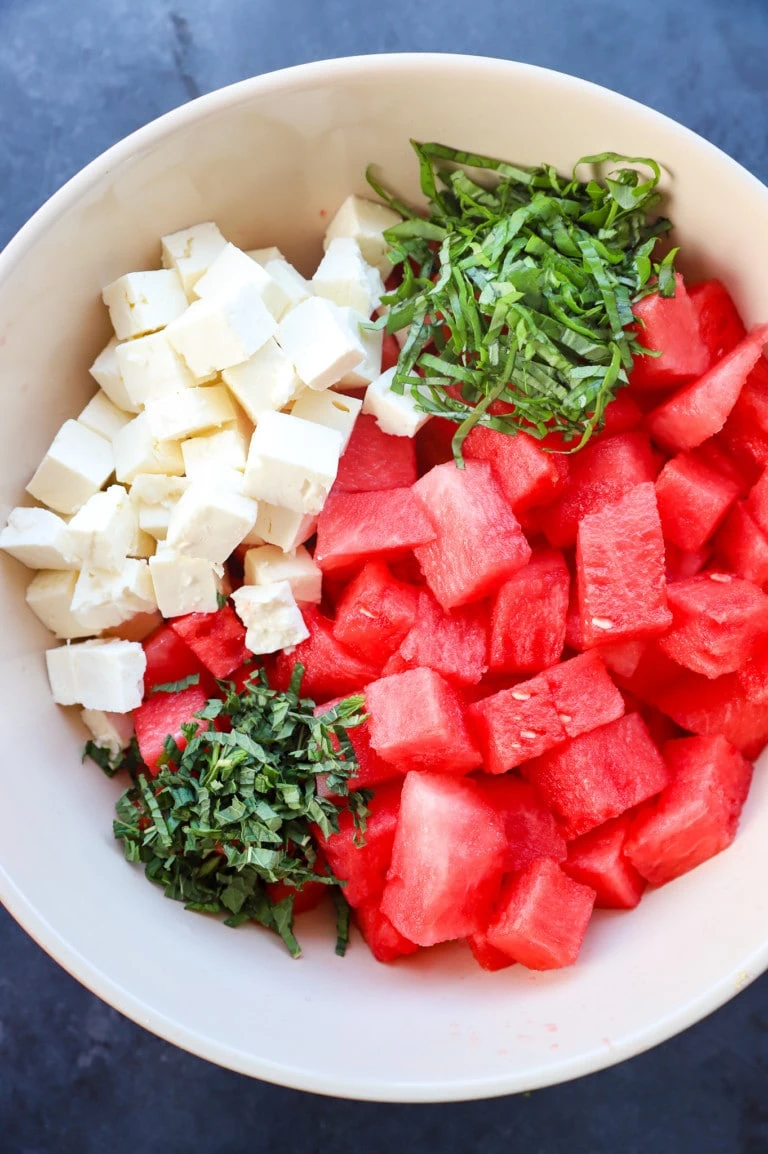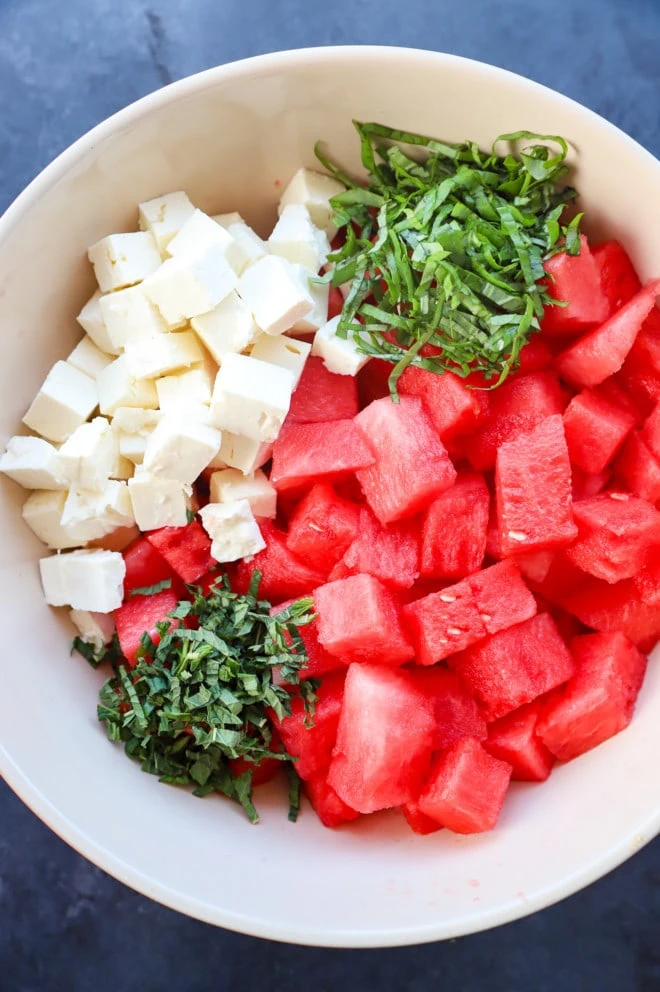 here's how to make watermelon feta salad
make dressing
In a small bowl, whisk together ingredients for the dressing. Set aside.
make salad
Add watermelon, basil, mint, and feta to a large bowl. Toss to combine gently. Pour over dressing and toss everything together to combine.
Season with a bit of salt and pepper to taste.
serve
You can serve this salad immediately, or you can cover it and store in the refrigerator for 1 hour before serving.
tips and ideas
prep ahead of time. I do not recommend prepping the entire salad ahead of time, but you can cut up the watermelon into chunks beforehand. Store in an airtight container in the refrigerator for up to 5 days. You can also store the dressing in an airtight container for up to 3 days before using. Then make the salad, just before serving.
add some heat. If you like a little heat in your refreshing salad, chop up a jalapeno or serrano pepper! Toss it in with the salad for a little extra kick.
make it your own. Add in arugula if you want some greens. Sprinkle some nuts (like almonds or pistachios) for added crunch. Drizzle over some balsamic glaze for an added depth of flavor. This recipe is super easy to customize and enjoy any way you would like!
More tasty salad recipes to try: Burrata Caprese Salad | Melon Prosciutto Salad | Bacon Grilled Corn Salad | Mojo Steak Salad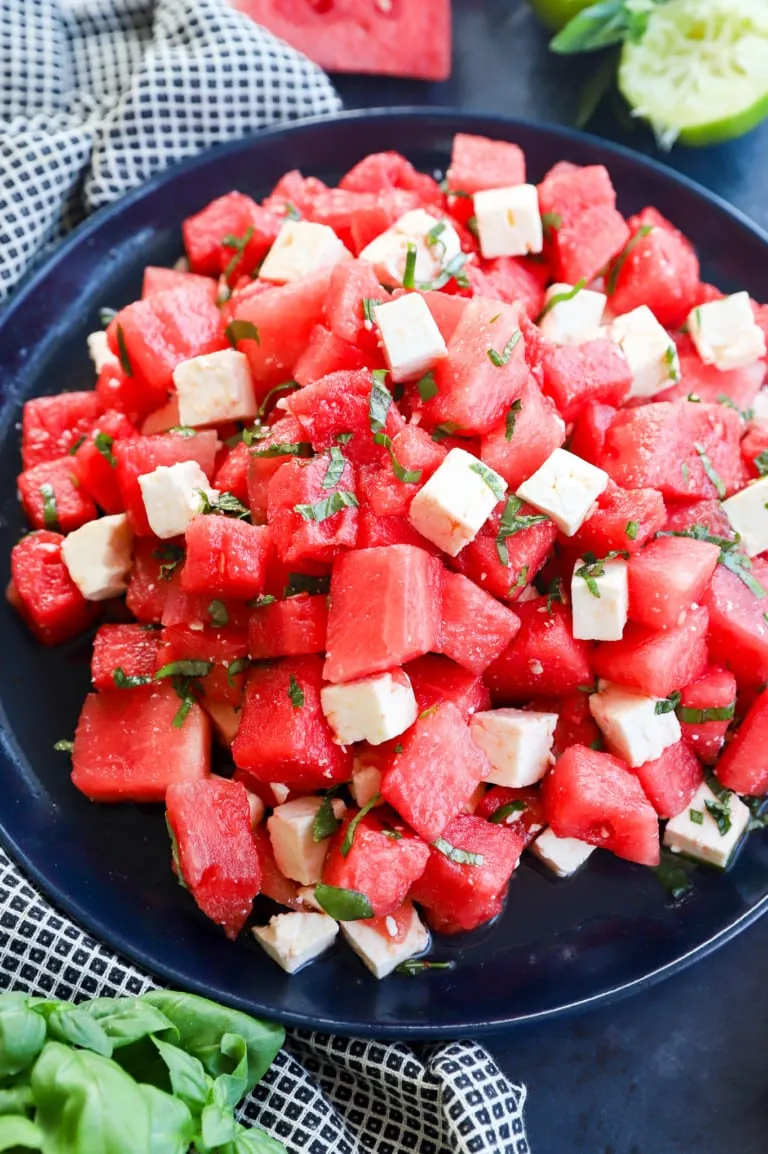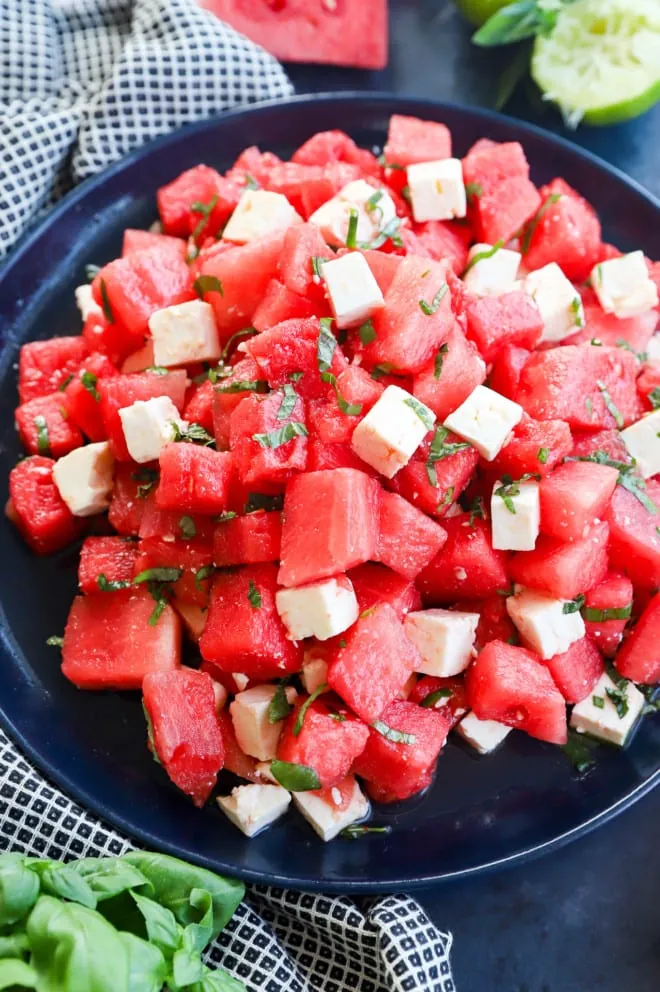 can I substitute feta cheese with another type of cheese?
If you cannot find a whole block of feta to cut into chunks, you can use crumbled feta instead if you need to. Personally I think the texture is best when you use whole feta, cut down into chunks.
You could also use halloumi, which is slightly softer and a little less crumbly than feta. It'll give you that same salty kick and a similar texture for the salad!
how do I select a ripe and sweet watermelon for the salad?
Selecting the ripest melon is easy! Pick up the watermelon and feel its weight. It should feel heavy for its size.
Give it a little knock on the exterior. Does it have a deep sound? That means it is ripe. An overripe melon sounds hollow or flat.
In addition, the watermelon should be a deep, uniform color. The green stripes should be a deep green. The yellow stripes should be creamy yellow or near orange. If the color is white or light yellow, choose a different one for better flavor.
Finally, all those dry spots and vein-like webbing that you sometimes see? This is an indicator that the melon is especially sweet. Don't pick one that is shiny and smooth!
Don't forget to always buy watermelon during its peak season! This is between May and September.
what dressing do I use for watermelon basil salad?
I use a honey lime dressing for this salad! The full recipe is included in the recipe card below. You will need lime juice, champagne vinegar (or white wine vinegar), honey (or agave), and extra-virgin olive oil. It's a simple and light dressing that really elevates the salad.
You can also simply squeeze over some fresh lime juice and drizzle a little olive oil over the salad. This is an easy way to enhance the flavors of the salad without making the dressing (just in case you don't have all of the ingredients on hand).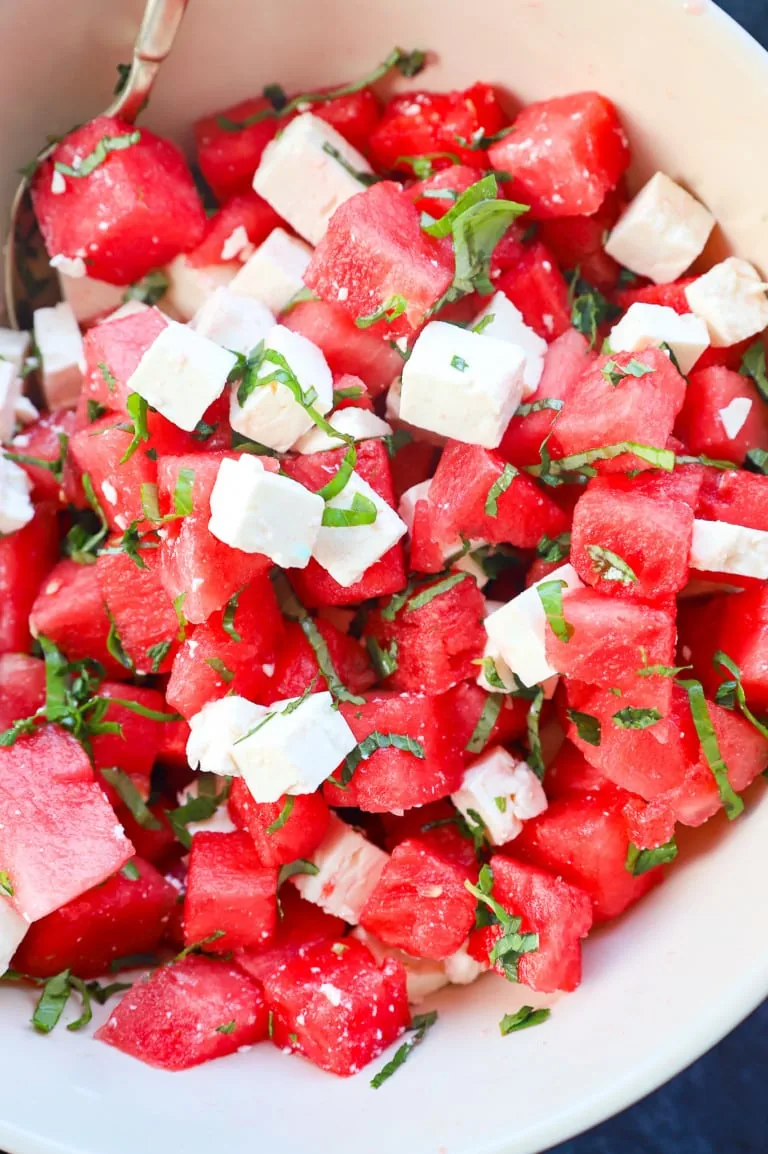 how long does watermelon feta salad last?
I highly recommend serving this watermelon feta salad as soon as you make it. The longer that it sits, the more opportunity for the watermelon to release its juices.
Leftovers can be stored for up to 2 days in an airtight container in the refrigerator. I recommend straining out any excess liquid that seeps out for optimal flavor.
can I add nuts or seeds for extra crunch?
You certainly can! The fresh watermelon already has a nice crunch to it, but if you are craving more texture, add in some nuts. Sliced or chopped almonds or chopped pistachios are my personal favorites for this salad. However, you could also add in some sunflower seeds too!
can I omit the cheese to make it vegan?
Yes you can! While this does take away some of the flavor, there is an alternate you can use. If you'd like, you can use firm tofu in the salad. I recommend pan searing it with some salt before chopping it into chunks and folding it into the salad.
Need more inspiration for summer recipes? Check out my summer recipes page!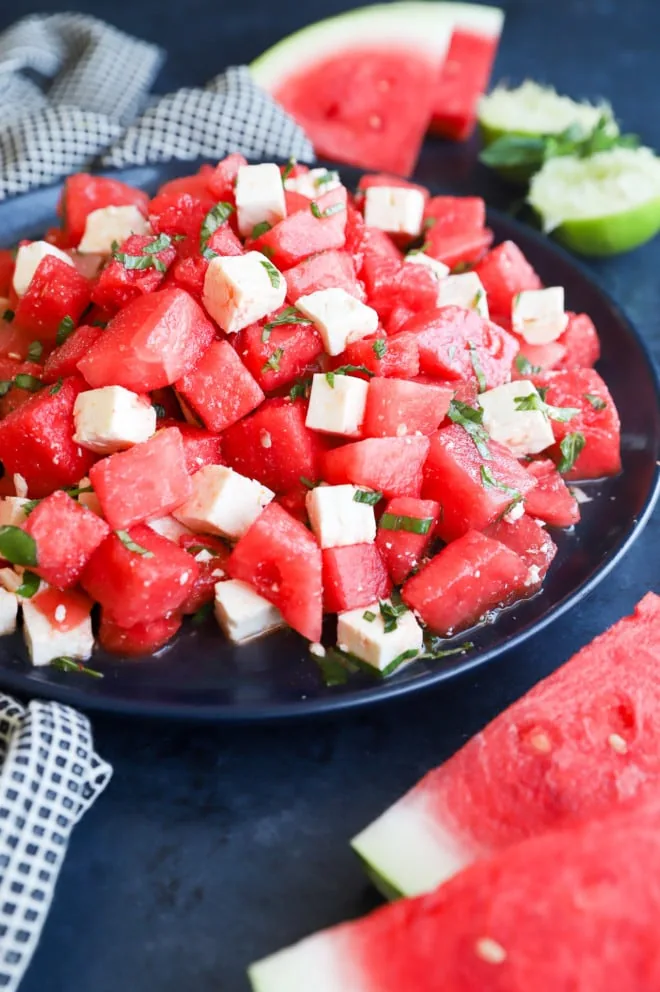 how to store
Store. If you have leftovers, store the salad in an airtight container for up to 2 days. Note that the watermelon will likely seep some additional liquid out. I just strain that out before dishing it up again.
more delicious watermelon recipes
If you love watermelon in your cocktails, be sure to try a watermelon gin cocktail or a watermelon vodka cocktail.
For those looking for a non-alcoholic option, sip on a watermelon lime agua fresca.
A melon prosciutto salad is another summery salad to have in your back pocket for a refreshing side.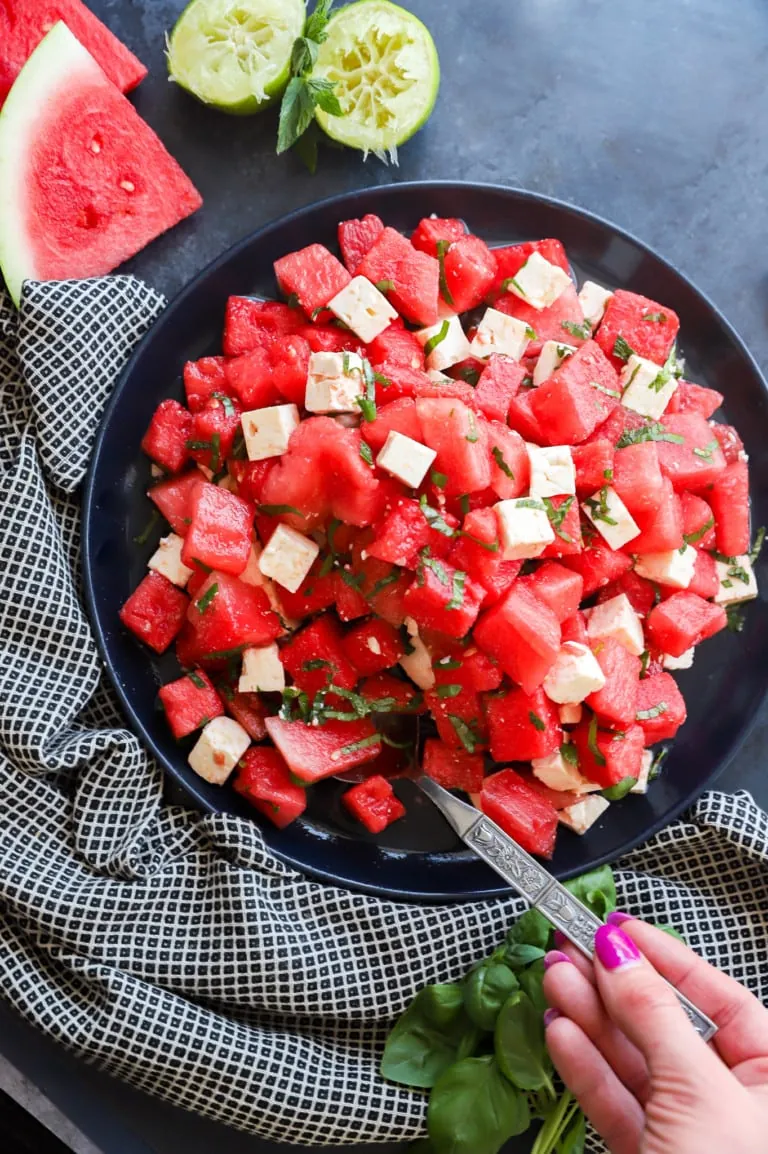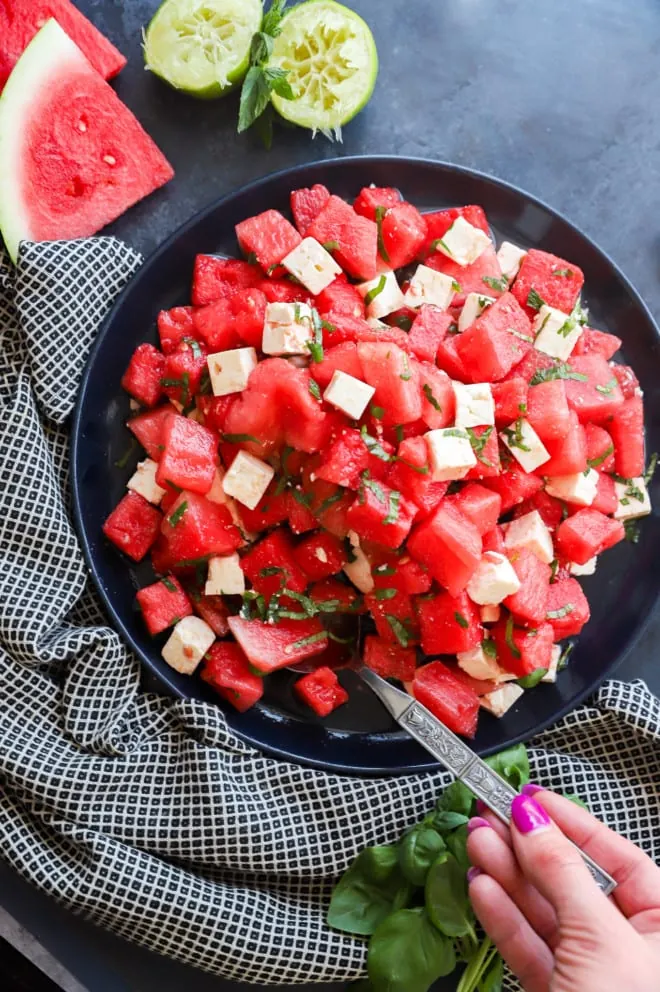 If you love all things watermelon, try some of these watermelon cocktails!
Finally, if you make this watermelon feta salad recipe, please be sure to give this recipe a rating and/or leave a comment! I love to hear when you all make recipes, and I do take the time to respond to every single comment.
Feel free to drop questions below too, if you have them!
Oh and be sure to tag me on Instagram if you make the recipe! I love being able to see these recipes come to life in your homes – it's my favorite thing to look through those photos. It really means the world to me!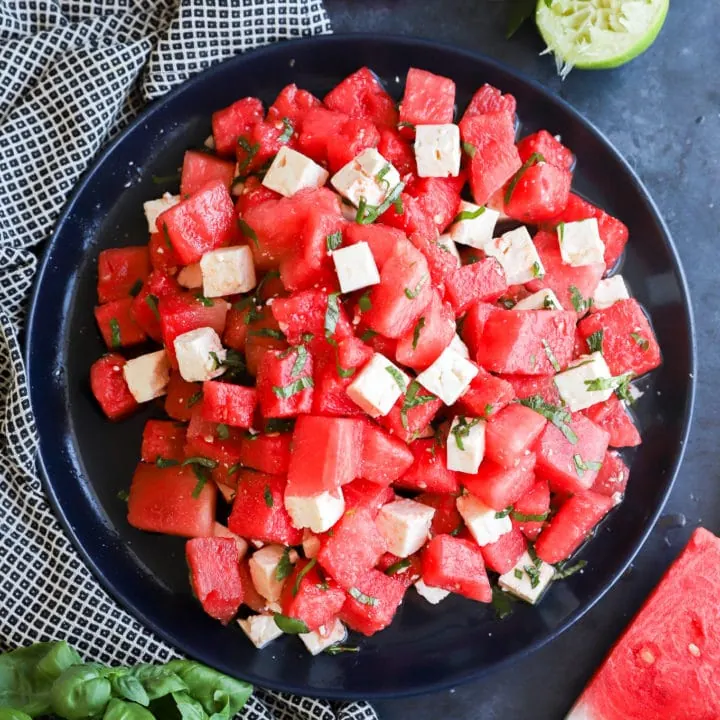 Watermelon Feta Salad
A refreshing summer salad that goes with any main dish!
Ingredients
dressing
2 Tbsp fresh lime juice
1 Tbsp champagne vinegar
1 1/2 Tbsp honey or agave
2 Tbsp extra-virgin olive oil
Salt and pepper, to taste
salad
6 cups seedless watermelon chunks (or balls)
1/4 cup fresh chiffonade basil (cut into thin strips)
2 Tbsp freshly chopped mint leaves
4 oz feta cheese, cut into chunks
Kosher salt
Freshly ground black pepper
Instructions
Whisk together ingredients for the dressing in a small bowl until combined. Taste and season with salt and pepper to taste. Set aside.
In a large bowl, combine watermelon, basil, mint, and feta. Stir gently to combine.
Pour dressing over the salad, tossing gently to combine.
Serve immediately. You can also cover it and place in the fridge for 1 hour before serving to let the flavors mingle.
Notes
If preparing ahead of time, the watermelon will leak excess juice the longer it sits. Be sure to strain out any excess juices before serving.
Recommended Products
As an Amazon Associate and member of other affiliate programs, I earn from qualifying purchases.