Please note this post contains affiliate links.
An Aperol Sour is a refreshing drink that combines the zesty tang of lemon juice with the unique bitterness of Aperol. The balance of flavors is the perfect way to enjoy a taste of Italian-inspired relaxation. Get ready to sip, savor, and enjoy!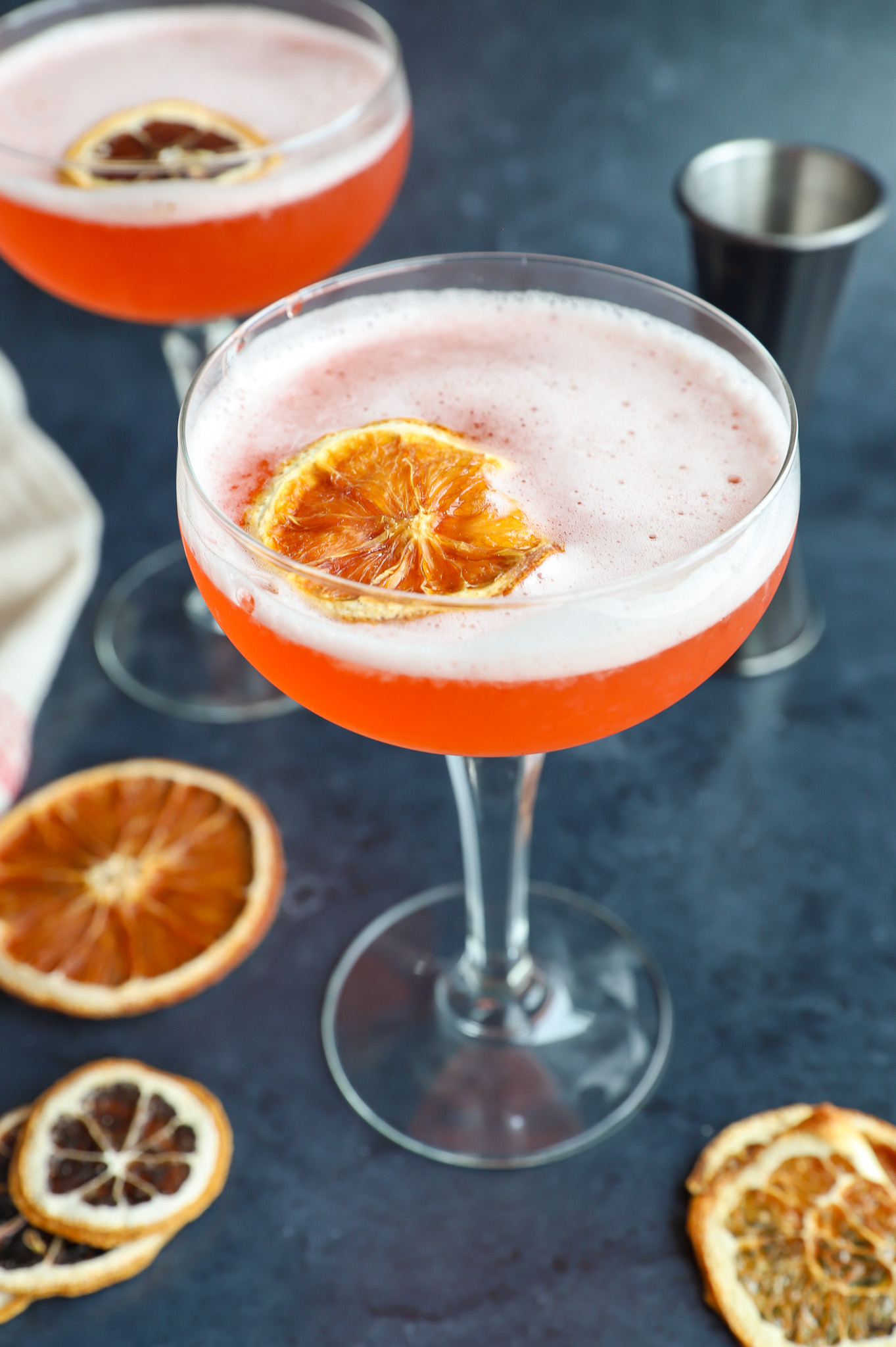 about this aperol sour
Meet your new favorite summery smooth cocktail!
This delightful concoction takes classic Aperol and gives it a sour twist that'll make your taste buds dance with joy. Seriously, this drink is like a summer breeze in a glass, with that perfect balance of zesty citrus and the unique bitterness of Aperol.
When you take that first sip, you get a refreshing kick from the tangy lemon juice as the signature flavor of Aperol comes in with it's bitter Italian flair. The pairing of the flavors is quite delicious and elegant, making it the ideal cocktail hour drink for a Friday night or a party.
Here's what makes this Aperol sour worth making:
It's unique. Aperol is already unique in its flavor, but when combined with lemon juice, the burst of acid really wakes up your taste buds.
It's balanced. Obviously this drink is going to be tart given the name "sour", but the balance of the bitter, sour, and sweet is what makes this drink so darn refreshing.
It's sophisticated. But without all the pomp and circumstance! It's strikes just the right balance between casual and sophisticated. You can easily whip it up any night of the week, but it also really wow's a crowd when you make it for a gathering.
The next time you're in the mood for a cocktail that's refreshing, zesty, and effortlessly cool, give this Aperol Sour a whirl. It's the perfect companion for those laid-back moments when you want to kick back, relax, and savor the simple pleasures of life.
what is aperol?
First created in the Aperol was first created in Italy in the 1900s. The Italian bitter apéritif has a low alcohol content of 11%. The recipe hasn't actually changed since it was first invented!
It is known for its flavor, made from both sweet and bitter oranges, rhubarb, gentian root, and cinchona bark. Of course, the secret recipe hasn't been totally revealed, but it's quite delicious and I love adding it cocktails.
what is a sour cocktail?
A sour is a traditional family of mixed drinks. They generally create a base liquor, lemon or lime juice, and a sweetener to balance it all out. Egg whites are also sometimes included, like this particular recipe!
These balanced cocktails are always a refreshing favorite, with difference combinations of citrus juices to pair with the liquor.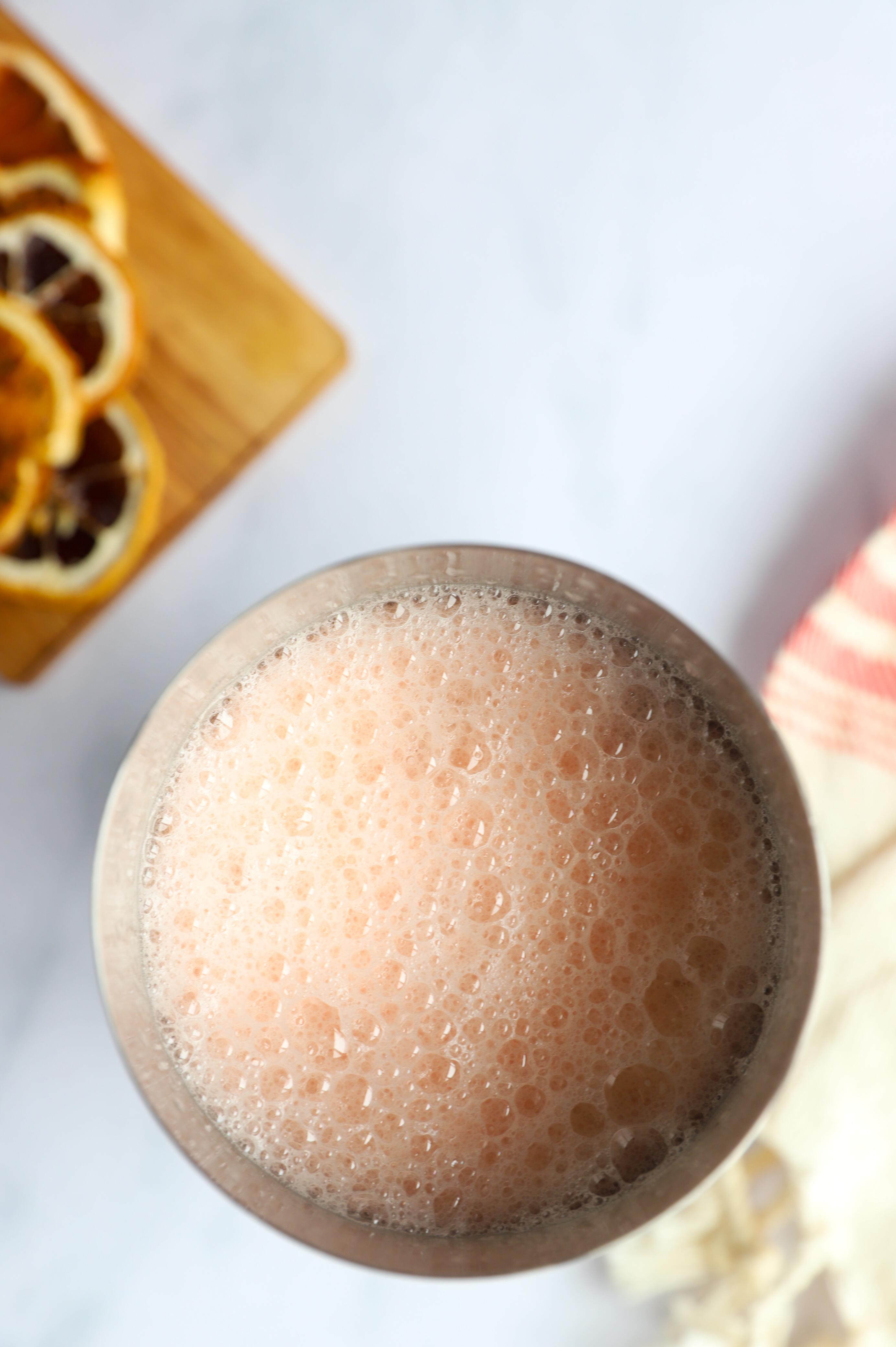 ingredients
aperol. The Italian apéritif is easily found at your local liquor store (or liquor section in the grocery store). The slightly bitter taste and vibrant orange color is what gives this cocktail it's color and signature flavor.
gin. Use a standard gin for this cocktail, whatever your favorite brand might be! I personally enjoy Hendricks Gin (especially their Neptunia Gin) and The Botanist. Empress 1908 is another one of my favorites, but it will change the color you see here since the gin is purple in color!
lemon juice. I always recommend fresh lemon juice because store-bought tends to taste a lot more sour, in my opinion at least.
simple syrup. While you can buy it at your local store (liquor or grocery!), I prefer to make it at home. All you need are equal parts water and sugar. I have a whole guide on how to make simple syrup on the site so you can get all your questions answered over there!
egg white. The egg white is what gives you the ideal texture in a sour cocktail! It also is what creates the foam layer on top of the drink as you can see in the photos.
this recipe's must haves
To make an aperol sour cocktail, you will need the standard barware. This includes a jigger to measure ingredients, a cocktail shaker (I'm a fan of the Boston style shaker) to create the cocktail, and a cocktail strainer to help pour it into the glasses.
I use coupe glasses for this cocktail, but you could also use a martini glass in a pinch.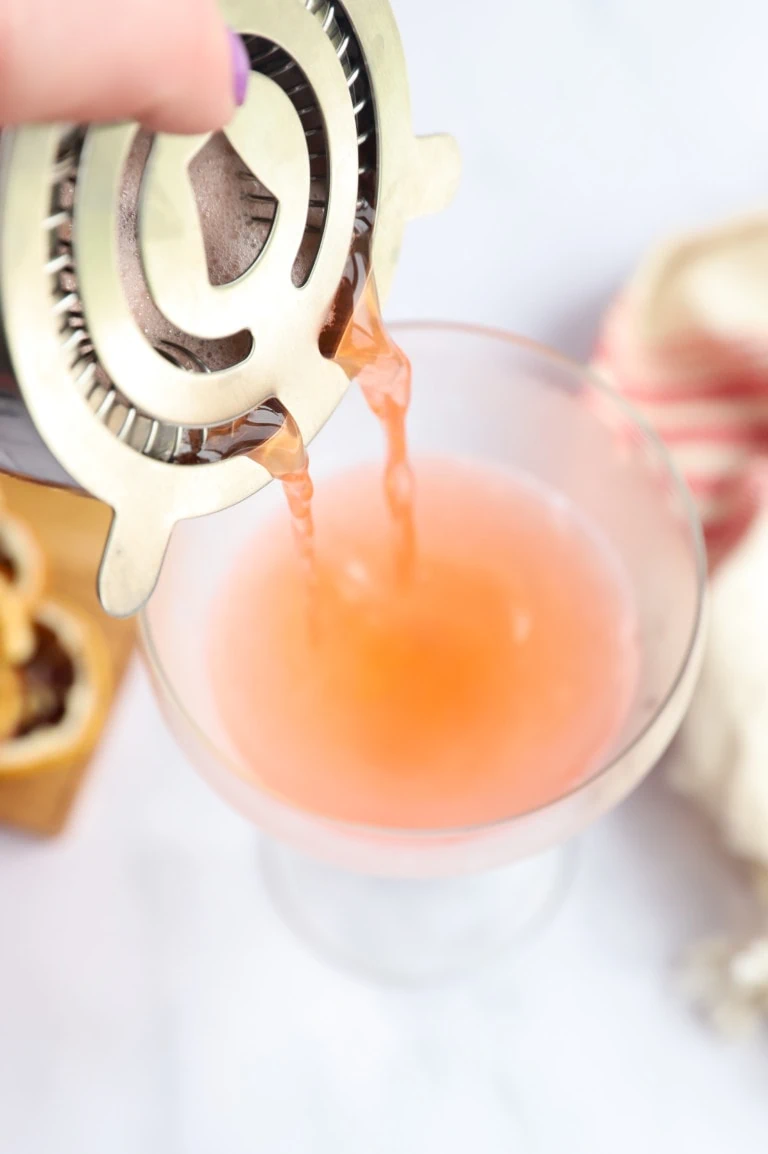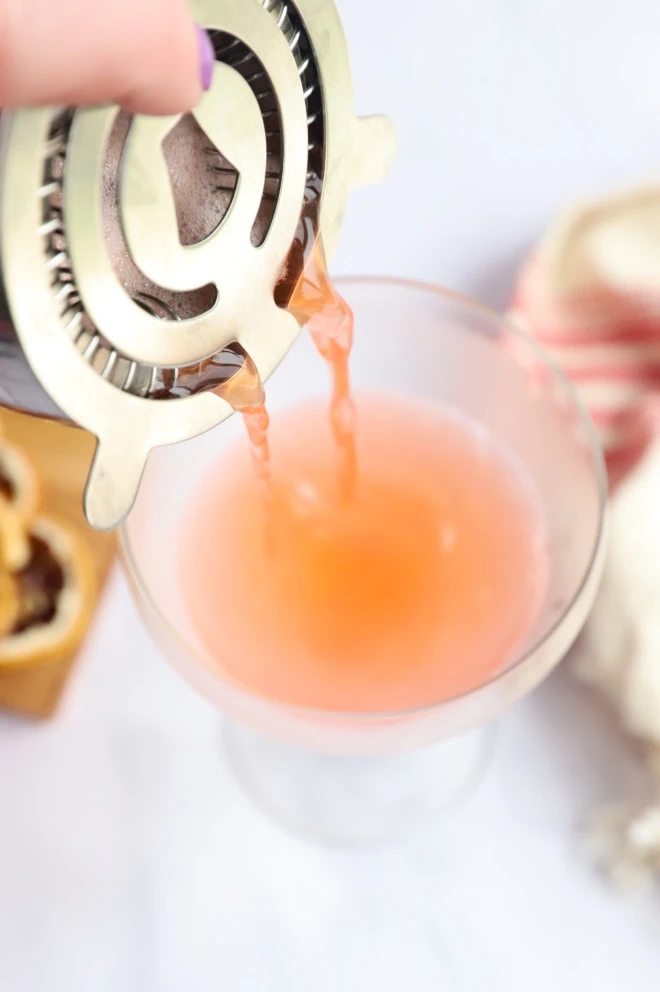 here's how to make an aperol sour
dry shake
Add Aperol, gin, lemon juice, simple syrup, and egg white to the cocktail shaker. Shake hard for 30 seconds to 1 minute, until the mixture is nice and frothy.
add ice
Add ice and shake to chill the mixture through.
strain
Strain into a chilled glass. You can use a spoon to scoop out any of the froth that doesn't make it through the strainer! The froth is my favorite part, so I like to get every single bit I can. Garnish and serve.
tips for success
use fresh citrus. Using fresh citrus is always best for the flavor of the cocktail! You can use store bought lemon juice, but freshly squeezed lemon juice is preferred.
don't have a cocktail shaker? You can always use a mason jar with a fitting lid to shake up the cocktail.
chill the cocktail glasses. If you want the ultimate cocktail experience, make sure to chill your cocktail glasses. This will keep the cocktail nice and cold as you sip. I like to simple place my glasses in the freezer for about 15 to 20 minutes. You can also fill the glasses with ice, make the cocktail, and dump the ice out before adding the cocktail to the glasses.
More tasty Italian-themed cocktails to make: Limoncello Spritz | Amaro Sour | Limoncello Martini | Pomegranate Negroni
is aperol bitter or sour?
Aperol has a bitter taste thanks to its complex flavor profile. It contains a combination of herbs, barks, and roots like rhubarb and gentian. With a lower alcohol content, it's light and refreshing, with just the right touch of bitterness.
do I have to use an egg white?
You can skip the egg white if you prefer! I always recommend it, because it is what gives the cocktail its smooth and velvety texture.
Simply omit the egg white for the cocktail. The texture of the drink will be difference and you won't get that creamy foam on top, but the flavors are all still there! You can just shake everything together with ice and skip the dry shake as well, if you prefer.
what is a dry shake?
A dry shake is when ingredients are shaken together in a cocktail shaker without ice. Essentially, any recipe that uses an egg white requires a dry shake. This is what helps the egg white get a nice, frothy texture!
Need more inspiration for cocktail hour? Check out my cocktail recipes page!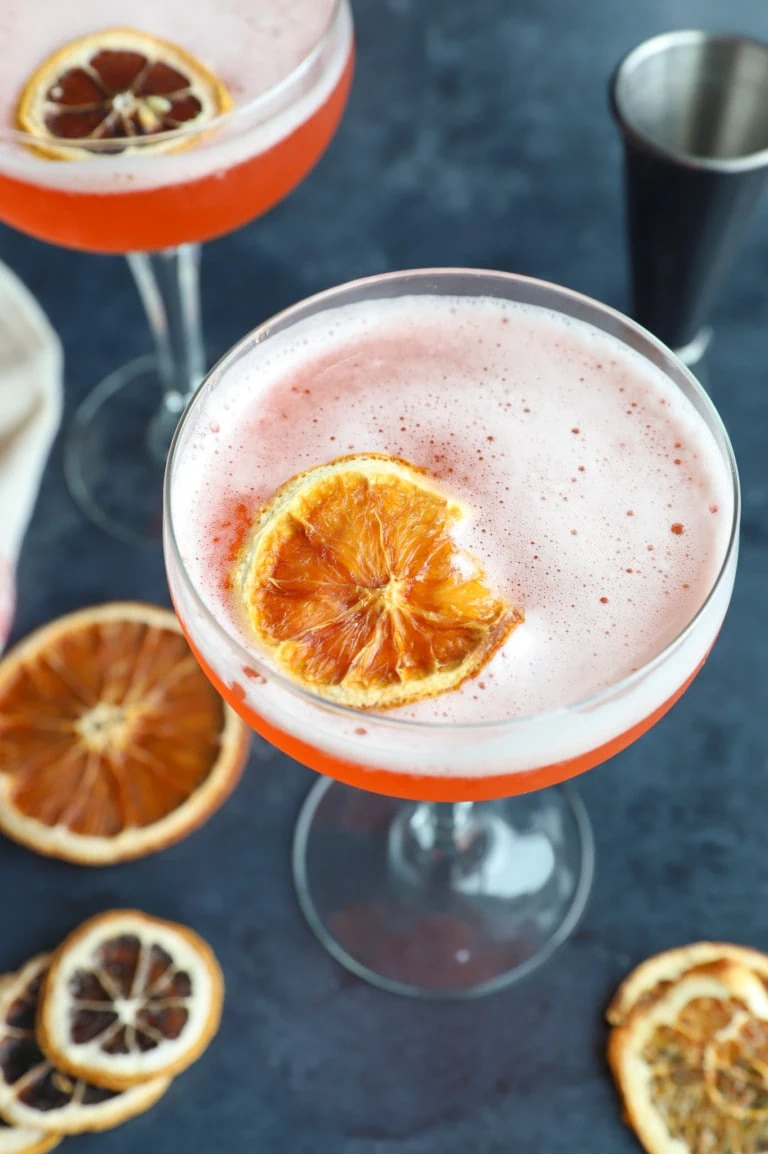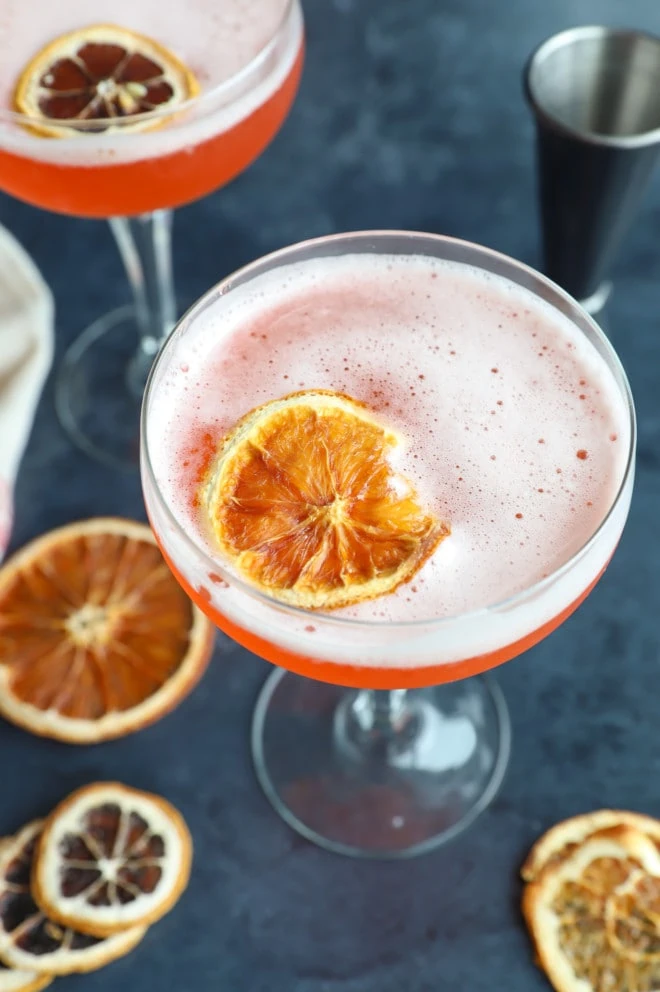 what to serve with an aperol sour
I love this cocktail because it's so darn elegant. Of course, I am all about a theme and this cocktail screams Italian summer. Therefore, I recommend pairing it with lighter dishes that compliment the sour flavor of the cocktail and the smooth, velvety texture.
If you are planning on serving this cocktail with some light bites, here's the recipes at the top of my list:
Caprese bruschetta is a light appetizer made with fresh tomatoes, aromatic basil, and creamy mozzarella.
For a seated dinner part, an elegant risotto with asparagus and peas is simple and flavorful! You could also turn this into a main dish to pair with chicken, steak, pork, or fish.
Gorgeous air fryer scallops topped with a chive lemon butter are light and delicate.
For dinner, here are some easy options to whip up: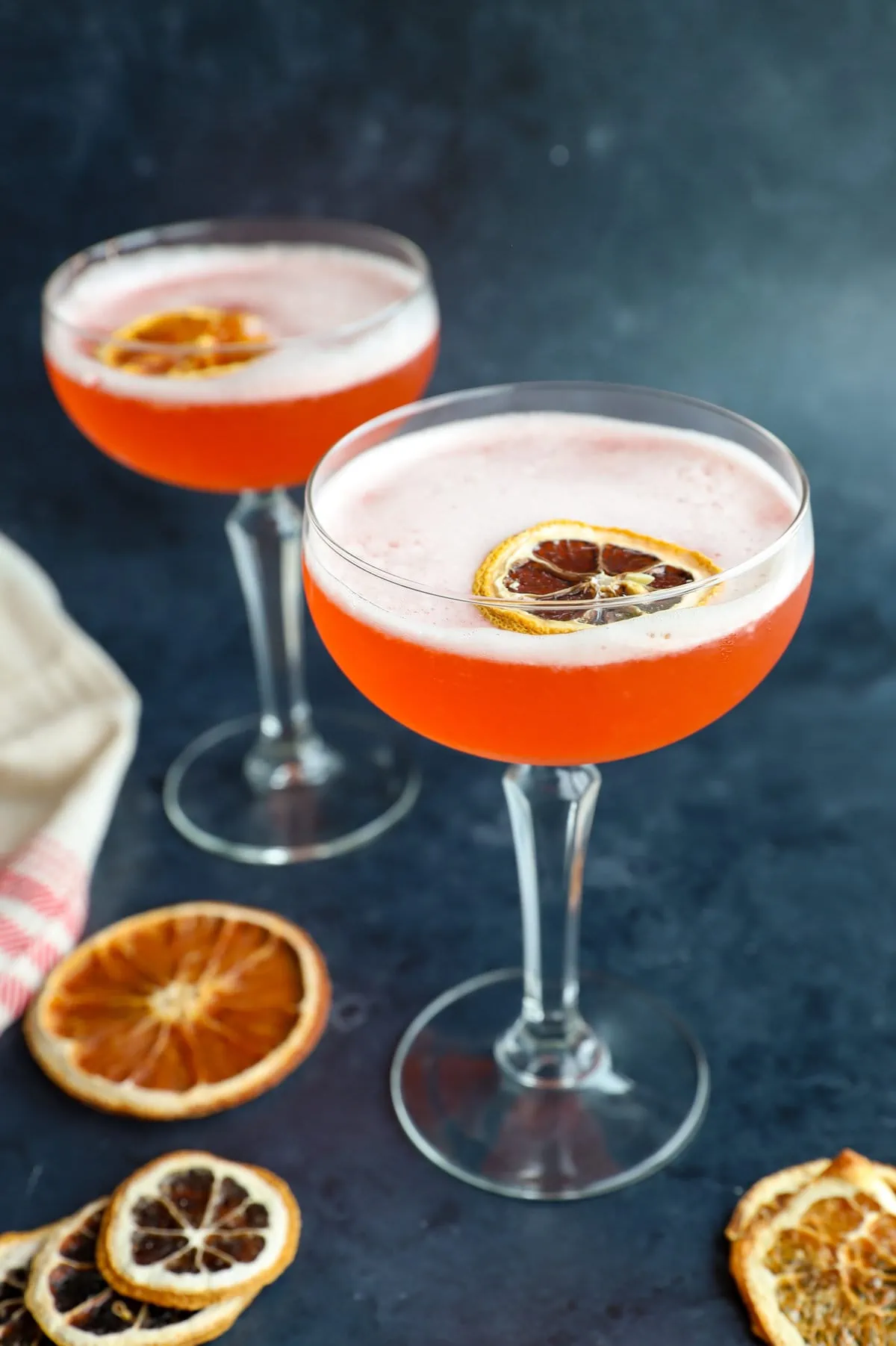 more tasty aperol recipes
The classic Aperol spritz is a delightful combination or bubbly prosecco and Aperol!
An Aperol soda is a vibrant and simple combination if you love Aperol!
Finally, if you make this aperol sour recipe, please be sure to give this recipe a rating or leave a comment! I love to hear when you all make recipes, and I do take the time to respond to every single comment. Feel free to drop questions below too, if you have them!
Oh and be sure to tag me on Instagram if you make the recipe! I love being able to see these recipes come to life in your homes – it's my favorite thing to look through those photos. It really means the world to me!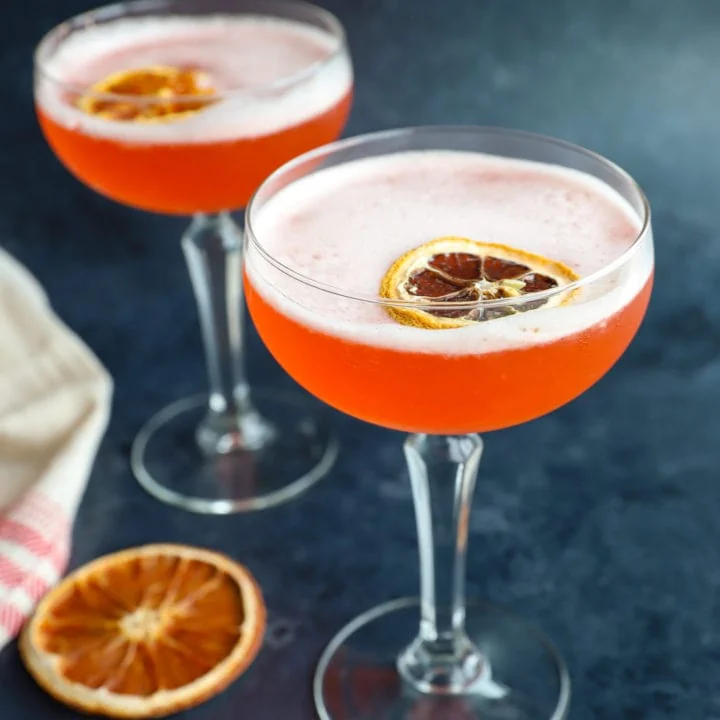 Aperol Sour
Refreshing, tangy, and slightly bitter, this cocktail is ideal for Aperol lovers!
Ingredients
2 oz Aperol
1 oz gin
1 oz freshly squeezed lemon juice
3/4 oz simple syrup
1 egg white
Garnish: dried orange wheel
Instructions
Add Aperol, gin, lemon juice, and simple syrup to an empty cocktail shaker. Shake hard for at least 30 seconds to 1 minute until a nice froth forms.
Add ice and shake again to chill the mixture.
Strain into a chilled coupe glass*. Garnish with a dried citrus slice.
Notes
*To chill your coupe glass, add it to the freezer for about 20 minutes before serving the cocktail. You can also fill the glass with ice while you make the cocktail and dump the ice before straining the cocktail in.
Recommended Products
As an Amazon Associate and member of other affiliate programs, I earn from qualifying purchases.