Please note this post contains affiliate links.
Pasta Napolitana is a quick weeknight meal that comes together in just 20 minutes. With simple ingredients and fresh flavor, this will easily become your new go-to meal whenever you need a bowl full of pasta.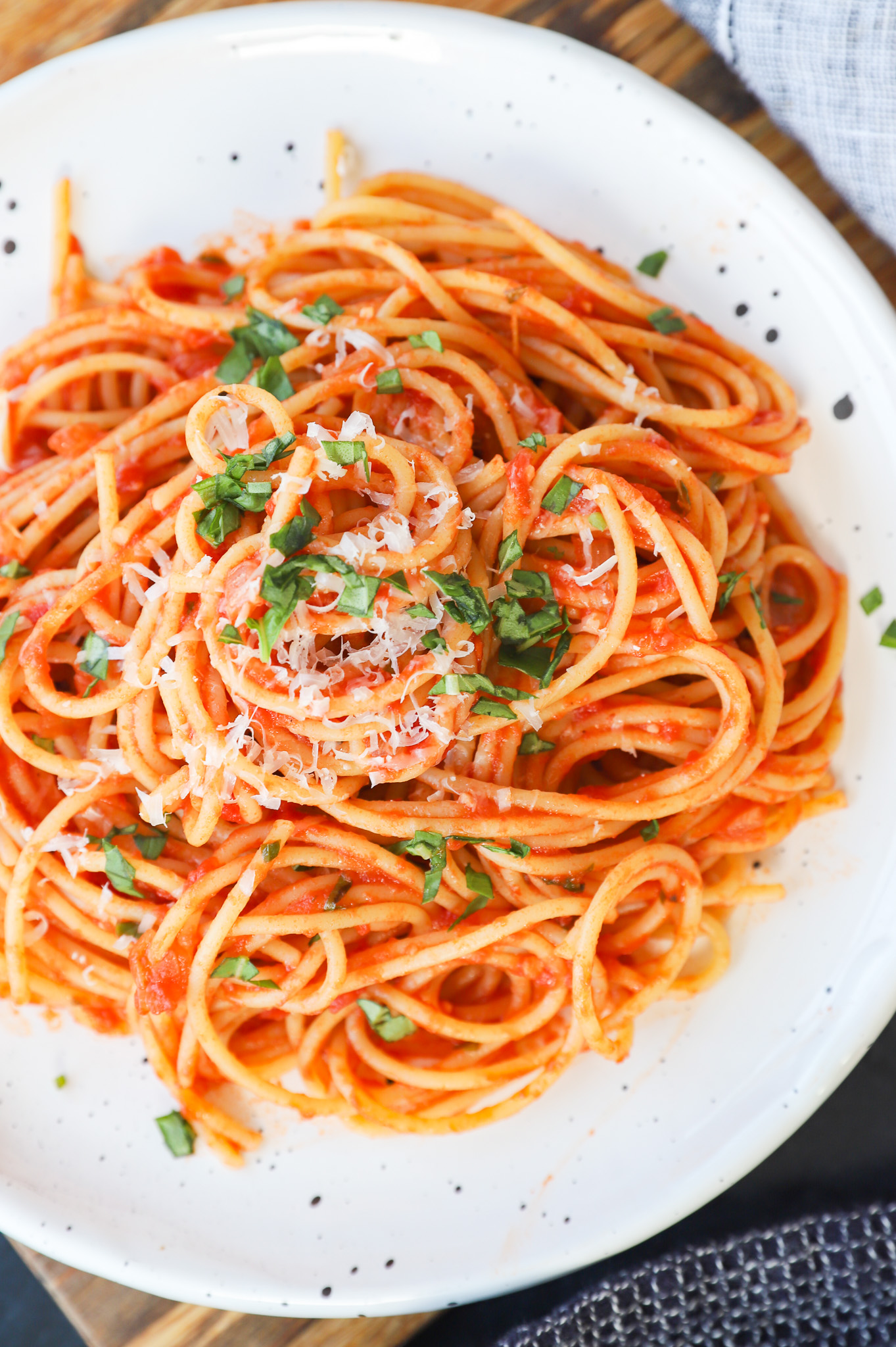 about this pasta napolitana
Do you know that scene in Eat, Pray, Love when Julia Roberts sits down to enjoy an entire plate of delicious looking pasta?
This is the pasta I like to think that she is enjoying.
A simple tomato sauce with spaghetti, fresh basil, and plenty of parmigiano reggiano. Because isn't that what we all need in life? I like to think so. Especially on a tough day when you have no brain power left to think about making dinner. This recipe is here to save you!
I was always brought up with the notion that tomato sauce like this (marinara sauce as we call it here in the U.S.) napolitana sauce would take hours to create. I thought that there was no way to create it quickly at home, therefore I have always bought it in the store.
Of course, this couldn't be further from the truth. Pasta napolitana comes together in just 20 minutes, with a homemade fresh tomato sauce that is light, bright, and perfect for anytime of year. You can whip this up on a weeknight, but it is just as easily pulled together for an Italian-themed dinner party with friends and family.
There's no way to go wrong with the simple and straightforward flavors of the sauce. It is one of those recipes that doesn't even seem like a recipe because of how simple the ingredients and the process are. Made from items already likely in your pantry, you will love incorporating this recipe into your weekly dinner rotation.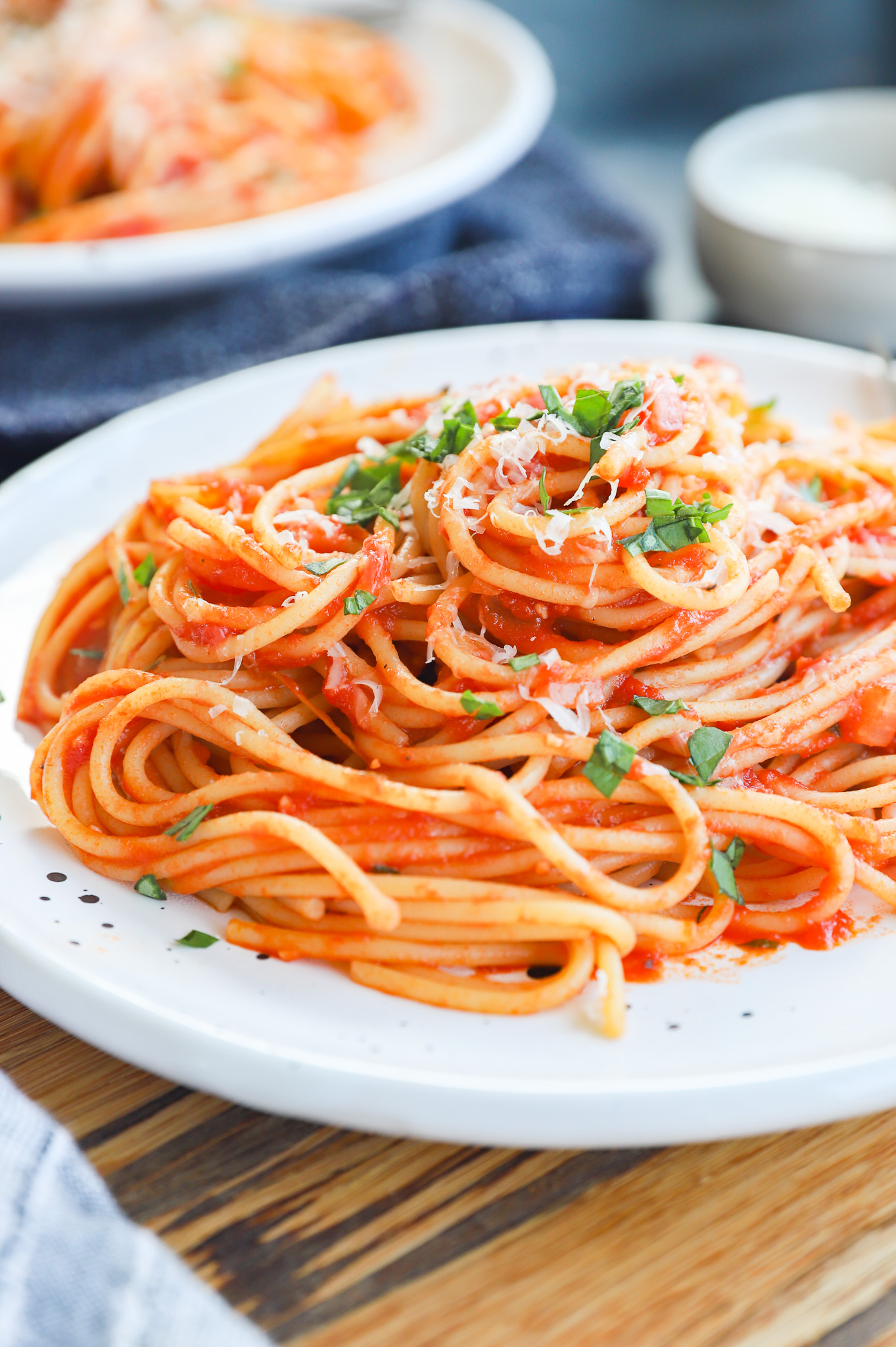 what is napolitana sauce made of?
Napolitana sauce (also known as Napoli sauce, Napoletana sauce, or Neapolitan sauce) is a meatless tomato sauce with simple ingredients and tons of fresh flavor. The sauce is generally made of tomatoes, onion, garlic, and herbs. Some make it with carrots as well, but this is not the traditional way to make the sauce. Feel free to add a large carrot (finely diced) when adding the onion to the skillet to add more vegetables to this sauce!).
To keep this recipe oh-so simple, I use canned tomatoes. However, you can also use fresh tomatoes. See my notes in the ingredients section if you choose to do this.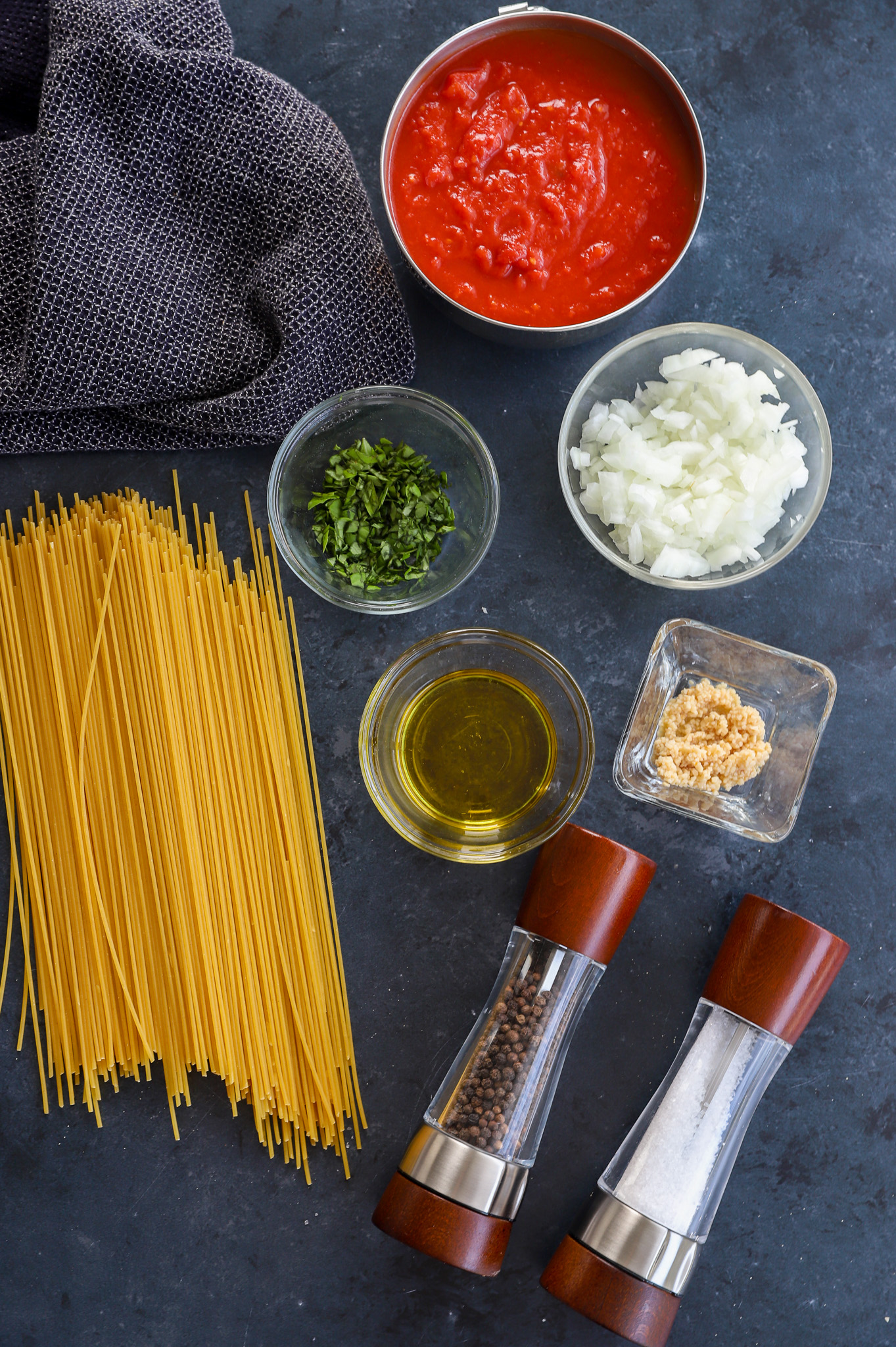 ingredients
oil. Use a good quality extra virgin olive oil. Since this recipe has limited ingredients, you want to use one with good flavor as it will flavor the sauce.
onion. I like to use a yellow onion in this recipe! You could use a sweet onion or a white onion as well.
garlic. Since I use garlic so often, I rely on having a jar of minced garlic in my refrigerator. It's an easy shortcut and just makes daily cooking so much easier.
tomatoes. I use canned crushed San Marzano tomatoes for this sauce. You can use fresh tomatoes and blend them up in the blender or food processor to create crushed tomatoes if you prefer. Make sure that the tomatoes are in season if you are doing this (summertime is ideal).
salt and pepper. Kosher salt and freshly cracked black pepper are preferred.
pasta. Use a long pasta shape like spaghetti, linguine, or angel hair pasta. Long pasta is ideal for smoother sauces like this one.
basil. Fresh basil is a MUST for this recipe. Do not use dried unless you absolutely have to. If you have to use dried basil, you will only need 1 1/2 tsp dried basil leaves.
parmigiano reggiano. Pro tip, always have a block of this cheese in the fridge! It's perfect for topping off pasta dishes, but it's also a tasty snack with crackers and salami.
this recipe's must haves
You will need a large skillet with a lid for this recipe. I recommend using a wide large skillet, a risotto skillet, or even a Lodge cast iron skillet for this recipe.
I like to use tongs to coat the pasta in the sauce.
Make sure that you have a large stockpot or Dutch oven handy to cook the pasta.
here's how to make pasta napolitana
cook onion
Bring a large pot of salted water to a boil over high heat.
Heat oil in a large skillet with a lid over medium-high heat. Once hot, add onion, cooking until softened, about 3 to 4 minutes. Add garlic, cooking until fragrant, about 30 seconds to 1 minute.
Stir in tomatoes, salt and pepper. Make sure to stir everything together really well. You want the oil to incorporate into the tomatoes before you let it simmer.
simmer sauce
Cover the sauce and simmer over low heat for about 10 minutes.
cook pasta
Cook pasta according to the instructions on the package once the water is boiling. Make sure to only cook it to al dente so the pasta doesn't get mushy. Drain and set to the side.
finish
Remove the lid from the sauce and stir in fresh basil. Simmer for 5 minutes, then remove from heat.
Add pasta to the sauce and toss to coat well.
Serve in bowls with freshly grated parmesan and basil for garnish. Enjoy!
Pro Tip: Reserve 1 cup of pasta water before draining the pasta! This is good to have, just in case the pasta napoli sauce accidentally get over-reduced.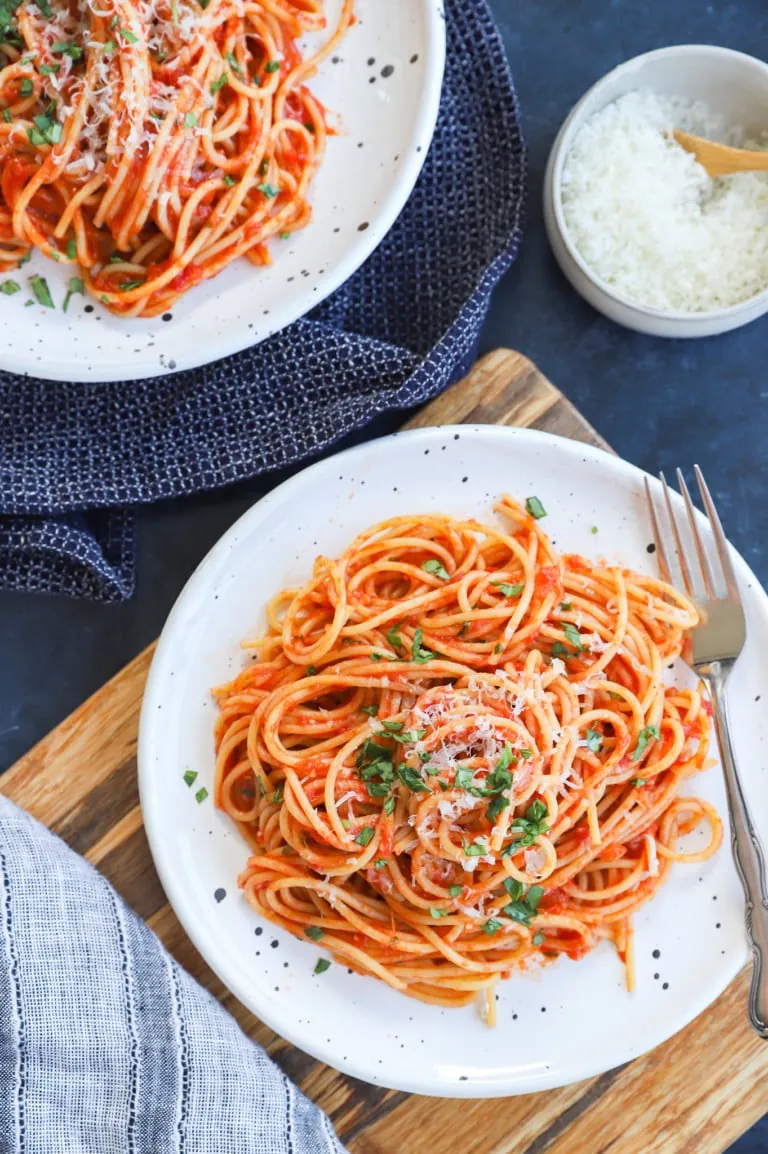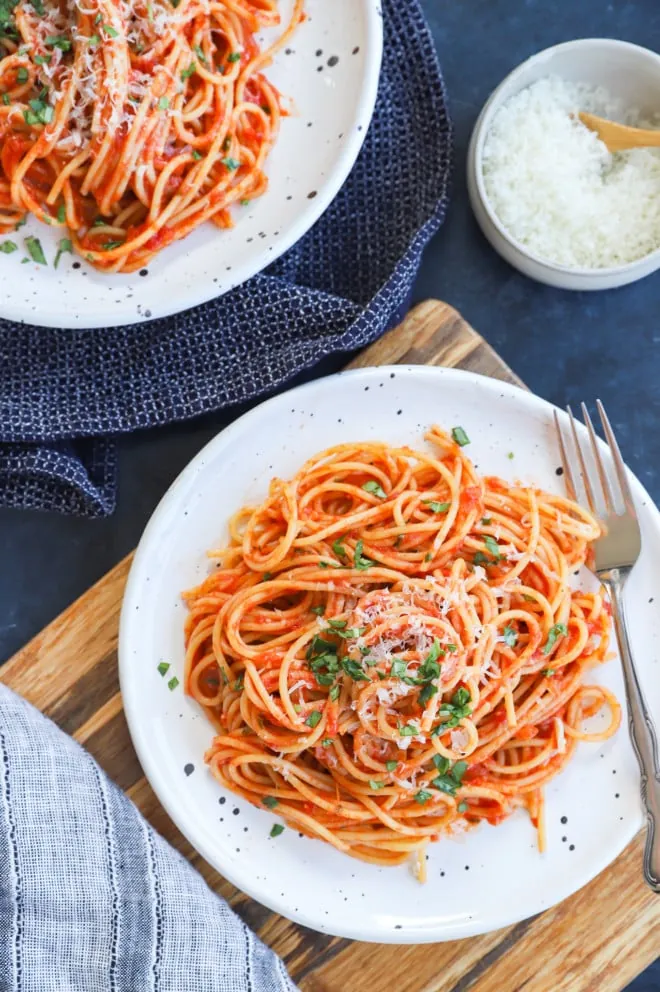 tips and ideas
finely chop the onions. Make sure that you finely chop the onions so that the pieces are very small. This is the best way to make sure it incorporates into the sauce without having big chunks of onion throughout.
choose the right pasta. This sauce is ideal for longer noodles like spaghetti, angel hair, linguine, and more. Usually a smoother sauce like this is served with long noodles, as chunkier sauce is best serve with shorter pastas like penne or rigatoni.
add meat. You can easily add meat to this dish for a quick and easy meat sauce! Brown ground chicken, ground beef, or ground pork/sausage with the onion while it cooks down. Then continue with the recipe as instructed!
don't turn the heat too high. Make sure that the heat isn't too high while the sauce is simmering. You want it to simmer slowly to develop the flavors. If it bubbles away at too high a heat, the sauce will thicken too much and the final flavor will be skewed.
add a little heat. If you like a little spice to your pasta dishes, add a couple pinches of crushed red pepper flakes to the pasta along with the basil at the end of cooking. It's an easy way to enhance the flavor of the sauce!
More tasty Italian pasta dishes to try: Instant Pot Short Rib Ragu | Pumpkin Gnocchi Bake | Instant Pot Bolognese | Gnocchi Bolognese Bake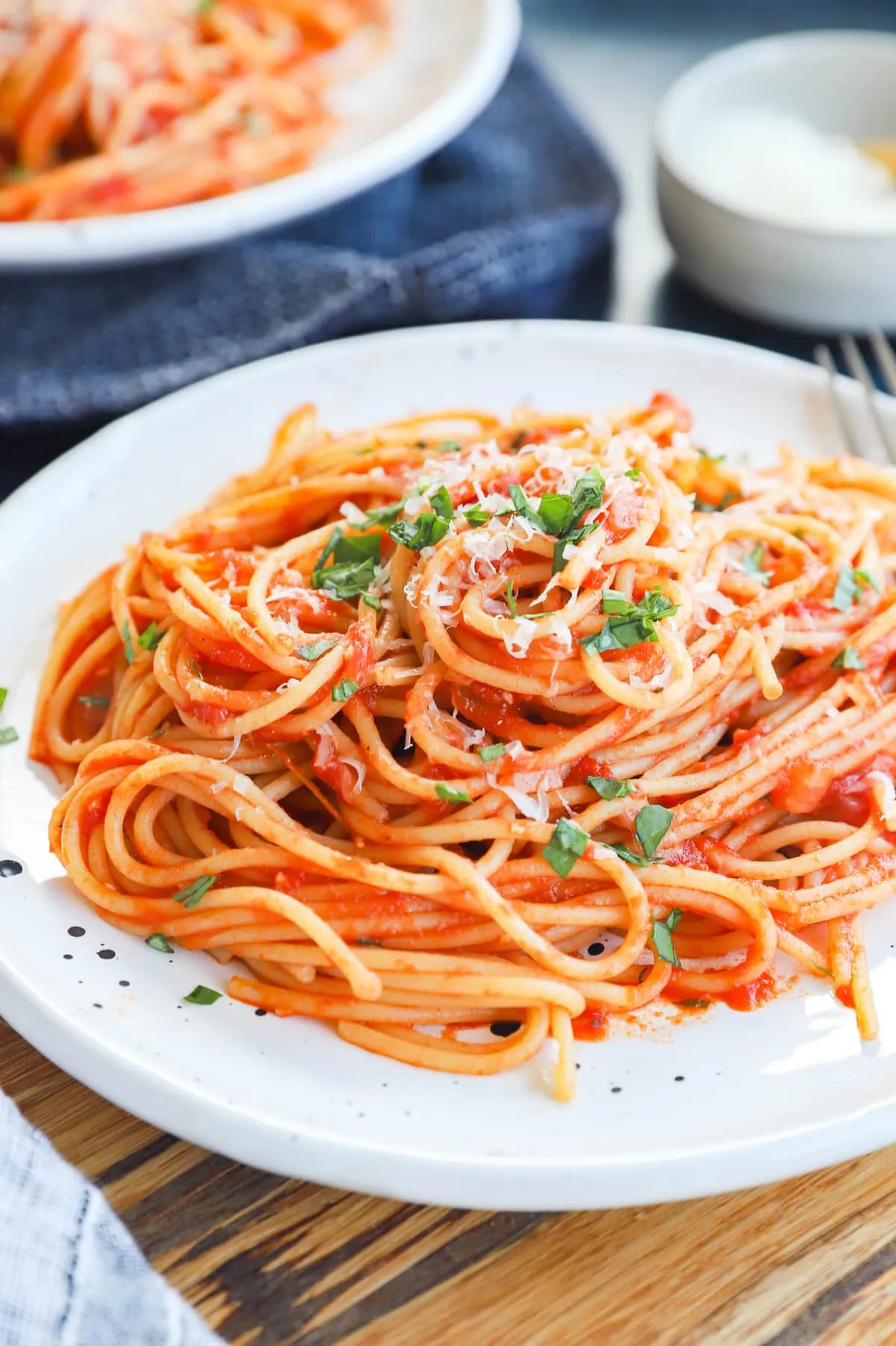 is napoli sauce the same as marinara?
Did you know that Napoli sauce is the similar to marinara sauce? It's also known as Italian tomato sauce, or sauce pomodoro. It is a simple Italian sauce that can be used in all your favorite recipes, whether as a pasta sauce for any kind of noodles or pasta, or even on your favorite pizza crusts!
is pasta napolitana vegan?
If you want to make this recipe vegan, all you have to do is skip the parmesan cheese for serving. Other than that, the recipe is already vegan!
should I use canned tomatoes or fresh tomatoes?
I personally like to use canned crushed tomatoes to keep this recipe super quick and easy. However, if it's summer and you have fresh tomatoes, you can easily blend them up to create your own crushed tomatoes. You will need 28 ounces total (around 3 1/2 cups) crushed tomatoes to create this recipe.
If you are using fresh tomatoes, do not use cherry tomatoes. There is a big difference in flavor between regular tomatoes and smaller tomatoes like cherry or grape. The smaller varieties are much sweeter and this will impact the final flavor of the sauce.
can I make this sauce smoother?
If you want the sauce to be perfectly smooth, whip out an immersion blender! Use it to blend together the sauce in the skillet once it is done cooking. You can also work in batches to blend up the sauce in a blender like a Vitamix.
my pasta sauce looks too thick, help!
If your pasta water looks too thick, you can loosen it up with a little starchy pasta water. Add about 1 tablespoon at a time, incorporating it into the sauce between additions, until the sauce reaches a desired consistency.
Need more inspiration for more pasta dishes? Check out my pasta recipes page!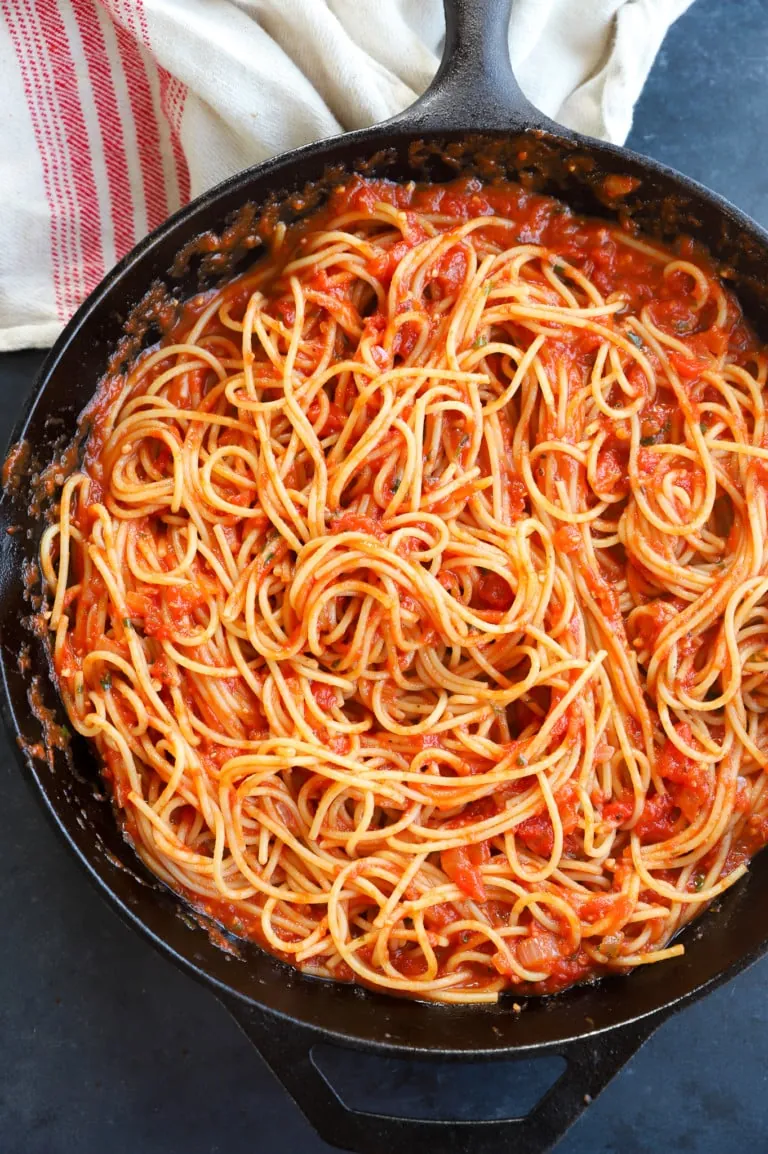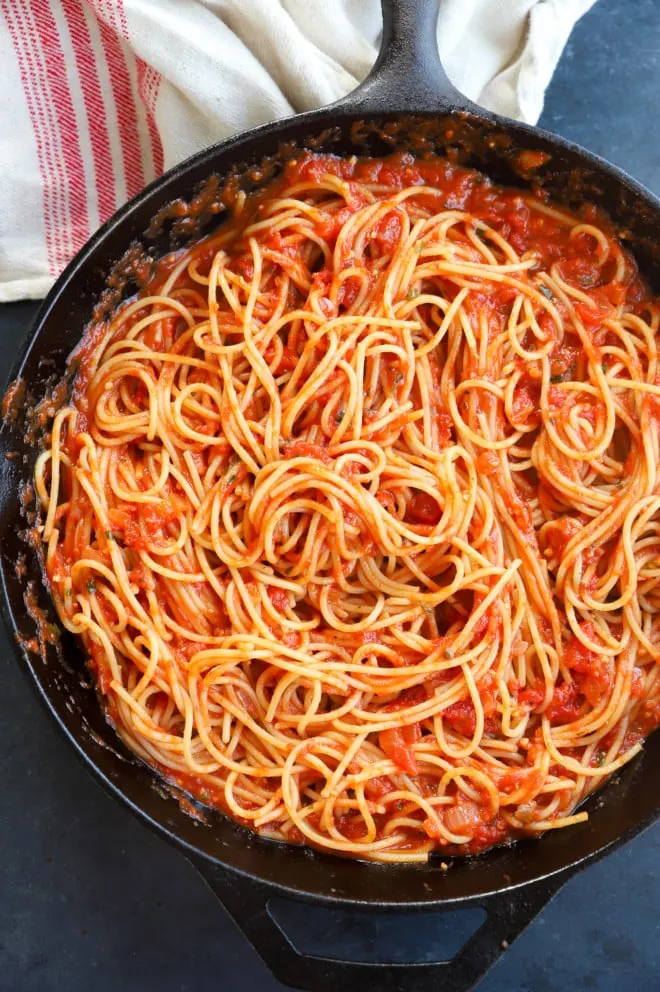 variations
If you are looking for a way to change up this sauce so you can make it over and over again, here are some ideas to make the sauce a little different each time:
Add in canned tuna or anchovies for a subtle brine flavor.
Use capers to finish off the dish.
Stir in a dollop of fresh ricotta cheese to make it creamy.
Use ground meat (chicken, beef, sausage) and brown along with the onion to make an easy meat sauce.
Add in some curry powder (about 1/2 tsp to 1 tsp should be plenty!).
Stir in freshly chopped oregano in addition to the fresh basil for an added layer of flavor.
Incorporate more vegetables into the sauce by using finely chopped mushrooms, bell pepper, or carrot. Add the vegetables before adding in the garlic, cooking them down slightly with the onion. It's an easy way to sneak in more vegetables!
everyday seasonal cookbook
With seasonal produce guides, recipes, and more, this cookbook is filled with seasonal food for every occasion.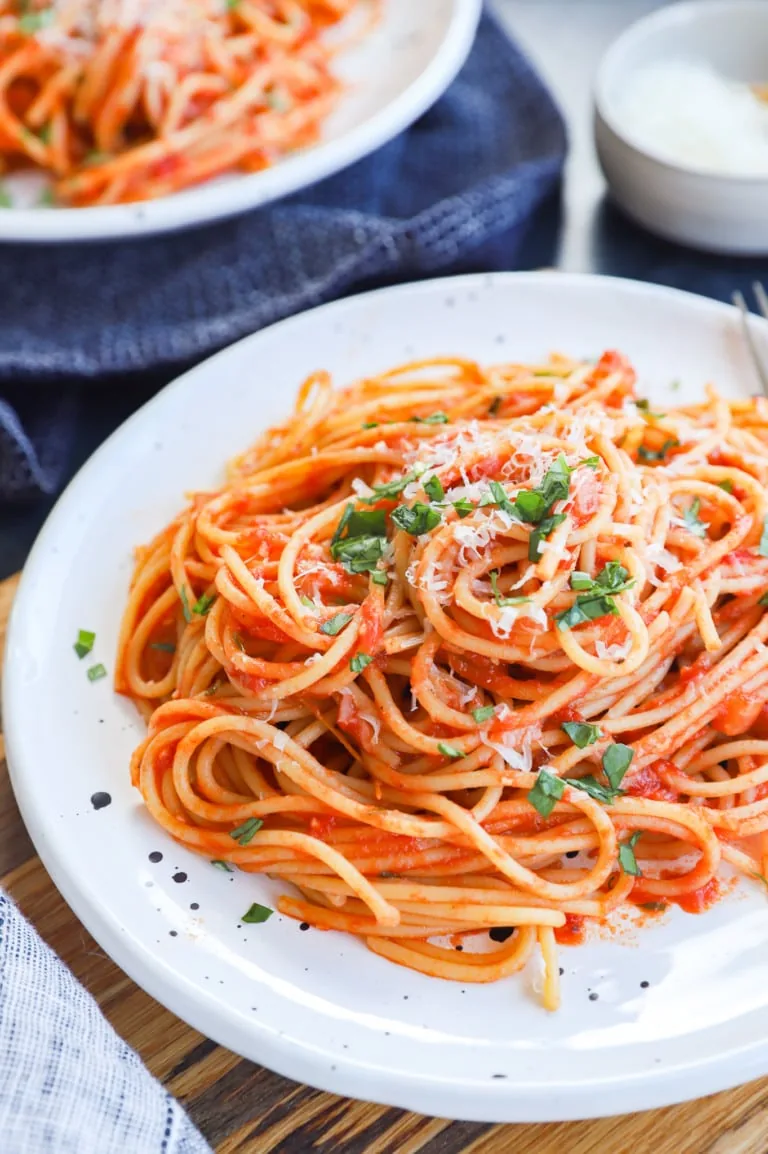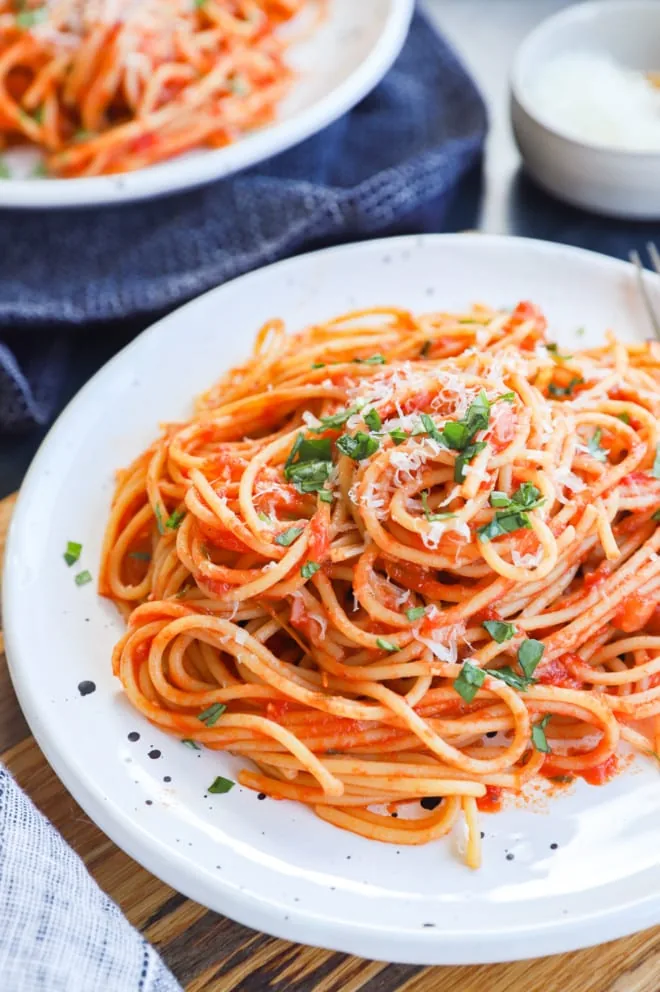 what to serve with pasta napolitana
Pasta napolitana is a meal in itself, so you don't really need to serve anything with it! I love to add an extra sprinkling of freshly grated parmesan cheese and freshly chopped basil on top of each serving. Serving slices of air fryer garlic bread or toasted no knead overnight bread alongside to sop up any extra sauce is a must too! You can also serve a nice little side salad if you want to have some greens with your meal.
Start the meal off right with an aperol sour or a limoncello spritz. Both are refreshing cocktails that can be served before a big bowl of pasta, or right alongside it.
If you are looking for a tasty dessert to serve, I like to end on a sweet and light note with any of the following recipes:
Chocolate covered strawberry brownies are a gooey and decadent end to the meal.
A layered blackberry lemon icebox cake is a simple no-bake frozen dessert to cool off with.
If you love fruity desserts, you can't go wrong with this bourbon cherry peach crumble!
how to store
Store. Pasta Napolitana sauce can be made ahead of time! It can be stored in the refrigerator for up to 2 to 3 days in an airtight container or glass jar. You can also store leftover pasta with the sauce in an airtighter container for up to 3 to 4 days.
Reheat. Reheat sauce in a saucepan over medium-low heat until warmed through. You can also reheat smaller portions in the microwave in 30-second increments, stirring between each, until warmed through. If you are reheating the pasta dressed in the sauce, do so in a bowl in the microwave for about 1 to 1 1/2 minutes.
Freeze. To freeze the pasta sauce, pour the cooled sauce into a resealable freezer bag. Seal and lay down plat until frozen solid. Use multiple bags if you need to, stacking them on top of each other. Freeze for up to 3 months.
Thaw. Thaw in the refrigerator overnight before reheating as instructed above.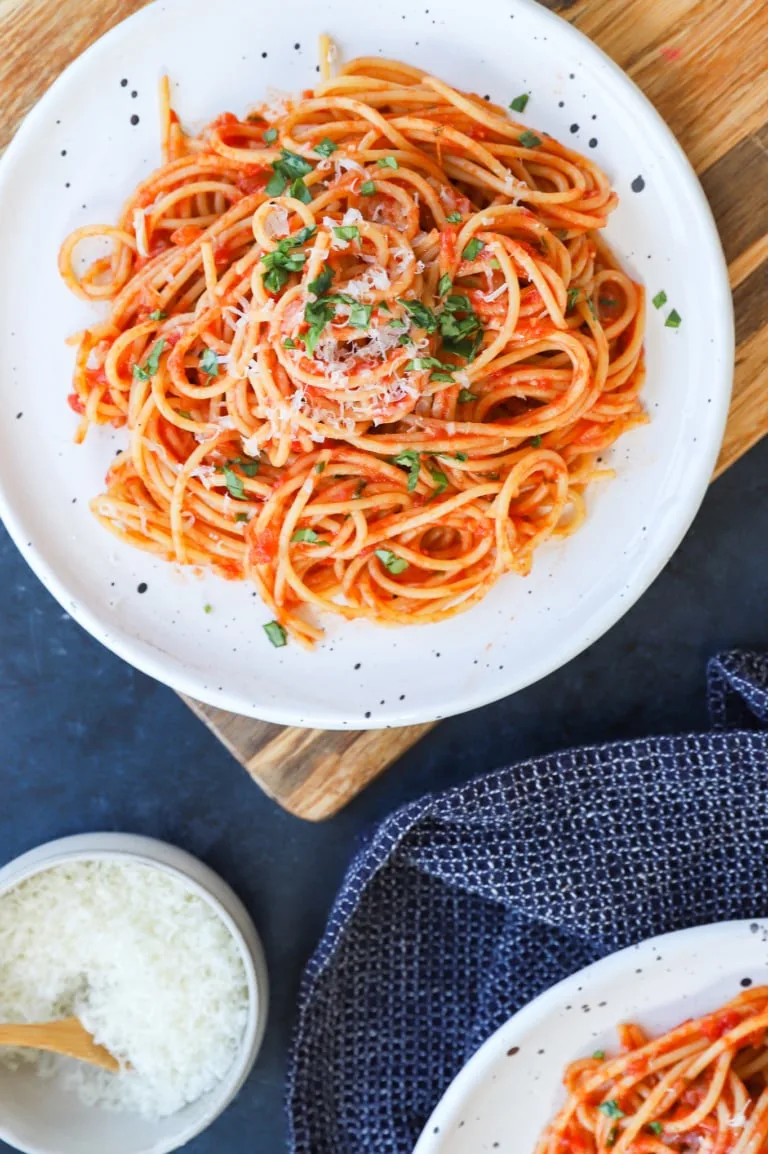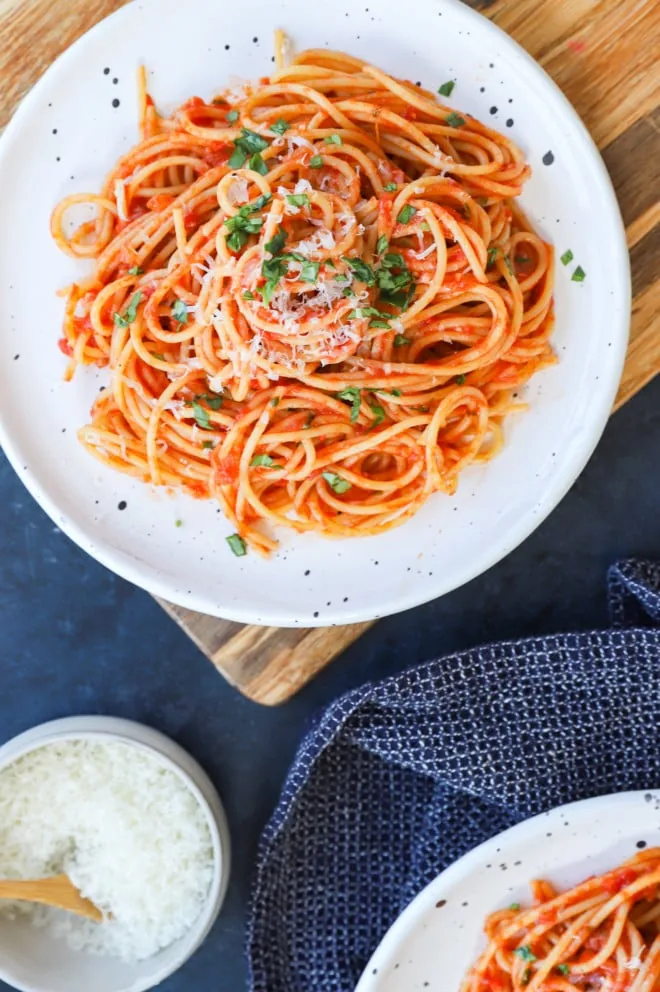 more creative noodle recipes
Gochujang noodles are a 15 minute recipe made with leftover chicken and vegetables!
Creamy instant pot white cheddar mac and cheese is a one-pot wonder, perfect for any night of the week.
Singapore street noodles are simple, flavorful, and a little bit spicy.
Finally, if you make this pasta napolitana recipe, please be sure to give this recipe a rating and/or leave a comment! I love to hear when you all make recipes, and I do take the time to respond to every single comment.
Feel free to drop questions below too, if you have them!
Oh and be sure to tag me on Instagram if you make the recipe! I love being able to see these recipes come to life in your homes – it's my favorite thing to look through those photos. It really means the world to me!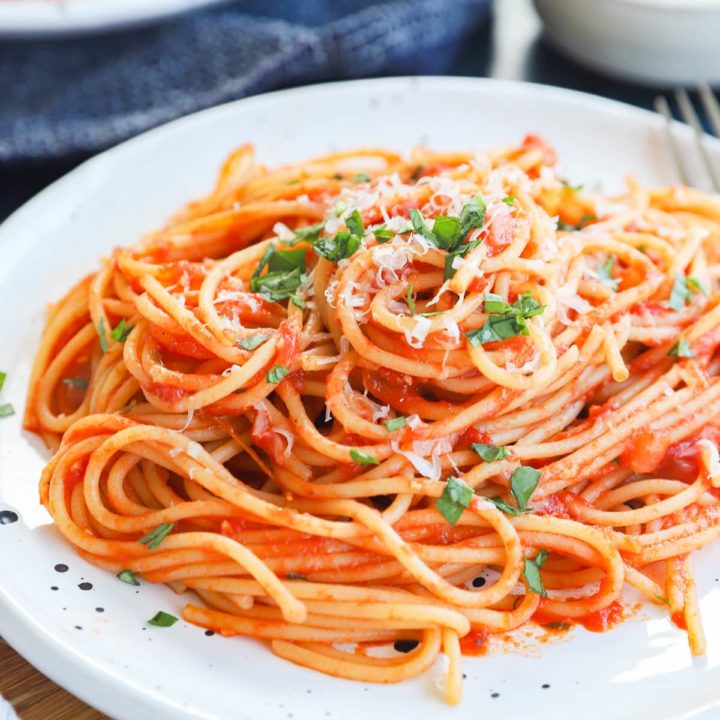 Pasta Napolitana
Simple ingredients make this flavorful pasta dish a staple weeknight meal that everyone will love.
Ingredients
1/4 cup good quality extra virgin olive oil
1/2 medium yellow onion, finely diced (roughly 1/2 cup)
3 cloves garlic, minced
3/4 tsp salt
1/2 tsp black pepper
1 28 oz can finely chopped or crushed San Marzano tomatoes
12 oz spaghetti or other long thin pasta
12 large fresh basil leaves, coarsely chopped + more for serving
Finely grated parmigiano reggiano, for serving
Instructions
Bring a large pot of salted water to a boil over high heat.
In a large skillet with a lid, heat olive oil over medium-high heat. Once hot, add onion and cook until softened, about 3 to 4 minutes, stirring occasionally. Add garlic, cooking until fragrant, about 30 seconds to 1 minute.
Stir in tomatoes. Make sure to stir the tomatoes in well so the oil incorporates into them to make the sauce. Season with salt and pepper. Cover and simmer over low heat for about 10 minutes.
While the sauce is simmering, cook the pasta until al dente, according to the instructions on the packaging. Reserve 1 cup of pasta water and drain the rest. Set aside.
Stir basil into sauce and simmer for 5 more minutes. Remove from heat. If the sauce got too thick during the simmering process, add in a splash of pasta water to loosen it up.
Toss cooked noodles in the sauce to coat well.
Serve with grated parmigiano reggiano and freshly chopped basil.
Recommended Products
As an Amazon Associate and member of other affiliate programs, I earn from qualifying purchases.