Please note this post contains affiliate links.
Homemade Honey Butter Biscuits are where fluffiness meets flakiness, with just a touch of honey. These irresistible biscuits are perfect for pairing with any meal whether you are dunking them in soup or using them as a base for a sandwich.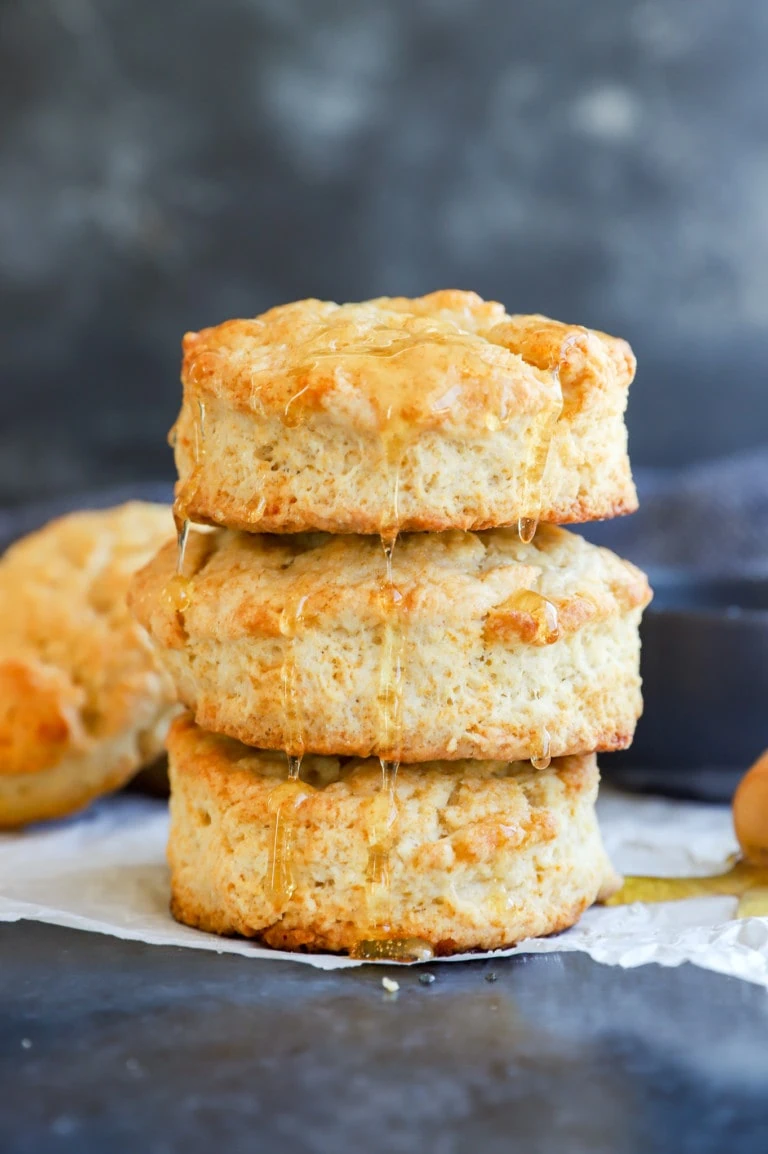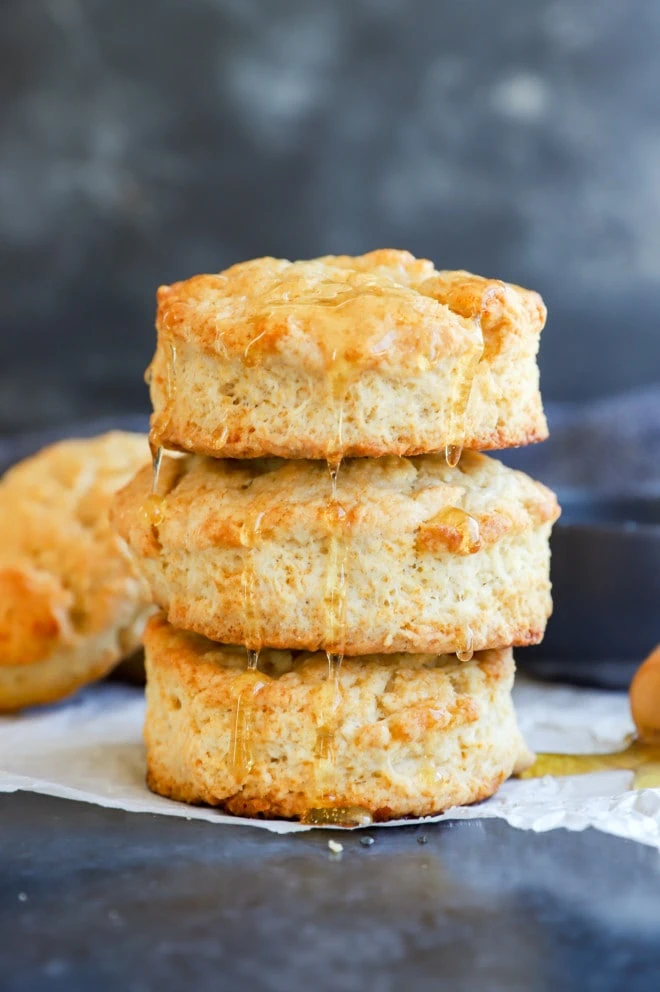 about these honey butter biscuits
The buttery aroma of freshly baked biscuits wafting through your home is, simply put, the best. It's impossible for your mouth to not start watering the moment you smell them baking in the oven.
If I could have one baked good that I could bake for the rest of my life, it would definitely be a biscuit. You get something buttery, something salty, and if you want, something with a touch of sweetness!
Honey butter biscuits are one of my favorite things to bake, whether I need a quick side or I need a big hunk of carbs to dunk into a bowl of soup. The truth is, these fluffy and flaky biscuits are going to change the way you think about biscuits.
They aren't just any biscuits. Yes, they are flaky and butter, but they also have this hint of sweetness that makes them even more irresistible. The honey butter glaze takes them to a new level of flavor so they are stick, sweet, salty, and buttery all in one.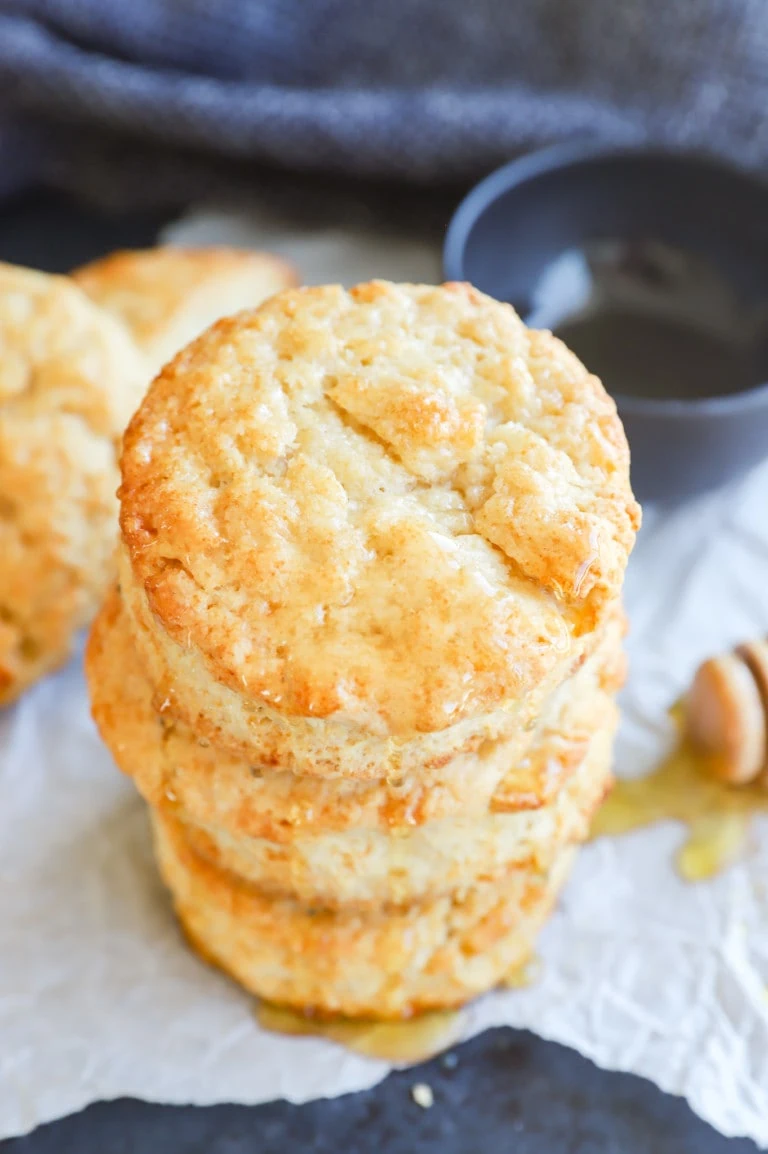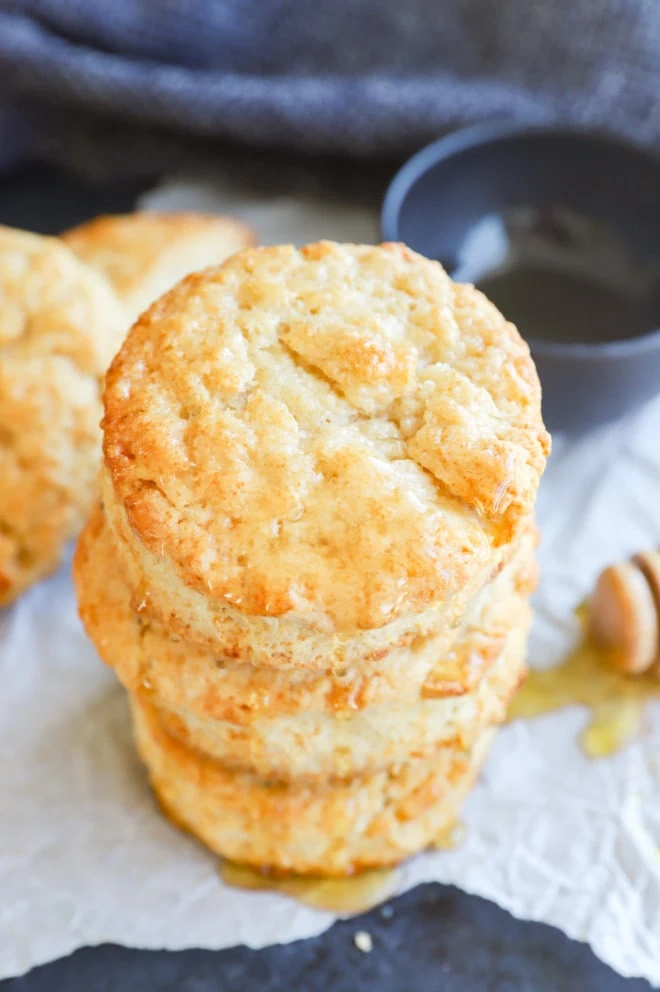 do you know the history of biscuits?
Biscuits, as simple as they might seem, have a fascinating history. Originally, they were created out of necessity, offering a quick and easy way to make bread without the need for yeast or lengthy rising times.
Yet over time, they evolved from survival food to a beloved Southern staple. You'll find that these buttery rounds have layers of flakiness that could rival your favorite pastry. Each bite will have you melting into happiness. Trust me when I say, once you get into the habit of making biscuits, you'll wonder why you didn't start sooner!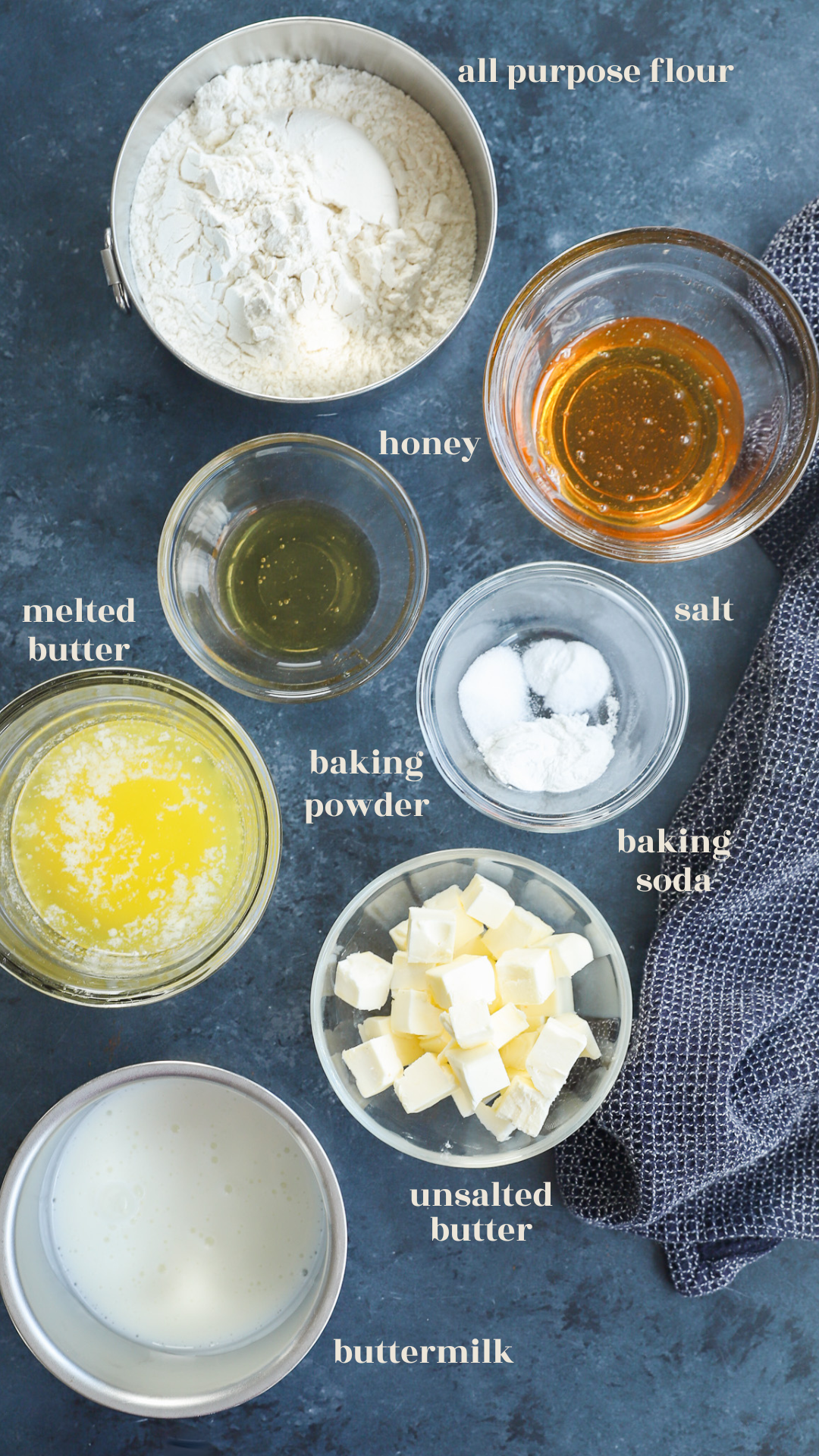 ingredients
flour. You will need all purpose flour for this recipe. Whole wheat flour will also work for this recipe.
leavening. Use a combination of baking powder and baking soda.
salt. Fine kosher salt is preferred for this recipe.
butter. I recommend using unsalted butter for these biscuits. You can use salted butter, but if you do, you will need to omit the salt called for in this recipe.
honey. Use your favorite honey for this recipe. You'll need it for both the biscuits and the honey glaze that gets brushed on top.
buttermilk. Buttermilk is essential to the flavor and the texture of this recipe! If you don't have buttermilk on hand, you will need to use 1 cup whole milk and 1 Tbsp lemon juice. Combine the two in a small bowl and let sit for about 3 to 4 minutes until thickened. Then use in place of the buttermilk called for in this recipe.
this recipe's must haves
You don't need too many tools to make these easy honey butter biscuits. To measure the ingredients, having measuring cups and measuring spoons on hand.
You will need the largest bowl of a set of mixing bowls. I personally like to use a pastry cutter to cut in the butter, but you can also use two butter knives or your hands.
Finally a set of biscuit cutters comes in handy to cut out the circles of dough. You could also use a glass that is a couple of inches in diameter to cut around into the dough.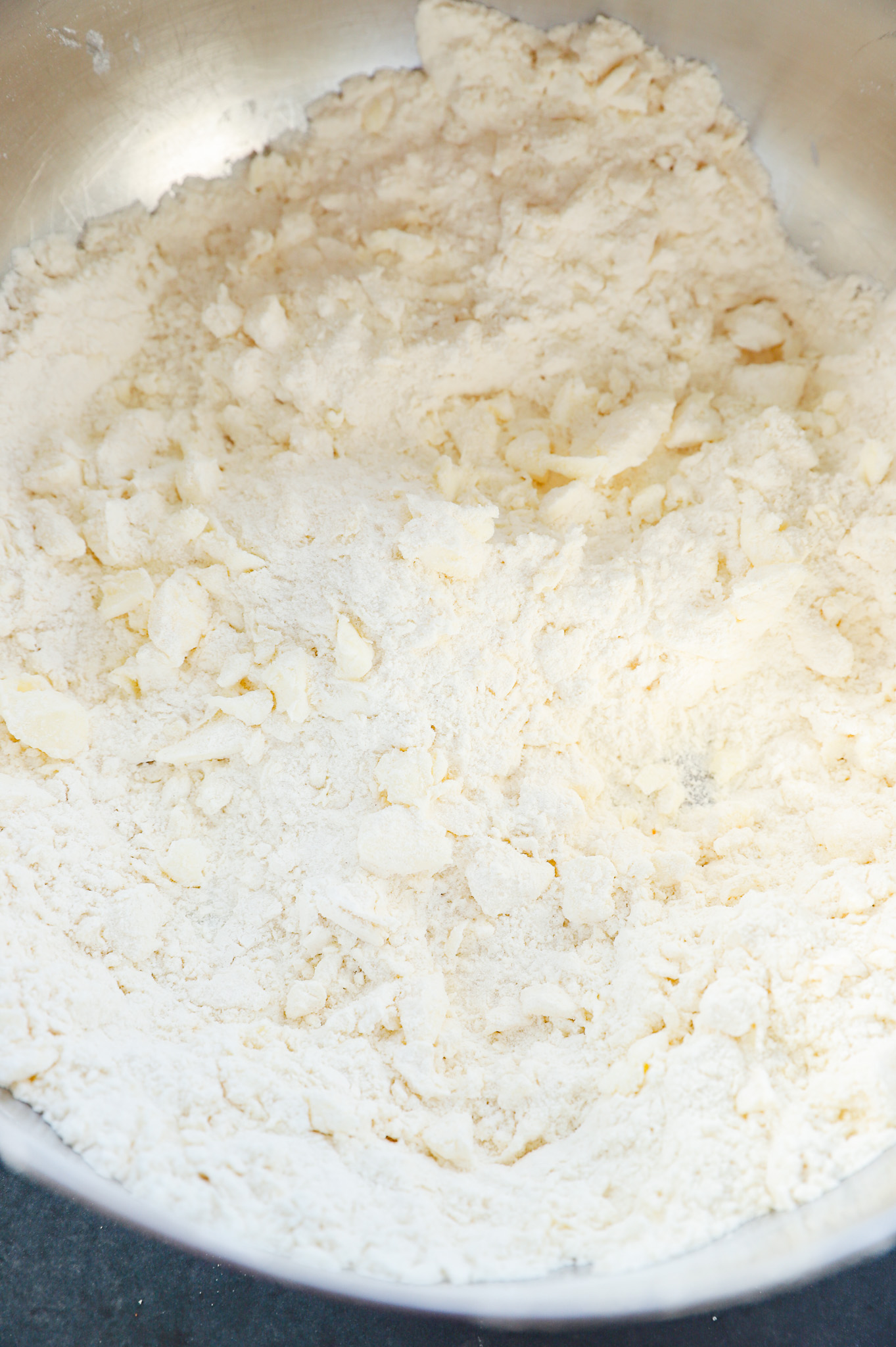 here's how to make this easy biscuit recipe
make dry mixture
In a large bowl, combine flour, baking powder, salt, and baking soda. Whisk together until completely combined.
cut in butter
Add cubed cold butter to the dry ingredients. Cut the cubes in using two knives, a pastry cutter, or even your hands until the mixture resembles coarse crumbs.
make dough
Stir in buttermilk and honey. Stir only until just moistened. Turn out the dough onto a lightly floured surface. Knead a handful of times, until the dough comes together.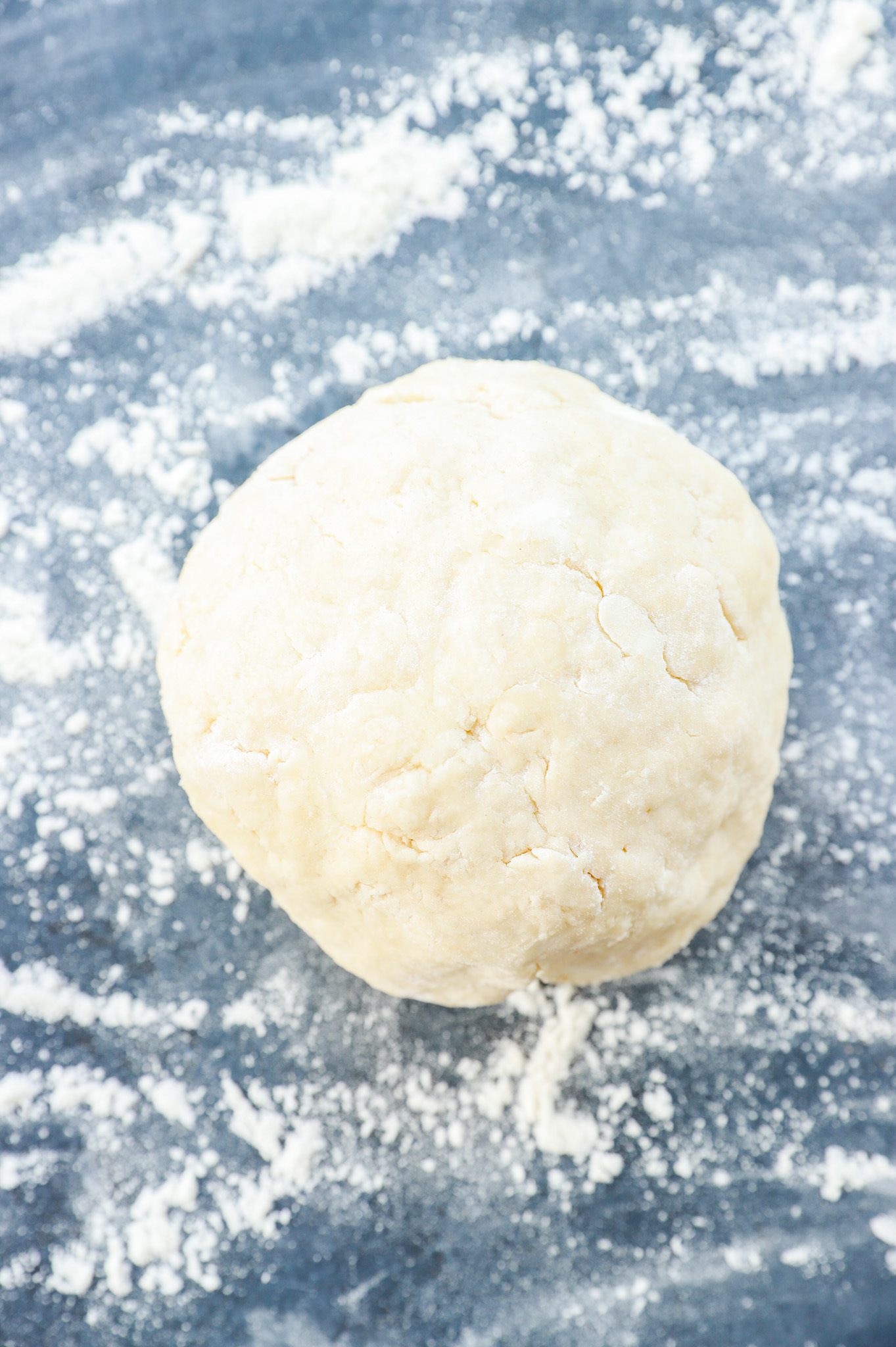 roll out
Roll out the biscuit dough with a rolling pin until it is about 1-inch thick. Cut the dough into circles that are about 2 to 2 1/2 inches in diameter. Place the discs on a lined baking sheet, spacing them about 2 inches apart.
make honey butter
To make the honey butter, combine melted butter and honey in a small bowl. Stir to combine.
Brush the tops of the biscuits with the honey butter glaze.
bake
Bake for 18 to 22 minutes, until the biscuits are golden brown. Serve warm.
Pro Tip: Brush the tops of the baked biscuits again with the honey glaze when they come out of the oven! This gives them an extra sheen and a punch of honey butter flavor. You can also drizzle the biscuits with honey for added sweetness, if desired.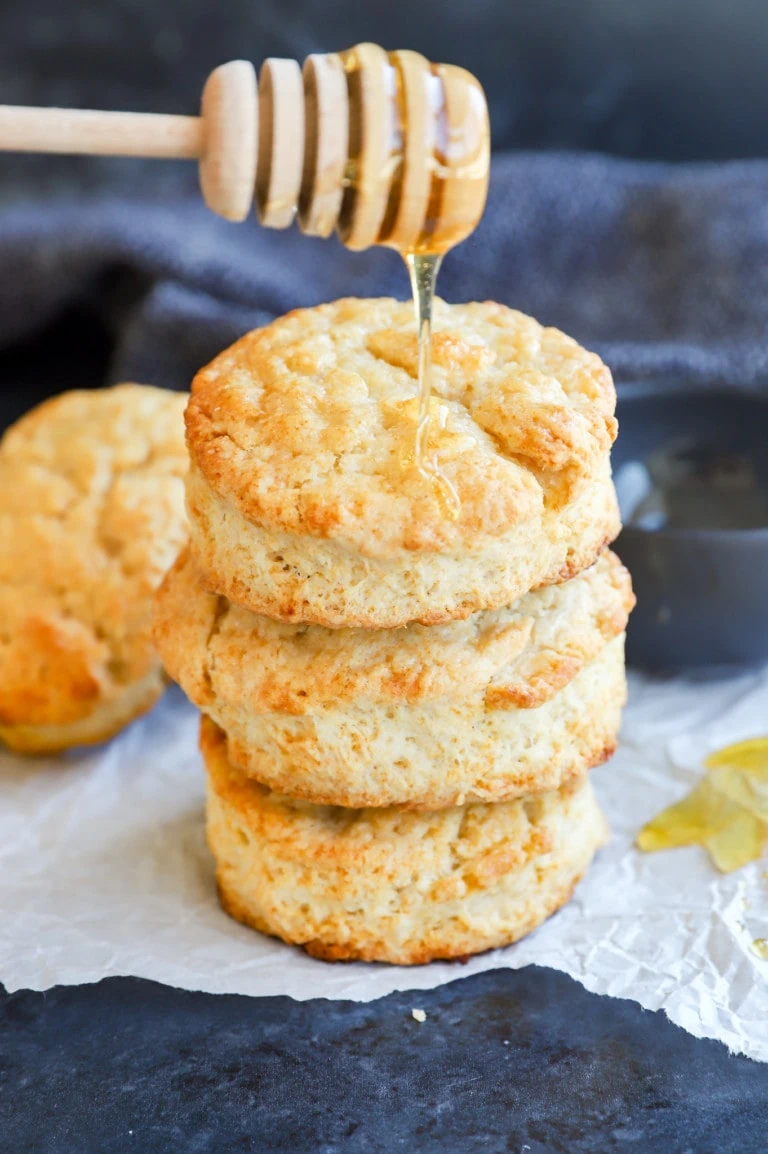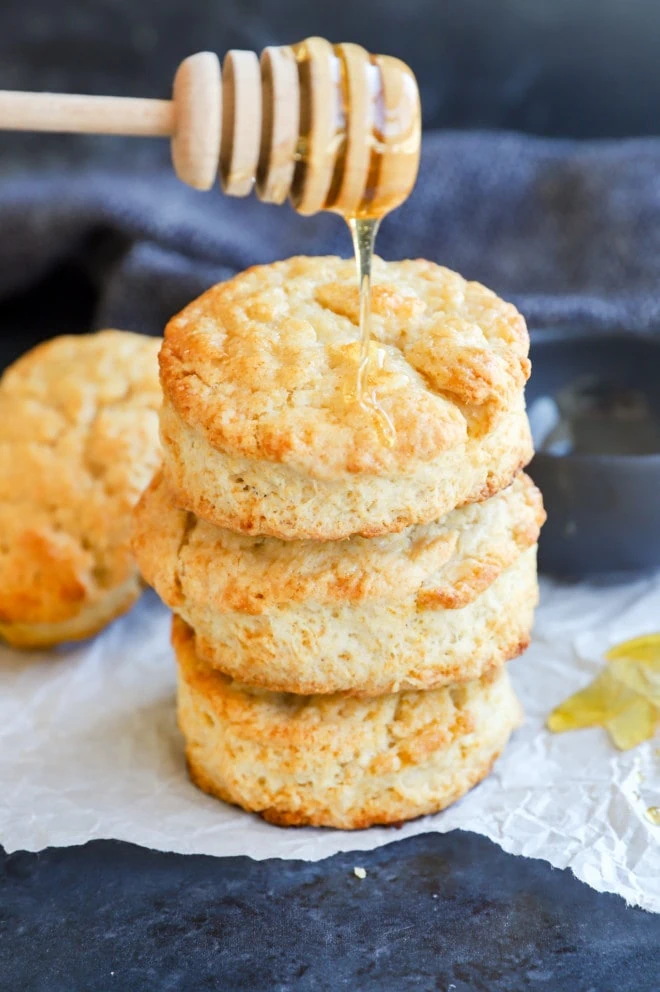 tips and tricks
use buttermilk. Do not skip using the buttermilk as it is essential to the flavor and the texture of the biscuits! If you don't have buttermilk on hand, you can make it yourself by using whole milk and lemon juice. See the FAQs for the exact recipe below.
do not over mix. Make sure not to over mix the dough when you bring it together. You will want to knead it until smooth, but do not work it too much. If you do, the dough will get too warm and the texture of the biscuits will be off. Knead just until the dough is smooth and no longer dry, which usually takes a couple of minutes.
keep the ingredients cold. Make sure the butter is cold. Keep the buttermilk cold. The only ingredient to ensure is not cold is the honey, as it will become impossible to work with!
More tasty biscuits to bake up: Jalapeño Cheddar Biscuits | Pumpkin Sage Biscuits | Black Pepper Goat Cheese Biscuits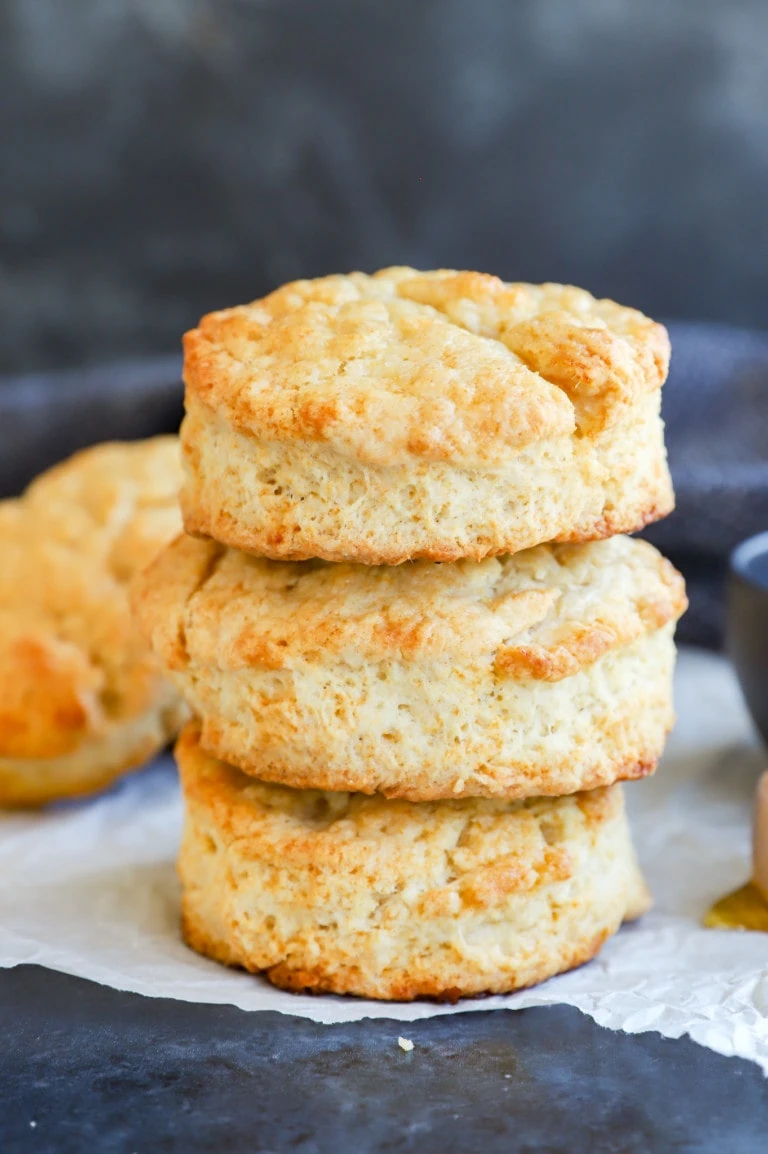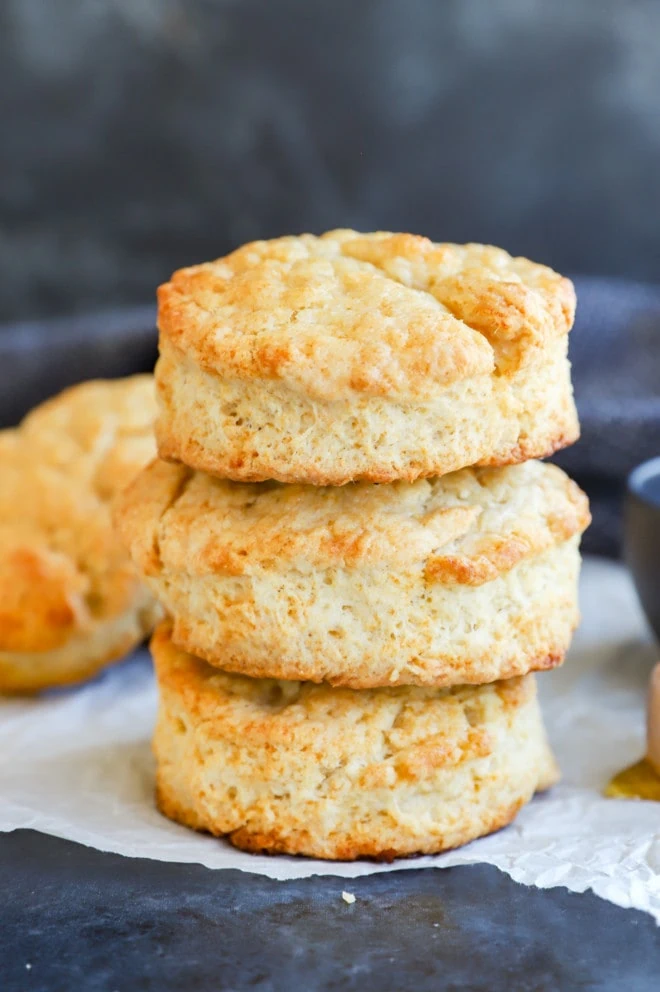 do I have to use buttermilk in these biscuits?
Buttermilk is a classic ingredient for biscuits, as the tanginess from the fermentation adds a delightful flavor while also adding a fantastic texture to the biscuits.
If you don't have buttermilk on hand, you can easily make your own with whole milk and lemon juice. Measure out 1 cup whole milk and stir in 1 Tbsp lemon juice. Let it rest for 3 to 4 minutes and you will see that the liquid will have thickened. It's your own version of buttermilk to use in the recipe!
how long do these biscuits last?
At room temperature, these biscuits will last 2 days in an airtight container. If you store them in the refrigerator, they will last an extra day or so, but they might become a bit soggy. Therefore I recommend storing them at room temperature, or freezing them to use later.
can I freeze them for later?
It's super easy to freeze biscuits! Be sure to cool them completely to room temperature first. Wrap each biscuit individually in aluminum foil, then place them in an airtight container or freezer-safe resealable bag. The biscuits will last for up to 3 months in the freezer.
Need more inspiration for bread? Check out my bread recipes page!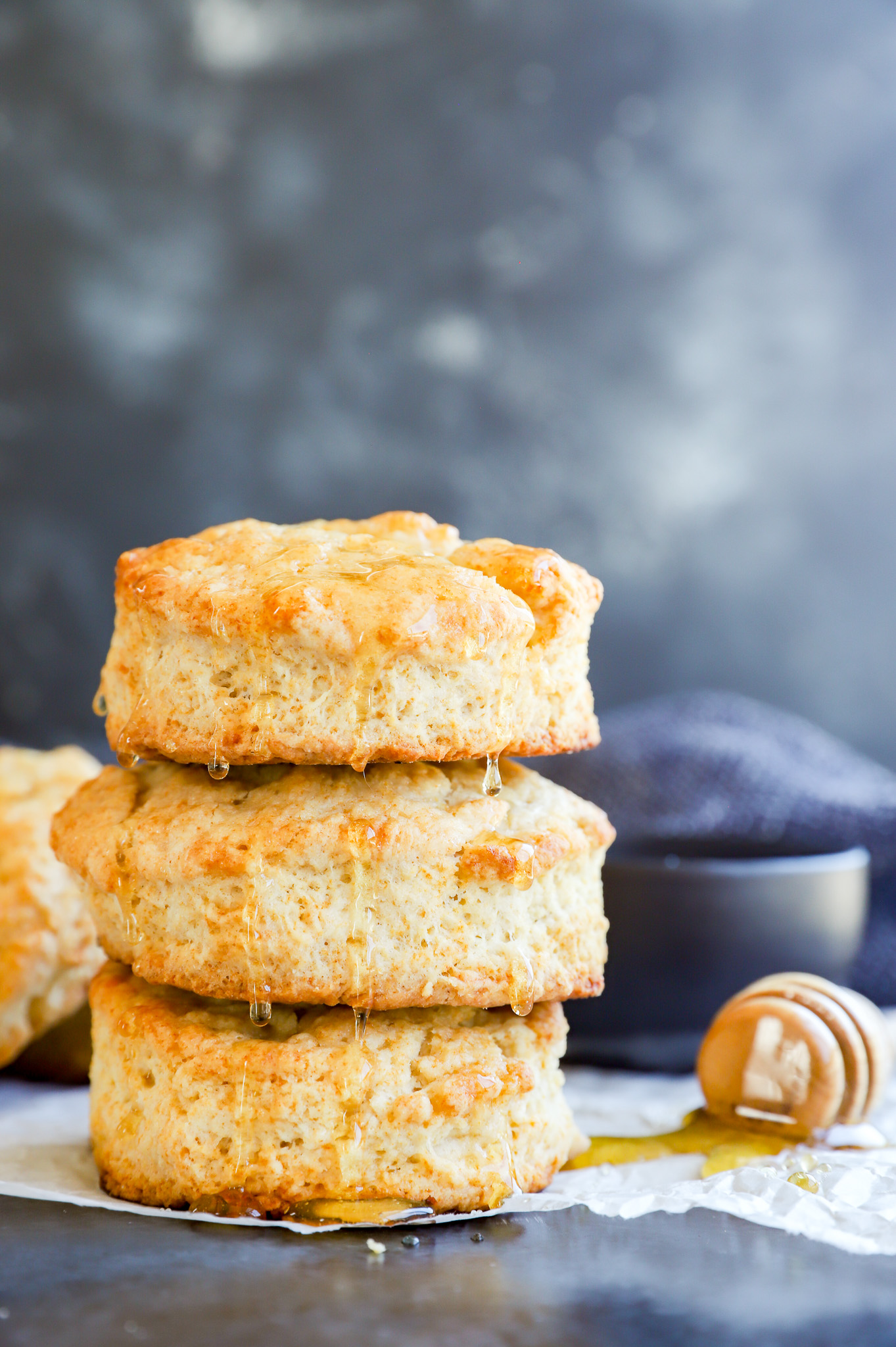 what to serve with biscuits
Biscuits are fantastic on their own, especially this recipe with the honey butter glaze on top! You can also slather them in butter, spread them with jam, or whatever your heart desires.
These sweet and buttery biscuits are so good for sandwiches as well! A pork belly breakfast sandwich is particularly delicious… Another option is to smother these biscuits in gravy!
Now if you just want to serve these biscuits as a side to a savory dish, here are some favorites we recommend:
Serve these biscuits with your favorite soup! Pairing them with instant pot tomato soup is a classic.
Add them to your Thanksgiving spread with this smoked beer brined turkey!
Pair them with any breakfast dish like eggs, bacon, or even ham hash.
how to store
Store. Cool the honey butter biscuits to room temperature. Place in an airtight container. The biscuits will keep for up to 2 days at room temperature. If you have leftover melted honey butter, you can store it in an airtight container in the refrigerator. Simply melt it in the microwave when you are ready to use it. It's delicious when drizzled on these biscuits, but you can also use it as a spread on bread (without melting it of course!).
Reheat. To warm the biscuits up again, place them in a 300˚F oven on a baking sheet. Bake until they are warmed through to desired temperature (5 to 7 minutes is our personal preference).
Freeze. Cool biscuits until room temperature. Wrap each biscuit with aluminum foil, then place in a resealable freezer-safe bag. The biscuits will last up to 3 months.
Thaw. Thaw biscuits overnight on the counter. Rewarm in the oven as instructed above.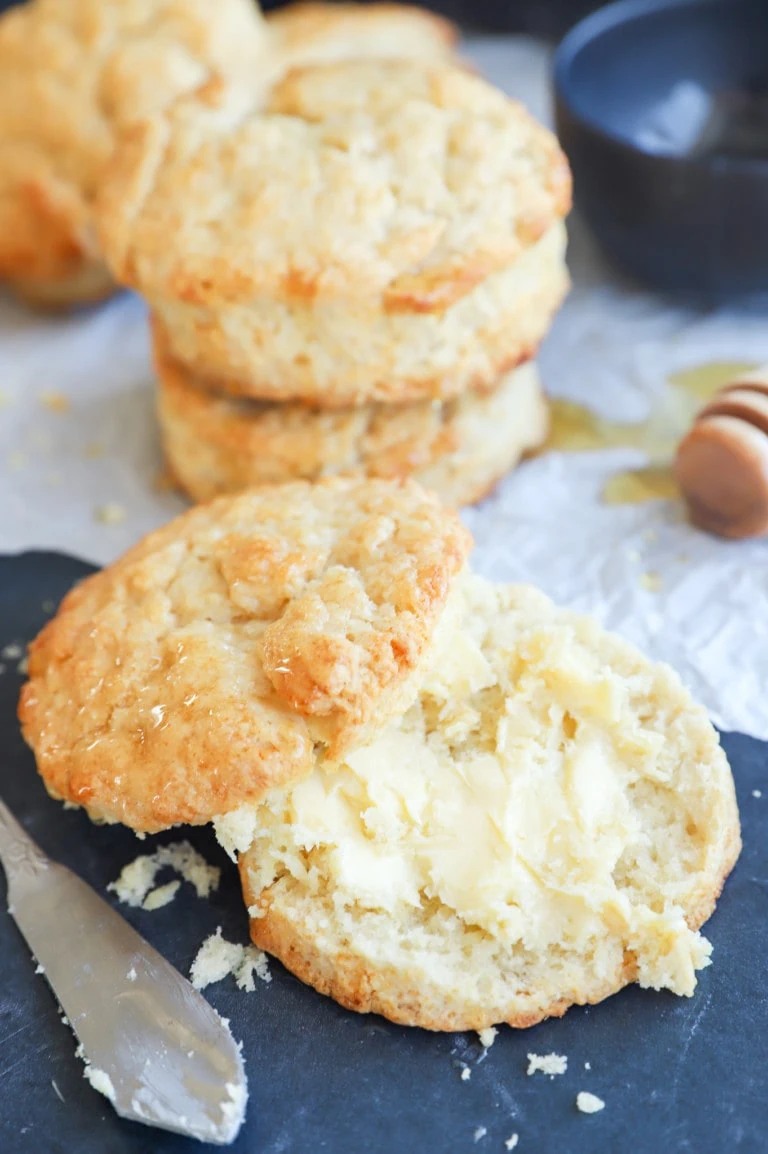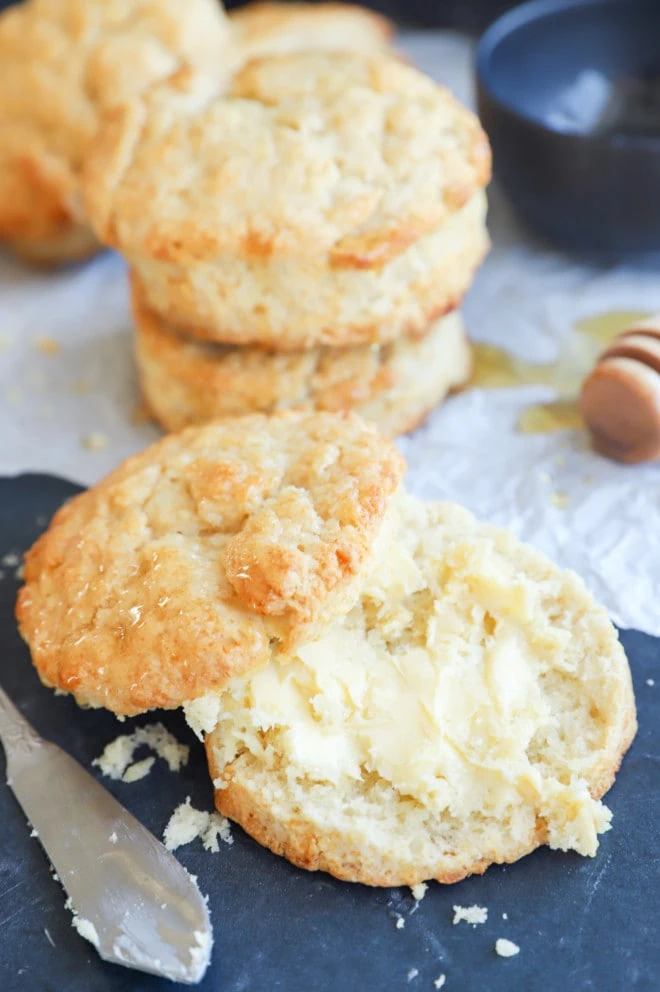 more comforting recipes
This no yeast white bread is a must for a loaf when you don't have yeast on hand!
Harvest pumpkin seed bread is the artisanal bread that's ideal for the autumn season.
Finally, if you make this honey butter biscuits recipe, please be sure to give this recipe a rating and/or leave a comment! I love to hear when you all make recipes, and I do take the time to respond to every single comment.
Feel free to drop questions below too, if you have them!
Oh and be sure to tag me on Instagram if you make the recipe! I love being able to see these recipes come to life in your homes – it's my favorite thing to look through those photos. It really means the world to me!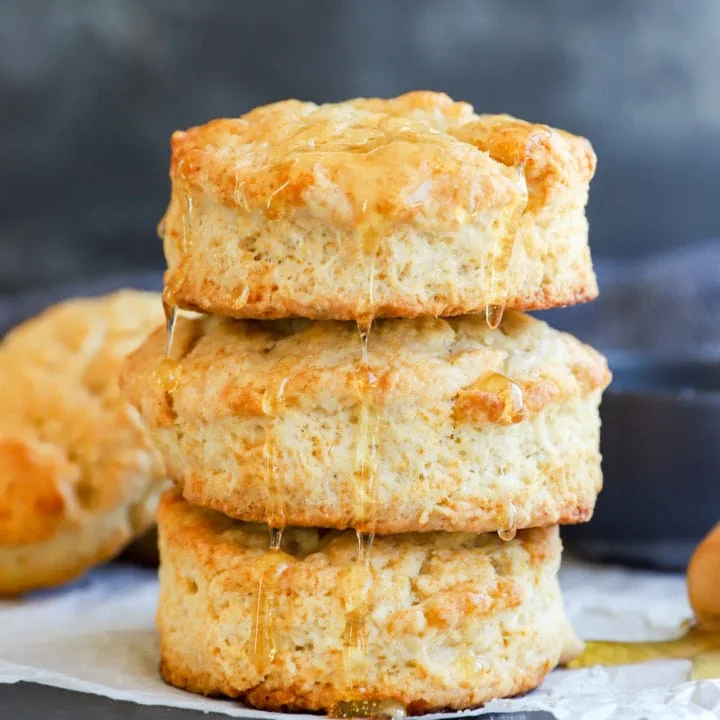 Honey Butter Biscuits
These buttery and slightly sweet biscuits are flaky and delicious!
Ingredients
biscuits
3 1/2 cups all-purpose flour
1 Tbsp + 2 tsp baking powder
1 tsp salt
1/2 tsp baking soda
1 cup cold unsalted butter
1 Tbsp + 1 tsp honey
1 cup + 1 Tbsp buttermilk
honey butter glaze
1/2 cup unsalted butter, melted
1/3 cup honey
Instructions
Preheat oven to 425˚F. Line a baking sheet with a silicone mat or parchment paper.
Add flour, baking power, salt, and baking soda to a large bowl. Stir to combine.
Cut in butter using two knives, a pastry cutter, or your hands until mixture resembles coarse crumbs. Stir in buttermilk and honey, until just moistened.
Turn dough out onto a lightly floured surface. Knead the dough until it is smooth. This will take a few minutes as the dough is dry at first. If your dough is dry after kneading, add 1 Tbsp buttermilk at a time, kneading a couple of times in between, until no longer dry. Be sure not to add to much, the dough should not be wet.
Roll out until it's 1-inch thick. Cut into circles that are 2 to 2 1/2-inches in diameters.
Whisk together honey and melted butter for the honey butter glaze.
Brush the mixture over the biscuits.
Bake for 18 to 22 minutes, until golden brown.
Serve warm.
Recommended Products
As an Amazon Associate and member of other affiliate programs, I earn from qualifying purchases.