Please note this post contains affiliate links.
Dark Chocolate Coffee Cookies with Sea Salt are a quick and easy cookie recipe made for coffee lovers. Sweet, chewy, a little salty, and packed with espresso, you'll love just how simple they are to make any day of the week.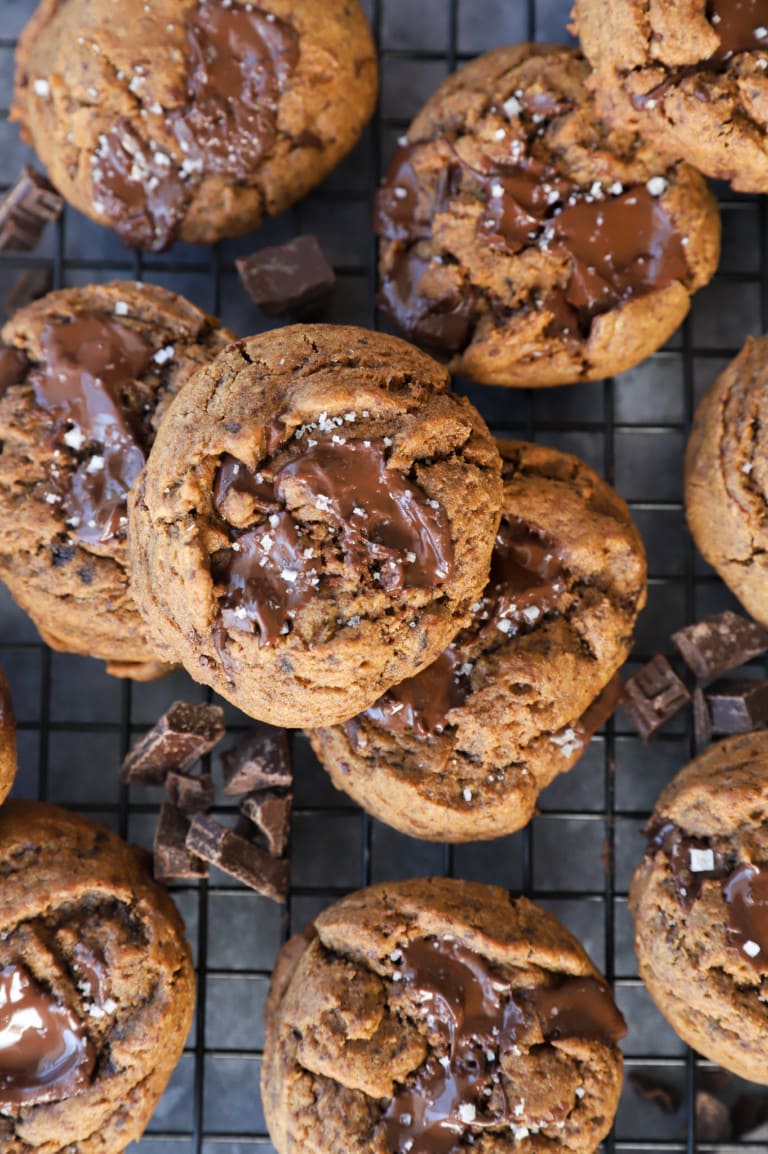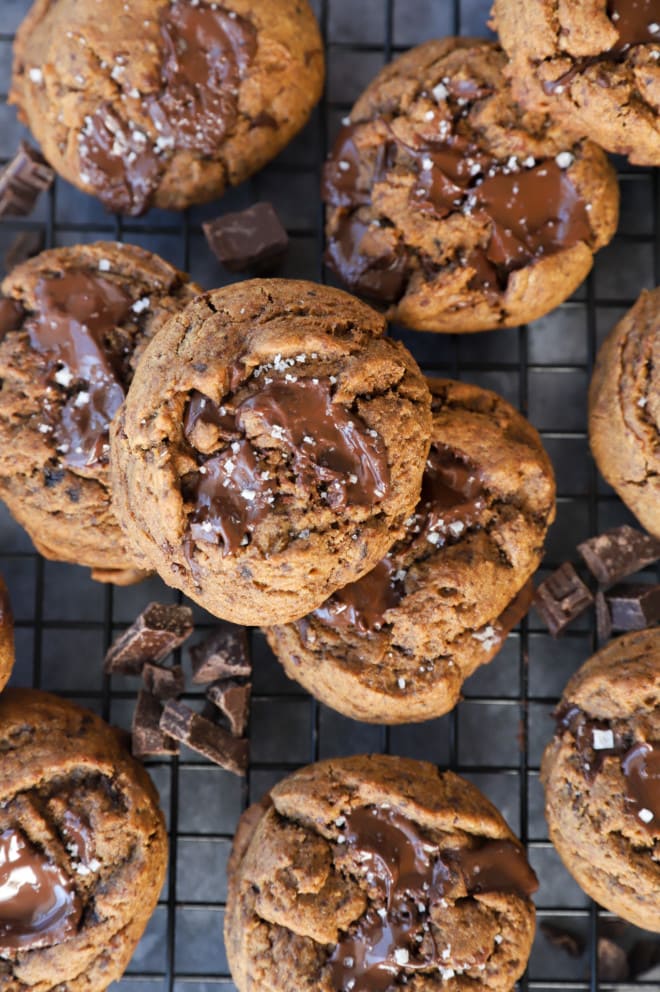 If you love all things coffee, these coffee cookies are made for you. Whether you are looking for a perfect pairing for a mug of coffee or a buzzy little treat for the end of the evening, you cannot beat the combination of dark chocolate, espresso, and flaky salt sprinkled on top of these cookies.
This is the perfect cookie in my book. It is chewy and moist on the inside, with just the right amount of crispiness on the outer edges. Then there is the burst of flaky sea salt on top of pools of melted dark chocolate… It's a gorgeous combination of flavor and you'll feel like you are enjoying a cookie right out of a bakery!
This isn't just a little hint of coffee, it's a full-bodied experience that we simply cannot get enough of. They are not overly sweet, making them ideal for those who love a touch of salty-sweet complexity in their treats.
The catch? There is none! These coffee cookies are insanely easy to whip up and you don't even need a stand mixer or handheld electric mixer.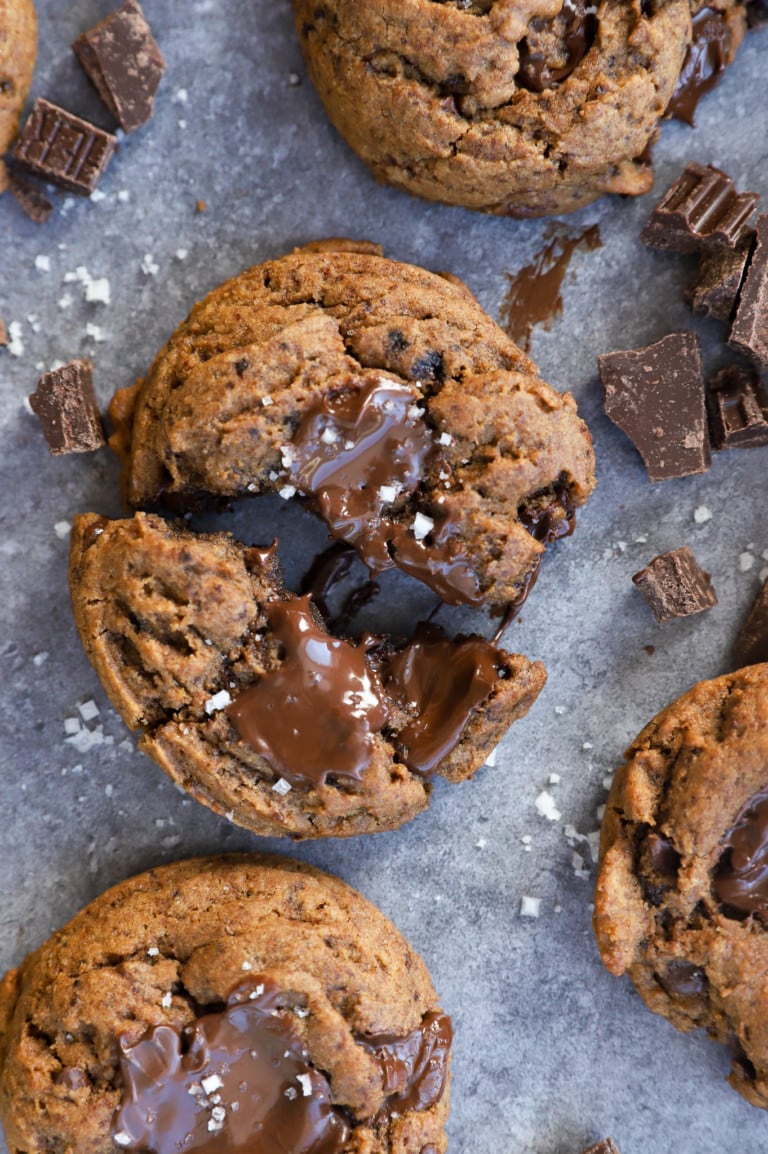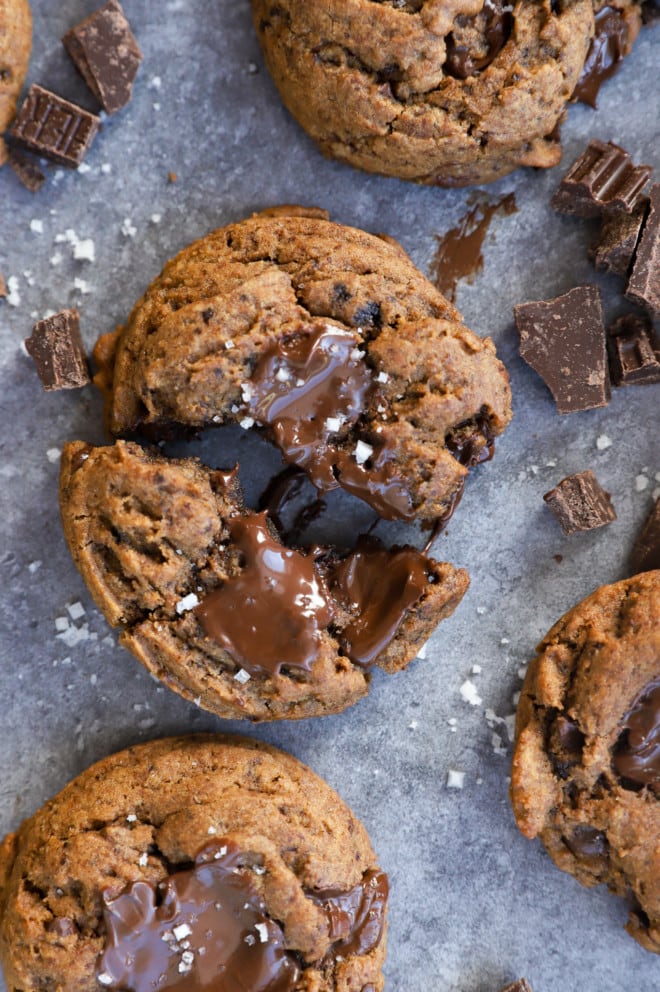 There are so many reasons to whip up a batch of these coffee cookies, but if you need some further convincing, here's the standout reasons for us:
Flavor combination: The combination of dark chocolate and coffee is absolutely ideal. The deep and intense flavor of chocolate with its bitter notes is a lovely partner for robust and nuanced coffee.
A little jolt: Espresso naturally makes this recipe have some caffeine in it. There isn't a lot of caffeine in the entire recipe, but the little pick-me-up is perfect for a tiny little boost. That's why we love to pair them with an afternoon cup of coffee!
Crispy and chewy: These cookies strike the perfect balance between chewy and crispy. The outside has just the right hint of crispy, but when you sink your teeth into it, it's moist and chewy.
Simple ingredients: This recipe uses basic ingredients you can easily find in your pantry, making them convenient to bake whenever you have a craving for something sweet.
So, go ahead and give these espresso chocolate chip cookies a try! They're a delightful indulgence that combines the best of both coffee and chocolate worlds.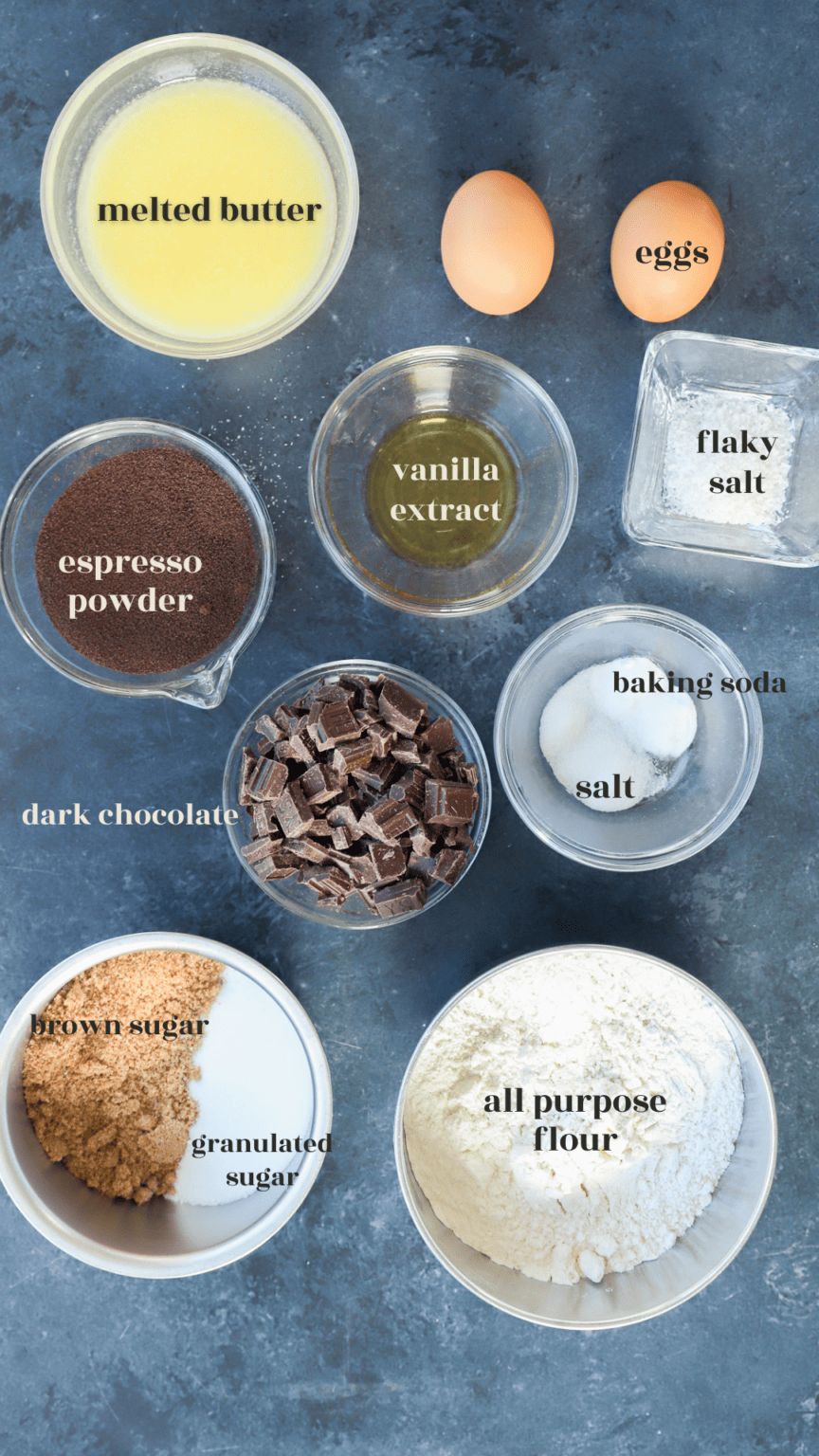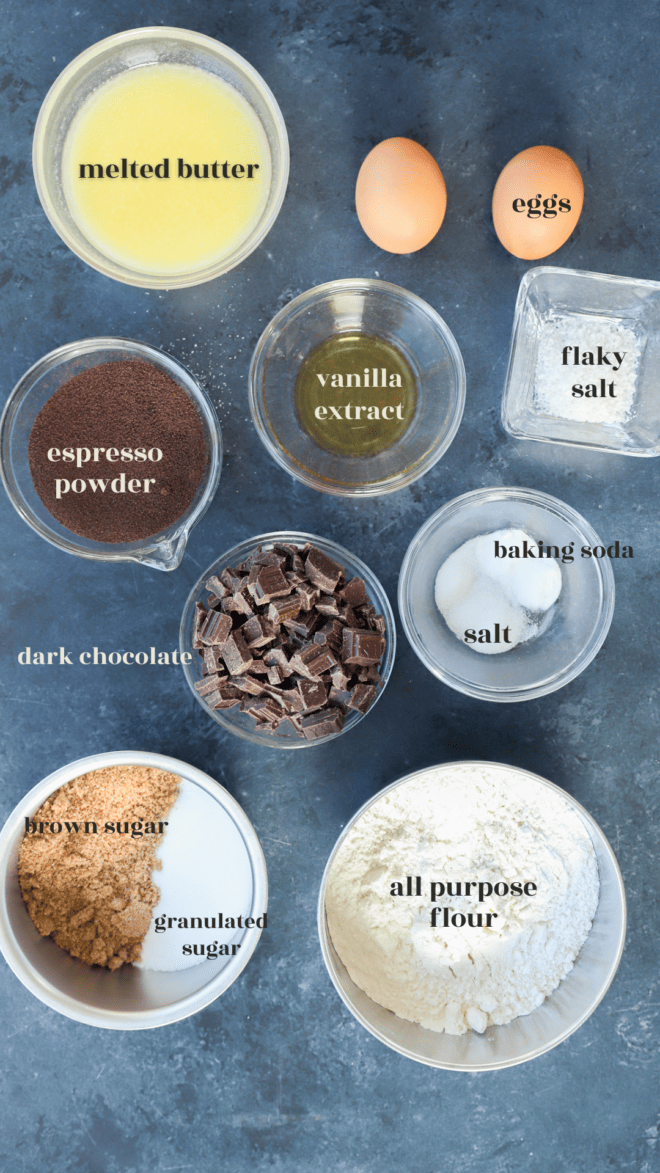 ingredients
flour. Use all purpose flour for these cookies. You can also use cake flour, if you prefer.
baking soda. Baking soda is the only leavener you will need for the recipe. Make sure to check the expiration to endure it is not expired before starting this recipe.
salt. You will need two types of salt for the recipe. Kosher salt for the batter and flaky sea salt for topping the cookies (you can skip the latter, if you prefer).
butter. Use unsalted butter for the batter. If you want to use salted butter, be sure to omit the kosher salt called for in the batter.
sugars. You will need a combination of dark brown sugar and granulated sugar for this recipe. You can also use light brown sugar, I just prefer the flavor of dark brown sugar with the coffee.
espresso powder. Instant espresso powder is easily found at your local store! Note that you can use decaf if you prefer to avoid caffeine in the cookies.
eggs. One large egg and one large egg yolk are needed. Make sure to let them come to room temperature before making the recipe.
vanilla. Using a high-quality vanilla extract is always best. If you need a brand recommendation, I really like this Madagascar Bourbon Pure Vanilla Extract.
dark chocolate. Be sure to use dark chocolate, about 80% to 90% cocoa. You can use milk chocolate, but I find it a little too sweet for this particular cookie. Chop the chocolate into small chunks for the best texture.
this recipe's must haves
To make these cookies, you will need measuring cups and measuring spoons to measure the ingredients.
For mixing up the batter, you will need two mixing bowls as well as a whisk and a wooden spoon.
To measure out the cookie dough balls, I like to use a cookie dough scoop!
You will need parchment paper or silicone mats to line each half sheet baking pan (you will need a couple).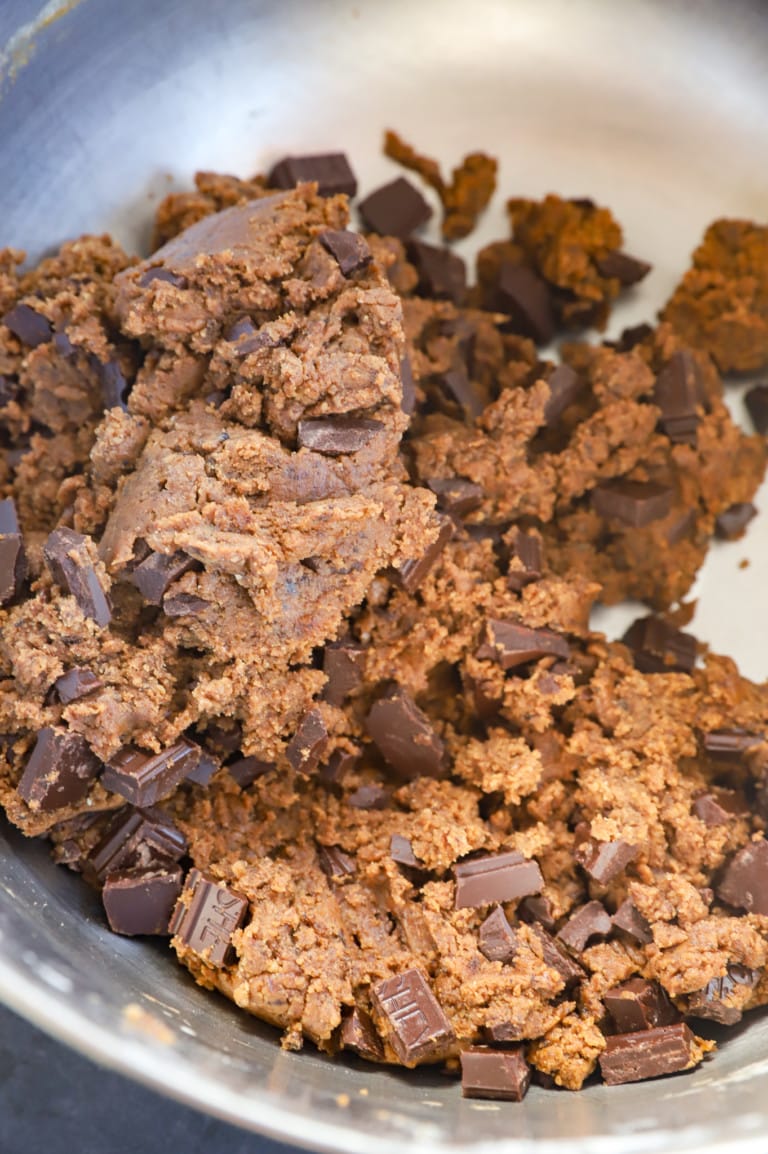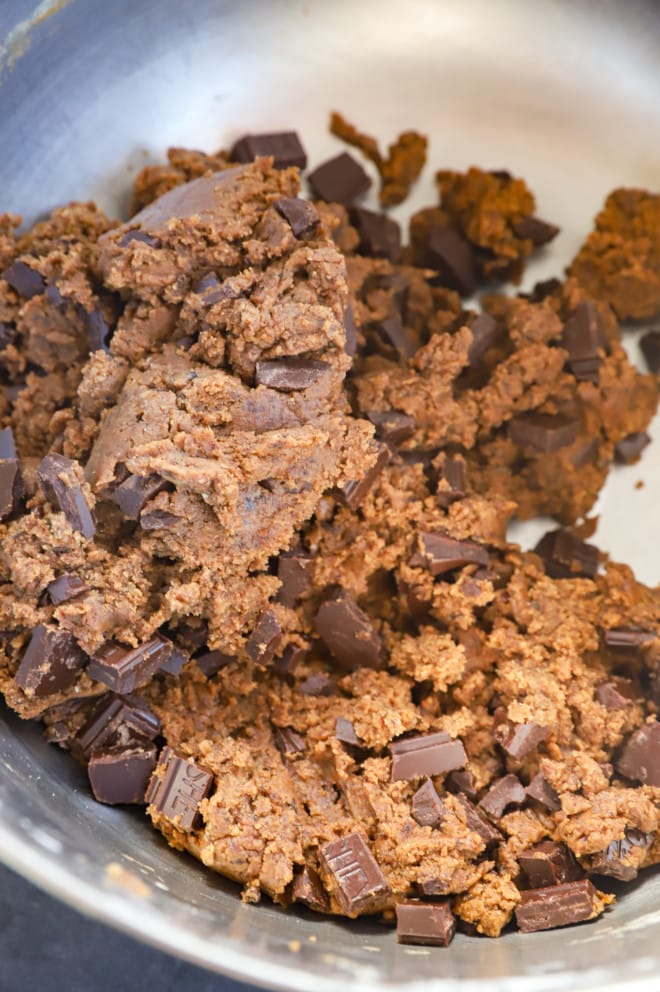 dry ingredients
Add flour, baking soda, and salt to a bowl. Whisk together until combined and set aside.
wet ingredients
In a separate large bowl, add melted butter, dark brown sugar, granulated sugar, and espresso powder. Stir well until combined. The mixture will look like wet sand at this time.
Add egg, egg yolk, and vanilla extract. Stir until smooth and combined.
make dough
Pour in dry ingredients, stirring together until just combined. Do not over mix.
Add in chopped dark chocolate, folding it in until just combined.
Scoop dough out into 2 Tablespoon scoops to form cookie dough balls. I like to use a cookie dough scoop for this to ensure the balls are all the same size. Place balls on a lined baking sheet.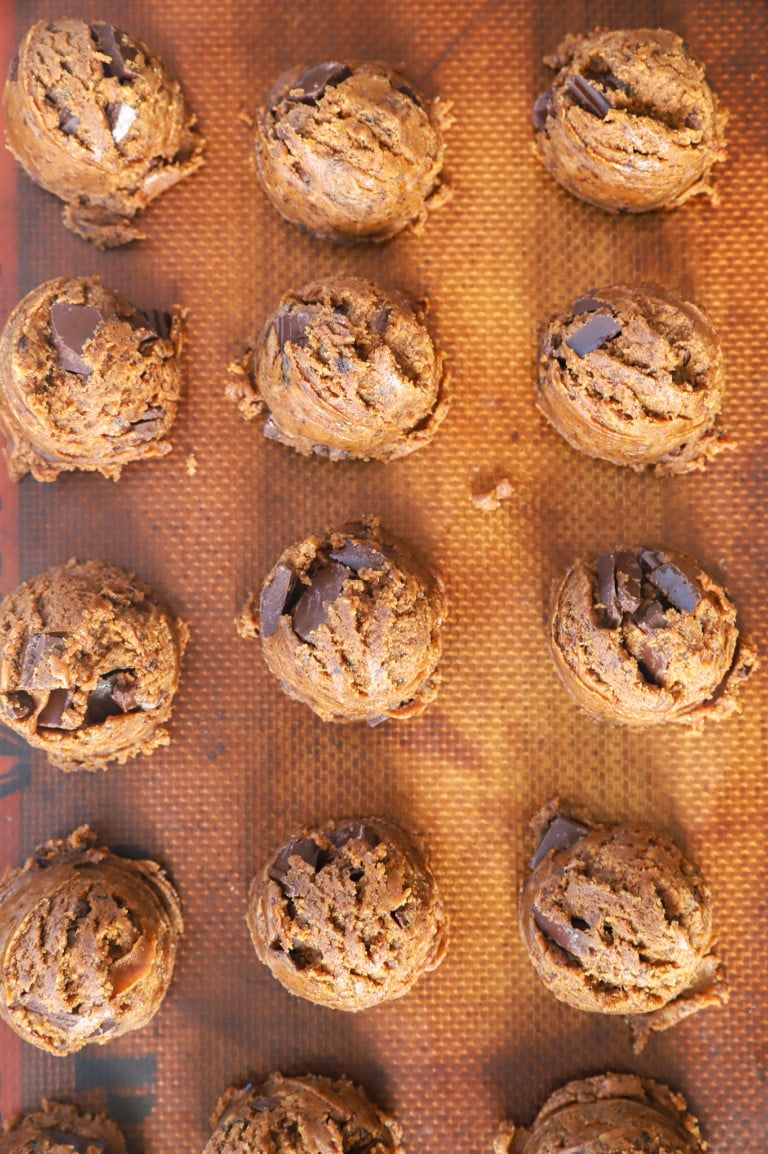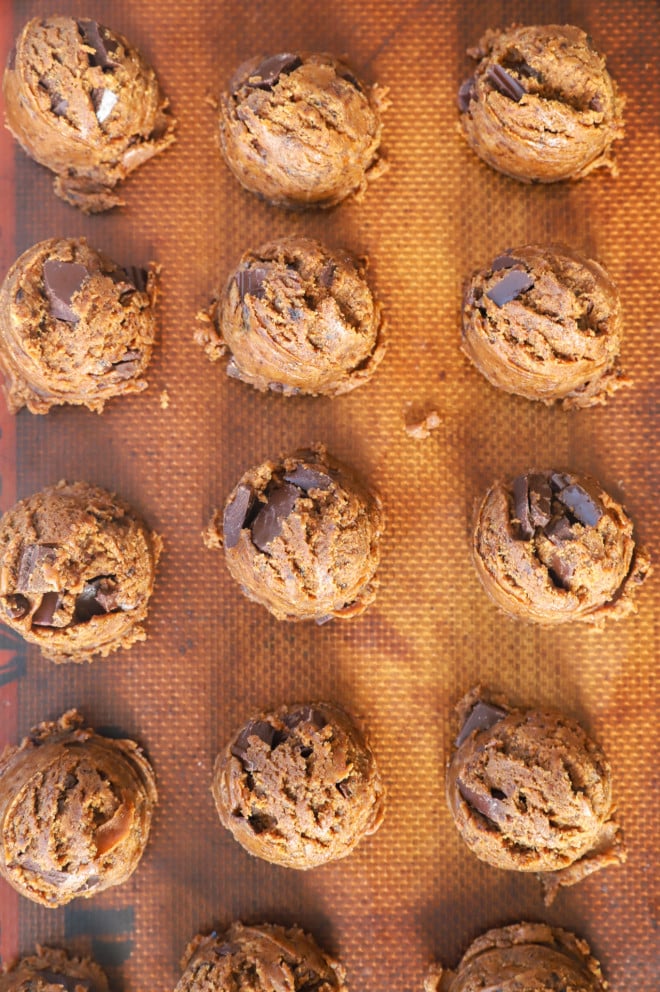 chill
Chill the dough for 10 minutes in the refrigerator, or for 5 minutes in the freezer.
Remove from refrigerator or freezer. If you want the pools of chocolate on top of the cookies, use your hand to slightly flatten out the tops of the cookie dough balls. Press a couple chunks of chopped chocolate on top. Form them back into balls and place on lined cookie sheets, spacing them about 2 inches apart.
bake
Bake for 10 to 12 minutes. The edges should be set and the centers will be a little puffed. Remove from the oven, sprinkle with flaky sea salt, and let cool on the pans for about 5 minutes. Place on wire cooling racks to cool the rest of the way to room temperature. Feel free to enjoy warm, just note that if you have pools of chocolate on top, they will be hot!
tips and tricks
do not over mix. If you over mix the batter, it is more likely that you will end up with a dense and dry cookie.
use room temperature ingredients. Bring all of the necessary ingredients to room temperature before making this recipe. This is what makes sure that the batter comes together well!
use a cookie dough scoop. This is the best way to ensure that your cookies bake evenly since they will all be about the same size.
chill the dough. Do not skip chilling the dough! If you do, the cookies will spread out too much and you will miss out on the chewy texture.
measure flour properly. Scooping your flour incorrectly can actually impact the texture of your cookies and prevent them from spreading properly. When you measure flour, stir the flour with a spoon and then spoon it into your measuring cup. Level it off before using in the recipe. I like to use a knife for this but there are measuring cups that come with levelers now too!
do not over-bake cookies. The edges should look just set. The centers will still be a little wet, but they will continue to cook as they cool on the baking sheet.
More delicious cookies to bake up: Mocha Mexican Wedding Cookies | Chai Snickerdoodle Cookies | Lemon Lavender Shortbread Cookies | Carrot Cake Cookies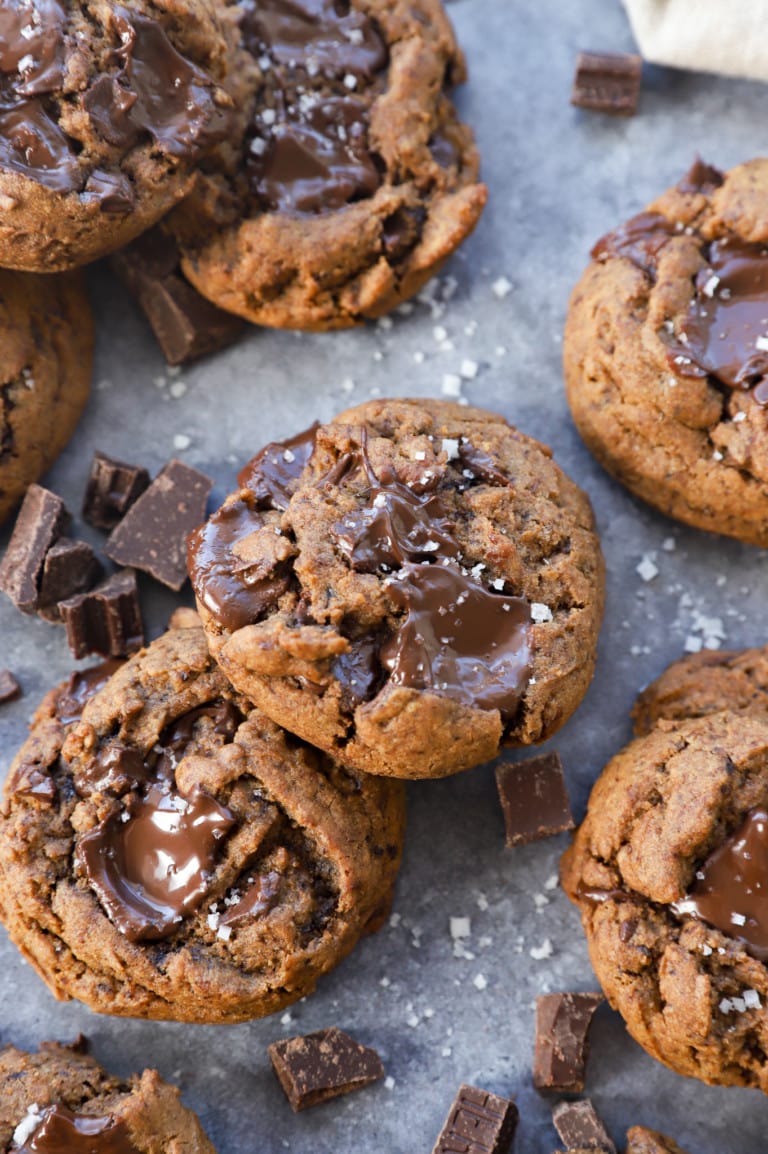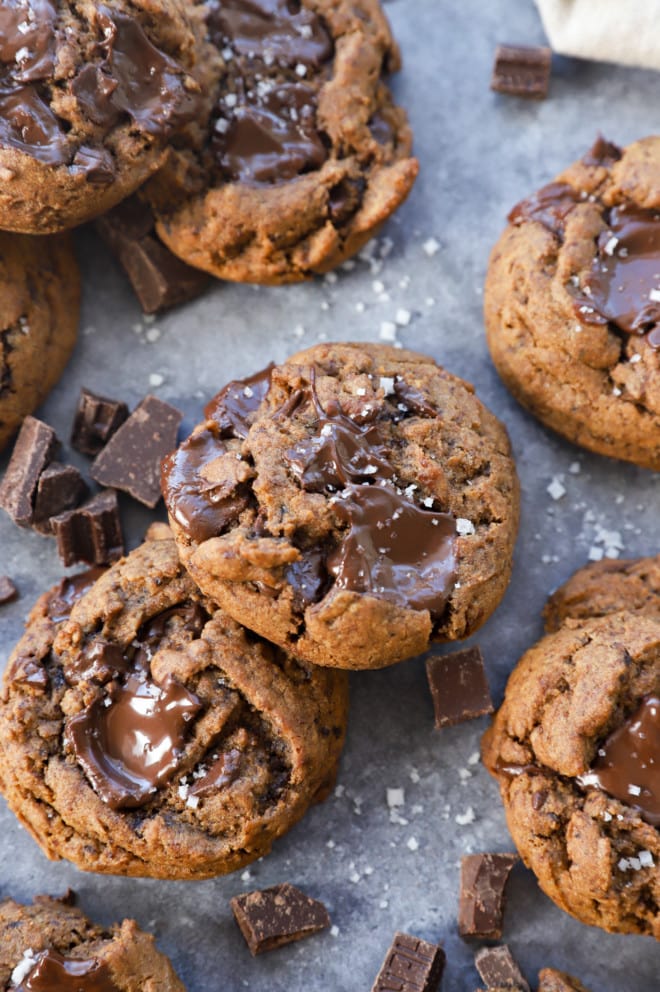 how do I get those pools of chocolate on top?
To get the puddles of chocolate on top of my cookies, I flatten each ball of dough ever-so slightly just before I'm going to bake. Then I press a couple chunks of chocolate on top. Form it back into a ball and place back on the baking sheet.
This gives you those gooey pools of chocolate that are oh-so tasty and make the cookies look even more gorgeous!
Technically yes, since we are using instant espresso powder, there is caffeine in the cookies. Since we are using 1/3 cup of espresso in the recipe, there's about the same amount of caffeine as 2 cups of coffee in the entire batch. If you prefer no caffeine, you can use decaf espresso powder instead.
how do you use coffee in baking?
In this recipe, we are using instant espresso powder for the coffee flavor. This is my personal favorite way to use coffee in baking because the flavor is rich and it's easy to impart it into the cookies this way. There's no need to brew a cup of coffee or shot of espresso!
These coffee cookies are the ideal blend of a light crispness on the outside with a nice, chewy center. That's the best kind of cookie in my book! The key to getting the center nice and crunchy is the chill time in the fridge or freezer.
However, if you want a crunchy, crispy cookie, this can be achieved by skipping the chill time.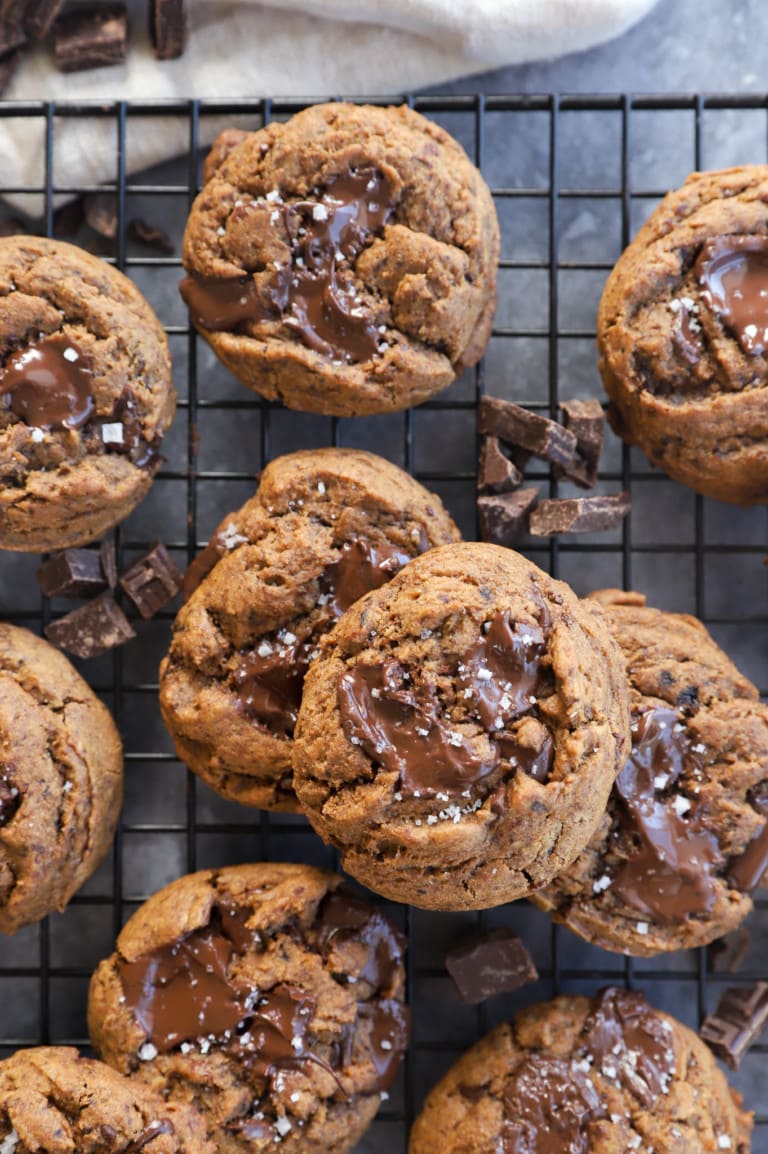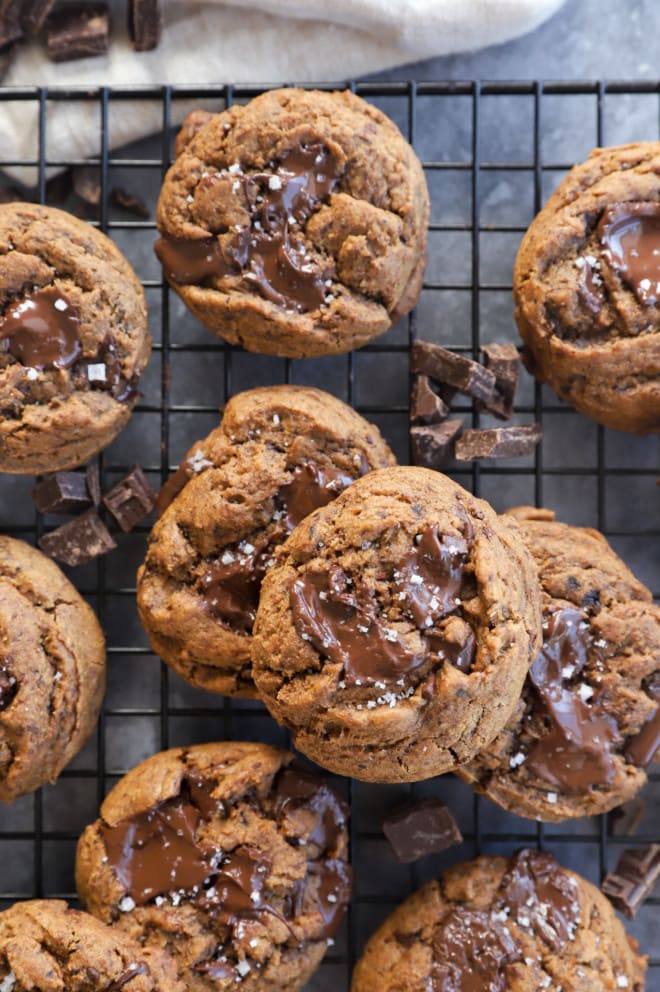 can I freeze them for later?
Yes, these cookies are perfect for freezing for later! I prefer to freeze the cookie dough before baking them as this results in a better cookie after freezing. To freeze the cookie dough, follow the recipe through making the dough balls. Place on a lined baking sheet and freeze for about 3 to 4 hours, then place in an airtight container or freezer-safe resealable bag. Freeze for up to 3 months. Bake the cookie dough balls from frozen on a lined baking sheet. You will need to add a few minutes to the total bake time.
If your cookies came out flat, you likely skipped the chill time. Be sure to chill the cookie dough balls before baking. If you do not, the butter in the dough will be too warm when it goes into the oven, which causes the butter to melt too much making the cookies spread out flat.
can I use instant coffee granules?
I do not recommend using instant coffee instead of instant espresso powder. The flavor of instant espresso is much stronger. If you use instant coffee, you won't get enough of the coffee flavor in the cookies.
can I use chocolate chips instead of chocolate chunks?
While you can use chocolate chips, chocolate chunks will give you a better result. Chocolate chunks will spread more bits of chocolate throughout the baked goods!
Need more inspiration for desserts? Check out my dessert recipes page!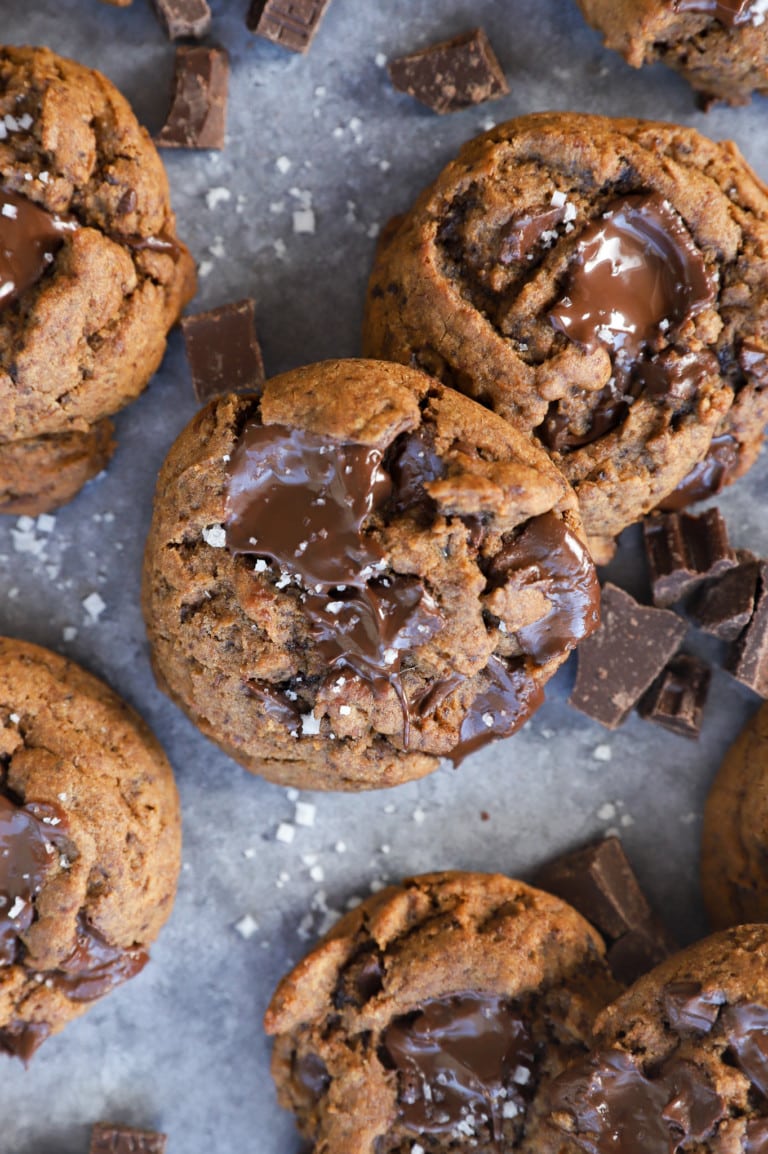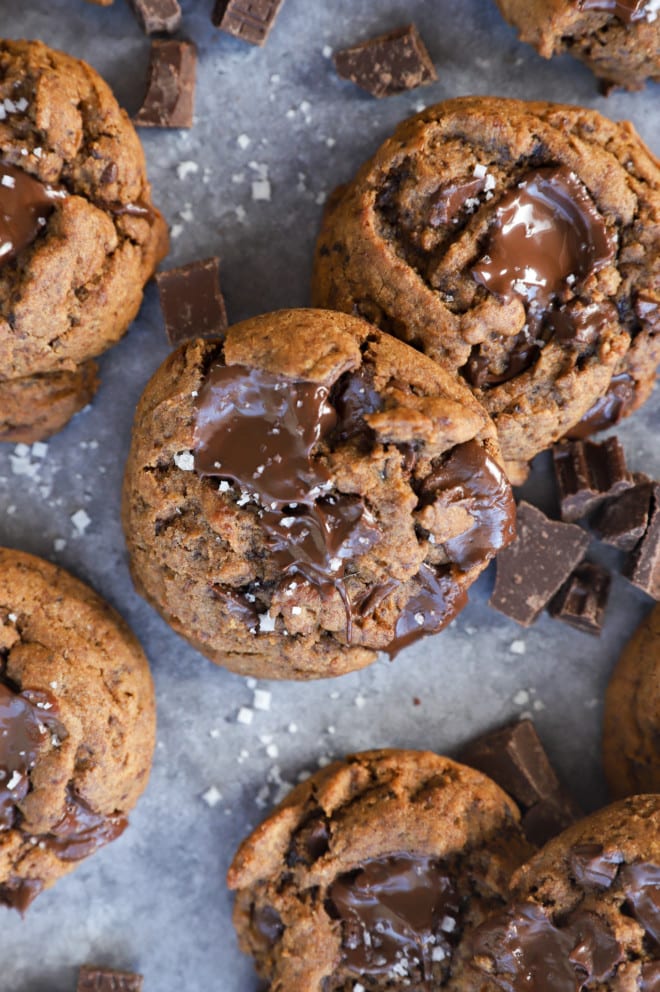 These cookies go best with a giant glass of milk! I particularly love warming up any leftover cookies in the microwave for about 10 seconds to mimic how they taste right out of the oven. Nothing beats a warm cookie paired with a chilled glass of milk in my book.
You could also pair these cookies with a mug of coffee at the end of a meal! Get creative and try pairing them with a creative coffee cocktail like an Irish coffee or hot orange mocha cocktail. If you prefer a cold cocktail, a white russian gives you the ideal blend of coffee flavor with enough creaminess to make you feel like you are having milk and cocktails (but grown up!).
Do you need another cookie for a cookie platter? I love pairing the dark chocolate coffee cookies with chewy peanut butter cookies!
how to store and freeze
Store. Baked cookies can be stored at room temperature in an airtight container or resealable bag so they do not dry out. Store them for up to 4 to 5 days at room temperature. You can also make the cookie dough and store it in the refrigerator, covered with plastic wrap, for up to 2 days.
Freeze. My favorite way to freeze cookies is to freeze them as balls of dough. Follow the recipe instructions, make the dough balls, and place them on a lined cookie sheet. Freeze for 3 to 4 hours, until hardened. Store in a freezer-safe airtight bag or container for up to 3 months. Baked cookies can be frozen (cool them to room temperature first) in airtight containers in the freezer for up to 2 months.
Thaw. There is no need to thaw the frozen dough balls. You can simply bake them from frozen! Be sure to add 2 to 3 minutes to the cooking time. Thaw baked cookies for a few hours at room temperature or overnight in the refrigerator.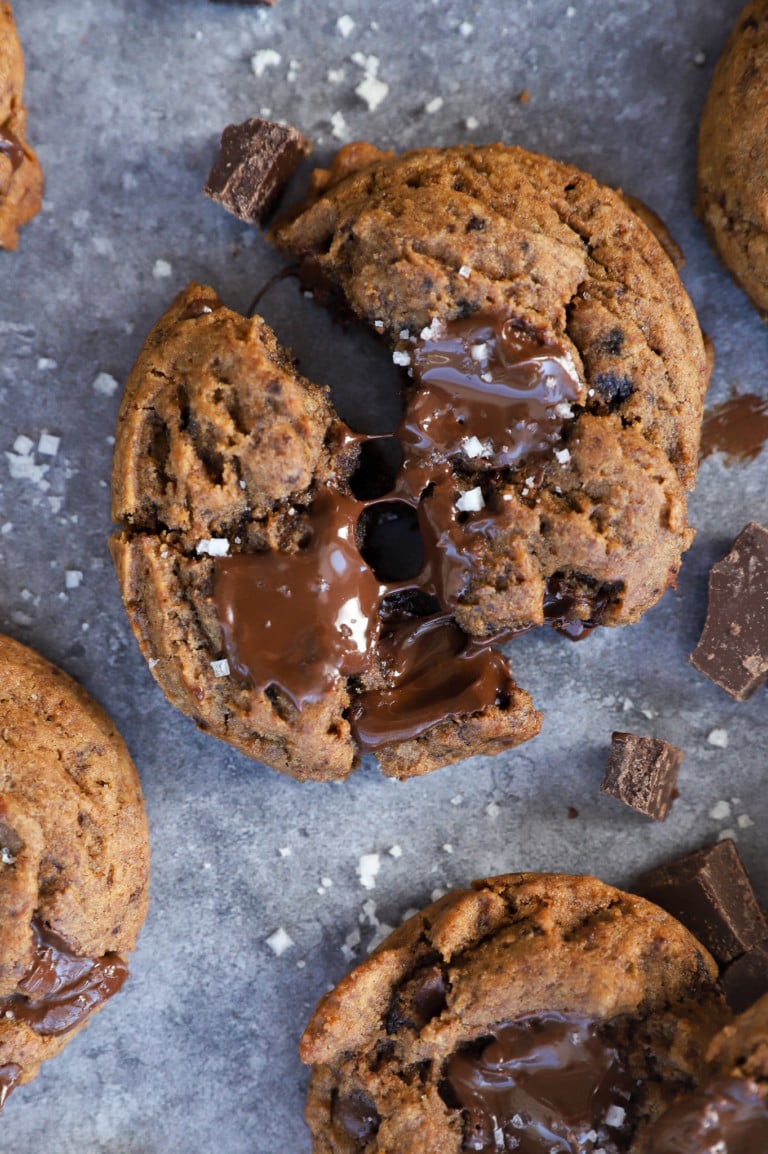 This version of everything in the pantry cookies is filled with so many fun flavors and textures!
Peanut butter oatmeal chocolate chip cookies are chewy, soft, and perfect for any day of the week.
Sea salt pistachio dark chocolate cookies are packed with indulgent chocolate and salty pieces of pistachios.
Cranberry white chocolate oatmeal cookies are soft and chewy, with just a touch of cinnamon for a festive flair.
Finally, if you make this coffee cookies recipe, please be sure to give this recipe a rating and/or leave a comment! I love to hear when you all make recipes, and I do take the time to respond to every single comment.
Feel free to drop questions below too, if you have them!
Oh and be sure to tag me on Instagram if you make the recipe! I love being able to see these recipes come to life in your homes – it's my favorite thing to look through those photos. It really means the world to me!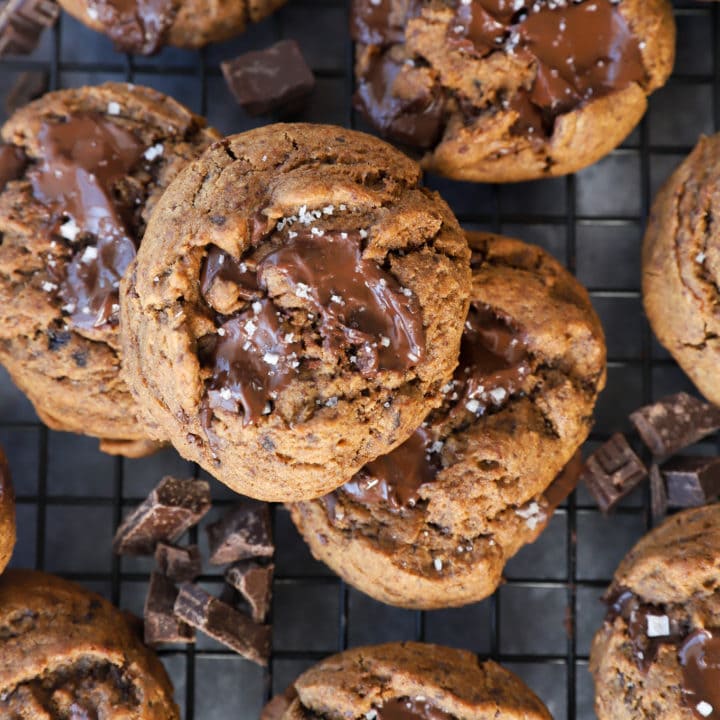 Dark Chocolate Coffee Cookies
Yield:
Makes approx. 2 dozen cookies
Additional Time:
10 minutes
A little crispy on the outside, perfectly chewy and moist on the inside!
Ingredients
2 cups all purpose flour
1/2 tsp baking soda
1/2 tsp kosher salt
1/2 cup unsalted butter, melted and cooled
1/2 cup dark brown sugar (you can also use light brown sugar)
1/2 cup granulated sugar
1/3 cup instant espresso powder
1 large egg, room temperature
1 large egg yolk, room temperature
1 1/2 tsp vanilla extract
1 cup dark chocolate, evenly chopped
2 tbsp flaky salt
Instructions
Preheat the oven to 350˚F. Line two large baking sheets with parchment paper or silicone baking mats.
Combine flour, baking soda, and salt in a medium bowl. Whisk to combined and set aside.
In a separate large mixing bowl, add cooled melted butter, brown sugar, granulated sugar, and espresso powder. Stir well to combine completely. The mixture should look ike wet sand at this point. Add in egg, egg yolk, and vanilla extract, stirring to combine.
Add dry ingredients and stir until just combined. Do not over mix. Fold in chopped dark chocolate.
Using a cookie dough scoop, scoop out dough in even amounts. The balls should be about 2 Tbsp in size each, if you don't have a scoop. Place dough balls on one lined baking sheet and chill in the refrigerator for 10 minutes (or in the freezer for 5 minutes).
To get the gooey pools of chocolate on top, slightly flatten each ball of dough with the palm of your hand. Press a couple of chunks of chocolate into the top of each ball. Form them back into balls and place on baking sheets, spacing them apart about 2 inches.
Bake for 10 to 12 minutes, until the edges are set and the centers are a little puffed. Remove from the oven and sprinkle with flaky sea salt. Let cool on the pans for 5 minutes before removing to wire racks to cool completely.
Store at room temperature in an airtight container for up to 4 days.
Recommended Products
As an Amazon Associate and member of other affiliate programs, I earn from qualifying purchases.