Please note this post contains affiliate links.
BBQ Apple Cider Ribs are the ultimate juicy, meaty, and messy dinner. This classic recipe has a twist of apple cider, making them extra tender. And if you don't end up with a face full of sauce, you aren't doing your ribs right! Serves 6.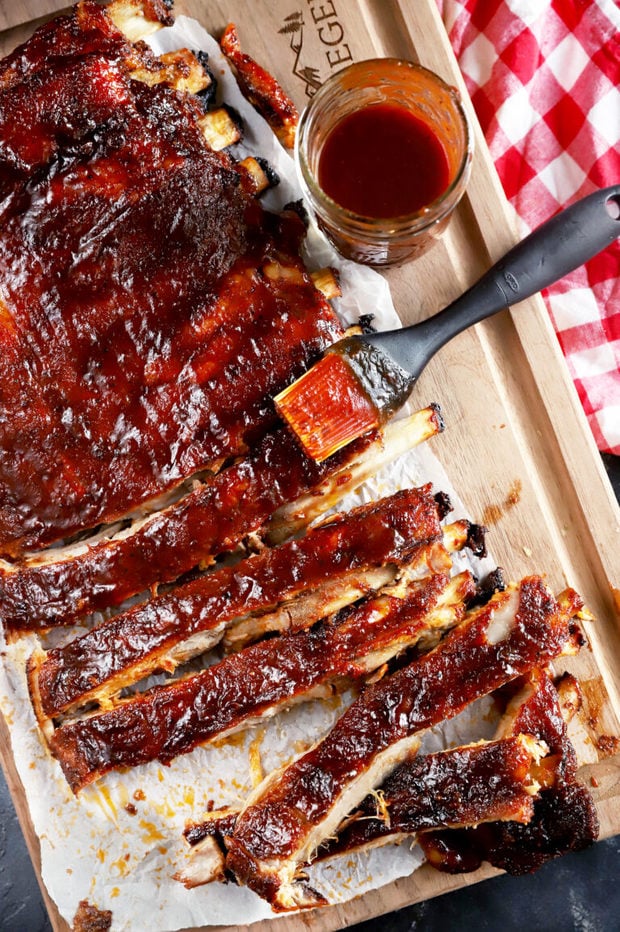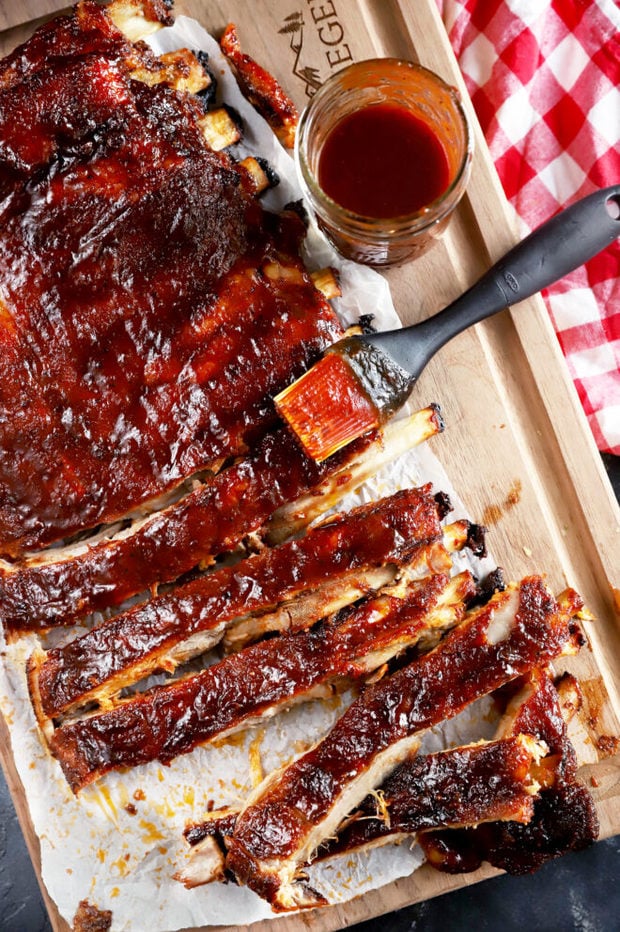 You know what preggo ladies need to eat a lot of? PROTEIN.
I didn't realize how little protein I consumed on a daily basis until I got pregnant and started reading into how much I should be eating a day… It's a lot for someone like me.
It's also a lot when you HATE the easiest meat in the world to cook – chicken.


a Cake 'n Knife favorite:
Since chicken is on the no-fly list at the moment, I am turning to beef (full cooked through, le sigh) and PORK. Like these juicy pork spare ribs.
I don't know why, but last week I was REALLY craving BBQ. I wanted to eat it all from pulled pork to ribs to brisket, etc etc etc. So, for the first time in a longggg time, I made ribs.
Usually I make my ribs with a dry rub (like these pumpkin spice ribs), but this time I wanted to get messy.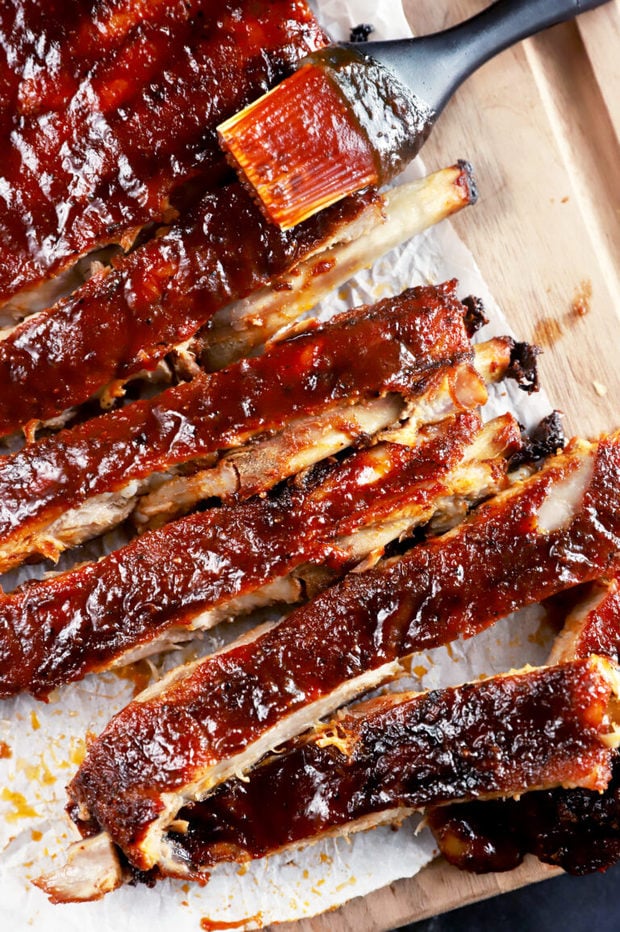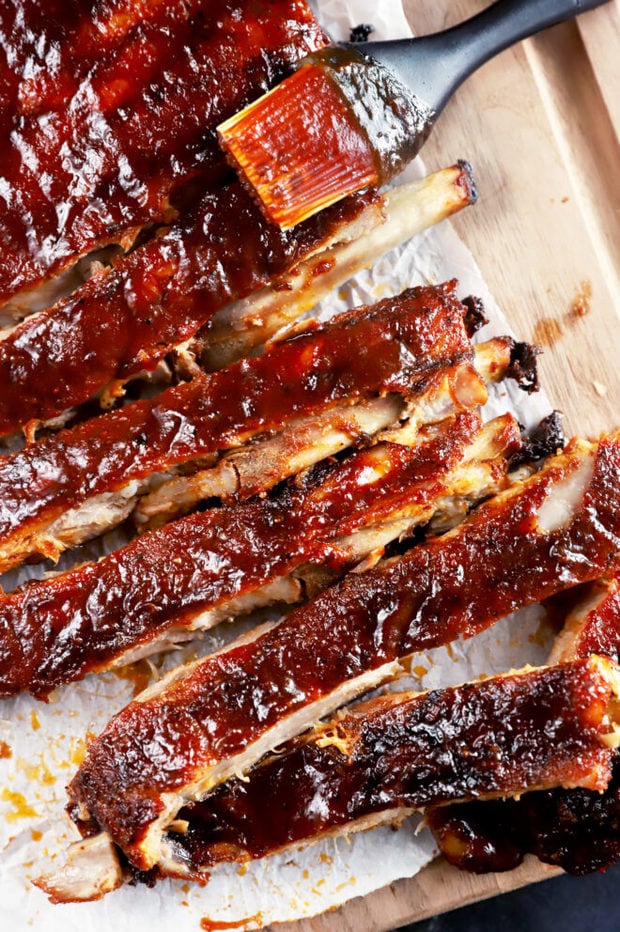 These apple cider ribs are some of the best, juiciest ribs I've ever made. It starts with a rub that's spot on with a smoky and slightly spicy flavor. This followed by a bake with apple cider and a final turn on the grill for some extra char.
I love to use a spicy BBQ sauce, but you can use any flavor you like whether it's traditional, homemade, or store-bought (no shame in that at all! I'm allll about a little shortcut wherever I can take it).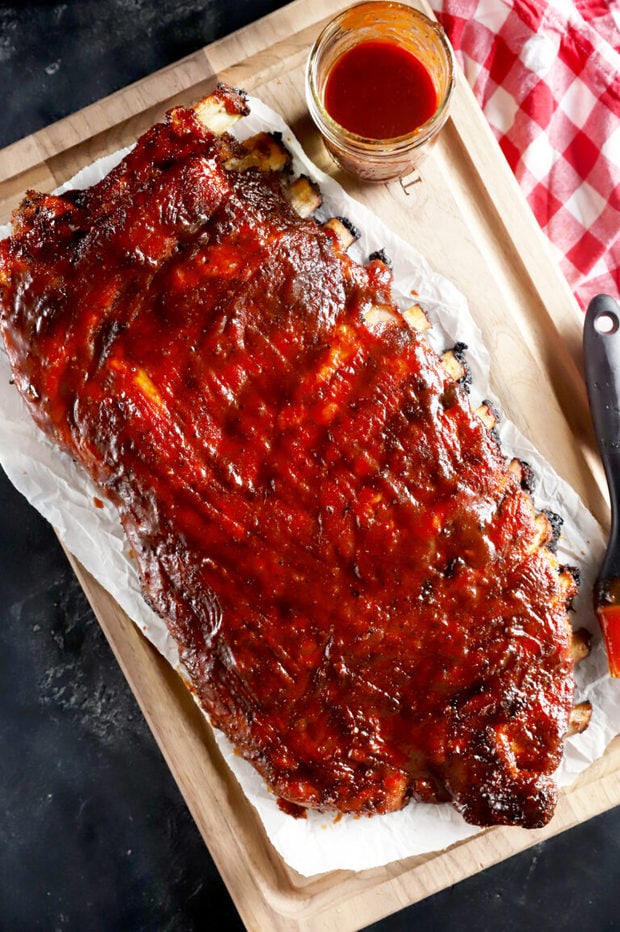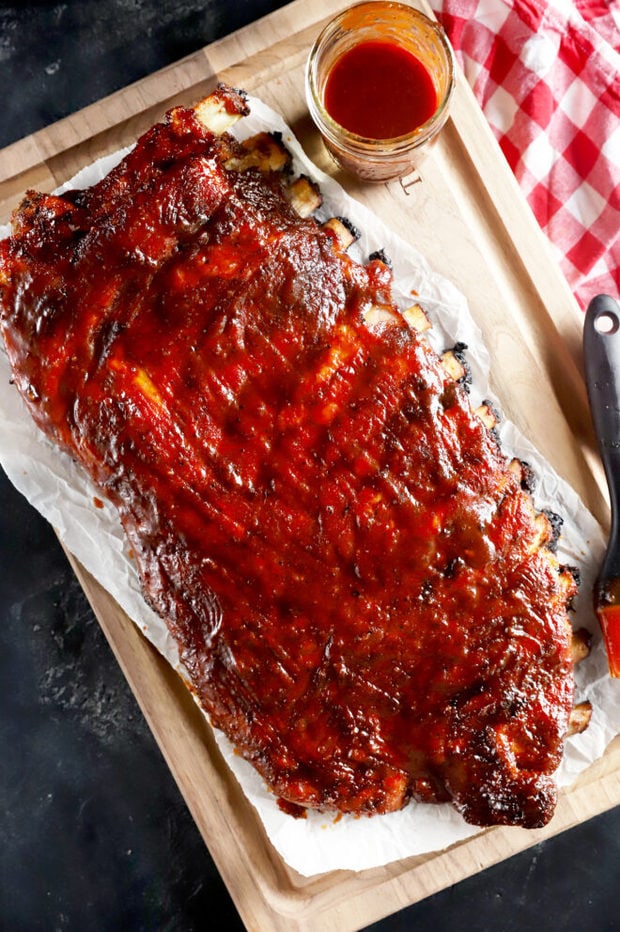 this recipe's must-haves
The smallest of your mixing bowls comes in handy to make both the spice mixture and the cider mixture.
You also want to make sure you have a rimmed half sheet baking pan to bake the ribs on. I usually use two of these pans or you can get yourself an extra large one.
For grilling, I highly recommend using a Traeger grill because it imparts even more flavor, no matter what pellets you choose to use. You'll also want a silicone brush to spread the BBQ sauce all over and tongs to flip them.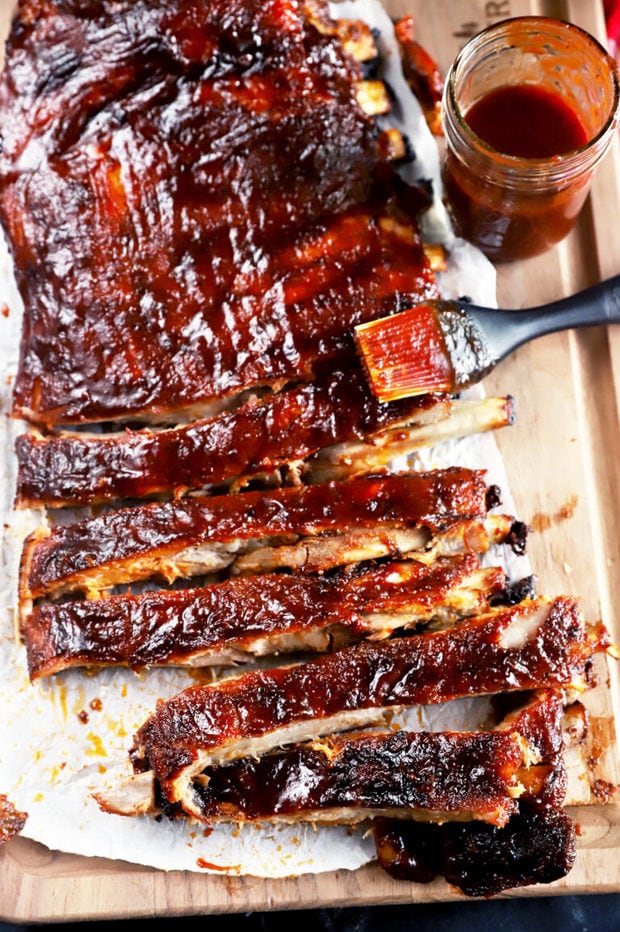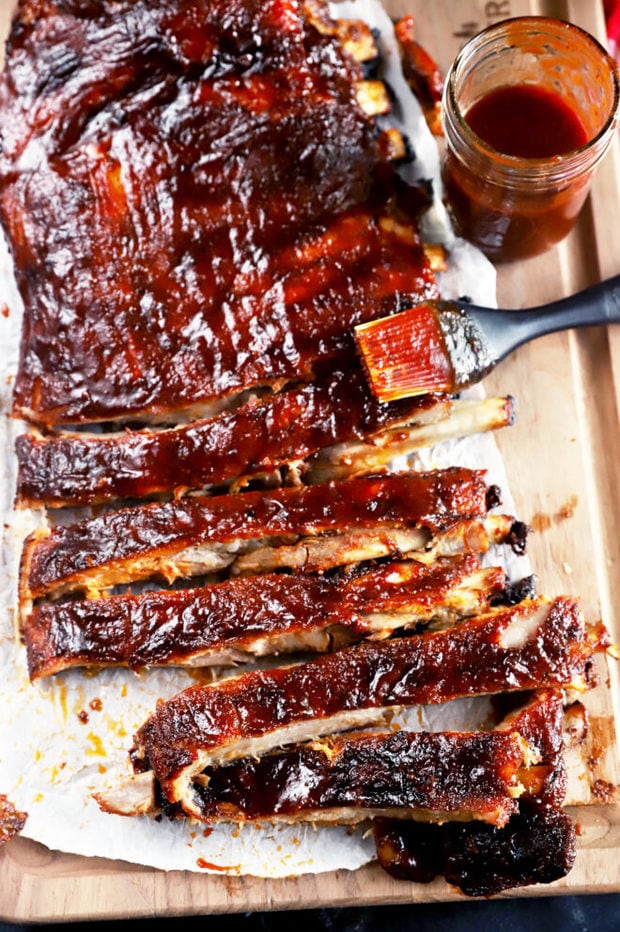 here's how to make bbq apple cider ribs!
Make Rub
The rub is made from ingredients that you likely already have in your pantry! The one outlier may be ancho chile powder. You can use regular chili powder in its place, but I highly recommend investing in some ancho flavor. It's SO tasty.
Once you make the rub, make sure it's spread all over the racks of ribs evenly.
Bake
Now let's bake! The key to baking ribs is to bake them low and slow. The slow cook really keeps everything nice and tender, not to mention juicy.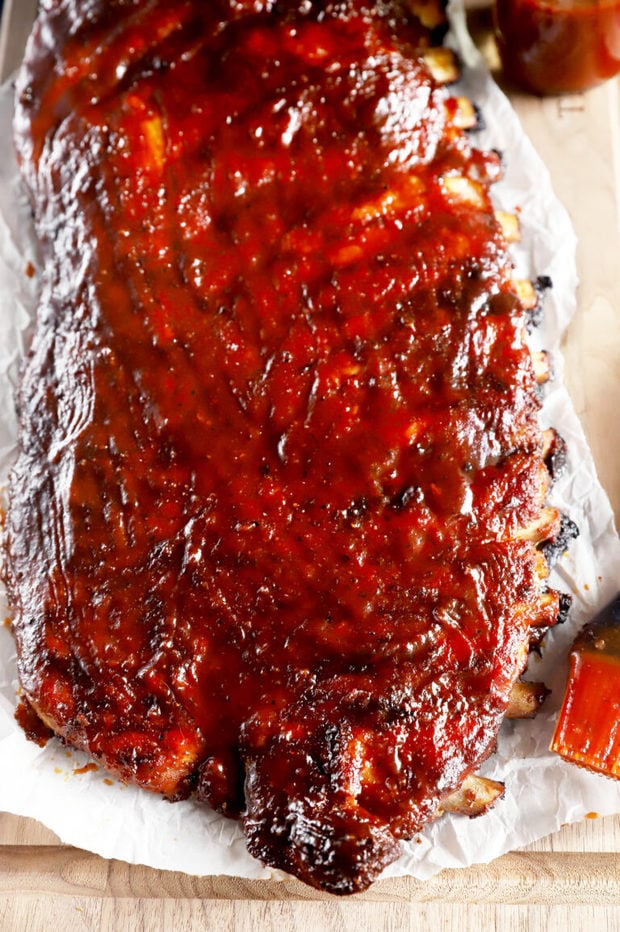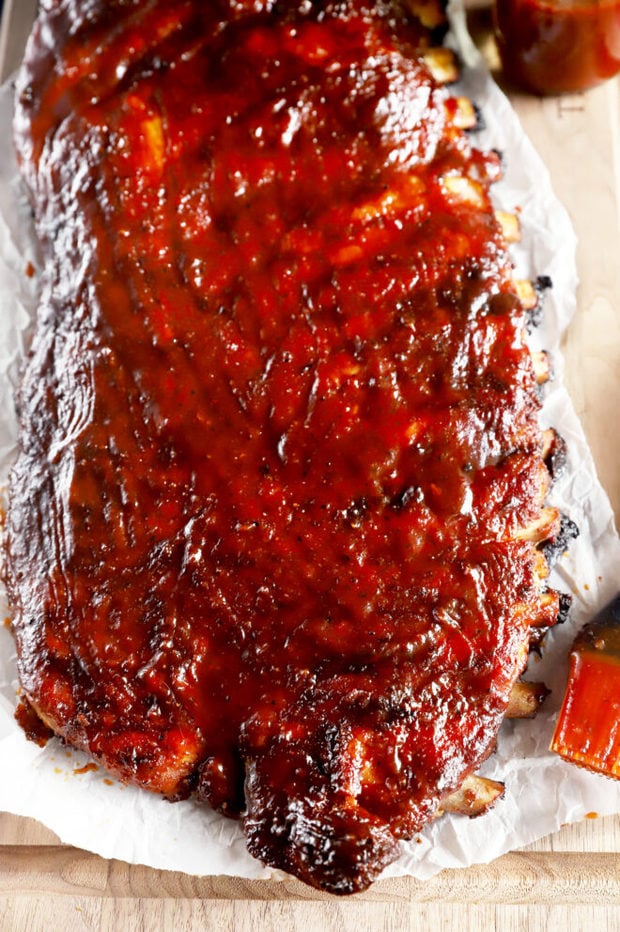 Bake Some More
Next you will need to pour over a mixture of apple cider and honey. It's a simple mixture that infuses itself into the ribs as it bakes for another hour. You get just the right amount of apple cider flavor, and it really complements the BBQ flavor.
Grill
Grilling the ribs gives the outside that tasty crust that I absolutely DROOL over. You cook it for just 15 minutes, basting it with your favorite BBQ sauce the whole time until it is nice and glazed… YUM.
Need some more inspiration for grilling? Check out my grilled recipes page!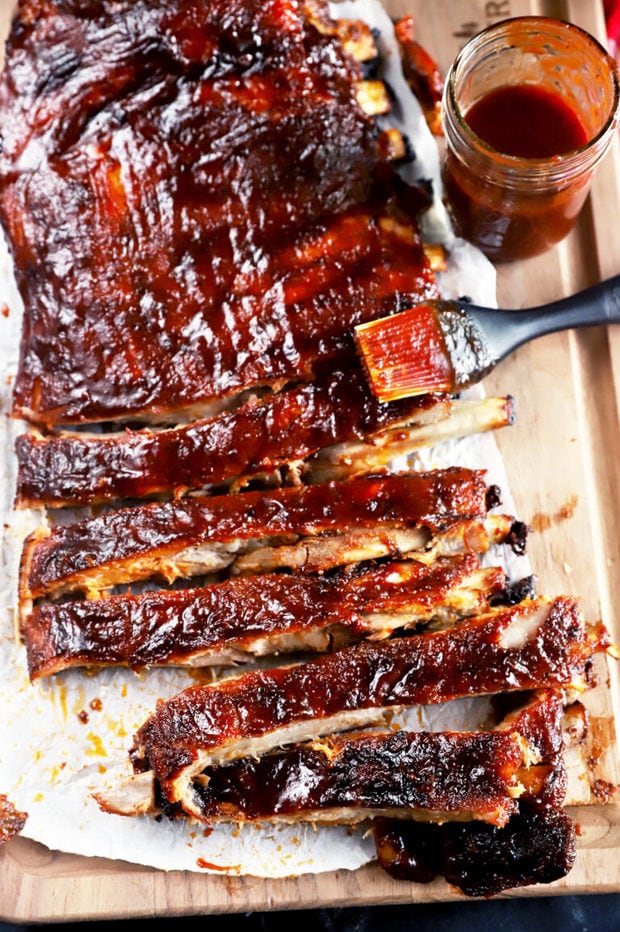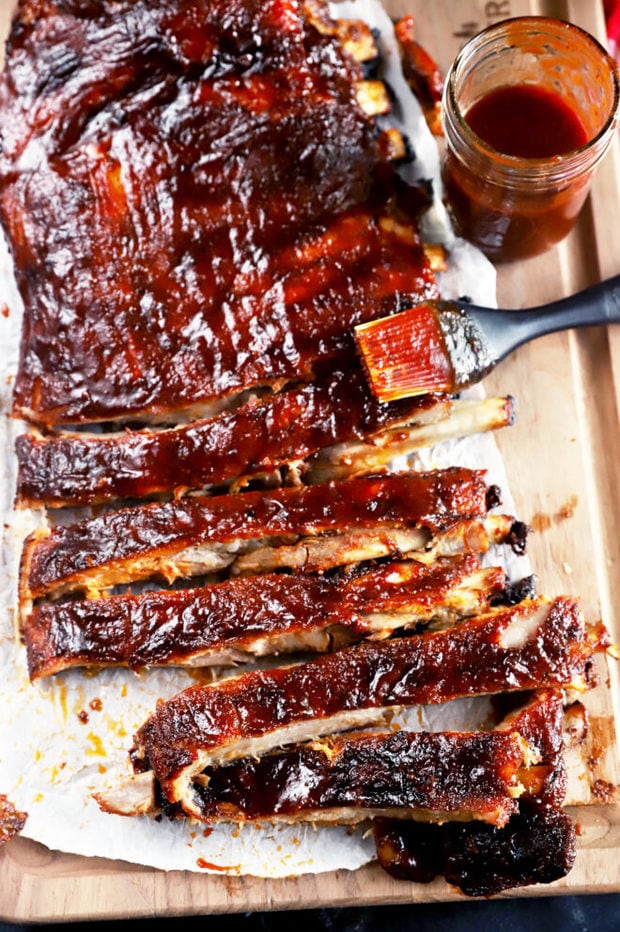 got questions?
What if I don't have a grill?
If you don't have a grill, then crank the heat of your oven to 375˚F. Cook the ribs for 15 minutes on the bottom rack of the oven, flipping them every few minutes and brushing them with sauce. They will still come out nice and glazed!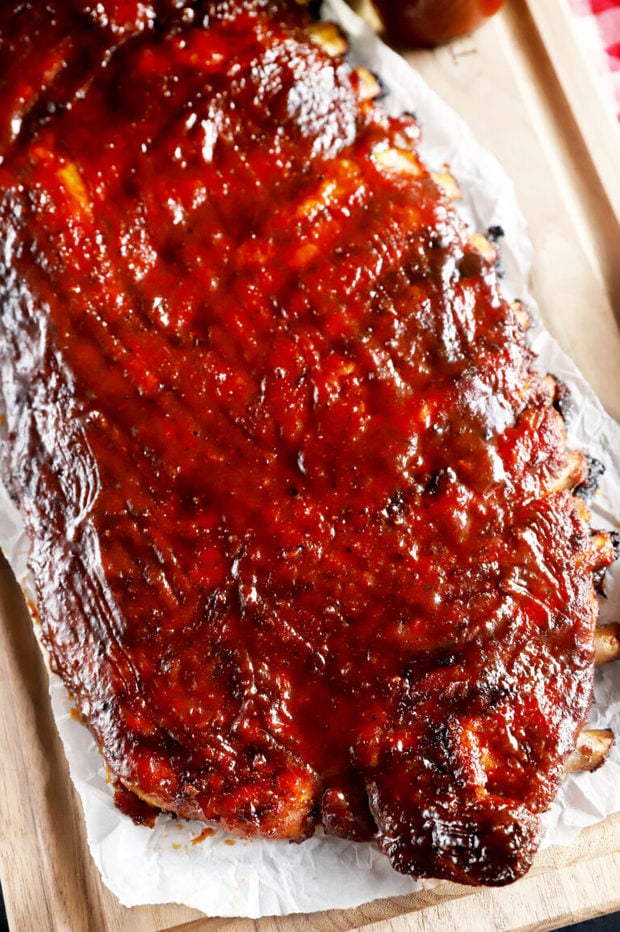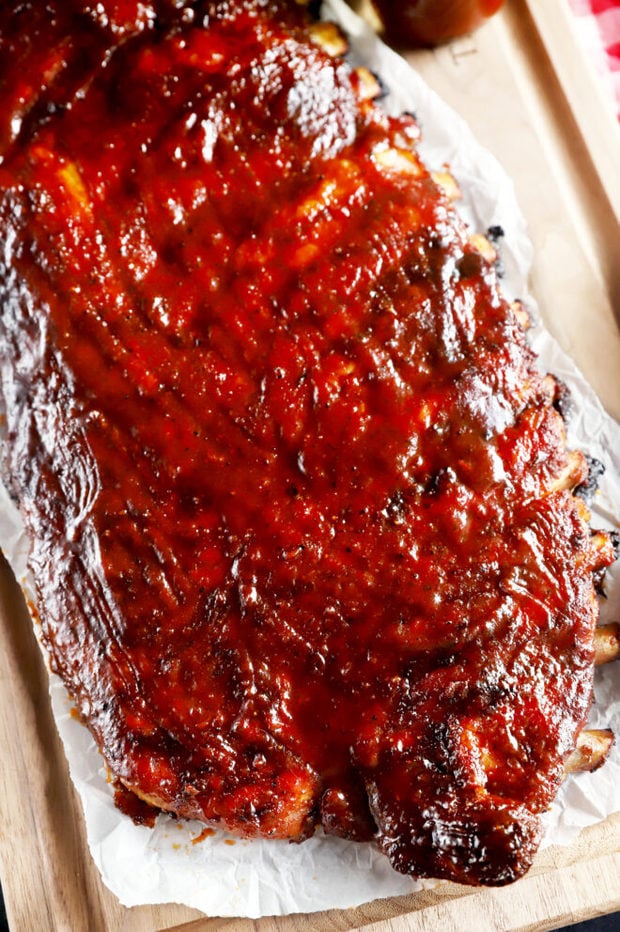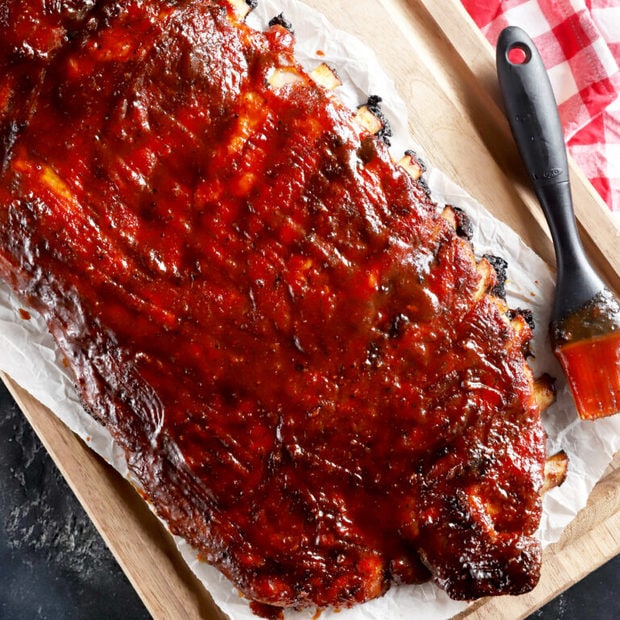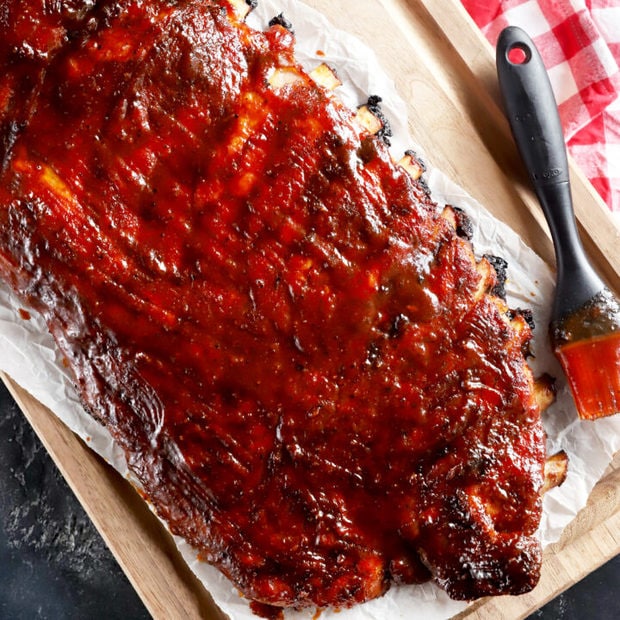 BBQ Apple Cider Ribs
Cook Time:
3 hours
45 minutes
Total Time:
3 hours
55 minutes
Saucy and tender bbq apple cider ribs are finger-lickin' AMAZING.
Ingredients
1/2 cup brown sugar
3 tsp garlic powder
4 tsp ancho chile powder (or regular chili powder)
2 tsp salt
1 tsp black pepper
1 tsp onion powder
1/2 tsp smoked paprika
1/4 tsp cayenne pepper
1/4 tsp cinnamon
1/2 cup apple cider
1/3 cup honey
2 racks pork spare ribs (about 6 pounds total)*
1 cup your favorite barbecue sauce (I personally like Head Country Bar-B-Q's Hot & Spicy)
Instructions
Preheat oven to 250˚F. Line a large baking sheet with aluminum foil. Spray lightly with cooking spray.
In a small bowl, stir together 1/4 cup brown sugar, garlic powder, ancho chile powder, salt, black pepper, onion powder, smoked paprika, cayenne pepper, and cinnamon.
Remove 1 Tbsp of this spice mix to a medium bowl, reserving the rest of the spice mix. Add cider, honey, and 1/4 cup remaining brown sugar to the medium bowl. Whisk to combine and set aside.
Remove the membrane from the underside of the ribs. Rub the ribs evenly with the spice mixture on both sides. Bake, meaty side up, for 2 1/2 hours.
Remove the pan from the oven. Pour the cider mixture over the ribs, turning to coat them evenly. Cover tightly with foil and return to the oven, baking for an additional hour.
Preheat a grill. Uncover ribs and brush the top with barbecue sauce. Grill for 15 minutes, turning and brushing with barbecue sauce every few minutes, until glazed.
Let rest for 10 minutes before cutting into individual ribs and serving.
Notes
*You can also use 2 racks of baby back ribs for this recipe! Bake in the oven for 1 1/2 hours, cover and back for another hour. Grill for 15 minutes as the instructions state.
Recommended Products
As an Amazon Associate and member of other affiliate programs, I earn from qualifying purchases.