Please note this post contains affiliate links.
A Strawberry Tequila Fizz is fruity, tart, and bubbly – just what a good summer sipper should be! With just five ingredients, you can enjoy this classic cocktail all season long.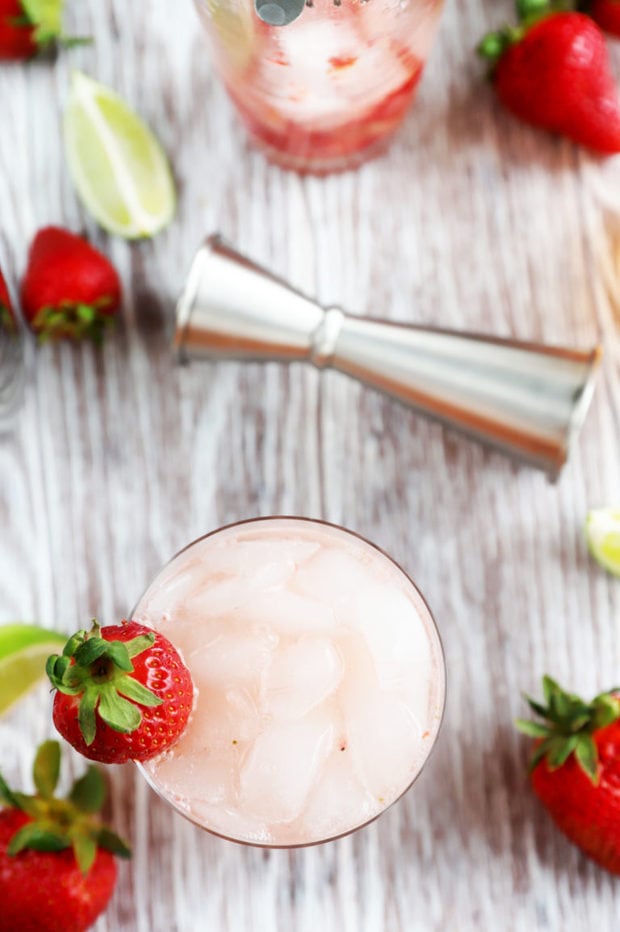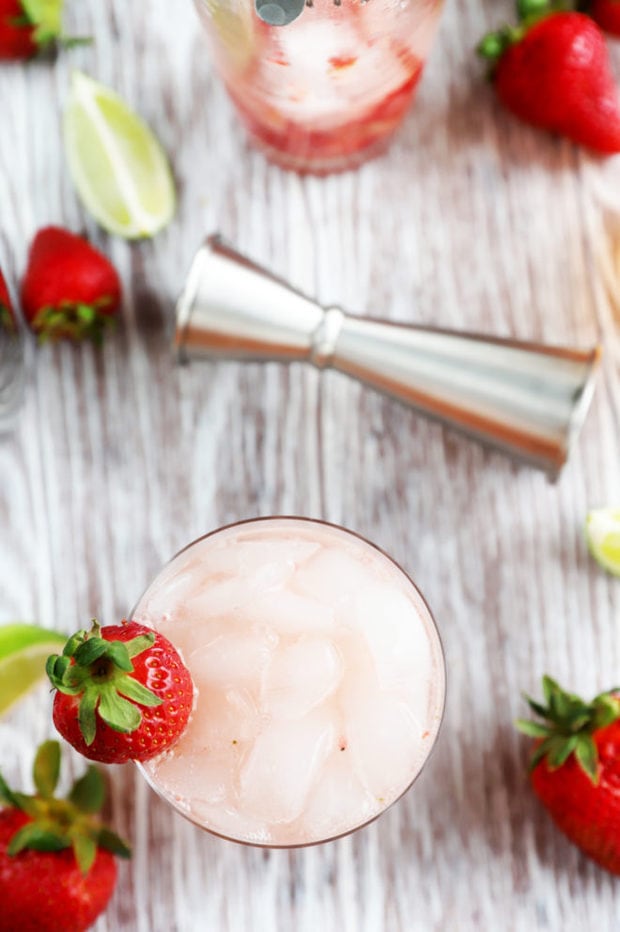 It has taken me a long time to get back in with tequila in my cocktails.
There was this one trip to Mexico where too much tequila was consumed and since then, even the smell of it has made me cringe.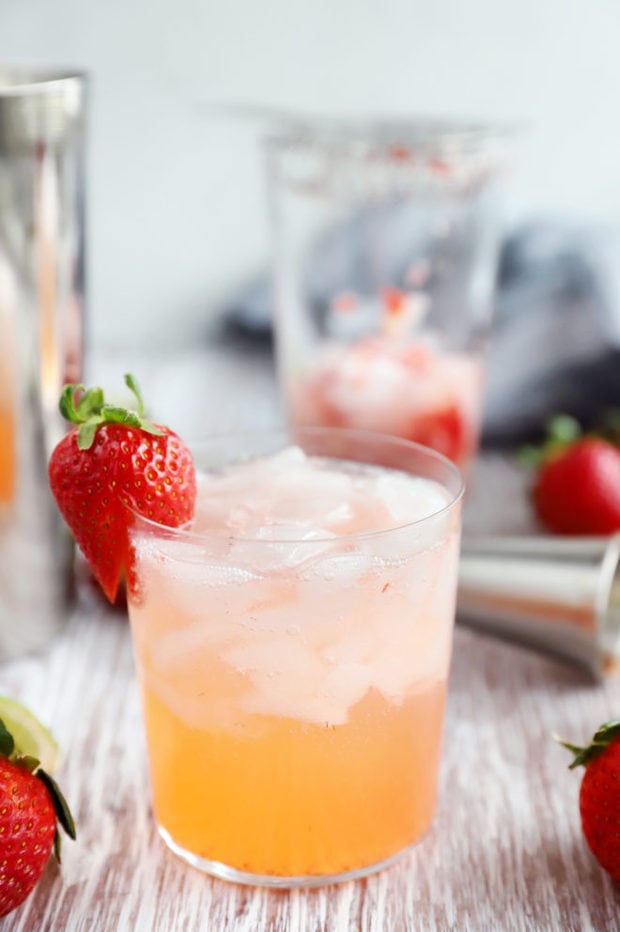 Somehow pregnancy has cured me of this and I am actually enjoying tequila cocktails again! I don't think I'll ever enjoy the spirit straight up, but in drinks? I'm finally ready to say heck yes!
To celebrate, I have made this delightful summery tequila fizz with plenty of fresh strawberries for a tart and fruity twist.
This cocktail is so darn simple to make, and it really livens up an otherwise mundane happy hour. It has the fresh fruit flavor to pair with silver tequila and lime juice. Plus the addition of some bubbles on top to finish it off.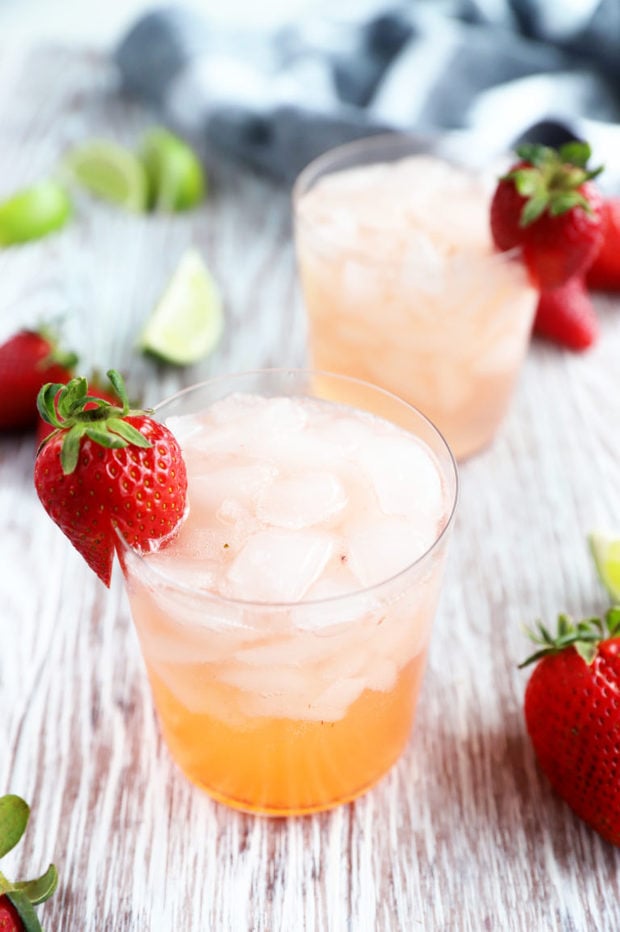 It's the sort of cocktail that you make on a hot day to cool off with, you know?
I might be dreaming of warm days a little more intensely right now, because it's freaking COLD in Colorado. It snowed just two days ago… *sigh* can we just have warm weather already??! I am ready to get OUTSIDE.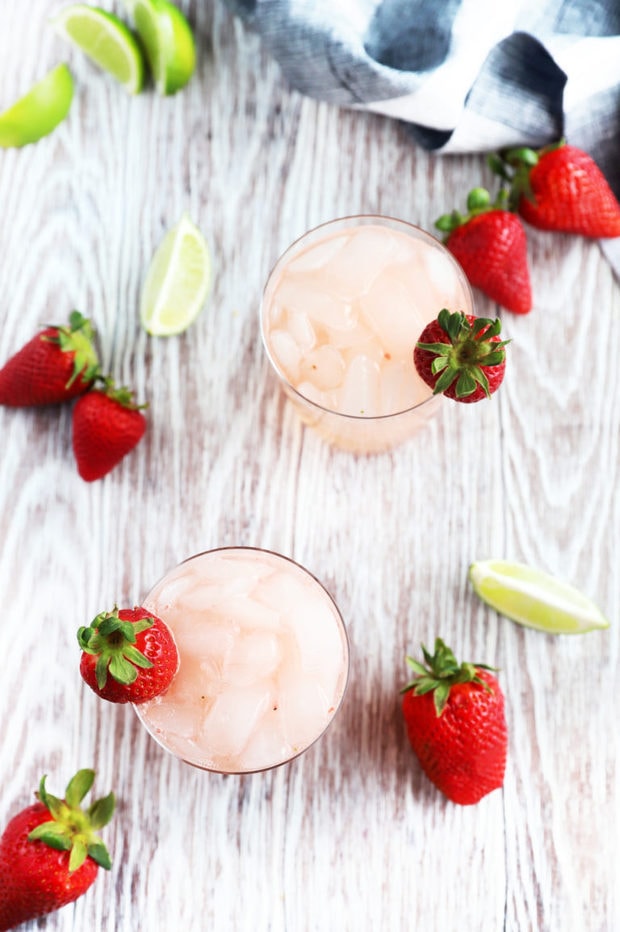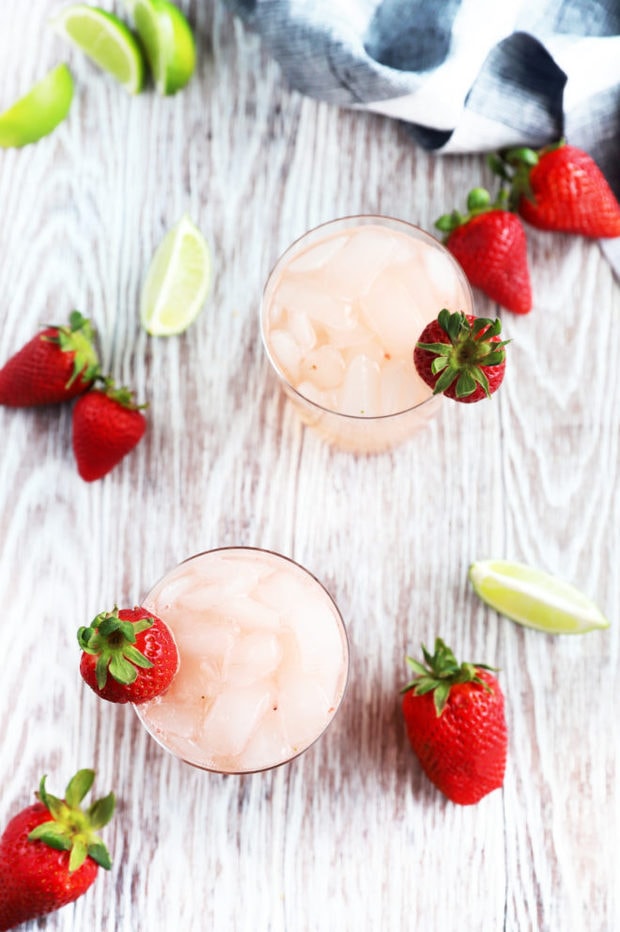 this recipe's must-haves
To make this cocktail, you will need the staples. A cocktail shaker, a cocktail strainer, and a jigger to measure out the liquids.
You will also need a muddler to mash up the strawberries.
I like to serve this cocktail in a simple double old fashioned glass, but you can use any glass you like really!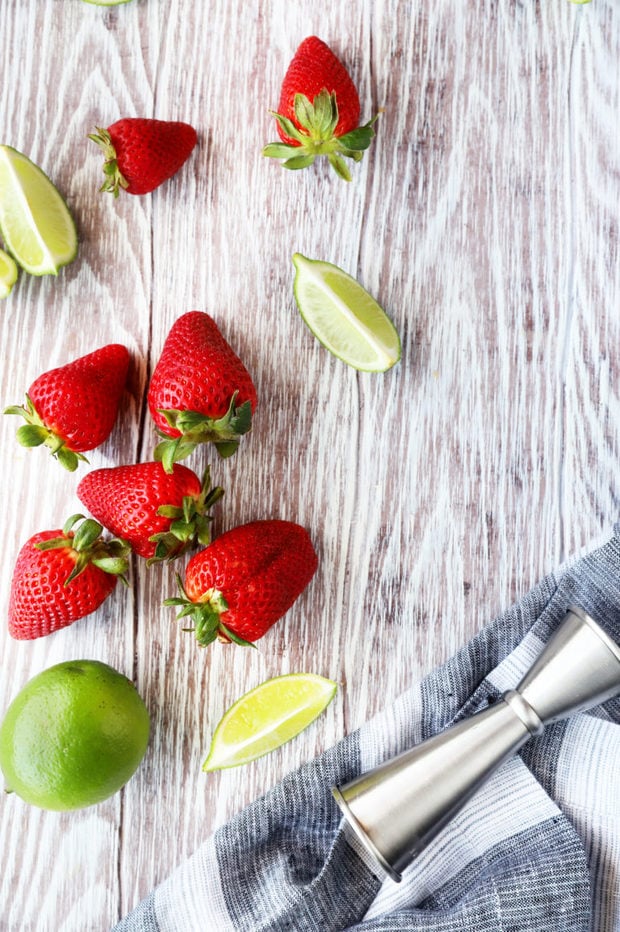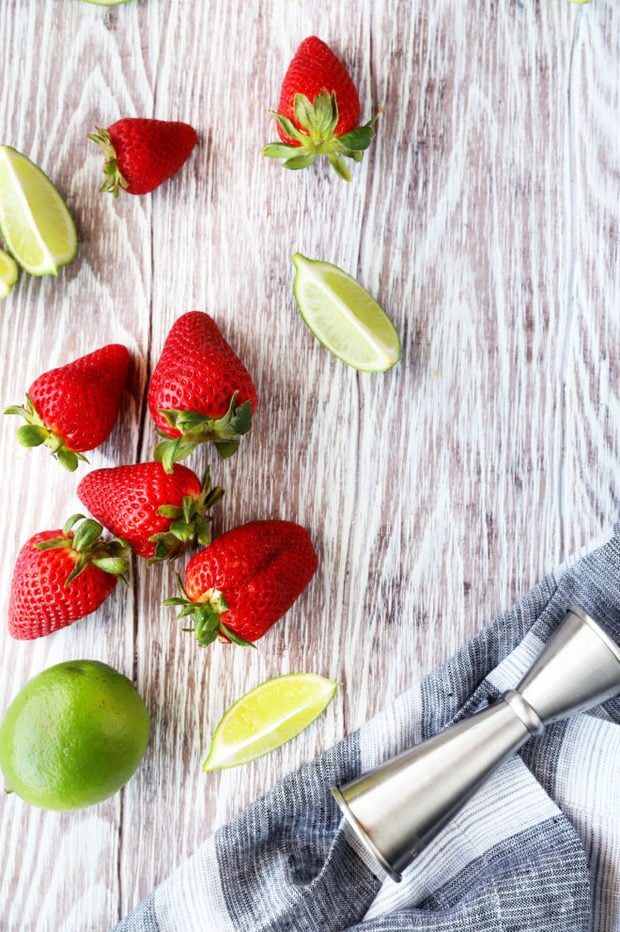 we're making a strawberry tequila fizz!
Macerate and Muddle
Add strawberries and sugar to a cocktail shaker. Mix to cover the berries with sugar and then let rest for 5 minutes.
Pour in tequila and lime juice, then muddle to break up the strawberries.
Shake
Fill the shaker with ice and shake well, about 30 seconds. I like to make sure that the strawberries really break down and the mixture gets nice and chilled all the way through.
Strain
Strain the cocktail into a glass filled with ice. Top with club soda and garnish with a ripe strawberry.
Need some more inspiration for cocktail hour? Check out my booze recipe page!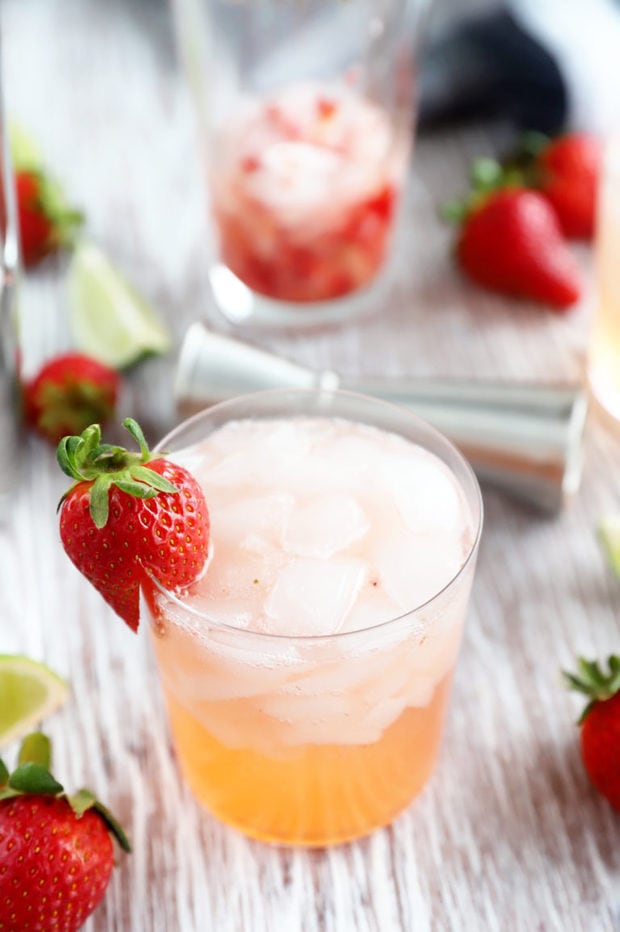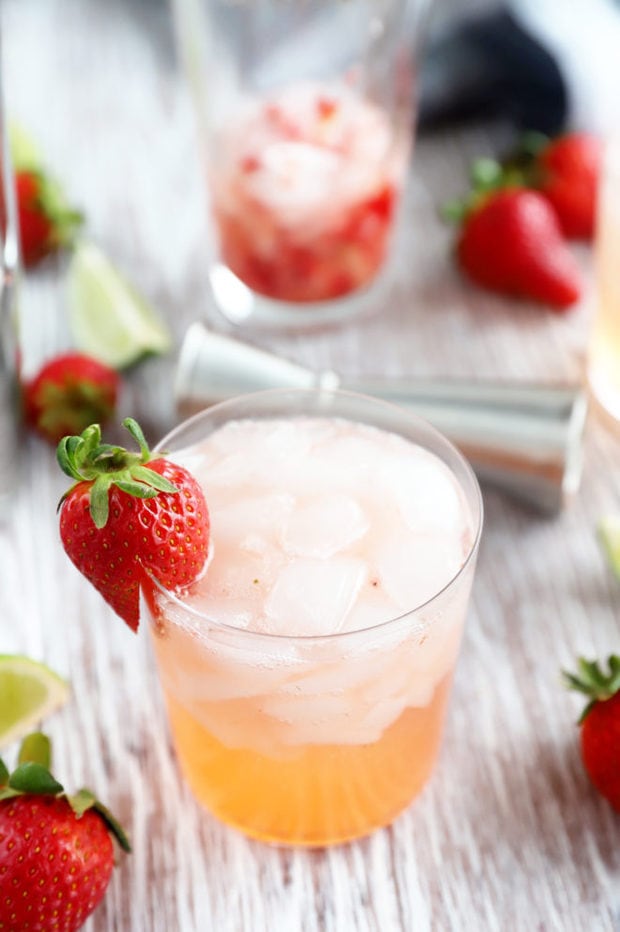 what kind of tequila should I use?
I recommend using silver tequila for this cocktail instead of gold. Gold tequila ends up being a bit too overwhelming in flavor. Silver is smoother in the cocktail and doesn't overpower the other flavors.
what should I serve with this for happy hour?
Hoping to serve some appetizers alongside this cocktail? This drink goes with a lot, but below I've listed a few of my personal favorites:
Grilled Mexican Street Corn Crostini
Honey Lime Shrimp Guacamole Tostadas
Want more ideas for festive tequila drinks and food to go with them? I've got a round up of tequila and tacos recipes for you to enjoy!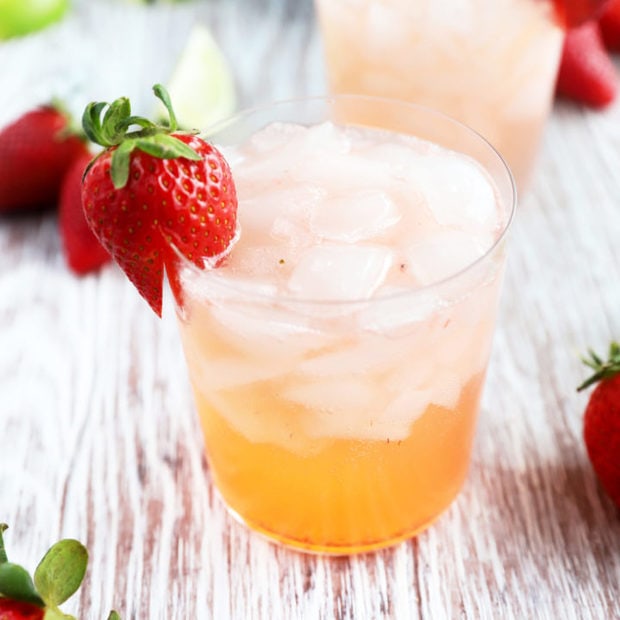 Strawberry Tequila Fizz
Simple, five ingredients, and full of tart juicy flavor!
Ingredients
1/3 cup chopped strawberries
1/2 teaspoon sugar
3 ounces tequila
1/2 oz lime juice
4 ounces chilled club soda
Garnish: fresh strawberries
Instructions
Combine strawberries and sugar in a cocktail shaker. Let sit for 5 minutes to macerate berries.
Pour in tequila and lime juice. Muddle.
Fill shaker with ice and shake well.
Strain cocktail into two glasses filled with ice. Top with club soda.
Garnish and serve.
Recommended Products
As an Amazon Associate and member of other affiliate programs, I earn from qualifying purchases.