Easy Baked Camembert with dried cranberries and walnuts is a tasty way to elevate your fall and holiday gathering. This creamy cheese dish is infused with seasonal flavors, plus it's incredibly simple to whip up. It's perfect for sharing the warmth of the season!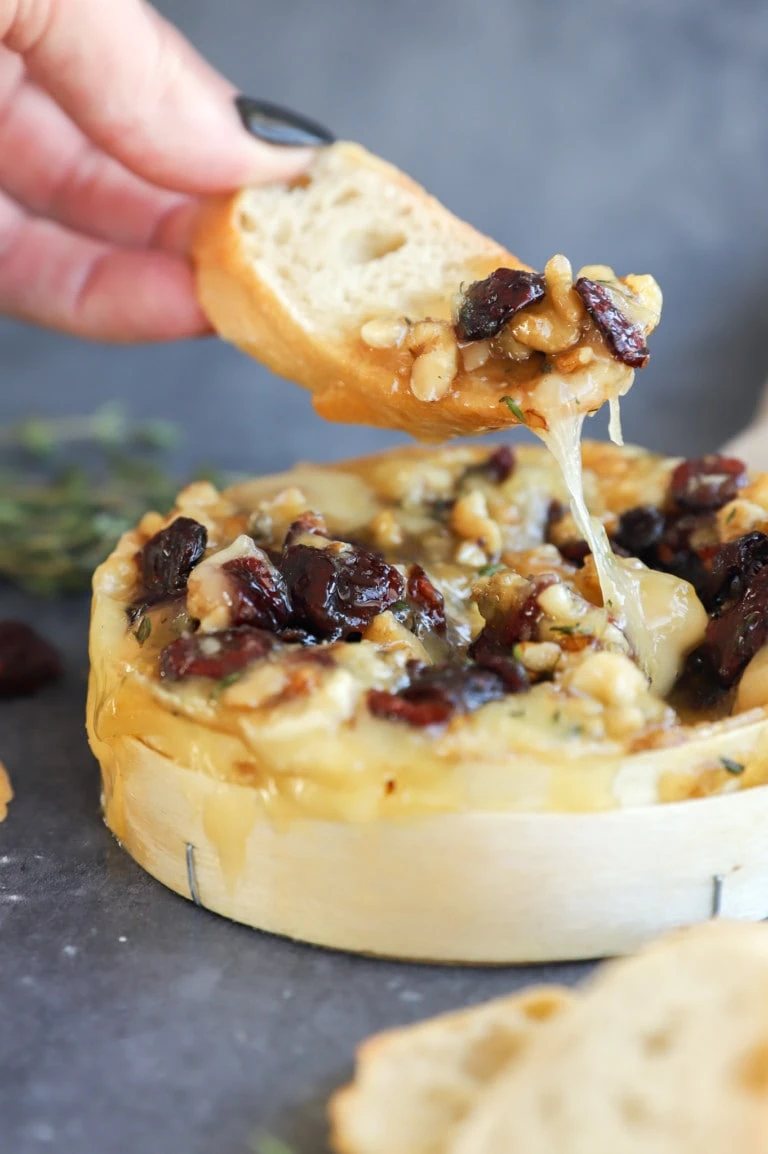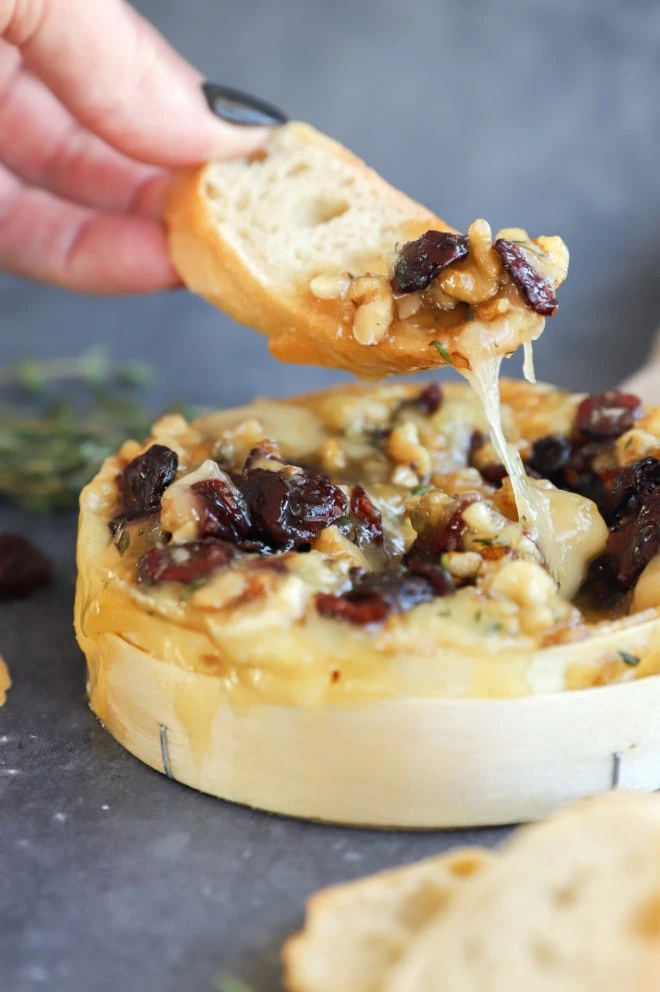 about this baked camembert
As the days grow shorter and the air gets chillier, it's time to start thinking about warm gatherings and hearty feasts for the upcoming holiday season. There's something inherently festive about the fall season as it is the start of a season of gatherings!
If you're in search for a tasty and effortless appetizer for these upcoming celebrations, this baked camembert embraces the essence of the season. Baked Camembert embodies simplicity and indulgence in equal measure, offering an easy way to usher in the coziness of fall.
The mild and earthy profile of Camembert pairs so well with the bold notes of cranberry and thyme, as well as the crunch of toasted walnuts. Whether you're hosting Thanksgiving dinner, planning a festive soirée, or simply craving a comforting snack at home, baked Camembert is a versatile crowd-pleaser with every gooey, molten bite.
what is baked camembert
Baked camembert is an indulgent, gooey appetizer that's easily made from a wheel of Camembert cheese. To make it, the wheel of cheese is baked in its wooden box (or in an ovenproof dish). Before baking, it is typically scored on top. However this recipe takes a little bit of a different approach, by removing the top rind of the cheese and piling a sweet, tart, and crunchy topping on top.
The cheese is then baked until it's all ooey and gooey, making the center creamy and molten. The result of this is a rich and smooth cheese dip that's ideal for pairing with toasted slices of bread or crunchy crackers.
Any cheese lover would adore this dish. The flavorful camembert cheese is a warm and gooey delight that makes it ideal for serving as an appetizer or snack during the holidays.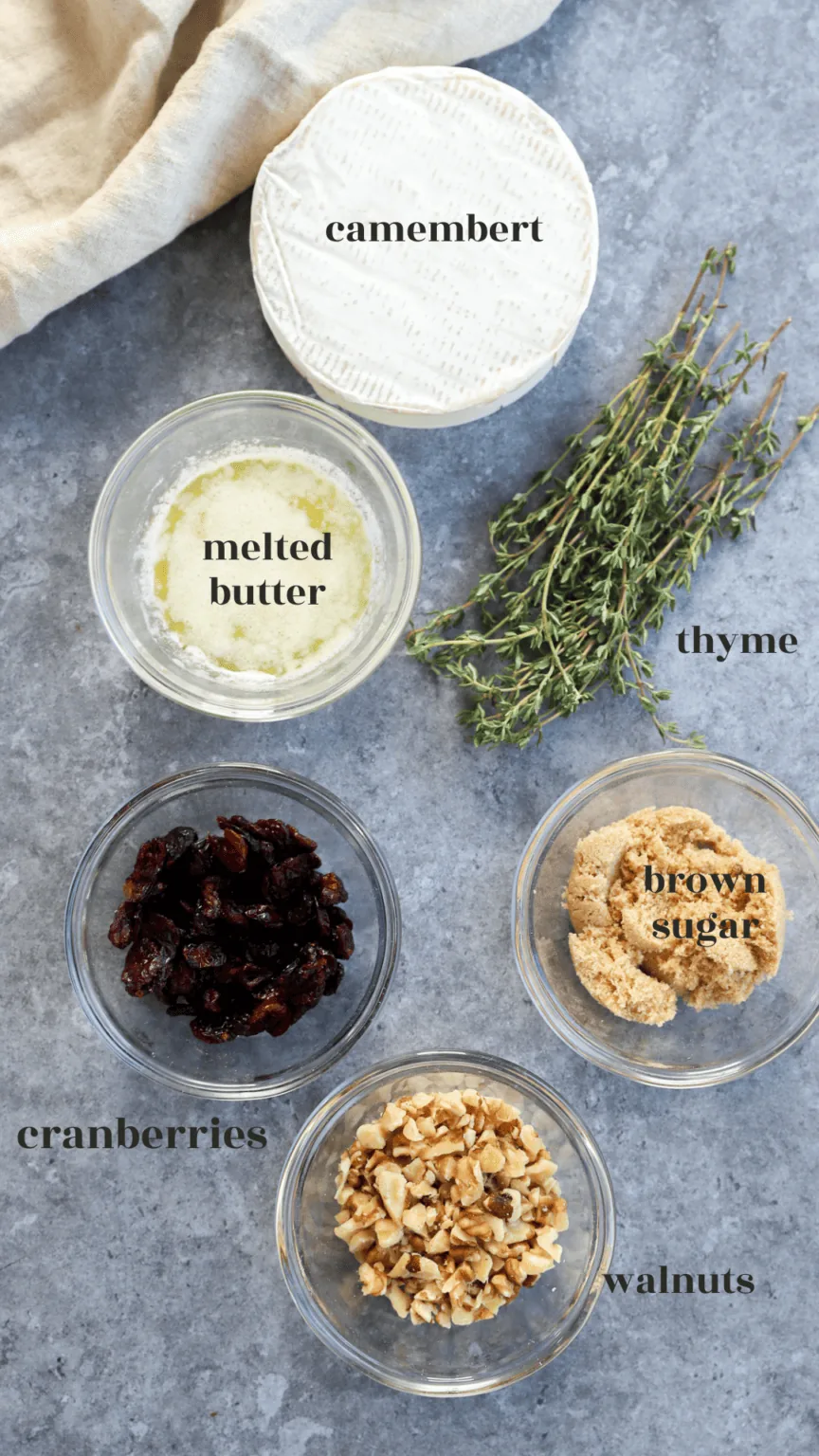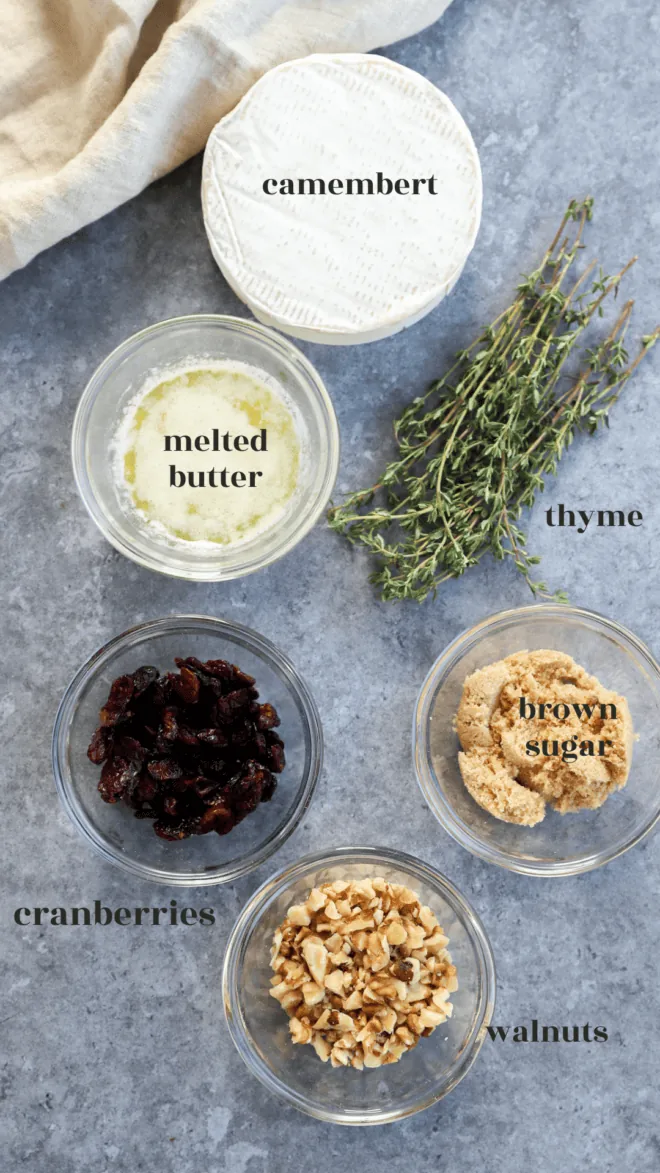 ingredients
camembert. You will need an 8 ounce wheel of Camembert cheese. If you cannot find Camembert cheese, you can also use brie!
walnuts. I like to use toasted walnuts that have been chopped. You can buy them this way, or purchase whole walnuts to toast yourself before chopping them by hand.
cranberries. Dried cranberries are all you need for this recipe. Do not use fresh cranberries as they will produce too much liquid when cooked which will throw off the consistency of the cheese.
sugar. This recipe calls for brown sugar. You can use either light brown sugar or dark brown sugar.
butter. I recommend using unsalted butter for this recipe. If you choose to use salted butter, be sure to cut the salt called for in the recipe.
thyme. Use fresh thyme leaves if you can! When you can't find fresh thyme, you can use dried thyme instead. Be sure to cut the total amount called for in half for the recipe (only use 1/2 tsp dried thyme). I recommend chopping the dried thyme up finely before using it.
salt. All you need is fine kosher salt.
everyday seasonal cookbook
With seasonal produce guides, recipes, and more, this cookbook is filled with seasonal food for every occasion.
this recipe's must haves
To mix together the topping for the cheese, you need the smallest bowl from a set of mixing bowls and a spoon.
I like to bake the cheese right in the wooden box that the cheese comes in, so you only need a baking sheet to bake it. You could also use a larger shallow baking dish if you prefer, but make sure that the wheel of cheese fits snugly in it. If you use a baking dish that is too large, the cheese will melt into a puddle.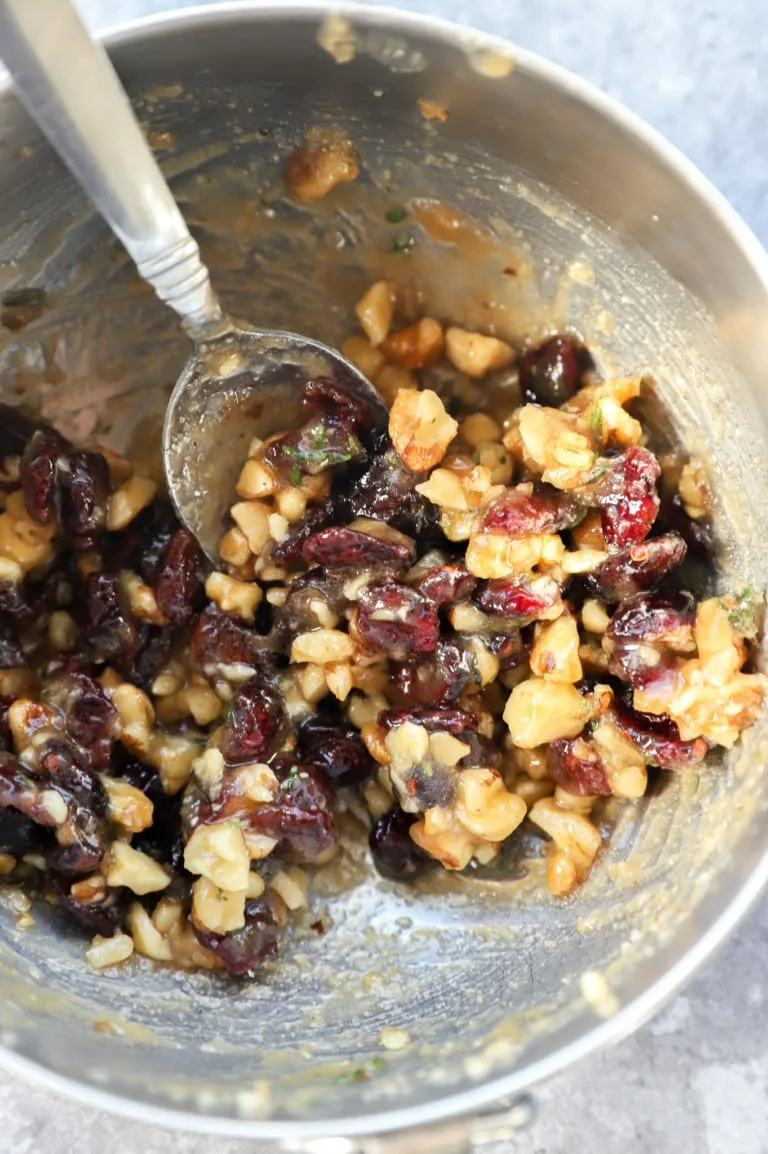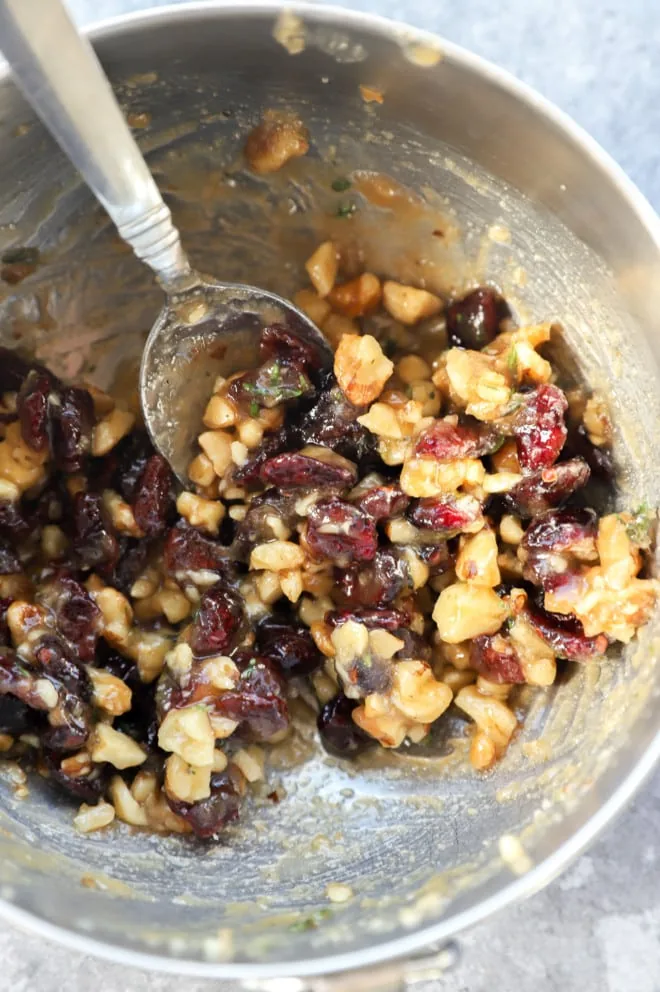 here's how to make baked camembert
mix together topping
In a small bowl, stir together melted butter and brown sugar until smooth. Fold in cranberries, walnuts and salt until combined. Set aside.
prepare cheese
Flip the cheese wheel over so the bottom (where the rind comes together) is on top. Cut the top of the rind off using a sharp knife.
Place in the wooden container the cheese came in, cut side up. Add to a baking sheet.
assemble
Spoon the cranberry walnut mixture on top in an even layer.
bake
Bake for 15 minutes at 350˚F until the cheese is gooey and melted. Serve immediately with slices of toasted French baguette or crackers.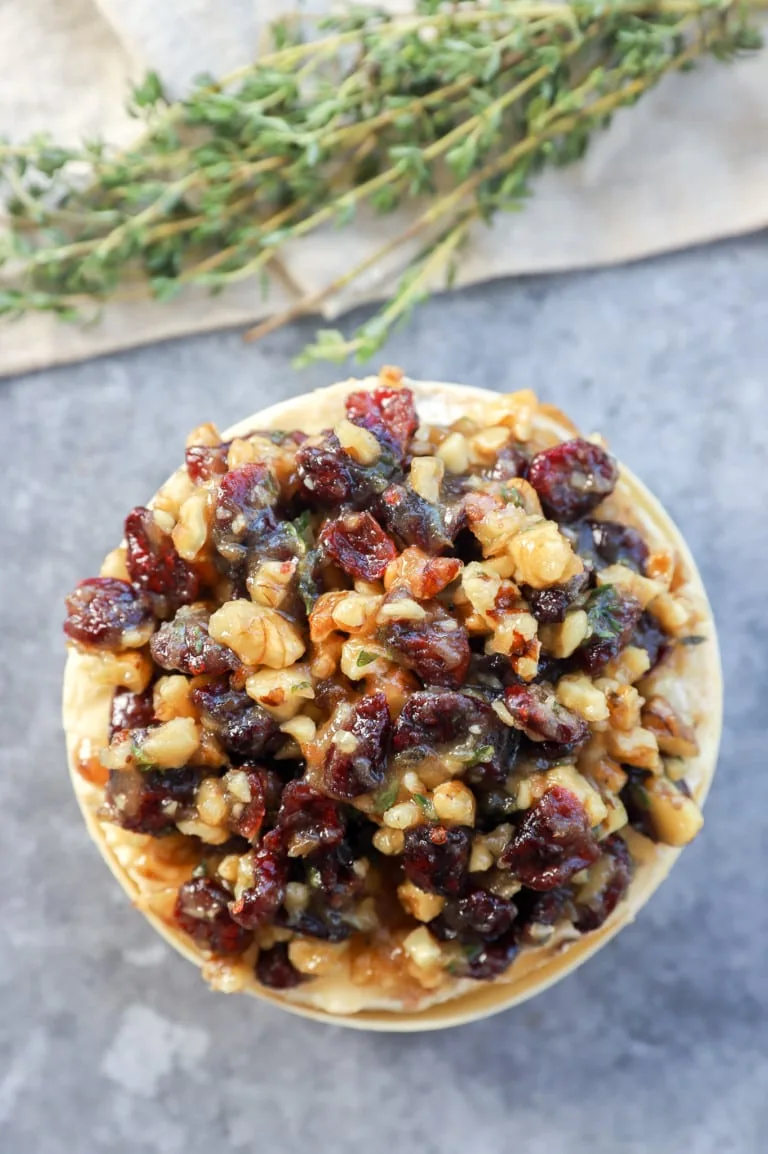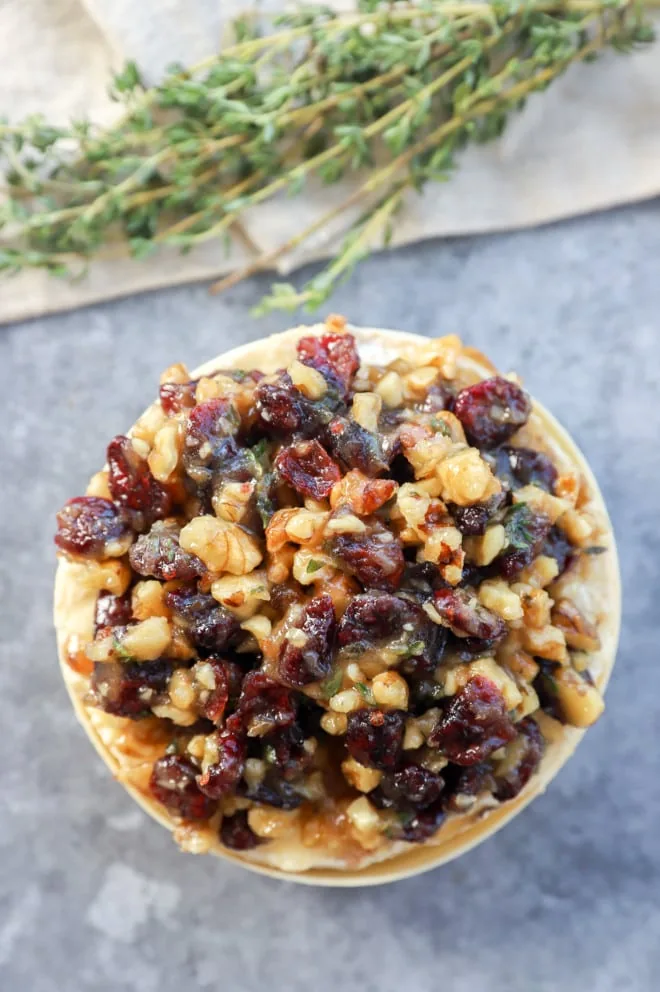 tips and tricks
bake in the wooden box. Bake the cheese in the wooden box the wheel comes in! Be sure to remove any plastic wrapping as well. You can wrap the box in foil to make sure it doesn't burn. I also recommend placing it on a baking sheet just in case any cheese spills over the edges.
toast bread while the cheese bakes. Toast the bread slices in the oven on a baking sheet along with the cheese! The bread should turn toasted and golden brown in the 15 minutes it takes to bake the cheese.
can't find camembert? Use a wheel of brie cheese instead!
More easy cheesy appetizers to try out: Spinach and Artichoke Goat Cheese Dip | Roasted Cranberry Goat Cheese Crostini | Crab Rangoon Dip | Chipotle Chili Cheese Dip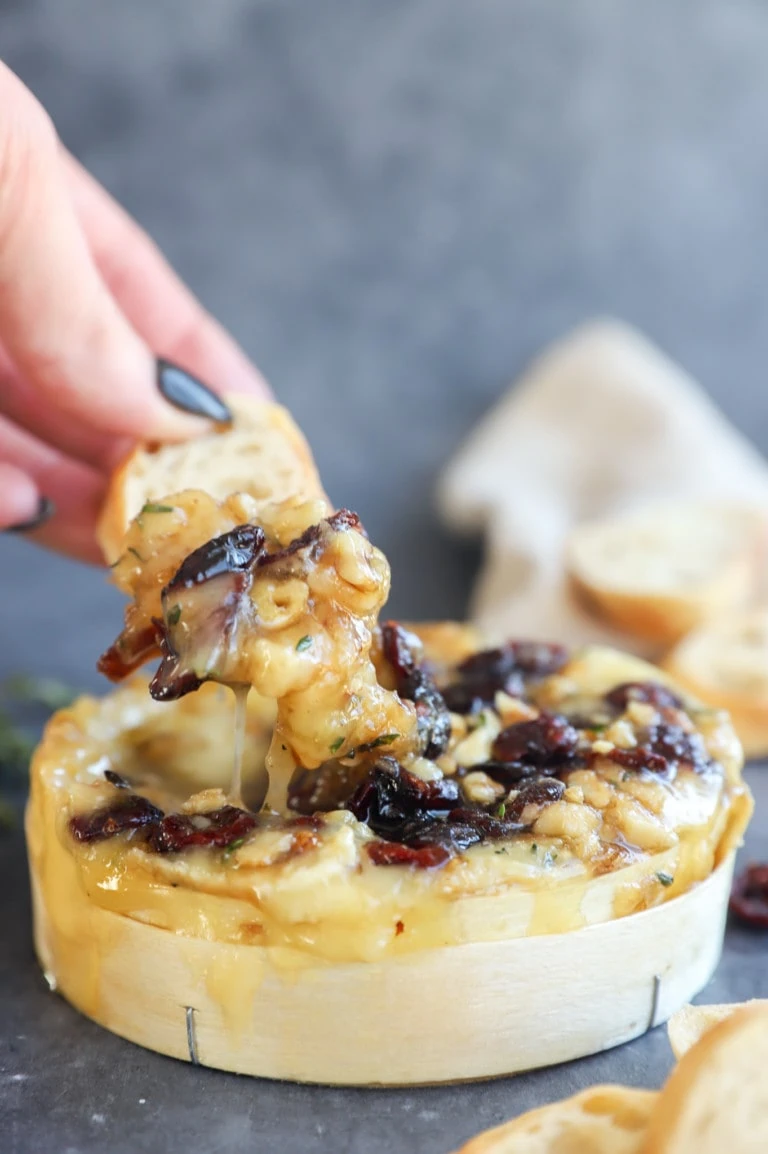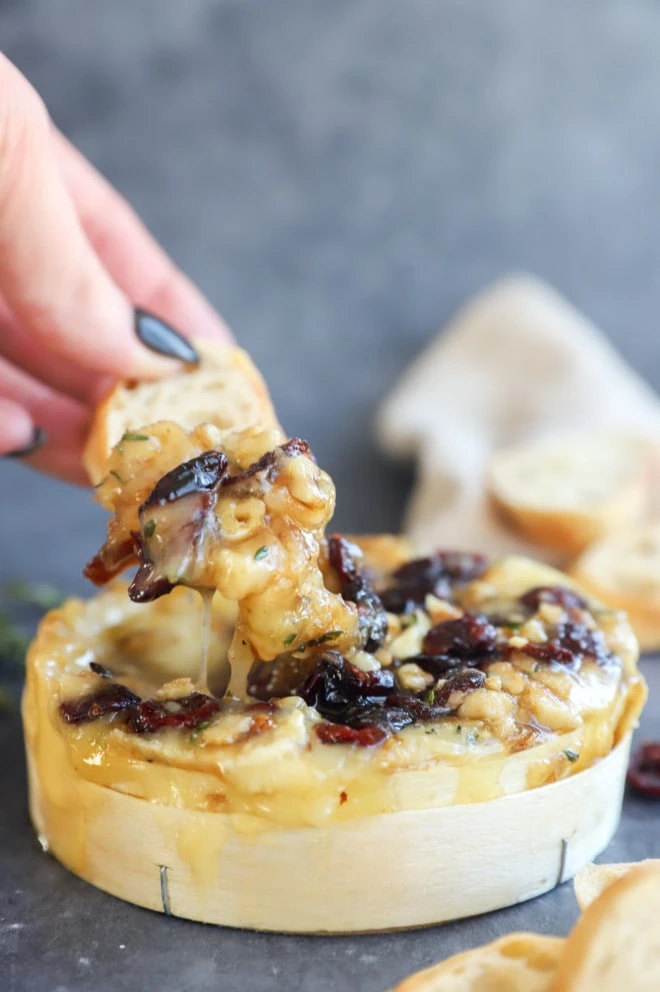 how long does camembert go in the oven for?
This baked camembert wheel only needs to be baked in the oven for about 12 to 15 minutes! It's a super quick recipe that is ideal for holiday hosting.
what does camembert taste like?
Camembert has a nice earthy flavor. Some say that the soft and creamy cheese even has a mushroom-like flavor.
Plus the rind is edible!
do you bake brie or camembert?
Both brie and camembert can be baked! They are both creamy cheeses made from cow's milk. This allows them both to be perfect for baking until warm and gooey. When you bake either one, the center gets all creamy and gooey, perfect for dipping pieces of toasted bread or even vegetables!
what is the difference between camembert and brie?
Both brie and camembert come from a similar recipe made with cow's milk. The biggest difference between the two types of cheese is that brie has cream added to it. Therefore brie is slightly creamier and has a higher fat content.
Brie has a more delicate and butter flavor. Camembert has a much more intense flavor! That makes it an ideal candidate for a warm appetizer, and particularly being topped with the crunchy and chewy topping of cranberries and walnuts.
do you eat the skin on camembert?
The skin of the camembert cheese wheel is natural and perfectly edible. It is just where the skin meets the air, therefore forming a natural skin on the outside. It's perfectly safe to and delicious to eat!
Wax skins are the only skins on cheeses that you should not eat. Not only does it not taste good, but it also isn't safe to ingest.
Need more inspiration for party bites? Check out my appetizers recipe page!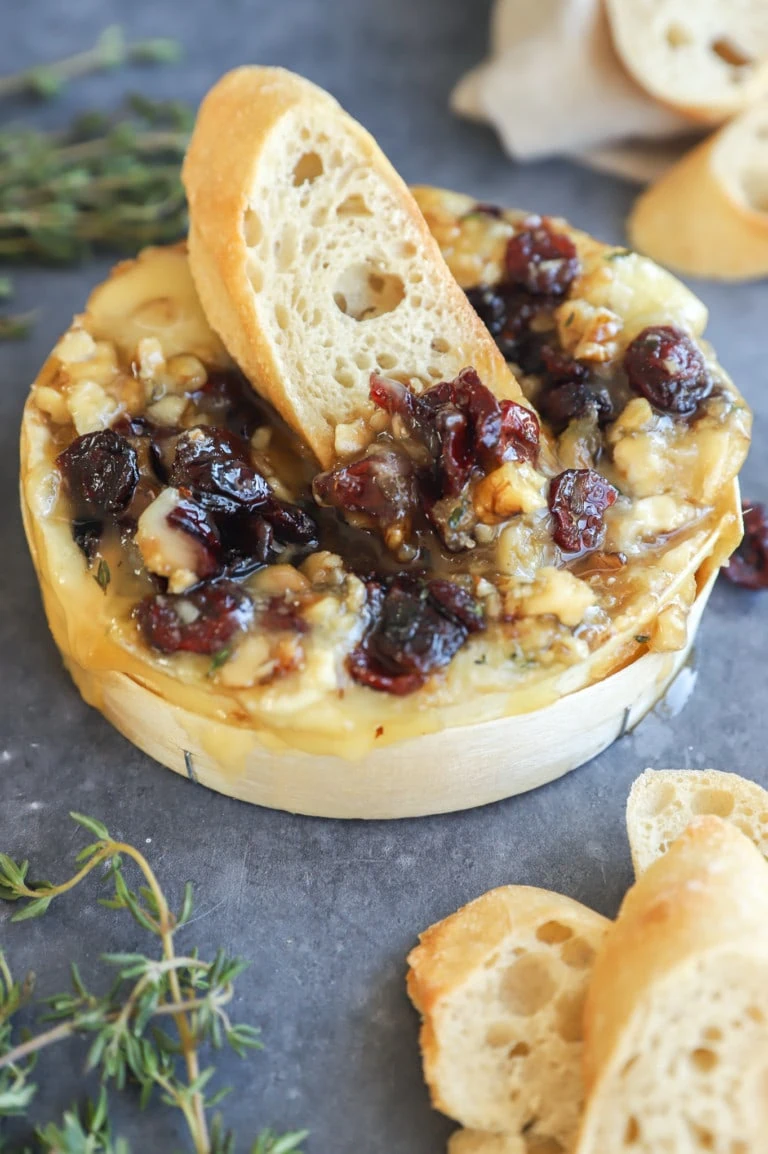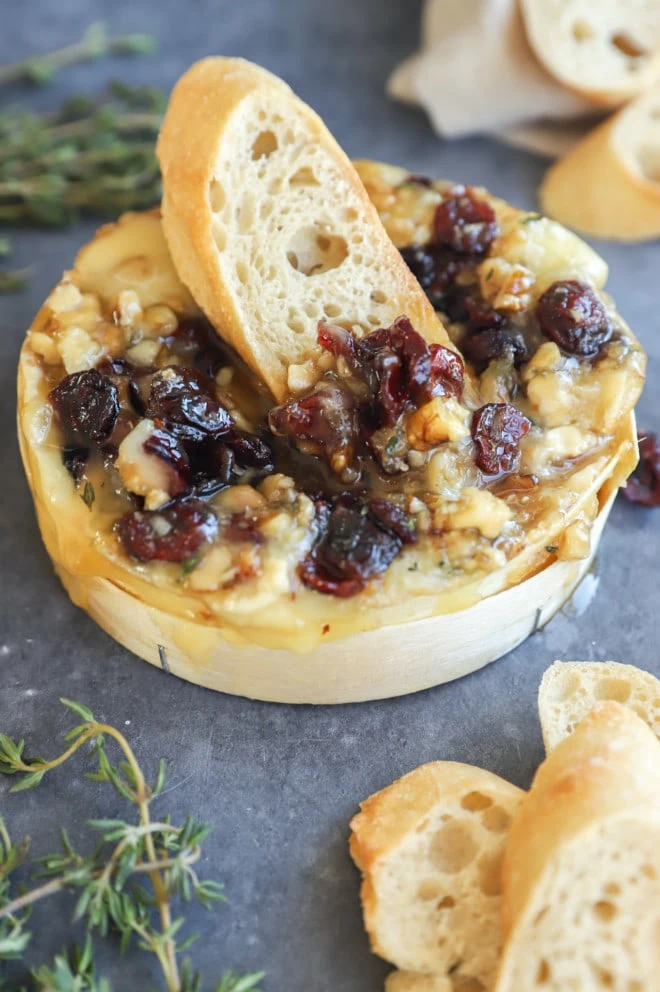 what to serve with baked camembert
I like to serve this appetizer toasted slices of French bread or crackers. You can also serve it with crudites!
A seasonal cocktail is a must with a seasonal appetizer. If you are planning to serve this baked camembert for Thanksgiving, this Thanksgiving cocktail is a simple four ingredient recipe that goes really well with the flavors in this recipe. If you prefer apples, an apple pie old fashioned cocktail is like apple pie in a glass (but boozy).
Need some inspiration for a holiday meal? Air fryer bacon wrapped pork loin is served with a simple roasted red wine cranberry chutney for an easy celebratory meal. For a more traditional holiday meal, try this easy beer brined turkey breast or grab this turkey brine recipe for your roasted bird!
how to store
Store. Cool the baked camembert to room temperature before placing in an airtight container. It will keep in the refrigerator for up to 3 to 4 days.
Reheat. Reheat in the microwave until warmed through, about 30 seconds to 1 minute, until gooey and warm.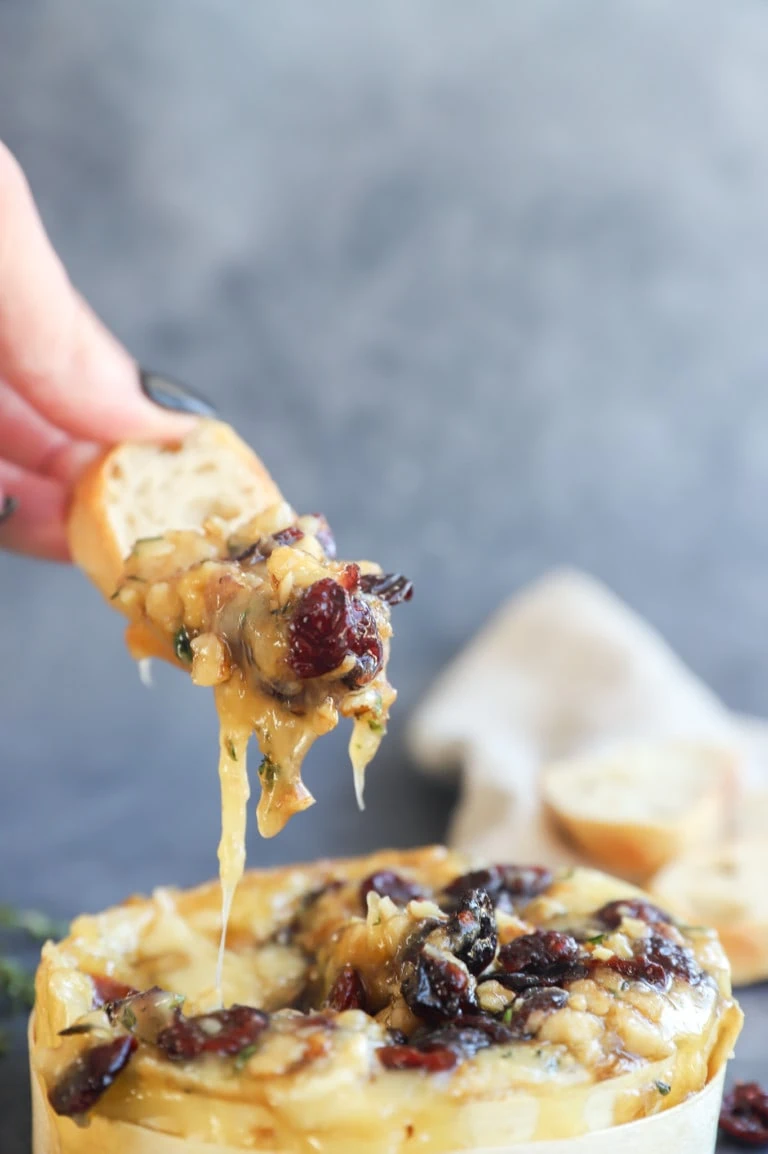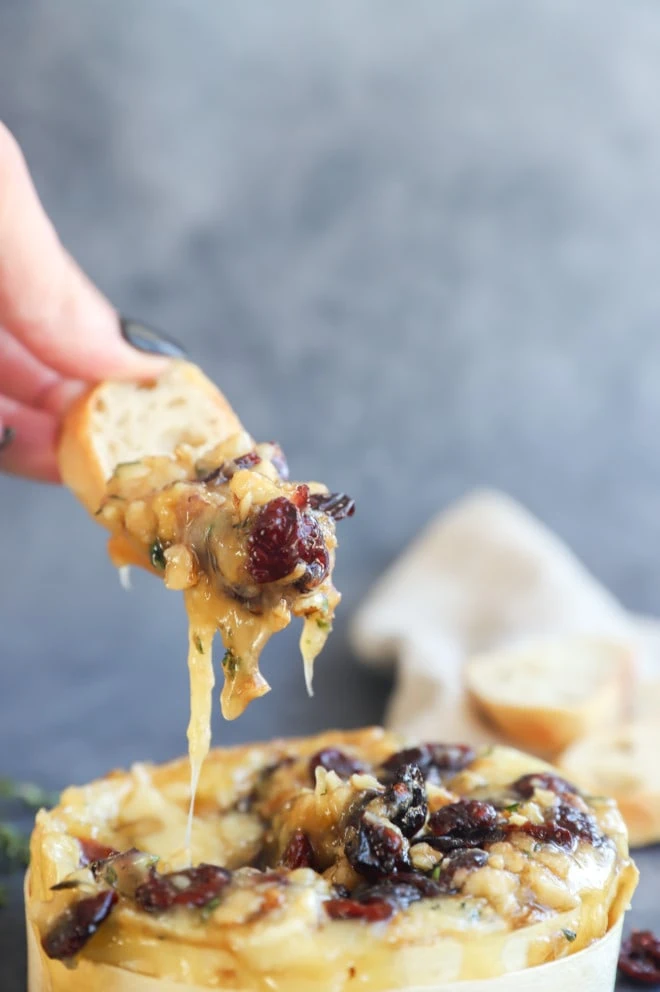 more tasty cheese recipes
Whipped goat cheese salsa dip is an easy cold cheese dip to throw together at the last minute!
A classic cheese ball is always a favorite! This cranberry walnut goat cheese ball is full of winter herbs and tangy goat cheese.
Apple cranberry baked brie is the one baked brie recipe you'll want to make over and over for every holiday gathering.
Finally, if you make this baked camembert with cranberries and walnuts recipe, please be sure to give this recipe a rating and/or leave a comment! I love to hear when you all make recipes, and I do take the time to respond to every single comment.
Feel free to drop questions below too, if you have them!
Oh and be sure to tag me on Instagram if you make the recipe! I love being able to see these recipes come to life in your homes – it's my favorite thing to look through those photos. It really means the world to me!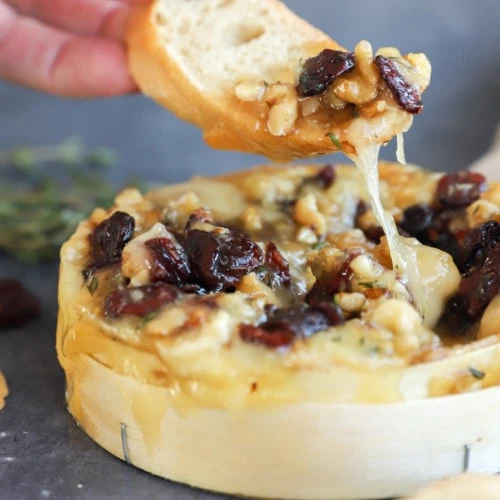 Baked Camembert with Cranberries and Walnuts
Takes minutes to pull together and is the perfect opening to any meal!
Print
Pin
equipment
small mixing bowl

round baking dish

optional
ingredients
3

Tbsp

unsalted butter

melted

3

Tbsp

brown sugar

1/3

cup

dried cranberries

1/3

cup

walnuts

toasted and chopped

1

tsp

fresh thyme leaves

chopped

1/8

tsp

kosher salt

8

oz

wheel of camembert cheese

toasted sliced of French bread or crackers
instructions
Preheat the oven to 350˚F.

In a small bowl, combine the melted butter and sugar. Stir to combine. Fold in the cranberries, walnuts, thyme, and salt.

Flip the camembert so the bottom is on top (where the rind comes together). Using a sharp knife, remove the top rind of the cheese. Place the camembert cut side up in an oven-safe round baking dish (like a larger crème brûlée dishes). You can also use the wood container the cheese came in as the baking vessel!

Cover the top of the cheese with the cranberry walnut topping in an even layer.

Bake for 12 to 15 minutes until gooey. Serve immediately with toasted slices of French bread or crackers.
nutrition
Serving:
1
g
|
Calories:
250
kcal
|
Carbohydrates:
13
g
|
Protein:
9
g
|
Fat:
19
g
|
Saturated Fat:
10
g
|
Polyunsaturated Fat:
4
g
|
Monounsaturated Fat:
5
g
|
Trans Fat:
0.2
g
|
Cholesterol:
42
mg
|
Sodium:
370
mg
|
Potassium:
114
mg
|
Fiber:
1
g
|
Sugar:
11
g
|
Vitamin A:
502
IU
|
Vitamin C:
1
mg
|
Calcium:
162
mg
|
Iron:
0.4
mg

Now you might be wondering, what is this Blogsgiving Dinner she mentioned before? It is an entire week of Thanksgiving collaboration between 20 incredibly talented food bloggers from all over the country. Essentially it's a virtual progressive dinner party to share over 50 recipes with our beloved readers!
Susannah over at Feast + West and I drummed up this idea back in August in Asheville at Food Blog Forum and boy oh boy am I glad we put it in motion! Can you imagine having over 50 recipes to choose from for your Thanksgiving feast?! GAH, it's like a dream come true! Here's the other fabulous recipes from the rest of the group:
Cocktails
Carolina Apple Sidecar from Think Fruitful
Krupnikas Ginger from I Cook. I Eat. It's Life.
Appetizers
Cured Meat Platter from Wit Wisdom and Food
Ginger Cran Apple Chutney from Love & Flour
Brandied Grapes with Cheese from Glamour Girl Gourmet
Shrimp Sweet Potato Mousseline from Home at Six
Cranberry Goat Cheese and Butternut Squash Crostini from The Wetherills Say I Do
Maple Pecan Baked Brie from My Cooking Spot
Sassy Salmon Dip from Betty Becca
Baked Brie with Cranberry Chutney from The Speckled Palate
Butternut Squash Crostini from Chez CateyLou
Gluten Free Holiday Cheese Board from Twin Stripe
Soup
Butternut Squash Soup with Cornbread Croutons from Club Narwhal
Creamy Wild Rice Soup from Hello Little Home
Pumpkin Soup with Bacon Roasted Chickpeas from Feast + West