Please note this post contains affiliate links.
A Cranberry Walnut Goat Cheese Ball filled with winter herbs and tangy goat cheese is a holiday appetizer no one will forget! Whip this bad boy up for your next holiday gathering and pair with your favorite crackers. Serves 8.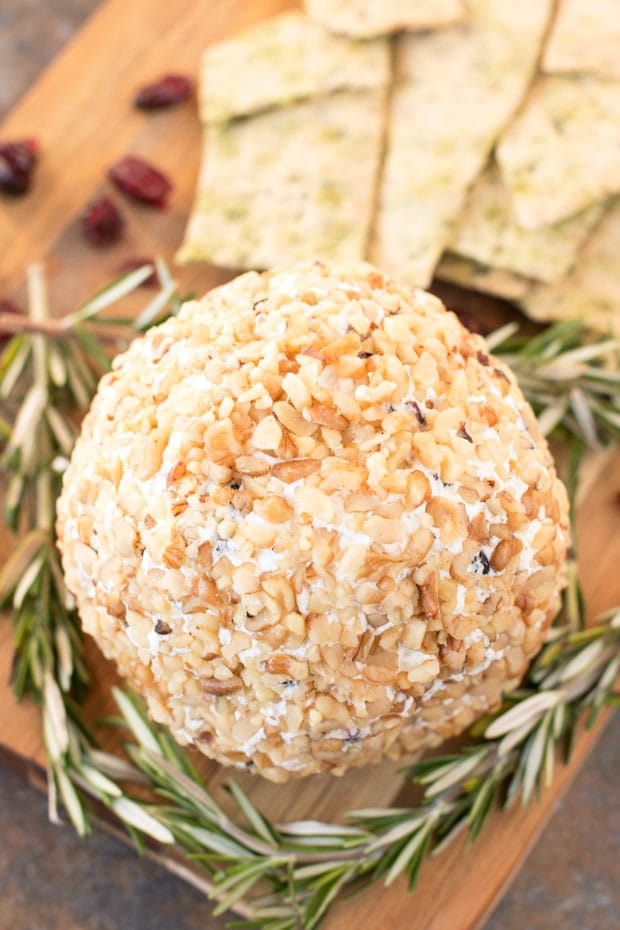 Ah the cheese ball.
A simple enough recipe that I'm sure we've all had at some point or another in our lives. Generally the only cheese balls I was exposed to were made up of cheddar or pimento cheese, so I was never particularly crazy about them.
My cousin Lisa snuck me a little challenge a couple weeks ago to think of a holiday cheese ball that was different from those kinda blah cheese ball recipes that are out there…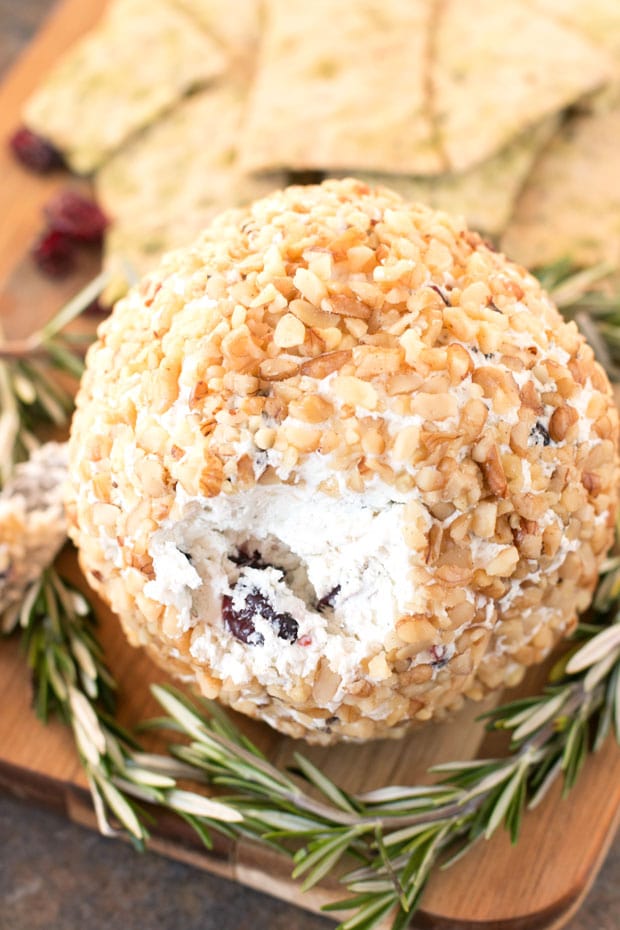 Obviously I had to accept. I mean come on, there's no way I can back down from a challenge anyways – let alone a culinary challenge.
So, as Barney would say, "challenge accepted."
The result of this ever so perfect holiday challenge?
THIS.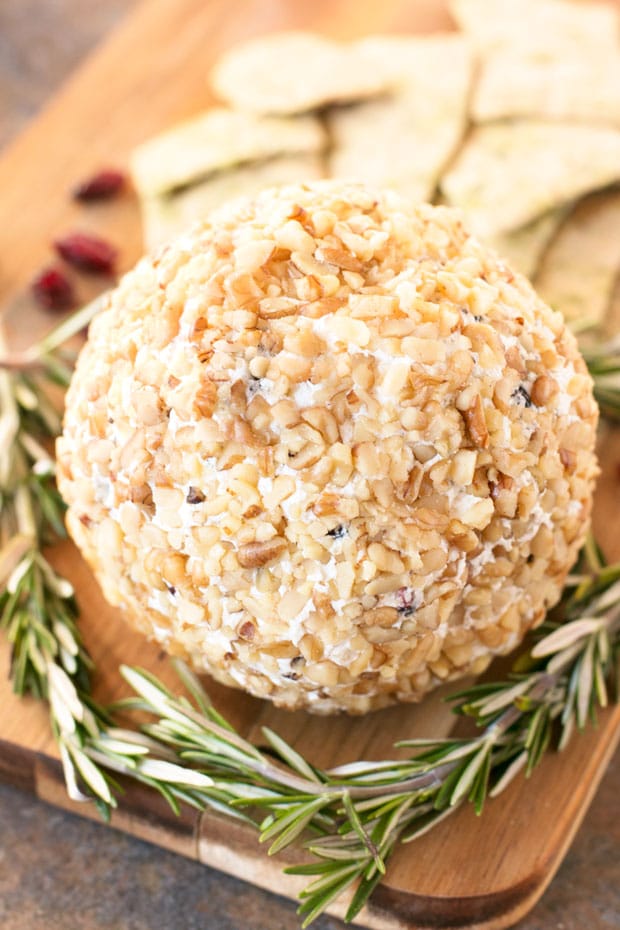 This miraculous, flavorful and festive ball of creamy, cheesy deliciousness.
A cheese ball is a delicious way to make that cheese plate you always serve even more spectacular than ever.
The combination of creamy goat cheese and cream cheese with dried cranberries and winter herbs in this cheese ball scream holiday joy with every bite. You can pair them with practically any cracker out there!
Then you simply throw on some extra dried fruit and perhaps a couple different delicious meats on the tray to really round out the whole thing.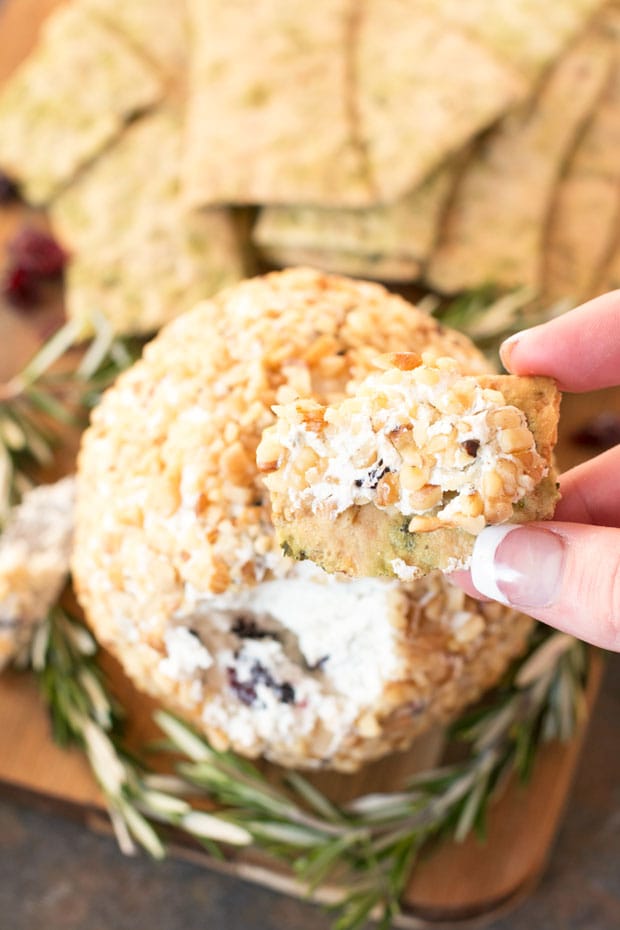 The result is a starting appetizer that everyone will devour and you'll be literally begged to share the recipe before dinner is even served.
I served up this bad boy on Thanksgiving and it got rave reviews (from people that aren't just trying to buy my affection, I promise) so…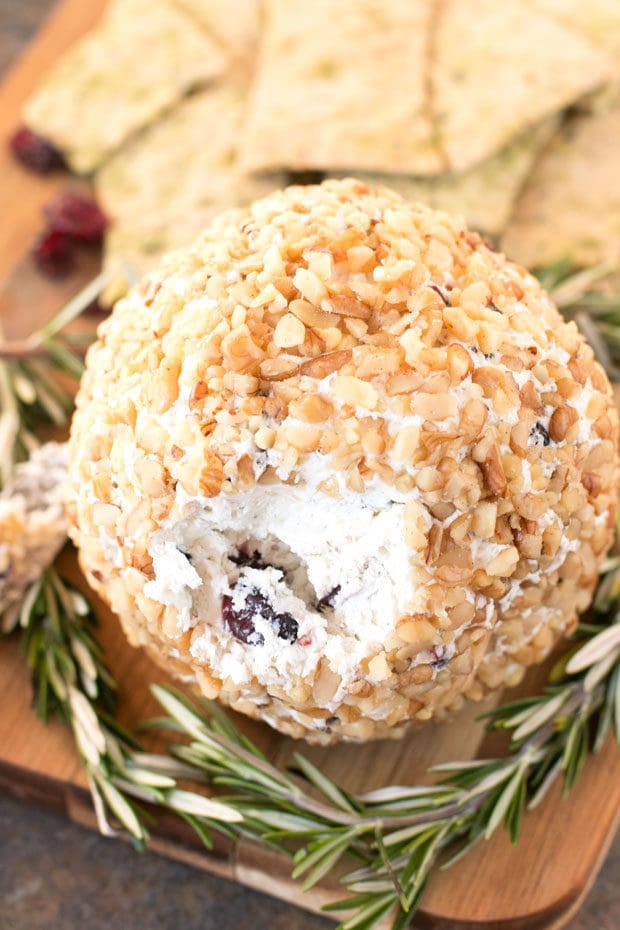 Make it and you will definitely be rewarded. Plus, I find that it's a marvelous addition to a leftover Thanksgiving turkey sandwich! The tangy cheese and cranberries are the ideal match for the savory turkey, especially if you pile it with some gravy and stuffing as well.
can I make this cheese ball in advance?
That's the beauty of this recipe! You can make this cheese ball up to one full day in advance. Simply store the cheese ball in an airtight container in the refrigerator until you are ready to serve.
I like to pull out the ball about 15 to 30 minutes before I'm ready to serve it so it can soften just slightly. This makes it a little easier to dig into with your knives and crackers.
This Recipe's Must Haves
When you make this simple cheese ball, all you will need are a few simple tools. To start, I like to make this cheese ball in one of my mixing bowls. You can use your hands to mix everything together, but I prefer to use a wooden spoon.
Measuring cups and measuring spoons are an obvious must-have as well, but other than that, you don't need anything fancy!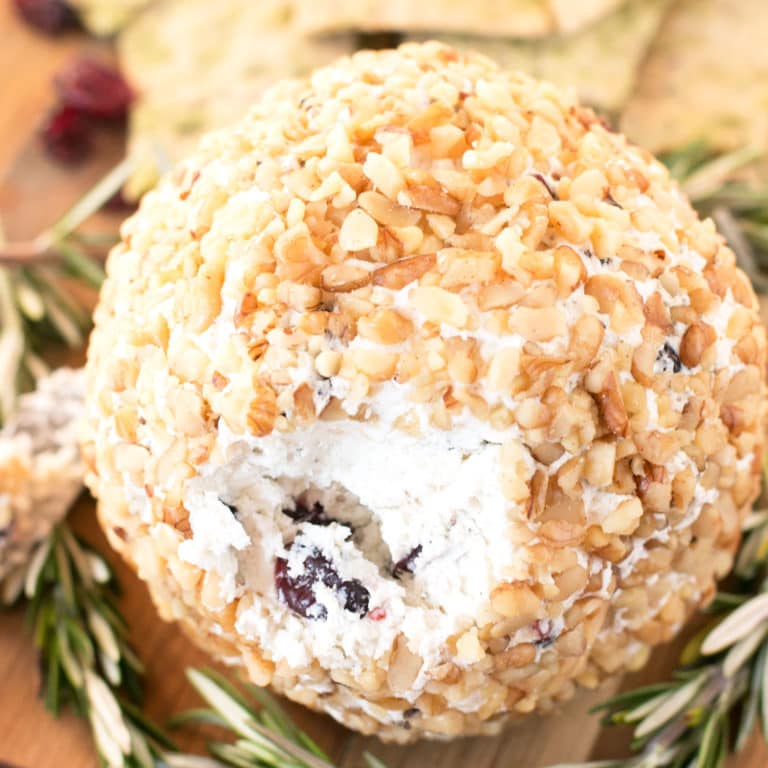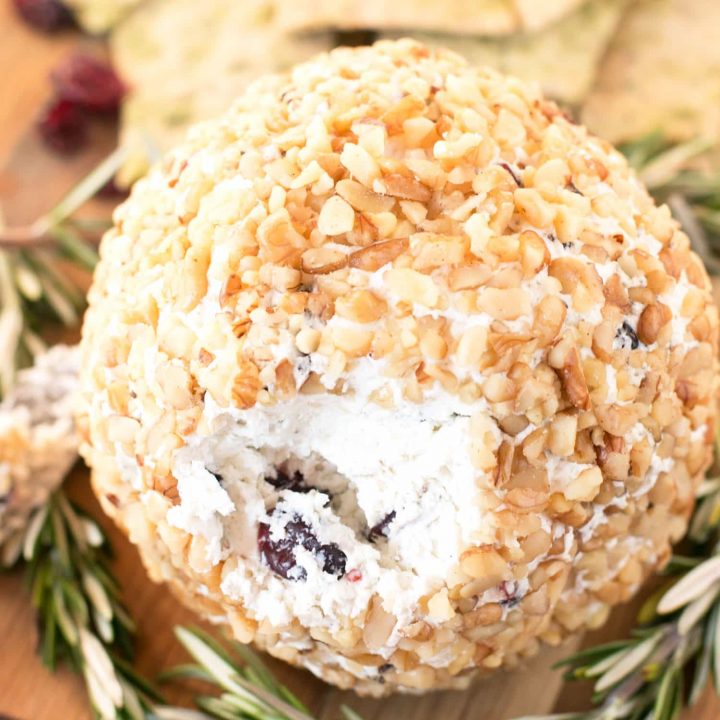 Cranberry Walnut Goat Cheese Ball
Packed with goat cheese, cranberries and winter herbs, this goat cheese ball is perfect for your next holiday get together!
Ingredients
3 cloves garlic, minced
10 oz goat cheese
4 oz cream cheese
1/4 tsp salt
1/2 tsp pepper
1 tsp ground thyme
1/2 tsp dried rosemary
1/2 cup dried cranberries, chopped
2/3 cups chopped walnuts
Crackers
Instructions
In a medium bowl, stir together garlic, goat cheese, cream cheese, salt, pepper, ground thyme, dried rosemary, and cranberries.
Once well combined, form the cheese mixture into a ball.
Roll the ball in chopped walnuts to coat evenly. Serve with your favorite crackers!
Recommended Products
As an Amazon Associate and member of other affiliate programs, I earn from qualifying purchases.