Please note this post contains affiliate links.
Dry Rub Wings are the EASIEST way to make wings. All you need is a slammin' seasoning to infuse your grilled chicken wings with a ton of flavor! You can serve them straight up or pair them with a tangy BBQ blue cheese dipping sauce.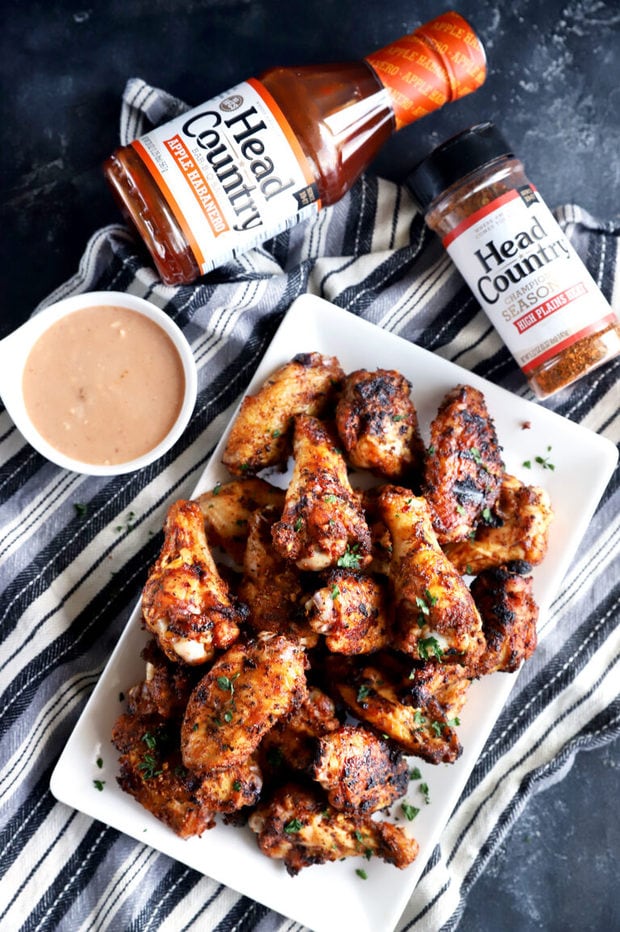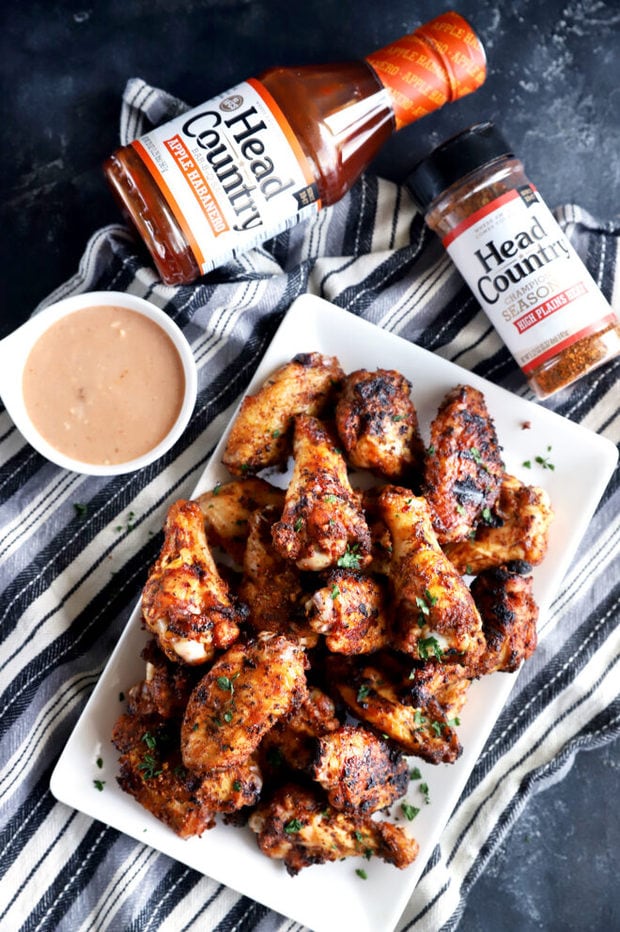 Disclosure: This post was sponsored by Head Country Bar-B-Q. As always, all opinions are my own. Thank you for supporting the brands that support Cake 'n Knife.
Oh boy people, we are in the final leg of the football season… Can you believe it?
Now, I have to be honest, I don't really have any strong feelings towards either team that is in the big game this coming Sunday. All I can say is that I am happy to have placed third in my fantasy league! HA.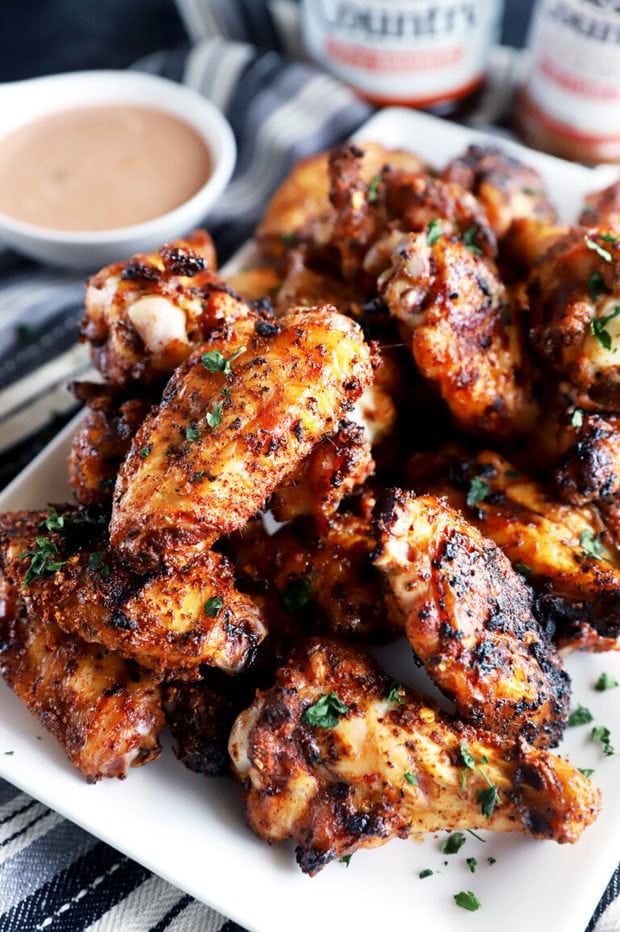 So I suppose this year, the whole watch party thing will be more of me watching the commercials than getting hyped about the game itself.
This doesn't mean that I can't have some seriously tasty food though, you know?
I mean, to me, that's what makes any watch party a surefire W-I-N. You gotta have the snacks and more snacks, cocktails and even more snacks to make it worthy of the biggest game of the year.
This year, you have to make these wings. I mean, you really HAVE TO.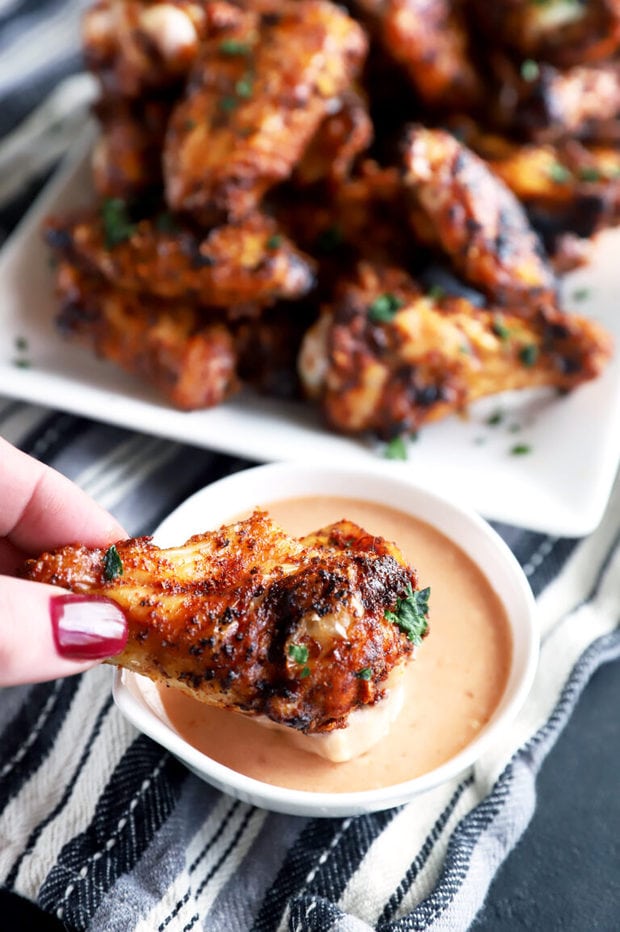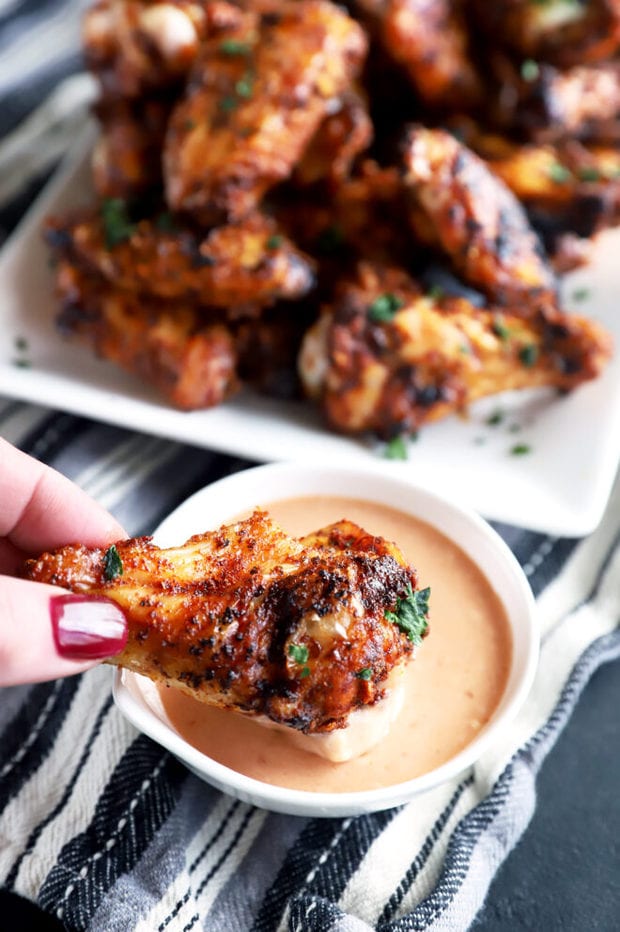 The Man and I love all kinds of wings. We are pretty obsessed and we can destroy platefuls of them if you give us a chance. Lately, I've been really into dry rub wings. The saucy ones are great and all, but there's something about the char you get on the dry rub wings that comes through with an extra punch of flavor.
The real flavor bomb is the seasoning I used, which just so happens to be Head Country Bar-B-Q's seasoning. If you didn't know that Head Country had seasonings, well now you do and OMG they are going to become such a staple in your spice rack. I LOVE the High Plains Heat because it's totally spicy, but there's also their original championship seasoning and a sweet and spicy too. You can use any one of these three in this recipe.
You can also use any one of the Head Country Bar-B-Q sauces for the BBQ blue cheese dipping sauce! This time I used apple habanero for some sweet spice to complement the wings. It's tangy from the blue cheese, and kinda cools off the heat of the spice on the wings. However, all the sauces work fantastically, whether you want smokiness from hickory smoke or just straight up BBQ flavor from their original sauce.
This is honestly the best way to use up some leftover BBQ sauce that you might have lingering in your fridge!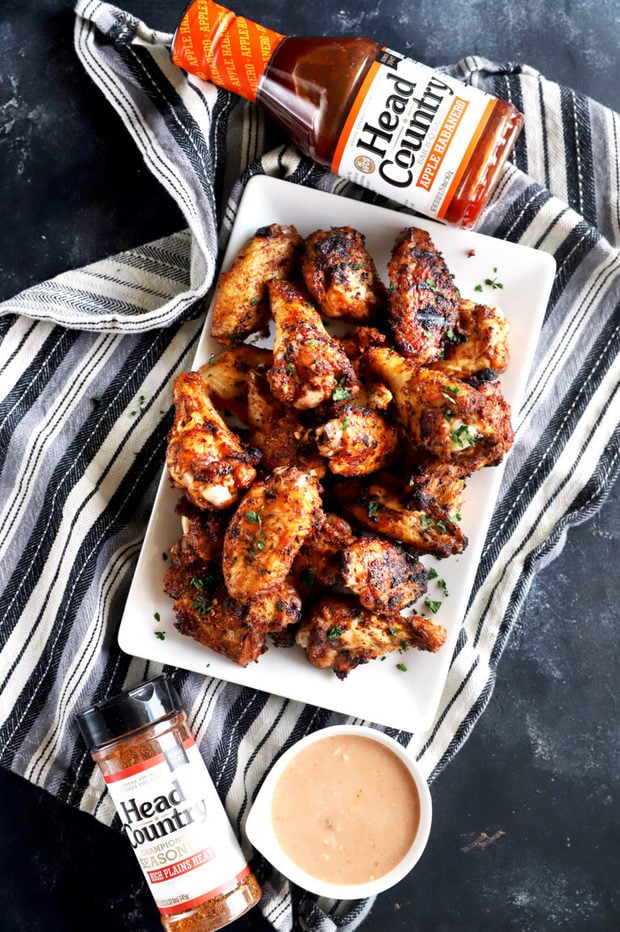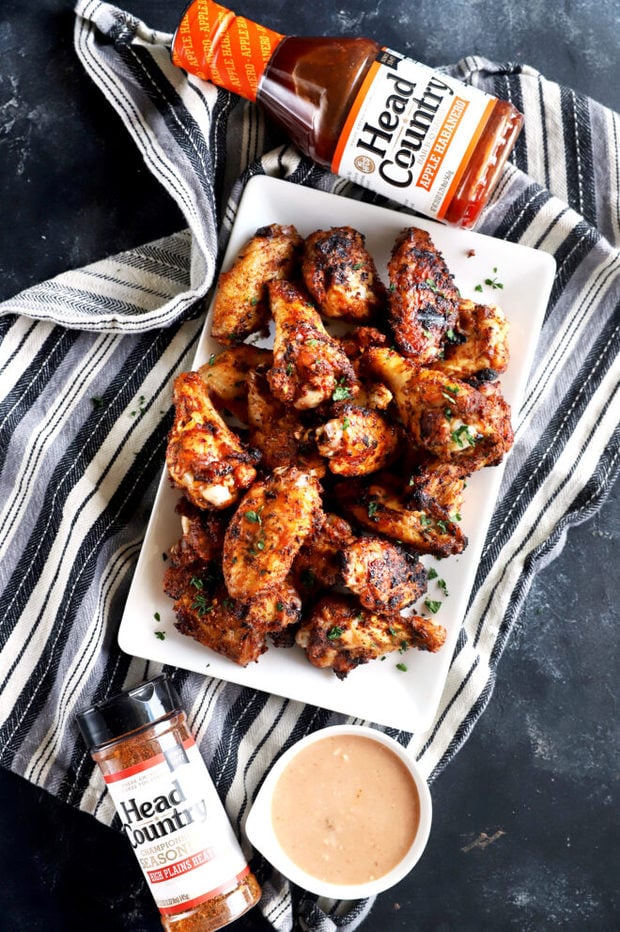 This Recipe's Must-Haves
You will definitely need to pick up some Head Country Bar-B-Q sauce and seasoning to make these dry rub wings with the sauce!
If you aren't new to the blog, you know I am a big fan of Traeger for all my grilling/smoking needs. These wings are grilled and, as you can see in the video below, I used this Traeger grill. For the pellets, I used Traeger grill signature pellets and I highly recommend grabbing a pair of Traeger grill tongs to flip the wings as they cook.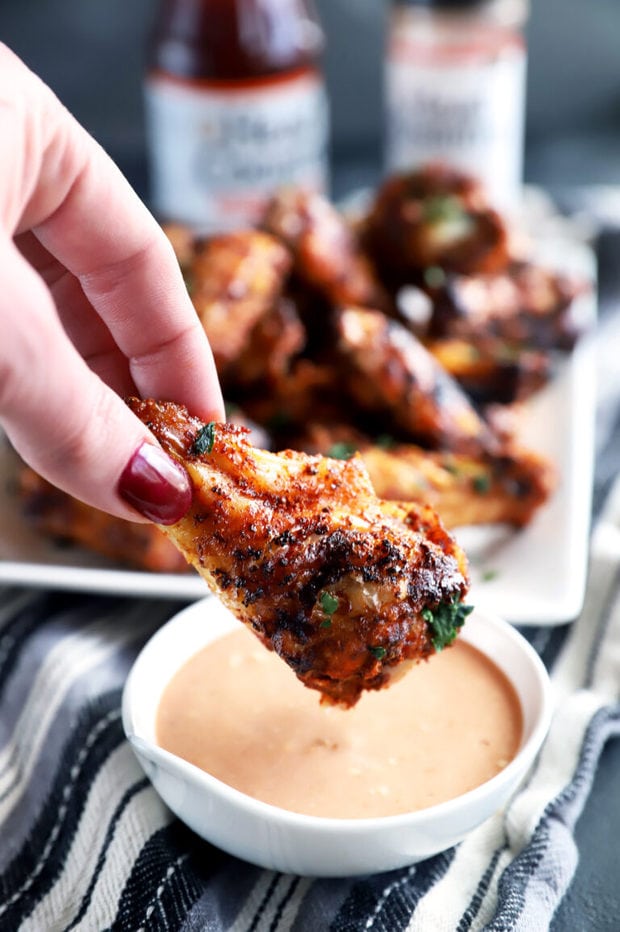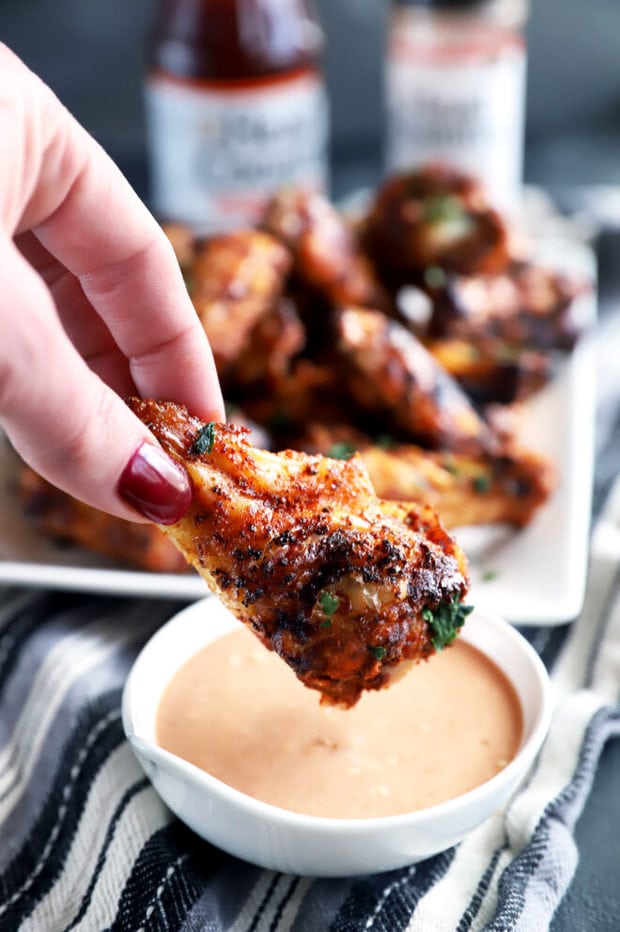 Here's How To Make Dry Rub Wings
Coat & Rest Wings
Dry rub wings are so simple, because all you have to do is coat the wings with a seasoning and a little baking powder. Why baking powder? It actually helps the skin on the chicken wings dry out so that it'll crisp up on the grill. That's why you let the wings rest in the fridge for 8 hours before you throw them on the grill.
It's science and it's awesome.
Grill Wings
Make sure that your grill is nice and HOT before you add those wings! They don't take too long to grill, just about 30 minutes, and you only have to worry about turning them once halfway through.
Make Sauce
For the sauce? Two ingredients. BOOM. Stir 'em up and you are DONE.
Need inspiration for the big game? Check out my Snacks page for some tasty ideas.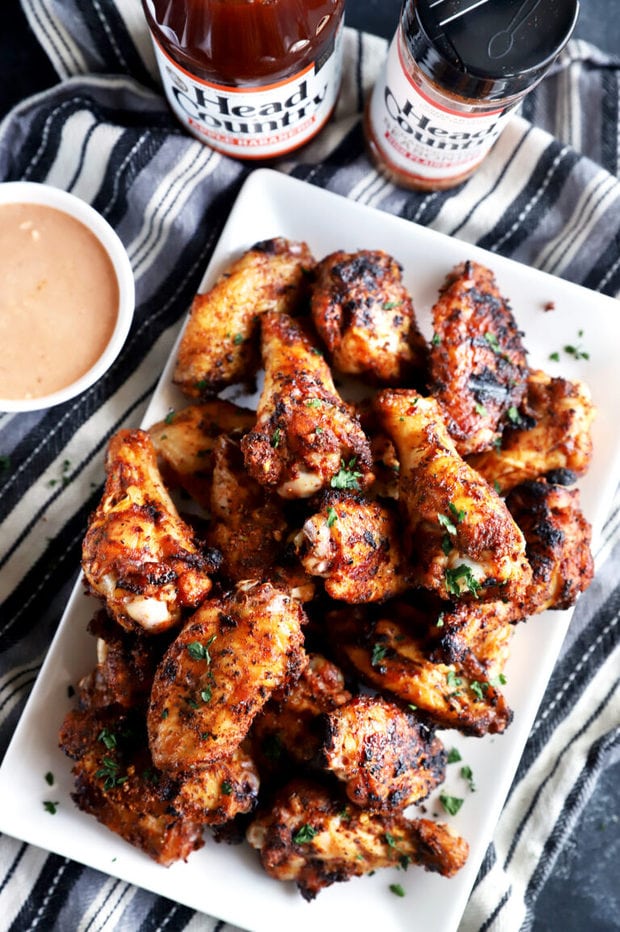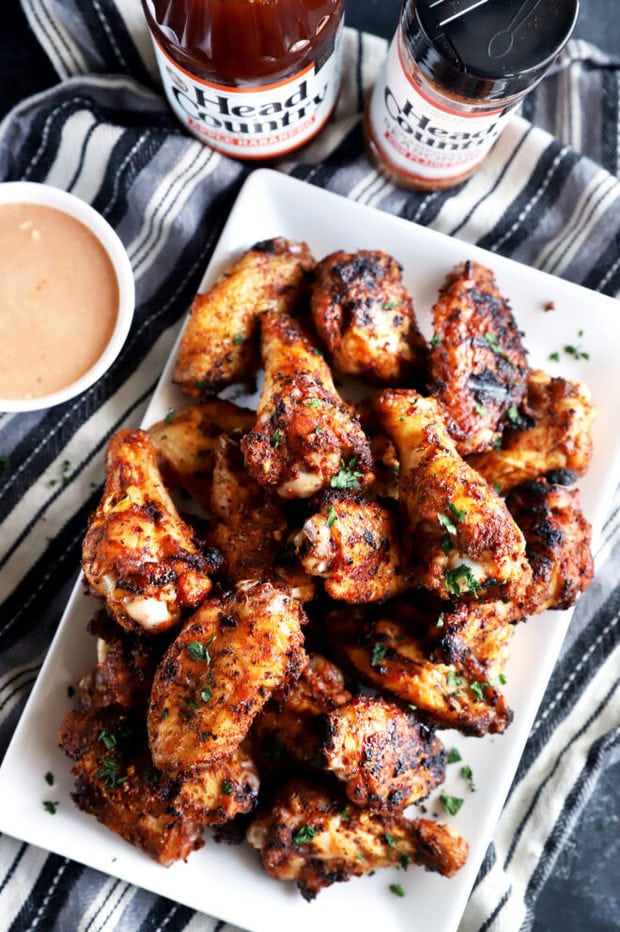 Can I bake the wings instead?
Yes you can! If you choose to bake, line a rimmed baking sheet with aluminum foil and place a rack inside. Bake for 30 to 40 minutes at 400˚F, until they are register 165˚F on a meat thermometer when inserted into the thickest part.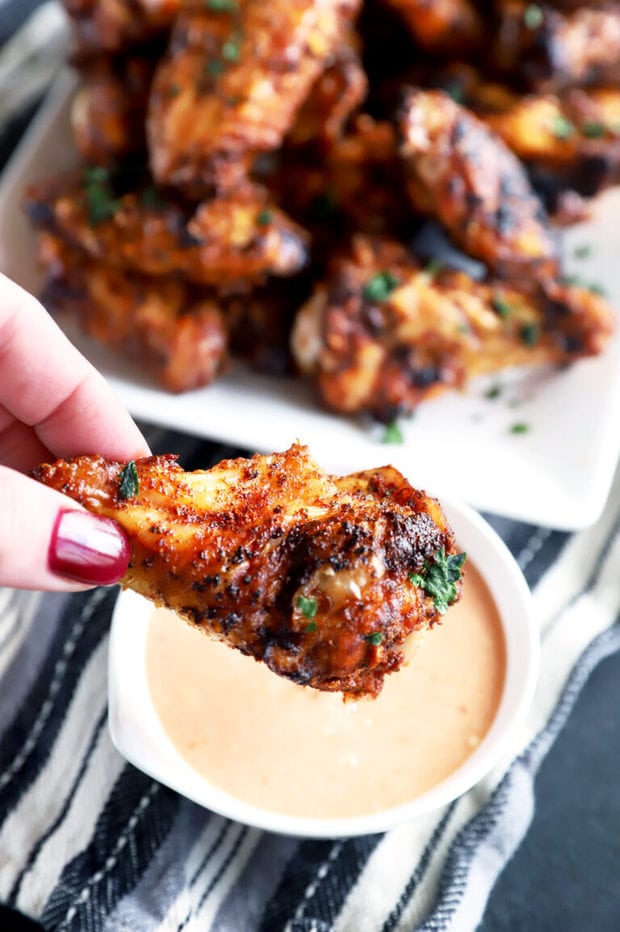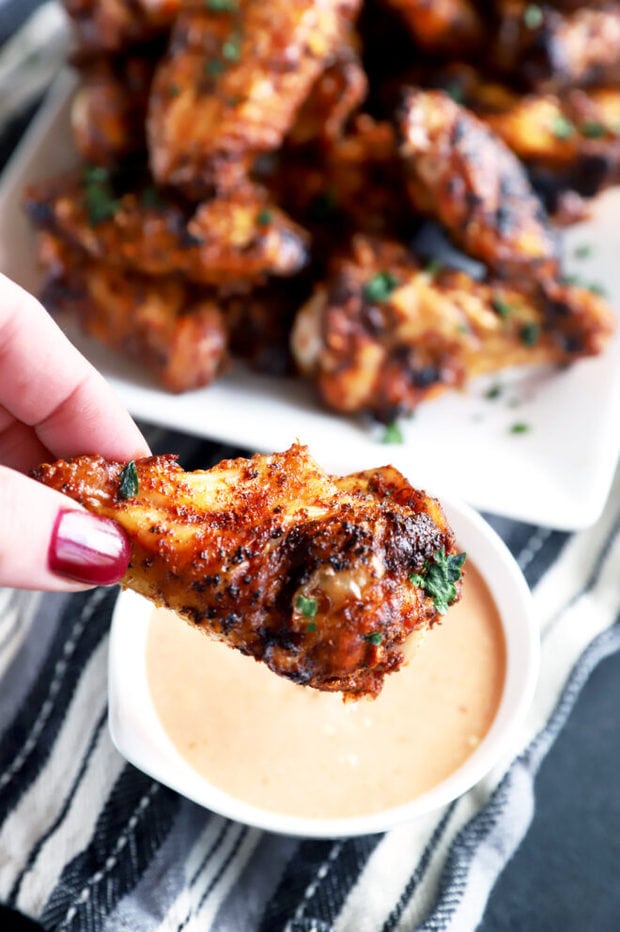 A Couple Helpful Tips
• If you are using frozen wings, make sure they are completely thawed before you start the recipe.
• Preheat your grill for about 15 minutes before you start grilling! This allows for your wings to cook evenly and also gives you that natural caramelization on the outside.
• Make sure you have a meat thermometer handy!
Want to see just how easy these wings are to make? Check out the recipe video below!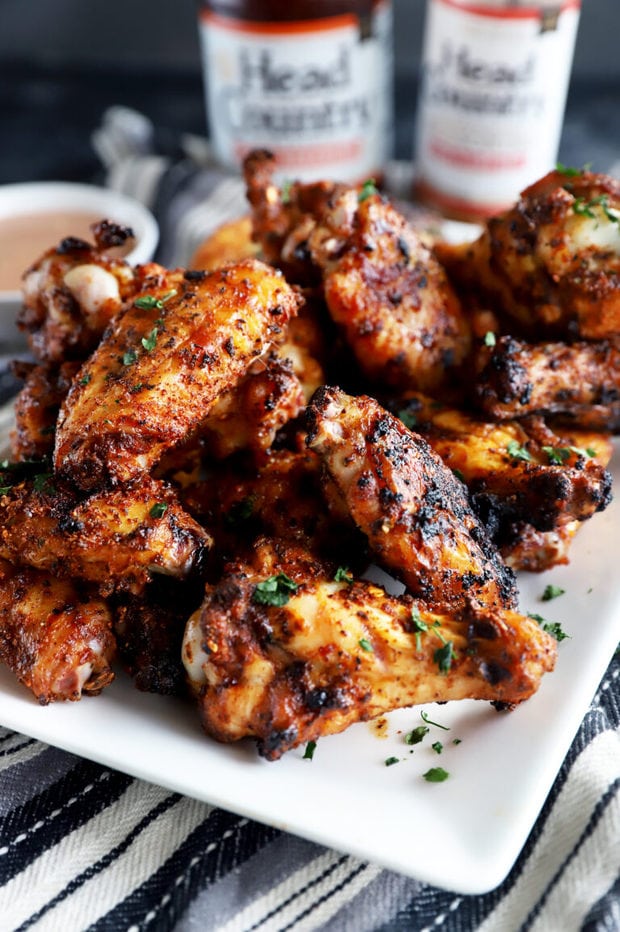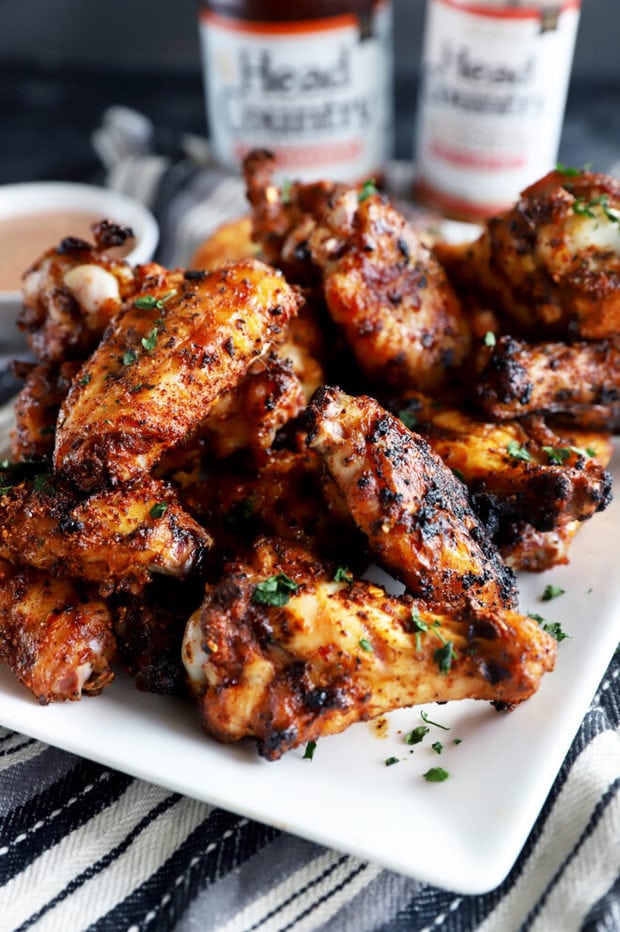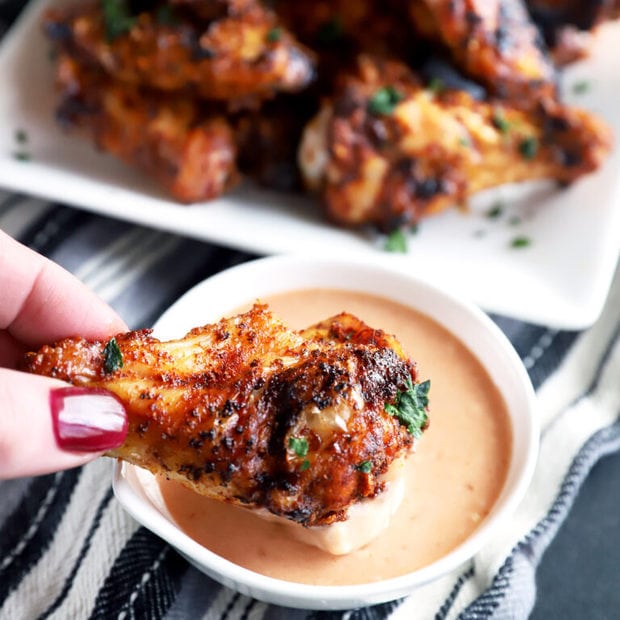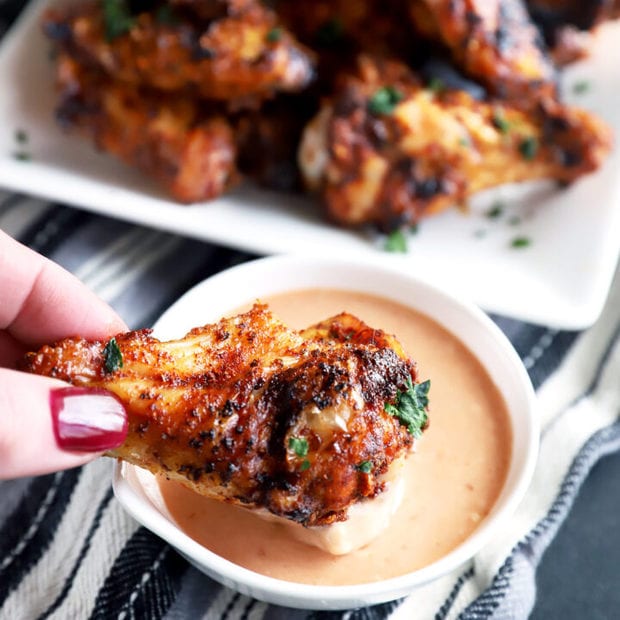 Dry Rub Wings with BBQ Blue Cheese Sauce
Simple seasoning makes these crispy grilled wings the center of any party!
Ingredients
Wings
4 lbs chicken wings, broken down into drummettes and flats
2 1/2 Tbsp Head Country Bar-B-Q High Plains Heat Seasoning (or any Head Country Championship Seasoning!)
1/2 tsp baking powder
BBQ Blue Cheese Sauce
1/2 cup Head Country Bar-B-Q Sauce (I used Apple Habanero but you can use any one you love!)
1 cup blue cheese dressing (or ranch!)
Freshly chopped parsley for garnish
Instructions
Place wings in a large bowl. Sprinkle the wings with the Head Country Bar-B-Q seasoning and baking powder. Toss to coat evenly.
Place a wire rack on a baking sheet lined with aluminum foil. Refrigerate for 8 hours.
When ready to grill, preheat grill to high heat (400˚F). Once the grill is hot, cover and grill wings for 30 to 35 minutes, flipping them once halfway through cooking.
While the wings are grilling, make the sauce by combining Head Country Bar-B-Q sauce and blue cheese dressing in a small bowl. Stir until smooth.
Remove wings from grill and add to a serving platter. Garnish with parsley and serve with sauce.
Recommended Products
As an Amazon Associate and member of other affiliate programs, I earn from qualifying purchases.