Please note this post contains affiliate links.
Pumpkin Sage Biscuits are a flaky, buttery treat that are sure to become a new family favorite. The easy homemade buttermilk biscuits are made from scratch, and they go with everything!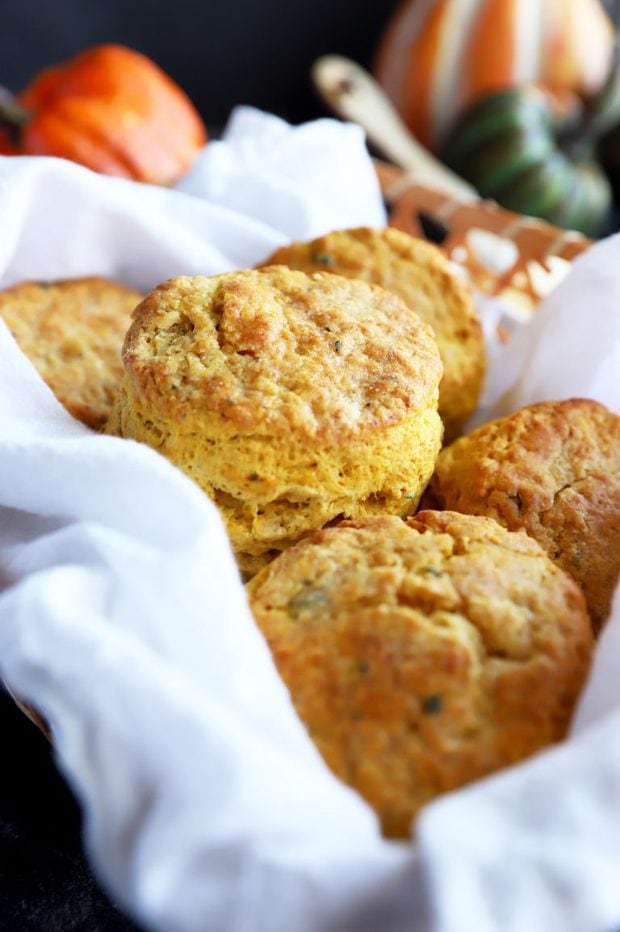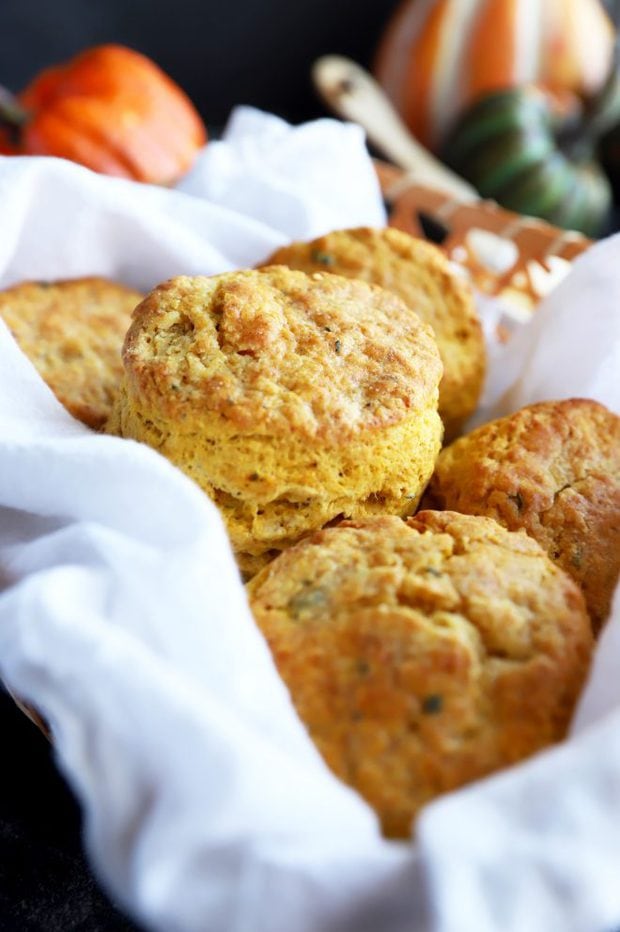 Buttery, flaky, and full of flavor, these pumpkin sage biscuits are my new obsession.
I mean, how can you not love a biscuit with dinner?
These are the last-minute biscuits that you need to add to your baking list for Thursday! For me, every Thanksgiving meal needs biscuits or rolls or some sort of bread. It's that last sweep of the plate you make with the biscuit, picking up gravy, some cranberry sauce, and any other remnants that closes out the meal for me in the best way.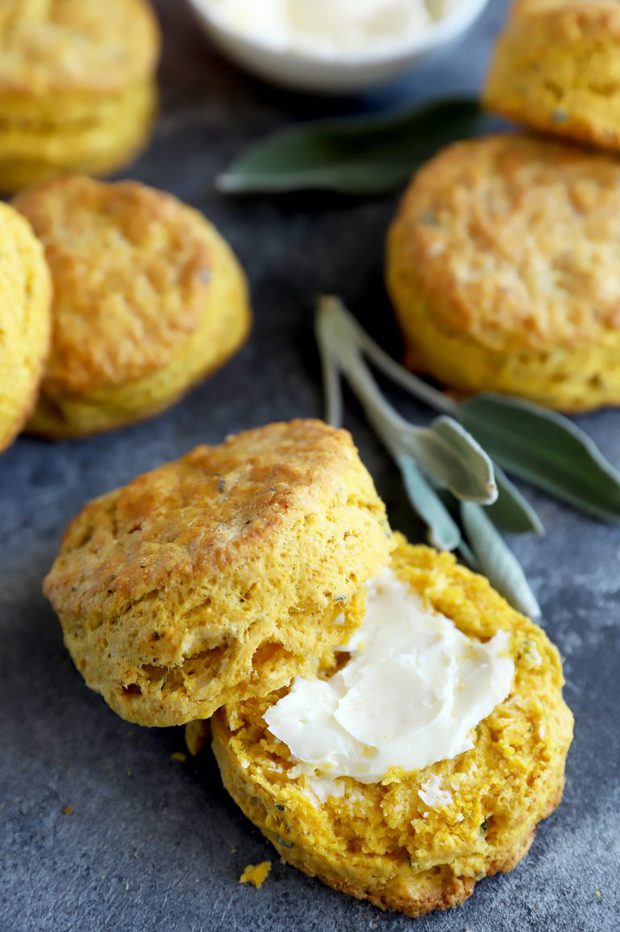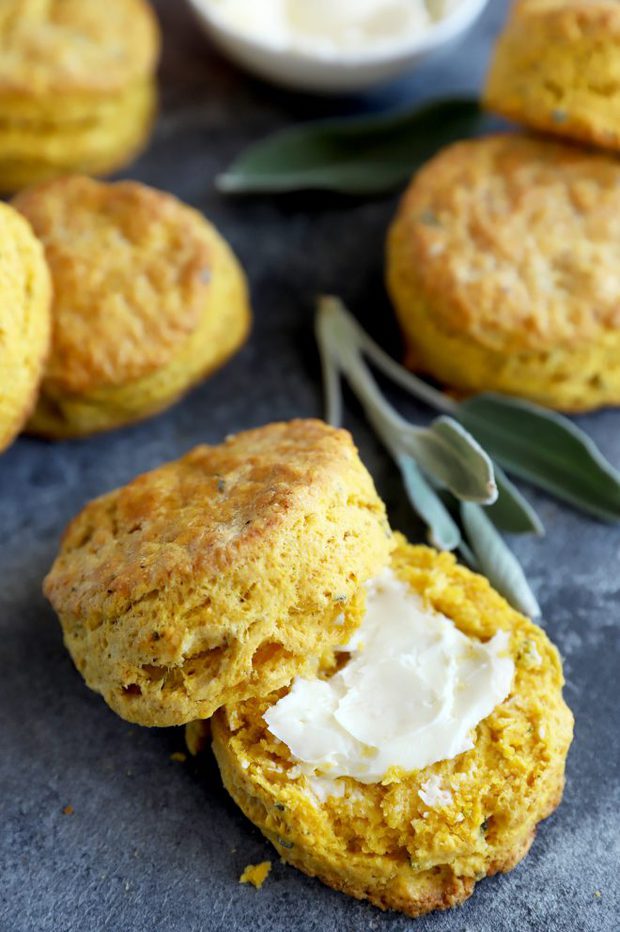 This is the biscuit to do that with. They are butter-packed, full of pumpkin and fresh sage, and are so freaking easy to make.
The dough comes together in minutes and it's totally easy to work with. When you brush them with butter straight out of the oven, it's pure magic.
I'm already excited to make a batch this week!
Also, if you happen to have any leftover, these biscuits make for a killer bread to make sandwiches out of with your Thanksgiving leftovers the next day!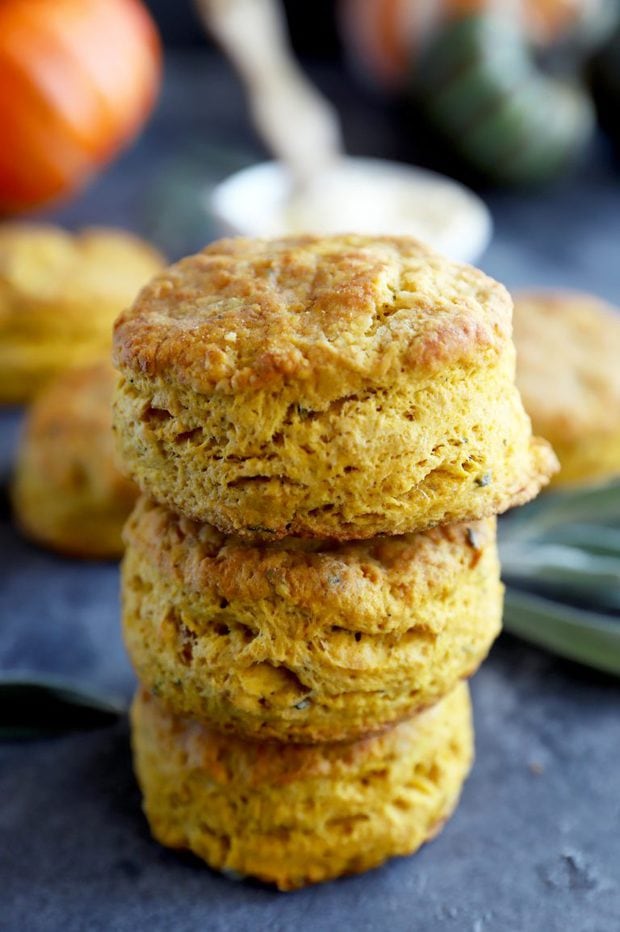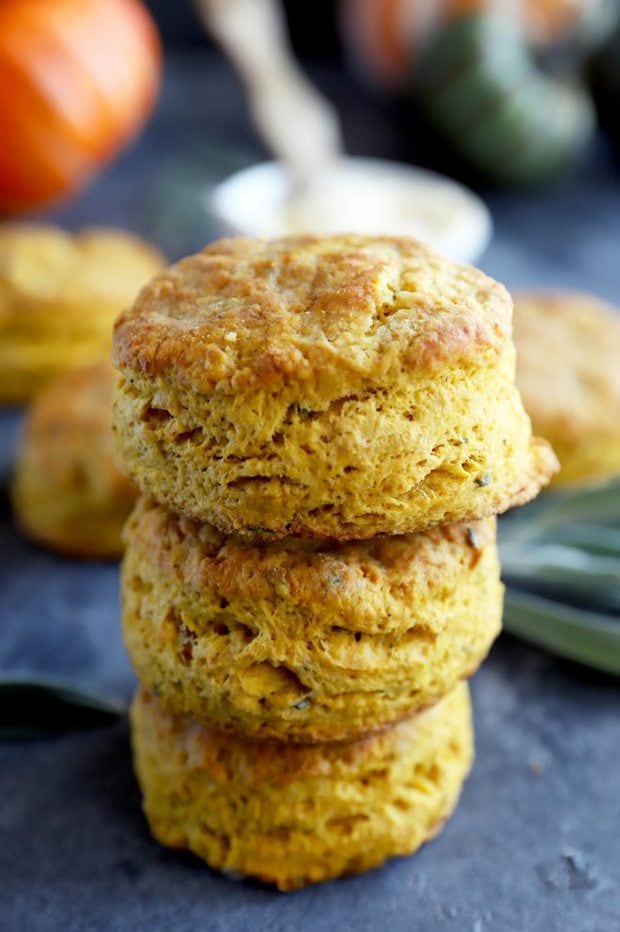 This Recipe's Must-Haves
To make the dough, you'll need the largest of your mixing bowls.
Then you need something to roll out the dough with, which for me means my marble pastry board and marble rolling pin. It makes working with dough so much easier, as well as pastry!
I use biscuit cutters to cut out the biscuit shapes, but you can also use a water glass and a knife if that's all you have.
Finally, just pop the biscuits onto a half sheet baking pan and bake!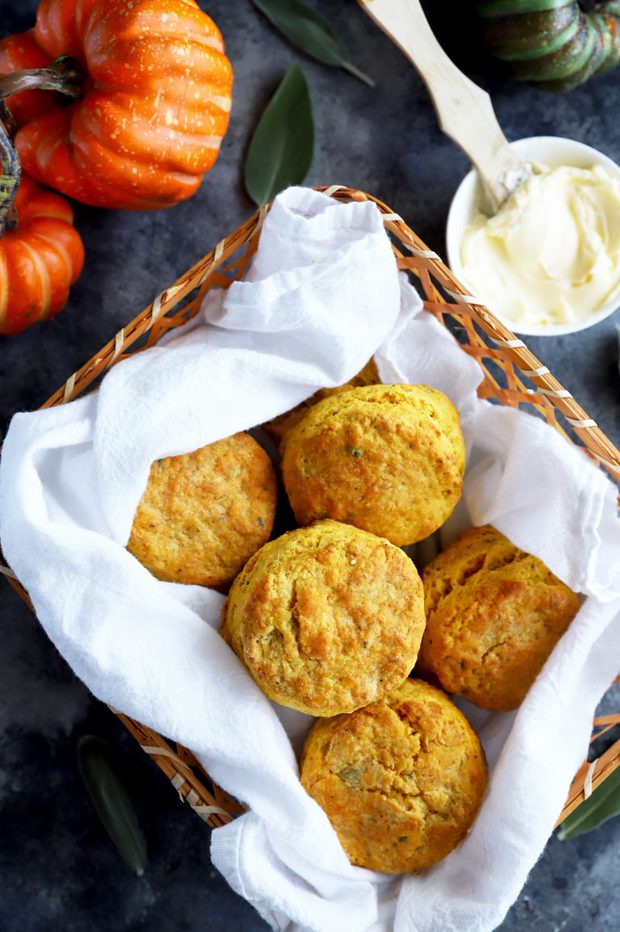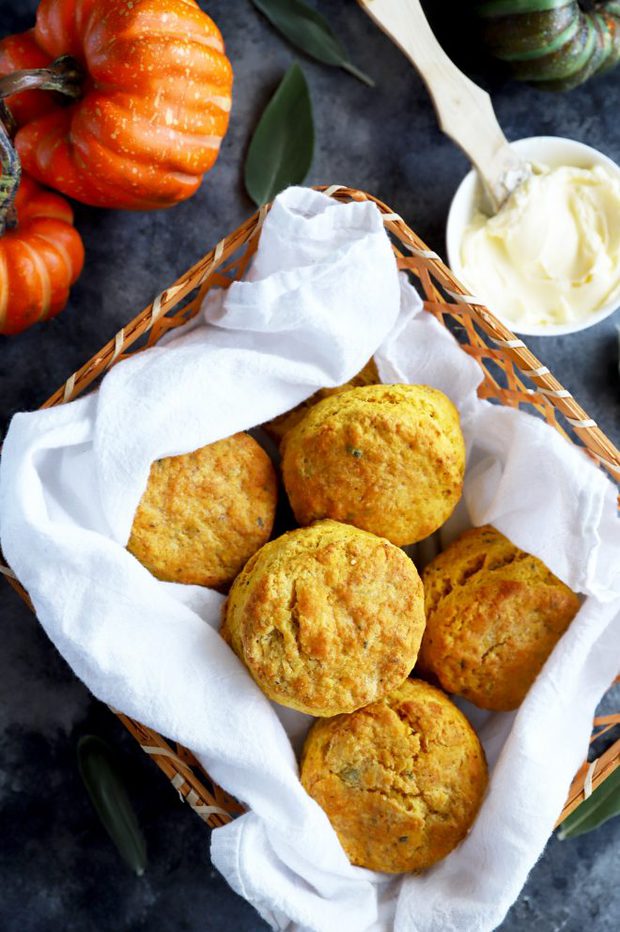 How To Make Pumpkin Sage Biscuits
Make Dough
The dough for these pumpkin sage biscuits come together in just one bowl. Simple mix together the dry ingredients, then cut in the butter. While you can use a pastry cutter or two knives, I like to use my hands to work the butter into the mixture.
Then you stir in the wet ingredients until combined and voila, you have your dough.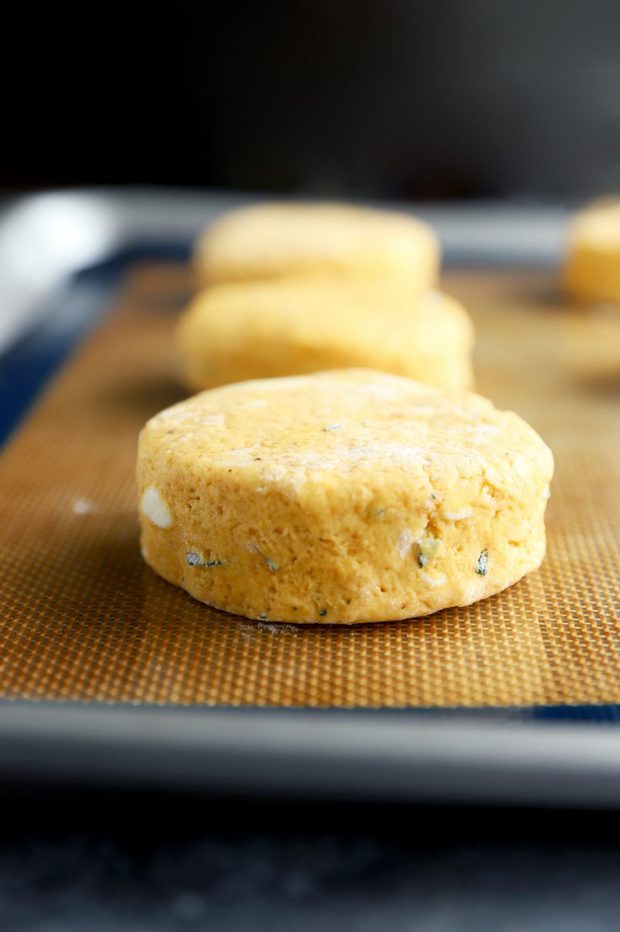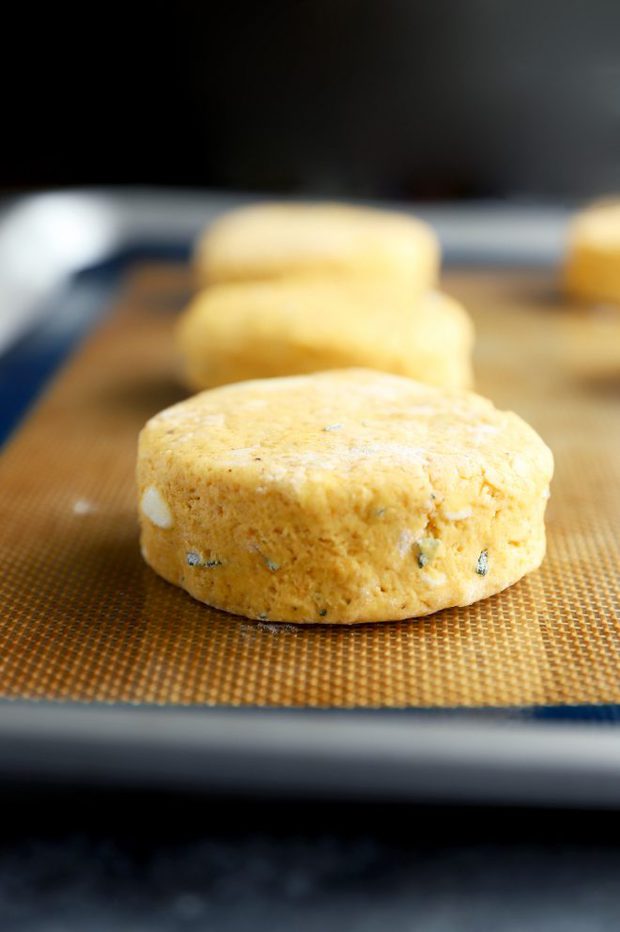 Cut Biscuits
Roll out the dough until it is about 1-inch thick. Be careful not to roll it out any thinner, or the flaky biscuits won't get the rise you want out of them.
Bake & Brush
Bake up those biscuits until they have risen and are golden brown on top. As soon as you remove them from the oven, be sure to brush them with melted butter. Then serve right away, because they are so much better warm and fresh from the oven!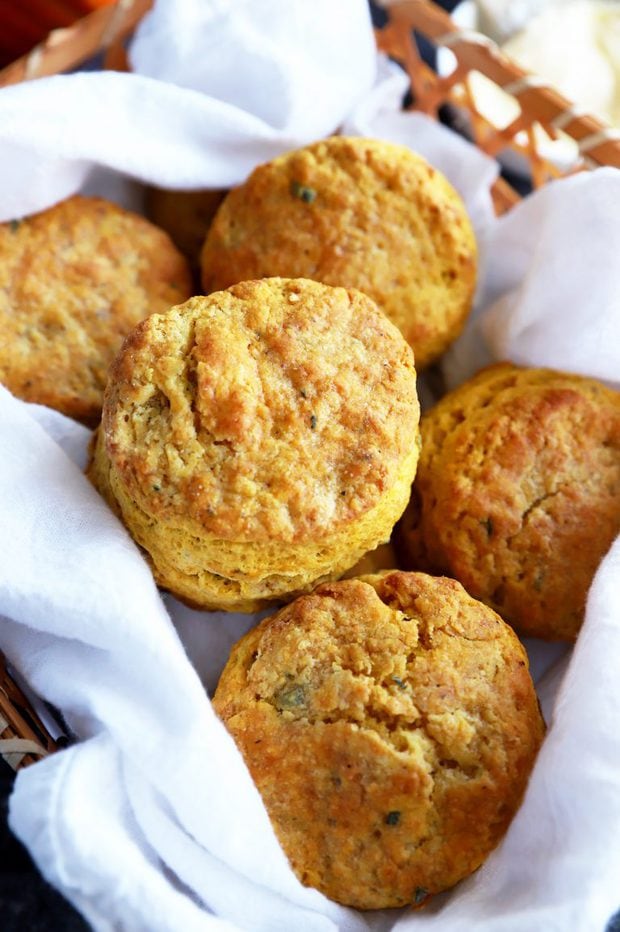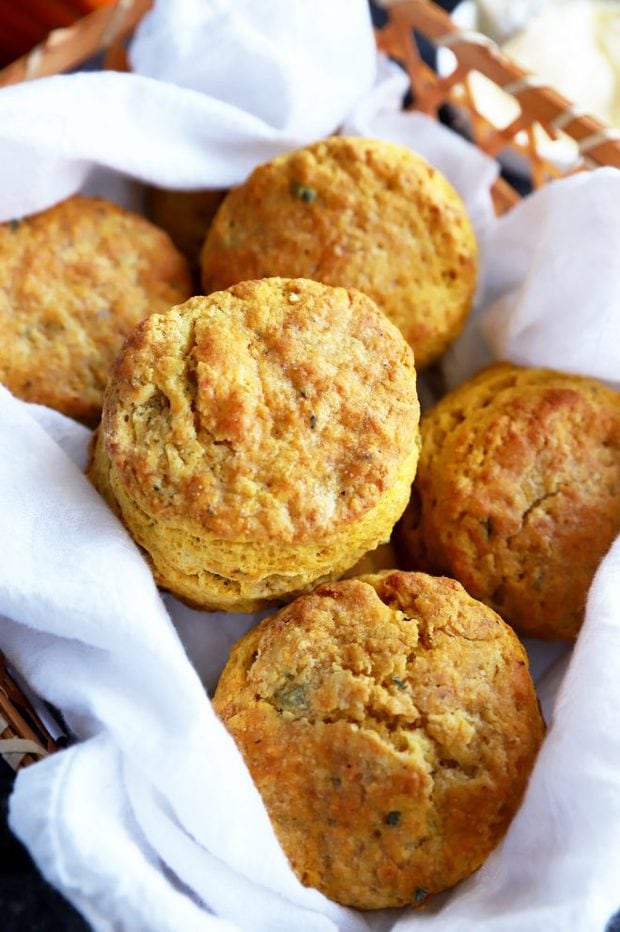 Can these biscuits be frozen?
Yes and no. If you want to make these and freeze them for later, I recommend making the dough and freezing before baking. Cut out the biscuits and add them to a parchment lined baking sheet. Cover with plastic wrap and freeze. Once they are frozen solid, add them to a resealable freezer bag and freeze. They can be frozen like this for 3 months.
I do not recommend freezing already baked biscuits. You will lose the flaky, buttery texture!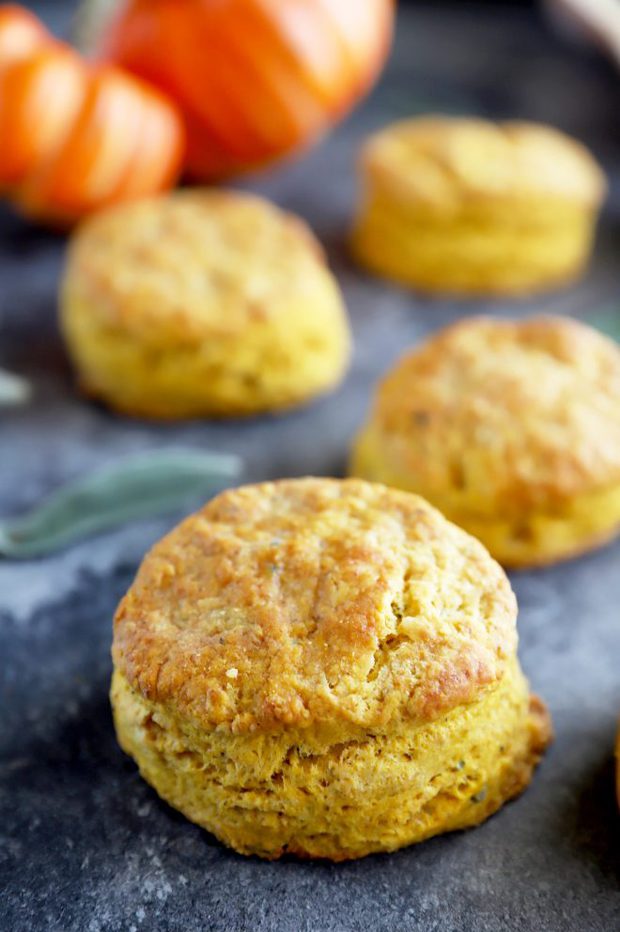 How do I reheat frozen biscuits?
To bake the frozen biscuits, preheat oven to 425˚F. Bake for 20 to 30 minutes, until the biscuits are golden brown. Remove from oven and brush with melted butter before eating.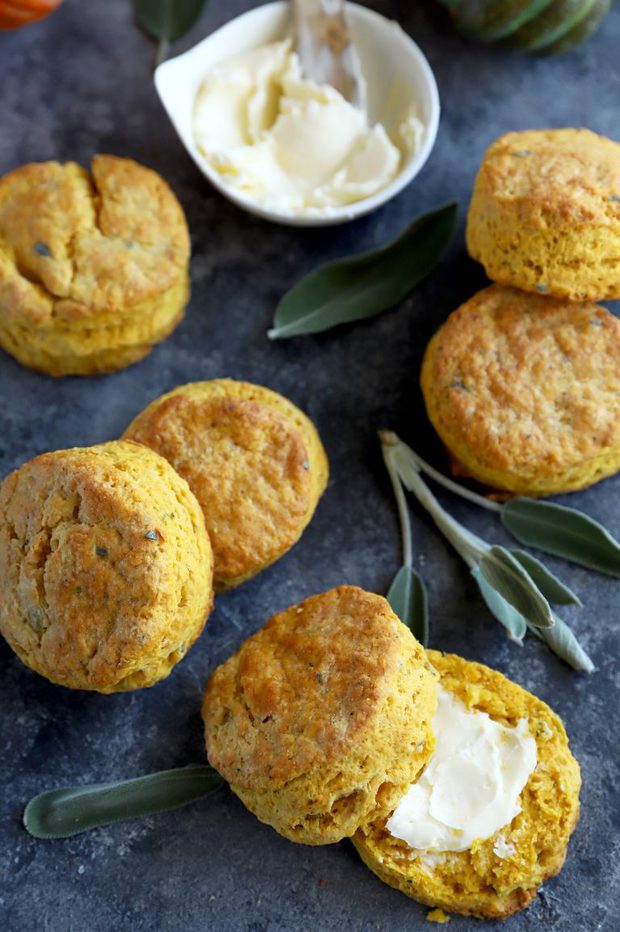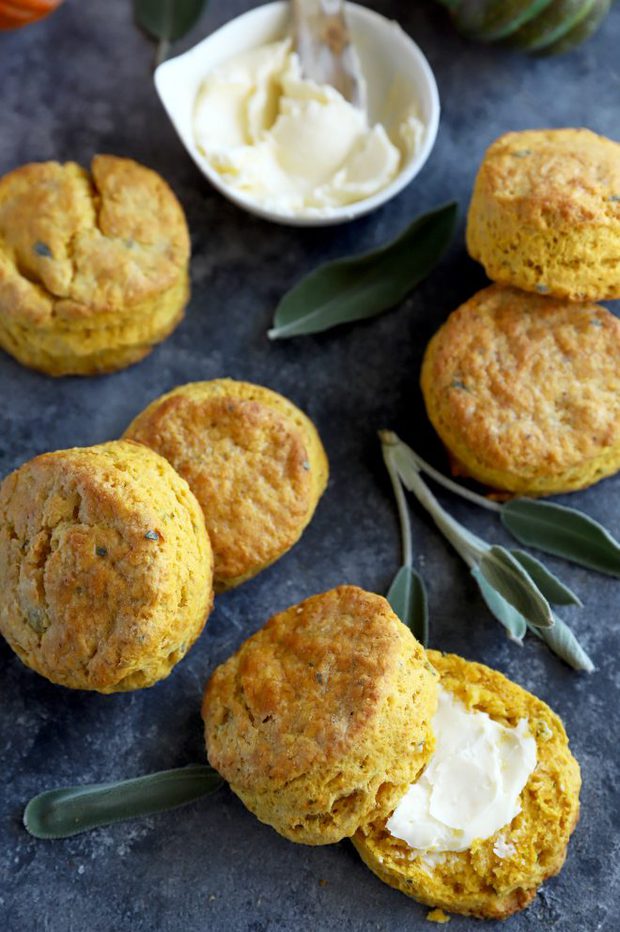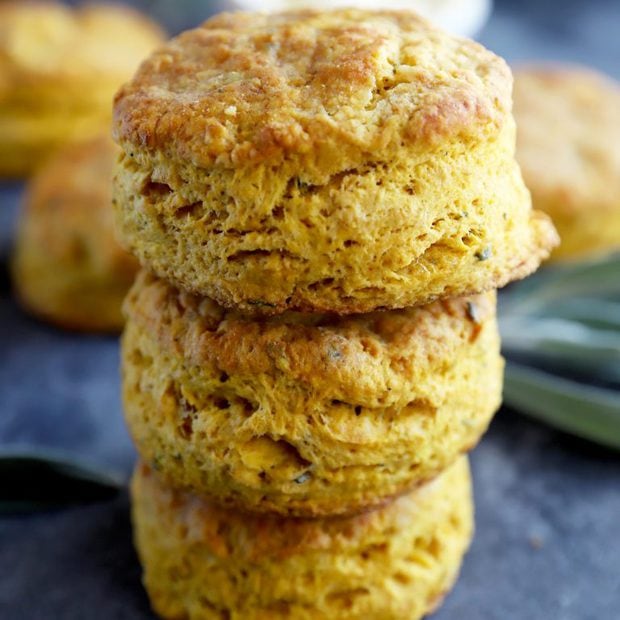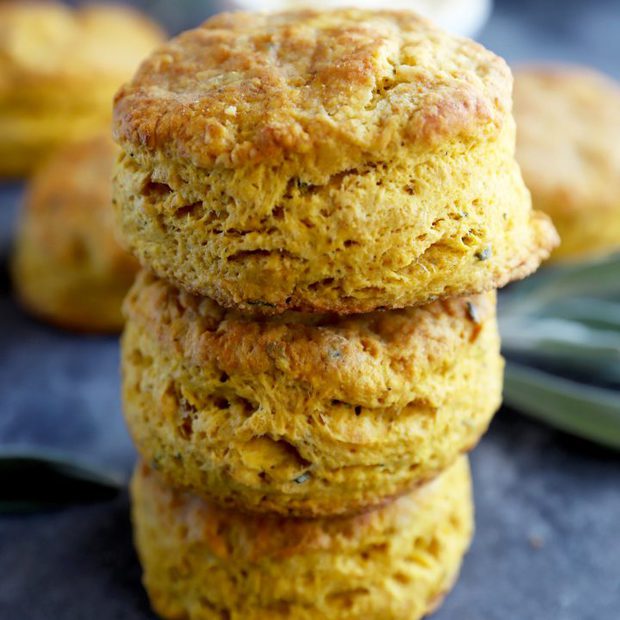 Pumpkin Sage Biscuits
Flaky, buttery biscuits are amped up for Thanksgiving with pumpkin, sage, and spices!
Ingredients
1 3/4 cups all-purpose flour
1/4 cup packed light brown sugar
2 1/2 tsp baking powder
1/2 tsp salt
1/4 tsp black pepper
1/2 tsp garlic powder
1/4 tsp baking soda
2 1/2 tsp finely chopped fresh sage leaves
1/2 cup plus 1 1/2 teaspoons cold butter, divided
3/4 cup canned pumpkin
1/3 cup buttermilk
Instructions
Preheat oven to 425˚F. Line a baking sheet with a silicone mat or parchment paper.
Add flour, brown sugar, baking powder, salt, black pepper, garlic powder, baking soda, and sage to a large bowl. Stir to combine.
Cut in 1/2 cup butter using two knives, a pastry cutter, or your hands until mixture resembles coarse crumbs. Stir in pumpkin and buttermilk, until just moistened.
Turn dough out onto a lightly floured surface. Knead the dough 8 to 10 times. Roll out until it's 1-inch thick. Cut into circles that are 2 to 2 1/2-inches in diameters.
Place biscuits 1 inch apart on the prepared baking sheet.
Bake for 18 to 22 minutes, until golden brown. Melt remaining butter and brush over biscuits. Serve warm.
Recommended Products
As an Amazon Associate and member of other affiliate programs, I earn from qualifying purchases.