Please note this post contains affiliate links.
A gin and ginger ale, also known as a Gin Buck cocktail, is a simple and flavorful combination! The floral notes of gin with bubbly ginger soda makes this 2-ingredient cocktail a refreshing sipper.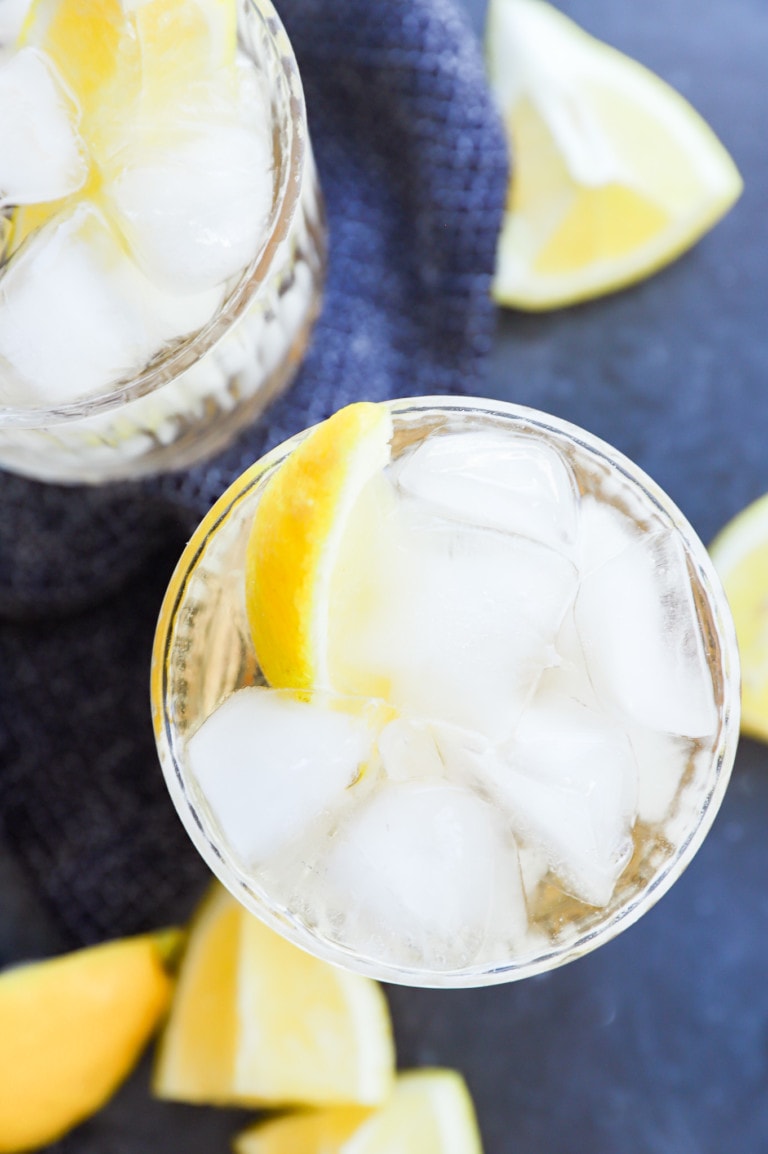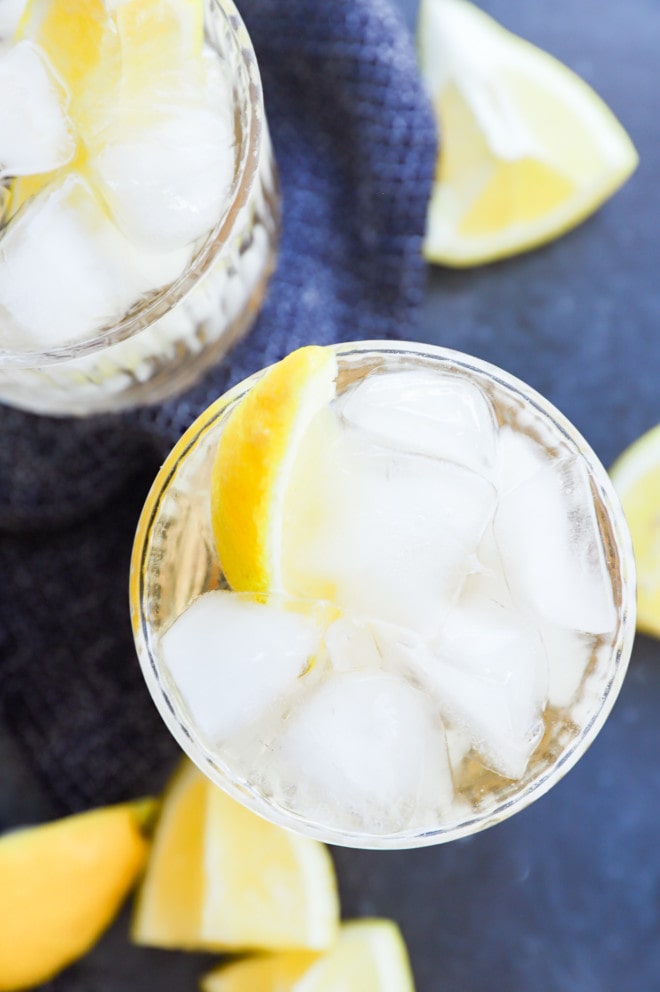 about this gin and ginger ale cocktail
Some days, you just want a simple cocktail. If you are a fan of simplicity and a burst of refreshing flavors, then the Gin Buck (aka gin and ginger ale) is made for you.
This is one of the cocktails that has stood the test of time, and there's good reason for that! It's uncomplicated, but it is guaranteed to satisfy anyone you serve it to. The balanced blend of botanical gin and zing of ginger ale makes this cocktail one you'll return to more often than not. The final touch of citrus makes it even tastier!
It might not be celebrated in the world of mixology, but most of the classic cocktails we love aren't. Not every night is going to be a cocktail competition, and most of the time, you'll want an easy and satisfying flavor combination like this one.
This cocktail has year-round appeal, whether it's a sunny day or a chilly evening. The warmth of the ginger and the crispness of the gin make it suitable for any season! Gin drinkers will love this one, trust me.
what is a gin buck?
A Gin Buck is a classic highball cocktail. The two ingredient recipe is simple to make and is incredibly refreshing. For those who don't love the flavor of a gin and tonic, a gin and ginger ale cocktail is a better combination as it has a semisweet flavor. You can easily serve this cocktail for happy hour, dinner, or any other gathering you have coming up.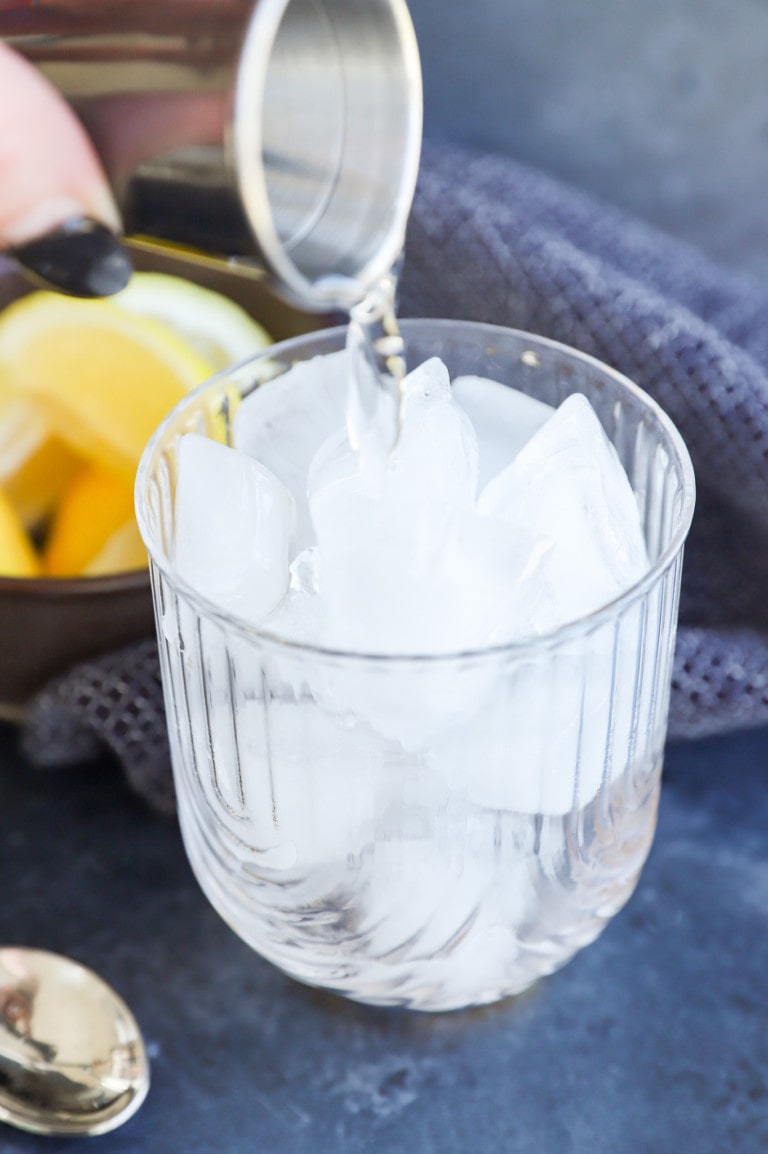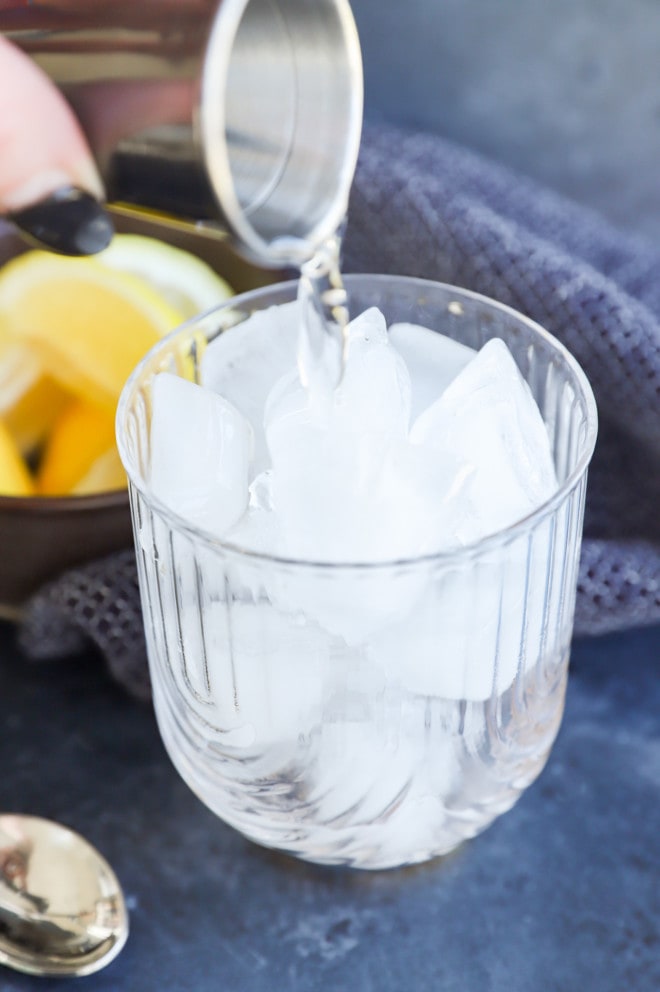 ingredients
gin. Use your favorite gin for this cocktail! I am a fan of Hendrick's Gin (especially their Neptunia Gin), Bombay Sapphire, and The Botanist is really nice as well. For a more budget-friendly option, use Gordon's. If you are unsure where to start, simply pick a London dry gin.
ginger ale. The taste of the ginger ale will have a big impact on this cocktail, so be sure to choose one that you like to sip. I personally like to use Canada Dry and Fever Tree.
lemon. A fresh lemon wedge is a must!
this recipe's must haves
To make this recipe you need a set of highball glasses or your favorite cocktail glasses. You can also use a collins glass.
You will also need a jigger and a cocktail spoon to stir it together. There's no need to break out the cocktail shaker or cocktail strainer!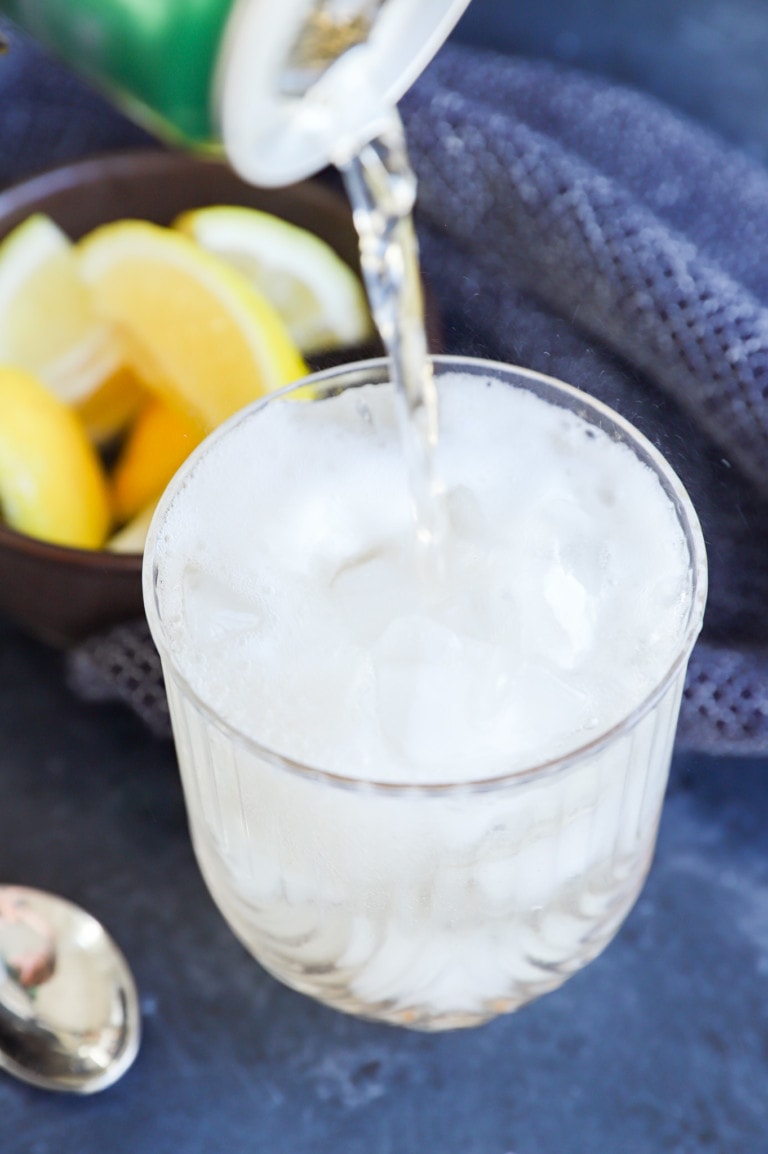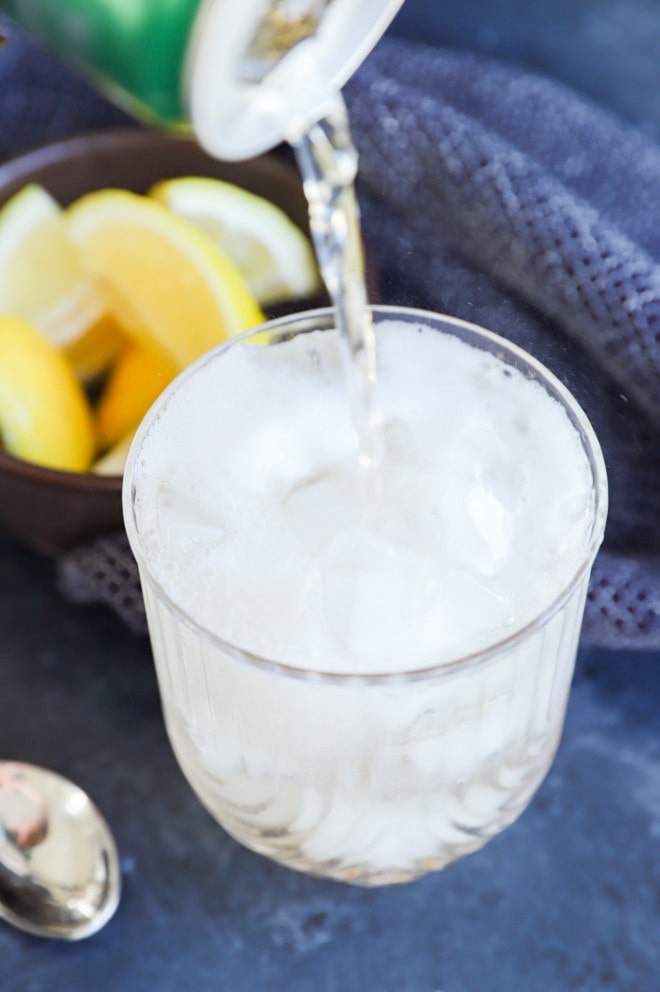 here's how to make a gin and ginger ale
measure
Measure out the gin and ginger ale. Cut a lemon wedge.
assemble
Fill a cocktail glass with ice. Traditionally, this drink is served in a highball glass. We don't use highball glasses regularly, so I like to use the Gatsby glasses you see pictured here.
Pour in gin and ginger ale. Give the drink a quick stir. Add lemon wedge and serve.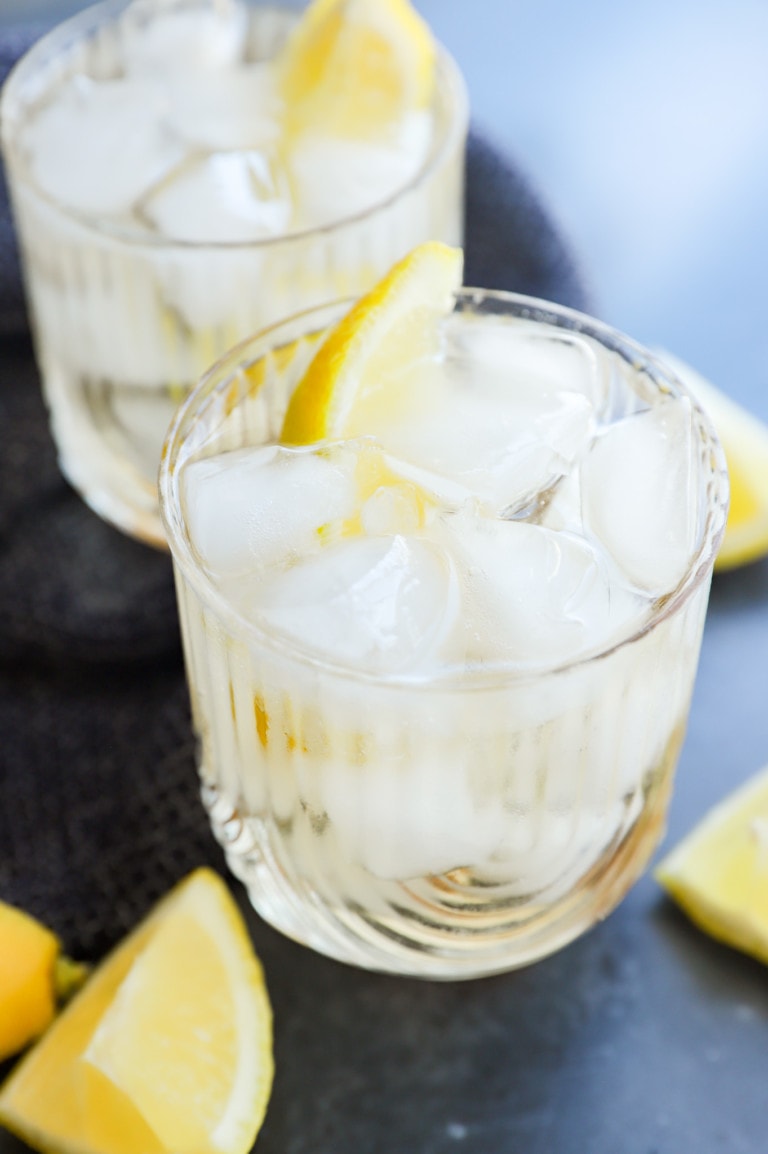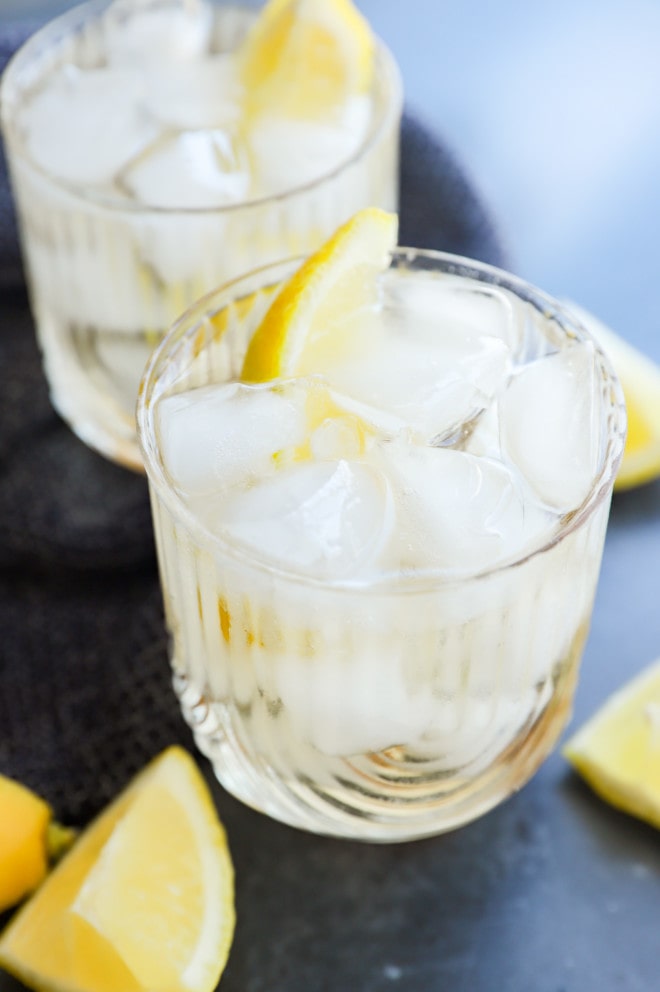 everyday seasonal cookbook
With seasonal produce guides, recipes, and more, this cookbook is filled with seasonal food for every occasion.
tips and tricks
use your favorite gin. Any gin works in this recipe (except for flavored ones)! I like to use a nice quality one because I find the gin flavor comes through nicely. You can go with a budget-friendly option like Gordon's if you are looking for a recommendation!
adjust the quantity to taste. As for any other classic cocktail, I always tell readers that it is simply a starting point. We all have different preferences for these classic combinations, and the good news is, it's easy to adjust the recipe to your liking. There are only two ingredients after all! If you want a stronger drink, add more gin. For those who prefer more of the sweet bubbles from the ginger ale, add more in. You'll find the perfect ratio for yourself!
don't forget the lemon wedge. I love to give the lemon wedge a tiny squeeze over the glass before adding it in!
More tasty gin cocktails to sip: Watermelon Gin Cocktail | Gin Sling | Blackberry Gin Fizz | Lemon Basil Gin & Tonic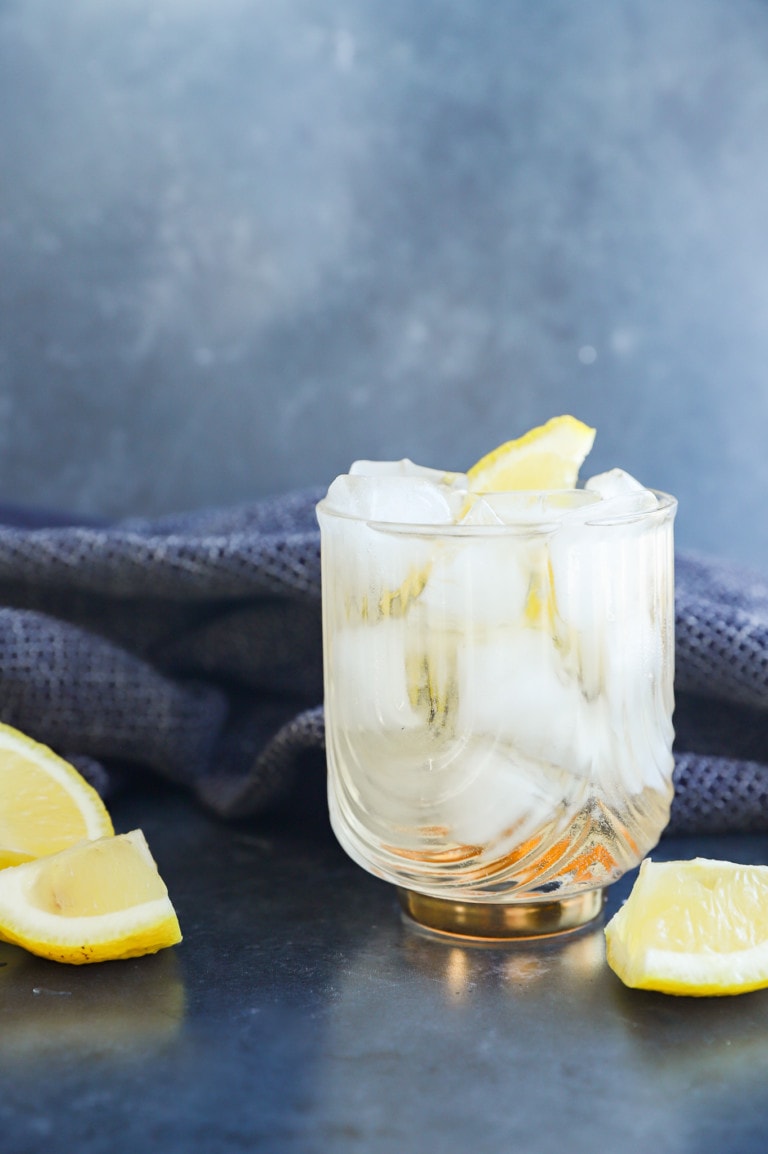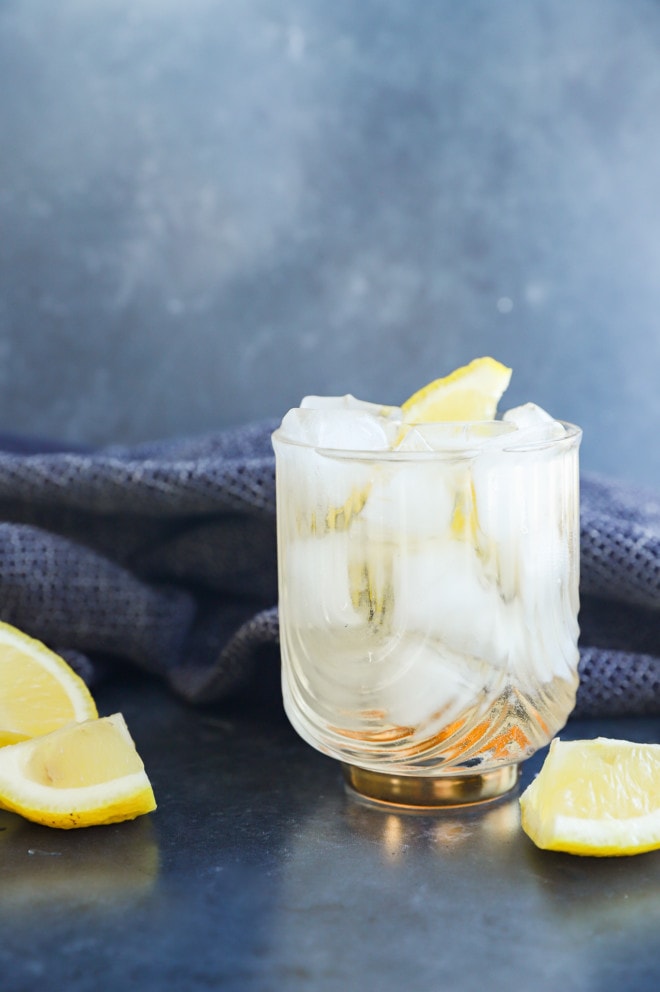 can I use ginger beer instead of ginger ale?
Yes! The good news is, gin goes beautifully with ginger. So if it goes well with ginger ale (which it does), you can rest assured that it will go well with ginger beer too.
Ginger beer has a stronger spicy ginger flavor than ginger ale. It tends to have more of that fresh ginger flavor. Therefore, it depends on whether you want a sweeter or spicier ginger cocktail. If you do use ginger beer, I recommend switching to a lime wedge when serving! This will make the delicious cocktail a Foghorn (gin + ginger beer + lime wedge).
how strong is a gin buck?
A gin buck, or gin and ginger ale cocktail, is a highball cocktail. Therefore, it's a fairly mild drink since there are 4 ounces of ginger ale combined with 2 ounces gin. You can easily adjust the strength of the drink by adding more alcohol to make it stronger. Alternatively, lighten the drink by adding more ginger ale.
should I use lemon or lime in this cocktail?
Technically you can make a gin and ginger ale with either lemon or lime. Since we are bigger fans of lemon, you'll see ours is served with a lemon wedge. That's what makes this cocktail a Gin Buck.
Of course, if you prefer to use a lime wedge, you certainly can! This will make it a different cocktail though. You can also add a splash of lemon juice or lime juice to transform the cocktail further!
Here's the breakdown of the cocktails, just in case you are curious about the names!
Gin Buck – gin and ginger ale served with a lemon wedge
Gin and Ginger – gin and ginger ale served with a lime wedge
Leapfrog – gin and ginger ale served with a splash of lemon juice and a lemon wedge
Dragonfly – gin and ginger ale served with a splash of lime juice and a lime wedge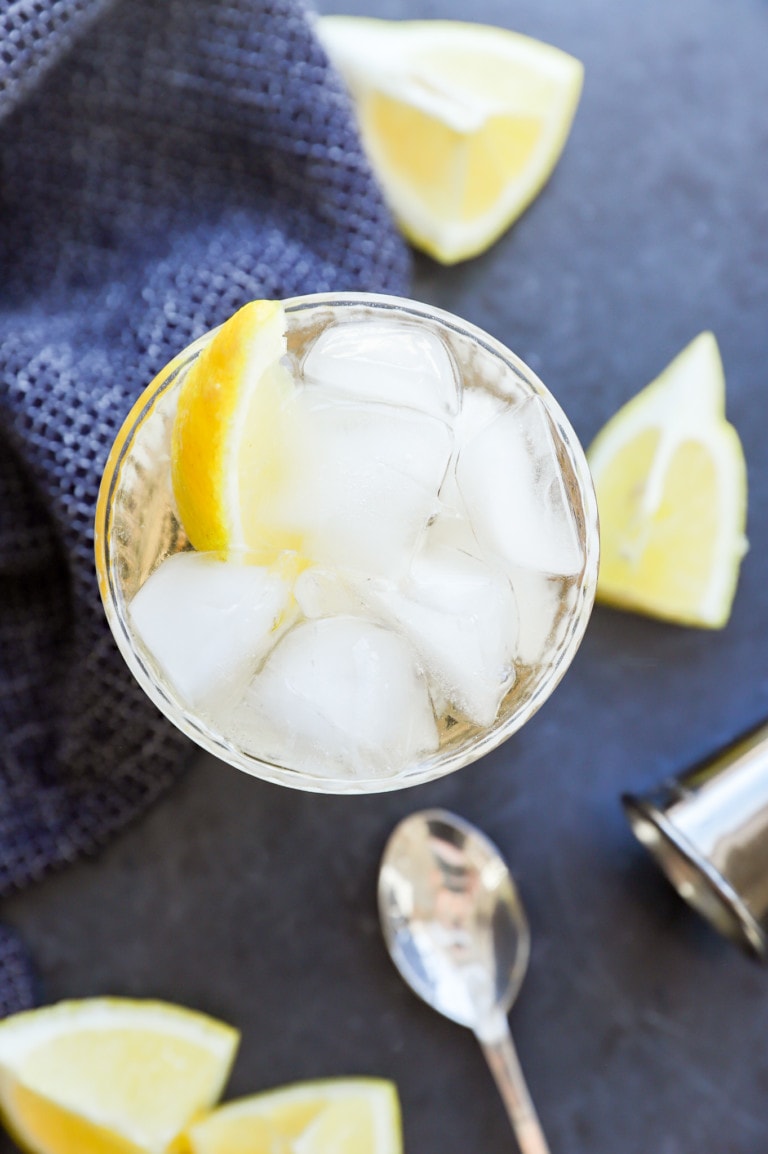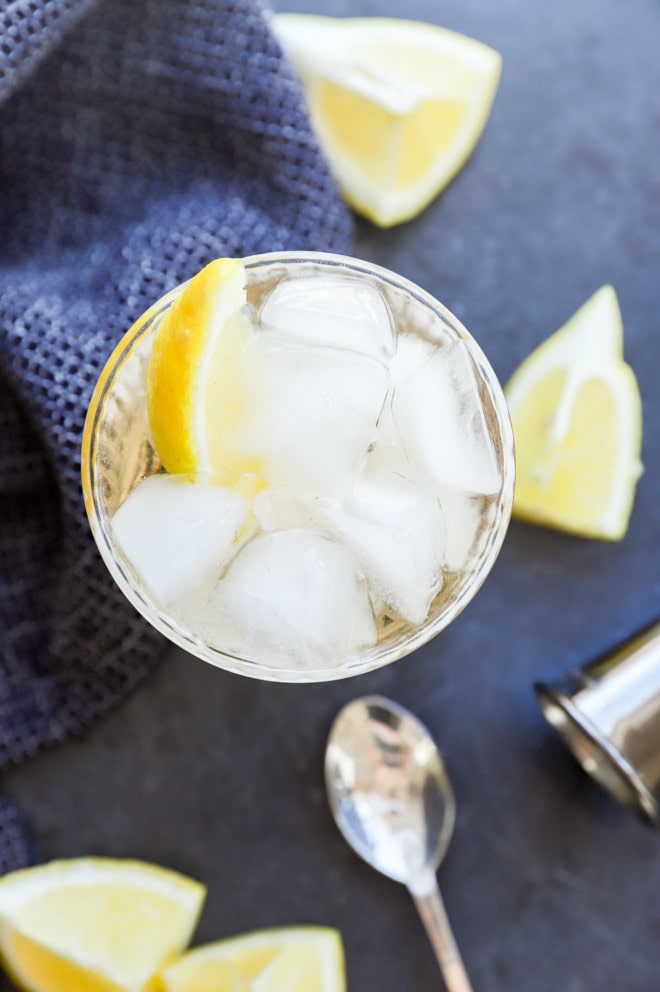 can I make this cocktail ahead of time?
Since this cocktail only has two ingredients, there's really no need to prep it ahead of time! It can easily be whipped up right when you are ready to serve it.
With the bubbly ginger ale, I do not recommend making it ahead of time as the bubbles will dissipate and the cocktail will not taste as good.
can I make a gin and ginger ale in a big batch cocktail?
You certainly can! All you have to do is increase the number of servings in the recipe card below for the number of people you want to serve it to. Add the ingredients to a pitcher filled with ice and serve in ice-filled glasses. Don't forget the lemon wedges for garnish/serving!
For a quick reference, if you want to serve 6 people, you will need 1 1/2 cups gin and 3 cups ginger ale.
Need more inspiration for cocktail hour? Check out my cocktail recipes page!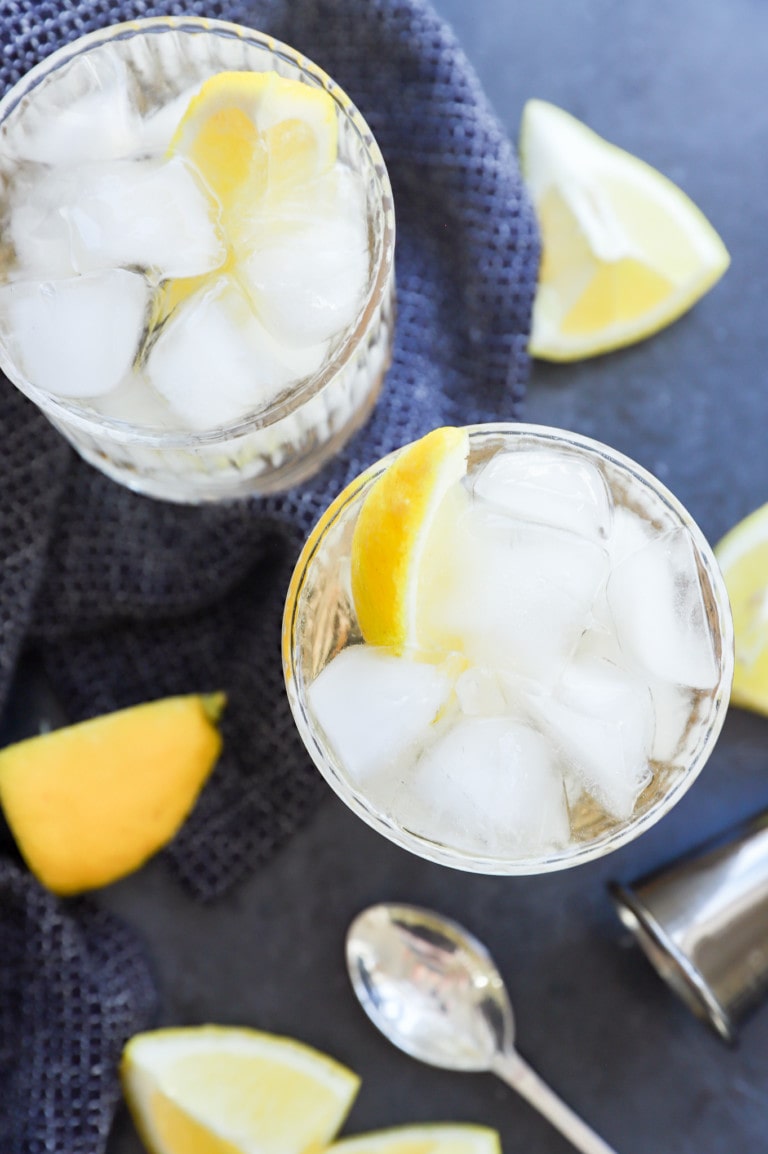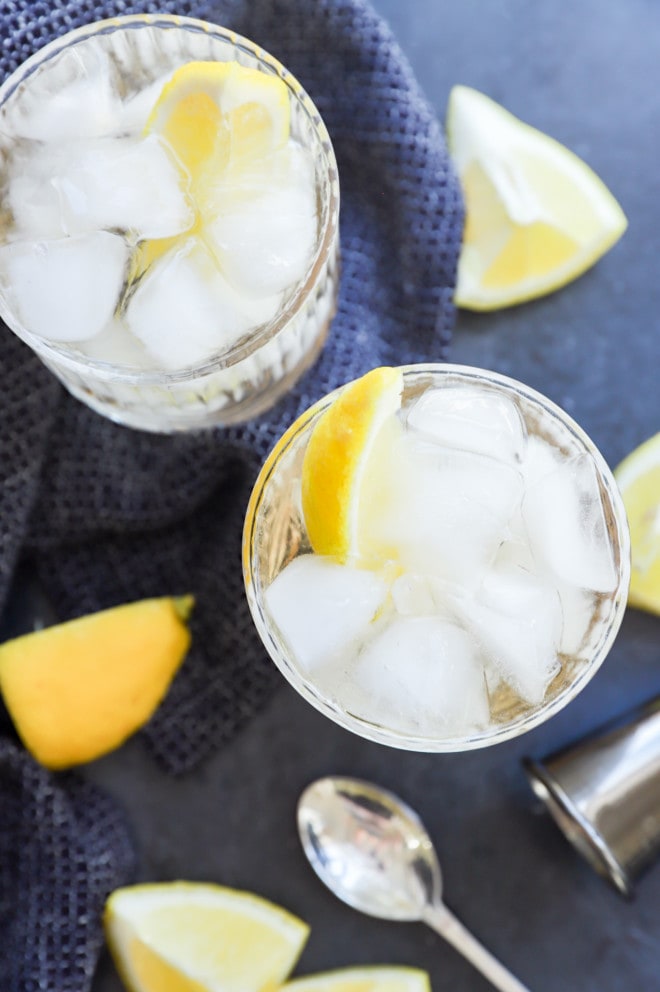 what to serve with a gin buck
Be sure to serve your gin buck cocktail with a lemon wedge! This is the traditional way to serve the cocktail. If you like a little more tartness in your gin and ginger ale cocktail, you can add a splash of lemon juice to make this cocktail a Leapfrog.
The classic gin and ginger ale cocktail combination is a simple one, therefore making it a drink that easily pairs with many classic recipes. For appetizers, it pairs well with chicken wings, cheesy dips, and other game day snacks.
You can also pair it with your favorite meals! The refreshing flavor is light and floral, so it can be matched up with light and heavy meals anytime of year.
more easy cocktail recipes
A raspberry daiquiri combines fresh ingredients and rum!
If you love Aperol, this Aperol Soda will quench your thirst any night of the week.
The combination of tart cherries and amaretto in this cherry amaretto sour has a refreshing zing!
Finally, if you make this gin and ginger ale recipe, please be sure to give this recipe a rating and/or leave a comment! I love to hear when you all make recipes, and I do take the time to respond to every single comment.
Feel free to drop questions below too, if you have them!
Oh and be sure to tag me on Instagram if you make the recipe! I love being able to see these recipes come to life in your homes – it's my favorite thing to look through those photos. It really means the world to me!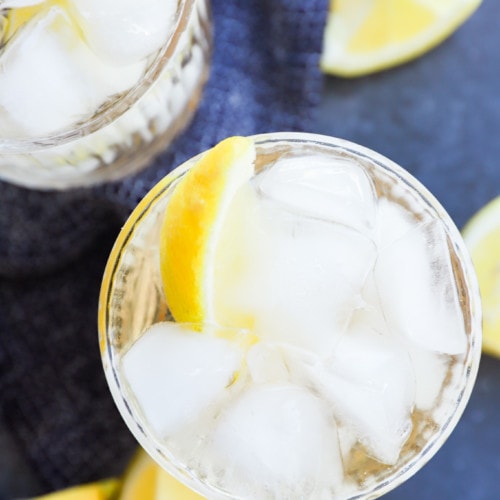 Gin and Ginger Ale Cocktail (Gin Buck)
The floral notes of gin with bubbly ginger soda makes this 2-ingredient cocktail a refreshing sipper.
Print
Pin
ingredients
2

oz

gin

4

oz

ginger ale

lemon wedge

for garnish

ice
instructions
Fill cocktail glass with ice.

Pour in gin. Fill glass with ginger ale. Stir briefly to combine.

Garnish with lemon wedge. Serve.
nutrition
Calories:
170
kcal
|
Carbohydrates:
10
g
|
Sodium:
9
mg
|
Potassium:
2
mg
|
Sugar:
10
g
|
Calcium:
3
mg
|
Iron:
0.2
mg