Please note this post contains affiliate links.
Thanksgiving Leftover Stuffed Egg Rolls with Cranberry Dipping Sauce is the ultimate way to enjoy Thanksgiving, even after Turkey Day is over! All of your favorite Thanksgiving food, stuffed in a crispy, golden brown egg roll, paired up with tart and tangy cranberry dipping sauce. YUM. Serves 4.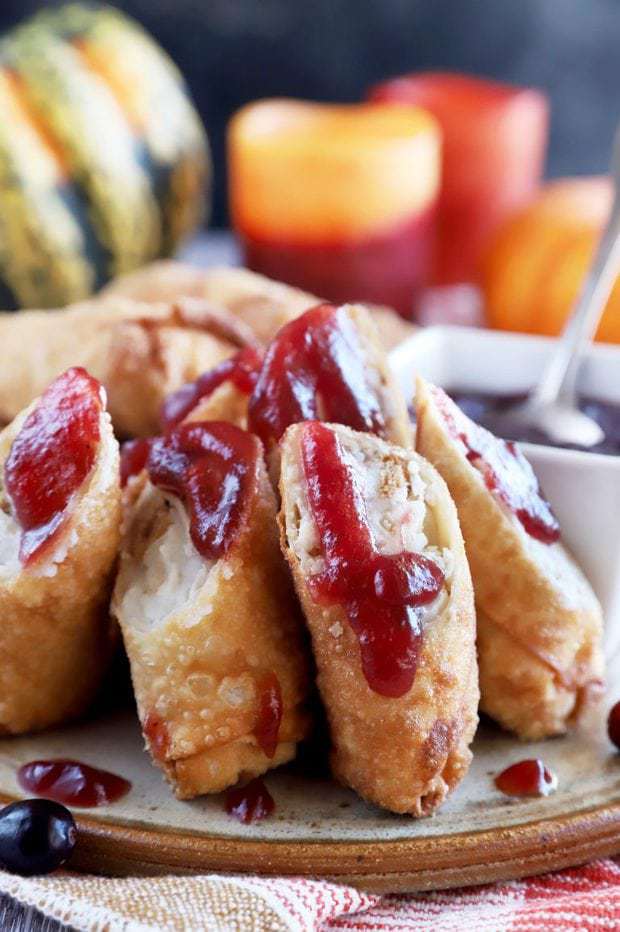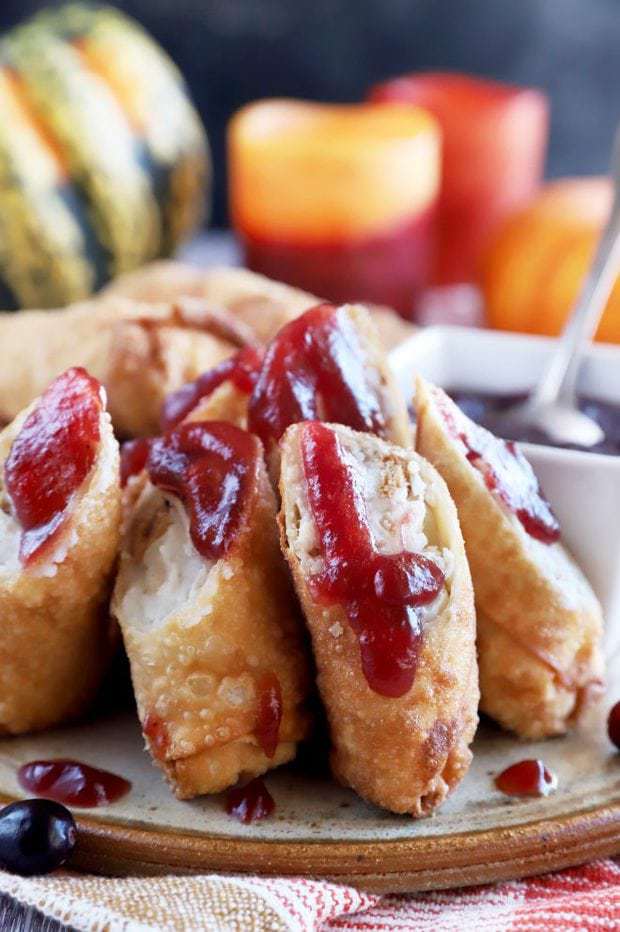 Note: this post is an update from the original version published on November 14, 2014.
I can't believe it's Friday, aka the last day of #Blogsgiving (*tear*, aka less than two weeks to Thanksgiving (eeeeeeek!)!!
One of my favorite part about Thanksgiving is leftovers. You aren't just loving turkey for one day, oh no… You love it for days after!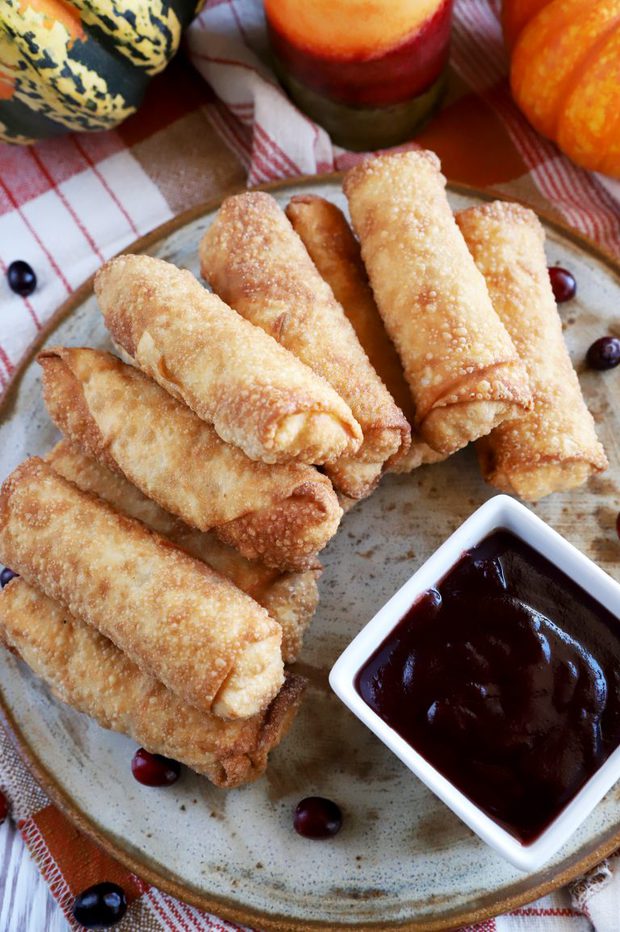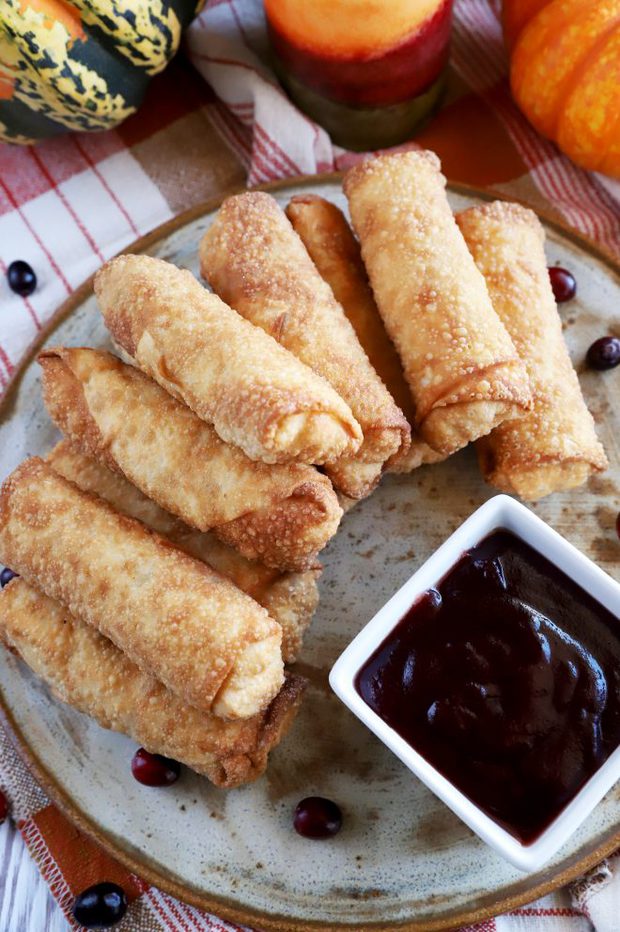 I am all about leftover Thanksgiving sandwiches like this one I made last year (OMG it was sooooooo good, I made it as many times as I could).
But this year? Oh this year I came up with something even better…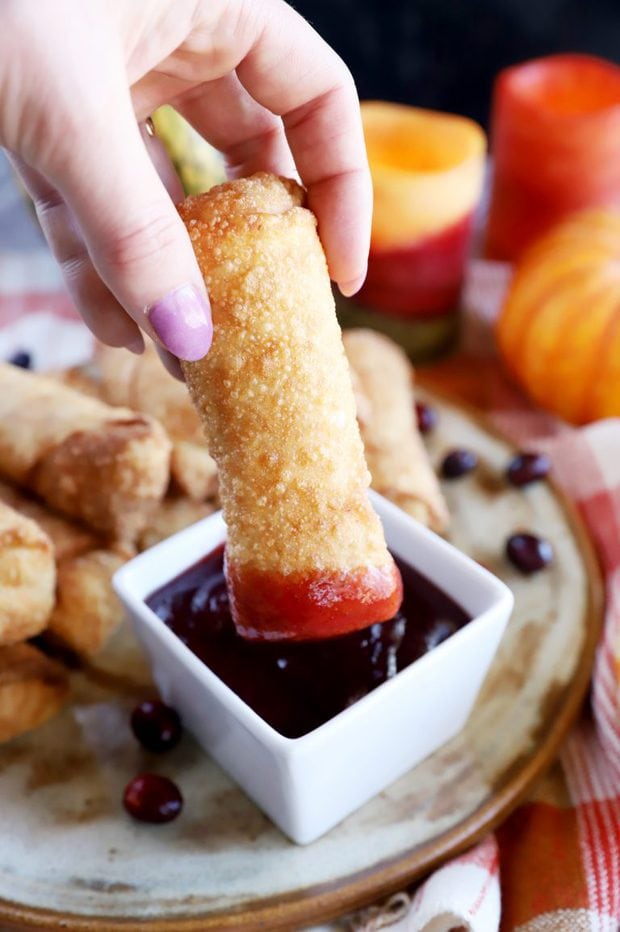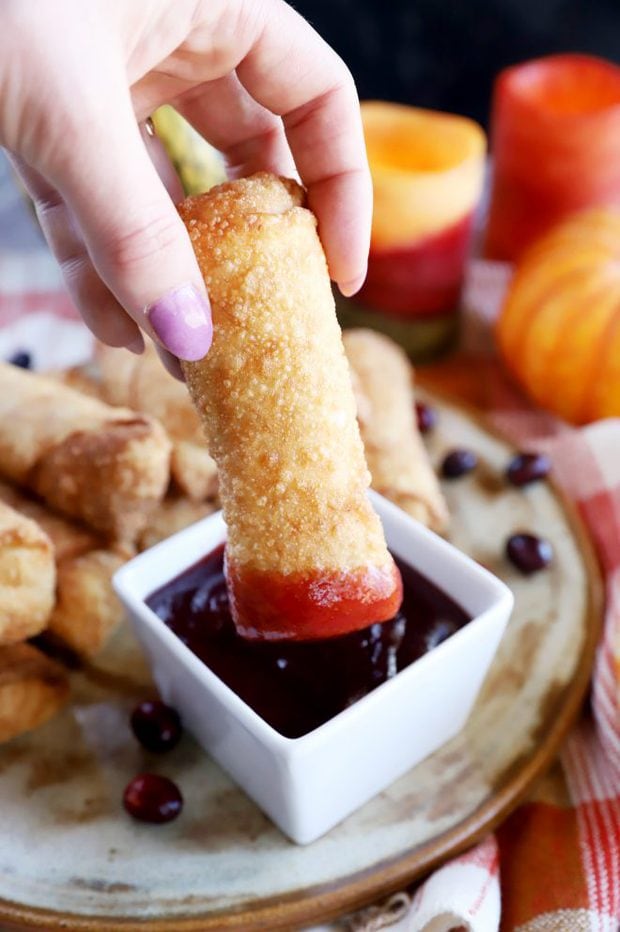 Thanksgiving EGG ROLLS. Everything you love about Thanksgiving dinner, stuffed in an egg roll wrapper, fried, and then dipped in a leftover cranberry dipping sauce.
It is pure heaven when you crunch through the golden brown exterior into a blend of classic Thanksgiving flavors that tug at your heart, reminding you of home.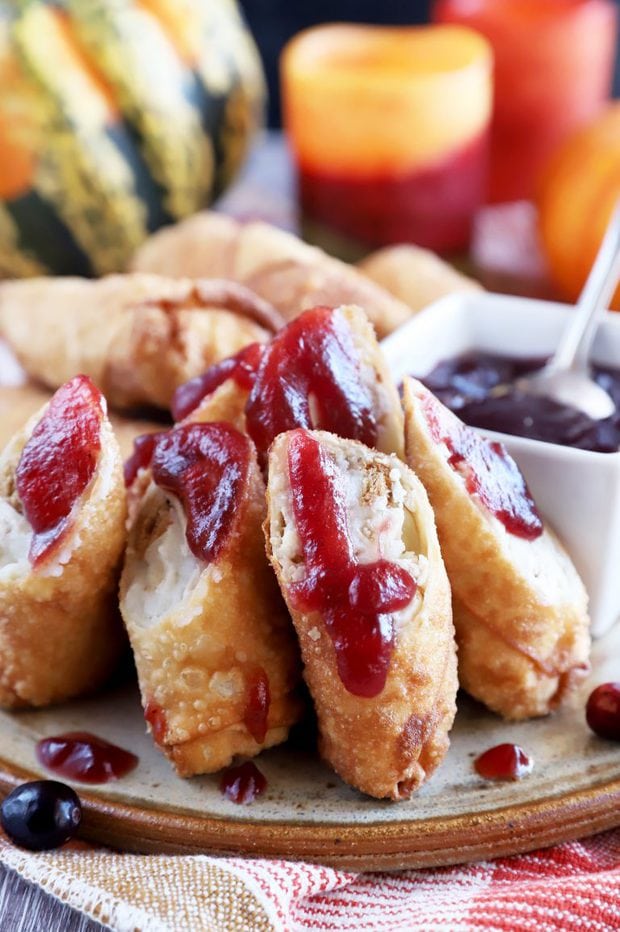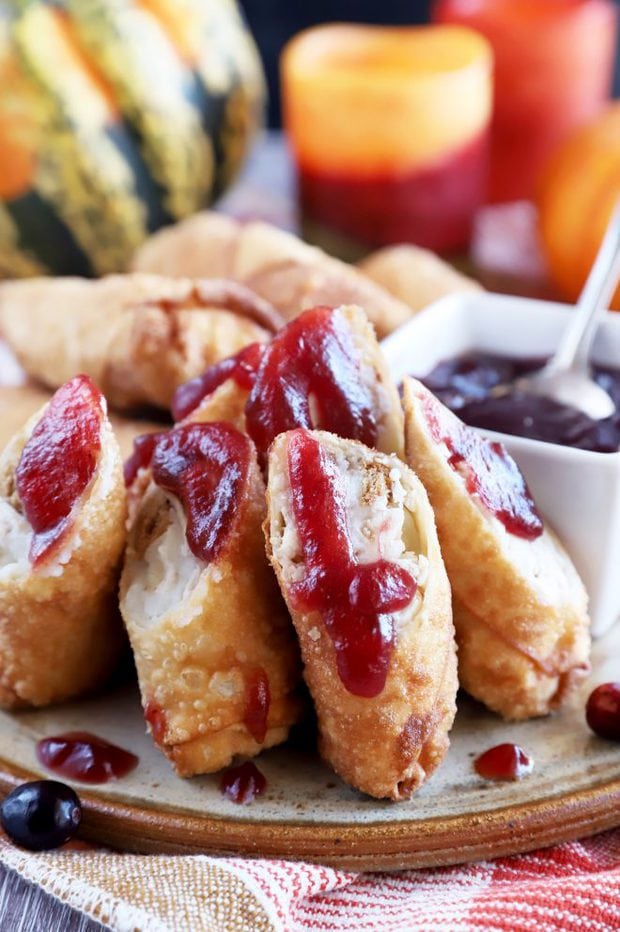 This is a simple recipe that quite often can make Thanksgiving taste better than it did on Thanksgiving Day (Shhhhh, don't tell your mother/grandmother/whoever actually slaved over Thanksgiving dinner this…)!
Another bonus? You end up using smaller amounts of your leftovers to make these, so you can prolong the leftover enjoyment!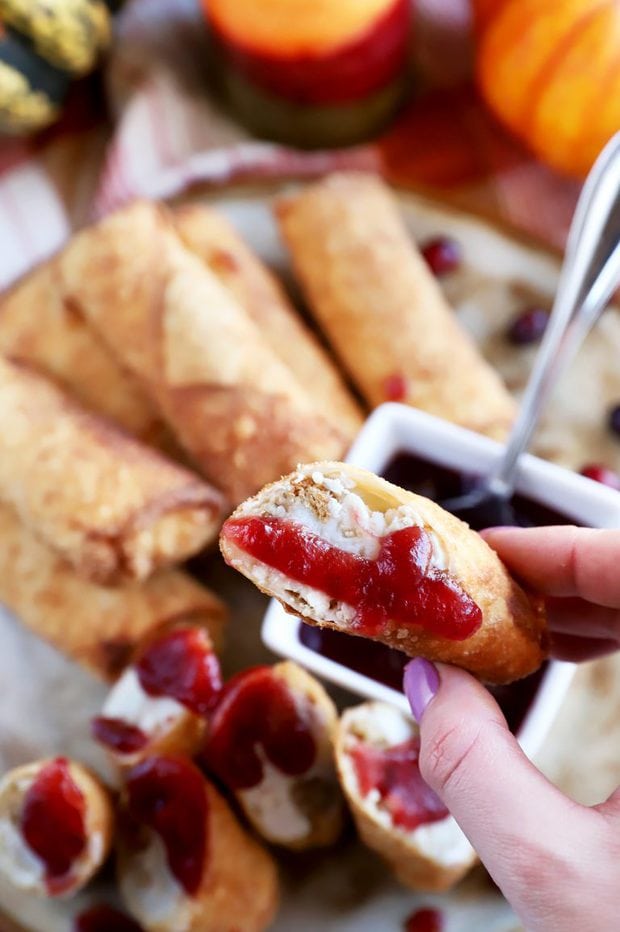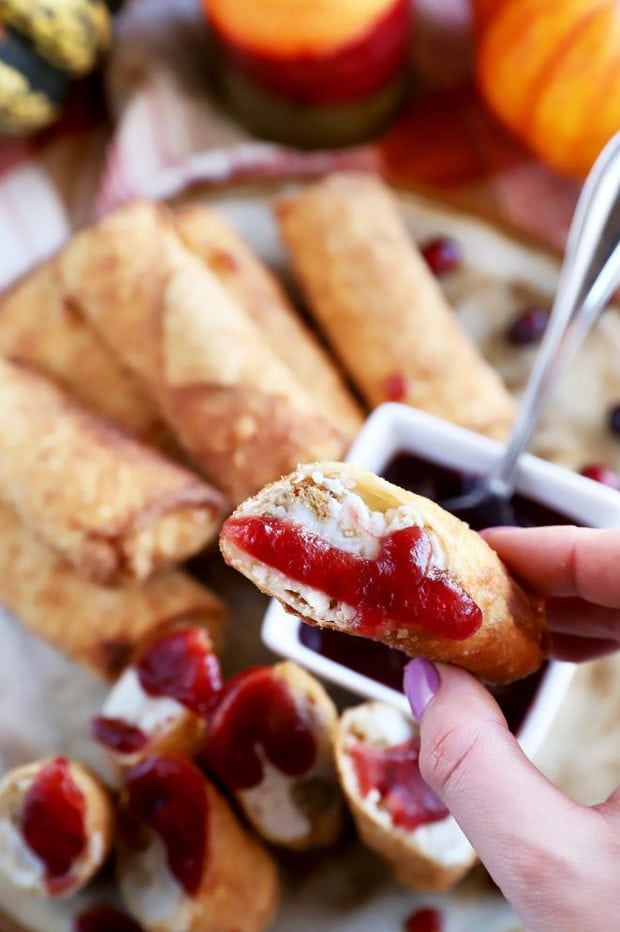 this recipe's must-haves
When it comes to frying foods like these egg rolls, I always reach for my favorite dutch oven.
Need a good cutting board? Check out these Totally Bamboo Original Bamboo Cutting Boards
.
To remove these egg rolls flawlessly from the oil, make sure you have a spider strainer!
Not to mention I made these with my oh-so amazing cousin, Becca, a ridiculously amazing chef who is… 15 YEARS OLD.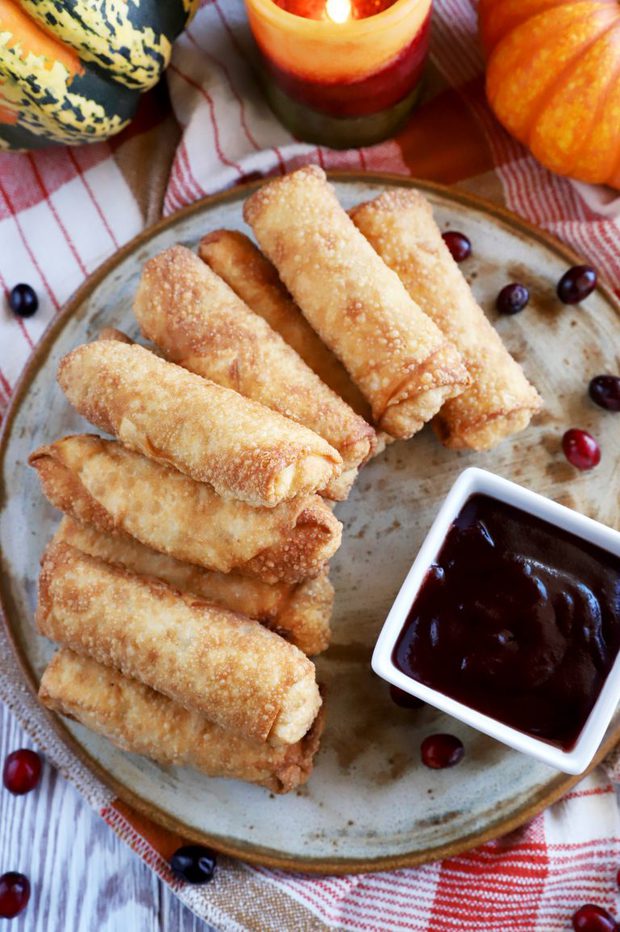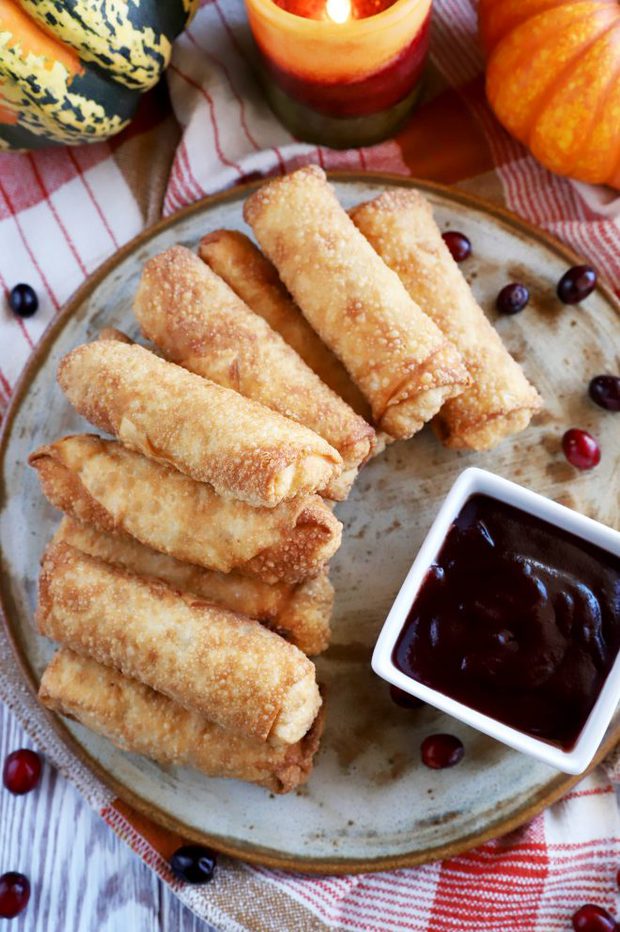 Yea, so not fair. I wish I had her cooking skills when I was 15, but I was too busy pretending to me a musical theater star…
Any way I could convince you to pretend you didn't read that?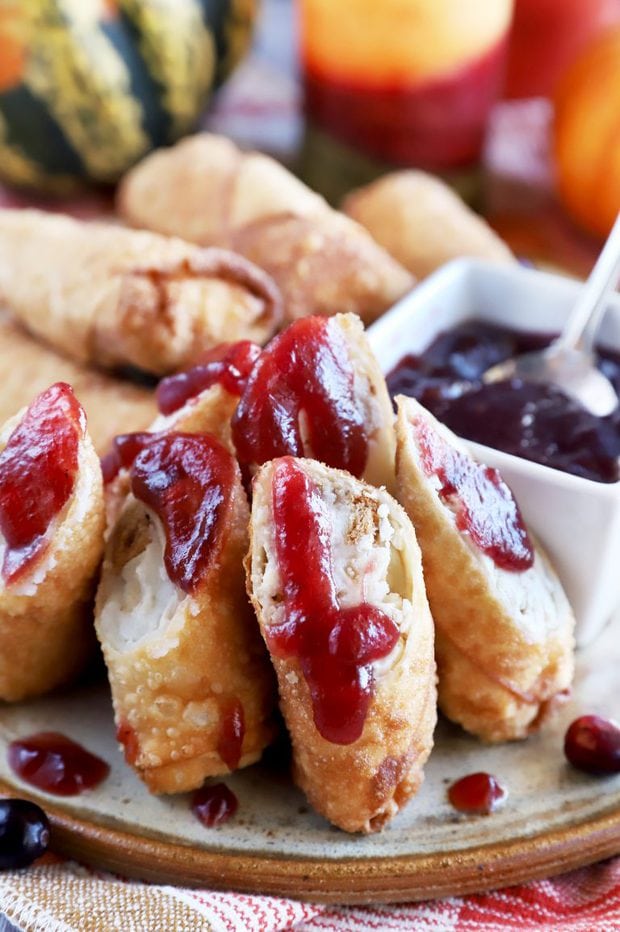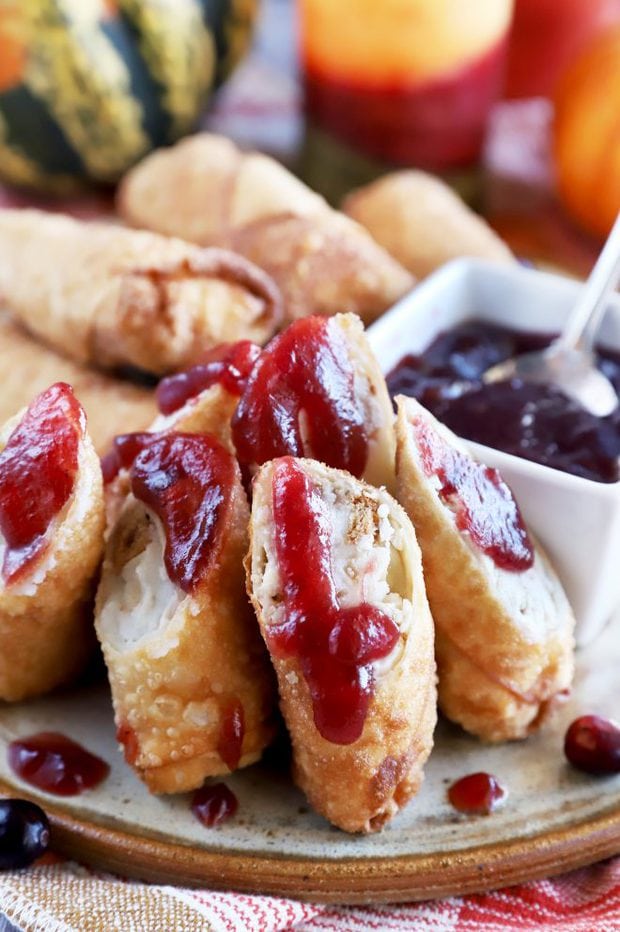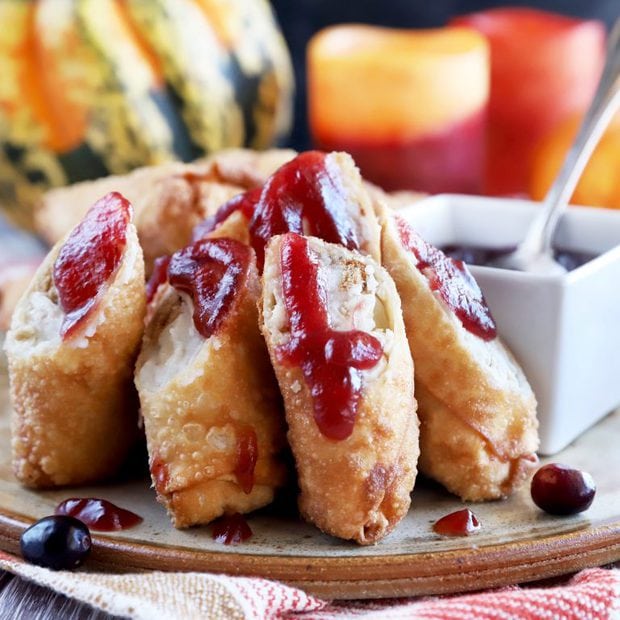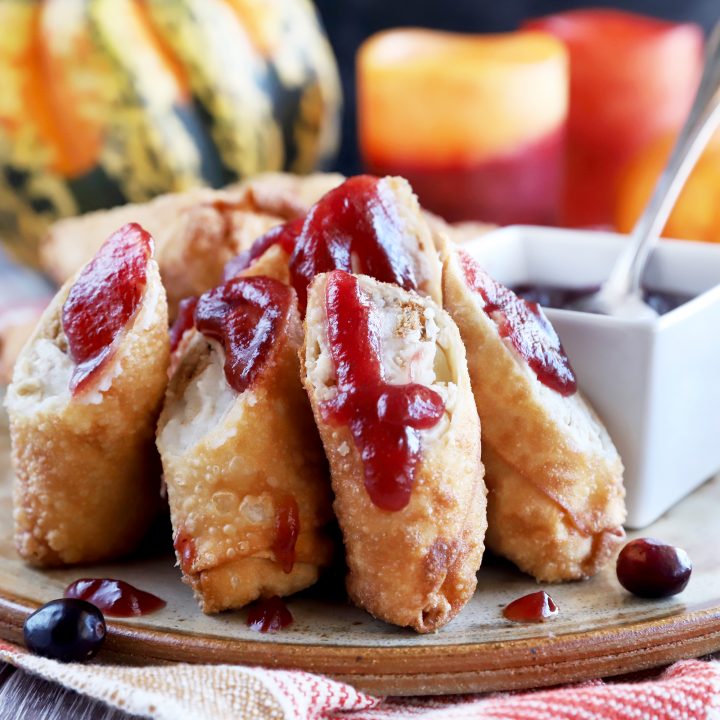 Thanksgiving Leftover Stuffed Egg Rolls & Cranberry Dipping Sauce
A creative way to use up those delicious Thanksgiving leftovers!
Ingredients
EGG ROLLS
25 egg roll wrappers
1lb cooked turkey, cut into thin strips
2 cups mashed potatoes
2 cups stuffing
1 Tbsp cornstarch
1/4 cup cool water
DIPPING SAUCE
1 1/2 cups canned cranberry sauce
1 1/2 tsp water
1 1/2 tsp orange juice
1 tsp orange zest
Instructions
To make the dipping sauce, combing the cranberry sauce, water, orange juice, and orange zest in a microwavable bowl. Microwave for 40 seconds to 1 minute. Carefully strain through a sieve or strainer to remove any clumps or pieces of cranberry. Chill in the refrigerator until ready to serve.
Now it's time to wrap your egg rolls. In a small bowl, stir together the cornstarch and water.
To wrap your egg roll, start with a clean, flat surface. Lay the wrapper so one of the corners is facing you (like a diamond). Dip your fingers in the cornstarch water and spread on each edge of the egg roll wrapper. Then spread 1/2 Tbsp mashed potatoes in the corner closest to you. Top with 1/2 Tbsp stuffing and a few small pieces of turkey. Lift the bottom corner up and begin to roll away away from you, making sure you tuck the corner under as you roll. Once you are halfway up the wrapper, fold in the left side and then the right side towards the center. Continue rolling away from you until only the final corner is ready to roll. Dip your fingers in the cornstarch and water mixture you made earlier and brush it over the final corner. Finish the roll, brush a little more of the cornstarch mixture along the seam, and place seam-side down. Make sure you roll the egg rolls tightly. If they are too loose, they will fall apart when you fry them.
To fry the egg rolls, fill a pot with 4-5 inches of cooking oil. Heat the oil to 350 degrees. Gently add the egg rolls to the hot oil, frying no more than 3 or 4 at a time, turning occasionally. Fry until the egg rolls are golden brown, approximately 2 minutes. Place on paper towels to drain and cool.
Serve immediately with the cranberry dipping sauce.
Recommended Products
As an Amazon Associate and member of other affiliate programs, I earn from qualifying purchases.

By now you know alllll about the ridiculously amazing collaboration known as Blogsgiving Dinner! Co-hosting this event with Susannah from Feast + West has been a dream come true. I mean, over 50 recipes for Thanksgiving in one week from 20 talented food bloggers? WOW! Thanksgiving seriously needs to get here NOW.
Just like a traditional progressive dinner, Monday we shared cocktails, hors d'oeuvres, and soups. Wednesday we shared entrees, salads and side dishes. FINALLY it's the day everyone's been waiting for – desserts, after-dinner drinks, and leftovers! Time to put your stretchy pants on… Here's today's menu:
Dessert
Grandma's Pecan Pie from The Wetherills Say I Do
Pumpkin Sheet Cake with Pumpkin Cream Cheese Frosting from My Cooking Spot
Gluten-Free Apple Berry Crumble from Twin Stripe
Paleo Pumpkin Pudding from Wit Wisdom Food
Cranberry Almond Coconut Bars from Love & Flour
Poached Pears with Salted Maple Caramel Syrup from Home at Six
Sweet Potato Pie from Think Fruitful
Gluten-Free Acorn Squash Spice Bars from I Cook. I Eat. It's Life.
Drunken Pecan Pie Bars from The Speckled Palate
Butter Pecan Cupcakes from Glamour Girl Gourmet
After-Dinner Drinks
Slow Cooker Cranberry Apple Cider from A Savory Feast
Cranberry Bourbon Granita from Feast + West
Leftovers
Cheesy Potato Croquettes from Hello Little Home
Freezer-Friendly Turkey and Rice Casserole from Betty Becca
Stuffed Crescents with Thanksgiving Leftovers from My Cooking Spot