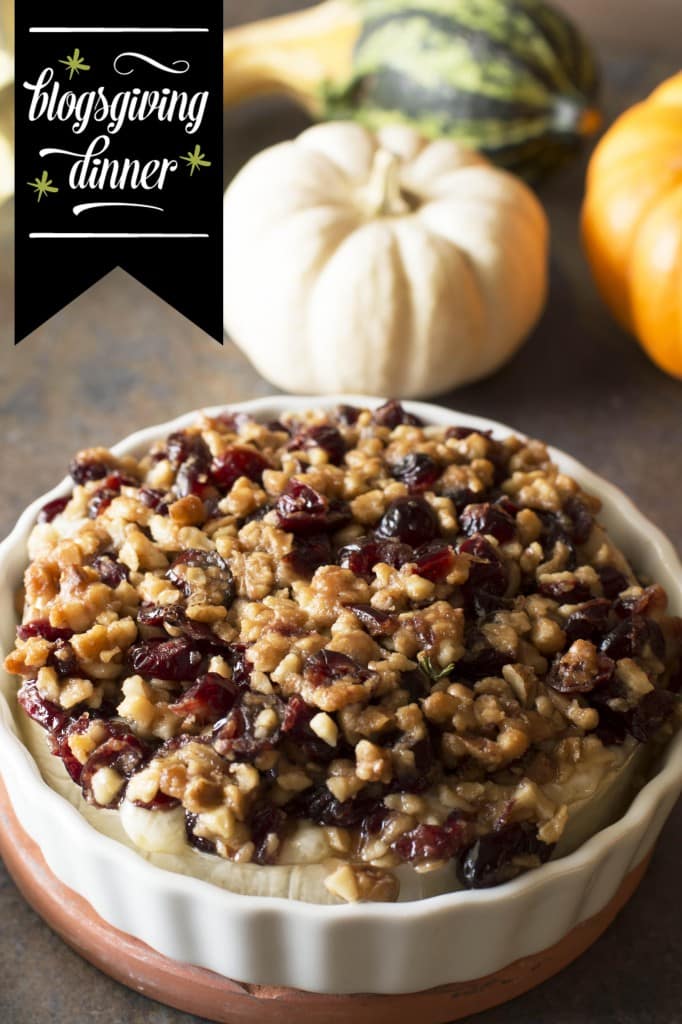 Welcome to Blogsgiving Dinner week (aka the best week for foodies EVER)!!! I am so incredibly excited to finally share with you some delicious and effortless recipes with you for Thanksgiving. I have been dying to share these with you, literally counting down the days until I get to tell you alllllll about them.
For me, the key to a successful Thanksgiving feast is starting with an appetizer that's a hit with your guests, but also something you can make with minimal effort (you are tending to an entire Thanksgiving feast after all!). This baked camembert is exactly that and let me tell you, it delivers.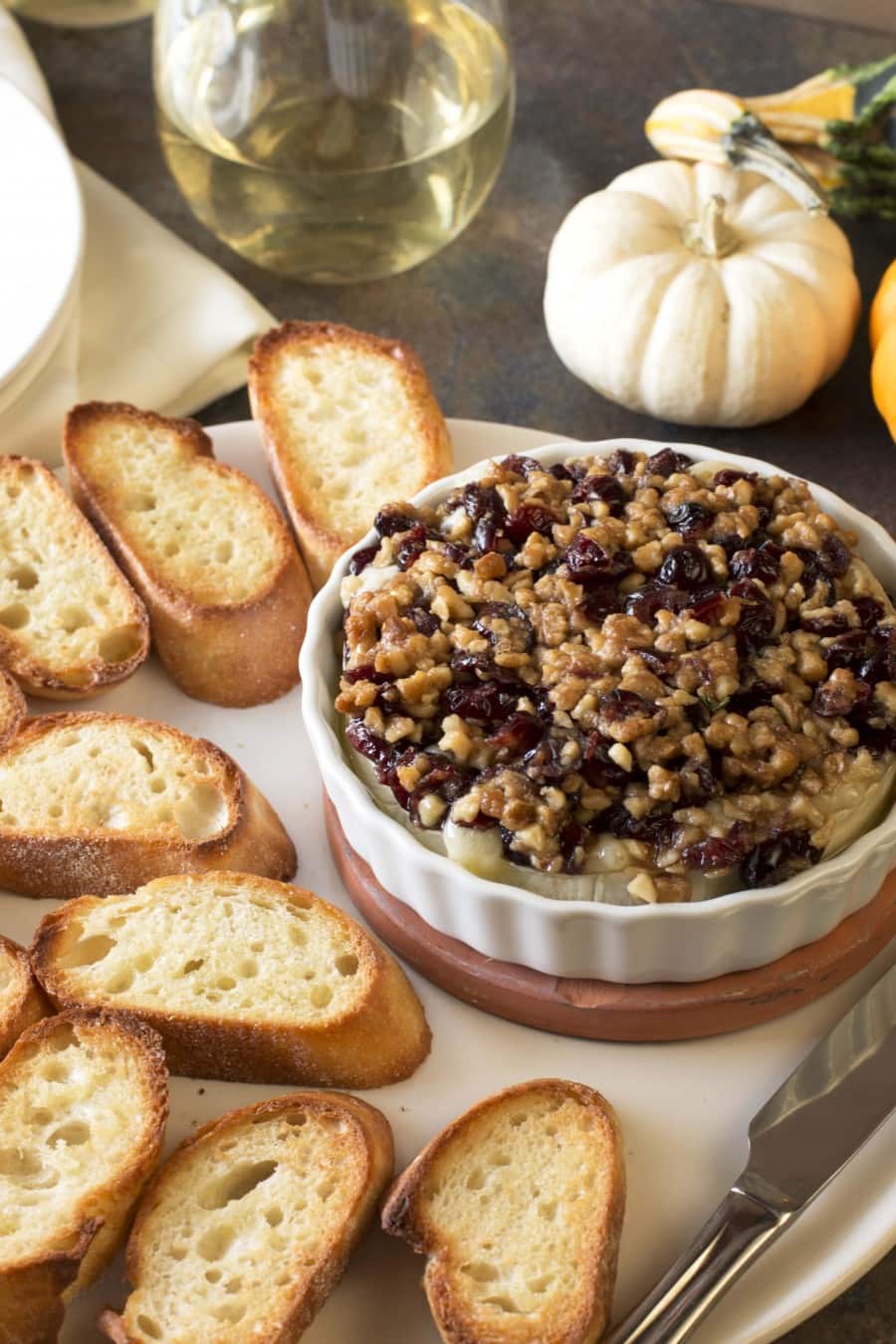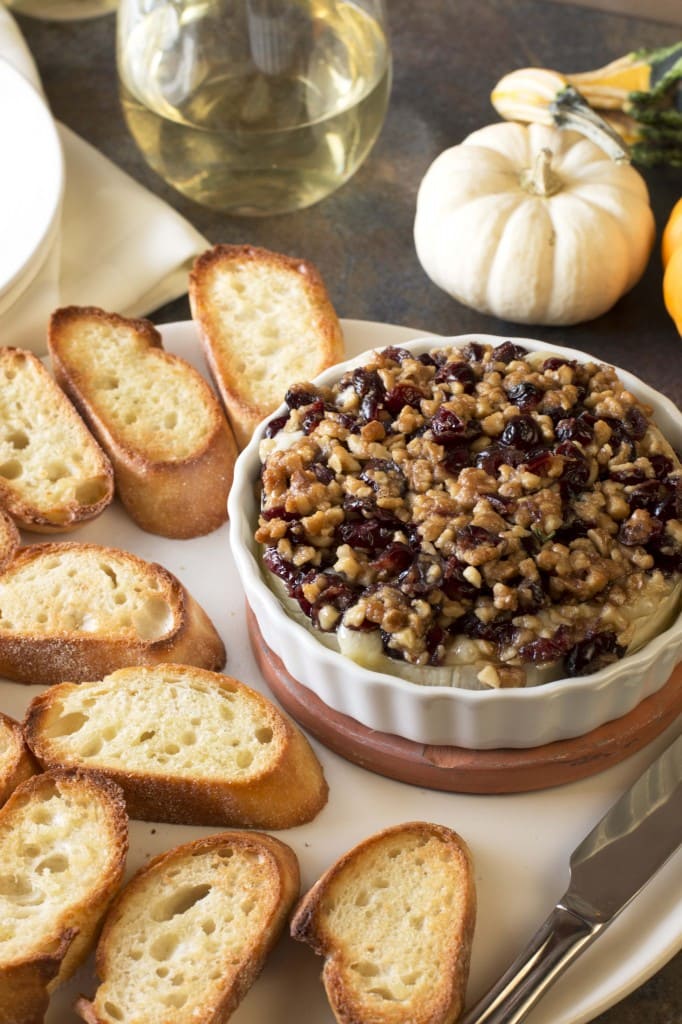 The best part of this appetizer? The cranberry walnut crust on top. I know you thought I was going to say the ooey, gooey warm cheese (which is still oh-my-goodness good), but this crust is a perfect blend of toasted crunch, tart sweetness, and fresh aromatic herbs. It's exactly what you want to tease your guests' tastebuds with before the main event.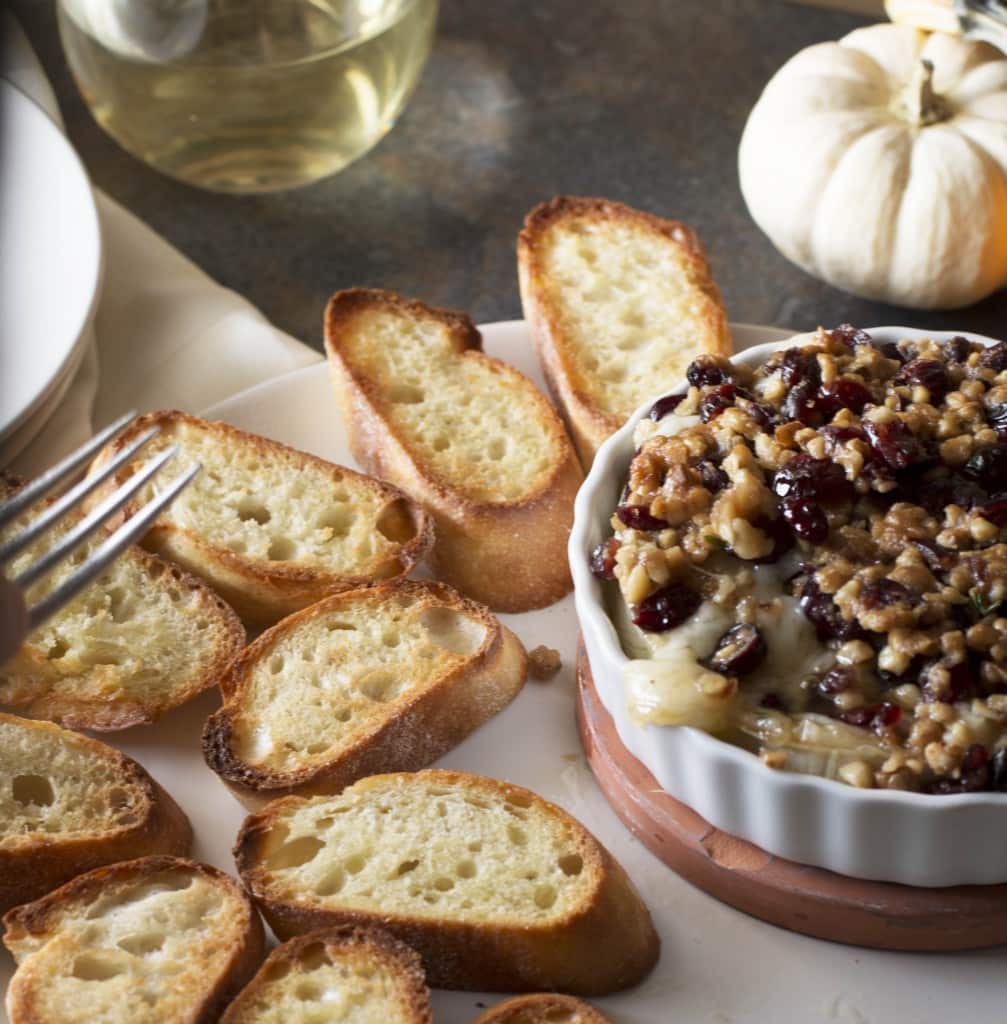 They will be thinking if this is the appetizer, I can't WAIT to see what he/she is serving for dinner!

Now you might be wondering, what is this Blogsgiving Dinner she mentioned before? It is an entire week of Thanksgiving collaboration between 20 incredibly talented food bloggers from all over the country. Essentially it's a virtual progressive dinner party to share over 50 recipes with our beloved readers!
Susannah over at Feast + West and I drummed up this idea back in August in Asheville at Food Blog Forum and boy oh boy am I glad we put it in motion! Can you imagine having over 50 recipes to choose from for your Thanksgiving feast?! GAH, it's like a dream come true!
So get ready for a week's worth of Thanksgiving to get you inspired! Just like a traditional progressive dinner, today we are starting with cocktails, hors d'oeuvres, and soups. Keep an eye out for entrees, salads and side dishes on Wednesday and dessert, after-dinner drinks, and leftover inspirations on Friday! Here's the other fabulous recipes from the rest of the group:
Cocktails
Carolina Apple Sidecar from Think Fruitful
Krupnikas Ginger from I Cook. I Eat. It's Life.
Appetizers
Cured Meat Platter from Wit Wisdom and Food
Ginger Cran Apple Chutney from Love & Flour
Brandied Grapes with Cheese from Glamour Girl Gourmet
Shrimp Sweet Potato Mousseline from Home at Six
Cranberry Goat Cheese and Butternut Squash Crostini from The Wetherills Say I Do
Maple Pecan Baked Brie from My Cooking Spot
Sassy Salmon Dip from Betty Becca
Baked Brie with Cranberry Chutney from The Speckled Palate
Butternut Squash Crostini from Chez CateyLou
Gluten Free Holiday Cheese Board from Twin Stripe
Soup
Butternut Squash Soup with Cornbread Croutons from Club Narwhal
Creamy Wild Rice Soup from Hello Little Home
Pumpkin Soup with Bacon Roasted Chickpeas from Feast + West
Be sure to take a peek at them all!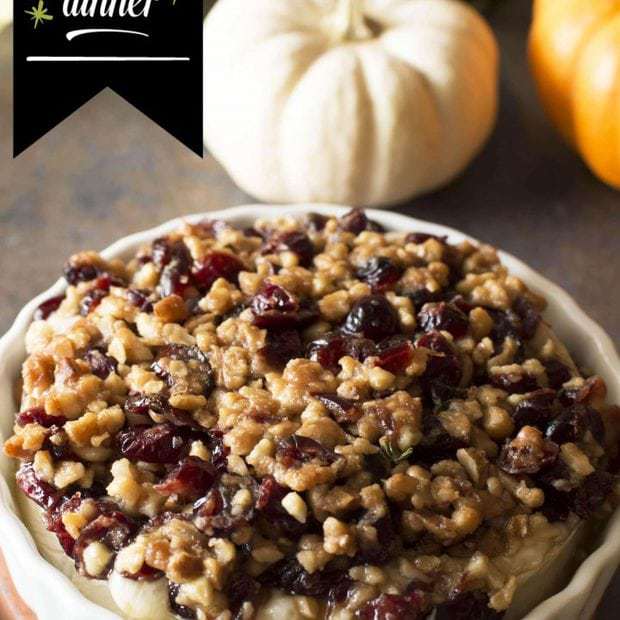 Baked Camembert with Cranberry Walnut Crust
Takes minutes to pull together and is the perfect opening to any meal!
Ingredients
1 8oz wheel of camembert cheese
1/3 cup walnuts, toasted and chopped
1/3 cup dried cranberries
3 Tbsp brown sugar
3 Tbsp butter, melted
1 tsp fresh thyme, chopped
1/8 tsp salt
Instructions
Preheat oven to 350 degrees.
In a small bowl, combine the melted butter and sugar. Stir to combine. Fold in the cranberries, walnuts, thyme, and salt.
Flip the camembert so the bottom is on top (where the rind comes together). Using a sharp knife, remove the top rind of the cheese. Place the camembert cut side up in an oven-safe round baking dish (I used one of my larger crème brûlée dishes). Cover the top of the cheese with the cranberry walnut topping.
Bake for 15 minutes. Serve immediately with toasted slices of French bread or crackers.