Please note this post contains affiliate links.
No yeast white bread, also known as soda bread, is the perfect loaf to bake when you can't find yeast! The crusty exterior and rich interior are the ideal combo. Makes 1 loaf.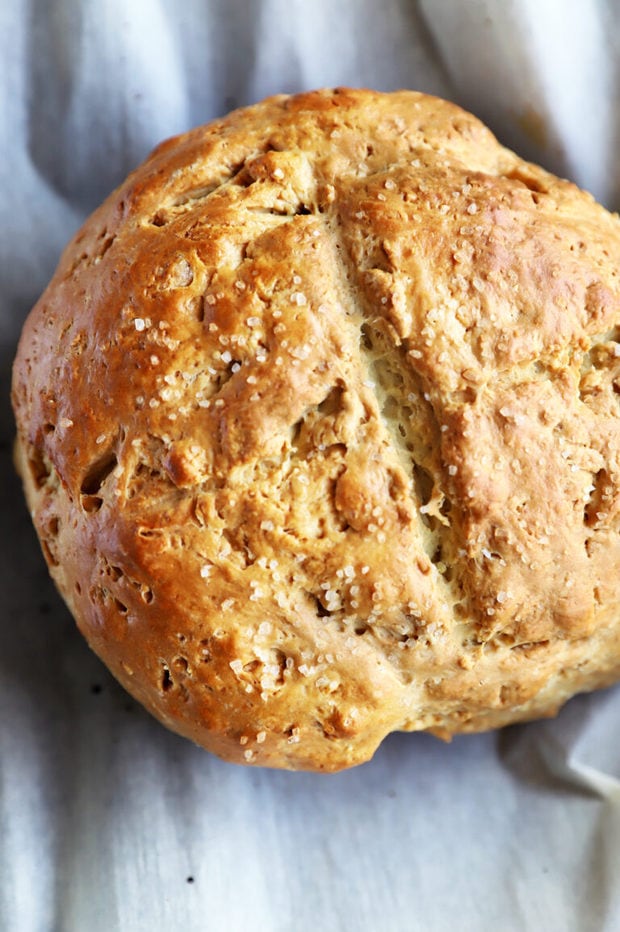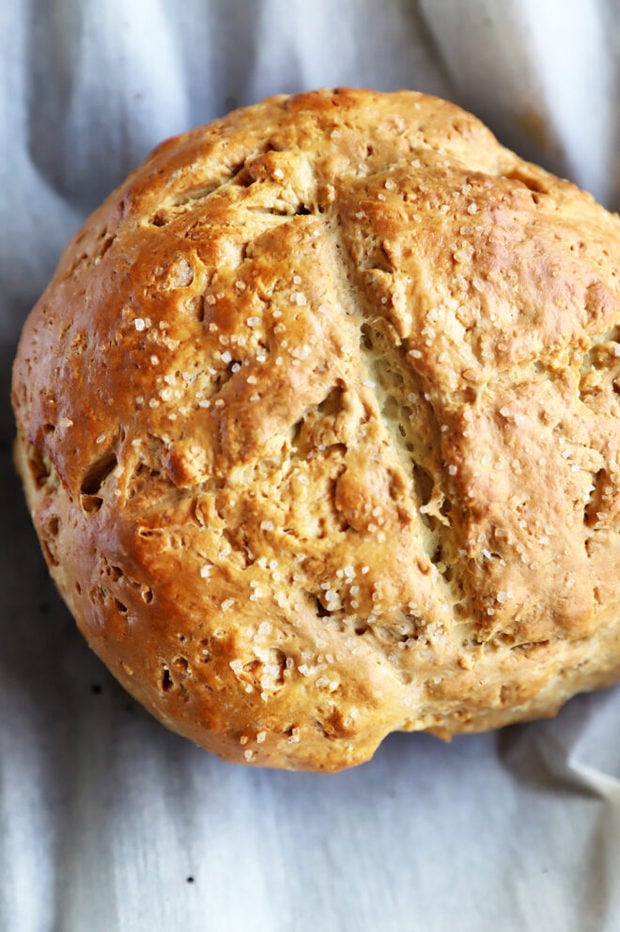 After many of you have been asking, I decided to go ahead and make another no yeast bread for you all!
I have my bacon parmesan quick bread, but that's more of a quick flatbread for nights when you just want some bread and fast. This time I'm bringing you a LOAF.
I know that yeast is kinda hard to come by with everyone and their mother baking all the bread recipes at home.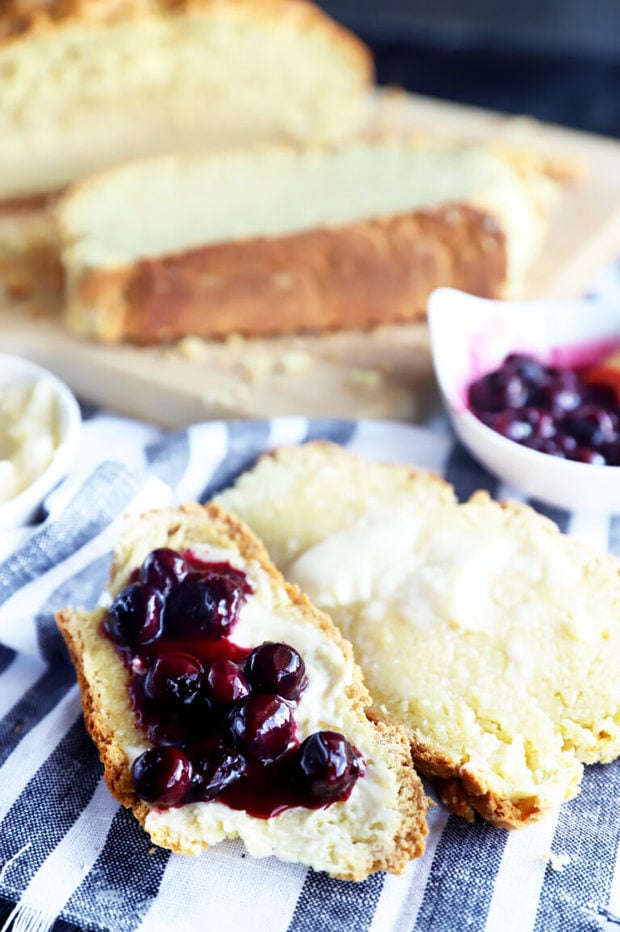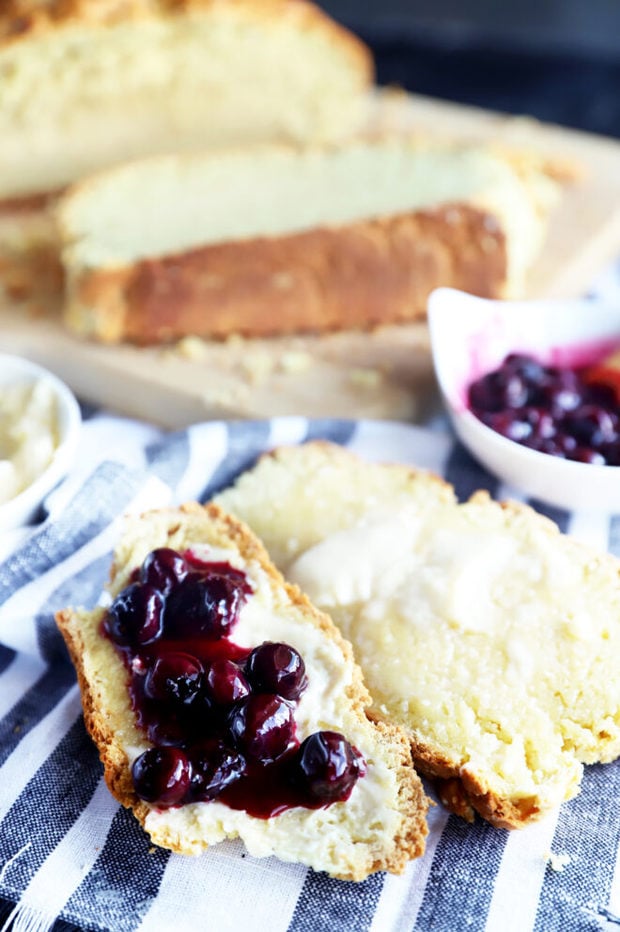 Never fear, because I'm coming at you with a no yeast white bread that will change everything.
If you've had soda bread before, you will be familiar with this loaf. It's crusty and golden brown on the outside, with a rich and flavorful interior that is totally drool worthy.
Now, this isn't like a sourdough loaf. There is no yeast so no big air pockets form. However, the baking soda in the recipe allows the bread to rise so you can get a similar experience (without all the work of making a starter or a long rise time!).
You can even customize the loaf as much as you would like! I'll have more details on that just above the recipe card below.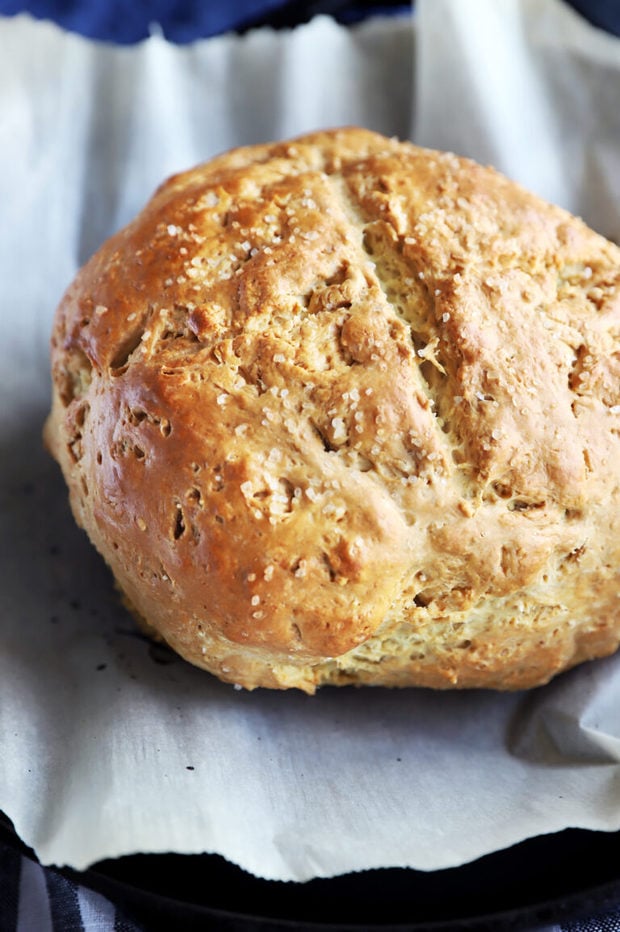 This Recipe's Must-Haves
Since this bread is pretty straightforward, you don't need a ton of tools to make it. You'll need your largest bowl from your mixing bowls and a wooden spoon.
Next you will need a cast iron skillet to bake the loaf in. You can also use a baking sheet, but I prefer a cast iron skillet because it gets the even golden crust on the bottom of the loaf.
Finally, you will need your chef's knife to make an "X" in the top before baking the loaf.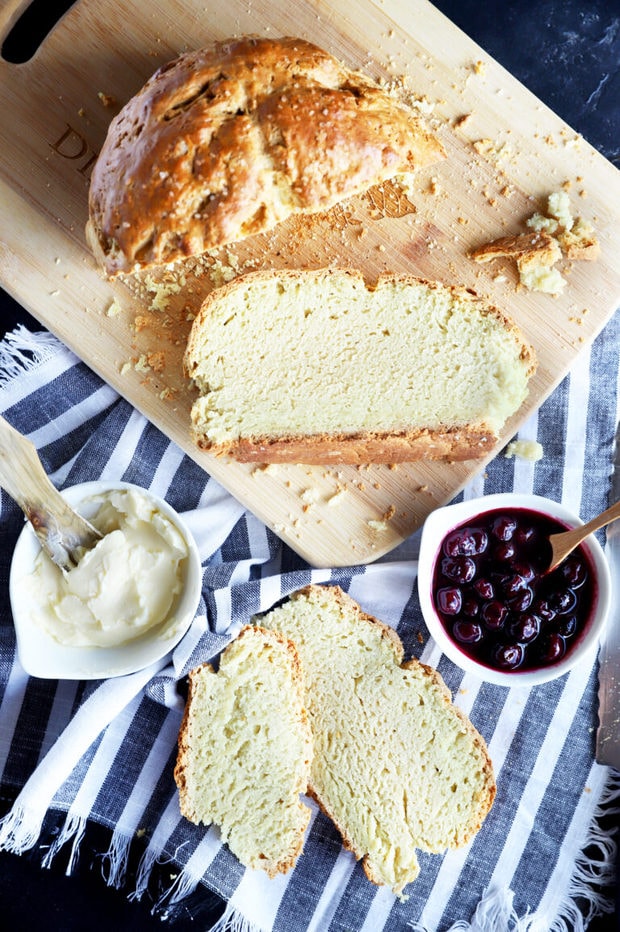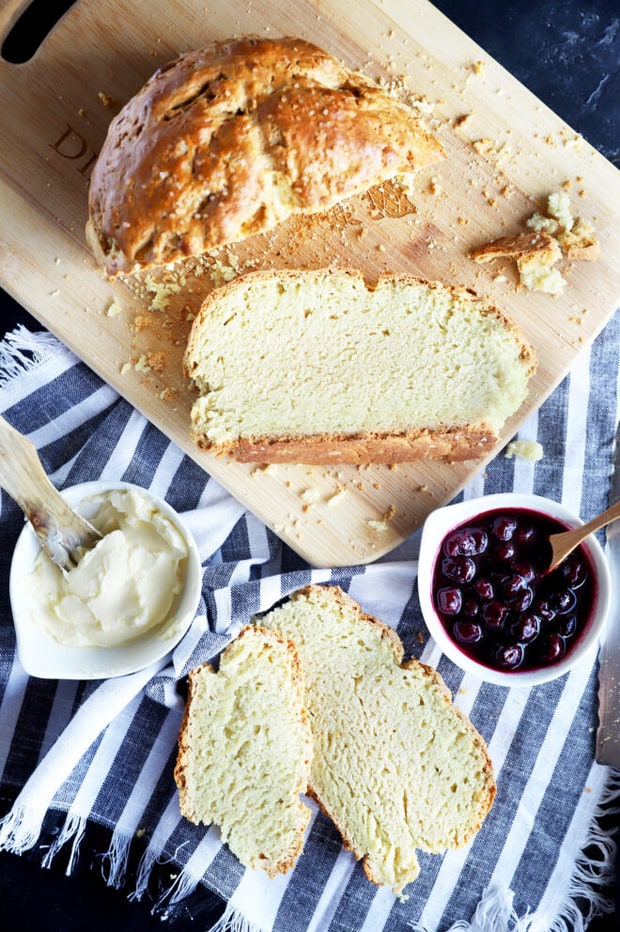 We're making no yeast white bread!
Make dough
The dough all comes together in one bowl, making it really simple and not so messy! First you combine the dry ingredients. Then you stir in the sugar into the melted butter, pouring it into the dry ingredients. At this point the mixture will still be dry, so don't worry.
Now you add in the buttermilk, pulling the dough together until it is well combined. The dough should be slightly moist and shaggy.
Turn out the dough onto a lightly floured surface and bring it together until all the dry bits have been incorporated. The dough should not be wet or dry. It should spring back to the touch but it won't be smooth like a pizza or pie dough.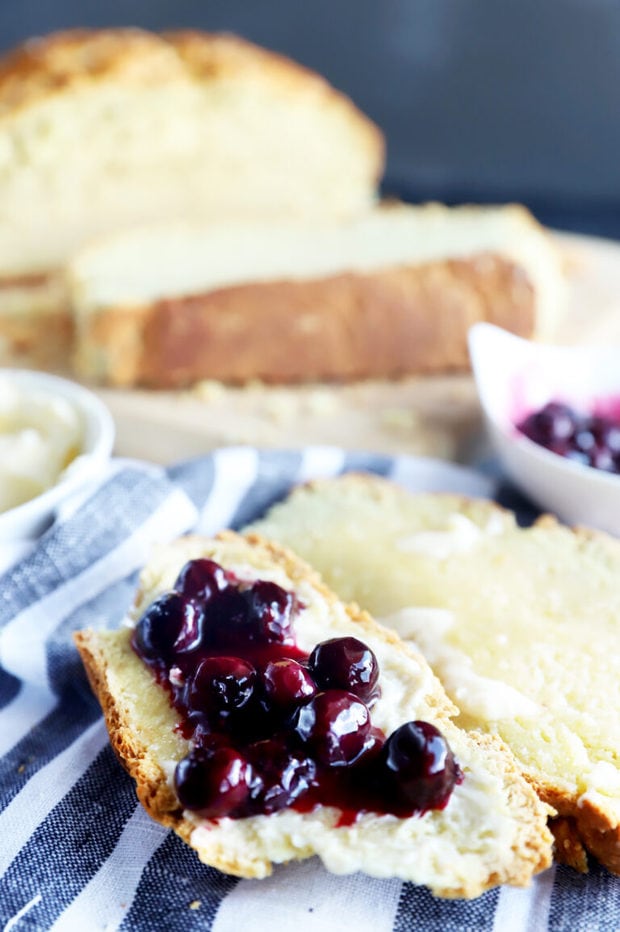 Brush and score
Form the dough into a ball and then flatten into a disc that is 2 inches thick. The cast iron skillet will have been preheating in the oven, so you'll want to line it with parchment paper carefully before adding the dough disc.
Brush the top of the dough with buttermilk and then use a knife to make an "X" in the top. Don't cut too deep, just about 1/2 to 3/4-inch deep.
Sprinkle with coarse salt.
Bake
Bake for 40 minutes, until the bread is golden brown. Remove from oven and cover with aluminum foil for about 10 minutes. Remove foil and let cool for another 20 minutes before slicing.
What goes better with bread than SOUP? Check out my soup recipe page for ideas to pair with this bread!

Got questions?
Do I need to use self raising flour?
Nope! All purpose flour is all you'll need for this recipe. The baking soda is what gives the loaf its rise.
What if I don't have a cast iron pan?
Don't worry, you can just use a baking sheet. I still recommend adding the baking sheet to the oven while it preheats, just like you would for the skillet.
Do I really need to let the loaf rest that long before slicing?
I know it's the worst to be patient, but it is SO much better to let the loaf rest.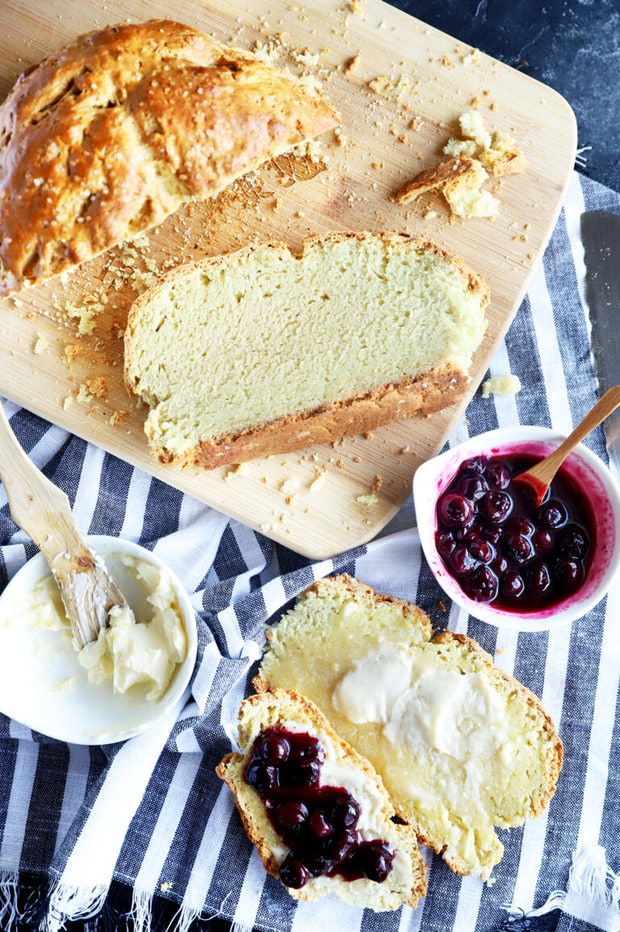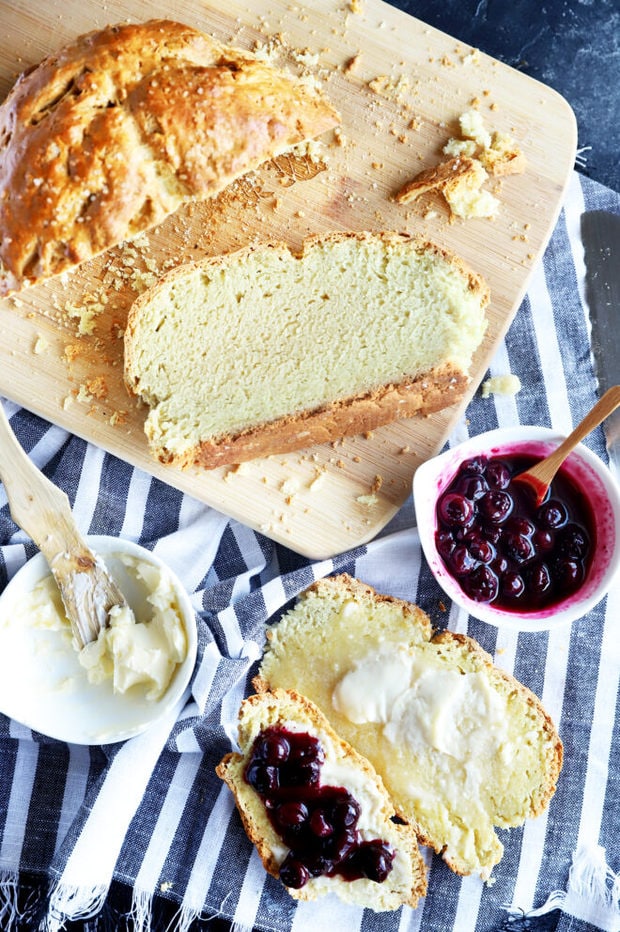 Make It Your Own!
You can top your loaf with coarse salt, but you can also use fresh or dried herbs! I love using rosemary or an Italian herb mix on top for added flavor.
If you like herbs IN your bread, you can do so by adding 1 to 2 tsp of your favorite herbs to the flour mixture at the start of the recipe. Again, rosemary, Italian herb blends, or even chives work fantastic here.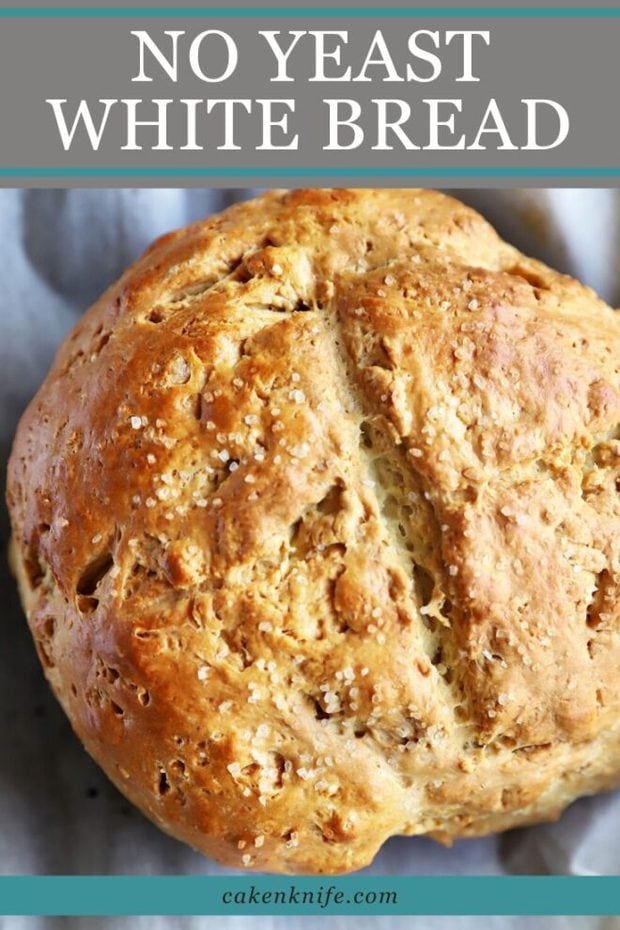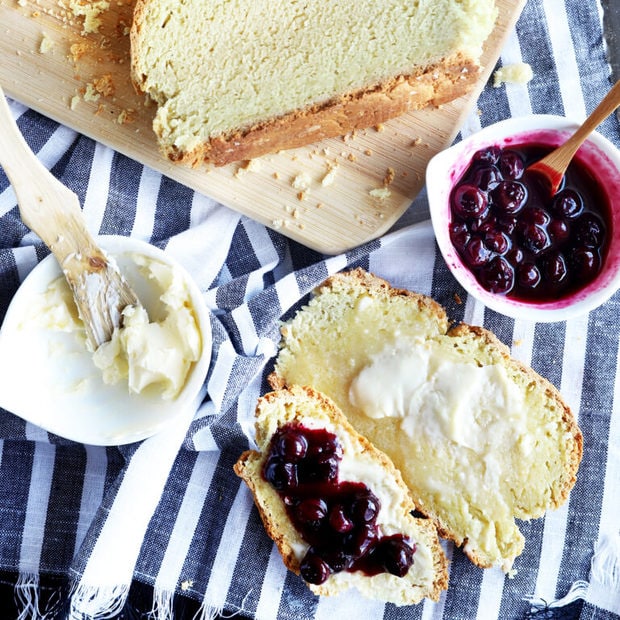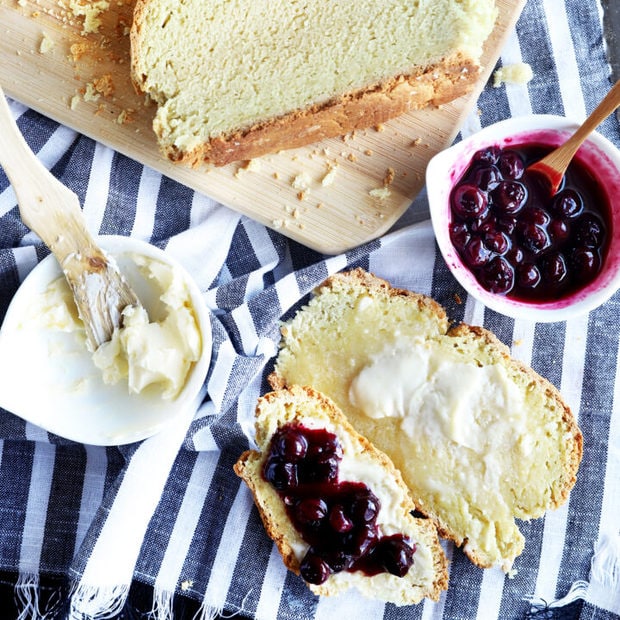 No Yeast White Bread
When you don't have yeast, you still will be able to enjoy a lovely, crusty loaf!
Ingredients
4 1/4 cups all-purpose flour
1 1/2 tsp salt
1 1/2 tsp baking soda
4 Tbsp unsalted butter, melted
2 tsp granulated sugar
1 3/4 cups buttermilk, plus 1 Tbsp for brushing the dough
1/2 tsp coarse salt
Instructions
Preheat oven to 400˚F. Place a cast iron skillet in the oven as it preheats.
In a large bowl, whisk together flour, salt, and baking soda. Set aside.
In a small bowl, whisk together melted butter and sugar. Add the mixture to the dry ingredients, stirring to combine. Note the mixture will still be dry at this point.
Pour in half of the buttermilk, mixing to incorporate. Add the remaining buttermik, mixing to combine. The dough should be shaggy and slightly moist. If the dough is very dry, add another teaspoon of buttermilk (I had to do this because I'm in a dry location!).
Pour the dough out onto a floured surface, kneading a few times to combine any dry bits that haven't been mixed in. Form into a ball, then flatten into a disc that is at least 2 inches thick.
Remove skillet from the oven and line with parchment paper. Place the dough disc in the center. Brush the top with buttermilk. Use a sharp knife to cut an "X" in the top that is 1/2 to 3/4-inch deep.
Bake for 40 minutes, until golden brown. Remove from oven and cover with aluminum foil for 10 minutes. Remove foil and let cool for 20 minutes before slicing.
Bread can be stored, covered, at room temperature for 3 days or in the refrigerator for up to 1 week.
Recommended Products
As an Amazon Associate and member of other affiliate programs, I earn from qualifying purchases.