Please note this post contains affiliate links.
These Espresso Brownie Cups With Bailey's Buttercream Frosting are just the sweet treat to celebrate the St. Patrick's Day festivities this weekend! Easy peasy espresso brownie cups are full with a luscious and flavorful frosting. Every bite tastes like a cup of coffee spiked with Bailey's Irish Cream!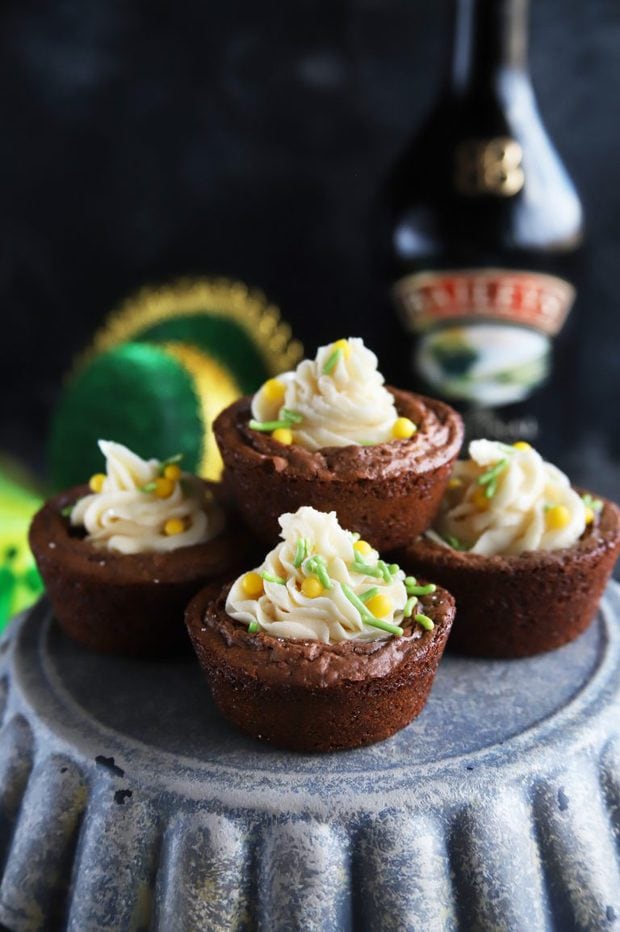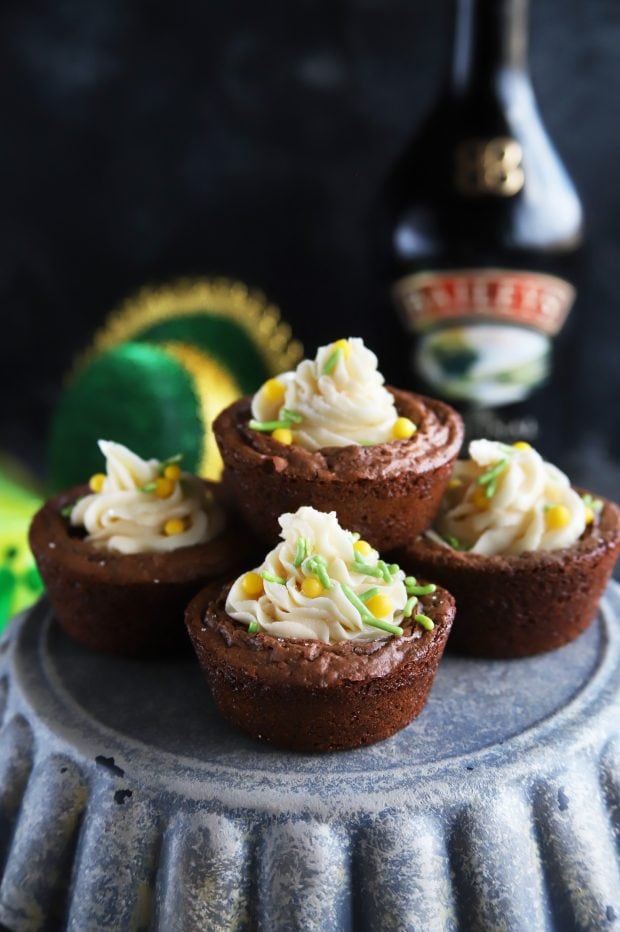 Please note that some of the links below are affiliate links. If purchases are made via these links, I will receive a small commission.
YOU GUYS.
If you are going to make one Irish-themed recipe this weekend for St. Patrick's Day, it needs to be THIS ONE.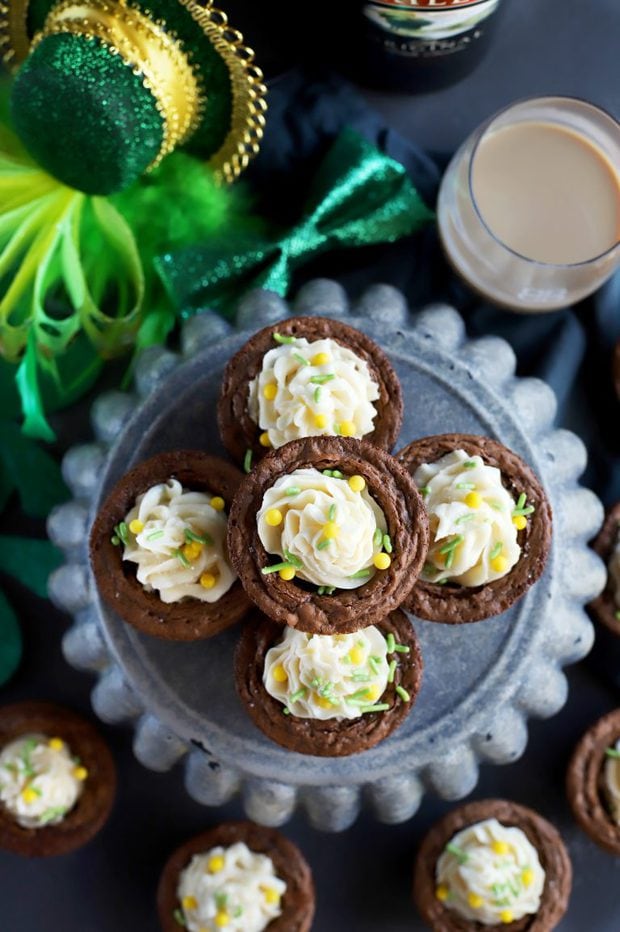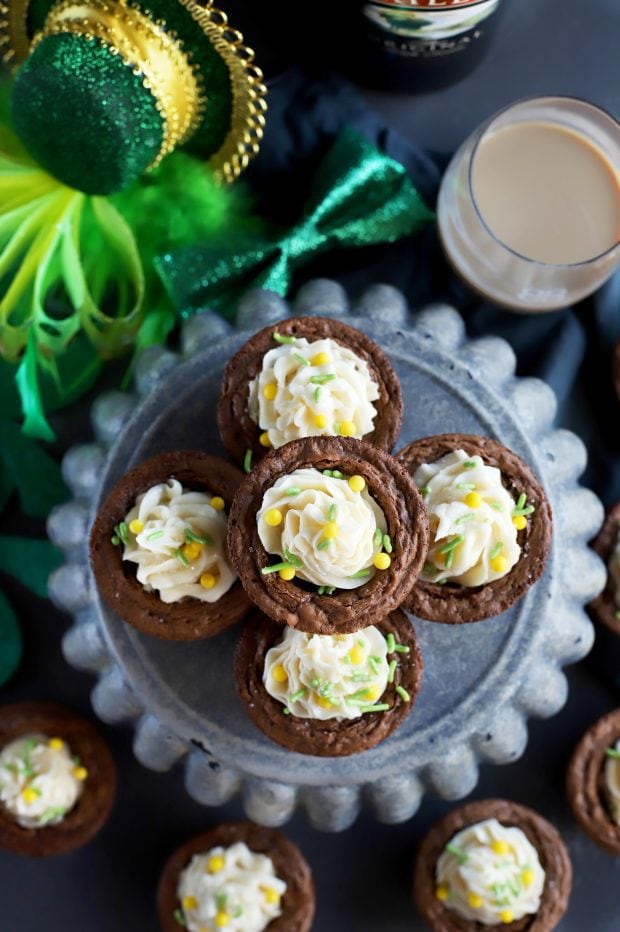 I gobbled these down SO DARN FAST. Like, they didn't even last past a couple of days after I made them. I literally had to give away more than half of them to family and friends because they were so darn tasty.
Downright freaking dangerous to be exact.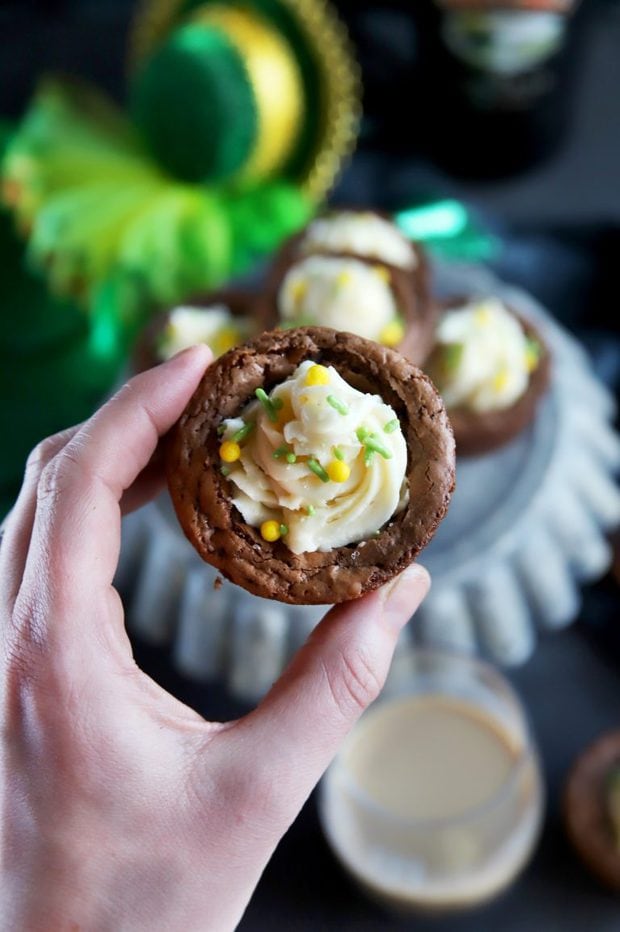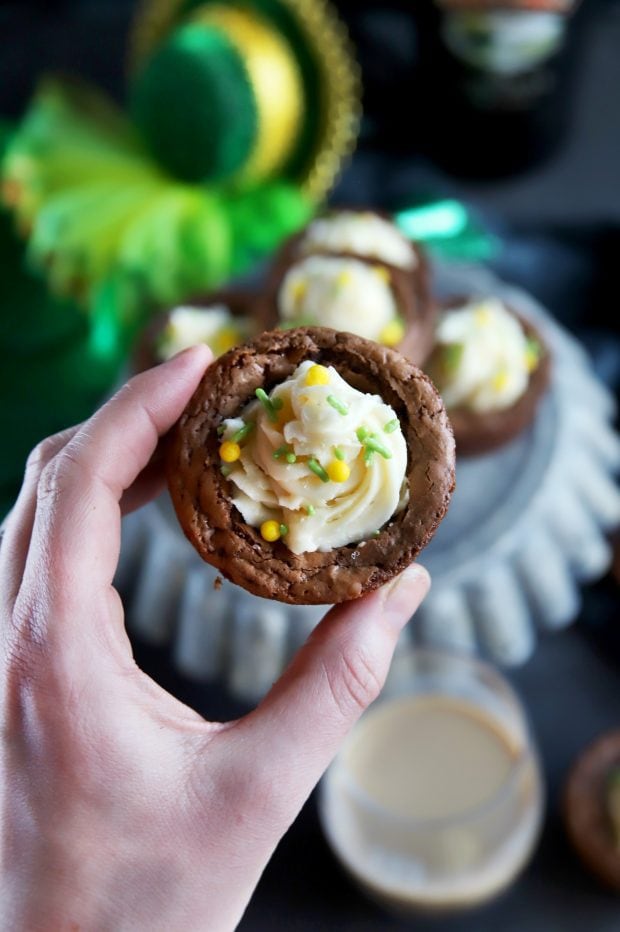 GAH.
I really wish I had one sitting on my desk right now as I sit here and write this post. My mouth is watering and my stomach is starting to grumble, even though I just ate.
Ah the life of a food-obsessed crazy person…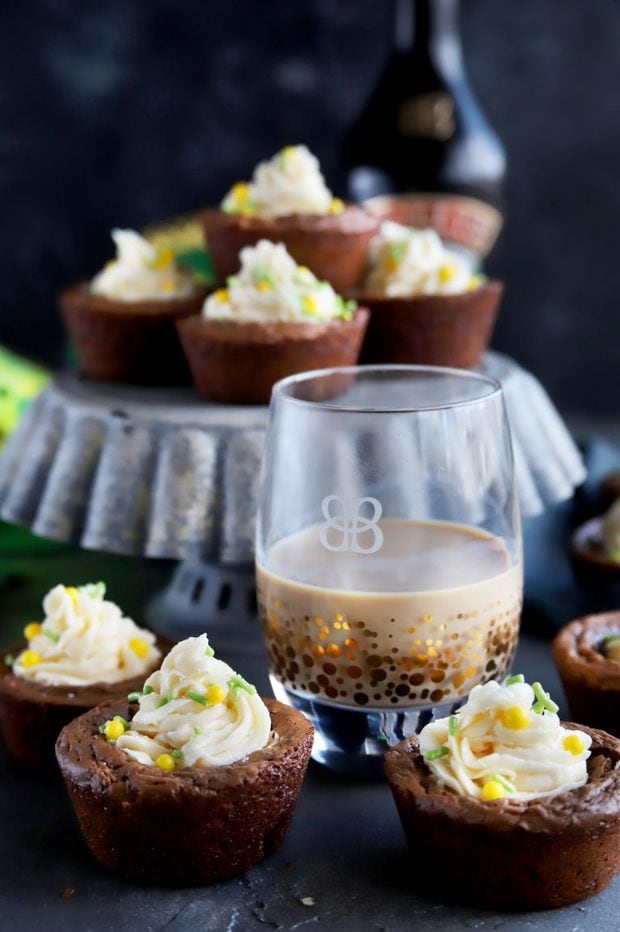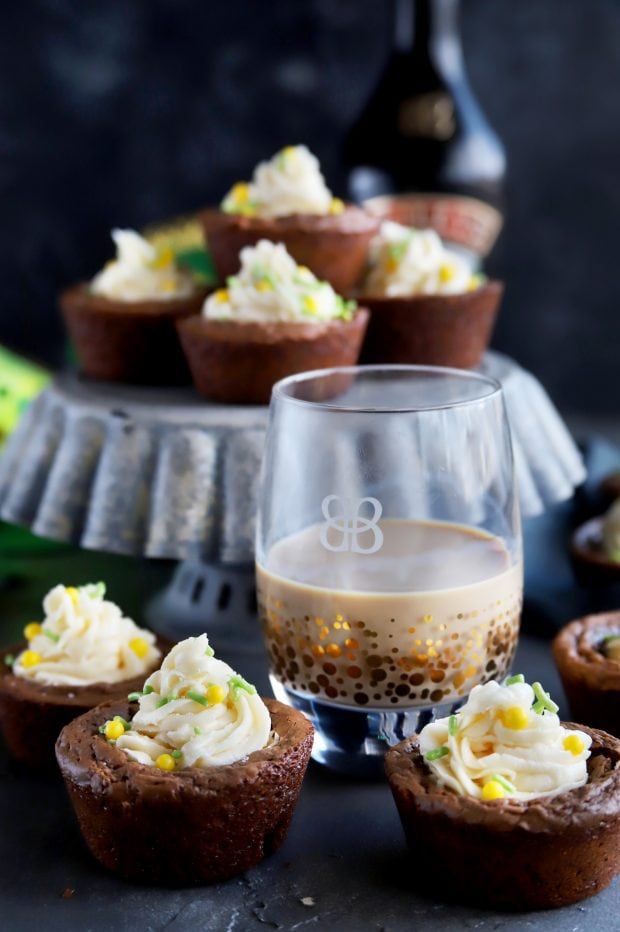 Now, this espresso brownie cups recipe happens to be the easiest ever. Instead of making the brownies from scratch, I reached for the brownie mix this time.
I know, I know, for shame to not make them from scratch… but really, sometimes you just need a killer shortcut and you can change it up just by sprucing it up.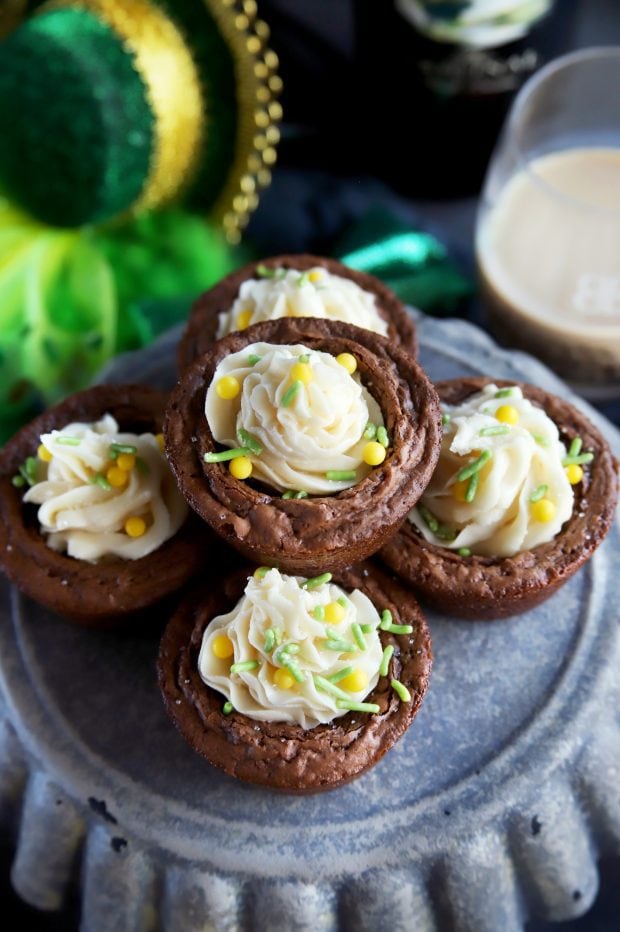 Espresso powder and a touch of Bailey's Irish Cream in the brownie cups are simple ways to elevate the flavor of the brownie.
Then, it all gets topped off with a filling of Bailey's buttercream frosting. The frosting is the ideal texture and flavor to pair with the rich chocolate and coffee notes in the espresso brownie cups.
Top it off with some festive sprinkles and you have something truly magical on your hands! It's so much better than finding a leprechaun at the end of the rainbow, that's all I can say.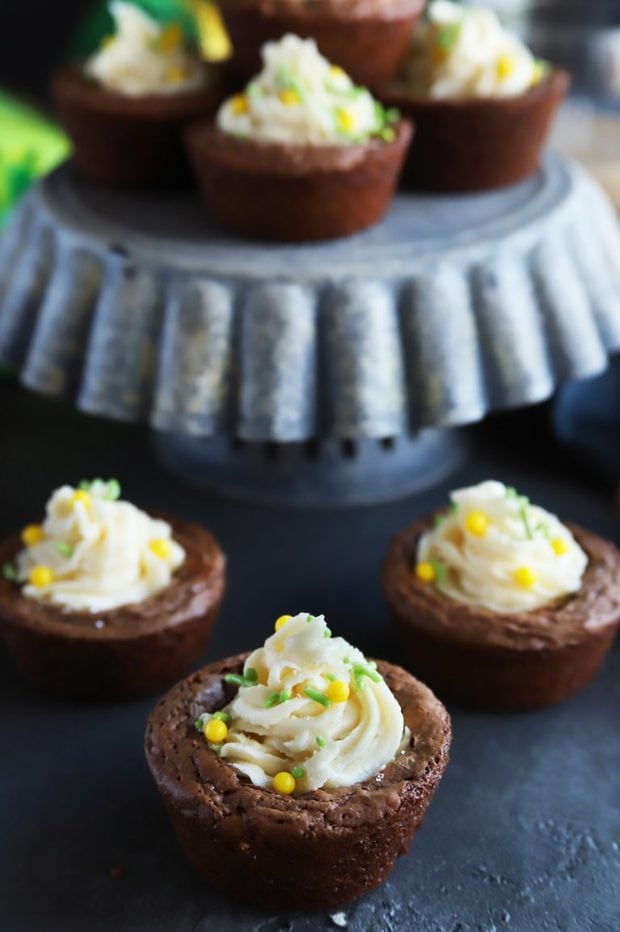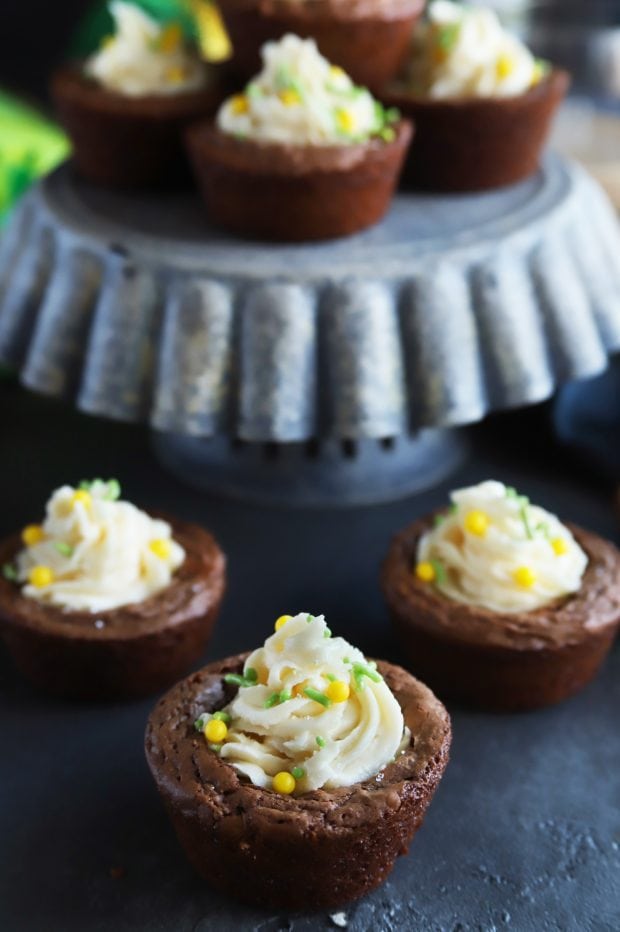 If you love all things Bailey's Irish Cream, check out some of my favorite recipes below:
Bailey's Chocolate Chip Bundt Cake (Gluten-Free!) is an easy dessert that everyone can enjoy!
For a boozy treat to cool off with, check out this Bailey's Irish Coffee Shake.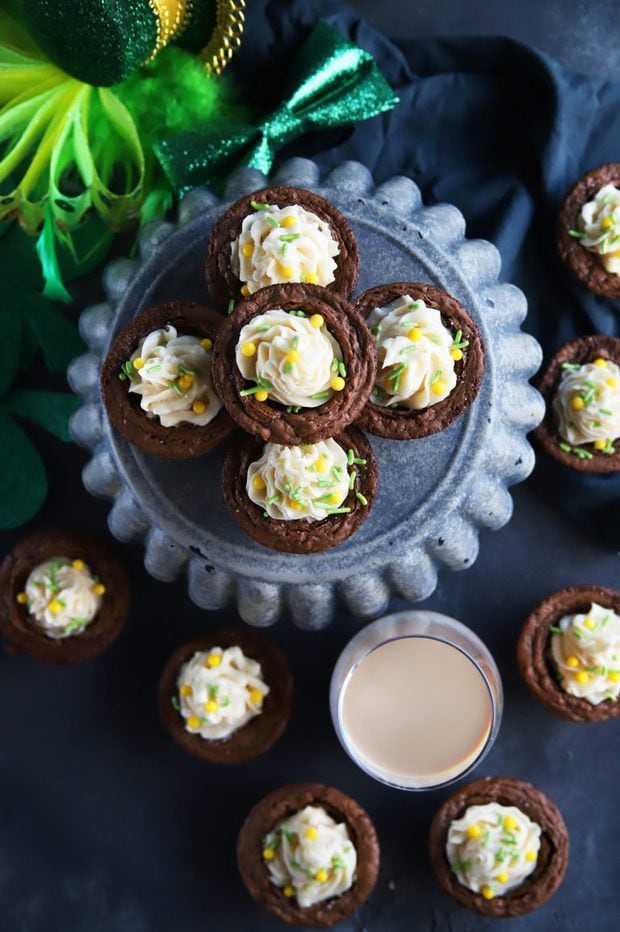 I always like to have a bottle of Bailey's Hot Fudge Sauce in the refrigerator to pour over ice cream!
A Whiskey Skillet Brownie with Bailey's No Churn Ice Cream is just the decadent treat to end a dinner party with.
You can easily make these Bailey's Chocolate Mousse Brownie Parfaits ahead of time, and they are so simple.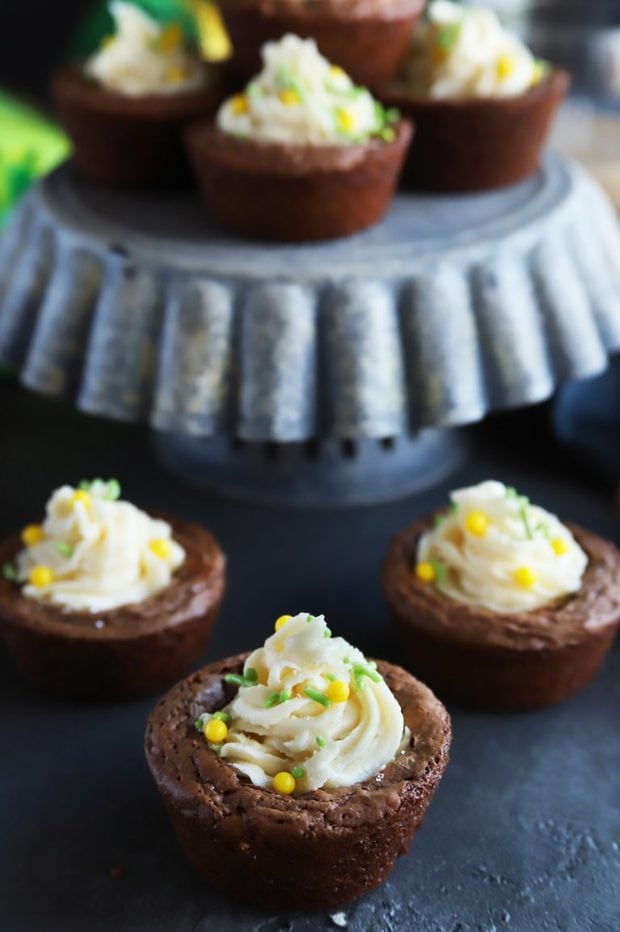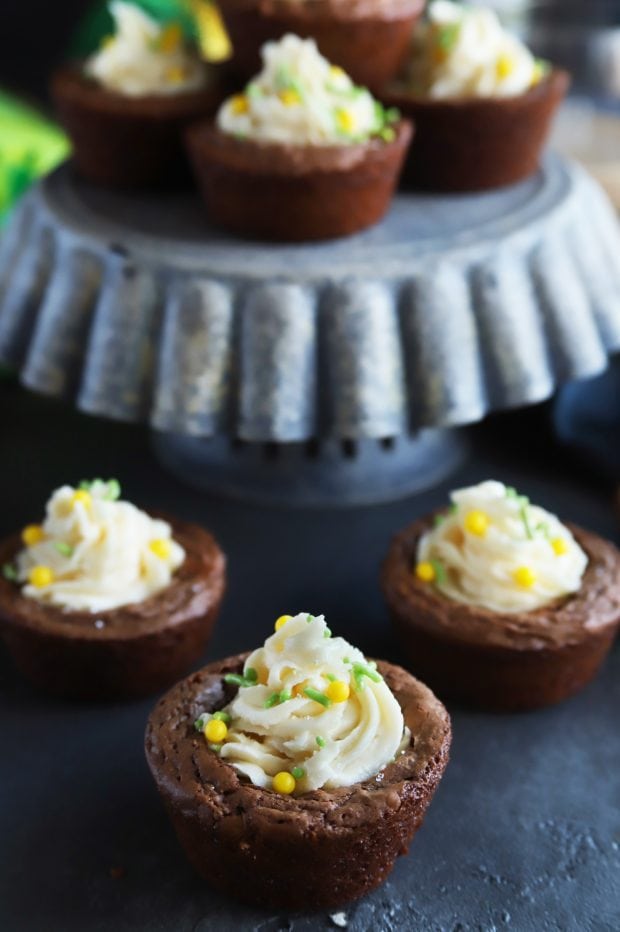 This Recipe's Must-Haves
To make the buttercream frosting, I turn to my KitchenAid 7-Quart Pro Line Stand Mixer! It's the best way to get that perfect texture, without having to hold a hand mixer.
This USA Pan Bakeware Cupcake and Muffin Pan is my favorite of all time. It's durable and long-lasting, while also letting those little brownie cups loose easily once they are done.
If you are looking for a great starter pack for cake and cupcake decorating, this Wilton 46-Piece Deluxe Cake Decorating Set is all you need to start. It's affordable, and I use a similar set (and have for years!).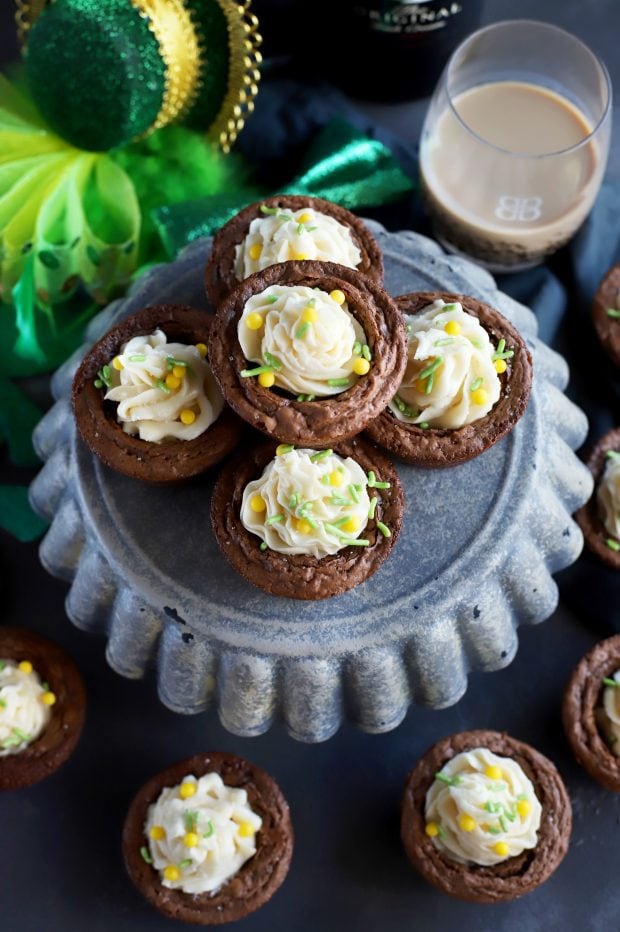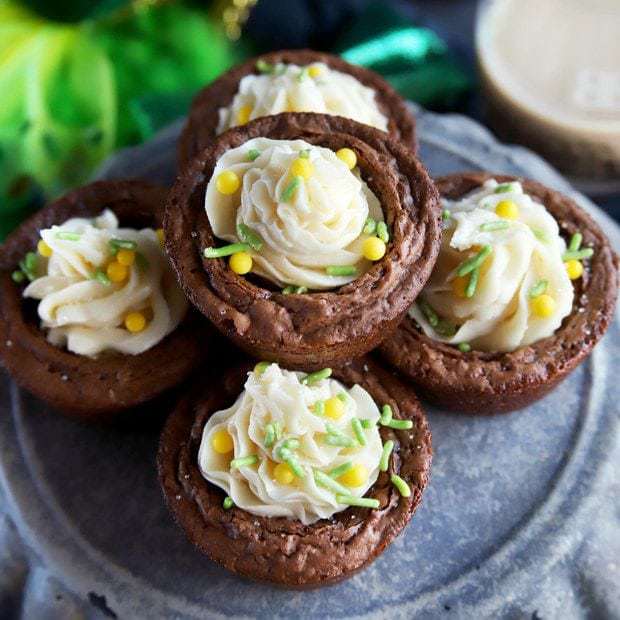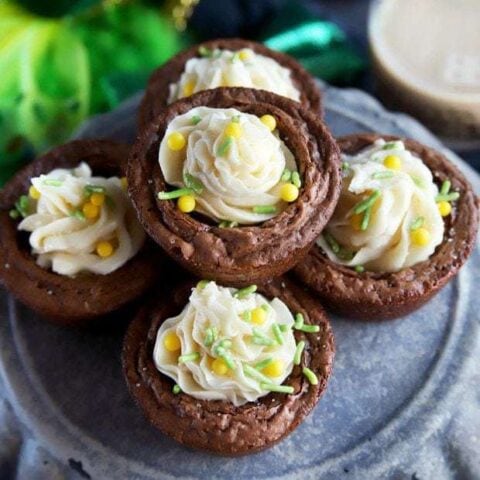 Espresso Brownie Cups With Bailey's Buttercream Frosting
Brownies are amped up with espresso powder and Bailey's, then formed into cups and filled with a luscious Bailey's buttercream frosting!
Ingredients
Espresso Brownie Cups
1 18oz box brownie mix, plus ingredients called for on the box
2 1/2 tsp instant espresso powder
1 1/2 tsp Bailey's Irish Cream Liqueur
Frosting
2 cups powdered sugar
1/2 cup unsalted butter
3 tsp Bailey's Irish Cream Liqueur
Instructions
Preheat oven to 350°F. Grease a 12-cup muffin tin with cooking spray or butter.
Prepare brownie batter according to packaging instructions. Stir in espresso powder and Bailey's Irish Cream Liqueur.
Add batter to muffin tin. Bake for 25 minutes.
When you remove the brownies from the oven, immediately press the bottom of a shot glass in the center of each to form them into cups.
Let brownies cool completely.
While the brownies are cooling, add butter for the frosting to the bowl of a stand mixer. Add in Bailey's Irish Cream Liqueur.
Beat until combined completely.
Add powdered sugar. Beat on low until sugar is incorporated. Increase speed to medium-high and beat until fluffy, making sure to scrape down the sides every so often.
Pipe filling into cooled brownie cups. Top with St. Patrick's Day themed sprinkles, if desired.
Recommended Products
As an Amazon Associate and member of other affiliate programs, I earn from qualifying purchases.