Please note this post contains affiliate links.
Grilled Mexican Street Corn Crostini is where your favorite summer corn flavors come together on toasted bread. The simple smoky mixture is a delightful appetizer for all your backyard BBQs! Serves 6.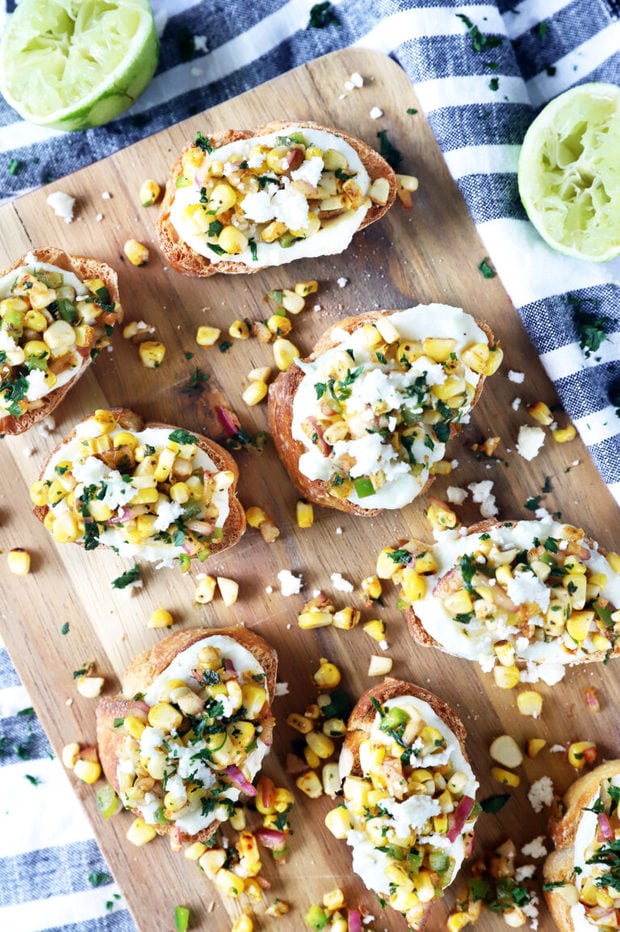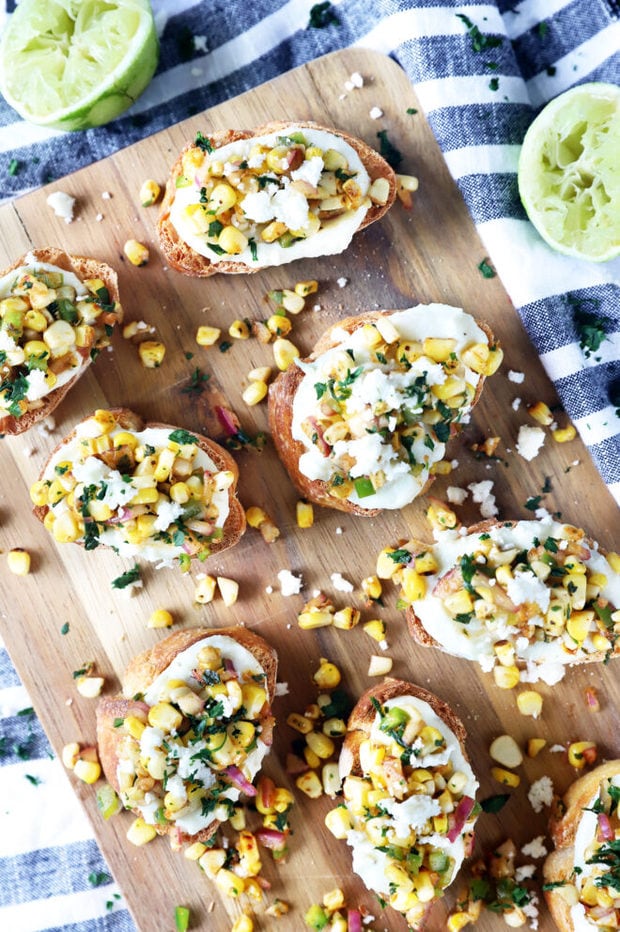 One of my favorite things to eat it grilled Mexican street corn.
Corn is one of those veggies that I can't get enough of during the summer. I will eat it any way I can get my hands on it.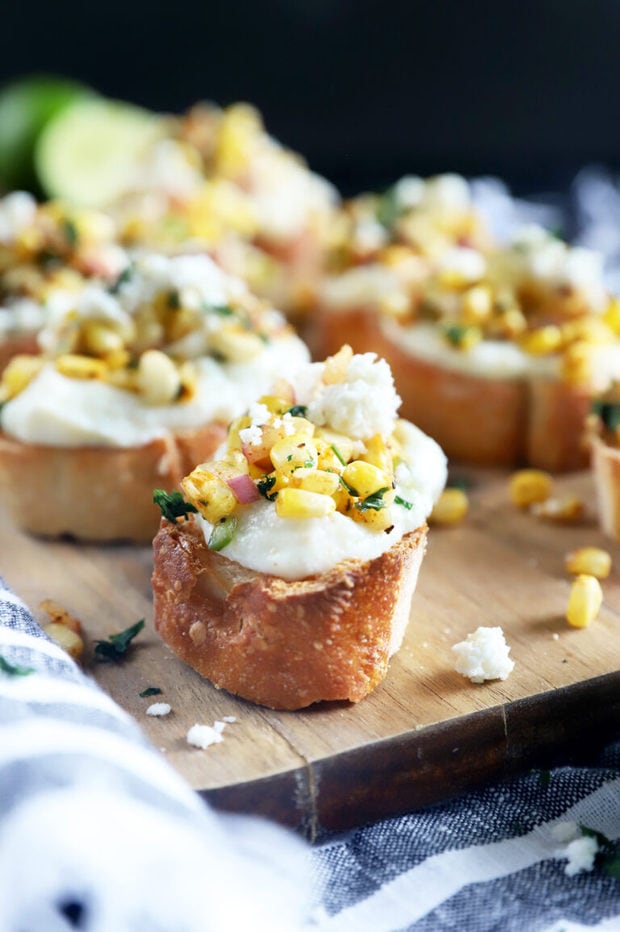 Of course, fun fact, I can't actually bit into a fresh cob of corn…
IT IS TRAGIC.
However, after years of braces and surgery to correct my underbite, my roots for my front teeth were left extremely short. That means no hard contact sports and no biting into things that are difficult like corn and apples.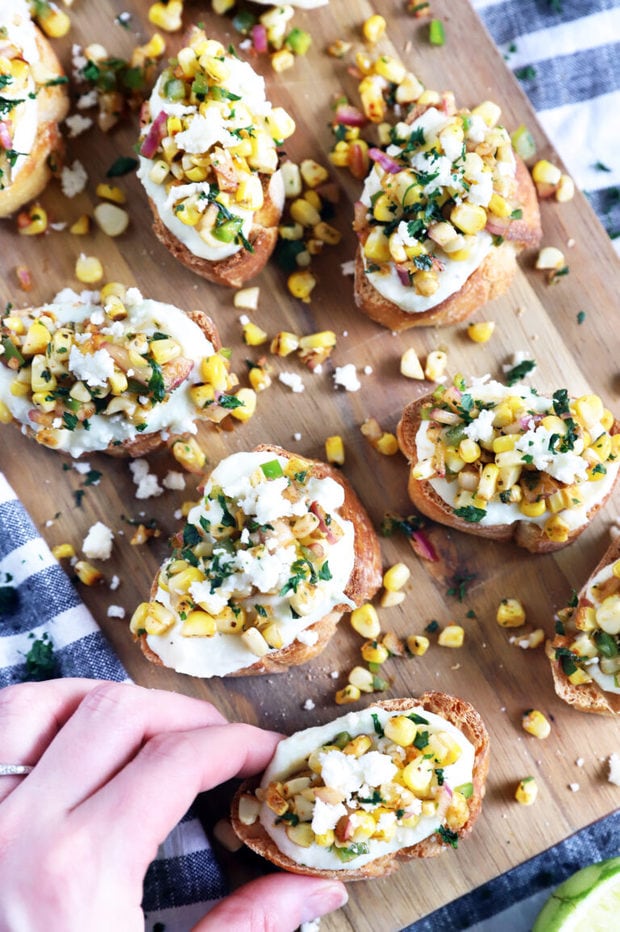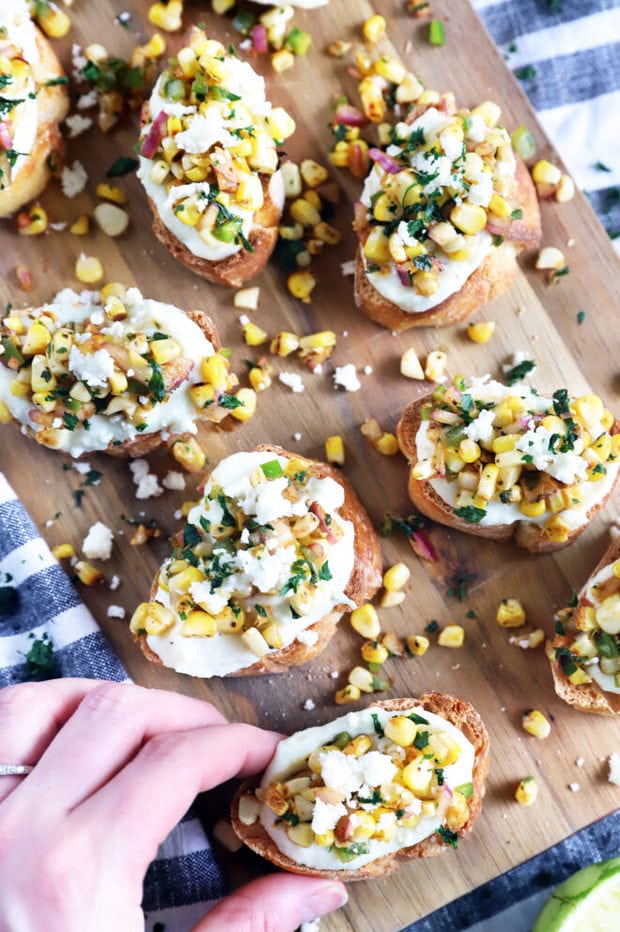 So, for me, corn has to be taken off the cob, which is actually where the inspiration for this recipe came from! I made a grilled corn salad last year, but this year, I really wanted that grilled Mexican street corn flavor.
This recipe is a breakdown of those flavors – the corn, the cheese, the spices, the creaminess, and a little extra zing of heat and lime. It's such a tasty app for whenever you grill out back, whether it's just the family or you are finally able to get together with a large group (whenever that day rolls around, you know?).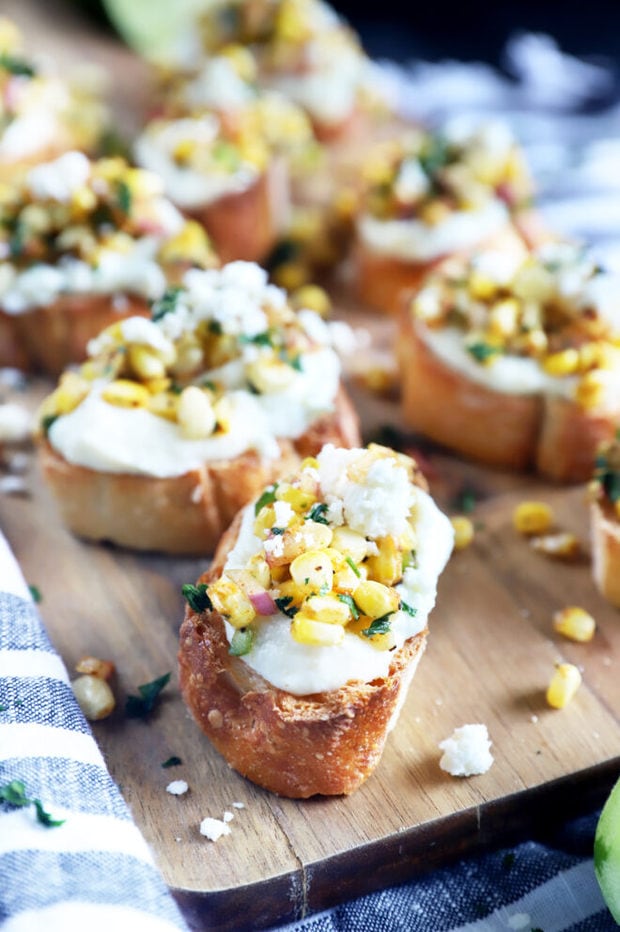 This Recipe's Must-Haves
Obviously to get the char on the corn, you'll need to bust out your grill! I love this Traeger grill because it's a workhorse that lasts forever. If you have one and are wondering what pellets I use, I go for the Traeger grill signature pellets.
You will also want a set of clongs (my favorite tongs).
To prepare everything for the corn mixture, grab a chef's knife and cutting board. Finally you'll need a set of mixing bowls to mix together the corn mixture and the whipped ricotta.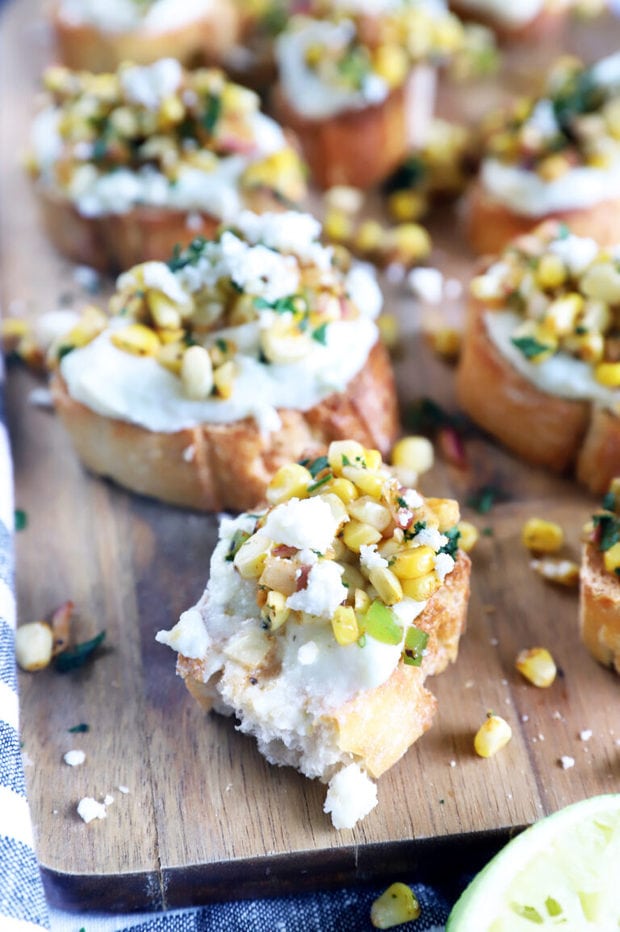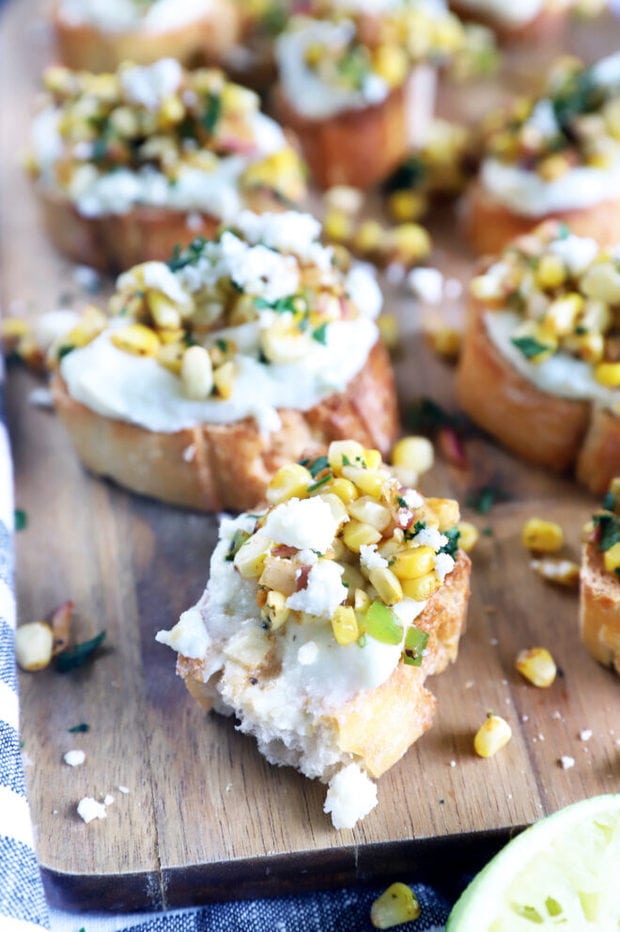 Let's make grilled Mexican street corn crostini!
Whip Ricotta
Combine all the ingredients for the whipped ricotta in a bowl, then beat it with an electric hand mixture or a whisk. It'll take a couple of minutes, but you want it to be nice and fluffy when you are done. Simply store in the refrigerator until you are ready to serve it.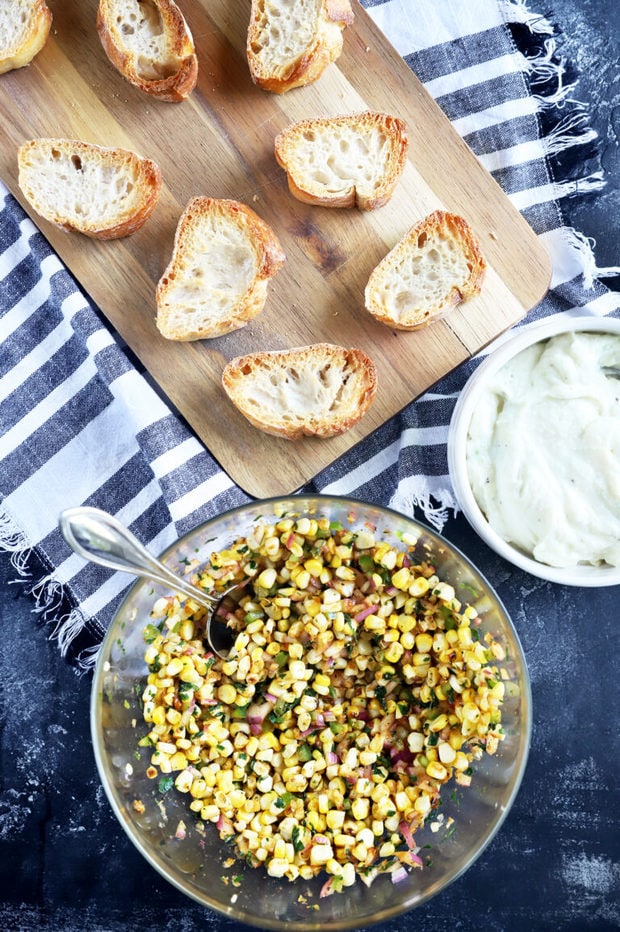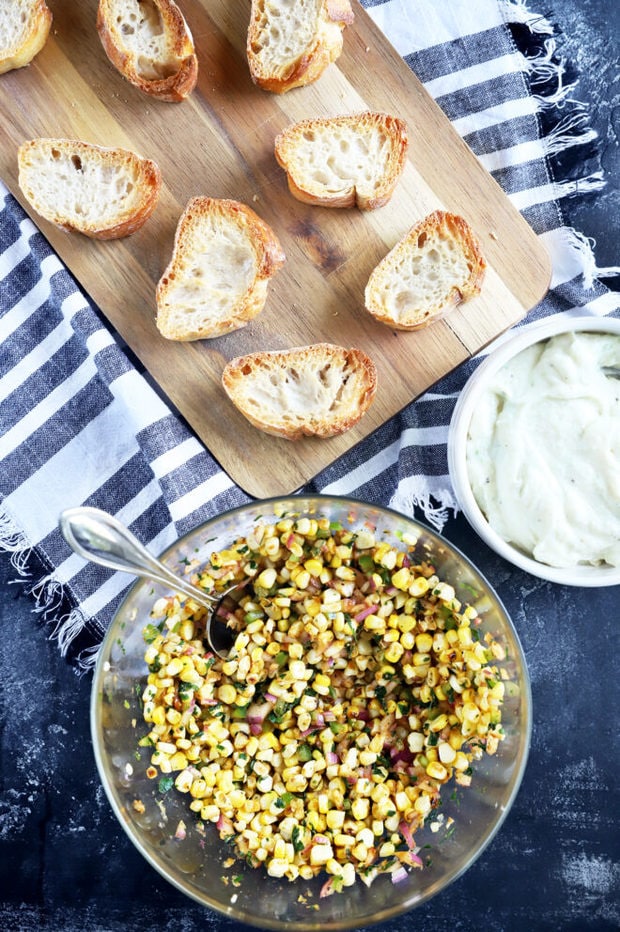 Make Corn Mixture
Start by grilling the corn for about 10 to 15 minutes. Once it's cooked through and browned, let it cool slightly before removing the corn kernels from the cobs.
Mix together all the ingredients for the corn mixture in a bowl, making sure all the ingredients get distributed easily.
Assemble
To assemble the crostini, slather each slice of toasted bread with whipped ricotta, then top with the corn mixture. Garnish with some fresh cilantro and crumbled cojita cheese!
If you are looking for more appetizer inspiration, check out my appetizer recipes page.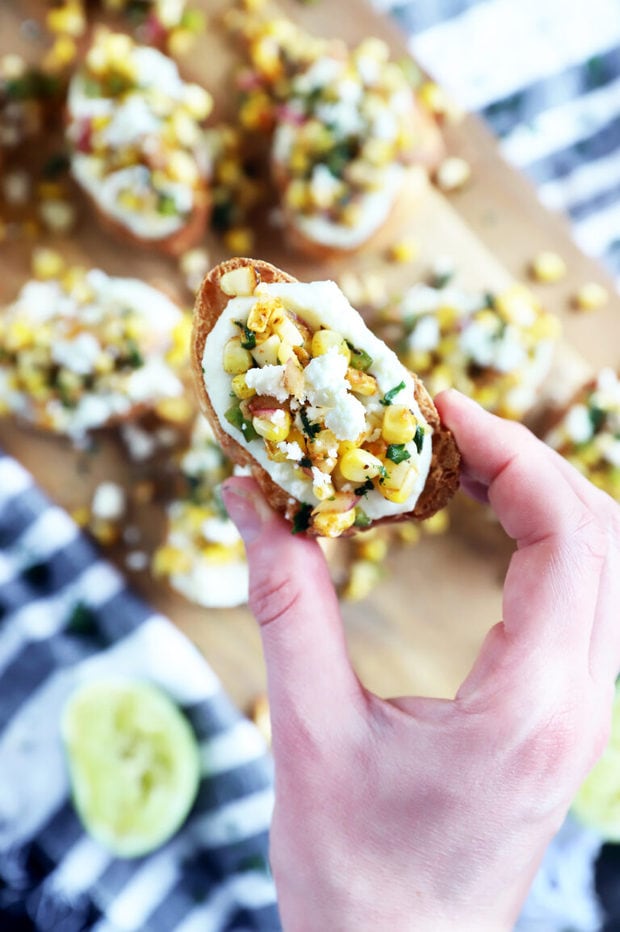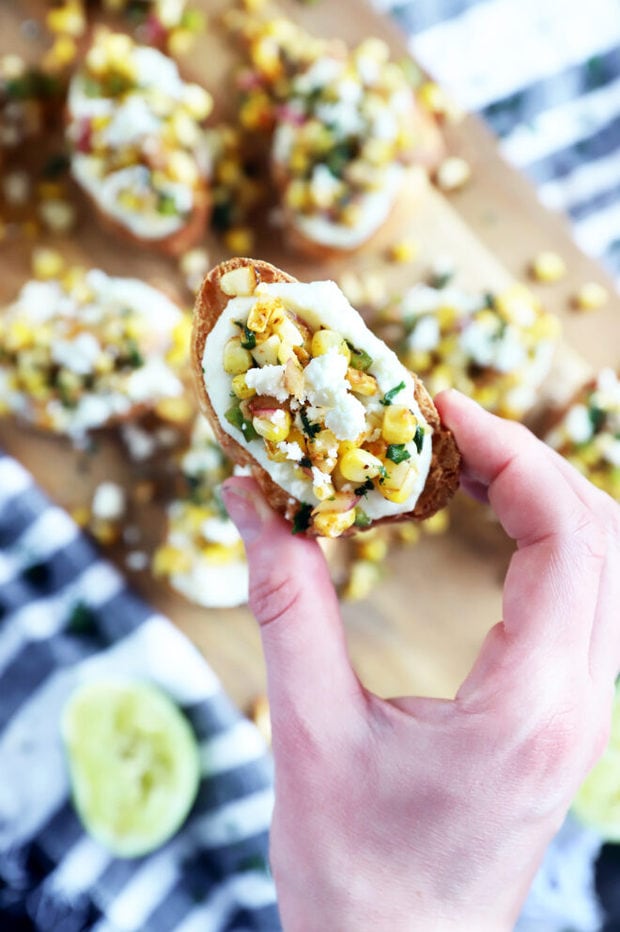 Got questions?
Won't the corn fall off the bread?
That's the magic of the whipped ricotta! The thick slather of it on the bread allows the corn to stay on top without falling off when you pick it up.
What makes it Mexican street corn?
If you haven't had Mexican street corn, you need to go find some immediately. Those of you who have eaten it before know that it's primarily made up of grilled corn slathered with a creamy cojita mixture. Then it's sprinkled with paprika and voila, that's it!
All those flavors are in this crostini from the corn to the paprika, the cojita cheese to the fresh cilantro. Plus there's a little extra in there for even more flavor.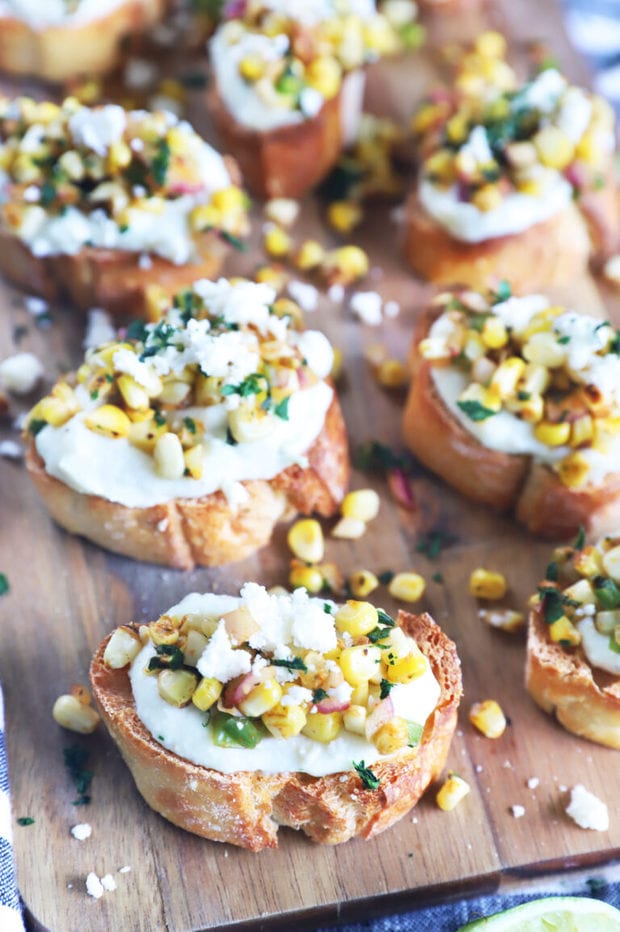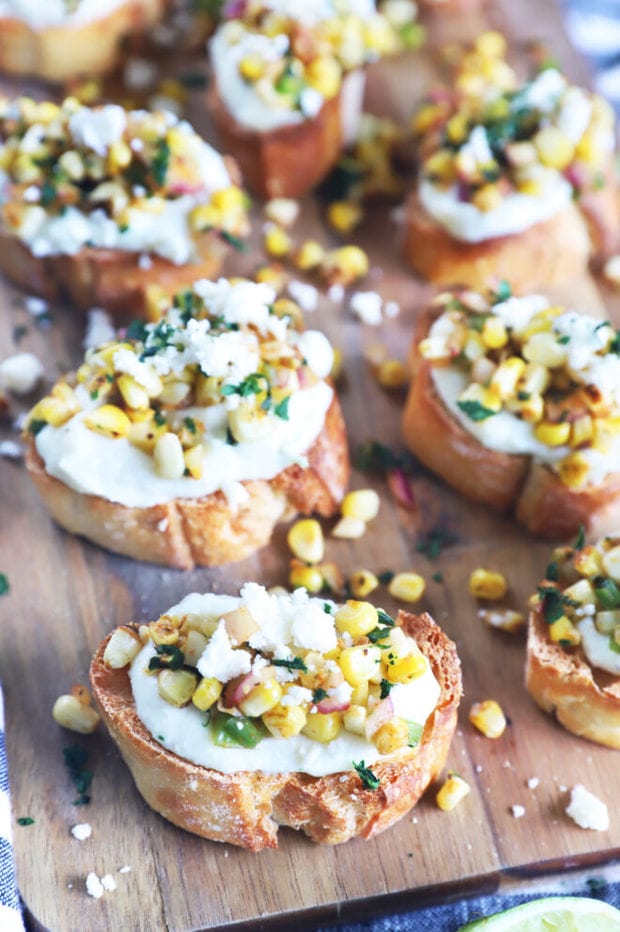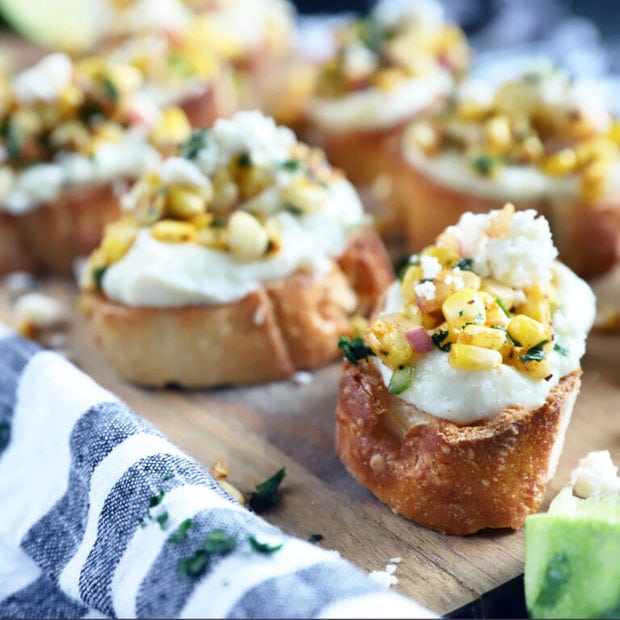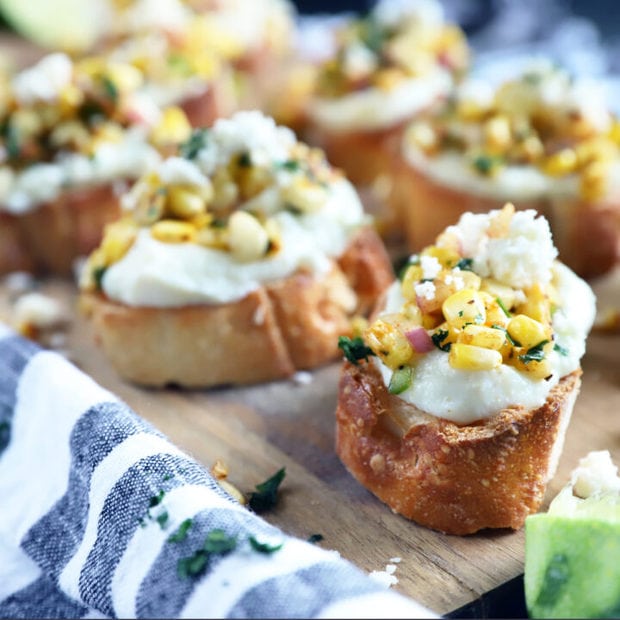 Grilled Mexican Street Corn Crostini
Your favorite grilled Mexican street corn, turned into a crostini appetizer!
Ingredients
Mexican Street Corn Topping
3 ears corn
2 tsp olive oil
1/4 small red onion, finely chopped
1/4 cup chopped fresh cilantro
1 jalapeno pepper, diced
2 Tbsp fresh lime juice
1/4 tsp ground cumin
1/2 tsp smoked paprika
1/4 tsp black pepper
1/4 tsp salt
Whipped Ricotta
2 cups ricotta cheese
Zest of 1 lime
2 Tbsp milk
1/4 cup olive oil
1 Tbsp sour cream
1/2 tsp sea salt
1/4 tsp black pepper
Crostini
1 baguette, sliced and toasted
Freshly chopped cilantro
1/4 cup crumbled cojita cheese
Instructions
Preheat grill to medium-high heat.
In a small bowl, combine all ingredients for the whipped ricotta. Whisk or use an electric hand mixer to beat until fluffy, about 2 to 3 minutes. Set aside in the refrigerator until ready to use.
Drizzle corn with olive oil and place on the grill. Grill for 10 to 15 minutes, turning every few minutes, until cooked through and browned.
When the corn is cool enough to cut, use a knife to remove the kernels from the cob. Add corn to a large bowl with red onion, cilantro, jalapeno, lime juice, cumin, paprika, black pepper, and salt. Stir to combine well.
Spread the toasted bread slices with whipped ricotta, dividing evenly between the slices. Top with corn mixture.
Garnish with cilantro and cojita cheese. Serve.
Recommended Products
As an Amazon Associate and member of other affiliate programs, I earn from qualifying purchases.