Chipotle BBQ Steak Air Fryer Empanadas are golden and crispy on the outside, packed with spicy, smoky flavor on the inside. When it comes to getting a steak fix, you can't do better than sirloin combined with chipotle! Makes 4.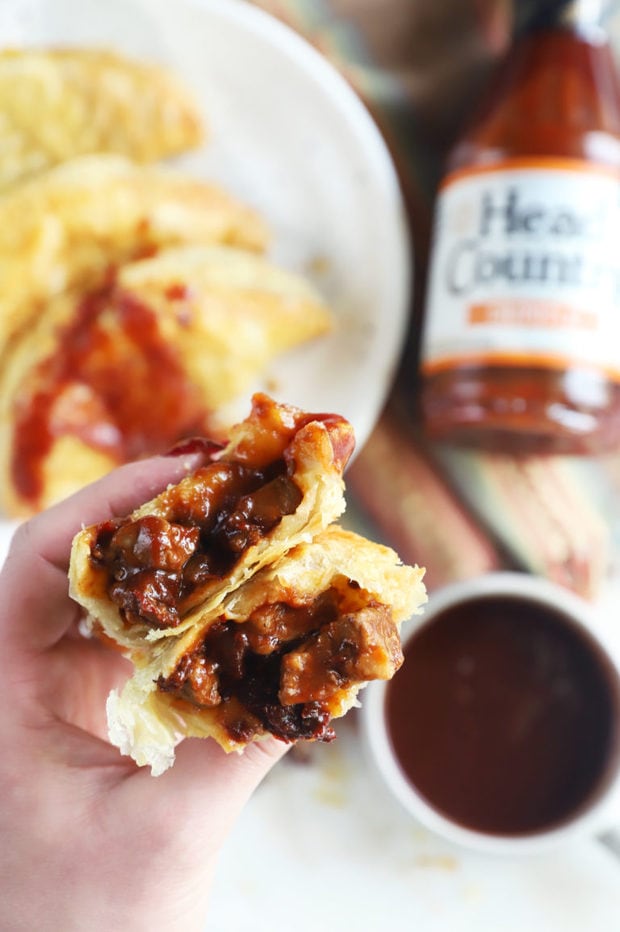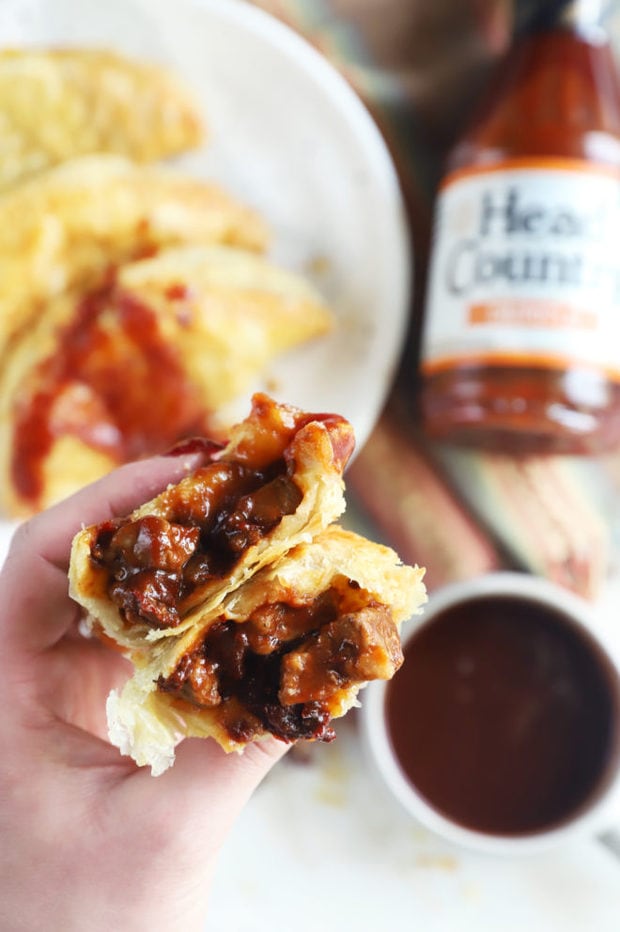 Disclosure: This post has been sponsored by Head Country Bar-B-Q. As always, all opinions are my own.
Sometimes, you just really need an empanada in your life.
The golden crisp exterior of pastry. A filling that can be anything from poultry to vegetables to, my personal favorite, STEAK.
While there are many that would make empanadas with ground beef, to me, there's nothing like hearty chunks of tender steak wrapped inside that pastry dough.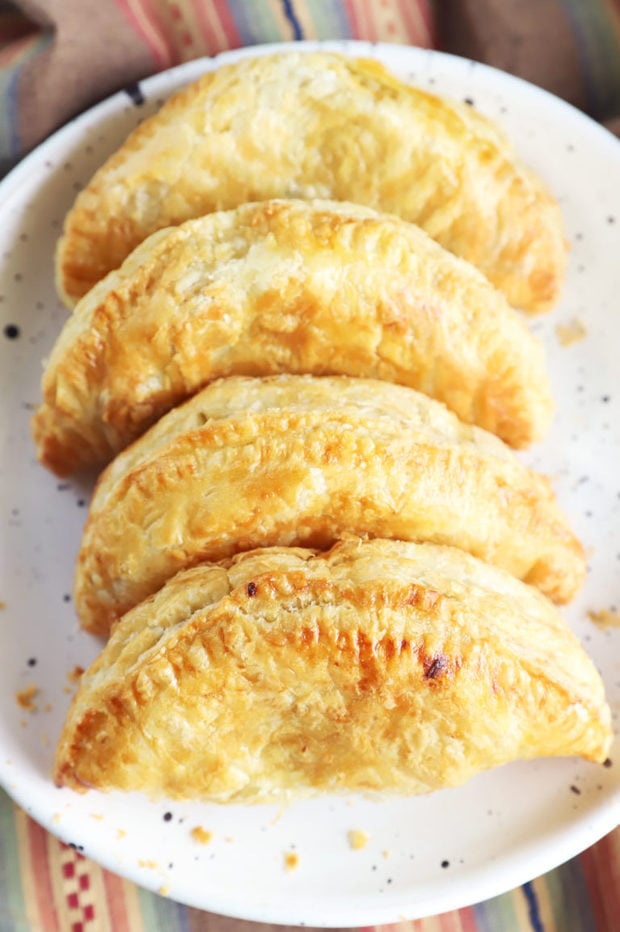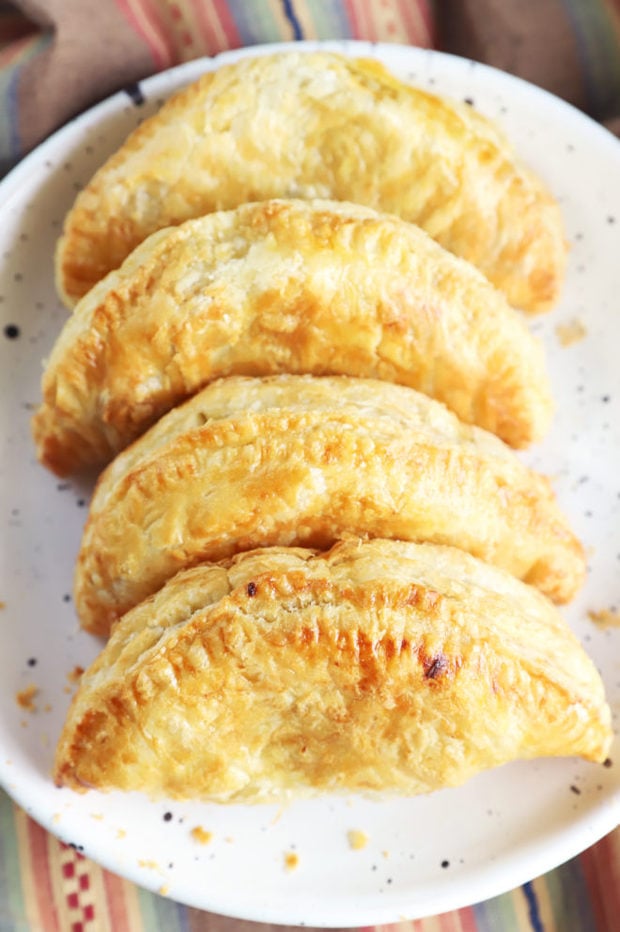 This is the kind of recipe to whip out when you just want some comfort snack food without too much effort.
The dough is already made. You only have to cook up the steak with some onion, and then you add in the real punch of flavor.
The filling features a smoky and rich Head Country Bar-B-Q Sauce! To be more specific, Head Country Bar-B-Q Chipotle BBQ Sauce. This sauce is smoky and spicy and full of layers and layers of flavor! However, if you want, you can totally use Head Country Bar-B-Q Original BBQ Sauce. It's just as flavorful and you'll still get that chipotle flavor from the peppers.
Serve these empanadas with an extra bowl of sauce for more dipping deliciousness!
I like to add a little more spice with a couple of chopped up chipotle peppers (I find mine in cans at the local supermarket, by the way – look for chipotles in adobo sauce and then save the rest for other recipes!).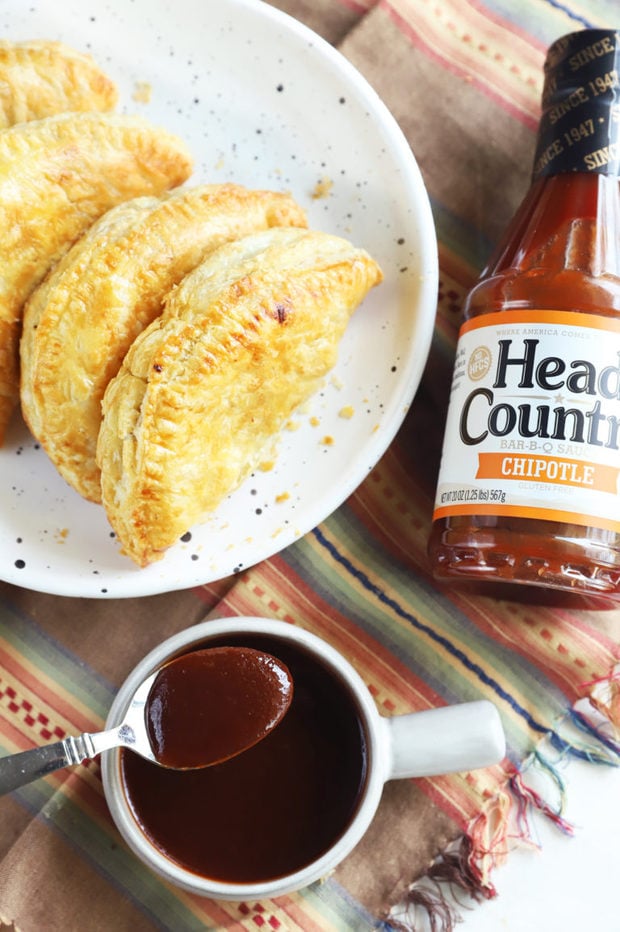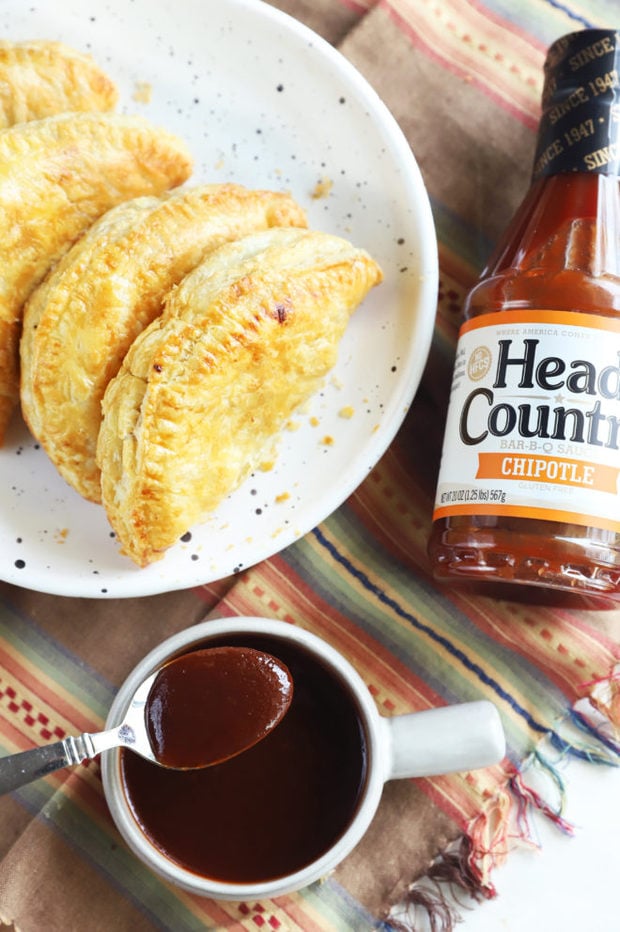 this recipe's must-haves
Get your hands on a bottle of Head Country Bar-B-Q Chipotle BBQ Sauce when you are gathering up your ingredients! You can click the link to buy online, but you can also get it at your local major supermarket.
For the recipe, you will need an air fryer. I used my Instant Pot Ultra and the Instant Pot Air Fryer Lid.
You'll also need a rolling pin (my personal favorite is a marble rolling pin). In addition, to measure out the circles of pastry, I just used one of my metal mixing bowls and a paring knife.
You will also need a silicone brush to brush the pastry with an egg wash! It's the easiest way to do it.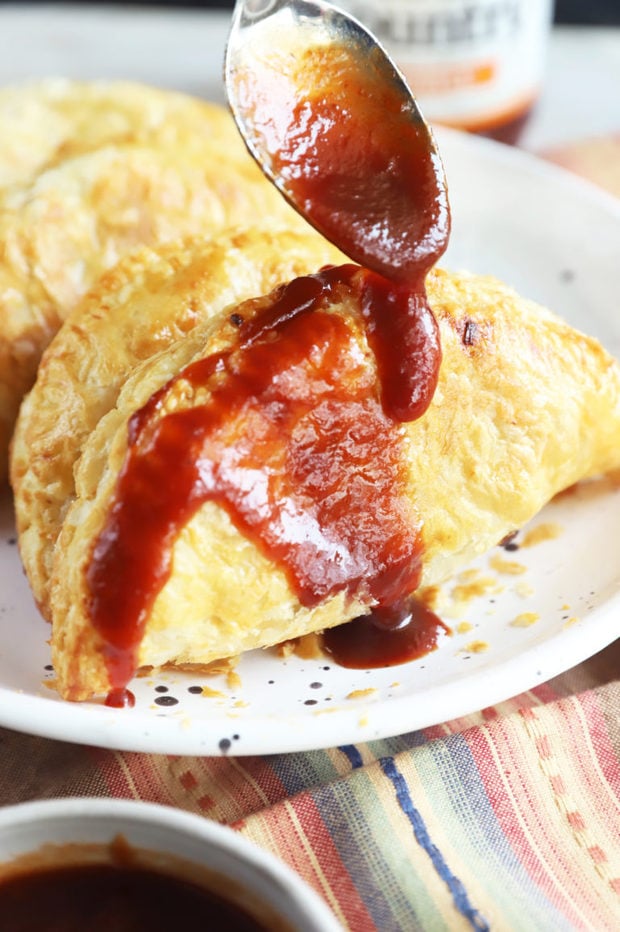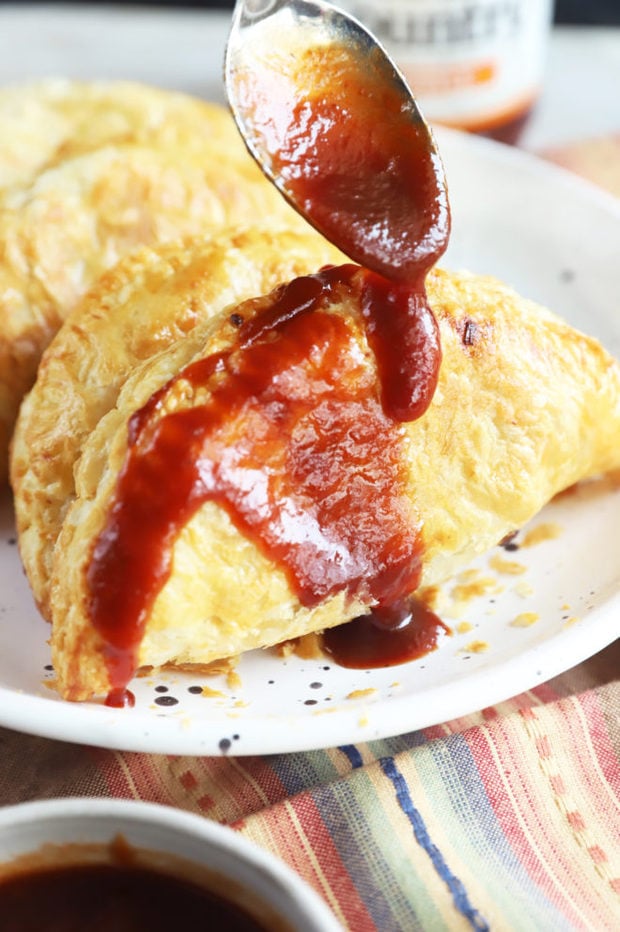 let's make chipotle BBQ steak air fryer empanadas!
Make Filling
To make the filling, start by cooking the beef and onion together. Stir in chopped chipotles and Head Country Chipotle BBQ sauce, in addition to some salt and pepper.
Here's a good place to taste and season with additional salt and pepper as desired!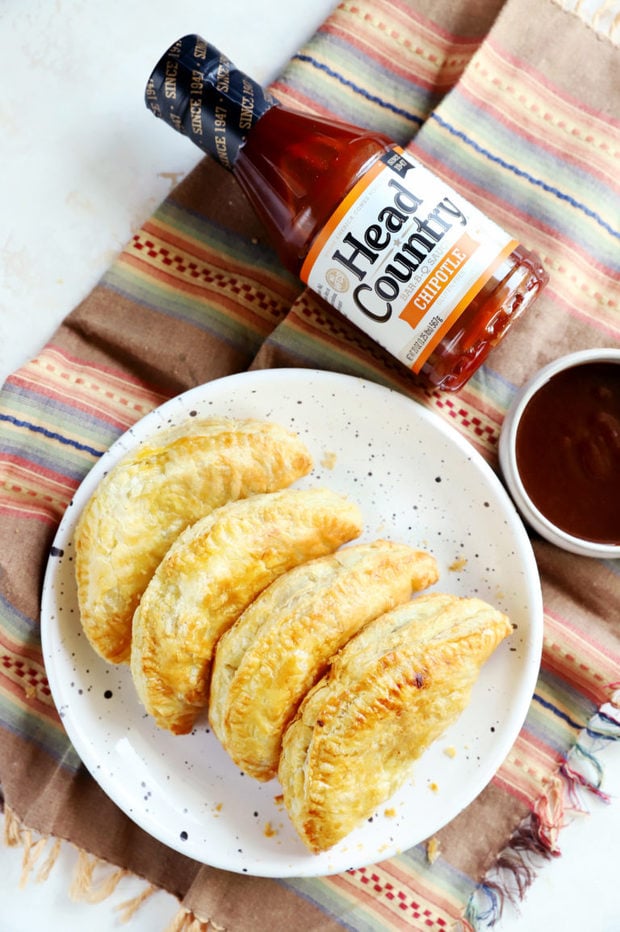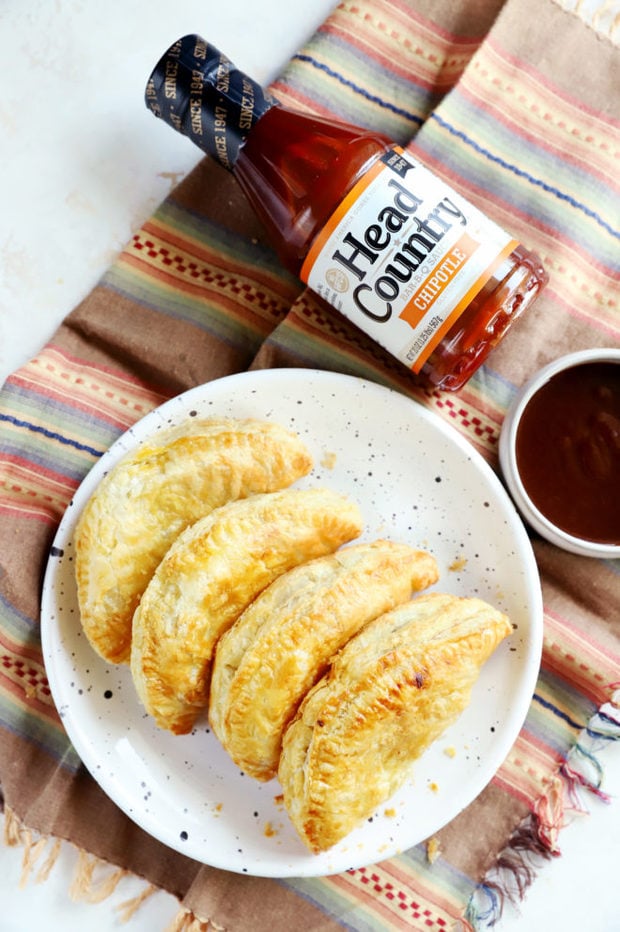 Cut Pastry
Slightly roll out the puff pastry and cut into rounds that are 6-inches in diameter.
Add 1 to 2 Tbsp of the filling to the center of each of the rounds. Brush with egg wash around the edge, then fold the round up over the filling to create a half moon shape. Press the edges with your fingers, then use a fork to crimp the edges shut. Repeat this process with the remaining filling and rounds.
Air Fry
Lightly grease the air fryer basket with cooking spray.
Brush the outside of the empanadas with the egg wash and place in a single layer in the air fryer basket. You may need to work in batches depending on the size of your air fryer. I worked in batches of two for mine.
Cook at 400˚F for 10 minutes, flipping halfway through, until golden brown and the pastry is cooked through. Remove and serve.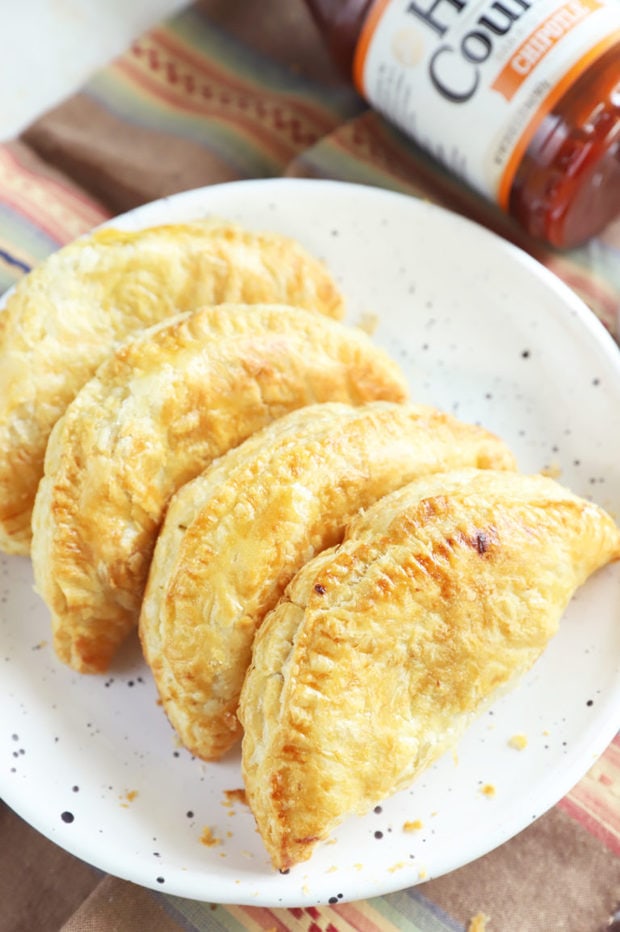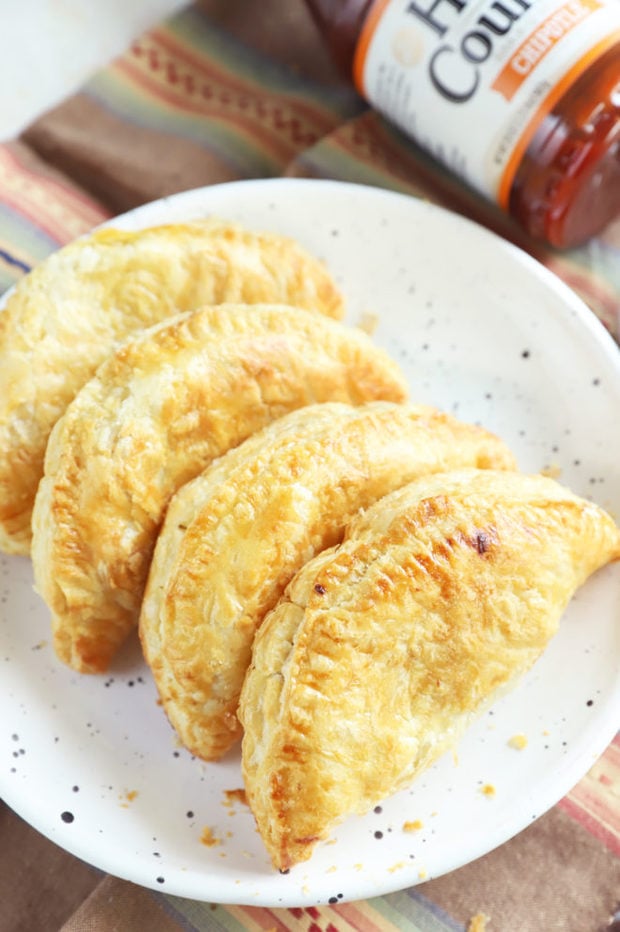 can I make these ahead of time?
Yes you can! These last for about 2 to 3 days in the refrigerator. I like to reheat mine in the oven for about 5 to 10 minutes at 350˚F until warmed through. You can also microwave them, but they don't come out as crisp on the outside.
You can also cool them down and freeze them in freezer-safe containers or bags. They will last for up to 2 months in the freezer. To reheat, cook for 15 minutes at 400˚F until warmed through.
what if I want to use pie dough instead of puff pastry?
Some might prefer the pie crust wrapper to the puff pastry, and that's totally ok. To me, the texture and flavor is much better when using puff pastry with the air fryer.
However, you can totally use pie crust if that's what you have lying in your freezer! Follow the steps the same and you'll get tasty empanadas in the end.
can I bake these instead?
If you don't have an air fryer, you can also bake them in the oven. Simply assemble as directed, then place on a baking sheet lined with parchment paper. Bake the empanadas for 20 to 25 minutes at 425˚F until golden brown.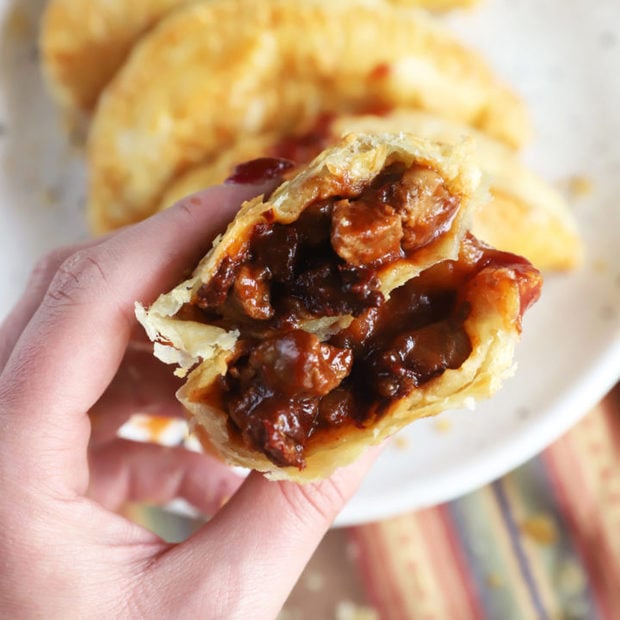 Chipotle BBQ Steak Air Fryer Empanadas
Yield:
Makes 4 large empanadas
Additional Time:
15 minutes
Smoky and spicy, these hearty empanadas have it all!
Ingredients
1 package puff pastry dough (2 sheets)
1 Tbsp canola oil
8 oz sirloin steak, chopped into 1/2-inch pieces
1/4 cup chopped white onion
2 chipotle peppers, finely chopped
2 Tbsp Head Country Chipotle BBQ Sauce (or Original BBQ Sauce) + more for serving
1/2 tsp salt
1/4 tsp black pepper
1 egg
1 Tbsp water
Cooking spray
Instructions
Let puff pastry dough sit for 15 minutes at room temperature.
In a small bowl, whisk together egg and water. Set egg wash aside.
Heat oil in a skillet over medium-high heat. Once hot, add steak and onion, cooking until the beef has browned, about 3 minutes. Remove meat and onion to a bowl and let cool 5 minutes. Stir in chipotle peppers, Head Country Chipotle BBQ Sauce, salt, and pepper.
Lightly roll out the puff pastry. Cut into rounds, about 6 inches in diameter.
Place 1 to 2 Tbsp filling in the center of each round. Brush the egg wash around the outer edge of each round. Fold the round over the filling, pressing the edges together to seal. Use a fork to crimp the edges. Repeat this process with the remaining rounds and filling.
Brush each empanada with egg wash. Lightly grease the air fryer basket with cooking spray and place empanadas in a single layer in the air fryer basket. Cook for 10 minutes at 400˚F, flipping halfway through until golden brown.Repeat with remaining empanadas.
Serve with additional Head Country Chipotle BBQ Sauce for dipping.

Notes
These can also be baked in the oven. Assemble as directed, including the egg wash, then baked on a parchment lined baking sheet for 20 to 25 minutes at 425˚F until golden brown.
Recommended Products
As an Amazon Associate and member of other affiliate programs, I earn from qualifying purchases.