Please note this post contains affiliate links.
Need a simple and hearty snack for game day? Crunch Cheeseburger Sliders to the rescue! Bring your Super Bowl LII party to life with classic beef sliders bursting with flavor and topped with a satisfying CRUNCH of potato chips.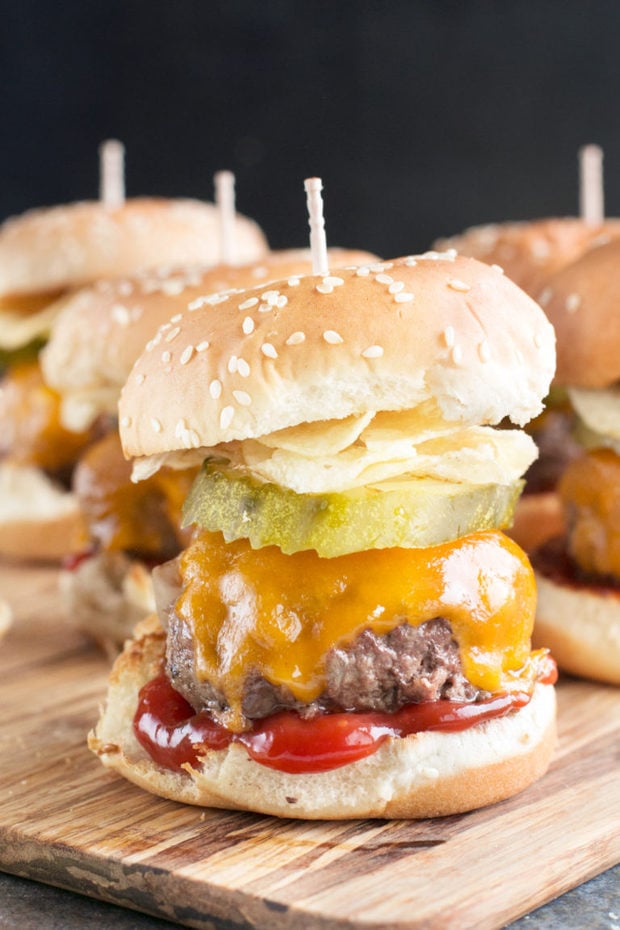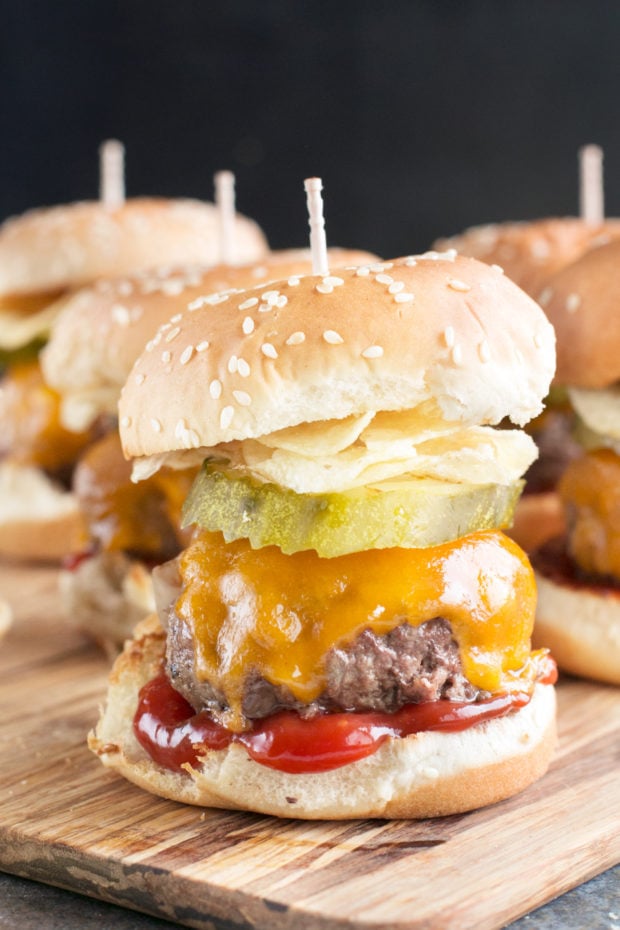 This post has been sponsored by Frito-Lay. All thoughts and opinions are my own.
The first burger I had with potato chips on it was in Vegas. It was midnight and after wandering through the casinos, the man and I were STARVING. We happened upon a restaurant that was still open and one of their specialties was a cheeseburger topped with potato chips.
Obviously, I HAD to order it.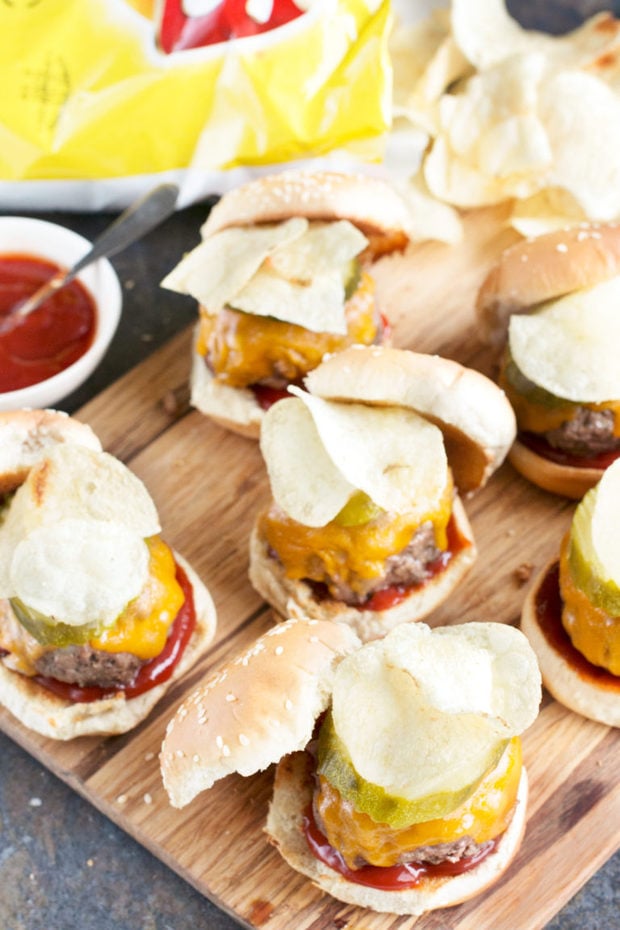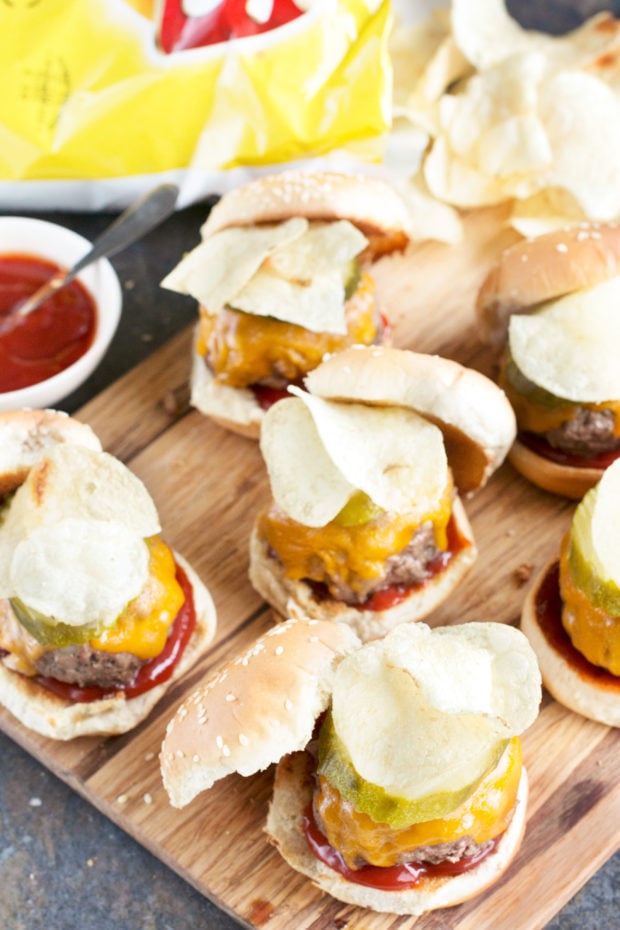 Honestly, it was one of the best burgers I've ever had (and I don't think that's just because I'd been traveling all day and my feet were killing me…), but there was a little too much going on in it.
There were a couple different sauces, too many veggies, and the glorious addition of chips wasn't as big of a CRUNCH as I was looking for.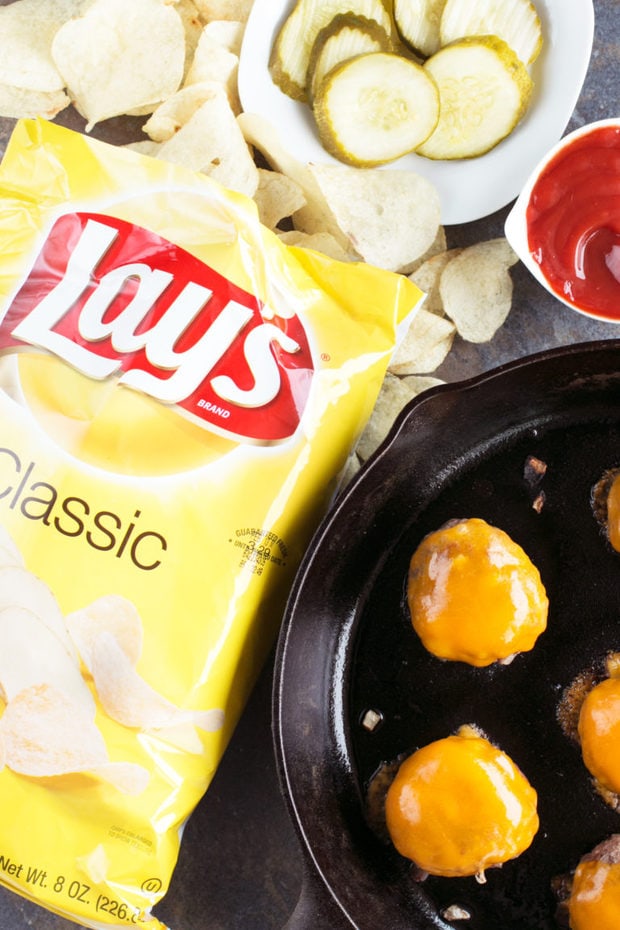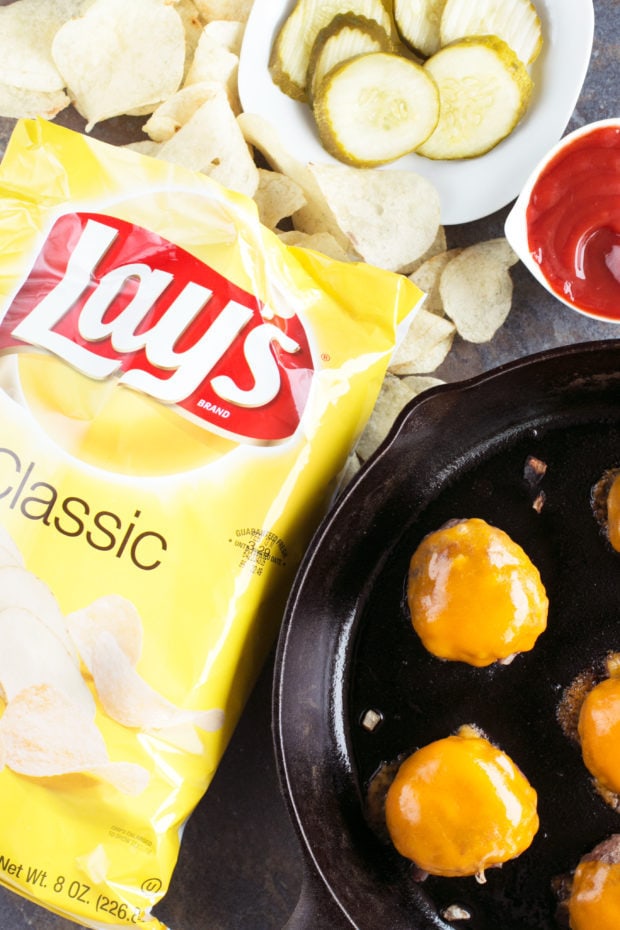 Delicious, yes… but I wanted something a little more classic. Especially when it came down to the chips.
When I think of the classic potato chip, I think of LAY'S® Classic Potato Chips. I mean, how can you not?
It's the chip I remember eating at picnics and backyard barbecues growing up.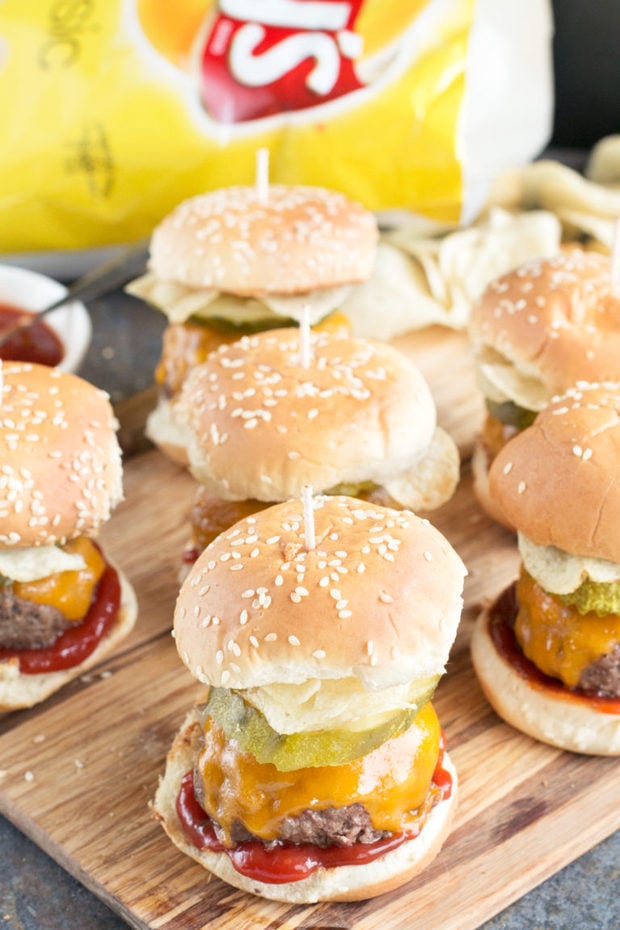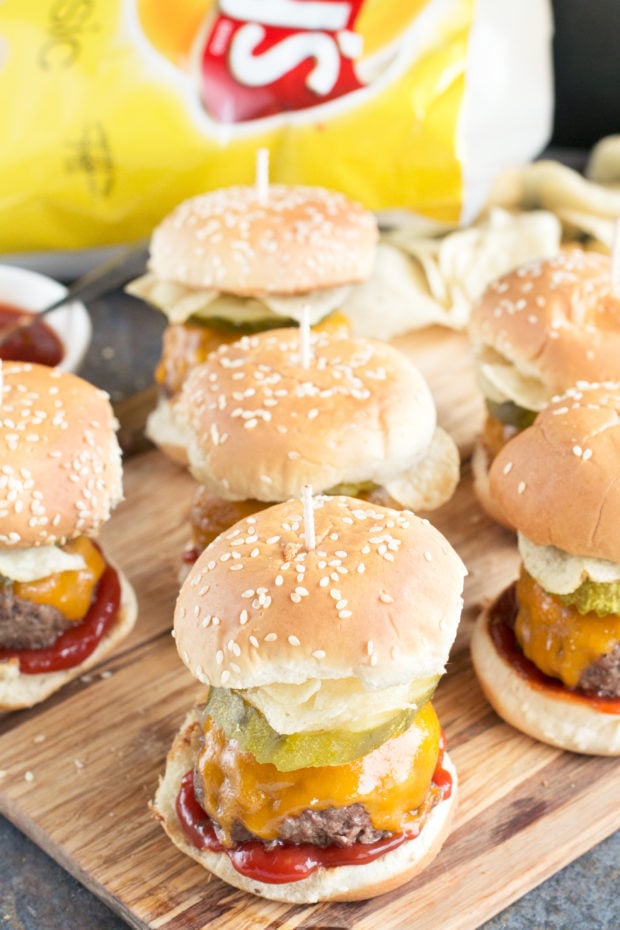 Oh and it's the chip that I would crunch into while watching fireworks as a child on July 4th.
It's STILL the chip that I turn to when I want an extra crunch of flavor on my sub sandwich (yes, I KNOW that's a weird concept, but once you try it there's just no going back. I LOVE TEXTURE.).
Then I asked myself, what's more all American than diving face first into a platter of beef sliders as you cheer on your favorite football team on game day? Serving those burgers up with a side of LAY'S® Classic Potato Chips.
You saw that one coming, didn't you?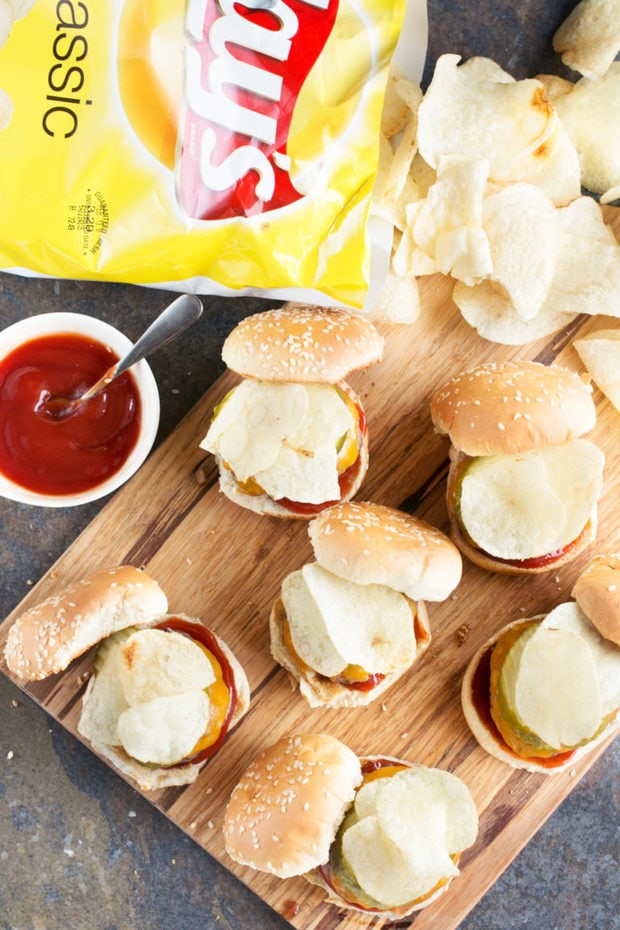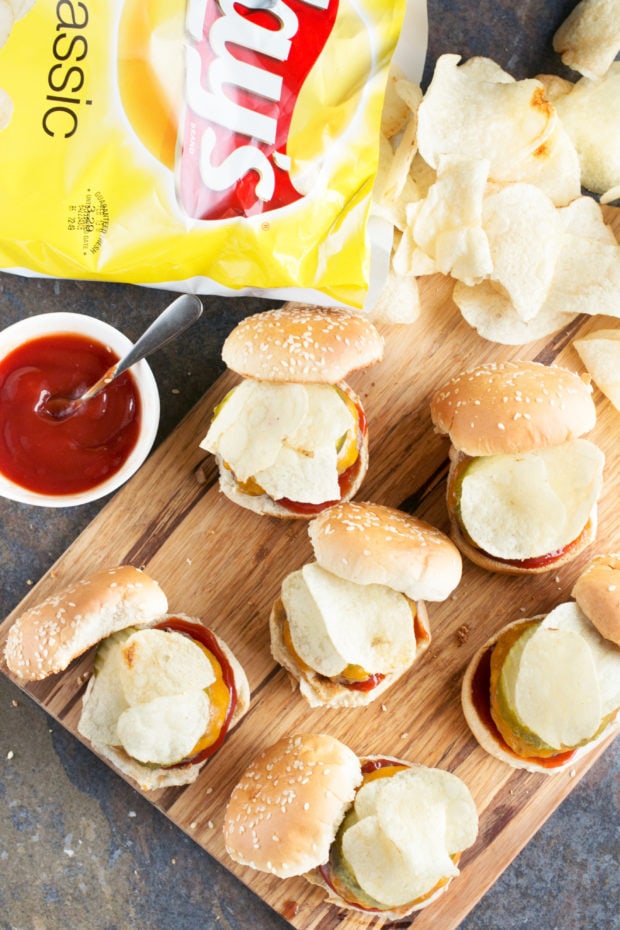 LAY'S® Classic Potato Chips are already a must on game day, so why not top your sliders with them? Why not indeed….
We all know that hosting a football watch party can be a bit chaotic. No one really sits down to eat at the same time, and bite-sized foods win every single time.
So I put all my Americana memories into this little slider. A rich and flavorful beef patty is topped with sharp cheddar cheese. You load this on a toasted bun with ketchup and pickles, then add a bunch of LAY'S® Classic Potato Chips on top.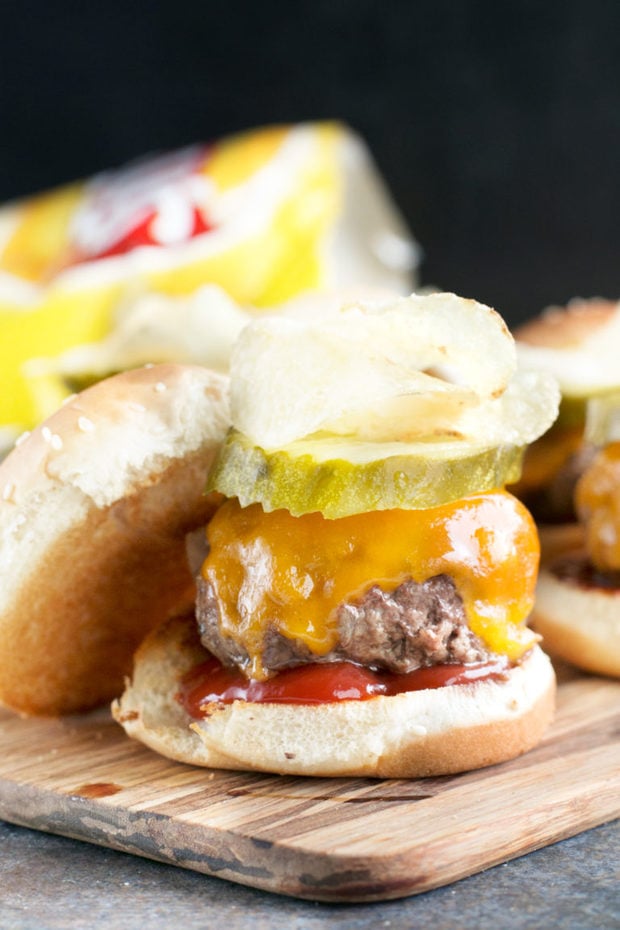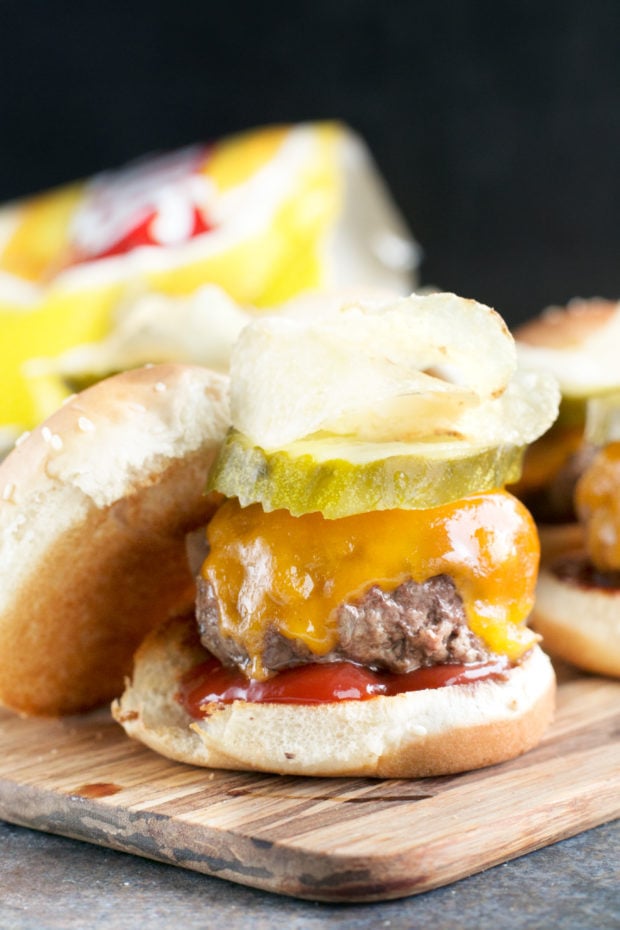 These cheeseburger sliders have got flavor. It's got texture. It's SIMPLE and yet so delicious.
You can't go wrong anytime you incorporate Frito-Lay brands in your home for game day, ESPECIALLY for Super Bowl LII. You are guaranteed to have the best watch party of your life! Once you top your burgers with chips, you are never going to be able to eat a burger without them again. It's just not the same.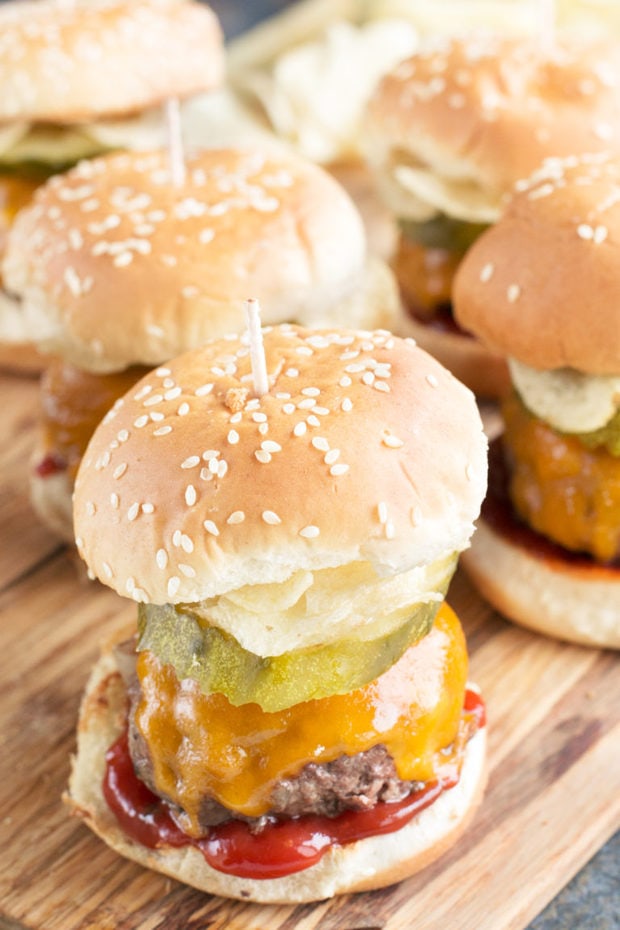 Be sure to also head over to the Frito-Lay Pinterest page for more ideas on what to make for the big game that's coming up! You'll find something for everyone in this collection. I'm totally eyeing those delicious dips to serve up alongside these bad boys… YUM.
The only question is, what team are YOU rooting for this year?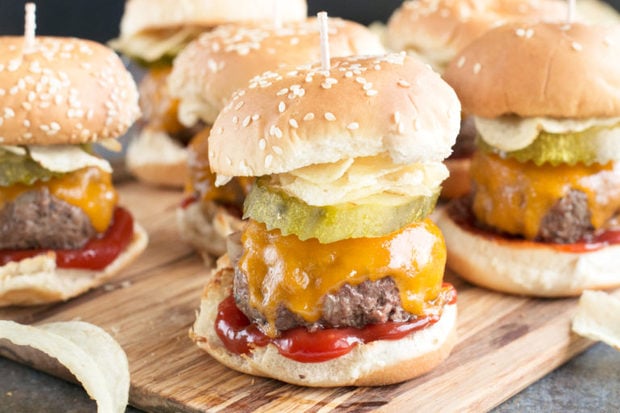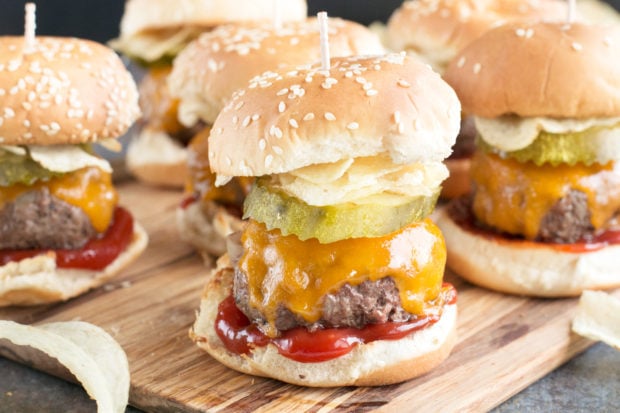 This Recipe's Must Haves
If you are grilling the cheeseburger sliders, I love love looooove my Traeger grill. Of course, if you wanna cook these up inside, you just need a cast iron skillet!
You will also need a set of mixing bowls to make the meat mixture!
Finally, I love this compact convection countertop oven
. It's SO convenient for toasting buns.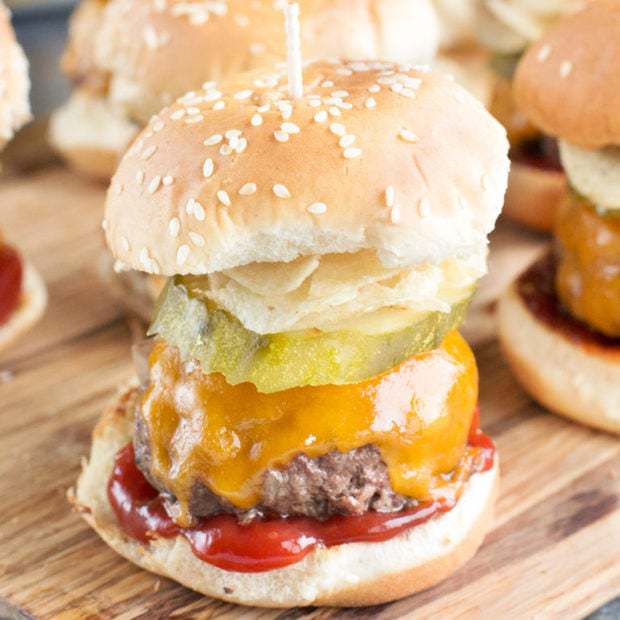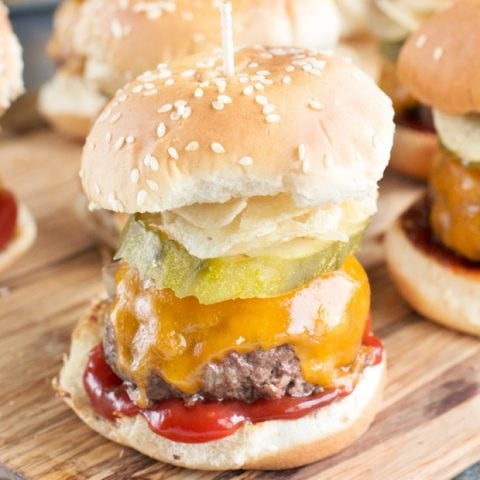 Crunch Cheeseburger Sliders
Bring your next party to life with classic beef sliders bursting with flavor and topped with a satisfying CRUNCH of potato chips!
Ingredients
Beef Patties
2 lbs ground beef
2 tsp salt
2 tsp pepper
2 tsp garlic powder
2 tsp Worcestershire sauce
½ white onion, diced
Toppings
12 slices sharp cheddar
12 slider rolls, halved and toasted
1/2 cup ketchup
12 round dill pickle slices
2 Tbsp butter, melted
1 Tbsp sesame seeds
Instructions
In a large bowl, add ingredients for the beef patties. Using your hands, mix together ingredients until well-combined. Form the mixture into small sliders, approximately 2 to 2 1/2 inches in diameter. You should have 12 in total.
Heat a cast iron skillet or grill to medium-high heat.
Cook patties to desired temperature, approximately 2-3 minutes per side for medium rare.
In the last minute of cooking, top each patty with a slice of sharp cheddar cheese. Cover skillet or close grill lid to allow the cheese to melt.
Spread the bottom of each bun with ketchup. Add cooked patties to the bottom halves of the toasted buns.
Top with a slice of pickle and a generous portion of LAY'S® Classic Potato Chips. Finish with the top halves of the buns.
Brush tops with melted butter and sprinkle with sesame seeds.
Serve immediately.