Please note this post contains affiliate links.
This post has been sponsored by Gallo Salame, Inc. All thoughts and opinions are my own.
Salame Peach Ricotta Crostini are the perfect combination of crunchy, creamy, salty, and sweet. Made with Gallo Salame® Italian Dry Salame and fresh summer ingredients, this crostini is the ultimate summer snack. It also can be a delicious appetizer for al fresco dining. Serves 8 to 10.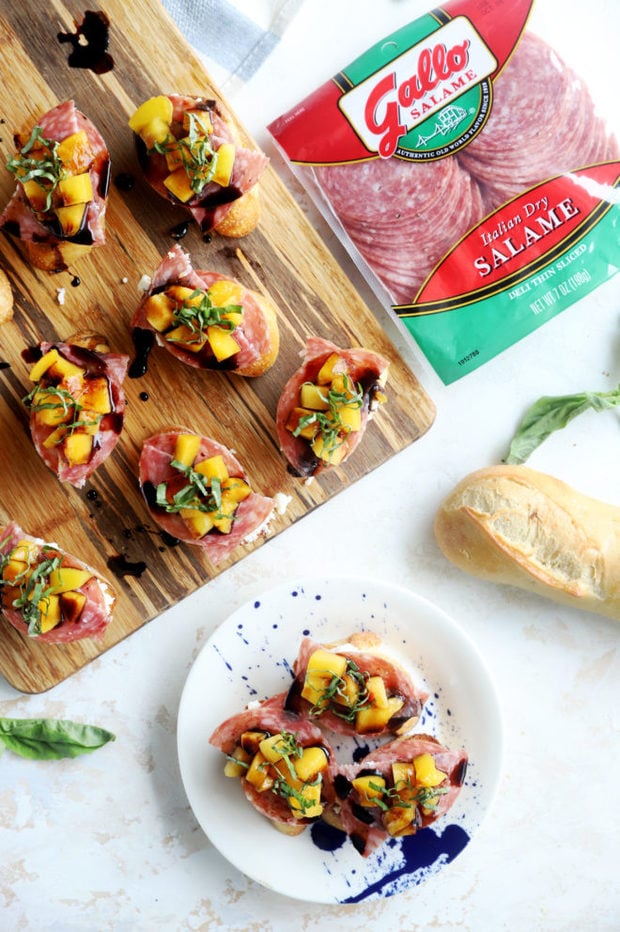 We are finally in the warm months of summer and I couldn't be more thrilled to start diving into summer flavors!
For me, that means it's time to hit the sweet and salty combination.
There's something about summer that makes me want to add sweet flavors to classic salty ones like this salame ricotta crostini. The fresh peaches are absolutely bursting with tart sweetness, and when combined with Gallo Salame® Italian Dry Salame from Safeway… Oh my, it's a fireworks show jumping all over your taste buds!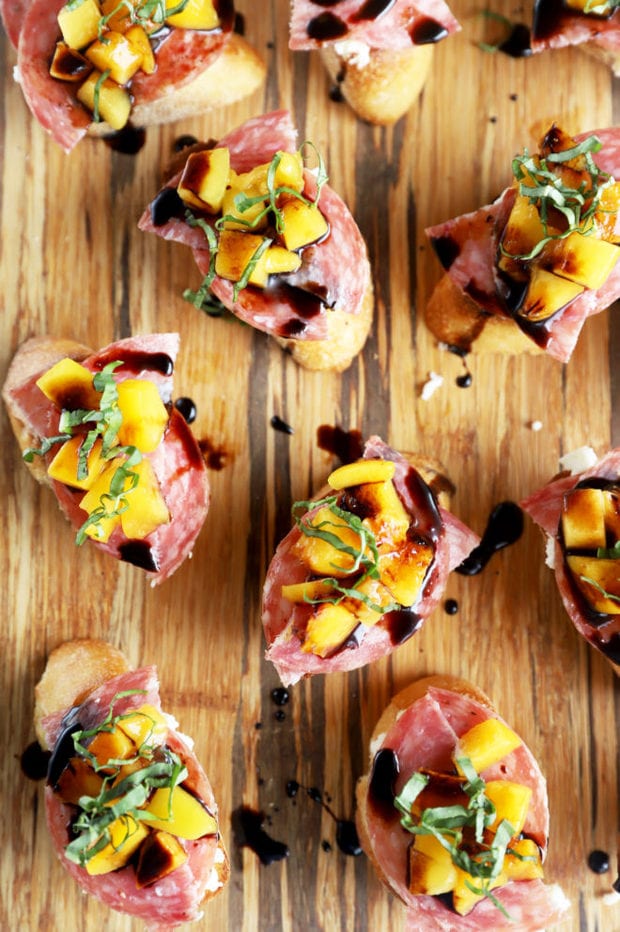 When I shop at Safeway for the ingredients for this summer snack, I pick Gallo Salame® Italian Dry Salame for one reason. The flavor.
This deli fresh flavor comes from quality, hand-trimmed meat that is slowly cured for weeks. The Italian herbs and spices are the secret components that have been passed down through the generations, making it truly stand out from the other brands out there.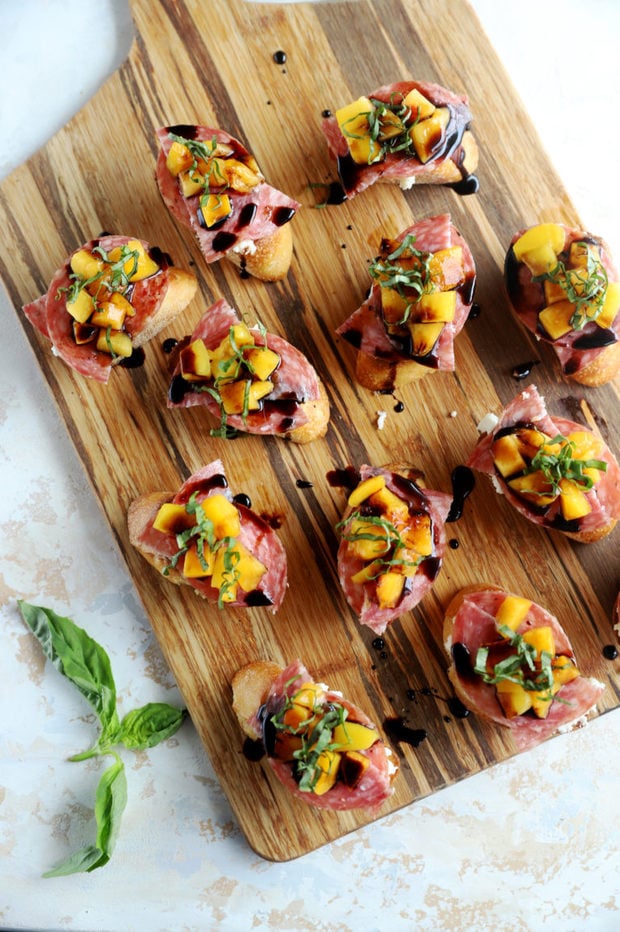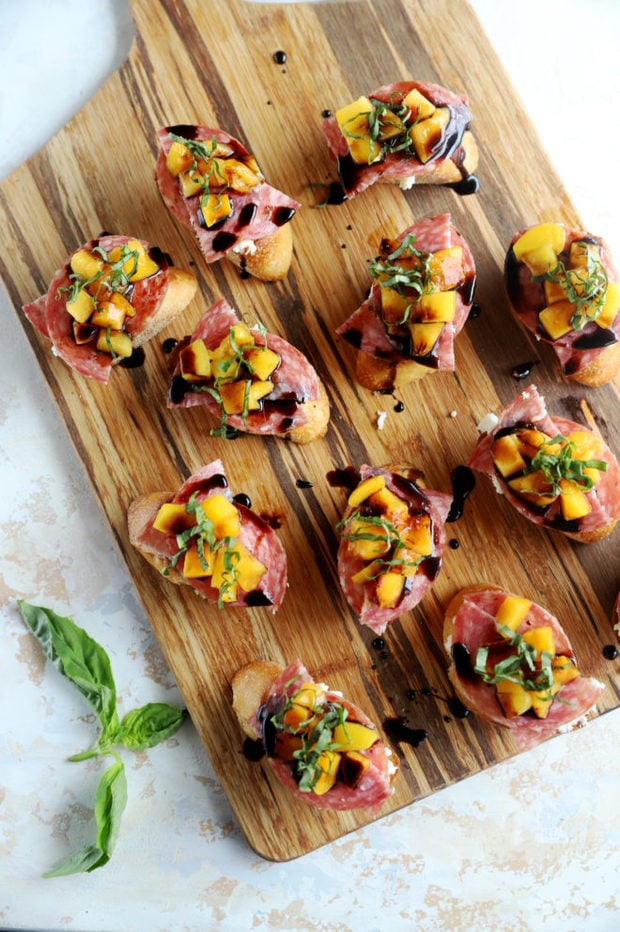 The salame is salty and herbaceous, making it a fun pairing for the sweet peaches and creamy ricotta. A burst of fresh basil is the final finish to the crostini to really make you feel like it's summertime!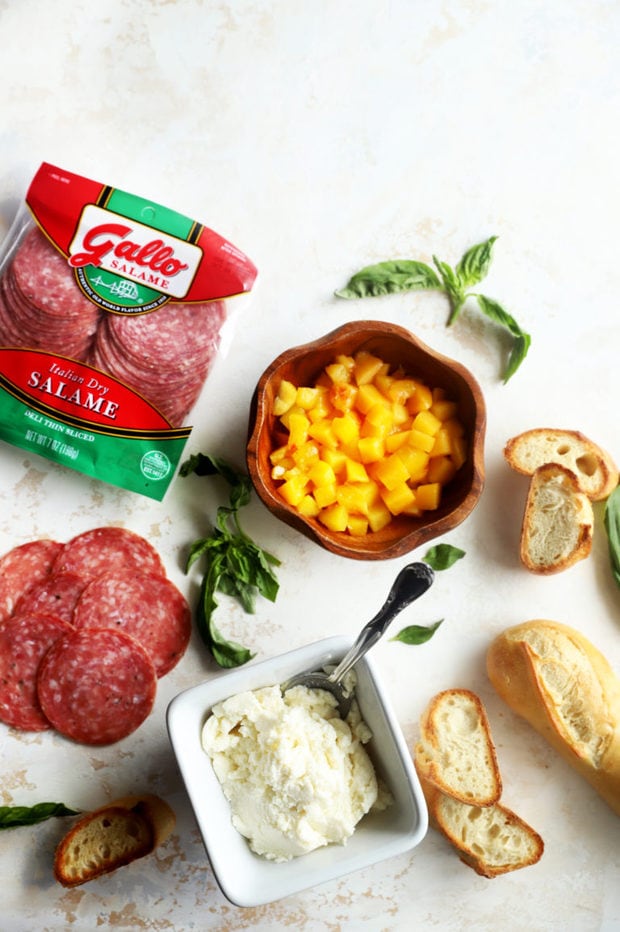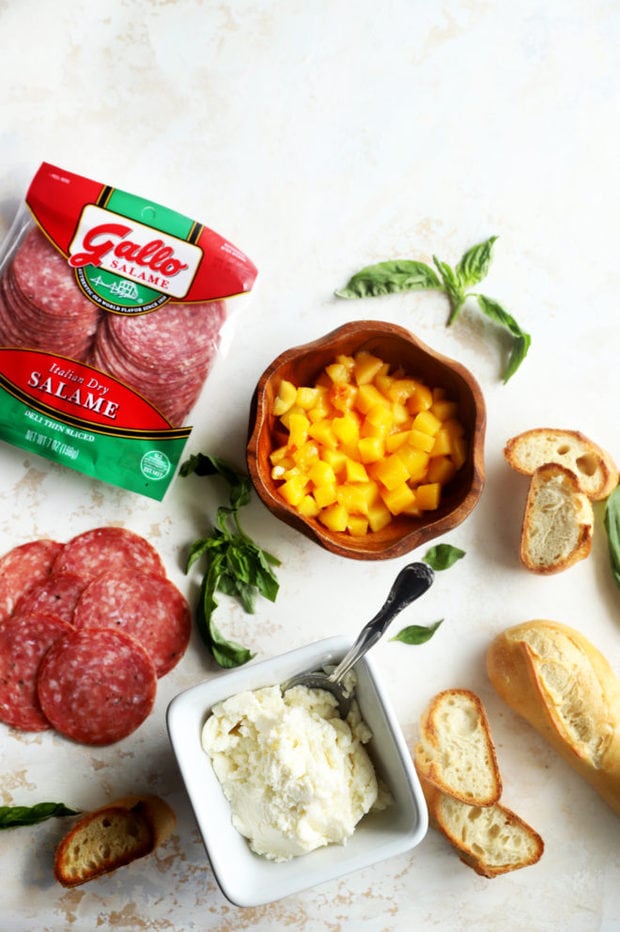 We're making salame peach ricotta crostini!
Toast Bread
Brush the bread slices with oil and then add them in a single layer to a baking sheet. Broil for 1 to 2 minutes until they are toasted and golden.
Make Balsamic Glaze
To make the glaze, bring balsamic vinegar and brown sugar to a boil in a small saucepan. Cook over medium-high heat until the mixture is thickened. This will take about 4 to 5 minutes. Stir in some black pepper and remove from heat.
Assemble
Let's put these guys together! Start with a toasted slice of bread, then top that with a big dollop of ricotta. Add two halves of the salame on top and top with chopped peaches.
Drizzle over the glaze and top with some fresh basil.
Need some more inspiration for appetizers? Check out my appetizer recipe page!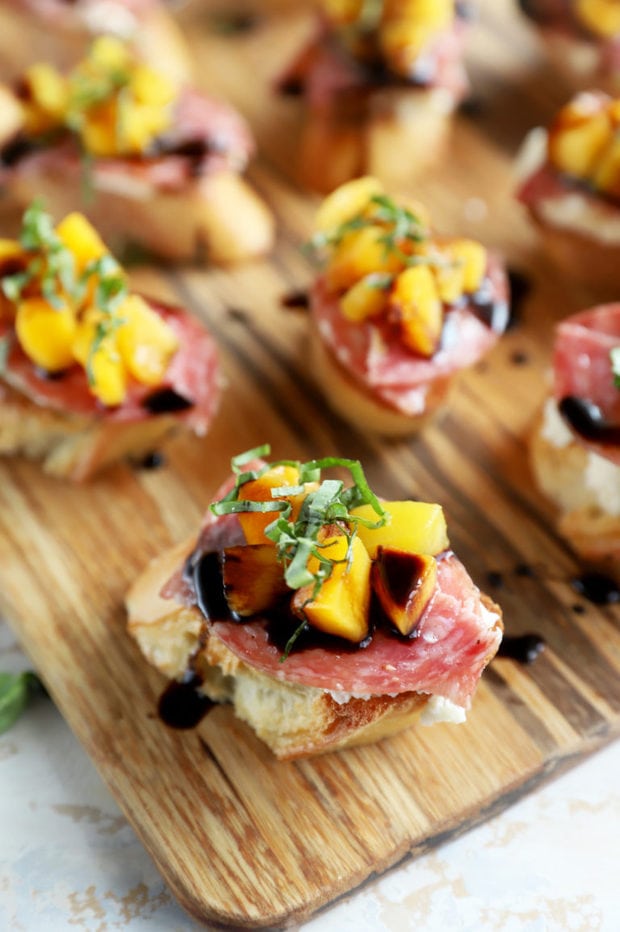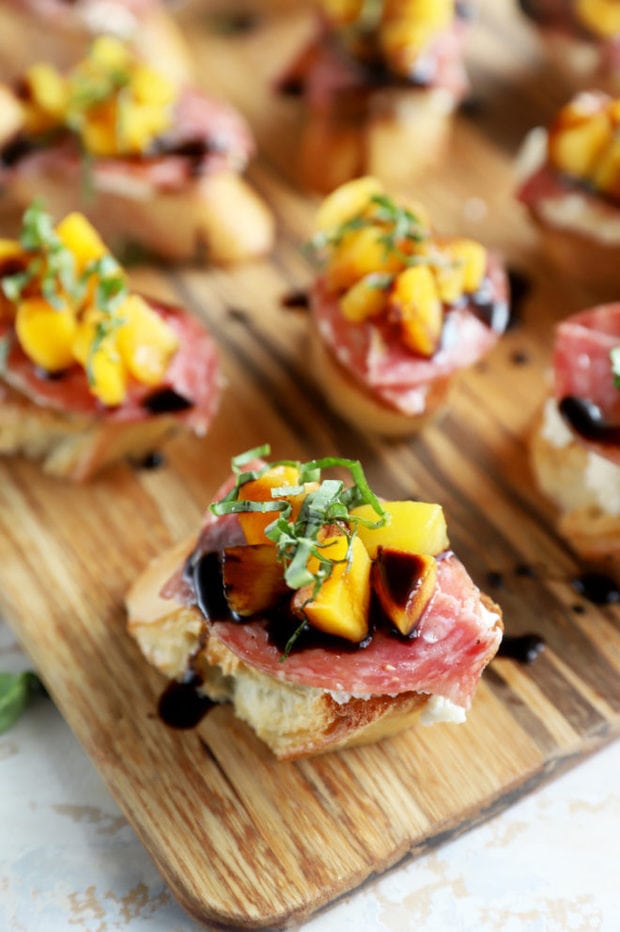 Can I use frozen peaches?
While fresh peaches certainly have the most flavor, you can use frozen peaches during the off-season! Be sure to buy peeled slices and thaw them first. Drain the slices before chopping them up!
Do I have to peel the peaches?
For me, the texture is much better when you peel the peaches for this particular recipe. However, if you prefer to skip this step you certainly can!
Don't forget to check your Safeway mobile app for coupons before you shop!
If you need a tasty dessert to end the meal, roasted peaches are an easy option!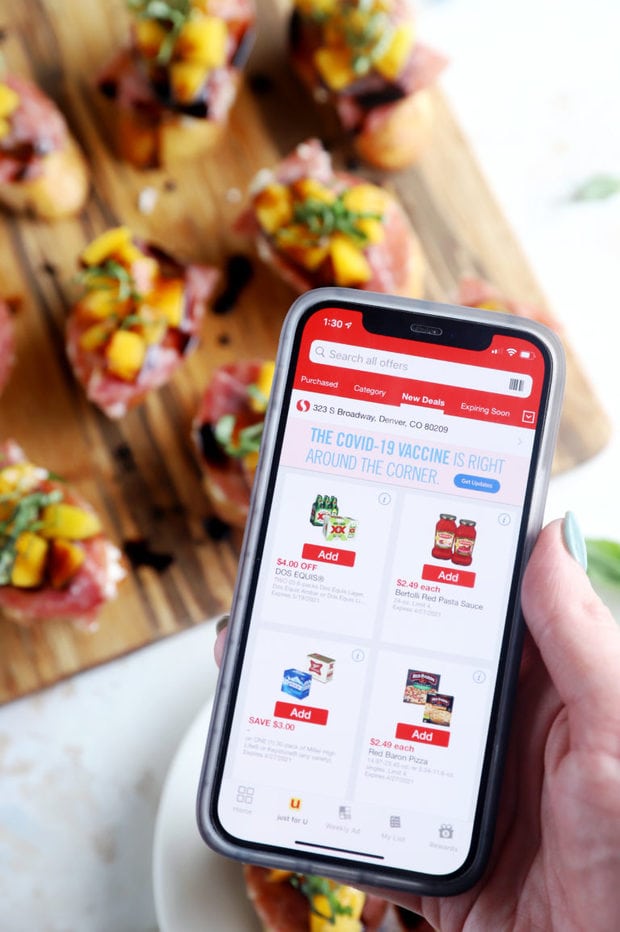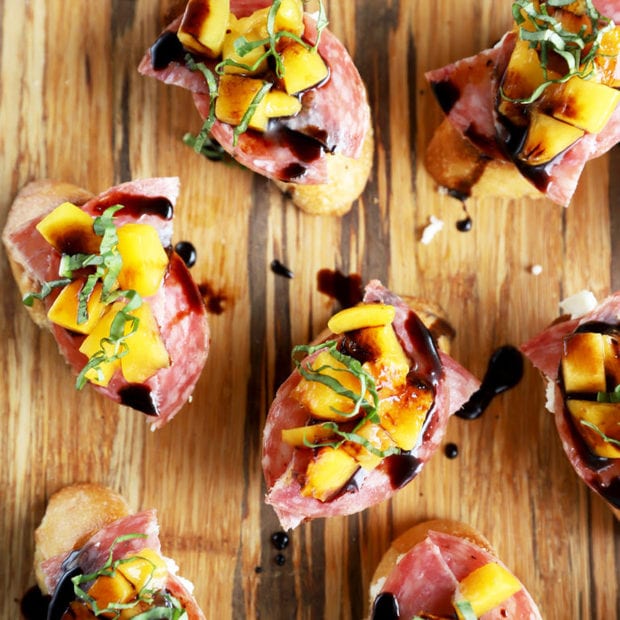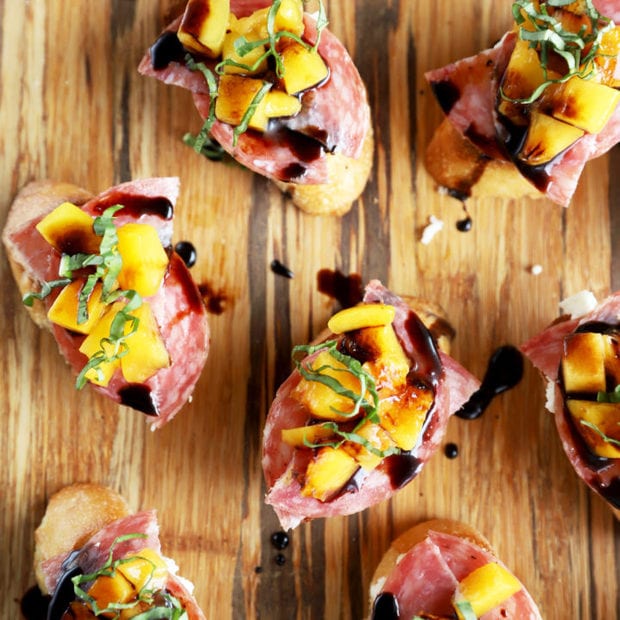 Salame Peach Ricotta Crostini
Crunchy, creamy, salty, and sweet, this is the ideal summer appetizer or late afternoon snack!
Ingredients
1 French baguette, sliced
2 Tbsp olive oil
1/2 cup balsamic vinegar
1/2 tsp brown sugar
1/2 tsp black pepper
4 oz Gallo Salame® Italian Dry Salame, cut in half
1 cup whole milk ricotta
2 large peaches, peeled and chopped
1/4 cup thinly sliced basil
Instructions
Brush bread slices with oil and place on a baking sheet. Set the broiler to High and broil for 1 to 2 minutes, until golden. Remove from the oven and set aside.
In a small saucepan, add balsamic vinegar and brown sugar. Bring to a boil over medium-high heat and cook until thickened, about 4 to 5 minutes. Remove from heat, stir in black pepper, and set aside.
Cut Gallo Salame® Italian Dry Salame slices in half, forming half-moons.
To assemble, spread each slice with 2 teaspoons of ricotta. Top with two halves of salame, then top with chopped peaches, distributing them evenly across the toasted bread pieces. Drizzle with balsamic glaze and sprinkle with fresh basil.