Christmas Sangria
Christmas Sangria is a delightful way to celebrate the holidays, all in one gorgeous chilled glass. This festive sangria is just the right balance of crisp and fruity, with a slight touch of sweetness!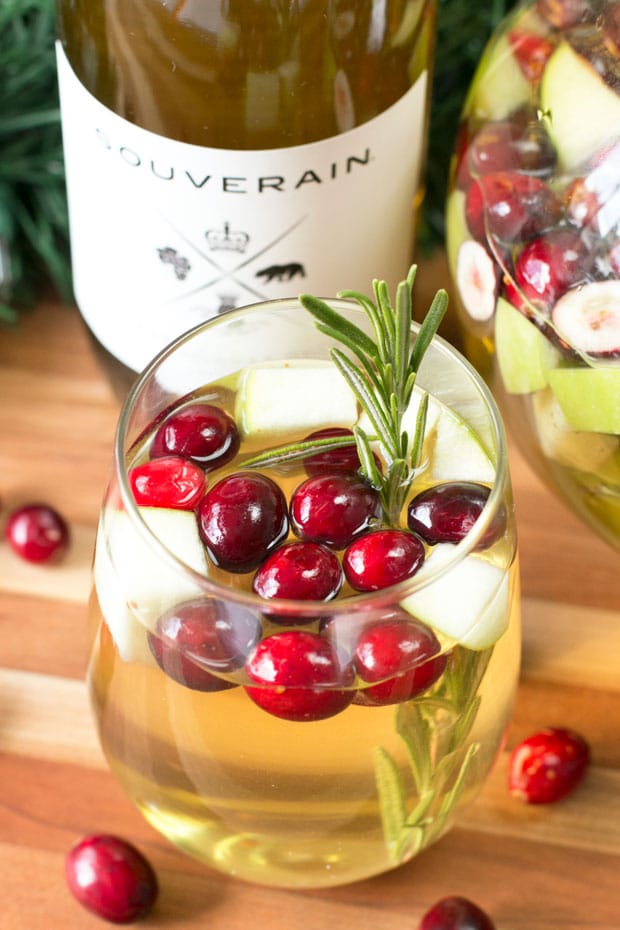 Disclosure: This post is sponsored by Chateau Souverain. As always, all opinions and recipe are my own. Thanks for supporting the brands that support Cake 'n Knife!
For the past two days, I keep having to remind myself that Christmas is just around the corner. Can you believe it's only two days away?! It feels unreal. Although I suppose that's the case every year…
I spend over a month preparing for it, and it comes as such a surprise when it finally arrives.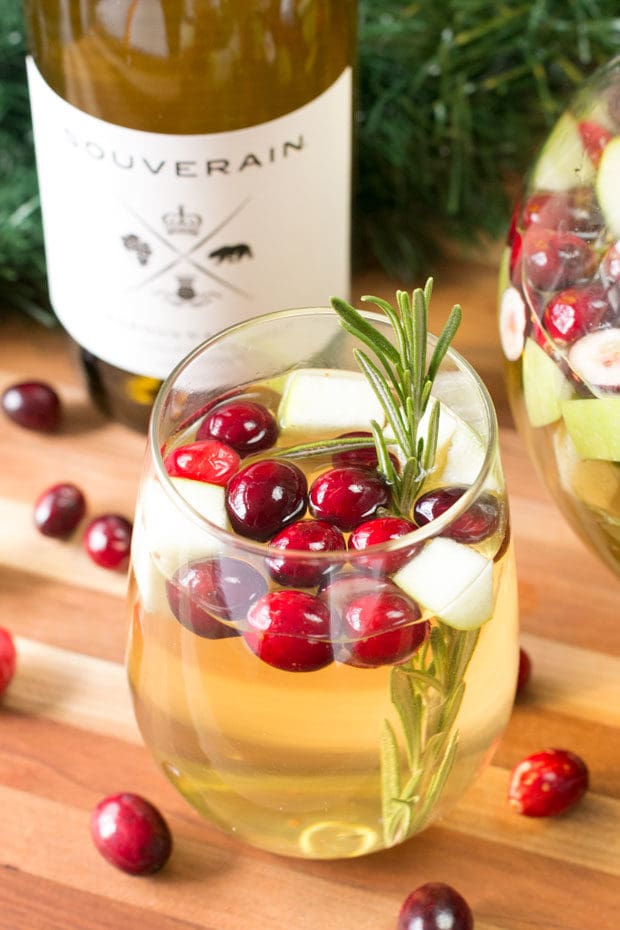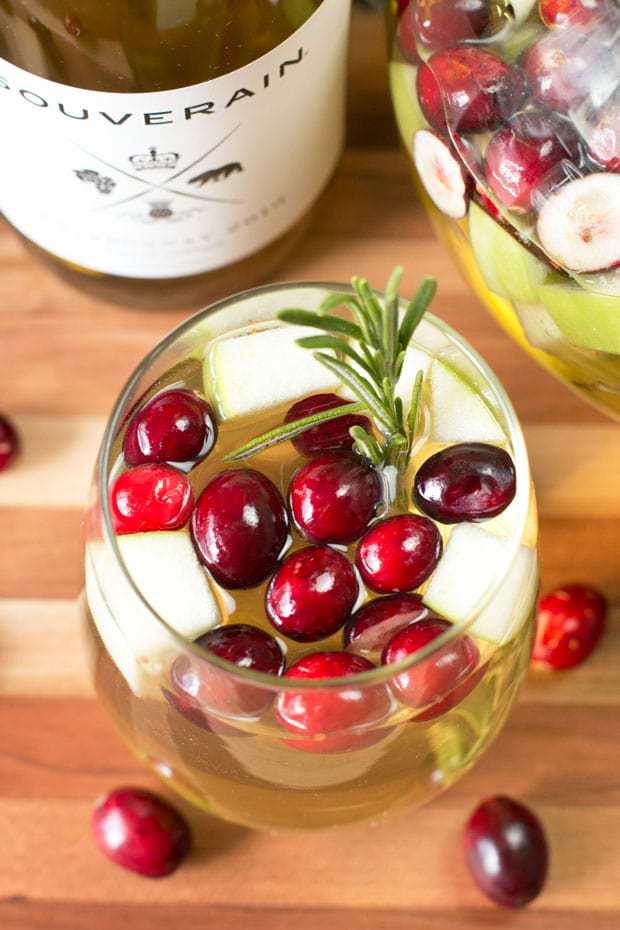 Please note that some of the links below are affiliate links. If you make a purchase through one of these links, I will receive a small commission.
I am all about packing Christmas Eve and Christmas day with as much food as I possibly can. The cooking and baking marathon will continue until my feet are sore and my stomach is rumbling (yes, I always forget to eat when I am cooking/baking!).
There's something about the holidays that brings out the true inner chef within me. Sharing homemade food with all my loved ones is the best gift in the world in my book.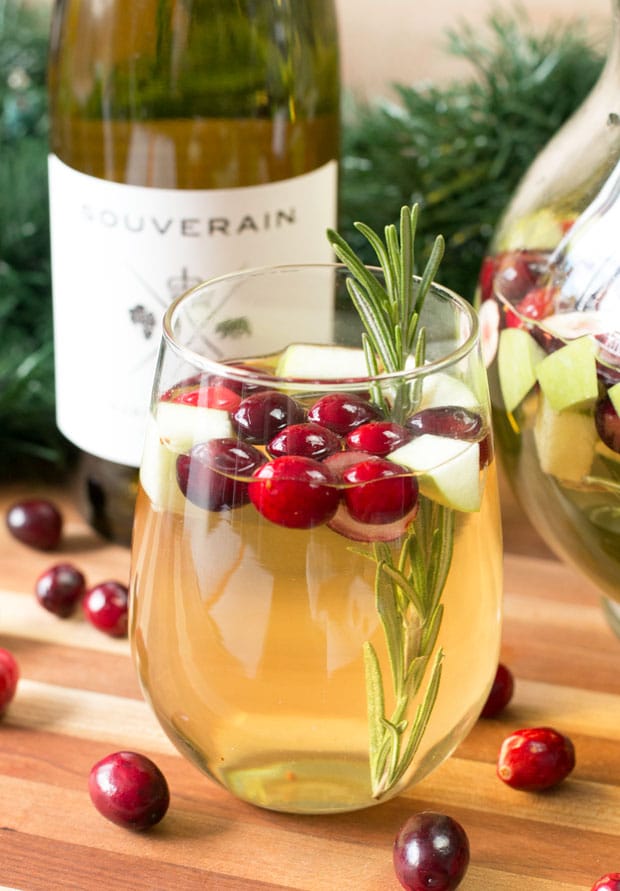 This Christmas Sangria is a delicious, simple recipe to accompany any meal and make your holiday merry and bright.
The addition of rosemary adds the true taste of the holidays that I cherish so much. As soon as you take that first sip you'll realize that this sangria is the drink you won't want to live without when Christmas rolls around every year.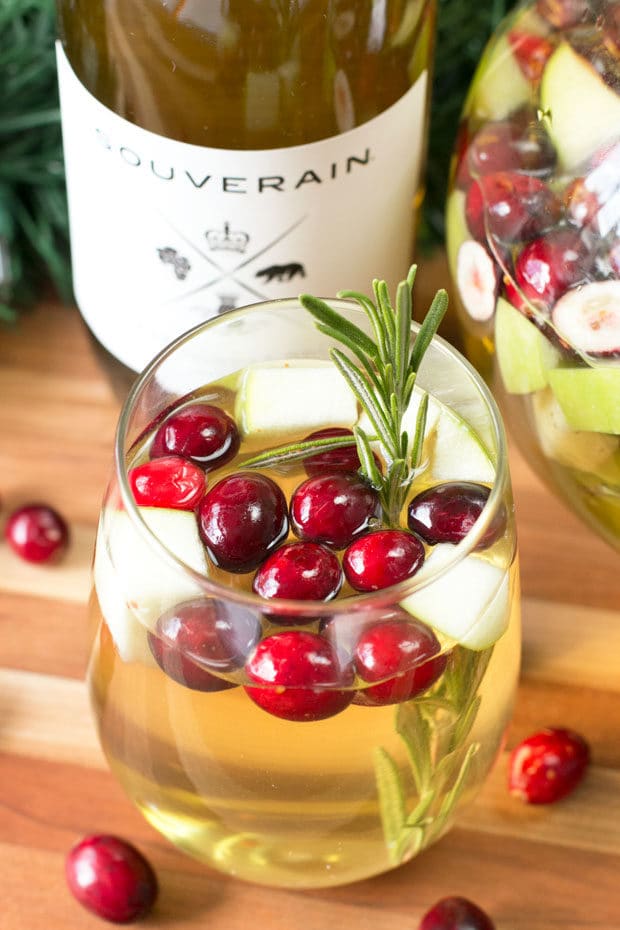 I love using Chateau Souverain Chardonnay in this sangria recipe because it has just the right amount of buttery body that makes it really shine. The drink isn't too sweet with this particular wine and there's an added richness when you use a really well-balanced chardonnay wine like this one!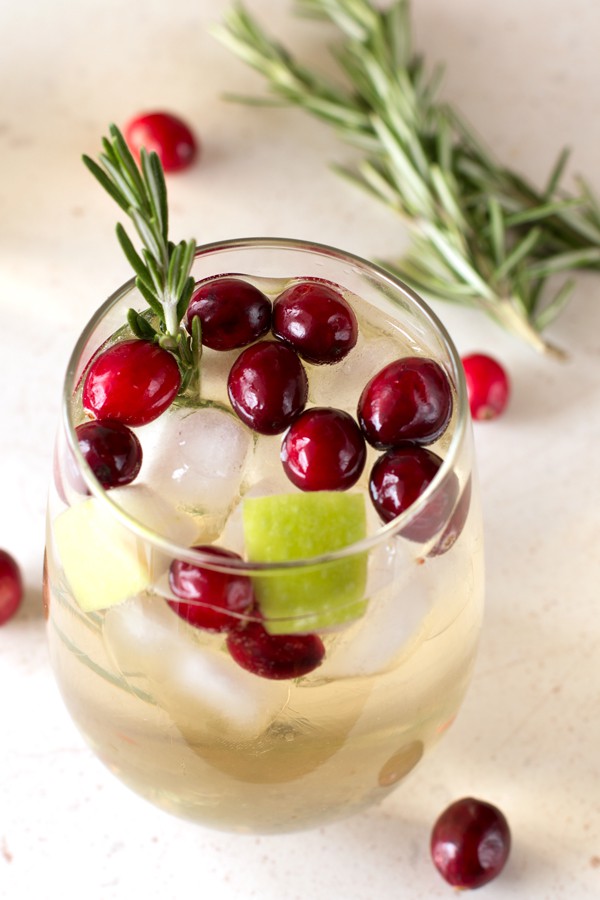 I just have to say, thank you all so much for your support over the past two years. It's been so much fun to watch Cake 'n' Knife grow and to have you all right here with me, well, it's been such an honor.
You all fill my heart and soul with so much joy and I can only hope the recipes and stories I share with you all do the same.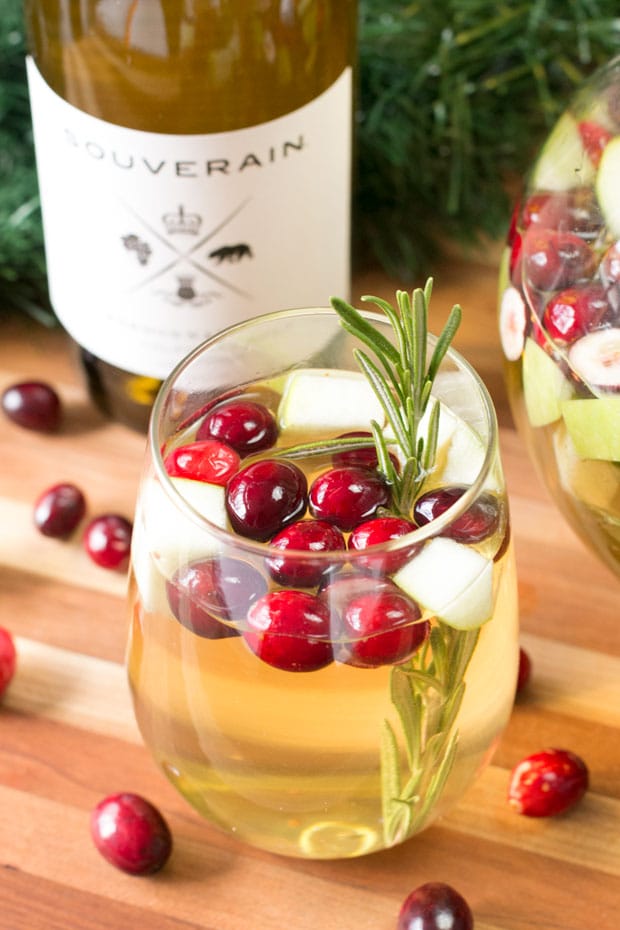 Thank you for an incredible 2014 and I am simply brimming with excitement for 2015! It's going to be a HUGE year!
This Recipe's Must Haves
Do you love allllll the Christmas cocktails? Check out a few of my other favorite holiday-themed drinks!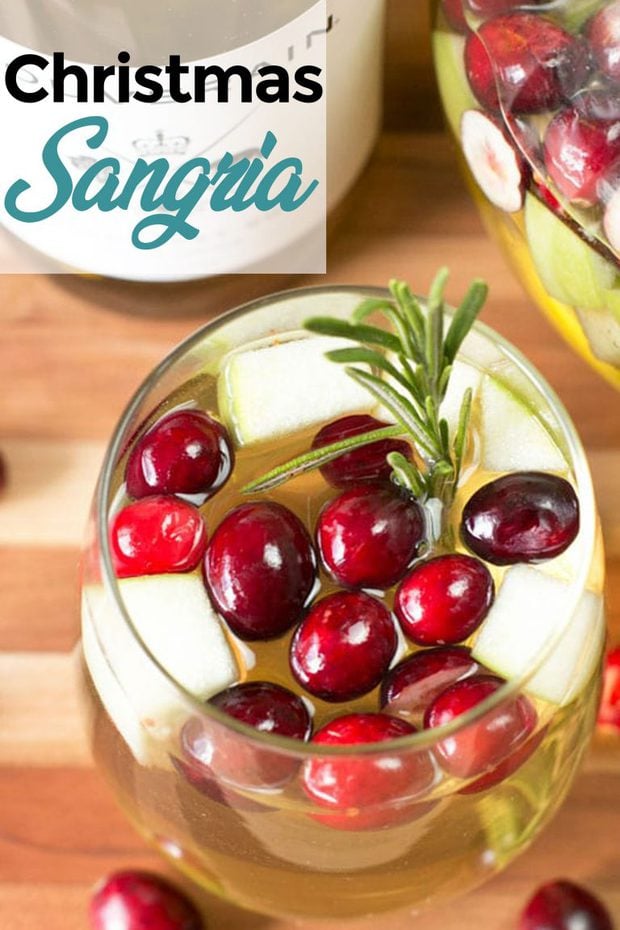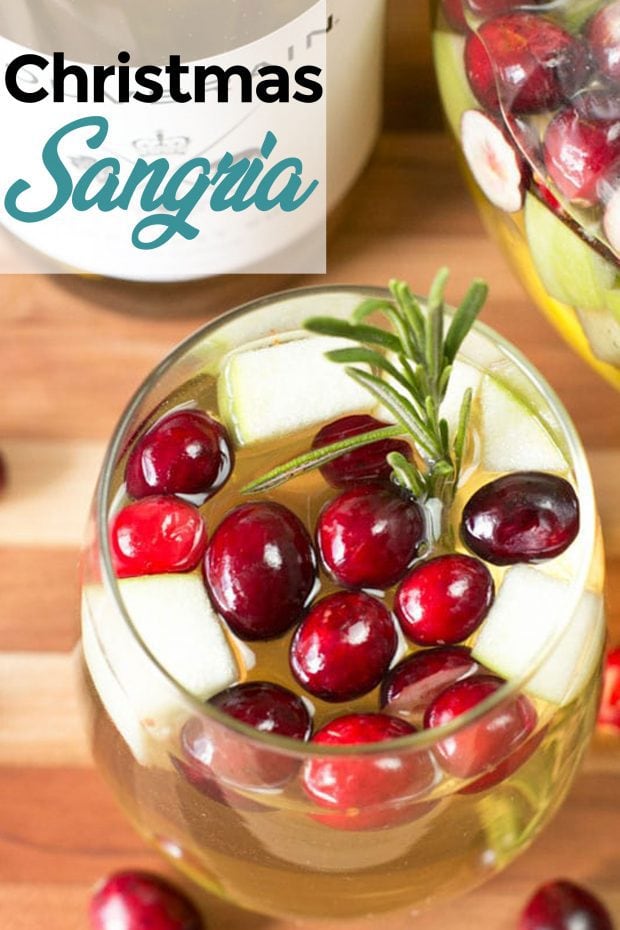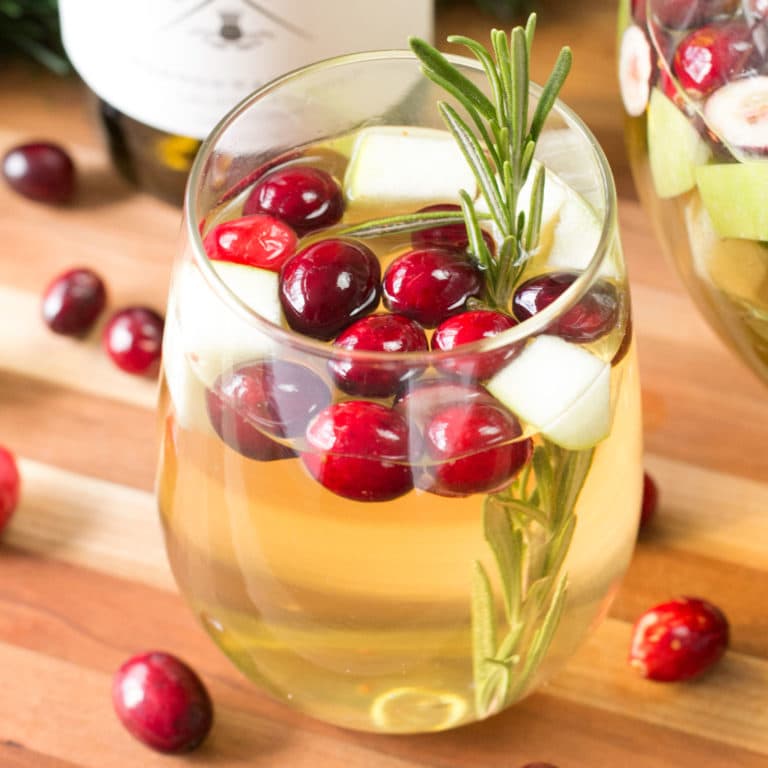 Christmas Sangria
Yield: Serves 4-6
Prep Time: 4 hours 5 minutes
Total Time: 4 hours 5 minutes
Rosemary, cranberries, and apple make this sangria the perfect Christmas drink that goes with any holiday meal!
Ingredients
2 750ml bottles Pinot Grigio or Chardonnay (I used Soverain Chardonnay!)
3/4 cup sparkling apple cider
1/4 cup sugar
1/4 cup cranberries, halved
3/4 cup cranberries, whole
1 Granny Smith apple, chopped
3 rosemary sprigs
Garnish: rosemary sprigs
Instructions
Combine all ingredients in a large pitcher.
Stir together with a large wooden spoon to help the sugar dissolve.
Refrigerate for at least 4 hours before serving.
Serve chilled with a garnish of rosemary sprigs. Make sure to get some of the fruit in every glass!
Recommended Products
As an Amazon Associate and member of other affiliate programs, I earn from qualifying purchases.