Christmas Sangria is a delightful way to celebrate the holidays, all in one gorgeous chilled glass. This festive sangria is just the right balance of crisp and fruity, with a slight touch of sweetness!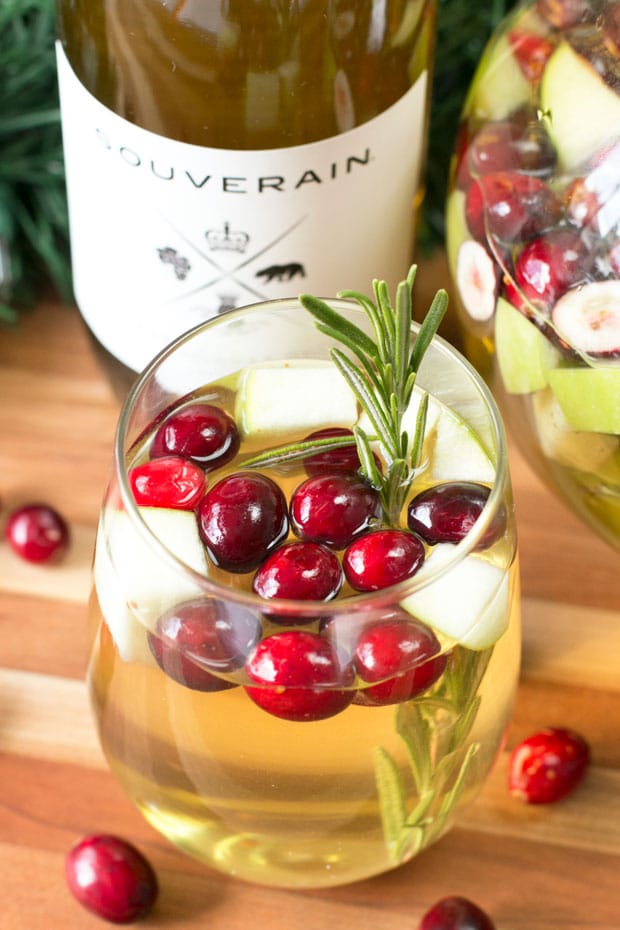 about this christmas sangria
For the past two days, I keep having to remind myself that Christmas is just around the corner. Can you believe it's only two days away?! It feels unreal. Although I suppose that's the case every year…
I spend over a month preparing for it, and it comes as such a surprise when it finally arrives.
I am all about packing Christmas Eve and Christmas day with as much food as I possibly can. The cooking and baking marathon will continue until my feet are sore and my stomach is rumbling (yes, I always forget to eat when I am cooking/baking!).
There's something about the holidays that brings out the true inner chef within me. Sharing homemade food with all my loved ones is the best gift in the world in my book.
This Christmas Sangria is a delicious, simple recipe to accompany any meal and make your holiday merry and bright. It's honestly the one recipe that my entire family demands that I make for our Christmas Eve celebration every single year!
The addition of rosemary adds the true taste of the holidays that I cherish so much. As soon as you take that first sip you'll realize that this sangria is the drink you won't want to live without when Christmas rolls around every year.
Note: this post is an updated version from the original published on December 23, 2014 (updated on August 17, 2022)! The post includes commonly asked questions, tips and tricks, and more. The recipe remains the same!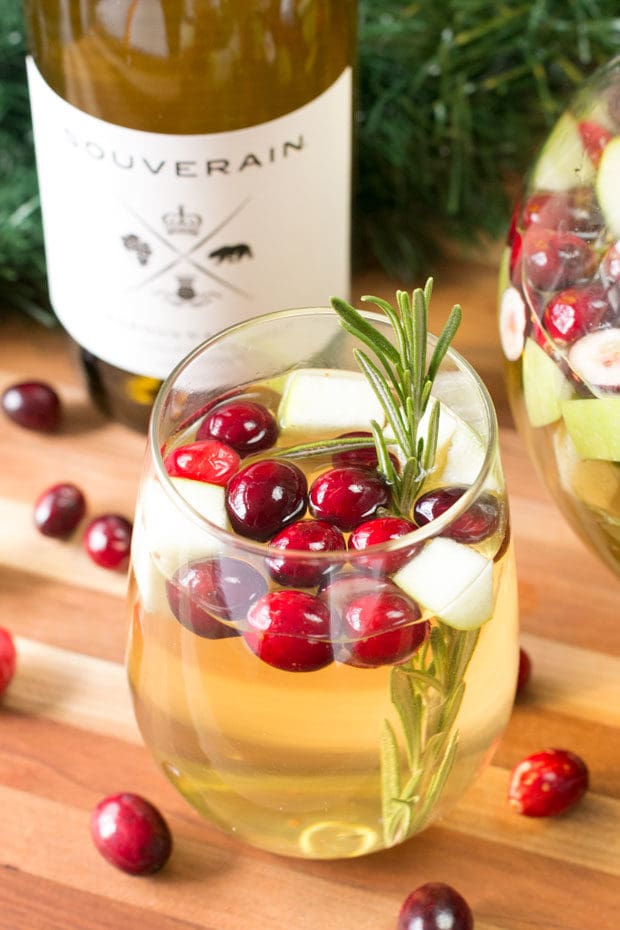 ingredients
white wine – be sure to select a dry white wine. I personally prefer a chardonnay or a sauvignon blanc for this particular recipe. Whatever white wine you choose, the most important thing is to make sure it isn't sweet.
sparkling apple cider – non-alcoholic sparkling apple cider is what you are looking for here! It can also be labeled sparkling apple juice, depending on where you live. Do not use alcoholic apple cider for this sangria!
sugar – you will need plain, granulated sugar for this cocktail.
cranberries – I prefer to use fresh cranberries since they are in season around the holidays! However you can also use frozen – see my Seasonal Tip at the end of this post for more information on using frozen cranberries.
apple – Granny Smith (green) apple is best for this recipe!
rosemary – definitely use fresh rosemary for this recipe. If you can't find fresh, you can omit it and it will still taste good! Be sure to pick up extra as a garnish for the glasses – it just adds the right amount of festive flair.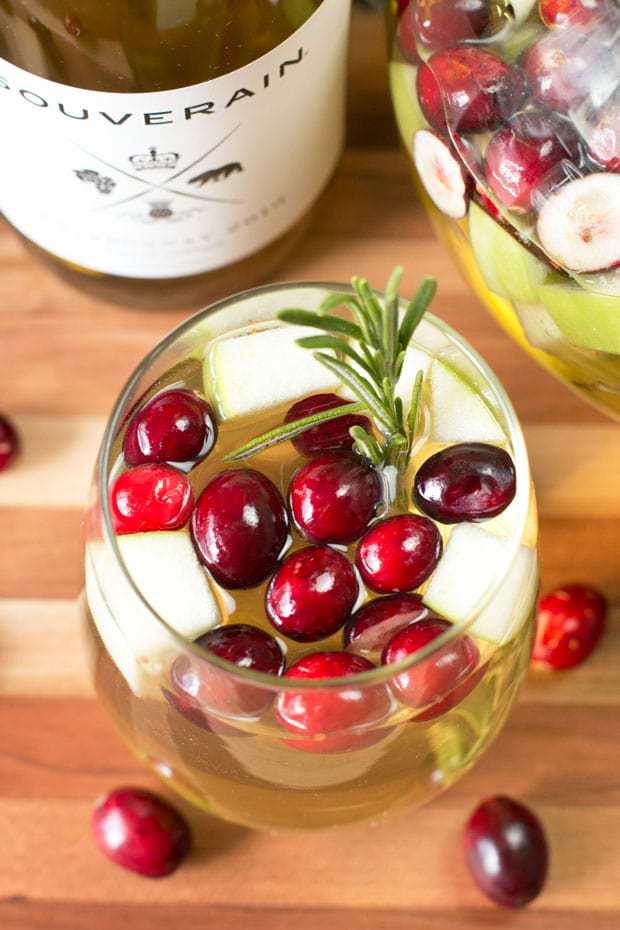 this recipe's must haves
Get the look in the video below with stemless wine glasses and pitcher. The pitcher is one that I so so love, because it's gorgeous and just the right size!
Stir it up with a wooden spoon, a must-have for my utensil jar.
here's how to make this christmas sangria recipe
combine ingredients
In a large pitcher, add all of the ingredients for the sangria. Stir until the sugar dissolves.
refrigerate
Refrigerate for at least 4 hour before serving.
serve
When ready to serve, pour into wine glasses and garnish with rosemary sprigs. Make sure that you get some of the fruit in every glass!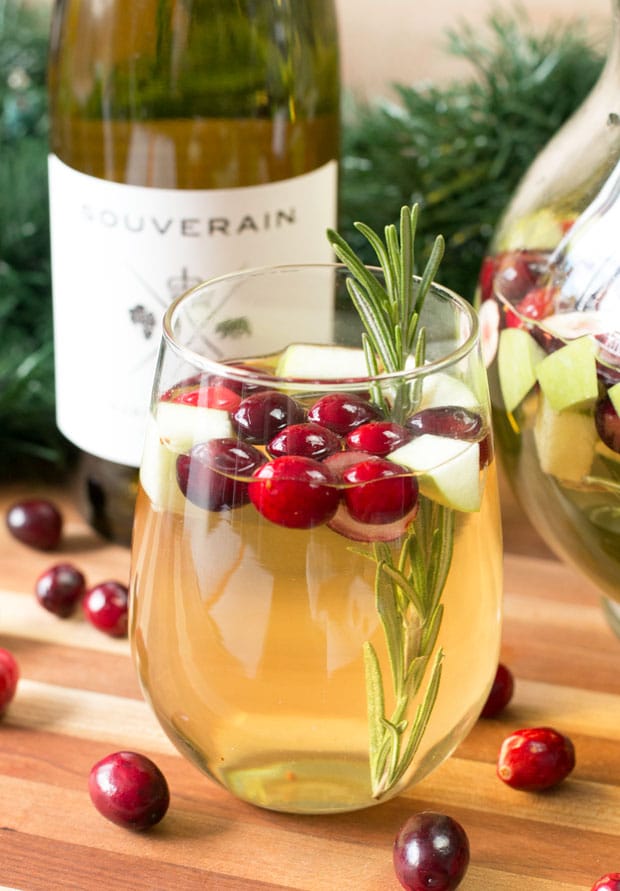 tips for success
don't skip chilling time. By chilling the sangria, you are allowing enough time for the fresh fruits to infuse the wine with sweet and fresh flavor! If you cut the time, the sangria won't taste nearly as good.
taste and adjust. Don't be afraid to taste and adjust this Christmas sangria to your liking! If you like it sweeter, add a little extra apple cider. If you like yours a little more boozy, consider adding a splash of Cointreau for a little orange twist. Enjoy the journey of finding the perfect balance for you!
More tasty sangria recipes to try: Red Christmas Single Serve Sangria | Big Batch Holiday Sangria | Sake Sangria | Last-Minute Apple Pie Sparkling Sangria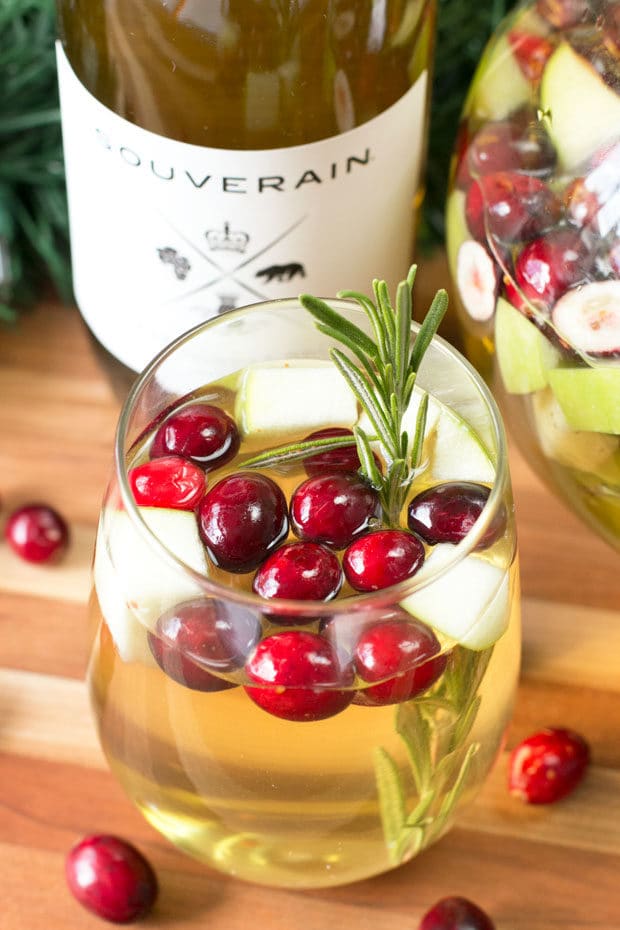 what type of white wine should I use?
I prefer to use a drier wine for this sangria, like a dry Chardonnay or Sauvignon Blanc. You can also use a Riesling or Pinot Grigio, but I would be sure to taste test first to make sure it's dry and not overly sweet.
what if I can't find cranberries?
I know that there are some places that finding cranberries, fresh or frozen, can be very difficult! Instead of cranberries, you can also use pitted cherries in the same way as the recipe calls for cranberries.
You can also use pomegranate seeds! If you do, add them in the last hour of chilling so they don't overpower the flavor of the sangria.
can I make it ahead of time?
Yes, this sangria will last in the refrigerator for up to 2 days. Be sure to keep it in an airtight container if you are planning to keep it in the fridge for more than 6 hours.
can I use regular apple cider instead of sparkling apple cider?
Yes, you can! If you can't find sparkling apple cider, or you just have regular cider on hand, that is an excellent substitute. You can also use apple juice if you are in a pinch!
Need some more inspiration for the holidays? Check out my holiday recipes page!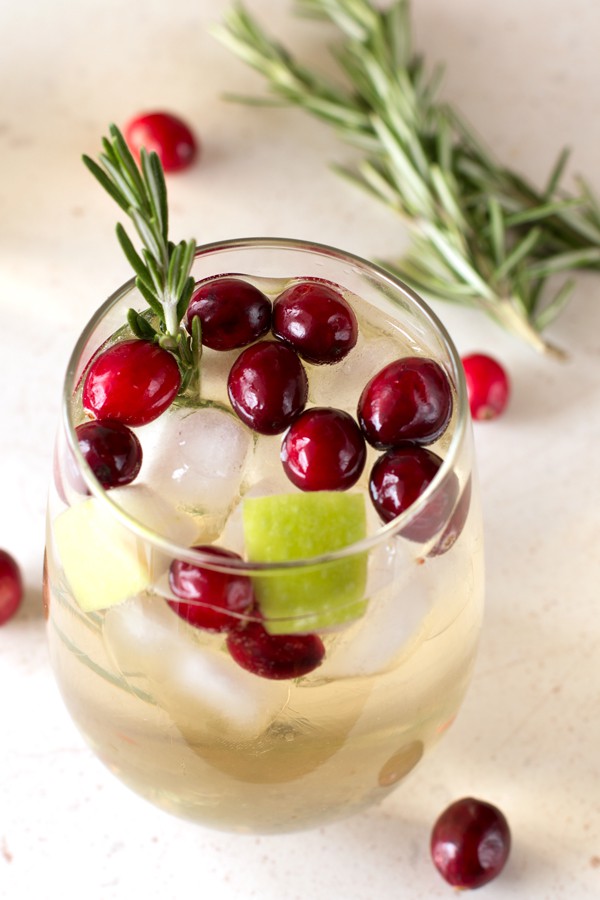 what to serve with christmas sangria
When it comes to serving this Christmas Sangria, you better believe that I am pulling out all of my favorite holiday recipes for the occasion! It doesn't matter if it's a small gathering or a big party, this sangria goes with all the classic holiday flavors. If you are looking for more inspiration for your holiday gathering, here are some of my favorite recipes:
If you are looking for a last-minute set of recipes for a holiday gathering, I've rounded up the best last minute Christmas recipes to make.
Don't forget to check out the full list of Christmas cocktails and drinks (including nonalcoholic options!) too!
how to store
This sangria will last in the pitcher for up to 6 hours. If you plan to make it a day or two ahead of time you can! Just be sure to store it in an airtight container if you are storing it for more than 6 hours.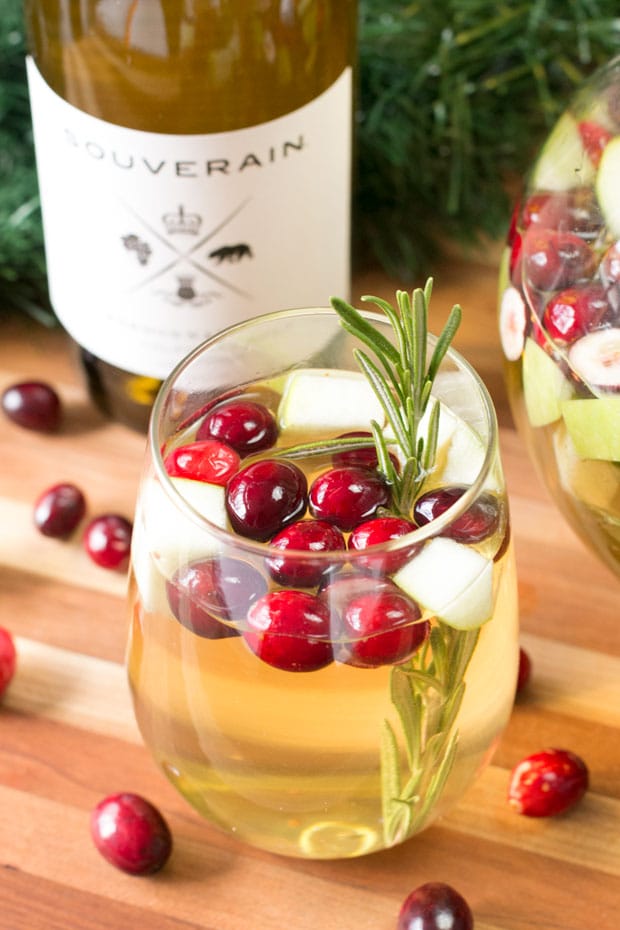 Do you love allllll the Christmas cocktails? Check out a few of my other favorite holiday-themed drinks!
Red Christmas Single Serve Sangria – for when you just need a red sangria for yourself and your boo.
Cranberry Boulevardier – fancy, tart, and oh-so tasty.
Gingerbread Bourbon Punch – perfect for a party and it goes well with this sangria as a complement.
Cranberry Pomegranate Champagne Mule – because your favorite ginger drink needs a holiday twist!
Gingerbread White Russian – it's creamy, dreamy, and oh-so holiday.
Big Batch Holiday Sangria – do you have a ton of people coming over? This recipe makes a HUGE batch of sangria. It's also a red wine option, so if you want a red and white option for guests, make this one in addition to Christmas Sangria!
seasonal tip
Fresh or frozen cranberries? You can use either in this recipe, but I encourage using fresh as they impart a fresh tartness. Frozen cranberries work as well, but do note that you should thaw them before using in this sangria. In addition, the thawed berries may add a red tint to the sangria!
Finally, if you make this Christmas Sangria, please be sure to give this recipe a rating or leave a comment! I love to hear when you all make recipes, and I do take the time to respond to every single comment. Feel free to drop questions below too, if you have them!
Oh and be sure to tag me on Instagram if you make the recipe! Love being able to see these recipes come to live in your homes – it's my favorite thing to look through those photos. It really means the world to me!
Christmas Sangria
Prep Time:
4 hours
5 minutes
Total Time:
4 hours
5 minutes
Rosemary, cranberries, and apple make this sangria the perfect Christmas drink that goes with any holiday meal!
Ingredients
2 750ml bottles Pinot Grigio or Chardonnay
3/4 cup sparkling apple cider
1/4 cup sugar
1/4 cup cranberries, halved
3/4 cup cranberries, whole
1 Granny Smith apple, chopped
3 rosemary sprigs
Garnish: rosemary sprigs
Instructions
Combine all ingredients in a large pitcher.
Stir together with a large wooden spoon to help the sugar dissolve.
Refrigerate for at least 4 hours before serving.
Serve chilled with a garnish of rosemary sprigs. Make sure to get some of the fruit in every glass!
Recommended Products
As an Amazon Associate and member of other affiliate programs, I earn from qualifying purchases.