Please note this post contains affiliate links.
Panettone Bread Pudding is a whole new way to use the panettone bread that you have come to know and love this time of year. All the delicious flavors of the baked good are made that much more decadent in this bread pudding, served with a creamy creme anglaise. It's the ideal balance of sweet for dessert or even for a Christmas morning breakfast!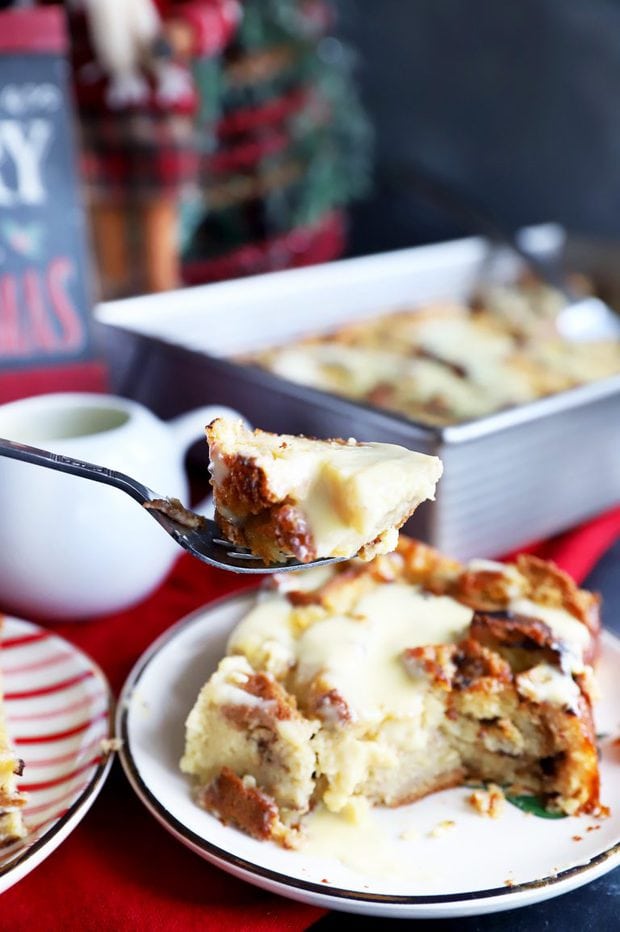 Note: this post is an updated version of the original posted on December 23, 2019. The recipe remains the same!
about this panettone bread pudding
Well, having bronchitis for the holiday season wasn't exactly what I had planned.
Personally, I was looking forward to days of spiked hot chocolate, festive cocktails, bar hopping, gawking at lights, shopping, Christmas music, and so much more.
Even though it wasn't the most festive of seasons this year, I still managed to get in my Christmas movies and at least a handful of recipes to end the year on a high note with.
My very last festive recipe for Christmas is this panettone bread pudding.
Wondering what that is? Well, it's essentially bread pudding with panettone as the base instead of French bread or challah.
I don't know if you've ever had panettone around the holidays, but it's downright delightful with notes of citrus and warming spices that fills you with joy from the inside out.
It's something I got especially excited about when I spent time in Rome, and it's the star of this recipe!
The tasty bread makes for the ideal base for bread pudding. It's light and fluffy, moist and indulgent, with just the right amount of sweetness. You don't have to worry about adding a bunch of spices and flavors to the mix – it all comes from the panettone!
Finally it's topped with a creamy dreamy vanilla-based creme anglaise…. O.M.G. it's the best end to a tasty meal this time of year! It also makes for the most indulgent Christmas morning breakfast!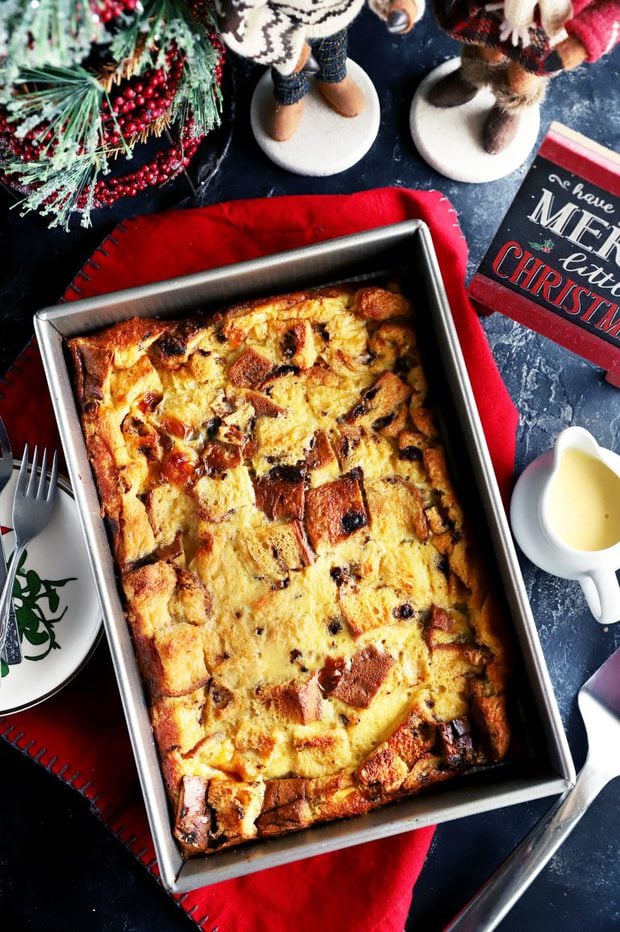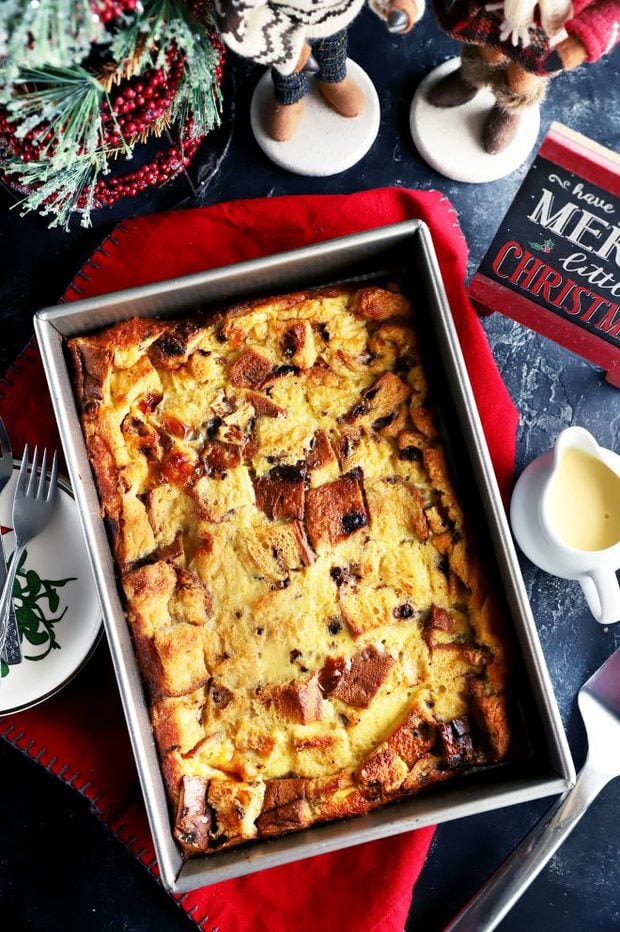 ingredients
panettone. Panettone is an Italian sweet bread that you'll find around Christmas! It's dotted with candied dried fruit, citrus, and raisins, making it kinda like a fruit cake but SO much better. It's super fluffy, which makes it ideal for bread pudding! You will need one 1 lb loaf panettone bread.
eggs. You are going to need a dozen eggs for this recipe. I use large eggs.
heavy cream. The heavy whipping cream is part of what makes up the custard for the bread pudding.
milk. Along with the eggs and cream, this is a major element in the bread pudding itself. I recommend using whole milk instead of 2% or skim milk. Do not use any alternative milks such a coconut, almond, soy, etc.
sugar. You will just need granulated sugar for this recipe.
vanilla. Always reach for the pure vanilla extract! My favorite is Nielsen Massey – their Madagascar Bourbon Pure Vanilla Extract is amazing.
half and half. Half and half is what makes the base of the creme anglaise.
vanilla bean. The creme anglaise calls for one vanilla bean, not vanilla extract or vanilla bean paste. It gives so much flavor to the sauce!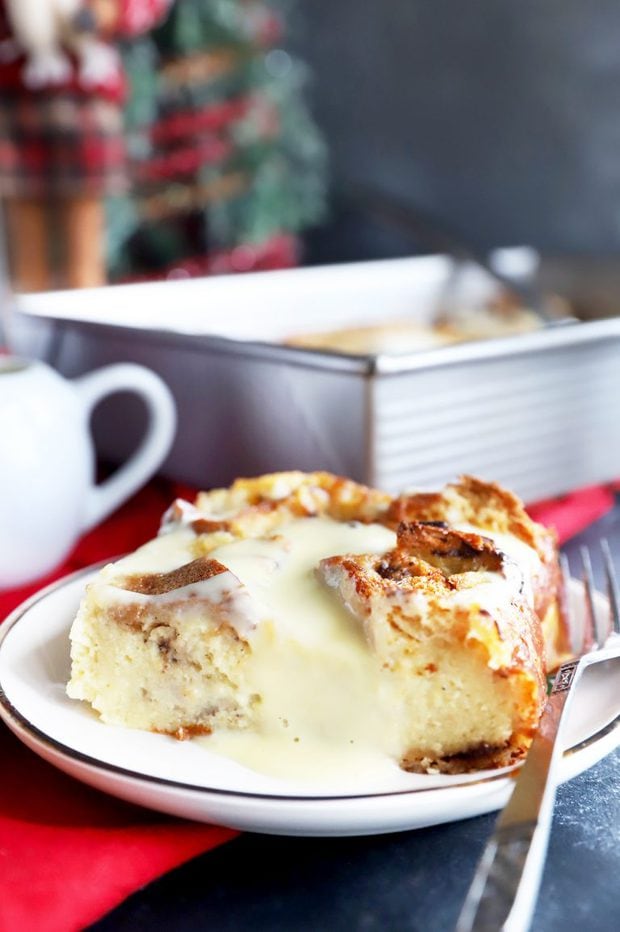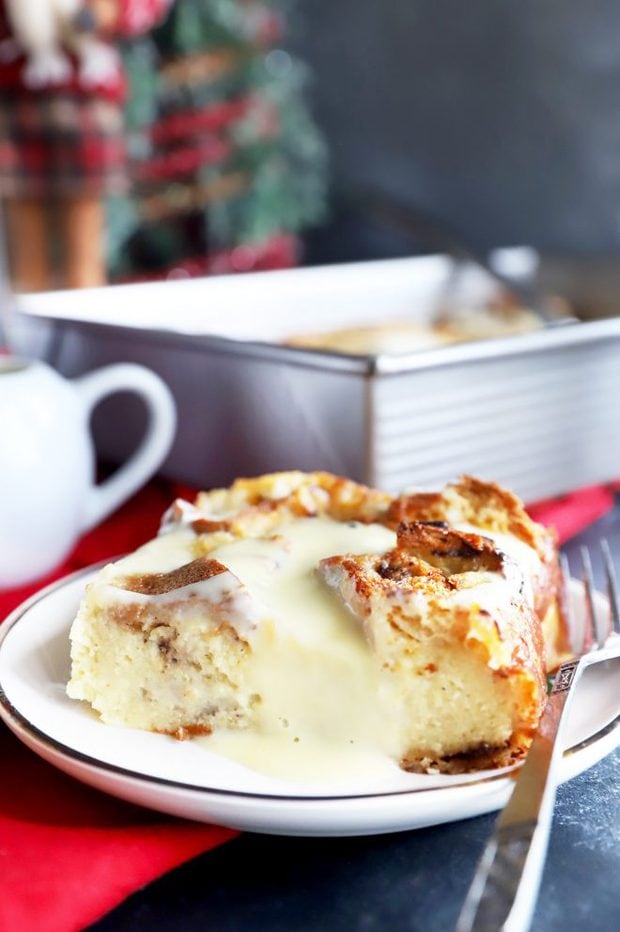 this recipe's must-haves
To cut up the panettone bread, you'll need a chef's knife and cutting board to get them into 1-inch cubes.
Then you'll need a whisk and one of your mixing bowls to make the oh-so simple custard base. That custard gets poured over the bread cubes in an even layer in a regular ol' cake pan (9×13 inch baking pan).
All you need to make the creme anglaise is a saucepan and wooden spoon!
More Christmas dessert recipes: Gooey Dark Chocolate Cakes with Peppermint Crunch Whipped Cream / Bruleed Instant Pot Eggnog Cheesecake / Chocolate Peppermint Pots de Creme / 3-Ingredient Dark Chocolate Peppermint Mousse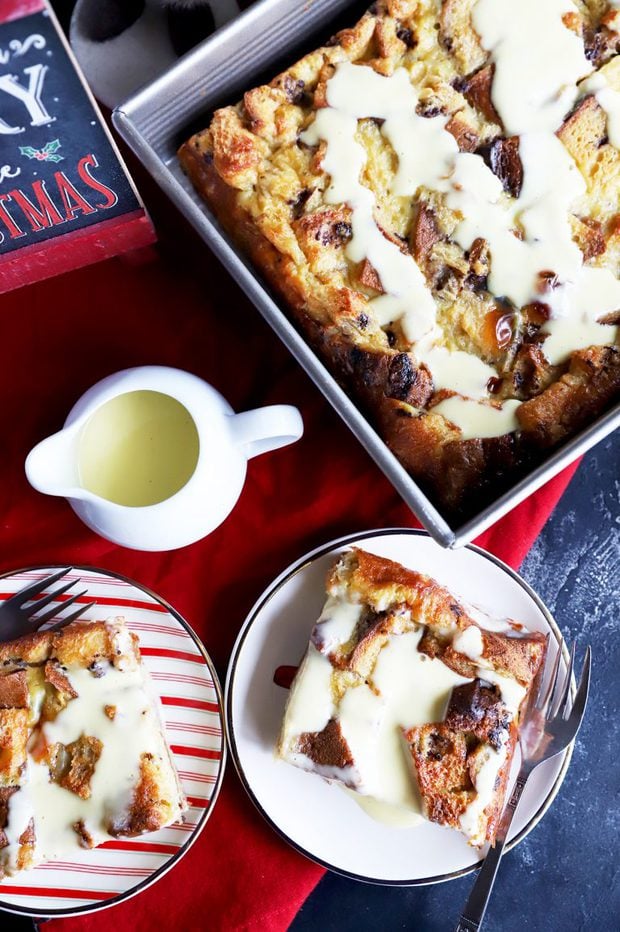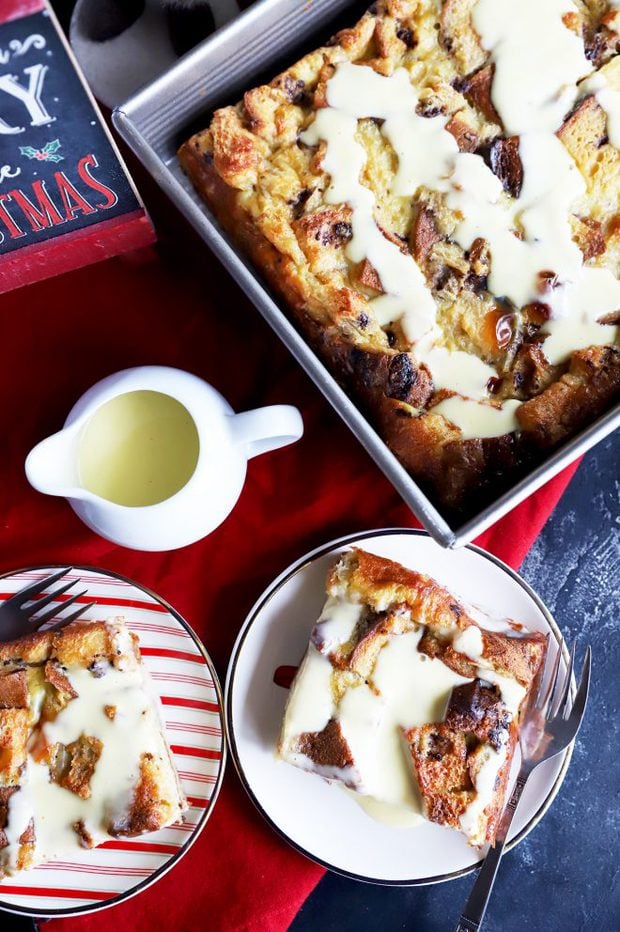 here's how to make panettone bread pudding
chop up panettone
The panettone needs to be chopped up into 1-inch cubes so that it makes for an even base for the bread pudding. If your panettone is a little harder on the outside, be sure to remove the crusts first before chopping it up.
make custard
The custard is made by simply whisking together the ingredients in a bowl – there's no cooking required!
rest & bake
Pour the custard mixture over the bread cubes that have been placed in an even layer in a baking dish. Make sure that you press the cubes down, making sure they are submerged to soak up all that custard goodness.
Cover the pan and let it rest in the refrigerator for at least 30 minutes. You can even let it rest for up to 2 hours if you need to! This step allows the bread to soak up the custard, so it stays nice and moist when it bakes.
The baking time is 45 minutes, so it's perfect for throwing in right before everyone sits down to dinner! Bake until it's golden brown on top and just slightly wobbly in the center.
make creme anglaise
The topping is a creamy creme anglaise that sounds fancy in name, but is very simple to make. Whisk together sugar and egg yolks until combined and set aside.
In a small saucepan, add half and half and vanilla bean over medium low heat. Cook until small bubbles form around the edge, about 5 minutes.
Add half of the hot half-and-half mixture to the egg yolk mixture in a slow steady stream, whisking constantly.
Pour the mixture back into the sauce pan slowly while whisking. Whisk constantly and cook over medium heat until thickened, about 4 to 5 minutes.
Serve warm with panettone bread pudding.
tips for success
prep it early. This recipe requires at least 30 minutes to refrigerate before baking, but letting it sit for 2 hours is much better for the overall texture!
use vanilla bean. The flavor vanilla bean brings to the creme anglaise is unmatched. Vanilla extract just doesn't cut it, in my opinion.
Need more inspiration for the holiday season? Check out my holiday recipe page!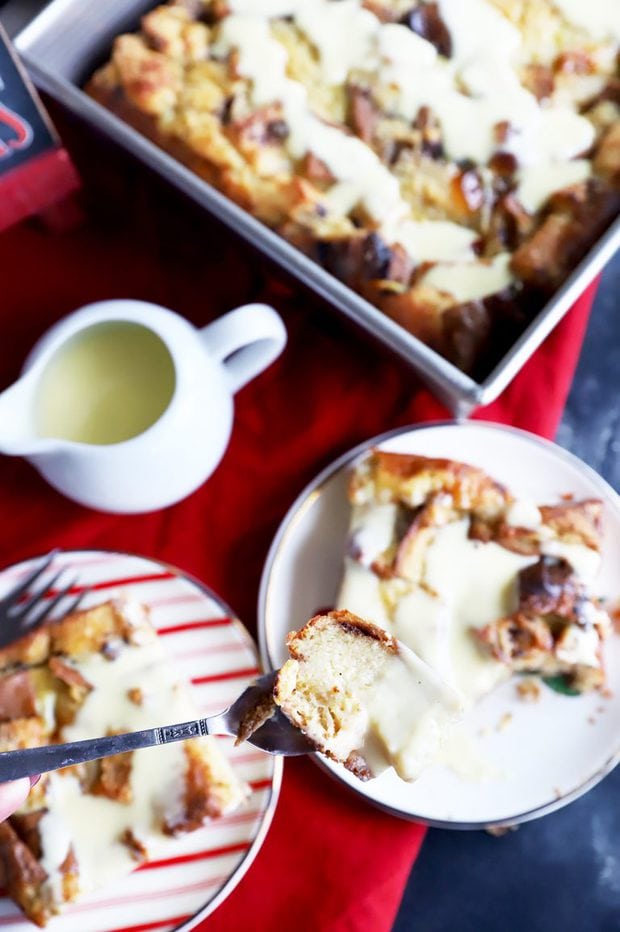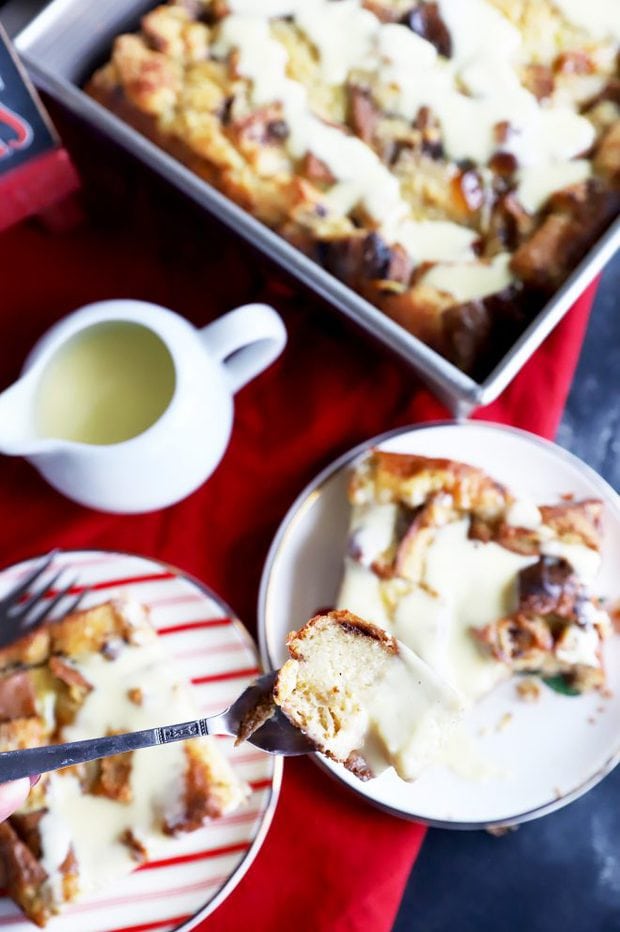 how long should I rest the panettone bread pudding?
The bread pudding should rest for at least 30 minutes, and up to 2 hours before baking. I recommend leaving it for the full 2 hours!
why should I use panettone in bread pudding?
The flavor! The flavor of panettone is so unique and just screams Christmas. The texture of the panettone bread also makes bread pudding that much more sumptious since it's already so fluffy to begin with.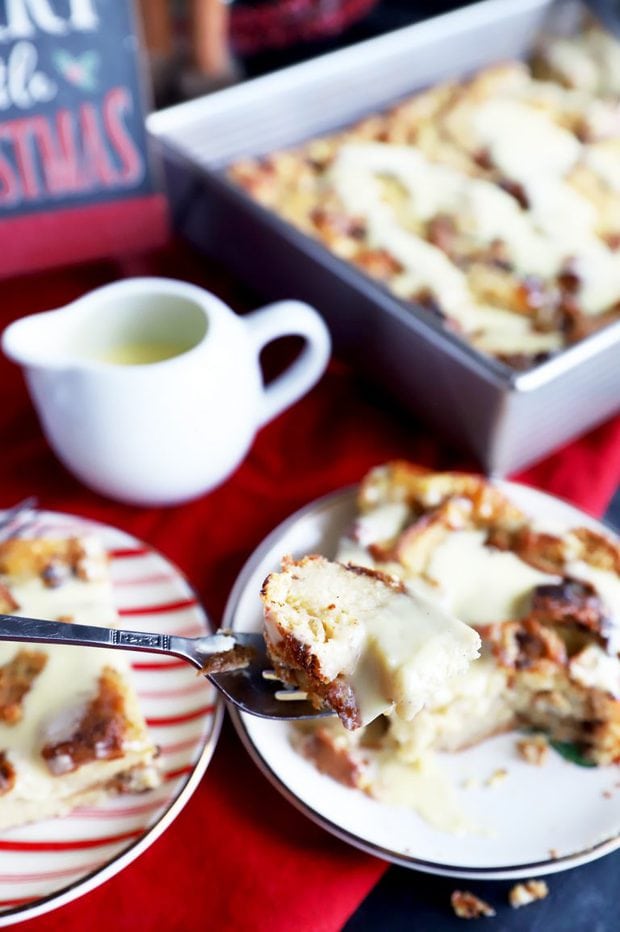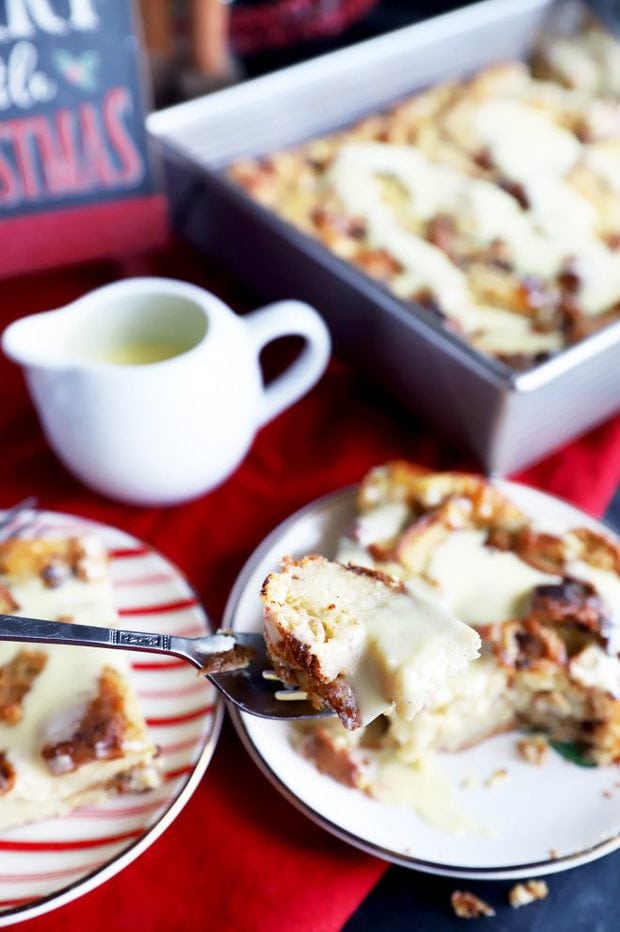 what to serve with this panettone dessert
I recommend serving this panettone bread pudding with an espresso, your favorite coffee drink, or hot cocoa; whether it's being serve for dessert or for breakfast!
If you need some ideas for hot drinks, see below for both alcoholic and non-alcoholic options:
The Best Slow Cooker Hot Chocolate
how to store and reheat
Store. Any leftovers can be stored in an airtight container and refrigerated for up to 3 days. Store the bread pudding and creme anglaise separately.
Reheat. Remove as much panettone bread pudding as you'd like to eat from the refrigerator and reheat in the microwave on a microwave-safe plate until warmed through. You can serve the creme anglaise chilled or at room temperature.
Freeze. Wrap any panettone bread pudding leftovers tightly in plastic wrap, then place in an airtight container or bag. Leftovers will keep in the freezer for up to 1 month. Do not freeze the creme anglaise as it will not last in the freezer.
Finally, if you make this panettone bread pudding recipe, please be sure to give this recipe a rating or leave a comment! I love to hear when you all make recipes, and I do take the time to respond to every single comment. Feel free to drop questions below too, if you have them!
Oh and be sure to tag me on Instagram if you make the recipe! Love being able to see these recipes come to life in your homes – it's my favorite thing to look through those photos. It really means the world to me!
I don't have any other recipes using panettone at this time, but maybe I should make some? Tell me what you think in the comments below!
Panettone Bread Pudding
Additional Time:
30 minutes
Total Time:
1 hour
40 minutes
Turn panettone into a festive dessert or indulgent breakfast with this simple recipe!
Ingredients
bread pudding
1 (1lb) loaf panettone bread, cut into 1-inch cubes
8 large eggs
1 1/2 cups whipping cream
2 1/2 cups whole milk
1 1/4 cups sugar
1 tsp vanilla extract
Pinch of salt
creme anglaise
2 cups half-and-half
1 vanilla bean, split lengthwise
1/2 cup sugar
4 large egg yolks, at room temperature
Instructions
To make the bread pudding, lightly grease a 9x13-inch baking dish with butter. Add bread cubes in an even layer in the prepared dish.
In a large bowl, whisk together eggs, cream, milk, sugar, vanilla, and salt until well combined. Pour the custard over the bread cubes evenly, pressing the cubes down to ensure they are submerged in the liquid.
Cover and refrigerate for 30 minutes, up to 2 hours.
When ready to bake, preheat oven to 350˚F. Uncover and bake until set in the center, puffed, and golden, about 45 minutes.
While the bread pudding bakes, make the creme anglaise. Add half and half and vanilla bean to a medium saucepan over medium low heat. Cook until small bubbles appear around the rim, about 5 minutes.
In a separate medium bowl, whisk together sugar and egg yolks until combined. Add half of the hot half-and-half mixture to the egg yolk mixture in a slow steady stream, whisking constantly.
Pour the mixture back into the saucepan and cook over medium heat, stirring constantly, until thickened, about 4 to 5 minutes. Remove sauce from heat and strain into a serving dish. Serve immediately or place in the refrigerator until ready to serve.
Recommended Products
As an Amazon Associate and member of other affiliate programs, I earn from qualifying purchases.