Please note this post contains affiliate links.
Thanksgiving Leftovers Poutine is a holiday twist on one of my favorite snacks! All you need are your Thanksgiving leftovers, some cheese curds, and your favorite fries to make this easy recipe. Serves 4.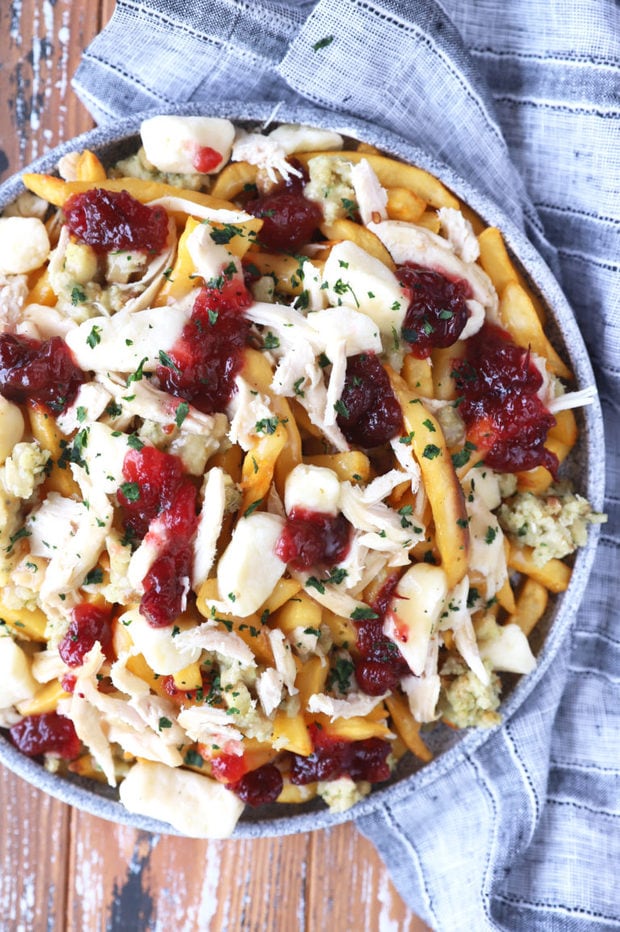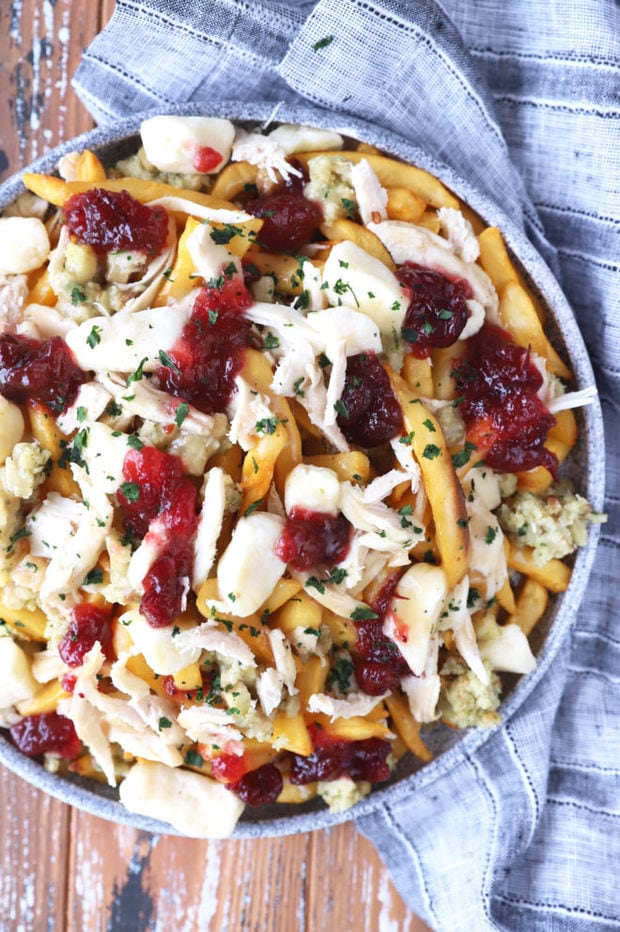 Back at it with one more Thanksgiving leftovers recipe this week!
I already shared with you my Southwestern Ham Hash which is my favorite way to use up holiday ham, but I still haven't given you the classic Thanksgiving leftover combo…
You know what I'm talking about – something that uses the turkey, the stuffing, the gravy, and the cranberry sauce…


This year, it's POUTINE. Thanksgiving poutine.
Doesn't that just sounds delicious?
This is actually a recipe idea I had last year, but I didn't bring it together in time because I was 8 months pregnant, exhausted, and this whole pandemic was getting to me.
I am SO thrilled to have already gobbled this down once.. and it's definitely happening again this weekend, because this gal can never resist an excuse to eat fries with gravy and cheese curds.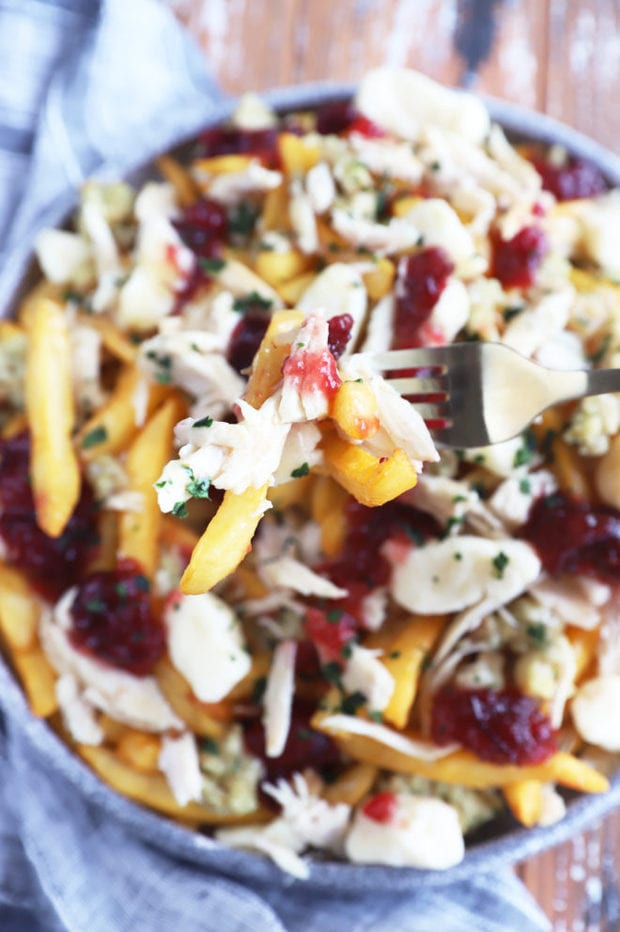 The crispy golden fries are the perfect vehicle for your Thanksgiving favorites such as turkey and stuffing, with a hefty drizzle of gravy. I love to dot the cranberry sauce all over so you get little bright pops of that tart and sweet flavor with the salty goodness.
It's super easy to whip up when you are exhausted from the previous day's festivities! Also, it's fantastic if maybe you had a little too much wine the night before… We've all been there, hahahaaaaa.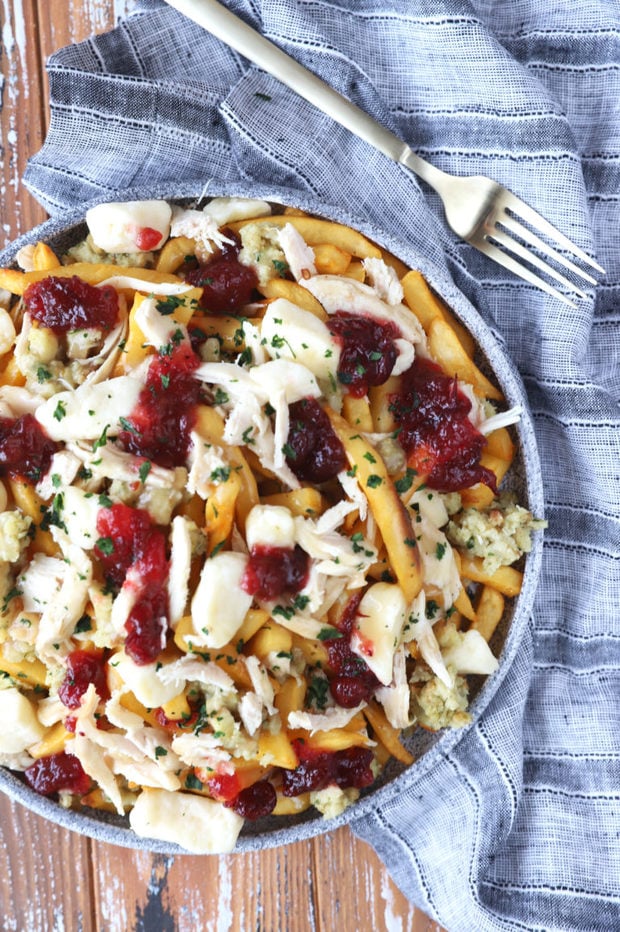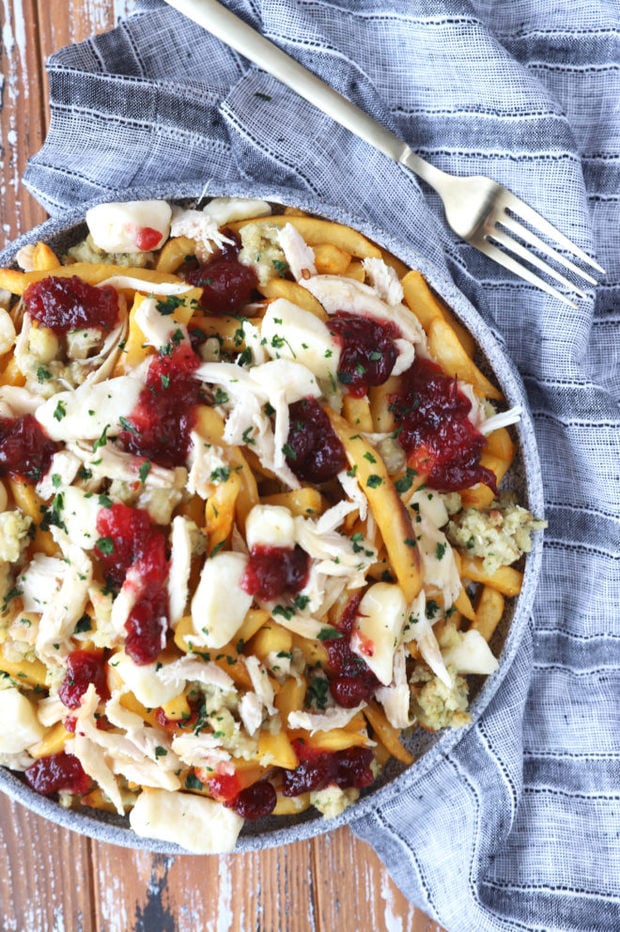 this recipe's must-haves
All you need for this recipe is a half sheet baking pan to cook up your fries (or if you are making them fresh, a dutch oven for frying!).
The rest of the recipe is simply warming up your leftovers!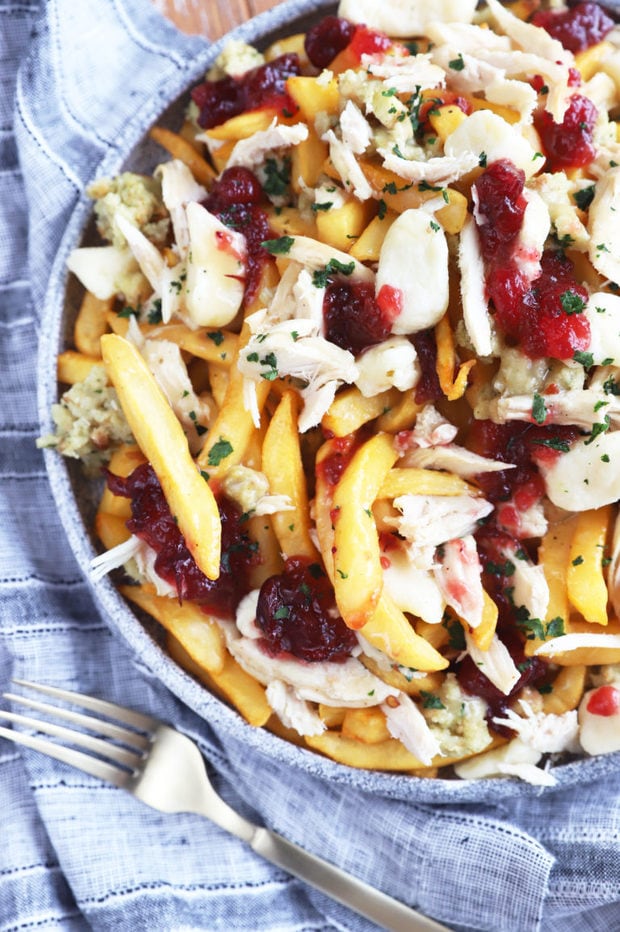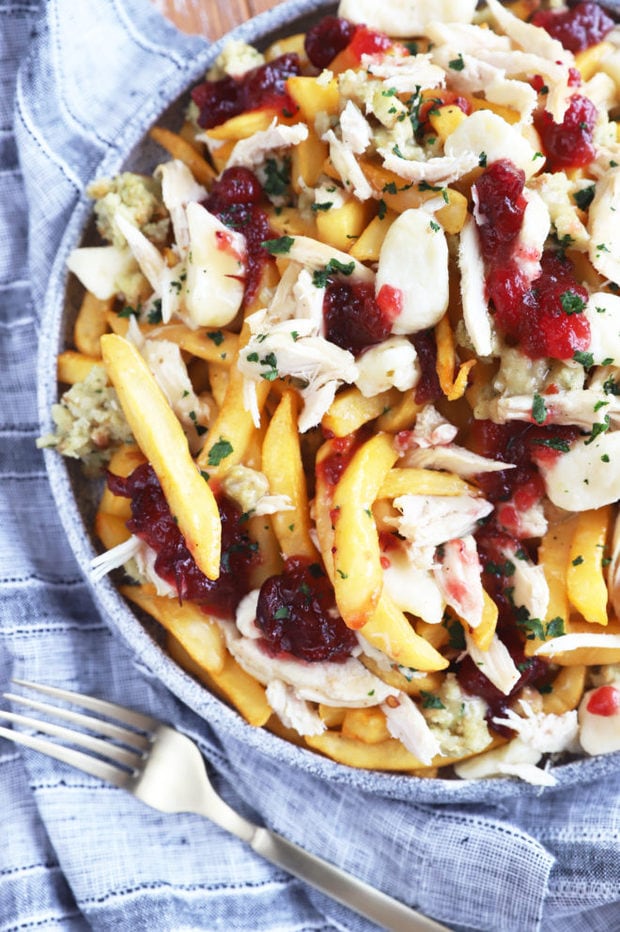 here's how to make Thanksgiving leftover poutine!
Cook Fries
Cook fries however you need to! If you are frying them, fry them up in oil or an air fryer. Bake frozen fries in the oven. Get them fresh from your favorite restaurant to support a local business. The options are endless!
Warm Leftovers
Warm up your leftover turkey, stuffing, and gravy in microwave safe bowls. Set aside to assemble.
Assemble
Add half of your fries to a serving platter. Top with half of the turkey, half of the stuffing, and half of the cheese curds. Drizzle with half of the gravy. Repeat these layers once more and dot the cranberry sauce all over. Serve immediately. I also like to give it a garnish of freshly chopped parsley for a little touch of green 🙂
Need some more inspiration for snacks? Check out my snack recipes page!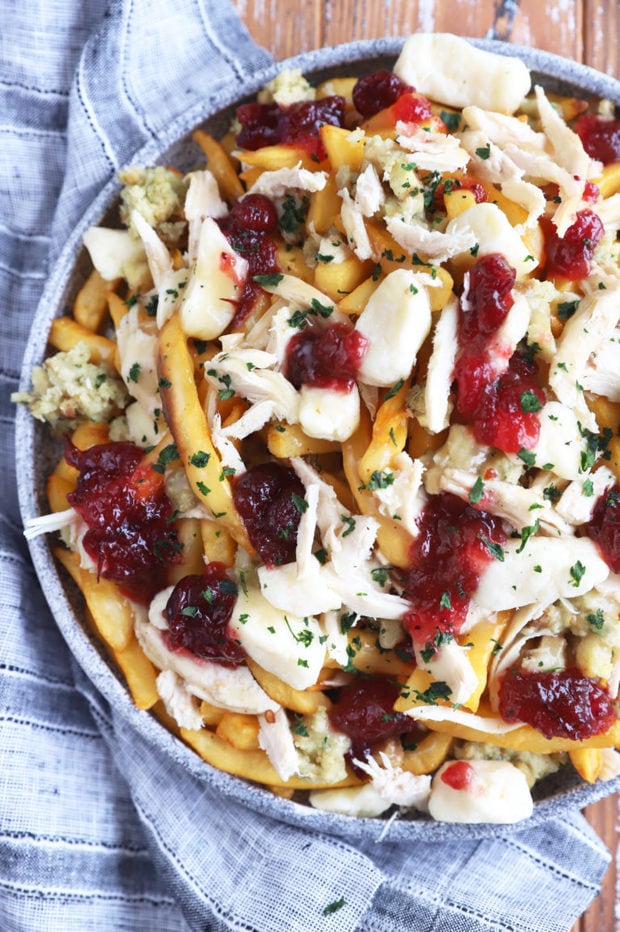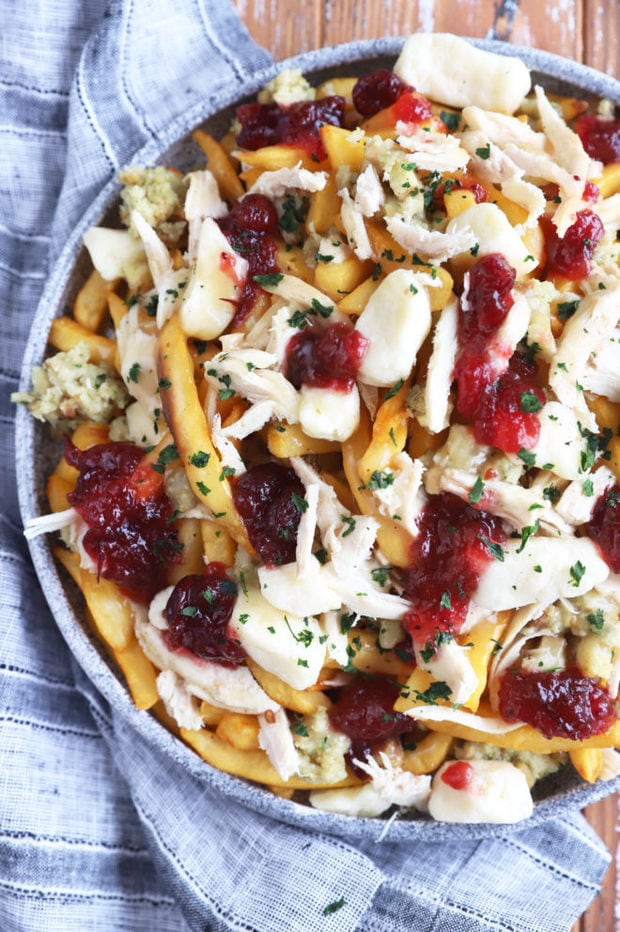 can I use sweet potato fries?
You can use sweet potatoes fries, waffle fries, any other type of fries you would like! The door is wide open for creativity here. Just grab your favorite golden fries and enjoy this killer combo of flavors!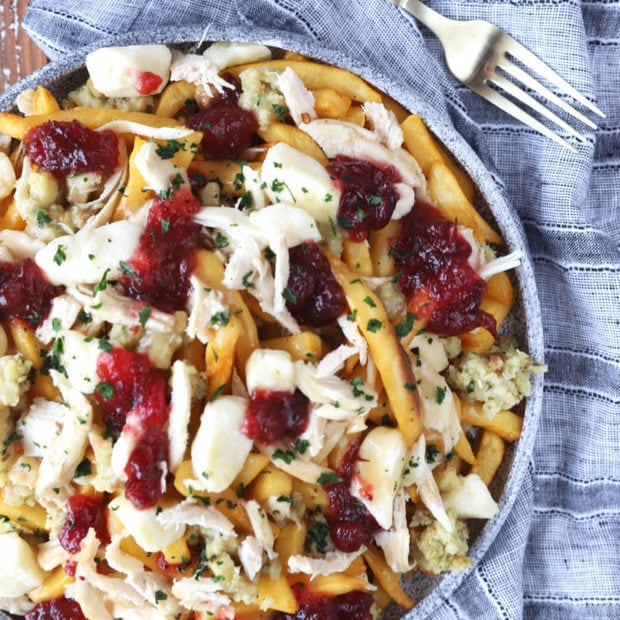 Thanksgiving Leftovers Poutine
All your Thanksgiving favorites piled up on crispy golden fries with gravy and cheese curds.
Ingredients
2lb of your favorite fries (any kind works! frozen, homemade, from a restaurant, etc)
1 cup leftover Thanksgiving turkey, shredded
1 cup leftover stuffing or dressing
1 1/2 cups leftover turkey gravy
1/2 cup leftover cranberry sauce
1 cup cheese curds
Instructions
If you are cooking your fries, cook them however you prefer whether that's frying, in the air fryer, or in the oven.
While the fries are cooking, warm the turkey, stuffing, and gravy.
Once the fries are cooked, add half of them to a serving platter. Top with half of the turkey, half of the stuffing, and half of the cheese curds. Drizzle over half of the gravy. Top with the rest of the fries, then turkey, cheese curds, and stuffing, then the rest of the gravy. Dot the cranberry sauce all over the top.
Garnish with freshly chopped parsley and serve.
Recommended Products
As an Amazon Associate and member of other affiliate programs, I earn from qualifying purchases.