Please note this post contains affiliate links.
The Best Turkey Brine recipe is a simple combination of salt, herbs, and aromatics to infuse your turkey with the most flavor possible. By brining the bird, the final result is tender and moist. The easy brine is simple to make and will make all the difference for your Thanksgiving main dish.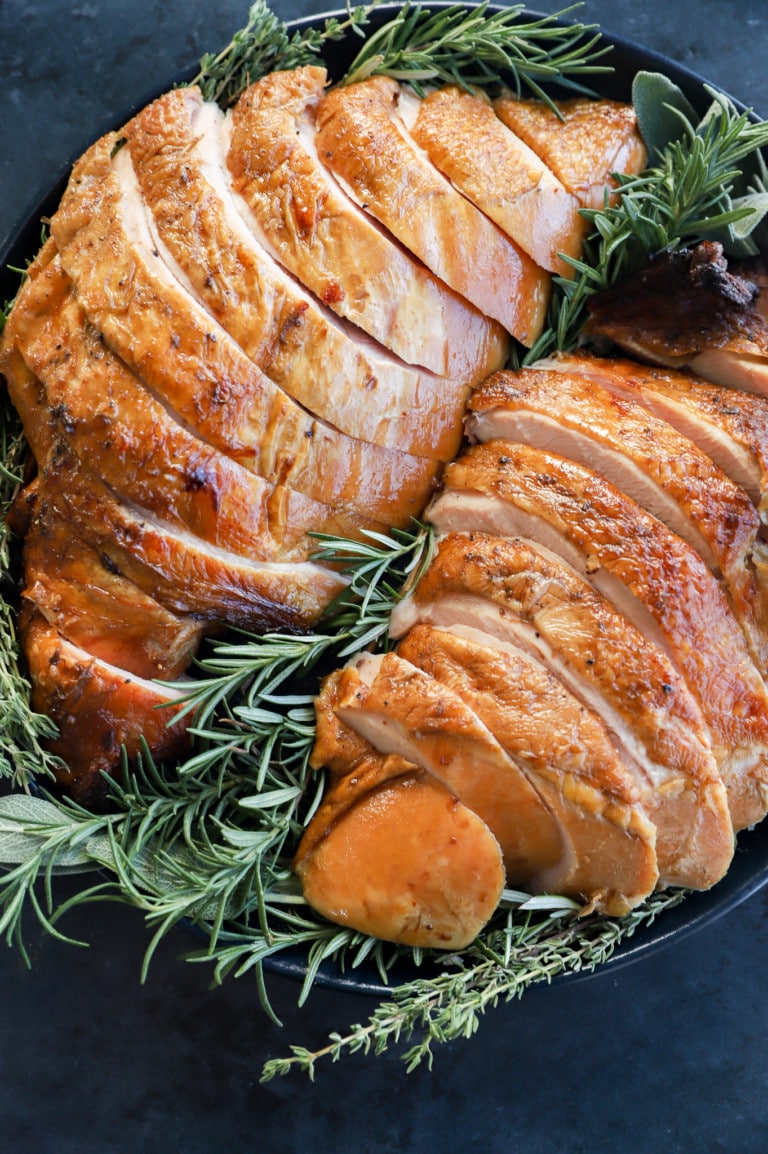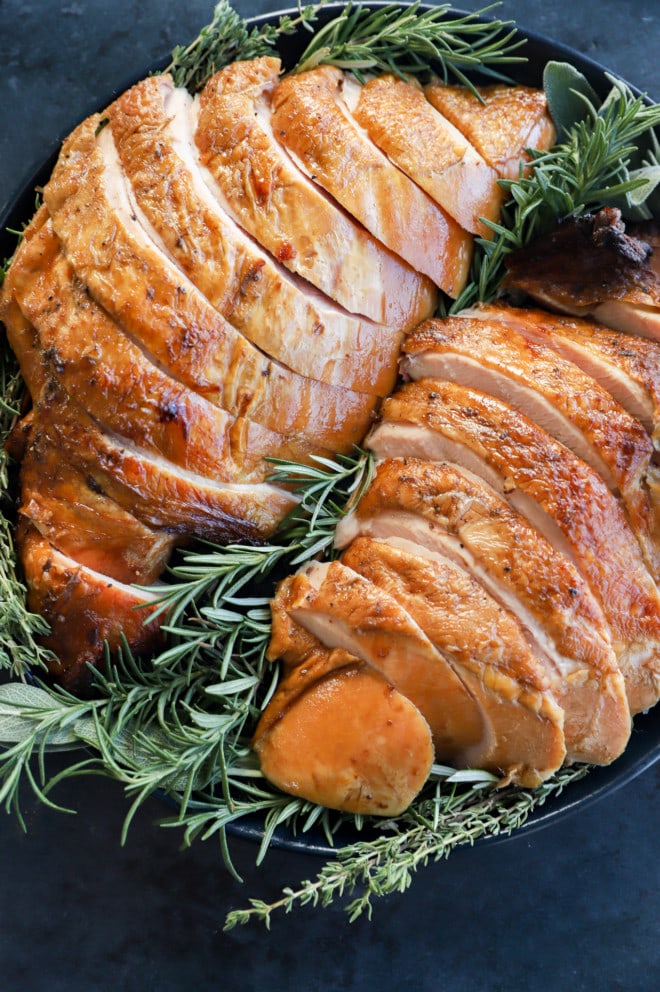 Now that it is November and Thanksgiving is just around the corner, this is the time of year that I am flooded with questions about the main centerpiece of a Thanksgiving meal… the turkey. Inevitably, I am asked whether brining a turkey is worth it.
Of course, my immediate answer is YES. While I have other turkey posts about brining, I thought this year would be a great time to write a full post dedicated only to the turkey brine. In this post you'll find a comprehensive guide to making the best turkey brine possible. We will cover the ingredients, the process, the tools you need, and tips and tricks to ensure your bird comes out perfectly on turkey day.
about this turkey brine recipe
Did you know that the secret to the perfect moist and tender turkey is a turkey brine. Brining is the one step that we never skip come Thanksgiving (or any holiday meal) because it always results in a succulent and flavorful bird. It's just the right way to go about it. It is an essential step that guarantees the best results, even if this is your first time brining a turkey or roasting one!
The truth is, though brining takes some time, it is an incredibly simple process. Whether you are a beginner or have been roasting turkeys for decades, this turkey brine recipe is for you. While you can buy brining mixes and ready-made solutions at various stores, I find it to be cheaper and more efficient to make it myself. Plus, when you do, you can easily adjust the seasoning, herbs, and/or aromatics as desired. All you need is a master recipe to start with, and then you can start making it your own.
Get ready to unlock the secrets of the perfectly roasted (or smoked) bird!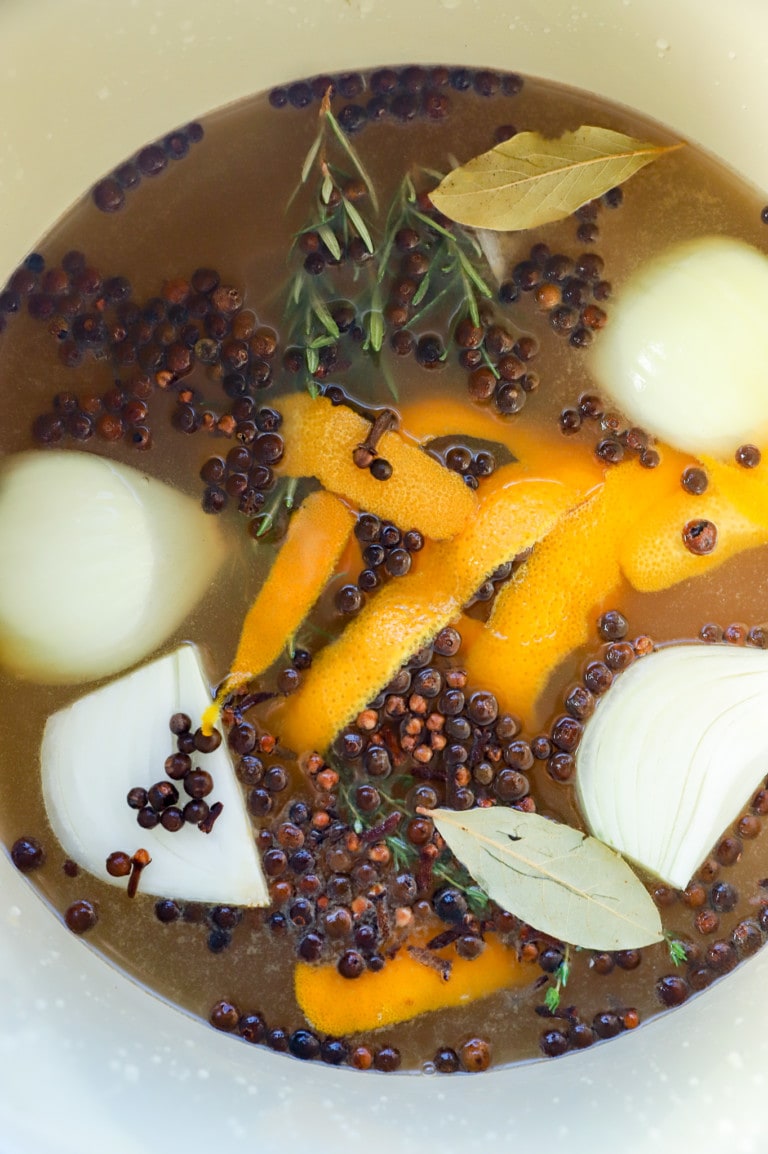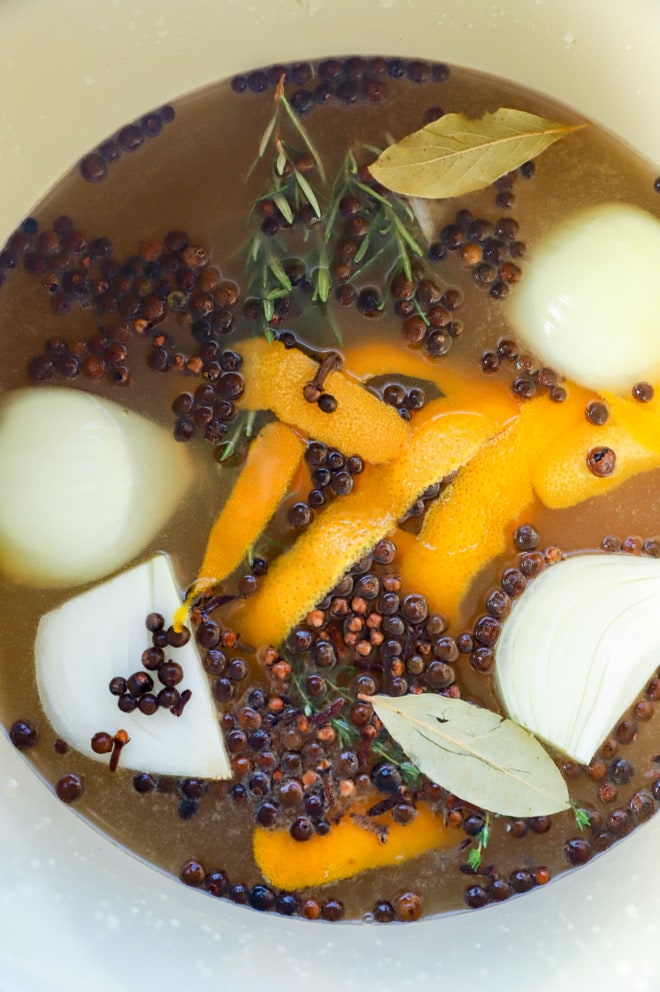 why should you brine a turkey and is it worth it?
Brining a Thanksgiving turkey is well worth the time and effort! This is what significantly improves not only the flavor, but also the juiciness of the final roasted bird. The process itself is simple enough by making a saltwater solution with various aromatics, herbs, and seasonings, allowing it to absorb the flavors. Those flavors are then absorbed by the turkey as it brines!
The flavor that the brine imparts to the meat simply cannot be beat. You will not achieve the same results with basting or even injecting the turkey. The moist and tender turkey is a result of the bird absorbing the extra liquid. While it cooks, the moisture prevents the turkey from drying out, making sure that even the breast meat remains nice and juicy.
Even if you are new to roasting a turkey, brining is an easy step and it can act as a safeguard against overcooking because the meat retains more moisture! That means that you have a little extra wiggle room when it comes to achieving the best bird possible.
Brining can be done a day or two before roasting, so you will have your kitchen freed up and you can minimize prep time on the big day. We always find this to be particularly helpful when juggling multiple dishes and a busy cooking schedule.
everyday seasonal cookbook
With seasonal produce guides, recipes, and more, this cookbook is filled with seasonal food for every occasion.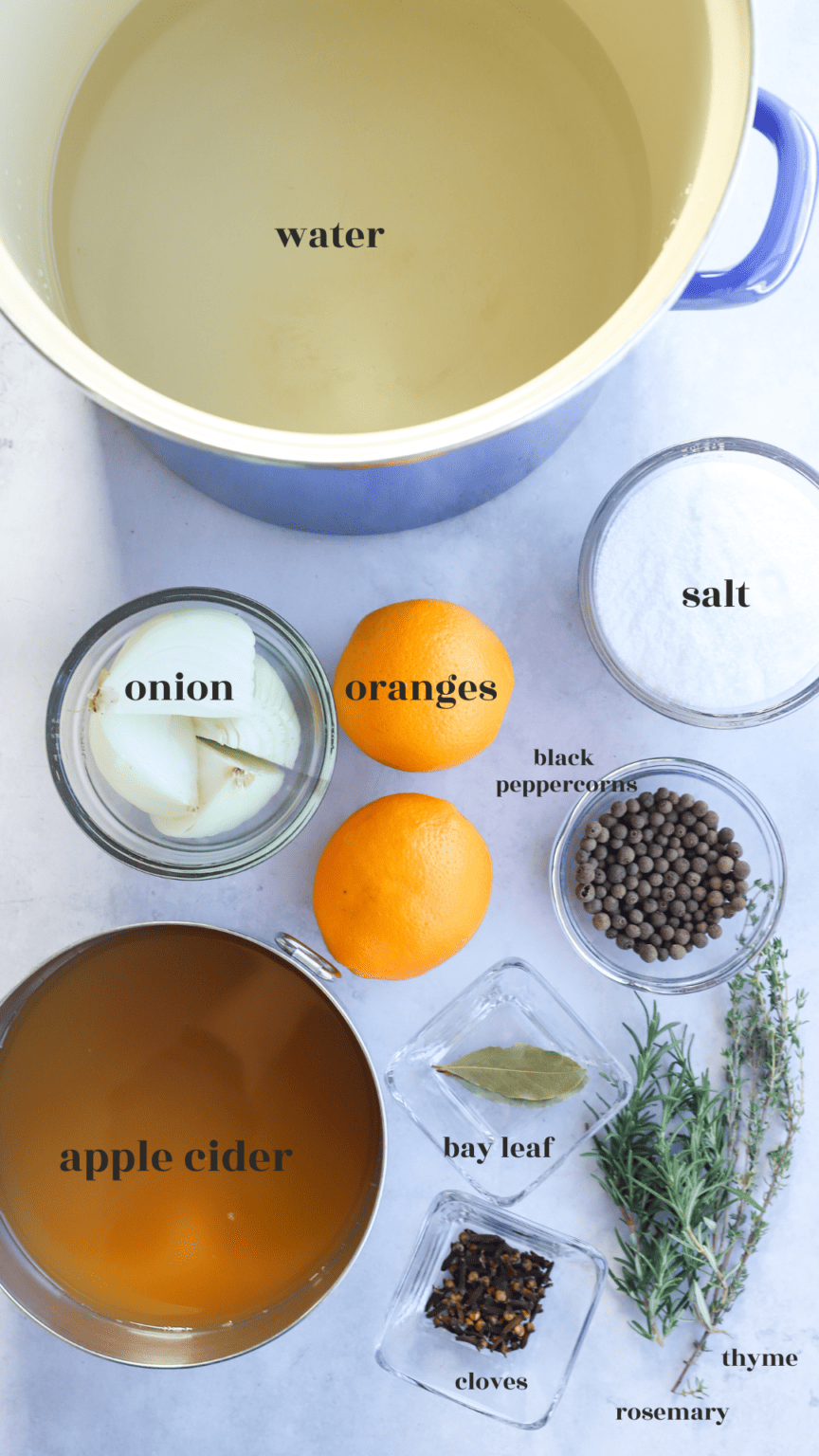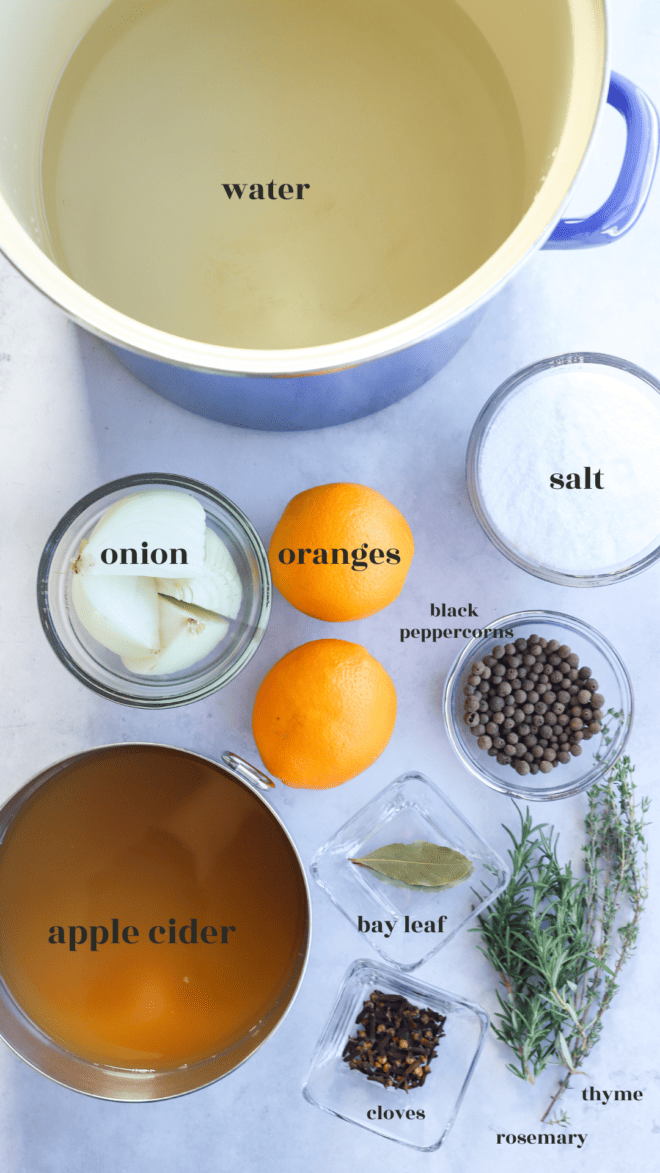 ingredients
water. You will need 1 gallon (16 cups) of water. You do not need to use filtered water as you are bringing the water to a boil.
apple juice or cider. I personally like to use apple cider for this recipe, but apple juice works as well. You can also use a brown ale if you would like to use beer instead.
kosher salt. Use fine kosher salt for this recipe. I don't recommend using coarse salt as it takes longer to dissolve.
allspice. You will need whole allspice berries for this recipe. Do not use ground allspice in the recipe.
cloves. Whole cloves are best for this recipe. I do not recommend using ground cloves.
bay leaves. You will need 2 bay leaves for this recipe.
fresh herbs. A combination of fresh thyme sprigs and fresh rosemary sprigs bring herbaceous flavor to the brine.
onion. I like to use a large yellow onion, but you can also use a white onion if you prefer.
orange. You will need the peel from 2 large oranges. Save the oranges to use their juice or eat the fruit!
this recipe's must haves
To measure the ingredients you will need measuring cups and measuring spoons.
All you need for this recipe is a large stockpot to make the brine.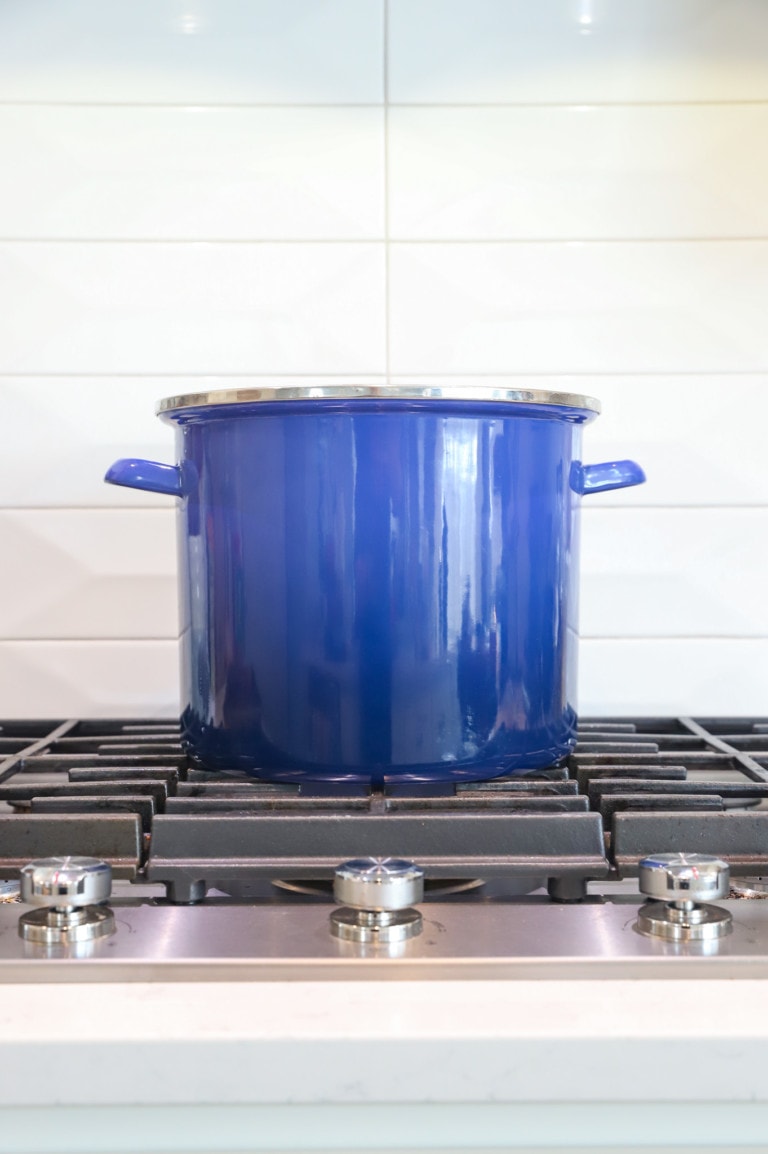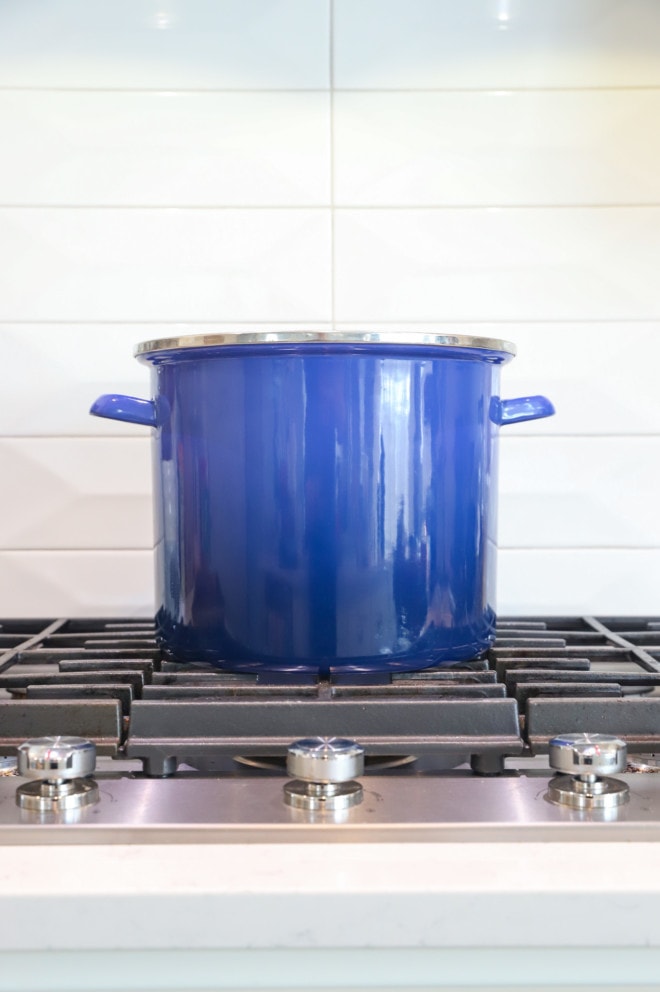 here's how to brine a turkey
boil
Add cold water, apple juice or cider, salt, allspice berries, whole cloves, bay leaves, thyme sprigs, rosemary sprigs, yellow onion, and orange peel to a large pot. Bring to a boil over high heat, stirring until the salt and sugar have dissolved.
cool
Remove from heat and let the brine cool completely. You do not want to use the brine before it has cooled to room temperature.
brine
Place the bird in a brining bag or large pot. Pour the brine over the turkey.
Brine for at least 16 hours and up to 24 hours. Be sure to turn the bird if the entire bird isn't submerged. We turn ours halfway through the brining time.
pat dry
Remove from brine and pat dry. You can rinse the turkey if you think it will be too salty, but we don't typically rinse ours.
Pat dry and cook as desired.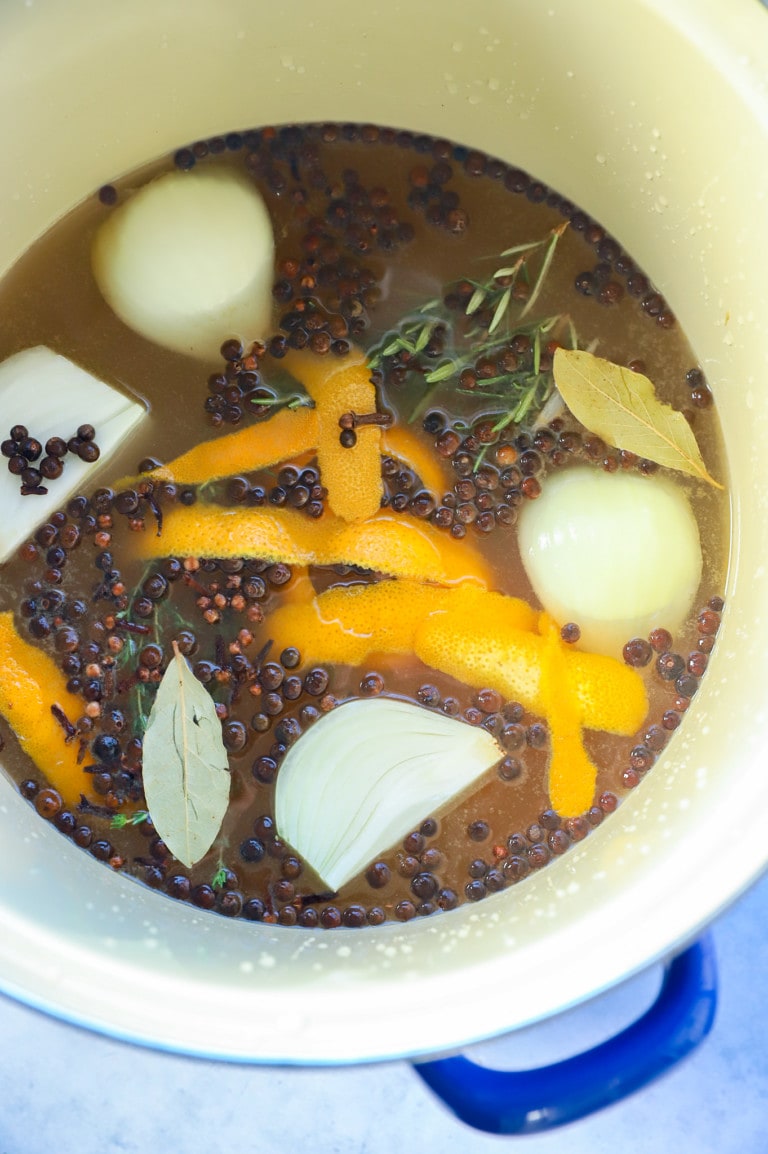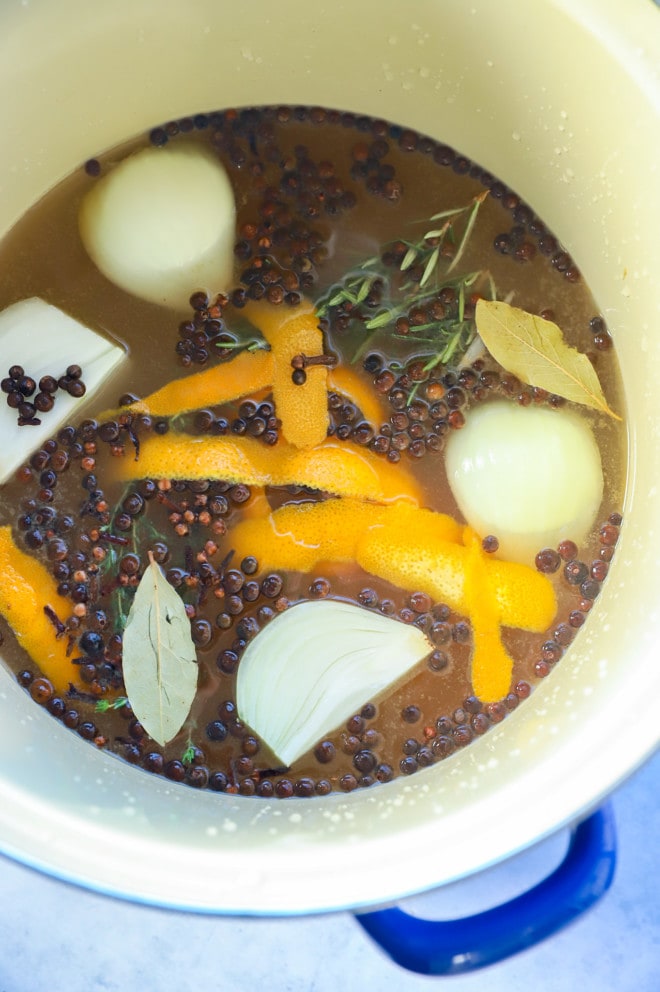 tips and tricks
thaw your turkey first. While you can brine a frozen turkey, you will need to brine it for about 2+ days to fully thaw out the turkey. I find it easier to simply brine the thawed turkey and not worry about it defrosting in the brine.
no rinsing necessary! You don't need to rinse the turkey before adding it to the brine, or after removing it from the brine.
rest the turkey before slicing. Let your turkey rest for at least 25 to 30 minutes before slicing it. If you slice it too early, all the juices will flow out and you will end up with a dry turkey.
pat turkey dry. Though you do not need to rinse the turkey off after brining it, you do need to make sure that you pat the turkey dry. This is what gives you the perfectly crispy skin when you roast it or smoke it.
variations
use different types of herbs. This recipe calls for a combination of rosemary and thyme, but you could also use sage in the mix. You can also focus on just one fresh herb if you prefer to!
use different liquids. Instead of apple cider, try using apple juice or beer! If you try a beer, we recommend a brown ale or a lager.
swap out seasonings. Experiment with the flavor by adding in cinnamon sticks! Swap out orange peel for lemon peel. You could even use cardamom pods or fennel seeds too.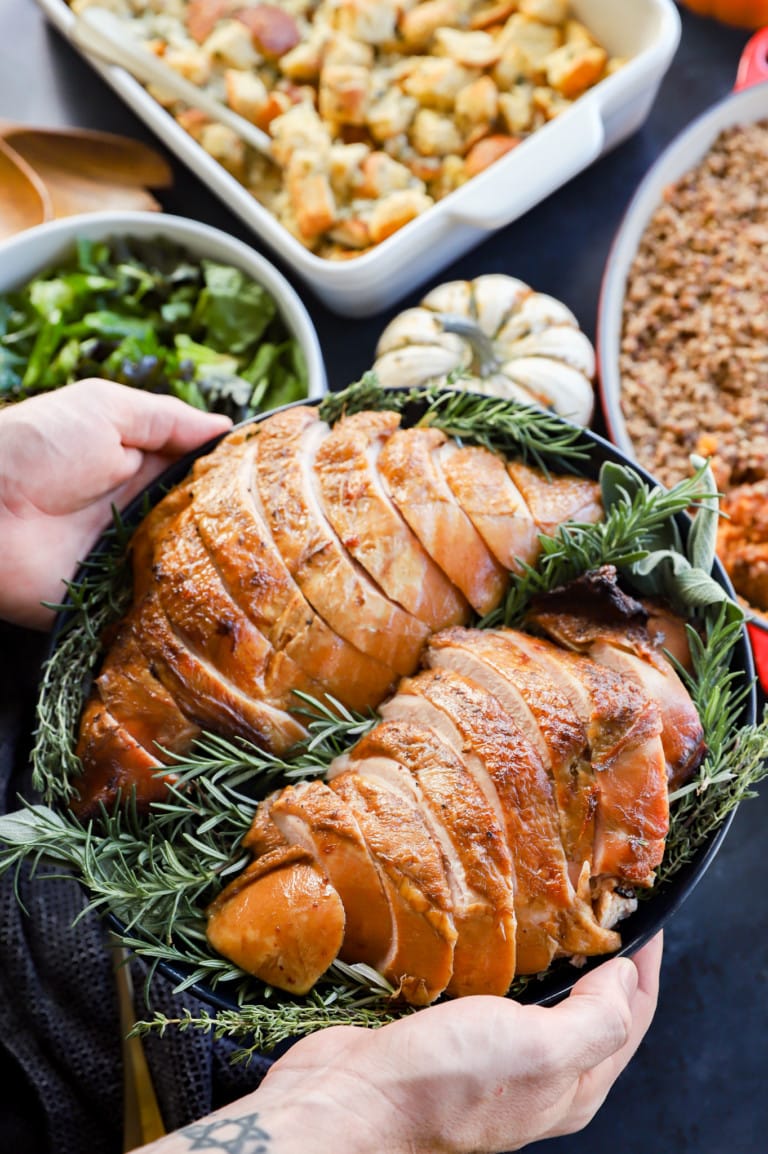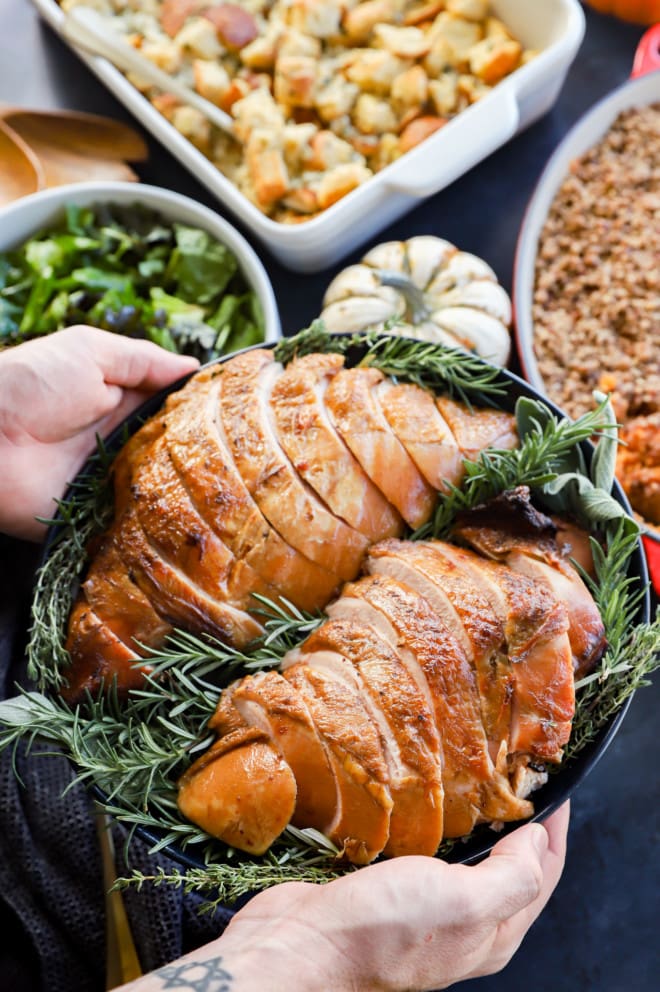 can this turkey brine be made ahead of time?
This brine can be made up to 5 days in advance! All you have to do is store it in a container in the refrigerator until you are ready to brine the turkey.
can I use this turkey brine for a turkey breast?
You can certainly use this brine for a turkey breast! This brine will work for turkey breast or a full bird up to about 20 lbs.
how long should you brine a turkey or turkey breast?
The brining time depends on the size of your bird! For a turkey breast, I recommend brining it for about 12 to 16 hours.
If your turkey is under 15 pounds, you should brine your turkey for at least 16 hours, and up to 24 hours. I usually like to brine it for about 18 hours. This is the sweet spot for this size of bird! Do not brine it for longer than 24 hours as the turkey will end up being too salty.
For a turkey that is larger than 15 pounds, brine the turkey for about 36 to 48 hours.
does the turkey need to be refrigerated while brining it?
Yes! The turkey needs to be refrigerated or else it will spoil. Therefore, do not leave the turkey brining on the counter. It's raw turkey, so it should be treated like any raw poultry.
should you rinse the turkey before or after brining it?
No. There's no need to wash off the turkey before adding it to the brine! All you have to do is remove the neck and gizzards from the inside if you are making a full turkey.
In addition, I don't find it necessary to rinse the turkey after brining it. If you are worried about it being too salt, you can rinse it. However you don't have to, as this brine isn't overly salty.
Always allow the skin to dry completely before roasting or smoking it. We use paper towels to pat the bird dry. The dryer the skin, the better it will brine, so you can even dry the bird overnight if you prefer. If you do so, I recommend placing it on a rack on a baking sheet in the refrigerator.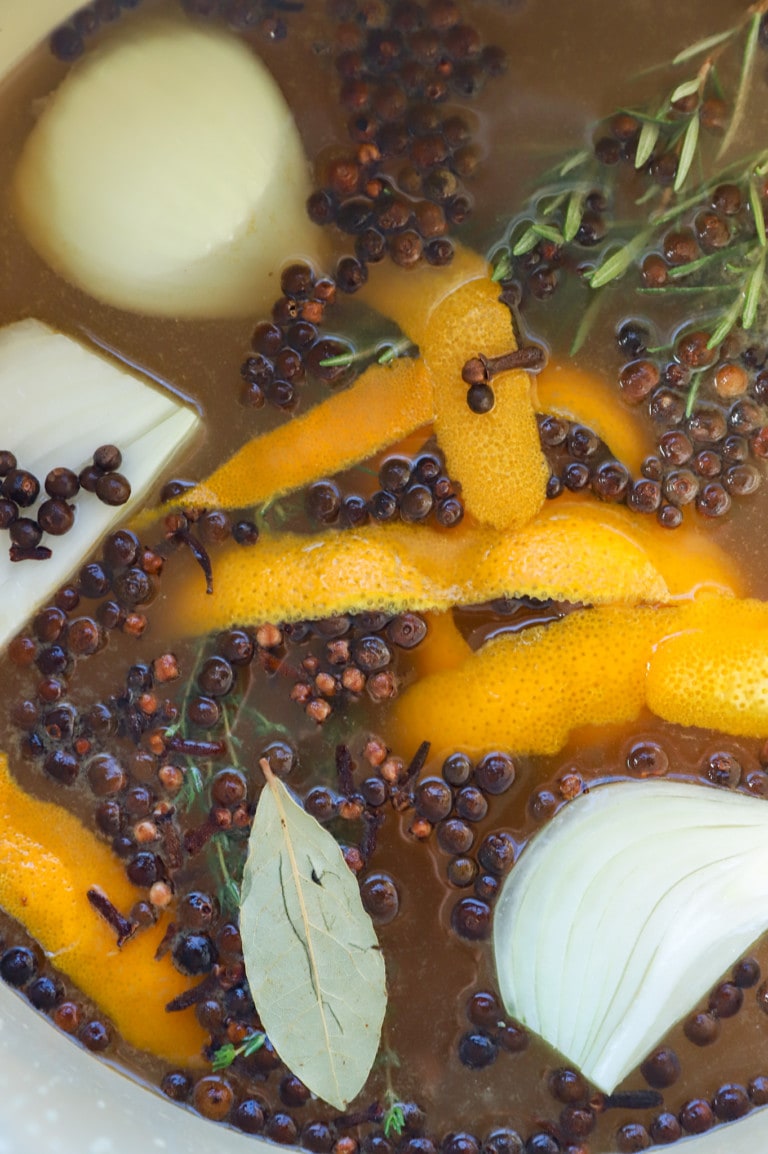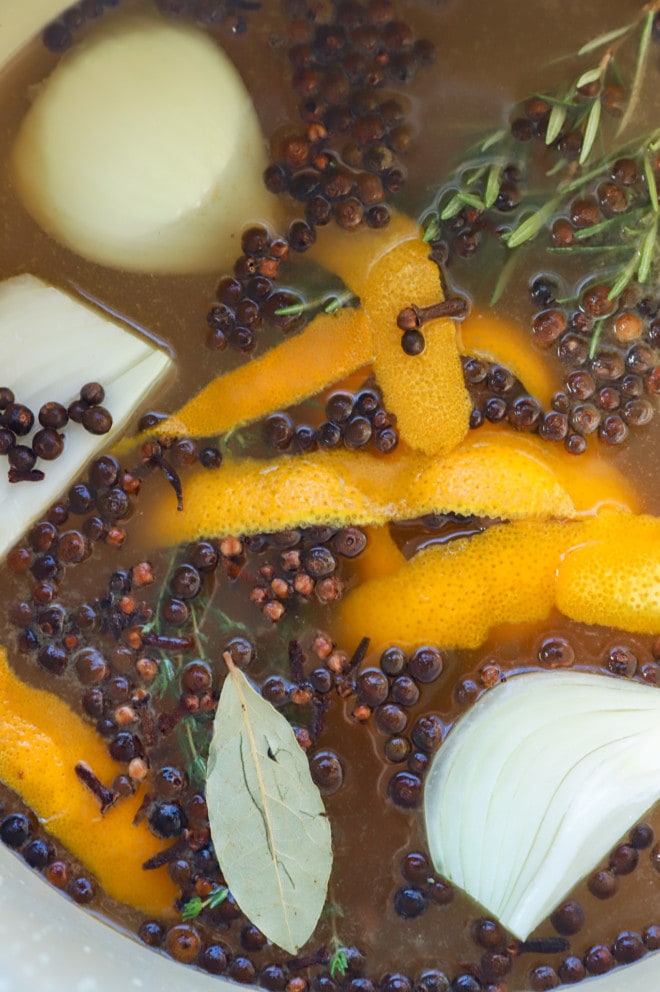 should you thaw the turkey before brining it?
Yes, thaw the turkey first! This is what will cut the brining time down to about 12 to 18 hours.
If you want to thaw the turkey in the brine, you certainly can! However, this will take up to 2 days to defrost. Therefore, I like to thaw the turkey first, especially so I can remove the neck and gizzards before brining.
what should I brine my turkey in?
For this type of wet brine, you'll want to use any container that will comfortably hold the turkey and the brine. This container should also have a lid, unless you are using a brining bag. Here are some of the containers we've used in the past:
A large stockpot with a lid works wonderfully with a smaller turkey or turkey breast and this turkey brine. However, most large pots are not big enough to fit a turkey unless you happen to have a giant one on hand like I do! Therefore consider using a large bucket or a cooler. For a large bucket, you will need to cover it with plastic wrap since you likely don't have a lid for it.
If you like to use a brining bag, I recommend placing the bag with the brine and turkey in it inside a container. This is just in case there are any leaks! A cooler usually works best for this as well.
Don't have enough room in the refrigerator? I recommend using a cooler with ice and a brining bag! It's cold enough where we are to have the cooler sit in the garage and the temperature stays cold enough without freezing.
what if my turkey isn't completely submerged?
Sometimes the turkey will not be 100% submerged because of the container you are using, and this is ok! If a quarter of the turkey is sticking out, you will need to make sure that you turn the turkey halfway through brining it. This will ensure the whole turkey is brined evenly.
how should I cook the turkey?
In our opinion, the best way to cook a turkey is to smoke it. This smoked turkey or this smoked turkey breast can be paired with this brine and it will come out so perfectly juicy. We promise you that you will get the perfect results with meat that is moist and skin that is crispy and brown!
You can also easily roast the turkey as well.
do I need to baste the turkey while it cooks?
Since you are brining the turkey, you do not need to baste it while it cooks! The turkey has already soaked up plenty of moisture during the brining process, therefore it does not need the help of basting to add extra moisture as it cooks.
can I use the pan drippings for gravy?
If you are not soaking the turkey for too long in the brine, you can definitely use the turkey drippings to make gravy! My suggestion? Taste the drippings before using them to make the gravy. If they are a little too salty, use water to thin them out.
is a wet brine better than a dry brine?
A wet brine is our preference because it works more quickly than a dry brine does. Usually a dry brine needs a minimum of 24 hours. A wet brine also results in a juicier turkey because the turkey is absorbing the moisture of the brine as it soaks.
Need more inspiration for Thanksgiving? Check out my Thanksgiving recipes page!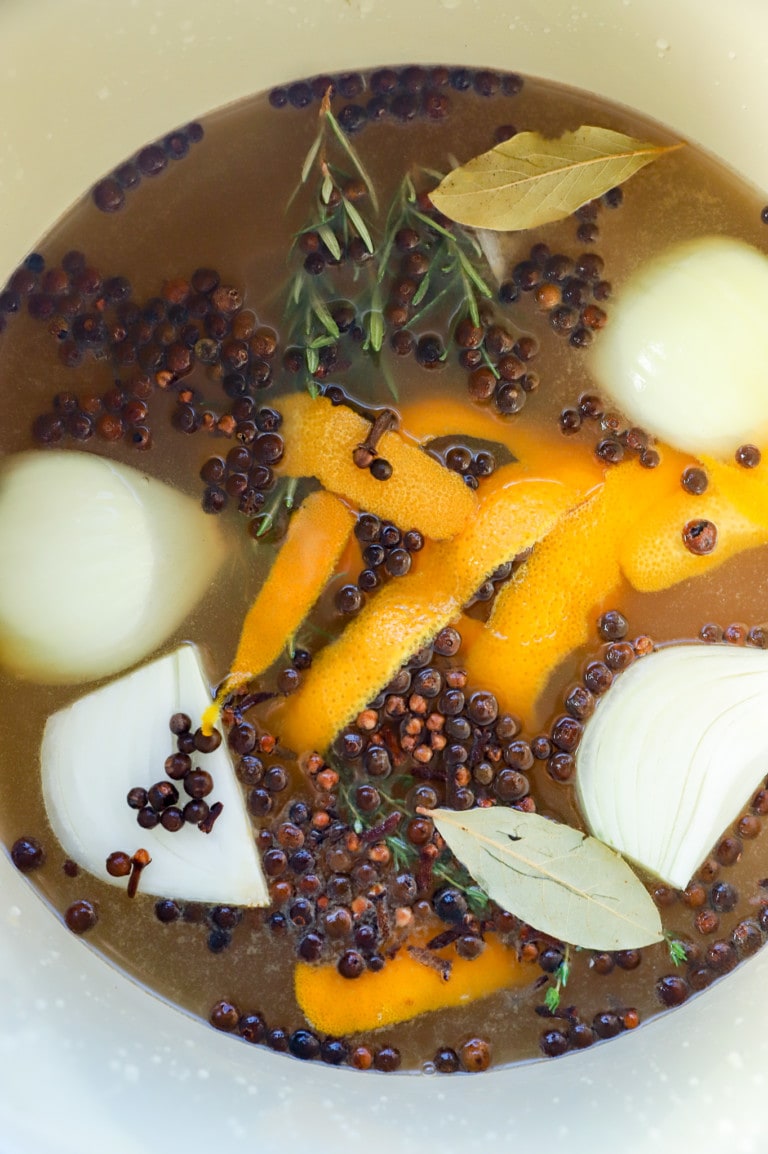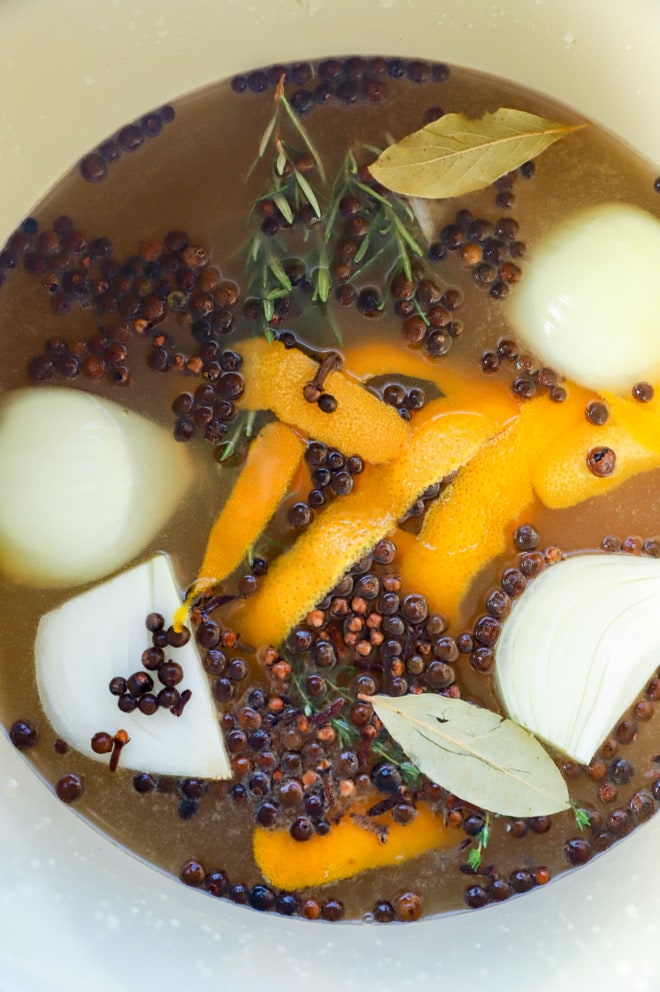 what to serve with a brined turkey
If you are looking for some Thanksgiving recipes to serve alongside your turkey, here is the Thanksgiving menu that I love to serve:
Baked camembert with cranberries and walnuts is an easy, gooey appetizer.
For side dishes, sausage stuffing, hasselback sweet potatoes, instant pot mashed potatoes, and biscuits are always a must for a holiday dinner spread.
When it comes to dessert, get the best of both worlds with this pecan pie cheesecake.
Don't forget the signature Thanksgiving cocktail!
how to store
Store. You can easily make this brine up to 4 to 5 days in advance! Store it in the refrigerator until you are ready to add the bird to the brine.
more turkey recipes
If you are hoping to make a turkey for a smaller gathering, this beer brined turkey breast is the ideal size.
Smoked beer brined turkey is hands down the best way to get the juiciest bird possible.
Got leftover turkey? Make Thanksgiving leftover stuffed egg rolls with a cranberry dipping sauce!
Finally, if you make this turkey brine recipe, please be sure to give this recipe a rating and/or leave a comment! I love to hear when you all make recipes, and I do take the time to respond to every single comment.
Feel free to drop questions below too, if you have them!
Oh and be sure to tag me on Instagram if you make the recipe! I love being able to see these recipes come to life in your homes – it's my favorite thing to look through those photos. It really means the world to me!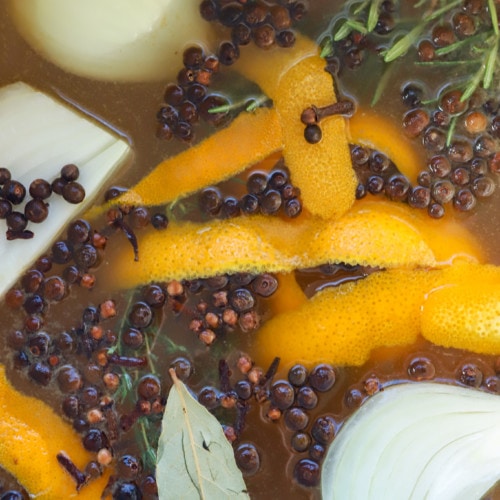 The Best Turkey Brine
By brining the bird, the final result is tender and moist. The easy brine is simple to make and will make all the difference for your Thanksgiving main dish.
Print
Pin
ingredients
1

gallon

water

(16 cups)

3

cups

apple juice or apple cider

or brown ale, if you want to use beer

1 1/2

cups

kosher salt

1/4

cup

whole allspice berries

1

Tbsp

whole cloves

2

bay leaves

4

sprigs thyme

4

sprigs rosemary

1

large yellow onion

peeled and quartered

Peel of 2 large oranges
instructions
Combine all ingredients in a large pot over high heat. Bring the mixture to a boil, stirring until the salt dissolves.

Let the mixture cool completely.

Once cooled, place turkey in a brining bag or container. Pour over turkey brine and cover.

Brine for at least 16 hours and up to 24 hours. Turn the turkey if necessary halfway through to ensure even brining.

Remove from brine. Pat dry with paper towels.

Cook as desired.
nutrition
Calories:
543
kcal
|
Carbohydrates:
137
g
|
Protein:
6
g
|
Fat:
7
g
|
Saturated Fat:
2
g
|
Polyunsaturated Fat:
2
g
|
Monounsaturated Fat:
1
g
|
Trans Fat:
0.01
g
|
Sodium:
170037
mg
|
Potassium:
1611
mg
|
Fiber:
18
g
|
Sugar:
73
g
|
Vitamin A:
653
IU
|
Vitamin C:
45
mg
|
Calcium:
741
mg
|
Iron:
8
mg