Please note this post contains affiliate links.
When you want to up your burger game, a Big 'n Smoky Five Alarm Burger is where the money's at. This burger brings the heat and the smoke with a spicy bourbon BBQ sauce, grilled jalapeños and a patty made with all-natural ground beef AND ground pork chorizo. Get ready to set your taste buds on fire!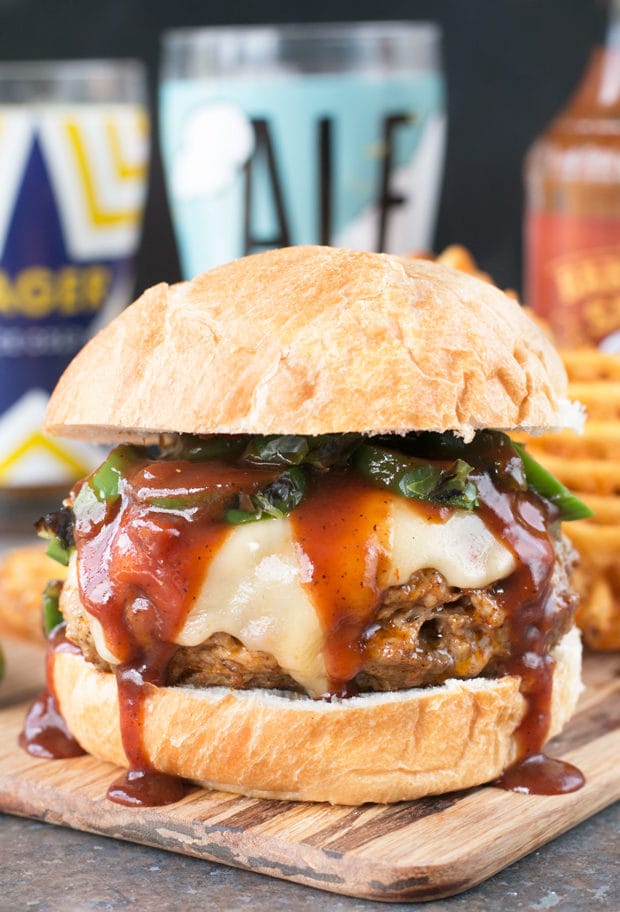 My recent travels took me to Charleston, South Carolina and one of my favorite meals there was this ridiculous burger that I scarfed down at a local beer and burger joint along the main stretch of Historic Downtown Charleston.
The burger was nothing short of delicious, with grilled jalapeños, a zesty cheese and melt-in-your-mouth burger patty that I couldn't stop shoveling in my mouth. It was spicy, but honestly a little underwhelming when it came to the heat level they boasted on their menu. It gave fair warning to anyone who dared indulge, but the spice level really could have been upped a couple of degrees to make the burger have a true bite.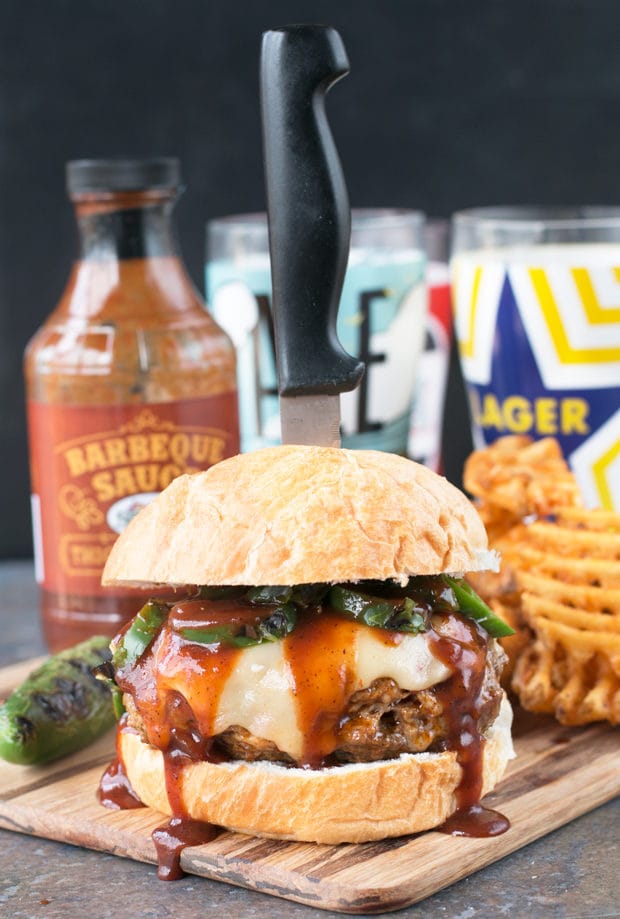 Please note that some of the links below are affiliate links. If you make a purchase through one of these links, I will receive a small commission. Thank you for supporting Cake 'n Knife!
So I did what I naturally do when I came home. I took a recipe idea that was incredible to start out with and turned it into something EPIC.
This is how the Big 'n Smoky Five Alarm Burger was born. I love a burger with spice, but I want there to be some smoke and good char flavor along with it. No one wants to completely obliterate their taste buds in the first bite. A heat that builds and builds, while letting you soak in the flavors of the burger is how to make it spot on delicious.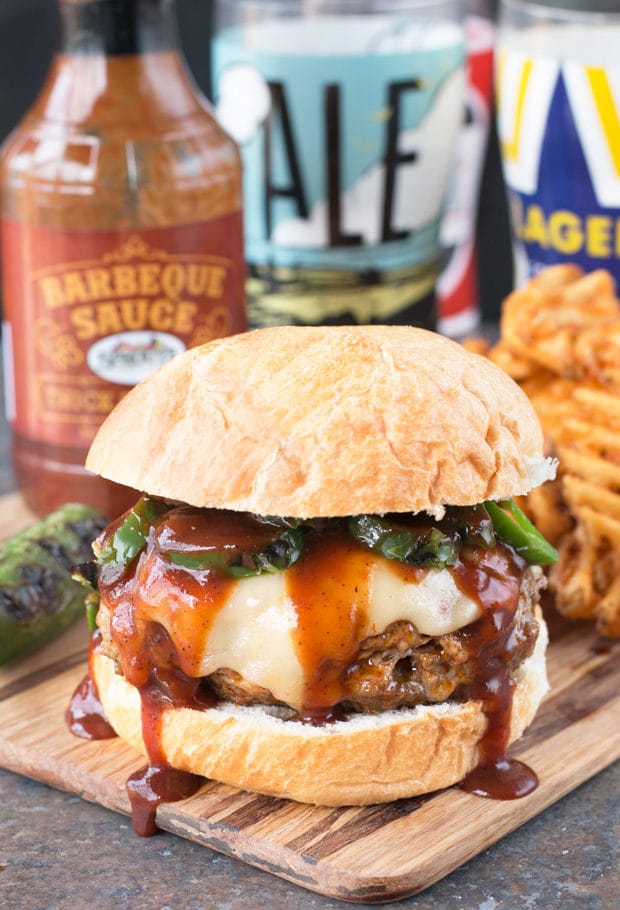 Smoky and spicy is totally my jam, and when it's paired up with all-natural, incredible beef bought at Sprouts (specifically at their meat counter! That's a pro tip from me to you, friends), it's even better than you could ever imagine.
There's a reason a shop at Sprouts all the time and one of the big ones is that their ground beef is such high quality. It's always fresh, never frozen, and their high-quality beef is freshly ground daily by the Sprouts butchers. It's like getting restaurant-quality beef, right in your own kitchen!
What does that really mean? It means your beef will be more juicy and more flavorful, so your burgers will be that much better.
After all, National Hamburger Day is coming up at the end of the month and I'm getting in on the preparation early!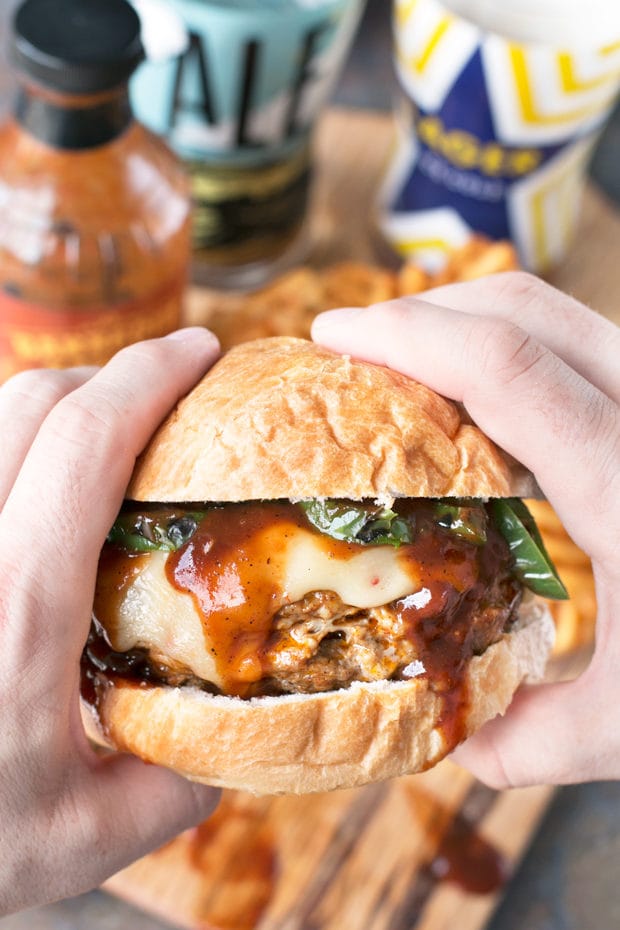 I paired the beef from Sprouts with some of their killer ground pork chorizo to make a patty with a little extra zip (well, the grilled jalapeños on this bad boy help with that too, of course. As well as Sprouts' hot pepper jack cheese.). The smokiness comes in with the spicy bourbon BBQ sauce I made by modifying Sprouts' Thick and Hearty Barbecue Sauce. With a touch of bourbon, chili powder and cayenne pepper, the already smoky sauce turns into a boozy and spicy topping that takes this burger to new heights of flavor.
Honestly, if you aren't grilling this burger up for National Hamburger Day this month, you are doing something wrong with your life.
Speaking of National Hamburger Day and grilling, Sprouts is hosting a contest that you HAVE to enter! Here's how it works. This Big 'n Smoky Five Alarm Burger is part of a contest for #MyBestBurger and I need your help to enter!! You have between now and May 26th to vote for this bad boy of a burger so I can win their National Hamburger Day challenge. The best part is, after you vote, you'll also be entered for a chance to win your own $500 grilling bundle. If that doesn't get you excited, I don't know what will!
Be sure to click the links at the bottom of the posts to share on social and get your friends/family in on the action (tag your posts with #MyBestBurger)! A big THANK YOU to all of you who vote and support all of this Sprouts deliciousness. You all make my world go round. 🙂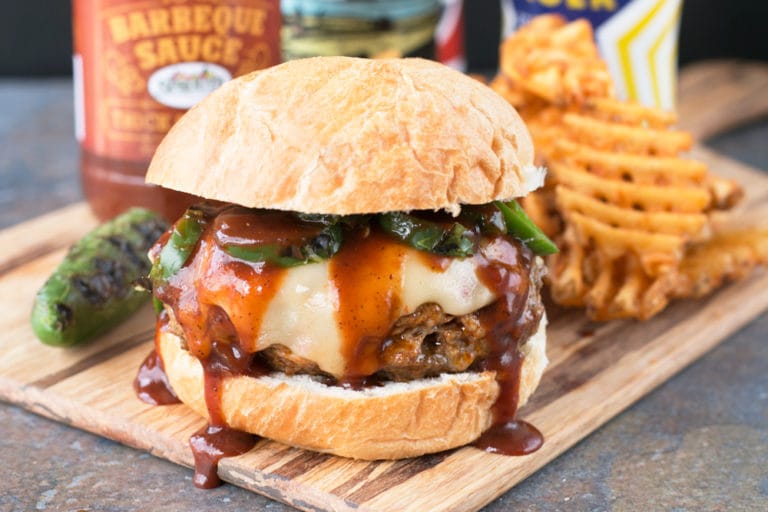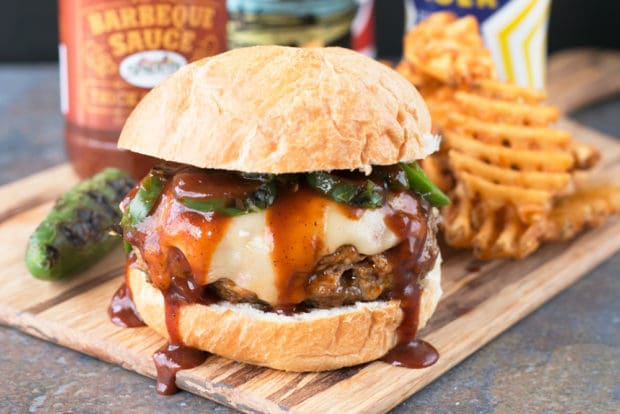 Disclosure: I received free product and compensation from Sprouts as part of this post. As always, all opinions and recipe are my own. Thanks for supporting the brands that support Cake 'n Knife!
This Recipe's Must-Haves
Pin this Big 'n Smoky Five Alarm Burger recipe for later!


Big 'n Smoky Five Alarm Burger
This burger has it all! Smoky, savory and packed with heat, you won't be able to resist finishing the entire thing.
Ingredients
2/3 lb Sprouts ground beef
1/3 lb Sprouts ground pork chorizo
1/2 tsp salt
1/2 tsp pepper
1/2 tsp red pepper flakes
1/2 tsp garlic powder
1/4 lb Sprouts hot pepper jack cheese
2 jalapeños
2 kaiser rolls, halved and toasted
Spicy Bourbon BBQ Sauce
3/4 cup Sprouts Thick and Hearty Barbecue Sauce
1/4 tsp medium chili powder
1/4 tsp cayenne pepper
1 oz bourbon
Pinch of black pepper
Instructions
Heat a grill or grill pan to medium-high heat. Once hot, add jalapeños and grill on all sides, approximately 1-2 minutes per side. Slice into rings and set aside. Leave the grill on for the burgers.
In a small bowl, whisk together ingredients for spicy bourbon BBQ sauce. Set aside.
In a large bowl, add ground beef, ground pork chorizo, 1/2 tsp salt, 1/2 tsp black pepper, 1/2 tsp red pepper flakes and 1/2 tsp garlic powder. Mix together with your hands until combined. Divide the beef mixture in half and form two large 1/2lb patties.
Grill hamburger patties until they reach your desired temperature, approximately 4-5 minutes per side for medium. In the last two minutes of cooking, top patties with slices of hot pepper jack cheese. Cover using a metal bowl if you are using a grill pan (or close to the lid to the grill) to help the cheese melt faster. Once cheese is melted, remove from heat.
To assemble the burgers, add the patties to the bottom halves of the rolls. Top with grilled jalapeños and a generous teaspoon or two of the spicy bourbon BBQ sauce. Top with the other halves of the buns. Serve immediately.