With this Ultimate Tailgating Snack Board, you can graze throughout any game! This board has it all, from wings to veggies to fruit to a variety of yummy snacks that you can pick up at your local Sprouts Farmers Market. Serves 4.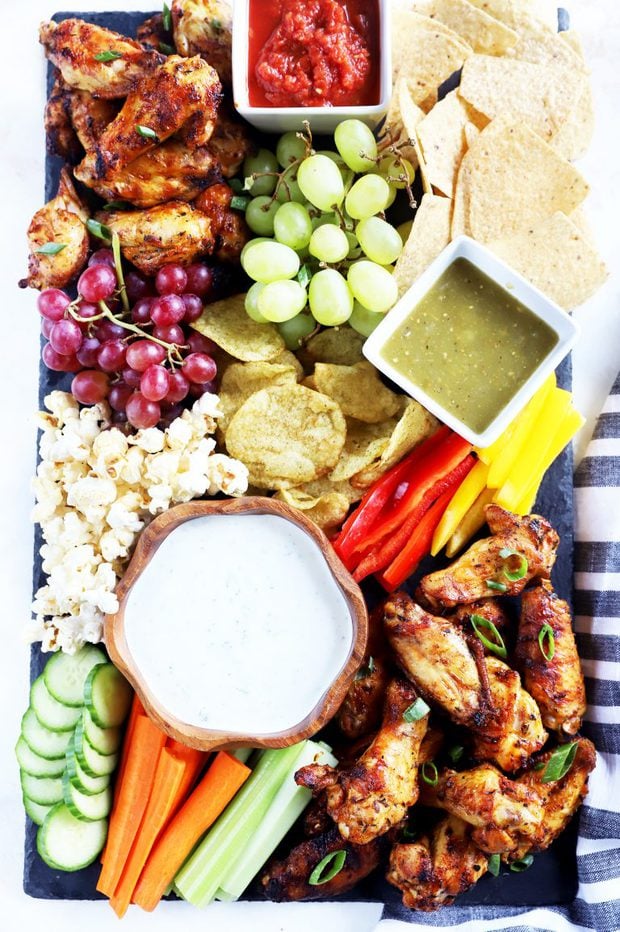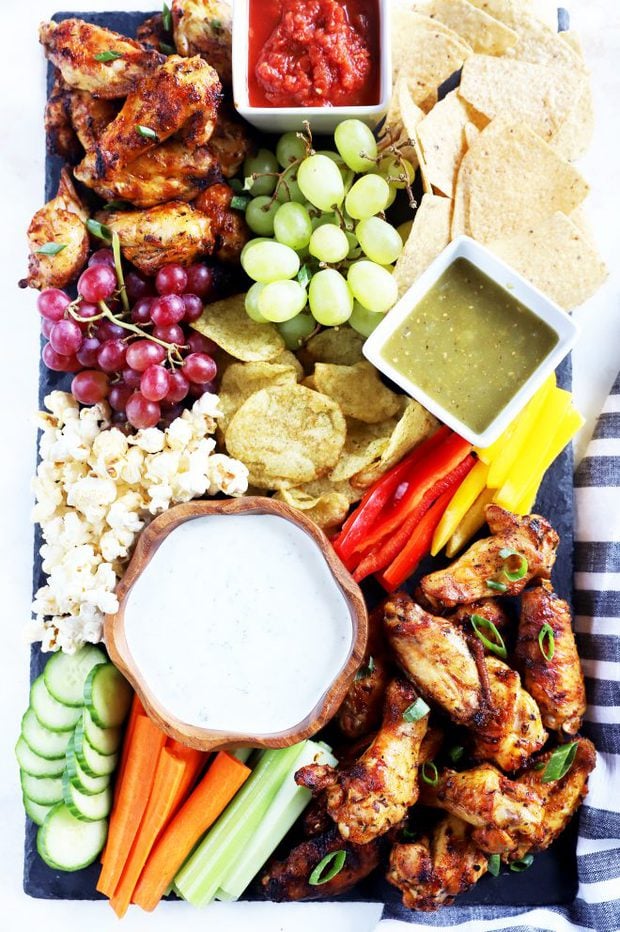 Disclosure: This post is sponsored by Sprouts. As always, all opinions and thoughts are my own.
You all know I LOVE a good board.
I am a big time grazer and even with my ever-expanding belly, this has not changed a bit. A little bit of this, a little bit of that, nibble nibble nibble.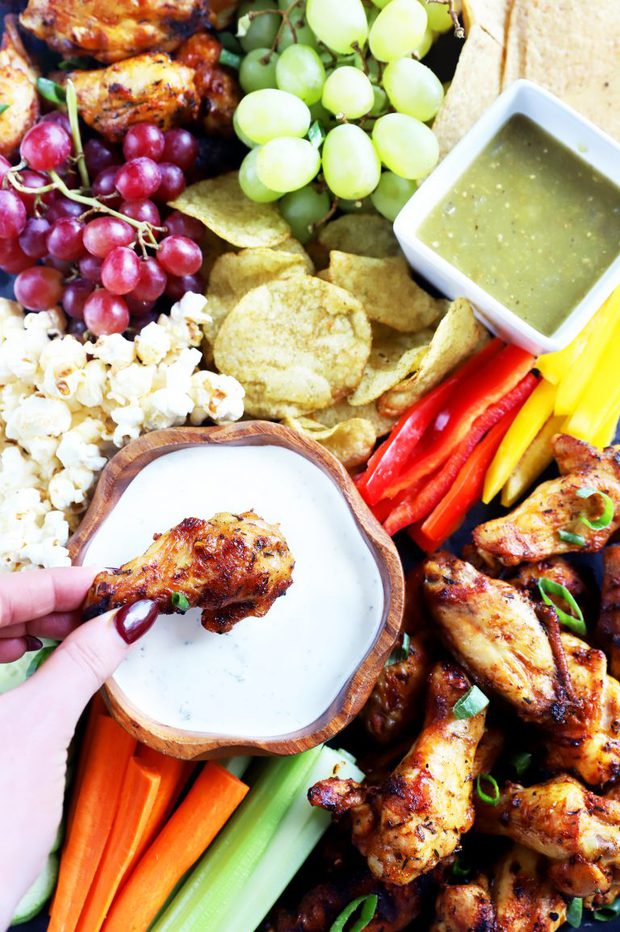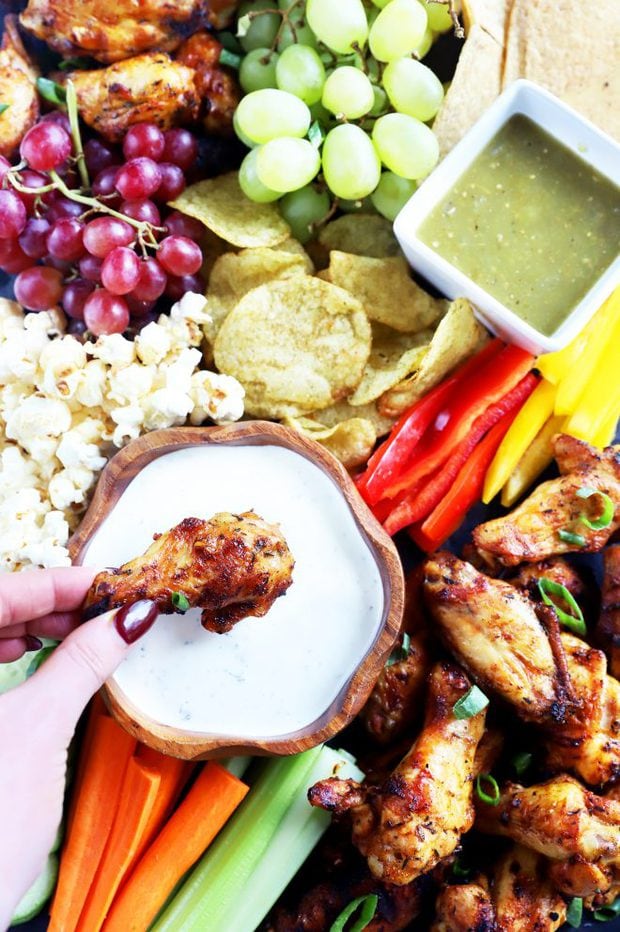 This year looks a bit different when it comes to sports. We aren't gathering in the same way that we used to, but that doesn't mean that we can't make these games just as memorable!
Since we will be mostly at home this year, I am bringing out new and delicious ways to bring your family together, whether you are watching the big game together or you simply want a fun way to enjoy tasty food together as you hang out on the weekend.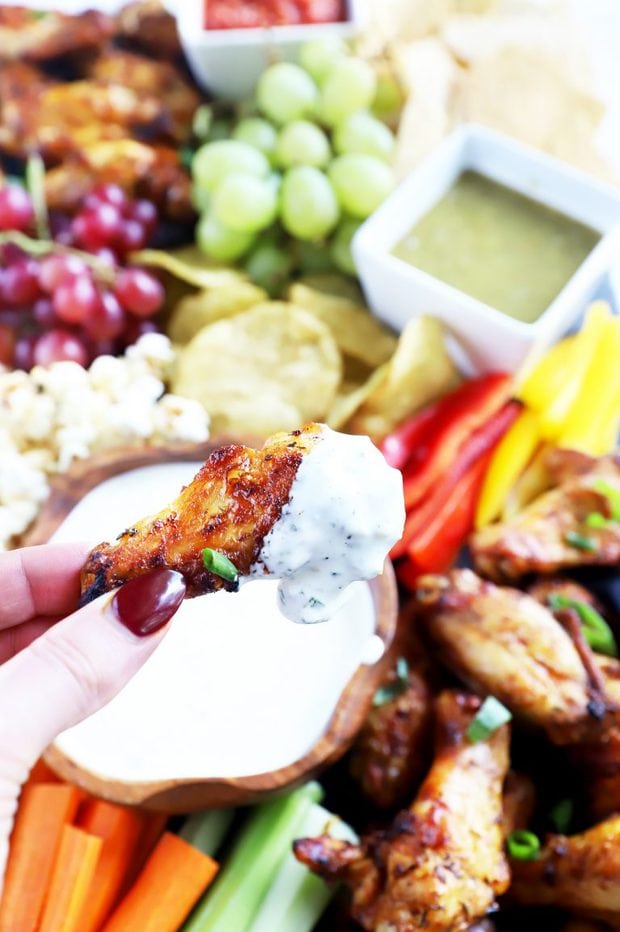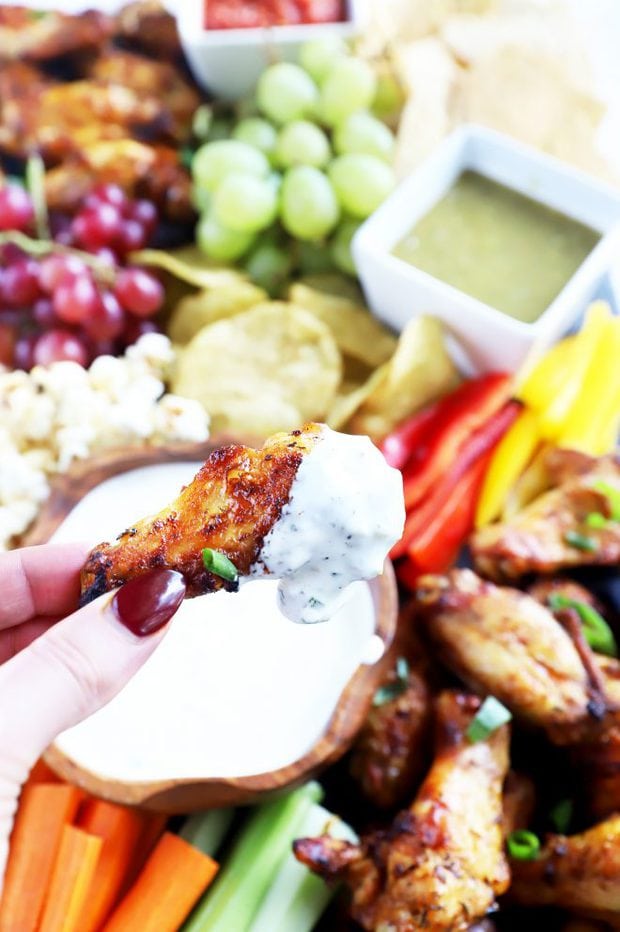 This is the ULTIMATE tailgating snack board.
It has everything from snacks to veggies to fruit to super easy and flavorful wings.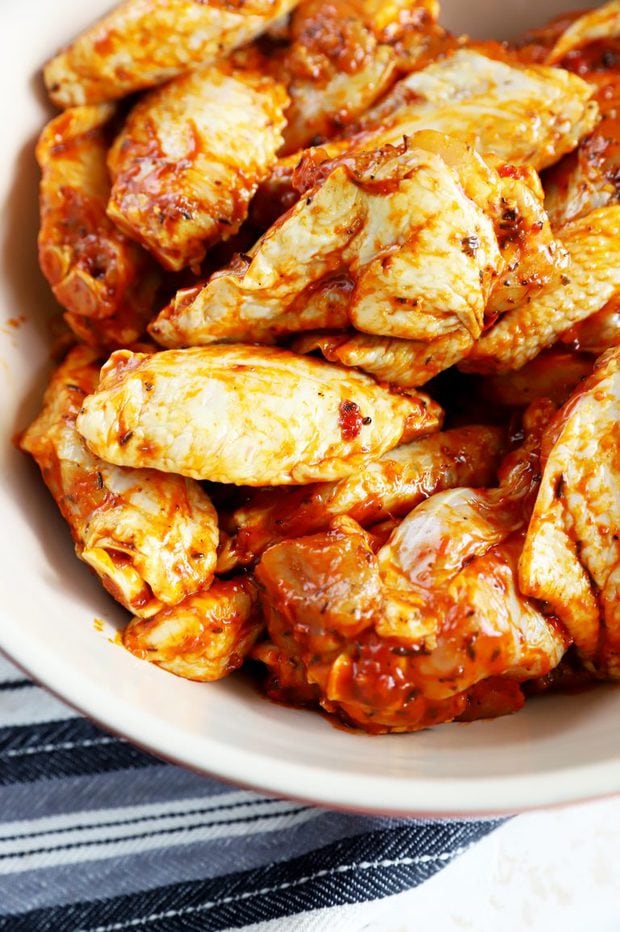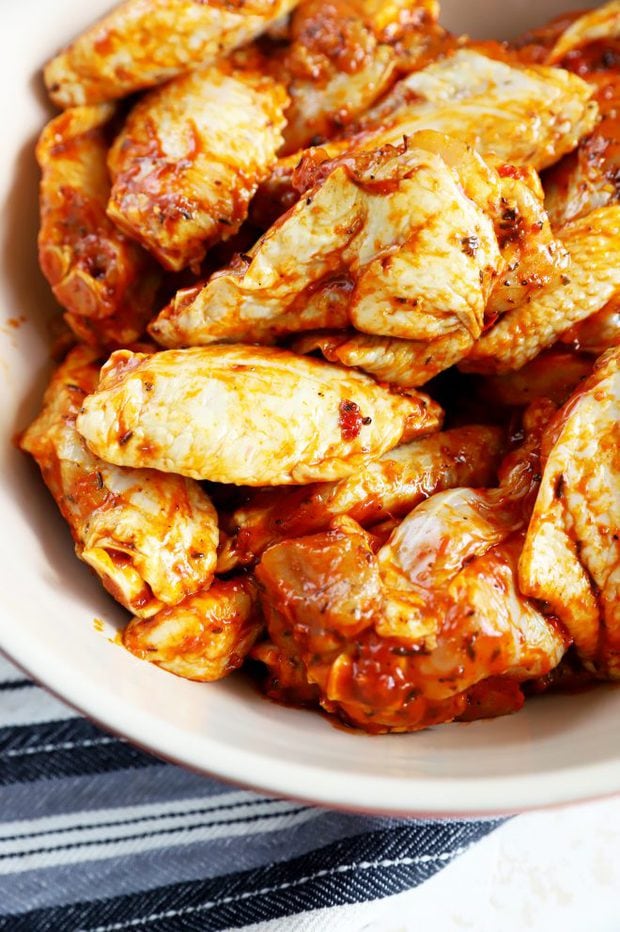 The wings are the real star of this board because 1) they are full of powerful jerk chicken flavor and 2) they are SO EASY.
If you're wondering why they are so easy, it's because I got them at Sprouts Farmers Market where they take care of the marinade for me 🙂
Talk about the best shortcut ever.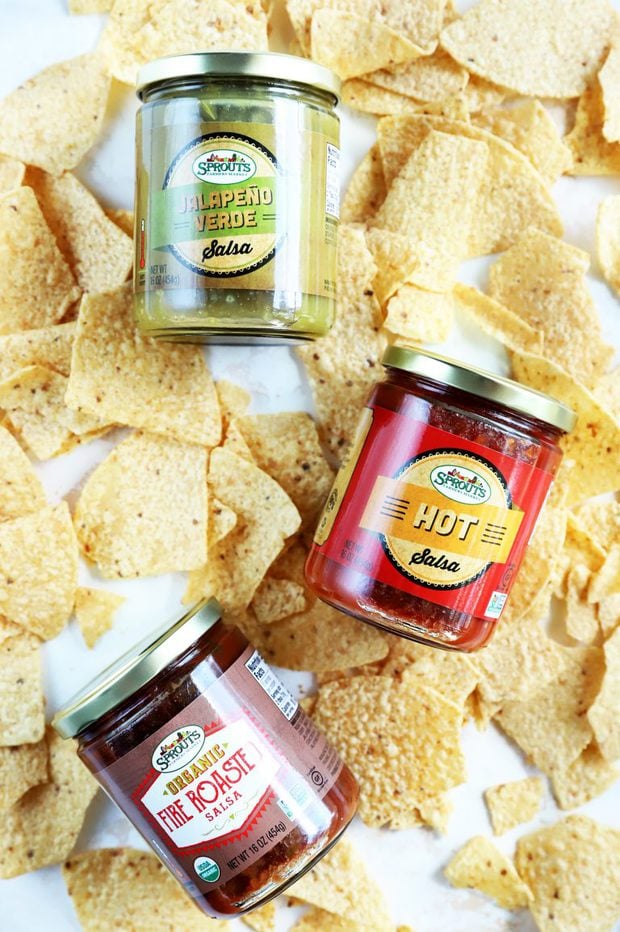 You also might be wondering, why did I purchase these marinated wings at Sprouts? I've touted their ready-to-cook marinated proteins before, but for this recipe, the Island Jerk Wings are the best base for the board. In addition, Sprouts also has other options for quick and delicious dinners! Here's a few of the options they have on deck:
Island Jerk Shrimp (awesome for making skewers!)
Herb Butter Garlic Salmon (try serving with roasted seasonal veggies)
Black Garlic Chicken and Mushroom Saute (I love this one over buttered noodles!)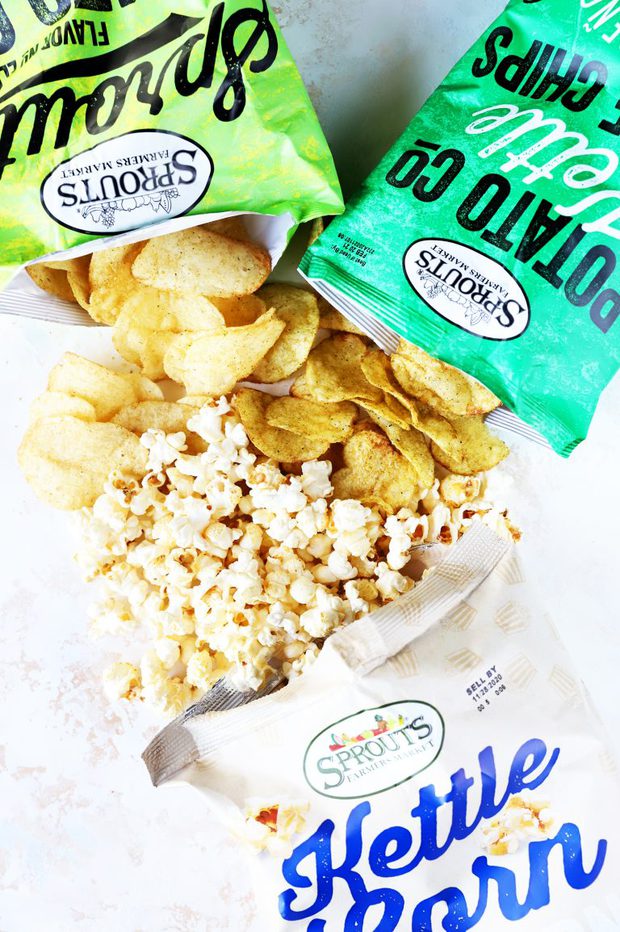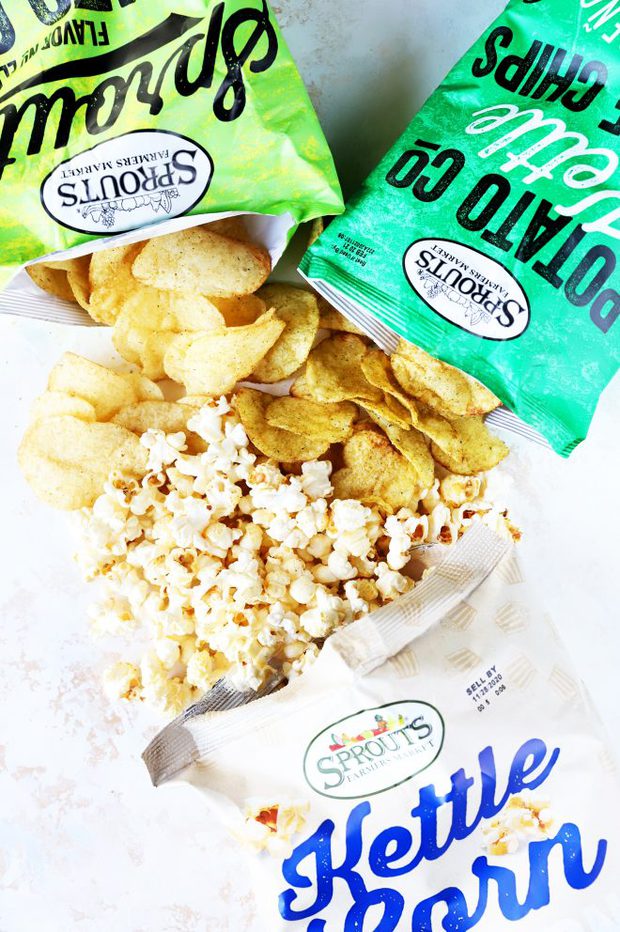 Not only does purchasing any one of these save me time, but I have the confidence that these marinated proteins are made from the highest quality meats. The air-chilled chicken and seafood are sustainably sourced, which gives me peace of mind.
When you get these wings home from the store and open them, they immediately fill your nostrils with the most intoxicating scent. I'm not kidding, they smell AMAZING and your mouth will immediately start to water.
My mouth is starting to water just remembering the scent… YUM.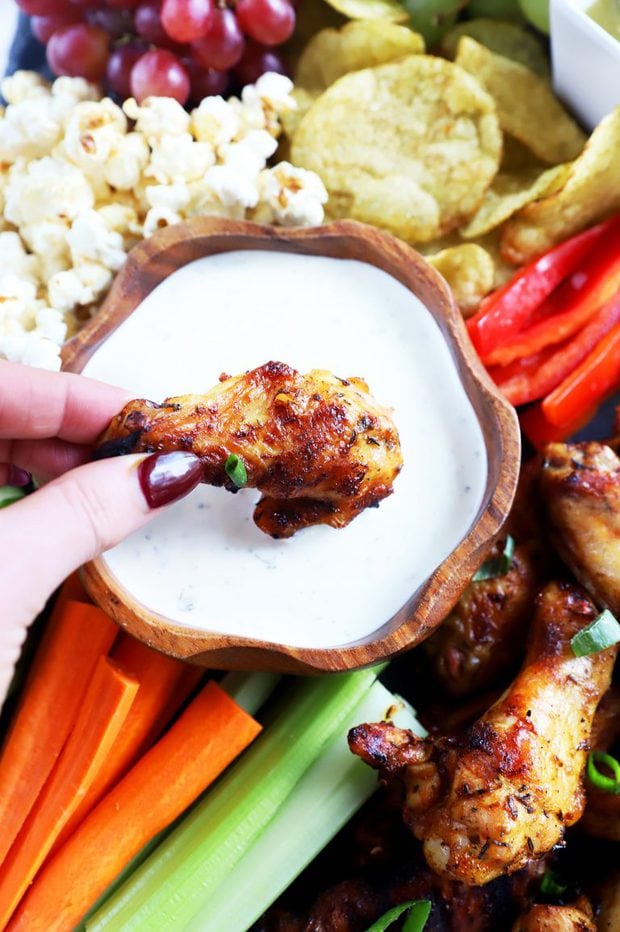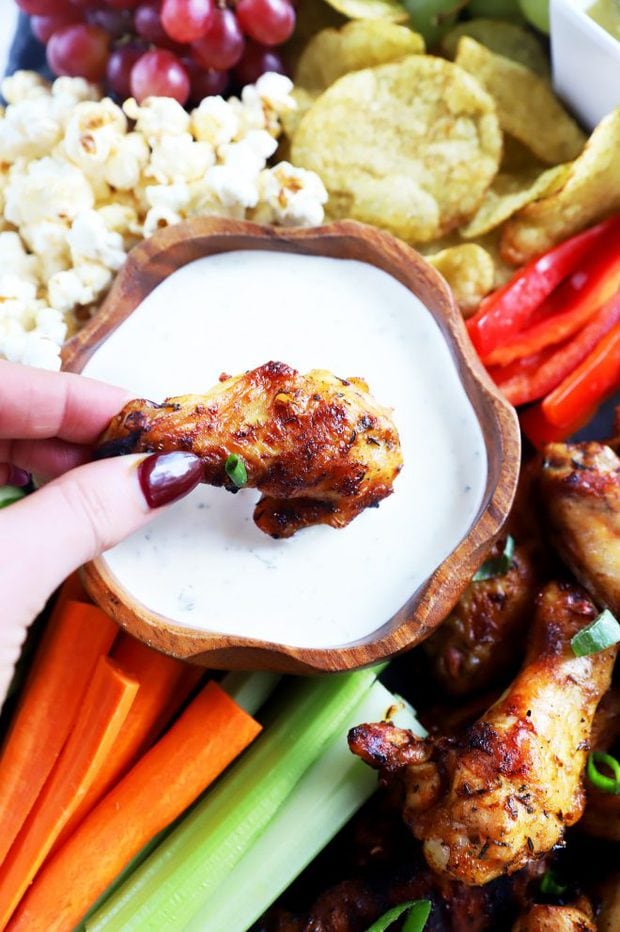 The wings with the fun mix of snacks and other items makes for a varied board that never seems too one note. You get all the textures and all of your taste buds get a jump start. Just have a big bowl off to the side ready for bones and dive in!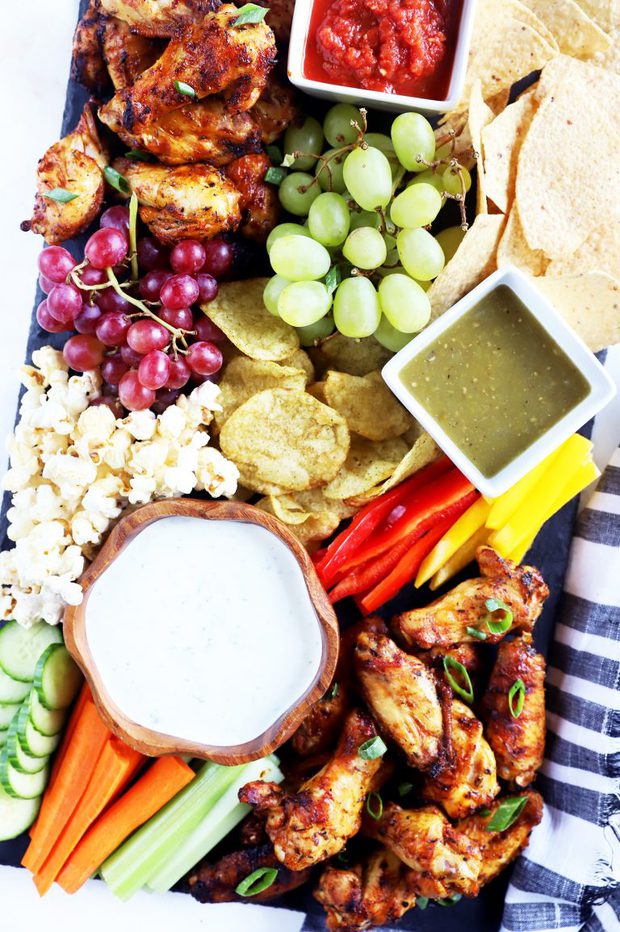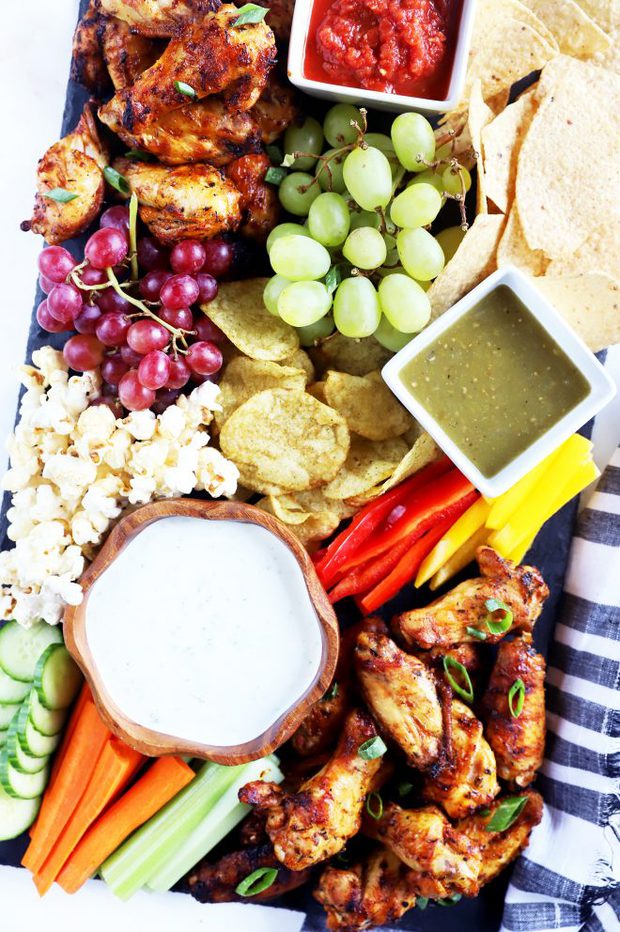 this recipe's must-haves
Everything that you can see on this board can be purchased at your local Sprouts Farmers Market! It's the easiest one stop shop. Just keep an eye out for the Sprouts branded products – they have a killer price point and are even tastier than other big name brands you might usually turn to!
You will need to have your grill ready, and you all know I am a Traeger grill kinda girl. Also make sure you have a set of tongs to flip those wings over the high heat.
If you love all things Traeger, be sure to check out these Traeger chicken wings recipes!
Pick out your favorite platter or slate board to serve it all on! I used something similar to this slate one, but you can also use wood platters or whatever you have on hand.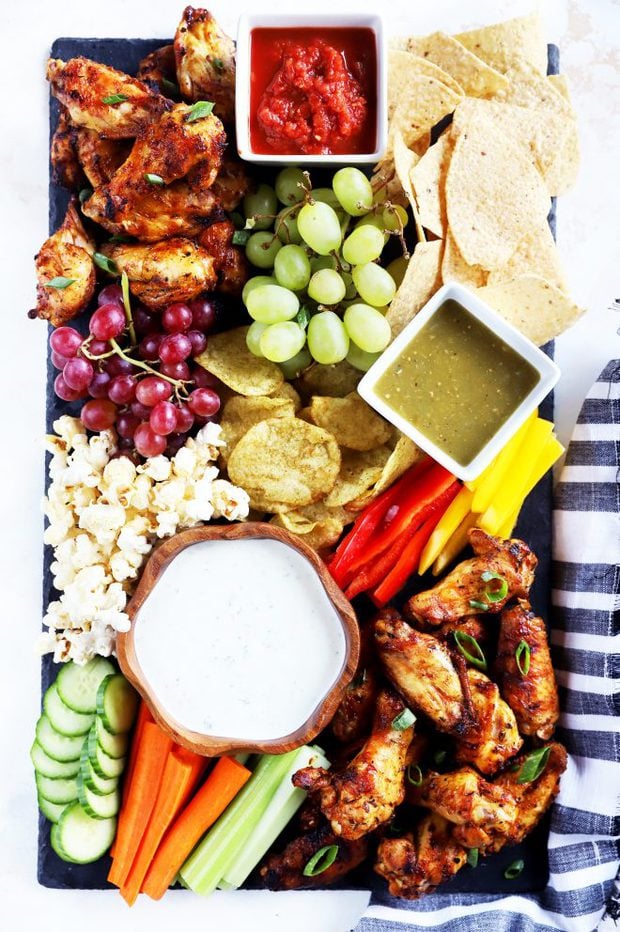 here's how to make the ultimate tailgating snack board!
Grill Wings
The Island Jerk Wings from Sprouts are already marinated, so they are ready to go straight on the grill! Simply grill them for about 15 minutes, flip 'em, and grill another 15 minutes until they are cooked through (165˚F inside, measured with a thermometer).
I like to give them a sprinkle of freshly chopped cilantro for an added hit of herbaceous flavor.
Make Sauce
For the sauce, simply whisk everything together in a small bowl and set in the refrigerator until you are ready to serve.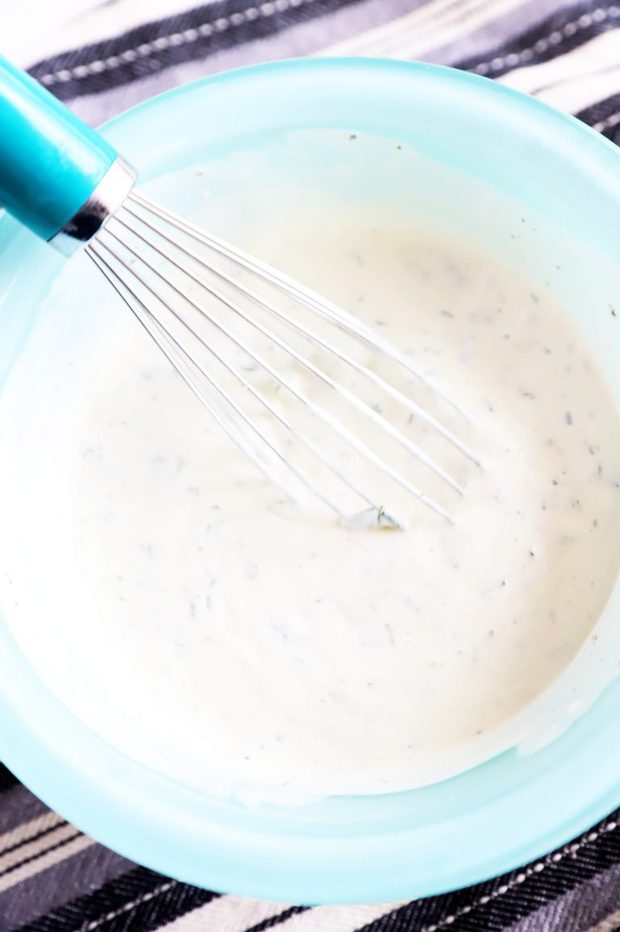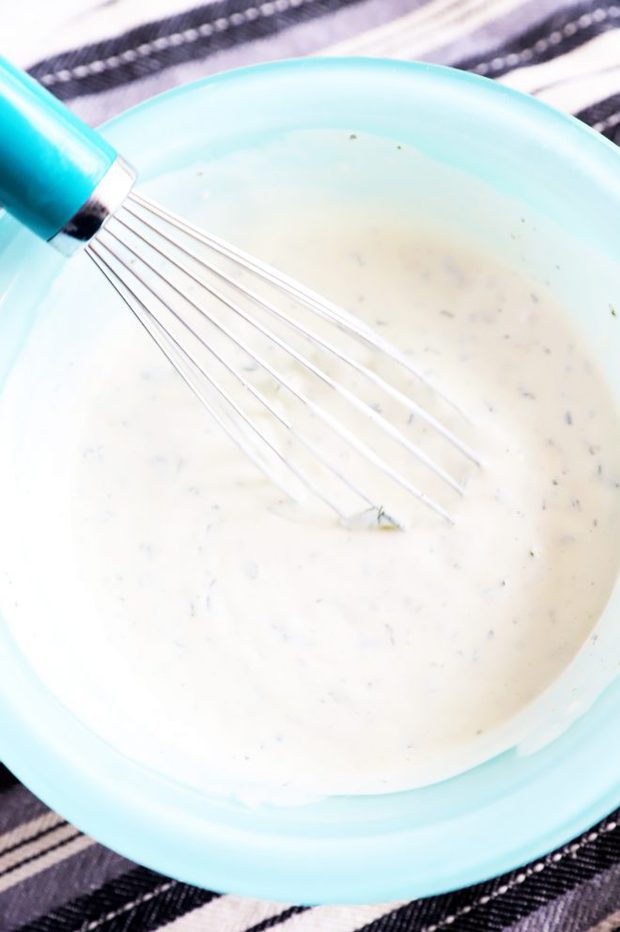 Assemble
Assembly is easy! I personally like to start by getting the wings on, splitting them on two sides of the board for easy grabbing with the sauce somewhere in the middle.
Then all you have to do is add the other elements all around! I like to keep the veggies on one side and the snacky items on the other, but you can intermingle them if that's more your style.
Need some more inspiration for snacking? Check out my snacks recipe page!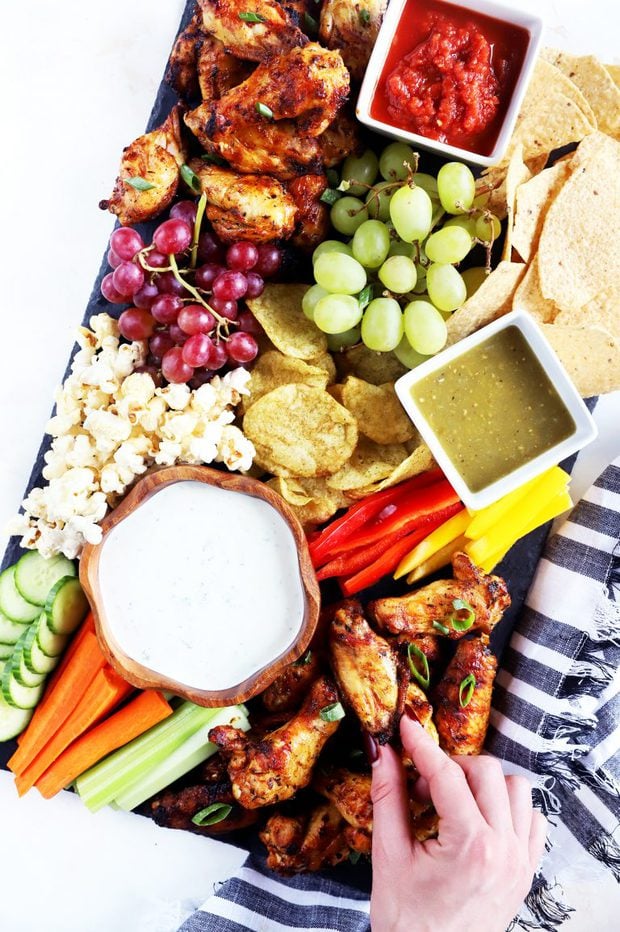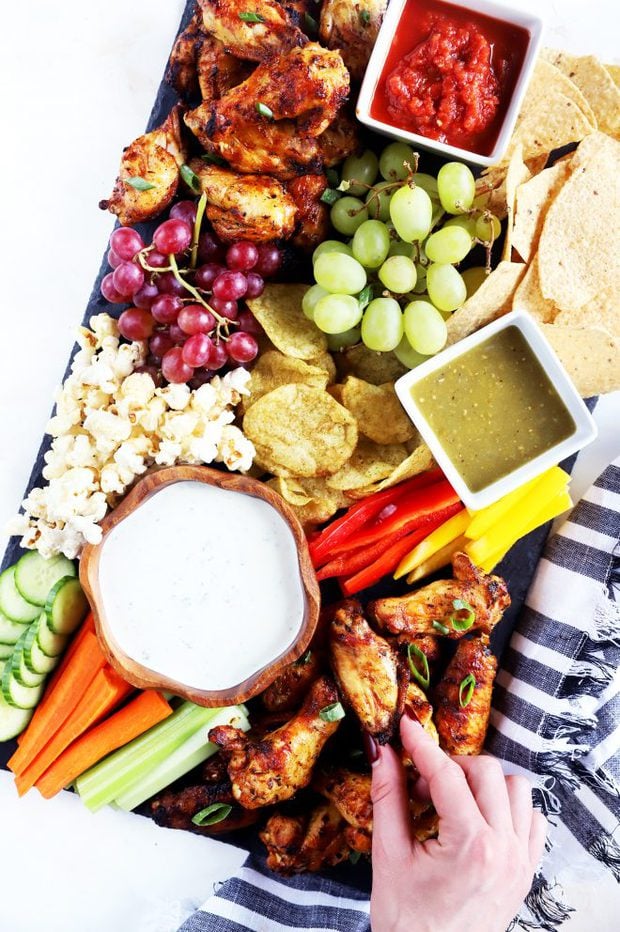 how can I customize this snack board?
You can customize pretty much every item on this board. Use the vegetables that you like and nix the ones you don't. You could even add in other options like edamame, cherry tomatoes, or even avocado.
Don't like grapes? Use pineapple, apple slices, or even orange slices.
You can choose your favorite chips and salsa options, pairing them however you like. Personally, I like to have the spicy ones because you know the Man and I are all about that spice life.
The bottom line is to have fun with it and to mix it up each time so it always feels different. That way this recipe never gets old!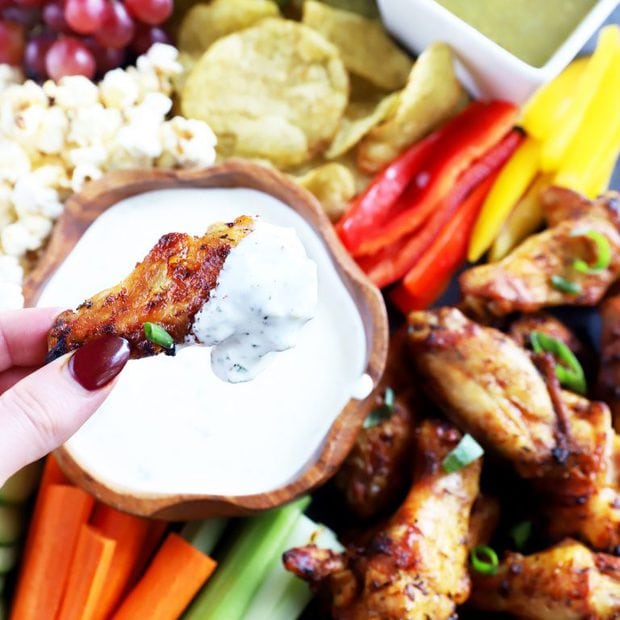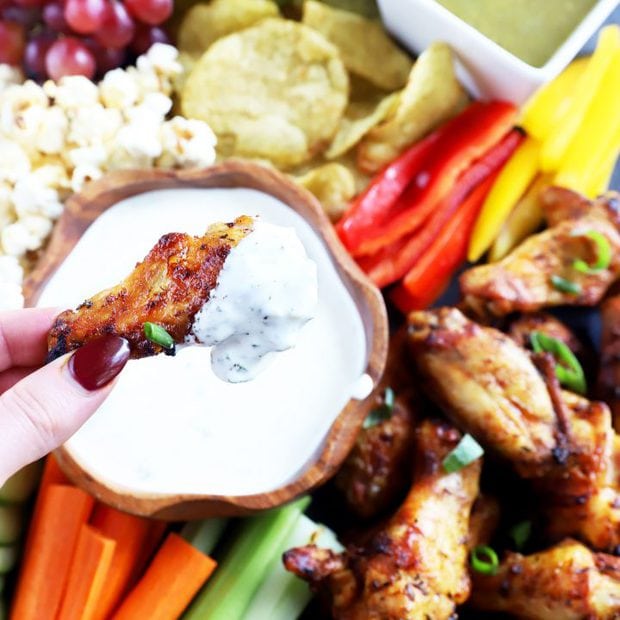 Ultimate Tailgating Snack Board
With Sprouts Island Jerk Wings as the meaty centerpiece and paired with a quick creamy cilantro dipping sauce, this tailgating snack board is perfect for grazing throughout the game!
Ingredients
Wings
3 to 4 lbs Sprouts Island Jerk Chicken Wings
Optional: 2 tsp freshly chopped cilantro
Creamy Cilantro Dipping Sauce
1/2 cup mayonnaise
1/2 cup sour cream
1/4 cup chopped cilantro leaves
4 Tbsp lime juice
1 Tbsp milk
1/2 tsp salt
1/2 tsp black pepper
2 cloves garlic, minced
Snack Board
Celery sticks
Carrot sticks
Cucumber slices
Bell pepper slices
Grapes (I like to use both green and red)
Sprouts Popcorn (I used Sweet & Salty)
Sprouts Kettle Chips (I used Hatch Green Chile and Jalapeno - my two faves!)
Sprouts Salsa (use at least 2 to 3 flavors, to go with the chips)
Sprouts Tortilla Chips
Instructions
Preheat the grill to high heat (400˚F). Once the grill is hot, add the wings and cover. Cook for about 30 to 35 minutes, flipping them once halfway through.
While the wings are grilling, whisk together ingredients for the sauce until smooth. Set aside.
Remove wings from grill. Sprinkle with freshly chopped cilantro (optional).
Assemble the board as desired with wings, creamy cilantro dipping sauce, celery sticks, carrots sticks, cucumbers, bell peppers, grapes, and other snack goodies from Sprouts!


Recommended Products
As an Amazon Associate and member of other affiliate programs, I earn from qualifying purchases.