A Spicy Green Bloody Mary is a tangy twist on the classic brunch cocktail with just the right amount of heat. The tomatillo, yellow tomato and cucumber base for the Bloody Mary mix is refreshing and light, so you can cure whatever hangover you might be plagued with – or just make your weekend brunch that much better!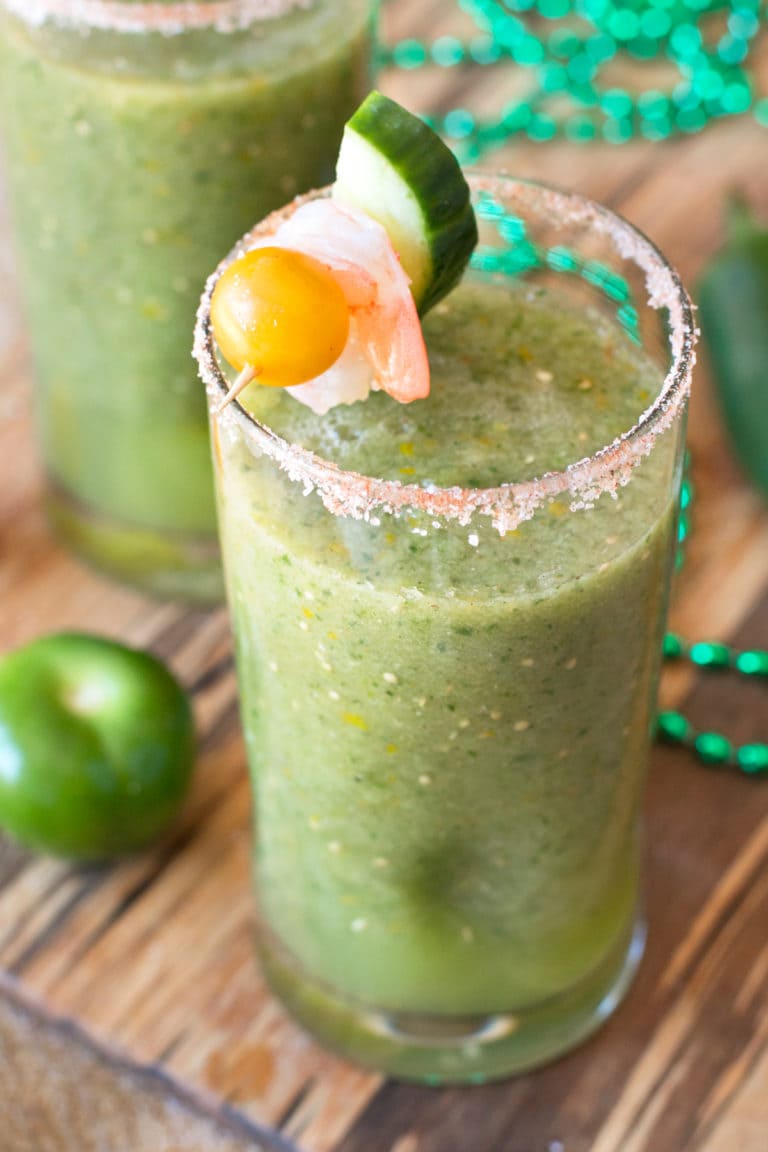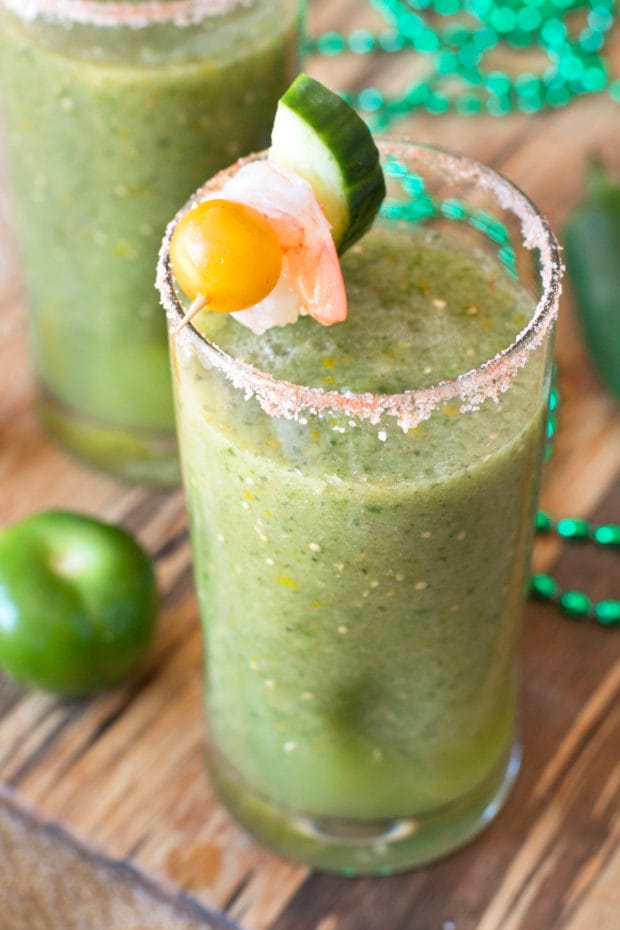 Happy St. Patrick's Day, folks! What kind of shenanigans do you have in store for this day of Irish?
What will I be doing, you ask?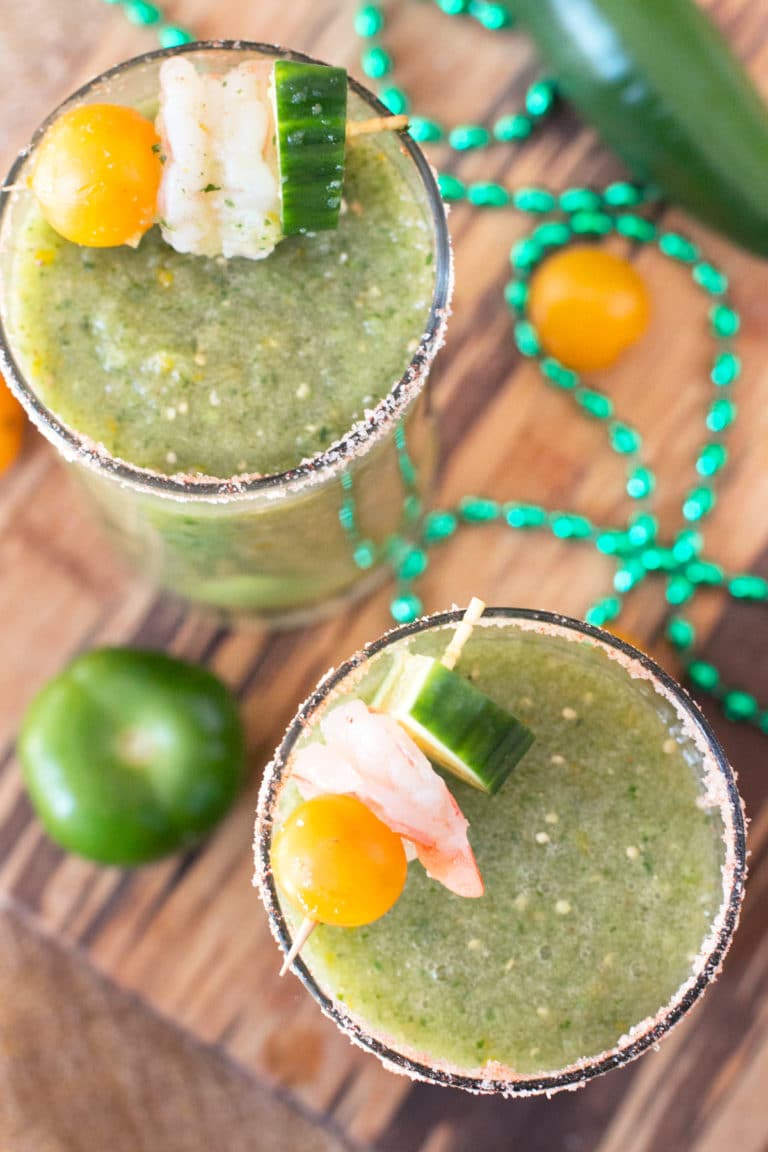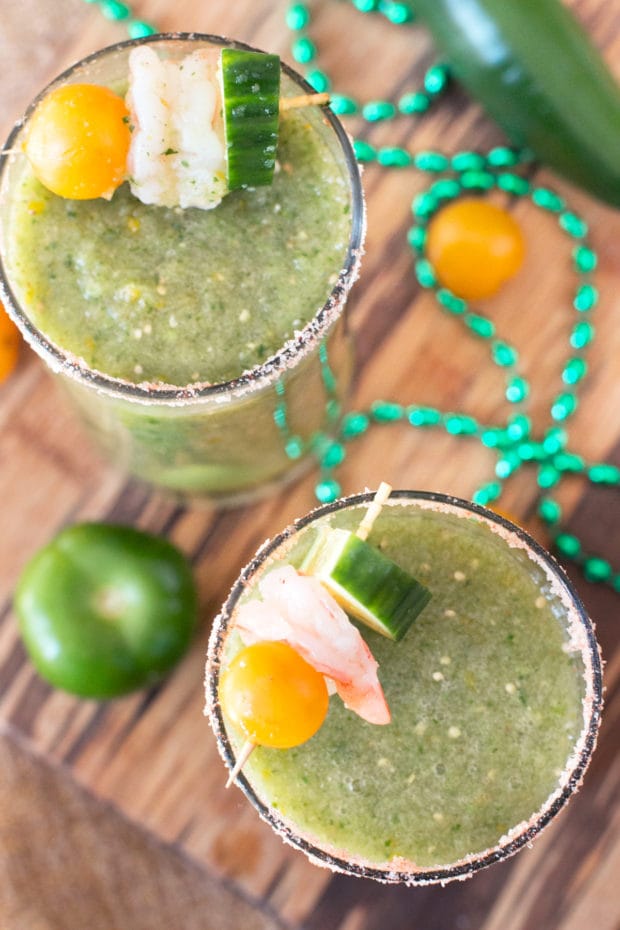 Well, after I get through a day of work, I will be opening some beers and enjoying a Jameson cocktail while pigging out on tons of corned beef and potatoes and marathoning Buffy before it leaves Netflix on April 1st.
Can we talk about how tragic it is that "Buffy" is due to leave Netflix?? I am absolutely devastated and now have a Netflix binge-watching mission in front of me like none that I've never seen before.
I used to hit the bars on St. Patrick's Day, but ever since an unfortunate evening of green beer when I was younger, I tend to get a stomach ache just hearing the festive music and seeing green beers pass me by.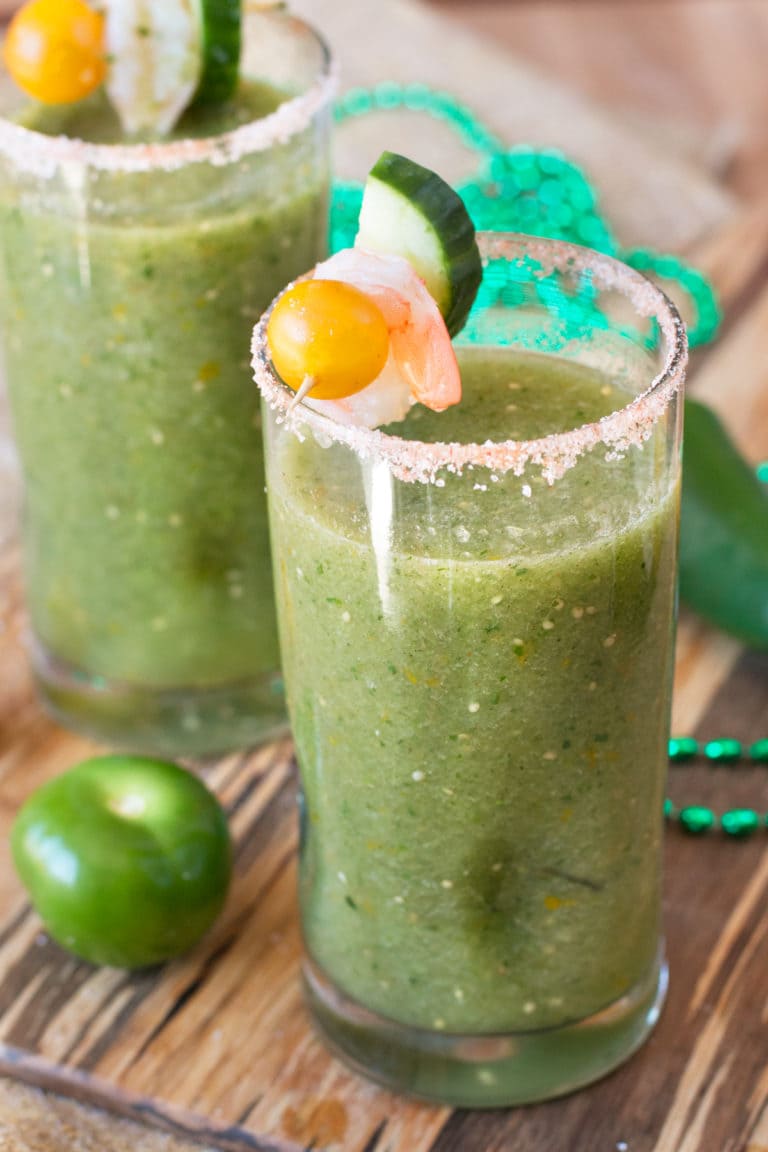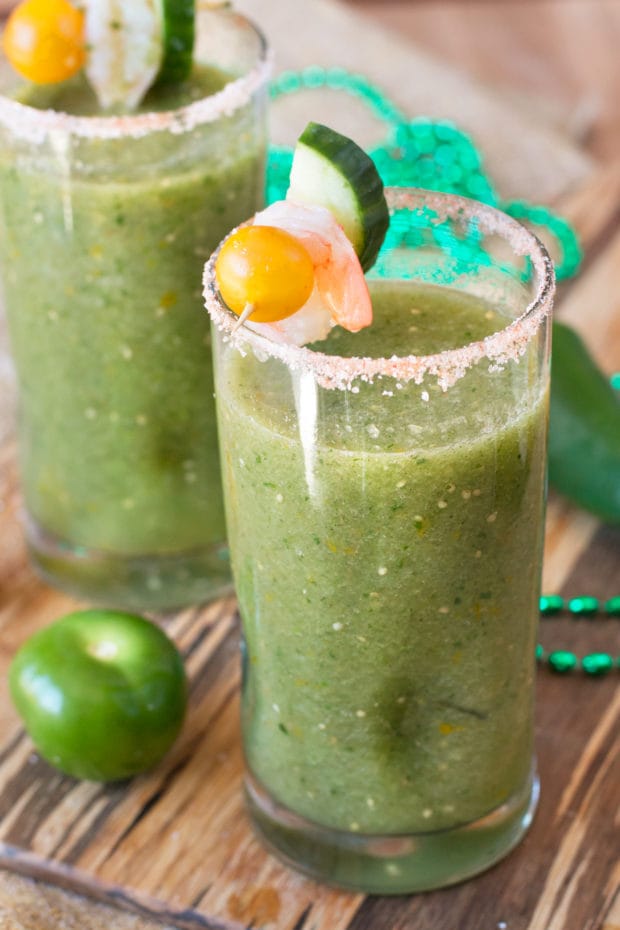 I'll probably still end up with a bit of a hazy hangover on Saturday though… I mean, I might not be out partying with the 20-somethings, but let's be real. I know how to demolish some whiskey and beer (it's a good way to make my Irish ancestors proud, right? More like make them roll in their graves, but you know, it's basically the same thing).
I love a good Bloody Mary at brunch any ol' weekend, but especially when I'm a little hungover from the previous night's festivities. The tangy, spicy flavor with a wee bit of booze is the first step to setting my brain and my stomach right.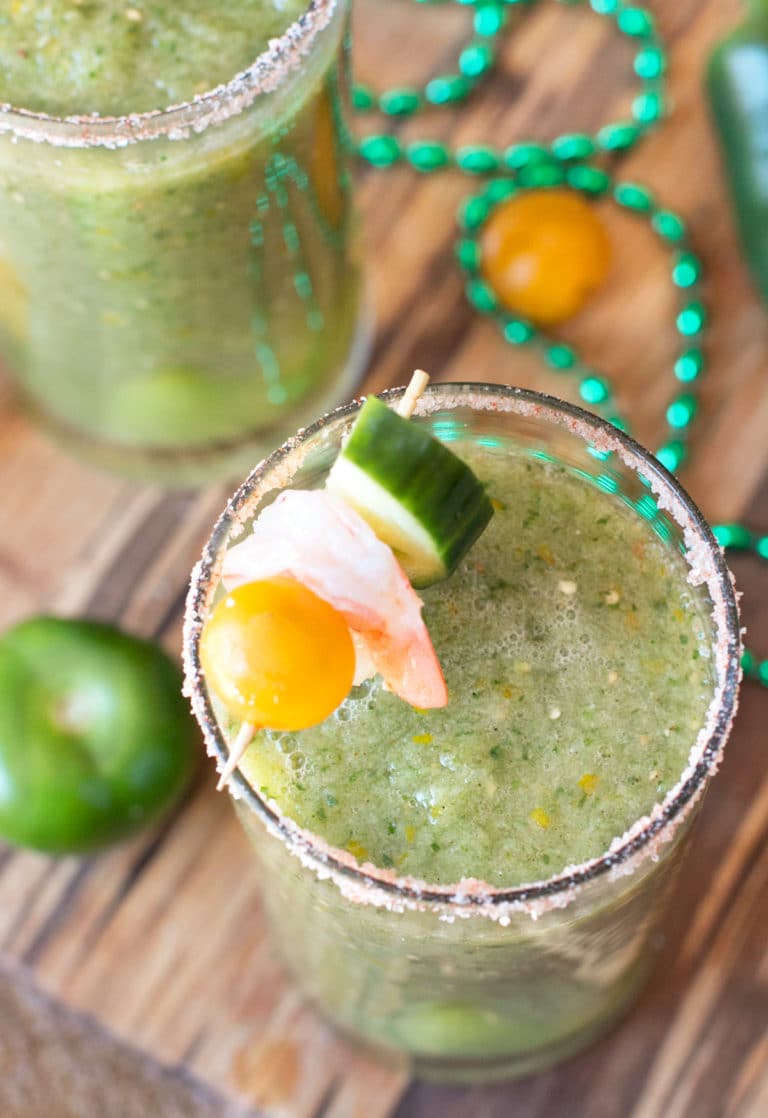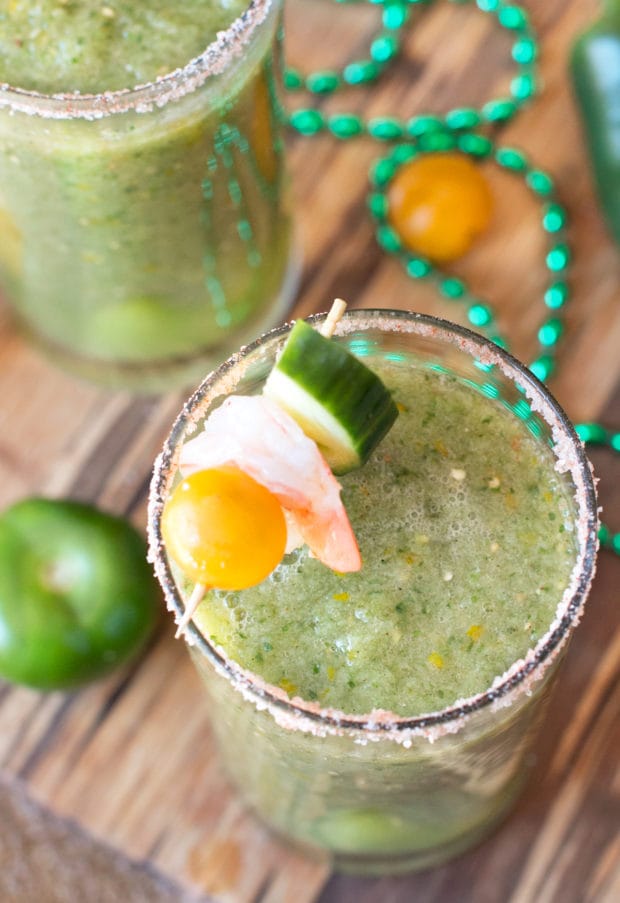 If you haven't tried a green bloody mary before, you seriously need to. I made this one a little spicy to go with the tangy tomatillo and fresh cucumber that make up part of the base in the bloody mary mix. Pair that with the yellow tomato and it's the perfect cocktail to sip during these warm upcoming months when you are brunching on the patio.
It's like a refreshing salad in your mouth.
But spicy. And with booze.
And actually tastes good versus an actual salad.
Enjoy your St. Patrick's Day and be safe out there, friends!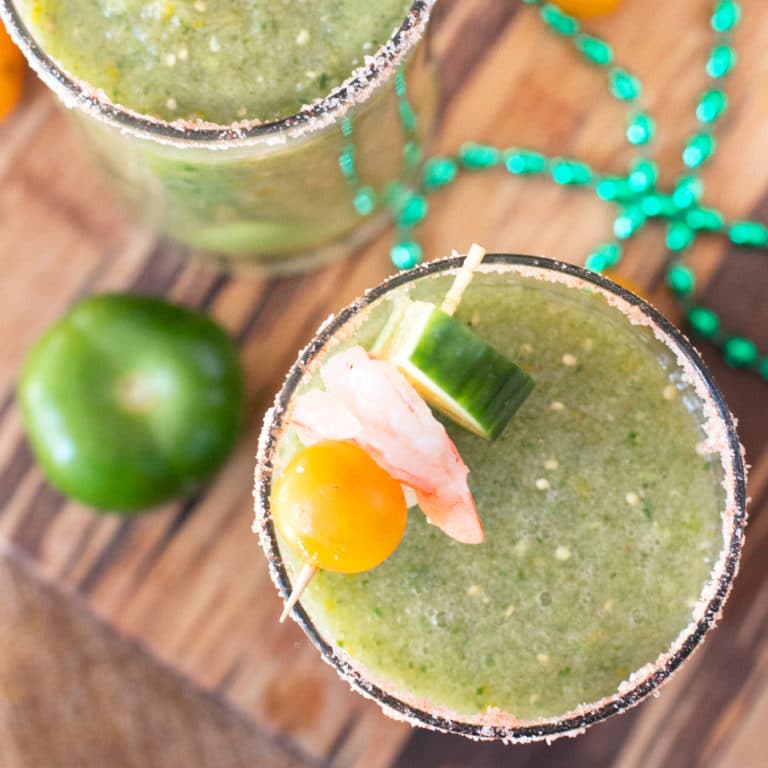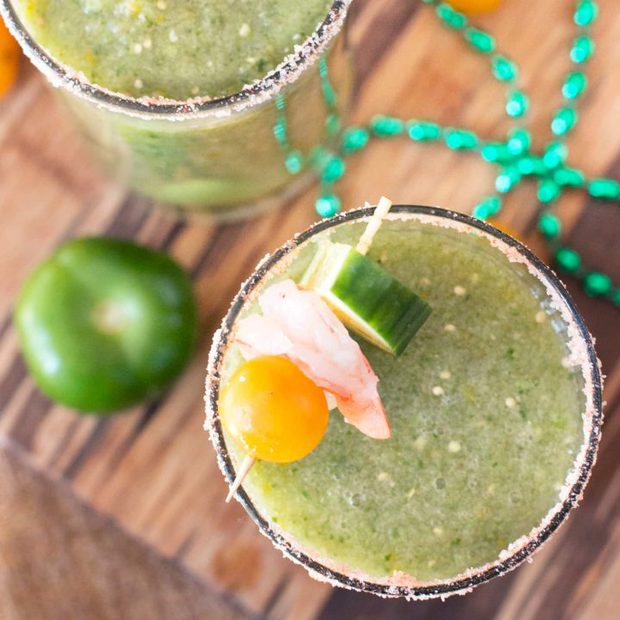 Spicy Green Bloody Mary
Additional Time:
5 minutes
Total Time:
2 hours
5 minutes
Tomatillos and yellow tomatoes gives this bloody mary a punch of zesty flavor, along with a nice hit of spice.
Ingredients
1 lb tomatillos, husked, rinsed and chopped
1 medium English cucumber, peeled and chopped
1/2 cup halved yellow tomatoes
1 jalapeño, seeded and chopped
1/2 cup cold water
3 Tbsp fresh lime juice
1/2 Tbsp chopped cilantro
1/2 Tbsp raw sugar
1 cup chilled vodka
2 tsp salt
3/4 tsp cayenne pepper
1/2 tsp paprika
Ice
Garnish: yellow tomatoes, cooked shrimp, cucumber slice
Instructions
Puree together tomatillos, cucumber, yellow tomatoes, jalapeño, water, lime juice, cilantro, and sugar.
Stir in vodka.
Chill 2 hours.
Stir together 2 tsp salt, 1/4 tsp cayenne pepper, and 1/2 tsp paprika.
Rim glasses with the seasoned salt.
Fill glasses with ice and then fill with bloody marys.
Garnish and serve.
Pin this Spicy Green Bloody Mary recipe for later!