Bacon Parmesan Quick Bread is a super fast bread recipe that comes together in 30 minutes! No waiting for dough to rise and it goes great with anything you're having for dinner.
The bread is BACK, you guys. It was only a matter of time before I baked up a fresh loaf to share with you. The only problem with baking up a quick bread like this? It's gone that very same day. Even if it is just me, myself and I (well and Kya, you know, to clean up the crumbs).
This bacon parmesan quick bread is one of those recipes I've had in my back pocket for years whenever I either forgot to get bread for a dinner I was hosting or just desperately need bread in my life. Generally I'm too lazy to leave the house when I have a serious craving, and this recipe gets me happy in record time.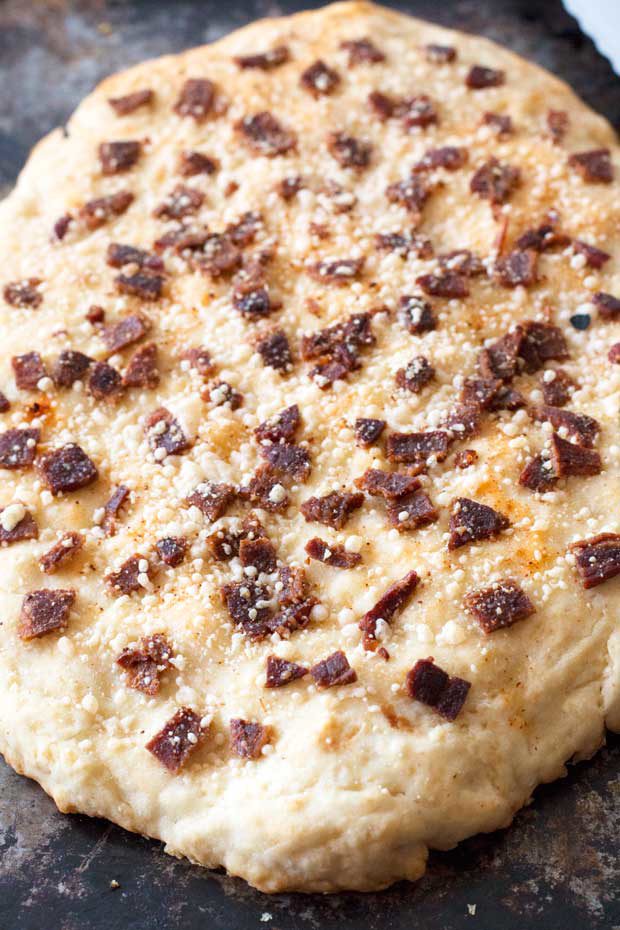 I usually resist baking bread unless it's on a lazy Sunday morning because of all the time it takes for the dough to rise. I know I'm not doing anything while the dough is rising, but it's excruciating to wait for the time to tick by before I have to knead the dough and finally get around to baking it.
So I became all about the quick breads instead!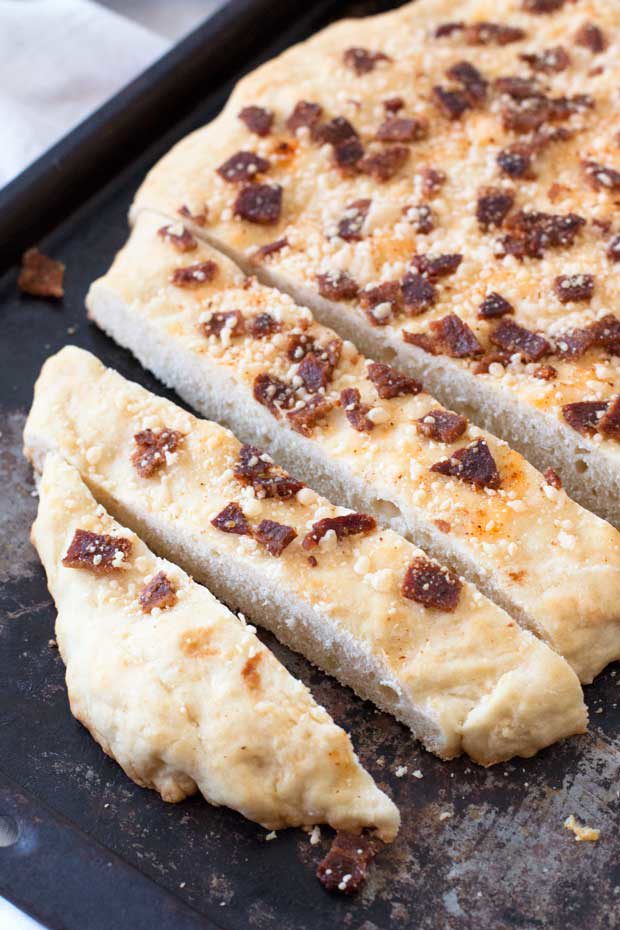 I remember I used to live of French bread baguettes when I was in college. They were cheap, filling and I have an addiction to balsamic that is unreal. Of course, I also gained about 20lbs in college… I wonder why…
Thankfully my taste buds have evolved just enough to allow me to start including spice, bacon and cheese in almost anything. This easy bread has all those things – the spice from the cayenne, the cheese from the parmesan and that savory bacon that nothing else can be substituted for.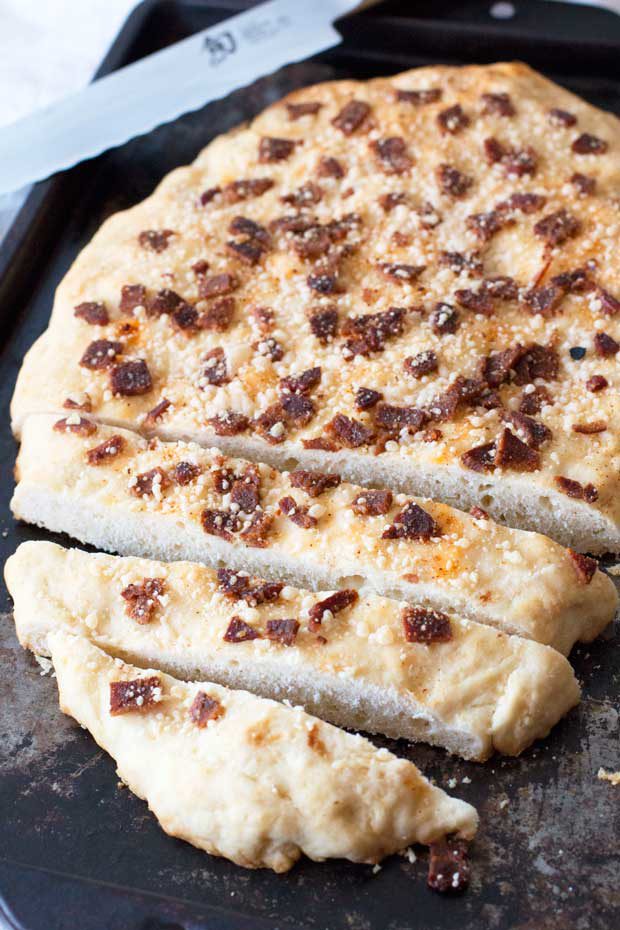 Finally, baking is easy and fun again! 😉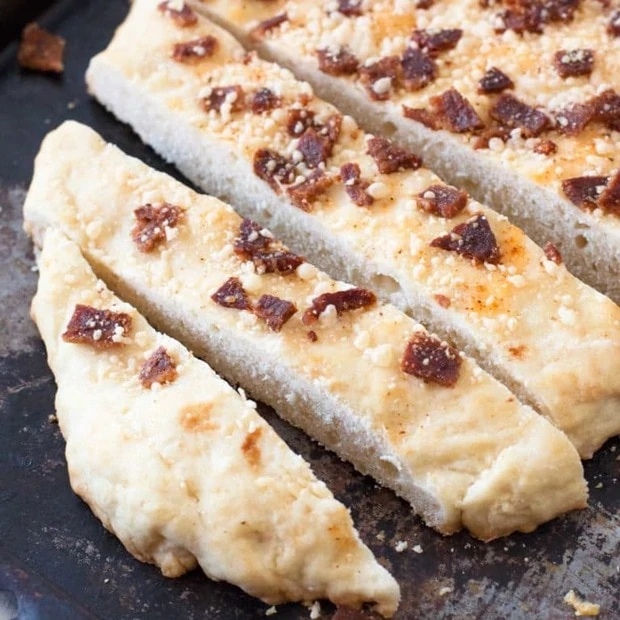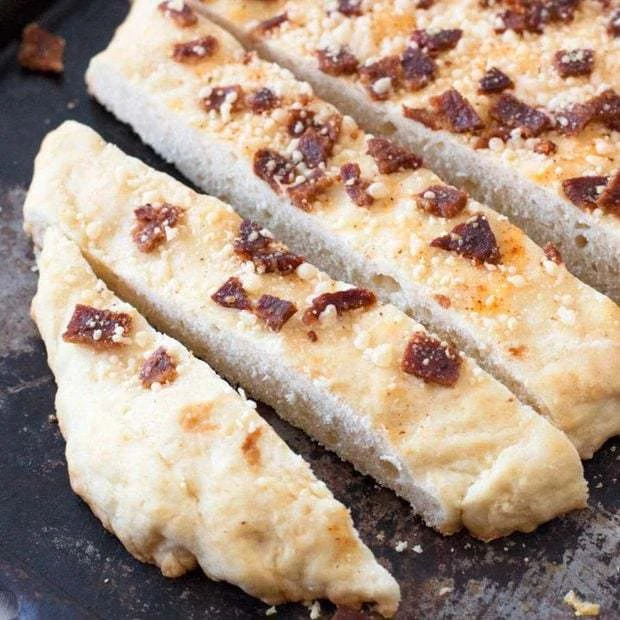 Bacon Parmesan Quick Bread
A quick bread recipe that goes well with anything you're eating for dinner, or just as a quick snack.
Ingredients
2 cups all-purpose flour
2 tsp baking powder
1 1/2 tsp salt
1 cup water
1 Tbsp olive oil
1 tsp cayenne pepper
1 tsp garlic powder
3 slices bacon, chopped
1/3 cup grated parmesan cheese
Instructions
Preheat oven to 425 degrees. Grease a baking sheet and set aside.
Sift together flour, baking powder and 1 tsp salt into a large bowl. Stir in water and knead in the bowl for a couple of minutes. The dough will be a little sticky.
Turn out the dough on a greased baking pan and press it out until it's approximately 1/2 inches thick. Coat the dough with olive oil, then sprinkle with cayenne pepper, garlic powder and 1/2 tsp salt. Press the chopped bacon into the top.
Bake for 20 minutes. Sprinkle with the parmesan cheese and bake another 5 minutes until golden brown.