Please note this post contains affiliate links.
Layered Italian Rainbow Cookies are the unique and festive cookies of the holiday season! Flavored with almond, raspberry, and dark chocolate, the red, white, and green cookies capture the colors of the Italian flag… and Christmas.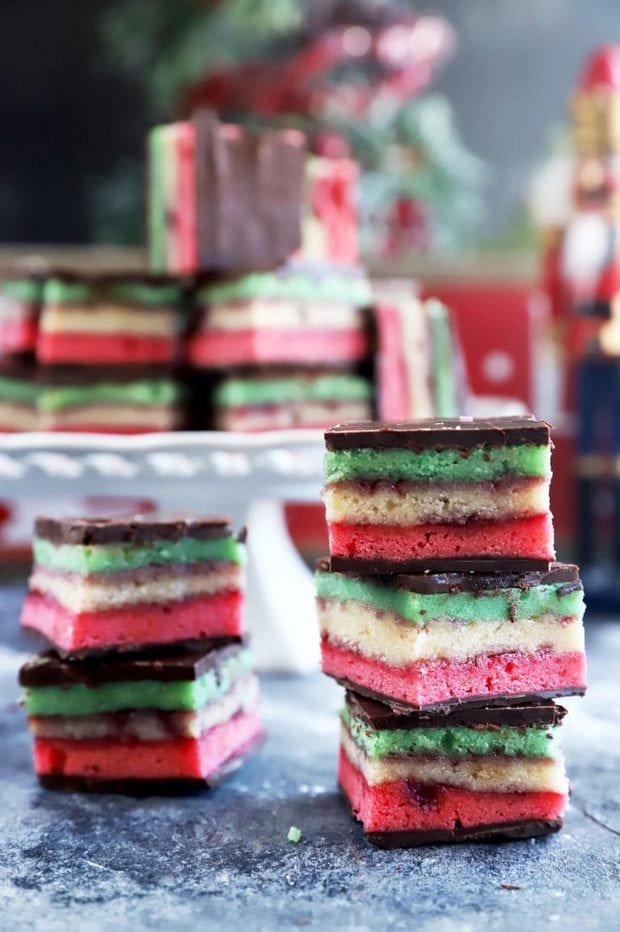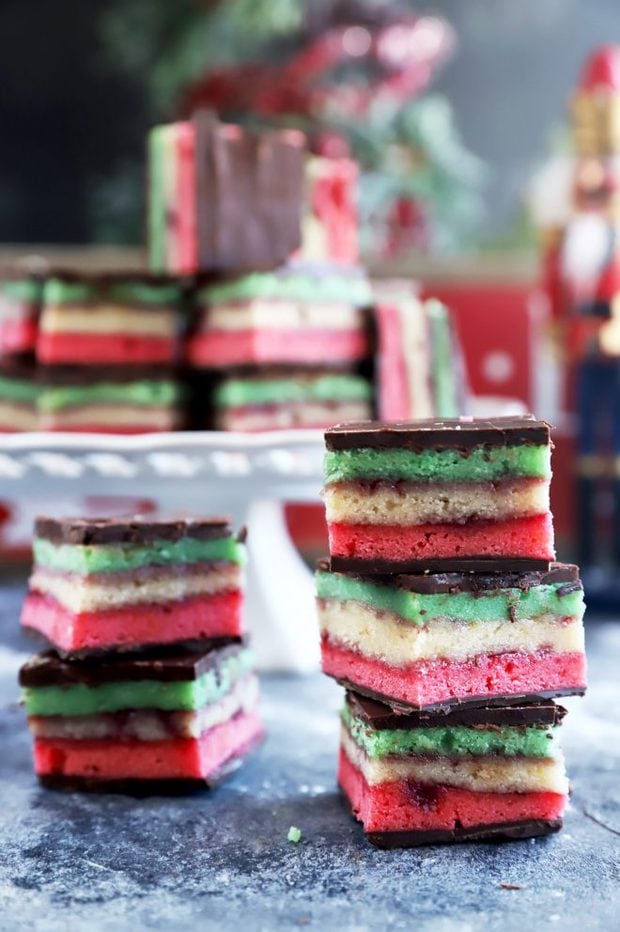 Disclosure: This post has been sponsored by Bob's Red Mill! As always, all opinions are my own.
When we were visiting my brother in Connecticut last year, I experienced the joy that comes with biting into one of the best Italian rainbow cookies ever.
They were in this big box of festive cookies that I absolutely could not resist buying. The stripes of red, white, and green in the Italian rainbow cookies are layered with jam and chocolate which have an almond taste to them that simply melted in my mouth.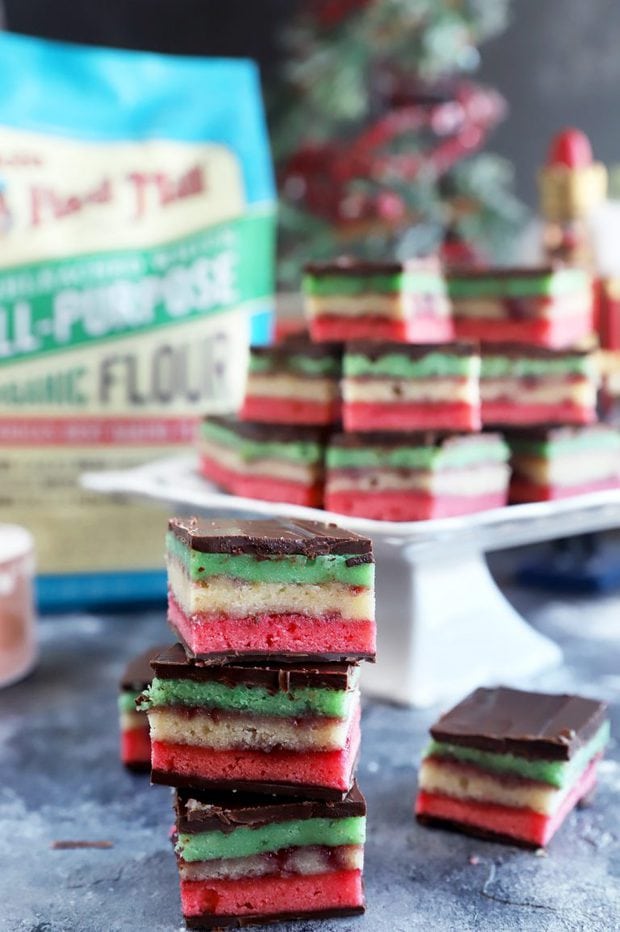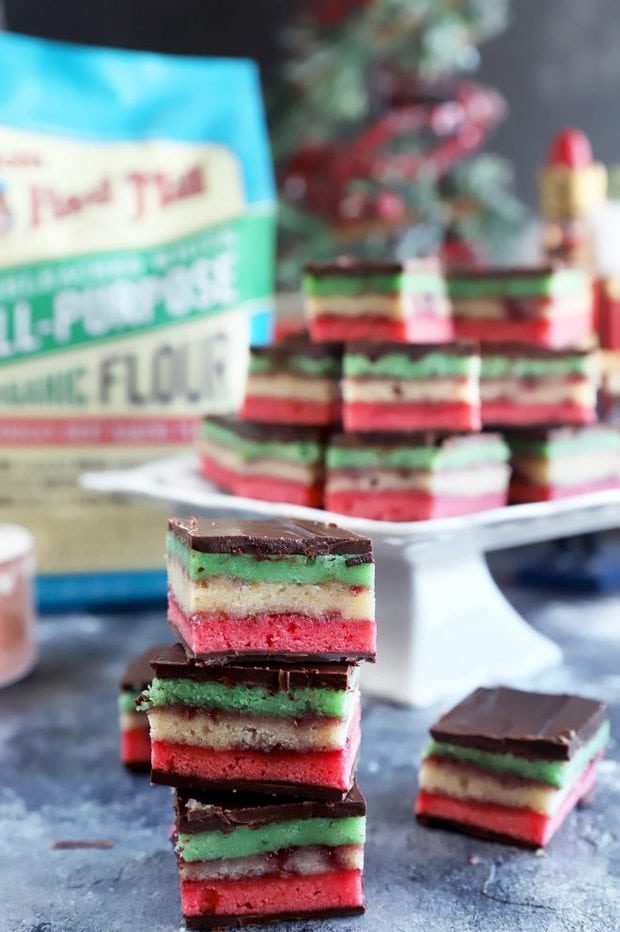 I never crave cookies more than I do around the holidays.
Maybe it's because we all growing up thinking about them in conjunction with Santa, or maybe I just love any excuse to bake.
Either way, this year I stepped it up with these cookies and they are the one recipe you should make time to make this weekend.
Of course, when it comes to baking, there's only one brand that I rely I as I bring out my measuring cups and spoons… Bob's Red Mill.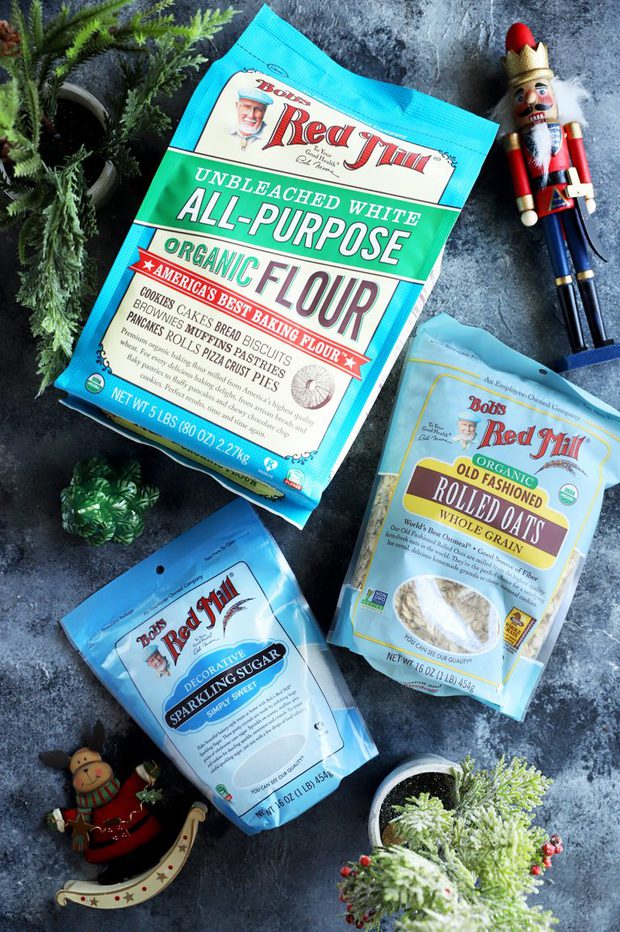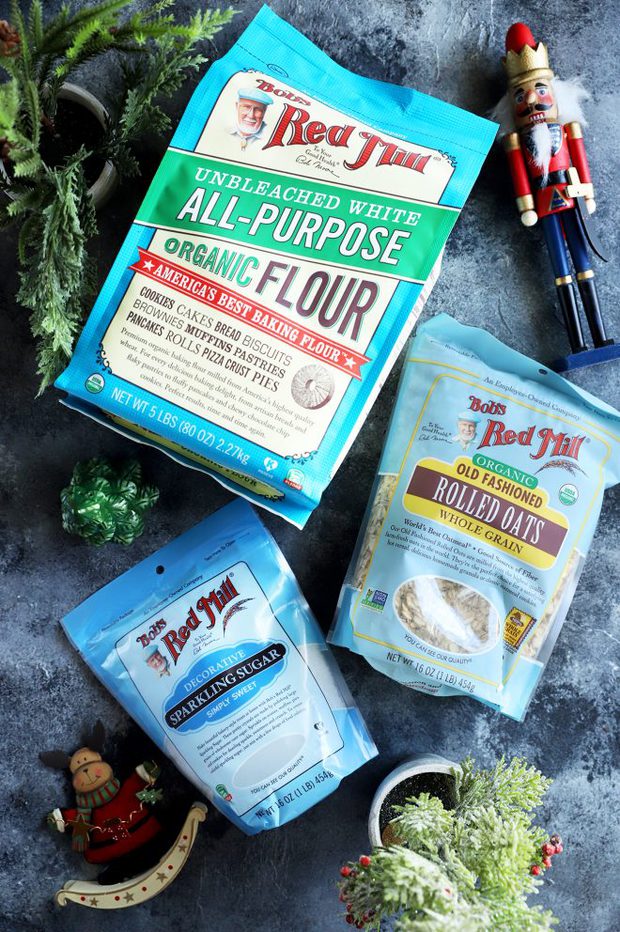 Now, you've all seen me use their organic all purpose unbleached white flour on many occasions. The freshly milled and certified organic, hard red wheat is high quality enough to be used for any baked good you can think of. I LOVE using it for cookies this time of year, but it's also ideal for cakes, muffins, breads, biscuits, and more.
Not to mention it's unbleached and unenriched, so you can feel confident in the baked goodies you are putting out there into the holiday season of festivities and parties.
PLUS, I have another Holly Jolly Giveaway ready for you all – scroll below the recipe card to enter!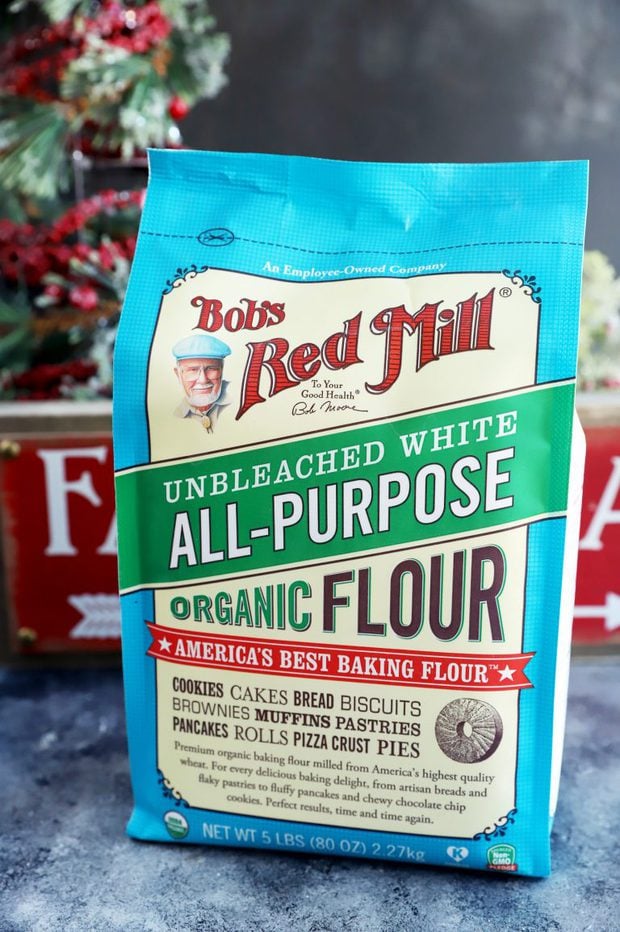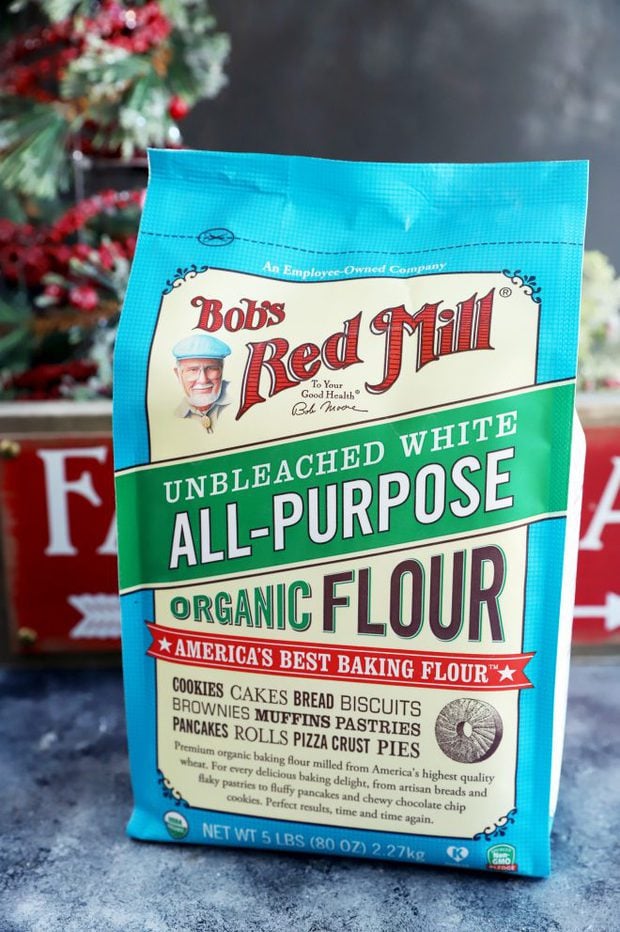 This Recipe's Must-Haves
To make the batter for the Italian rainbow cookies, you will need a stand mixer fitted with the paddle attachment.
You will also need mixing bowls and an electric hand mixer to whip up the egg whites to fold into the batter. Those bowls also come in handy when dividing up the batter and coloring it separately.
To bake each layer, I like to use these quarter sheet baking pans. However, you can also use 9×13-inch baking dishes if that's all you happen to have on hand.
Finally, you'll need an offset spatula to spread the jam and melted chocolate in even layers for the cookies.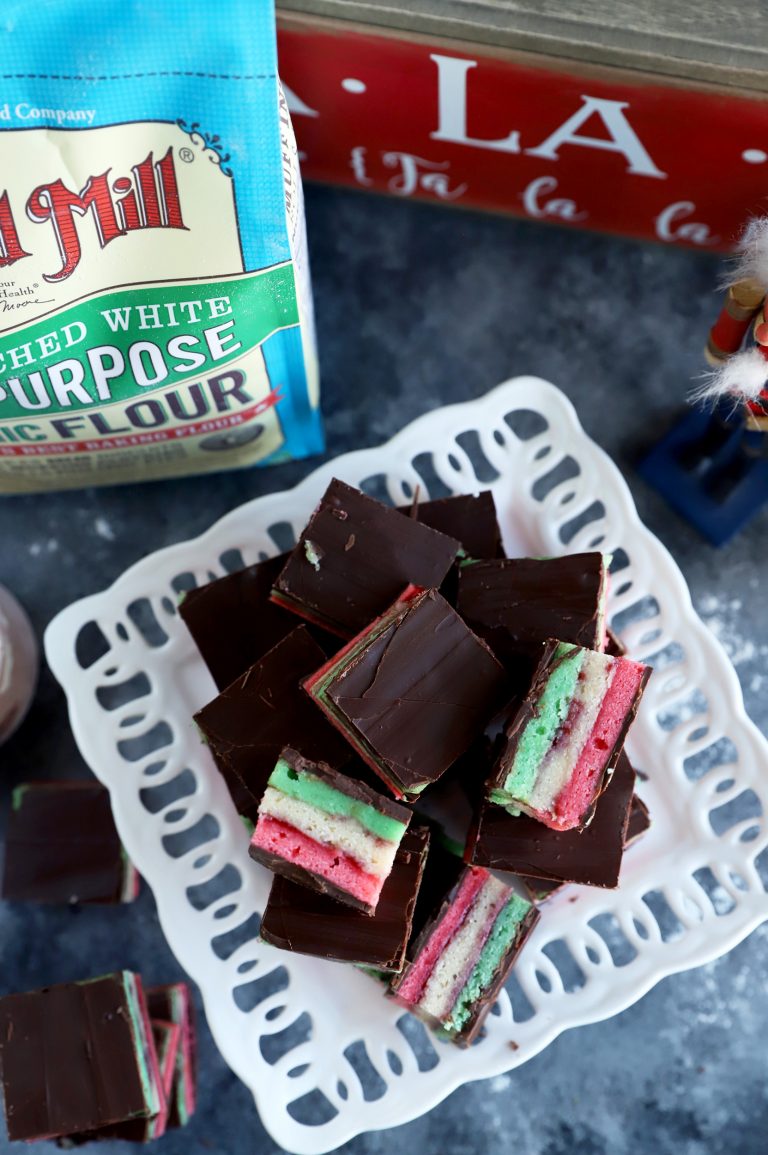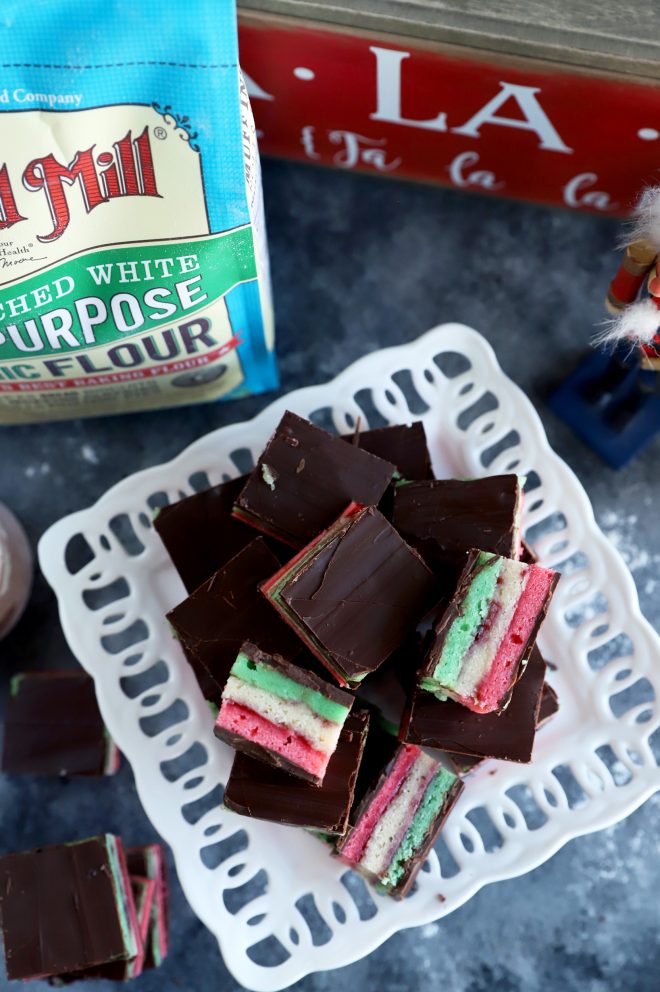 How To Make Italian Rainbow Cookies
Make Batter
The batter is a little more complicated than a normal batter. It started by mixing together wet ingredients, then beating in the flour.
You beat the egg whites separately, then fold then into the flour mixture until everything is smooth and velvety.
Separate Batter
Next you separate the batter. You can do this by weight or by using measuring cups, ensuring that the batter is divided into three equal amounts.
This is when you'll also dye one third of the batter red and one third green. You'll leave the final third untouched.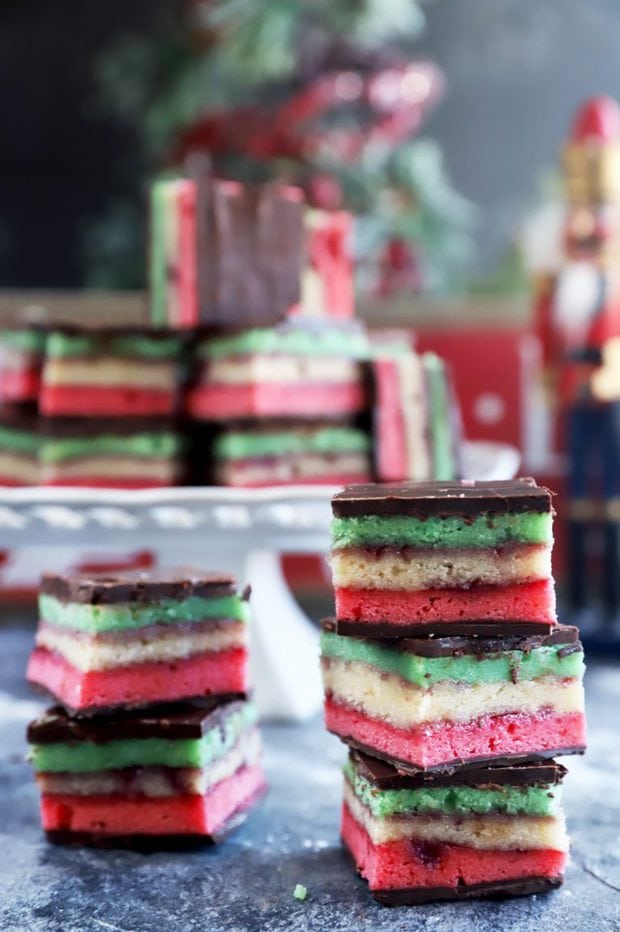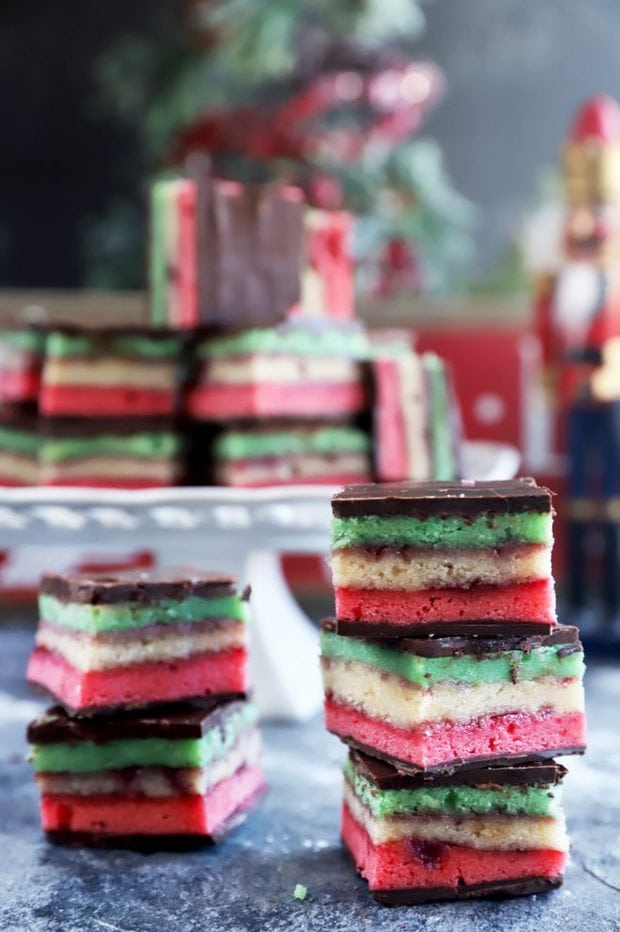 Bake
Bake the cake layers, rotating them as they bake, for about 10 to 12 minutes. The batter will puff slightly and will be completely set.
Layer & Chill
Once you cool the cakes in the pans, you start the assembly process. The cakes are layered with raspberry jam, then weighted down and refrigerated until they set. This helps the layers stick together so they don't fall apart when you cut them into pieces.
Add Chocolate
Once the first chill is done, then you add the chocolate. You'll spread the dark chocolate in an even layer on one side, then chill until it is set. Flip the cake over CAREFULLY, then cover the other side with the remaining chocolate. Chill once more and cut into those cute little squares!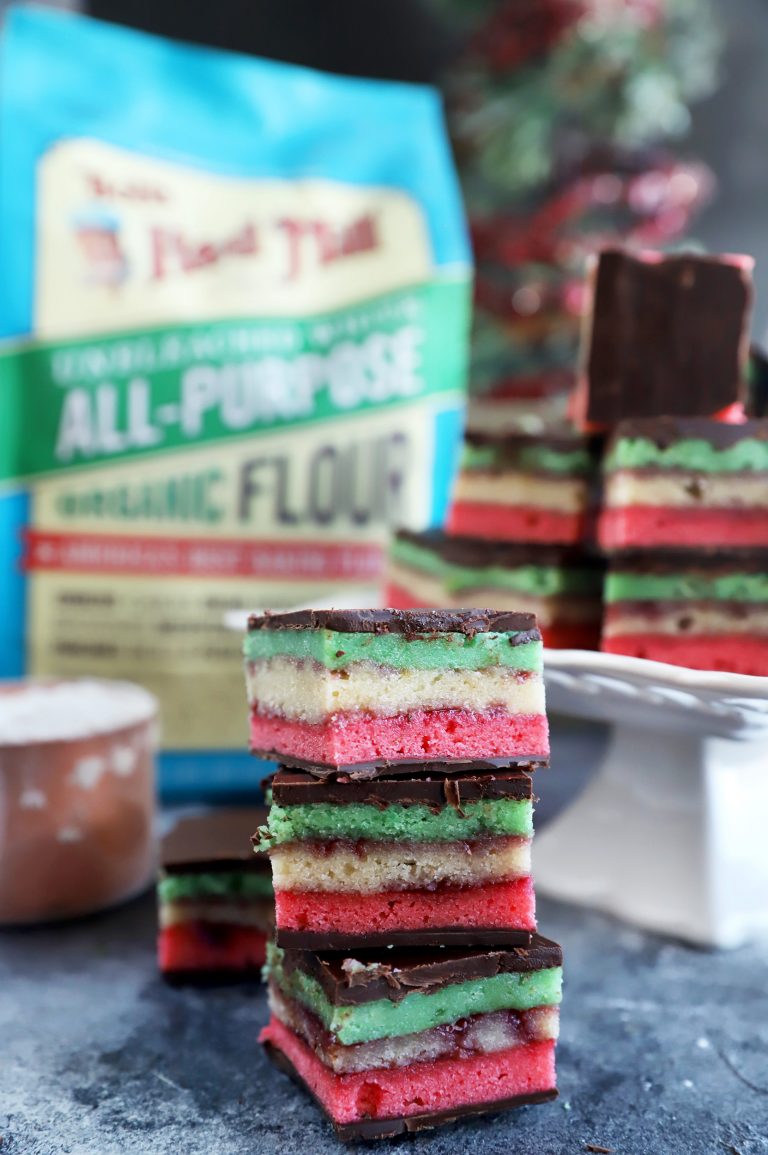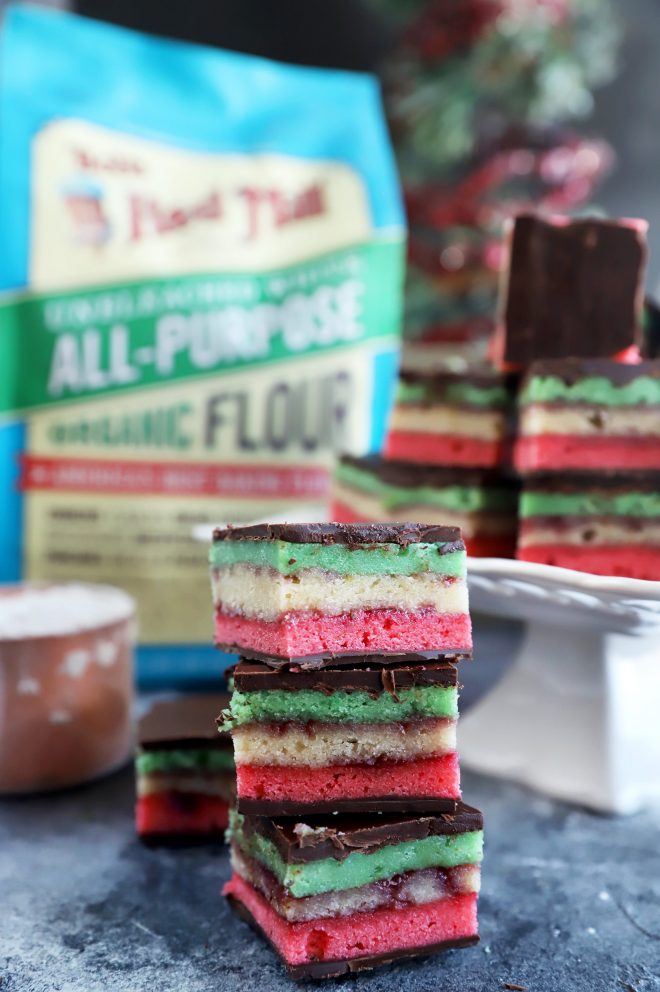 If you need another festive recipe to enjoy, these chocolate dipped orange slices are always a fantastic addition to a cookie box.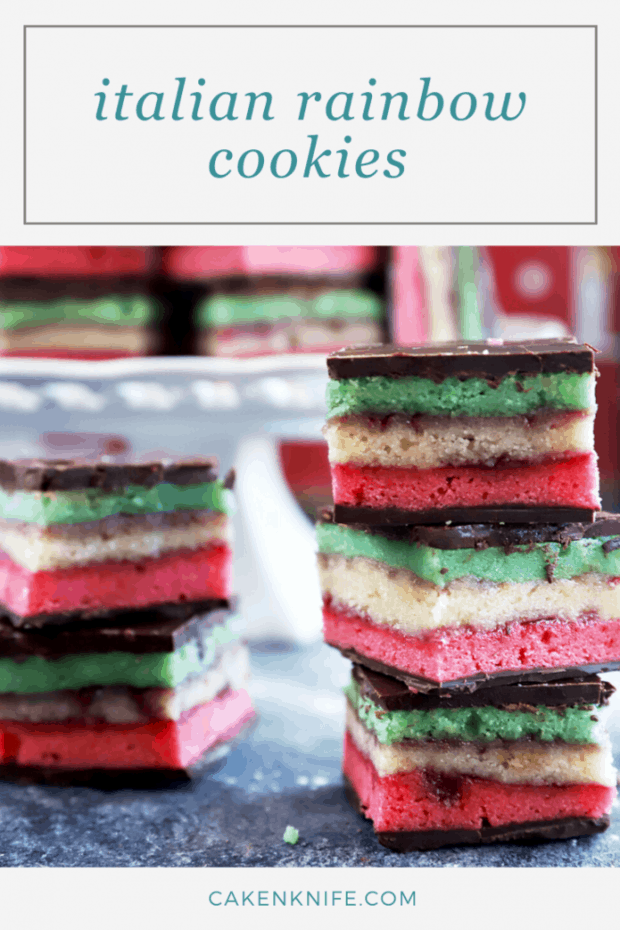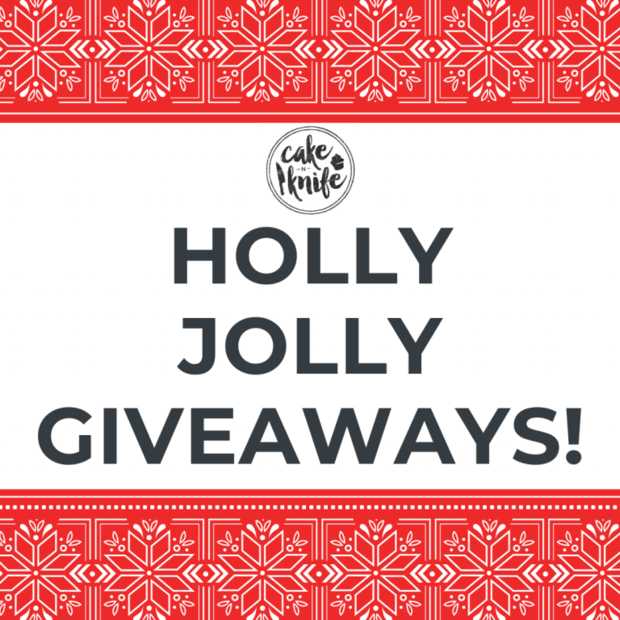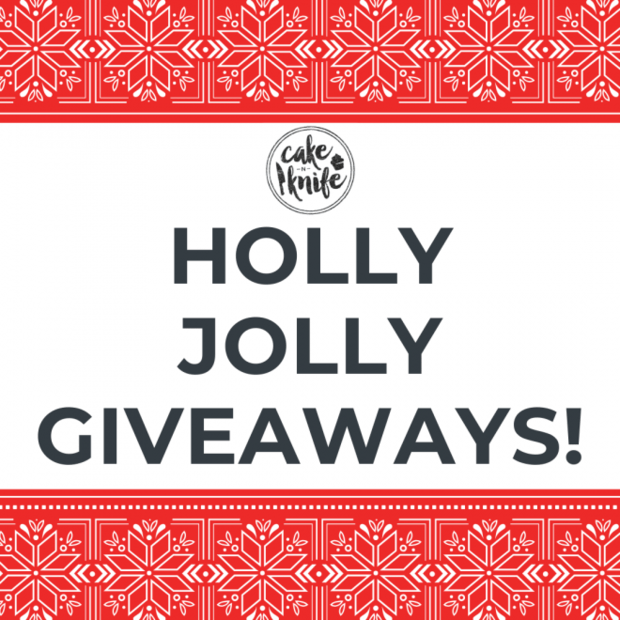 We are continuing the Holly Jolly Giveaways on Cake 'n Knife today!
Baking is a science and when you have the right ingredients, you nail the science every single time. That's why I always use Bob's Red Mill products in my baking, whether it's sweet or savory for the holiday season! Today I am partnering with Bob's Red Mill to give one lucky winner a gift set of Bob's Red Mill Unbleached All-Purpose Organic Flour, Rolled Outs, Sparkling Sugar, AND a $50 gift card for bobsredmill.com!
Simply head below the recipe card to enter to win!
Be sure to keep up with all of the giveaways this year – check out this page for all the current posts!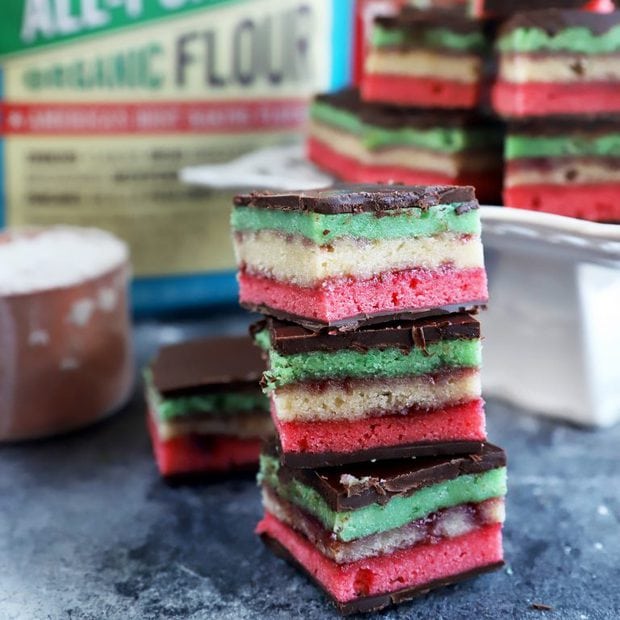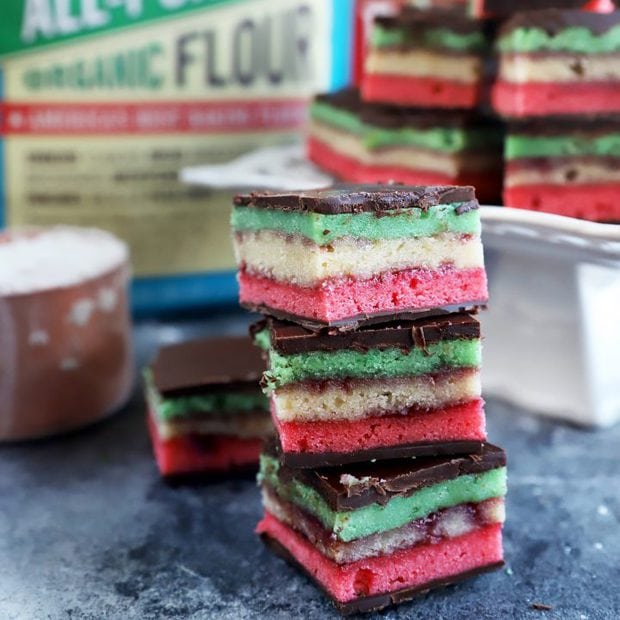 Italian Rainbow Cookies
Yield:
Makes about 2 dozen
Total Time:
5 hours
32 minutes
Layers of moist almond cakes are sandwiched between raspberry jam and dark chocolate for a festive treat!
Ingredients
1 cup sugar
One 8-ounce can almond paste
3 sticks (24 Tbsp) unsalted butter, softened and divided
4 eggs, separated
1/4 cup milk
2 teaspoons almond extract
2 cups all-purpose flour
1/4 teaspoon red food coloring
1/4 teaspoon green food coloring
2/3 cup raspberry jam, divided
1 1/2 cups dark chocolate chips, melted
Instructions
Preheat oven for 325˚F. Grease three separate 9x13-inch quarter sheet baking pans or cake pans with cooking spray. Line each with parchment paper, letting it hangover the sides for easy removal.
Add sugar, almond paste, and 8 Tbsp (1 stick) unsalted butter to a stand mixer fitted with a paddle attachment. Beat until smooth and there are no more lumps. Beat in remaining butter until smooth, scraping down the sides as needed with a spatula.
Add the egg yolks in, beating until combined. Beat in milk and almond extract until combined. Add flour, slowly mixing in until combined, scraping down the sides of the bowl as needed. Once combined, set aside.
Add egg yolks to a large bowl, beating with a handheld electric mixer until they form still peaks. Fold the egg whites into the almond flour mixture to form the batter until combined. Divide the batter equally into three separate bowls.
Stir in red food coloring into the first bowl until evenly colored. Stir in green food coloring into the second bowl until evenly green in color. Leave the third bowl untouched.
Evenly spread each batter into its own greased and parchment-lined pan. Bake, rotating halfway through, until set, about 10 to 12 minutes. Cool completely in the pans.
Once cooled, remove the green cake from the pan onto a large sheet pan, removing the parchment paper from the bottom. Spread half the jam on top of the green cake. Remove the parchment off the undyed layer and place on top. Spread with remaining jam and top with the pink layer, making sure to remove the parchment paper before.
Cover the layered cakes with plastic wrap and top with another sheet pan. Weight the layers down using heavy plates and refrigerate for 4 hours or overnight.
Remove weights and plastic wrap, then spread half the melted chocolate on top of the cake. Place in the refrigerator to set for 30 minutes. Once solid, carefully flip cake onto a cutting board. Spread with remaining chocolate in an even layer. Return to the refrigerator to let set for 30 minutes.
Once set, trim edges to make even. Then cut into 1 1/2 inch squares. Serve.
Recommended Products
As an Amazon Associate and member of other affiliate programs, I earn from qualifying purchases.
a Rafflecopter giveaway