Pumpkin Cream Cheese Streusel Muffins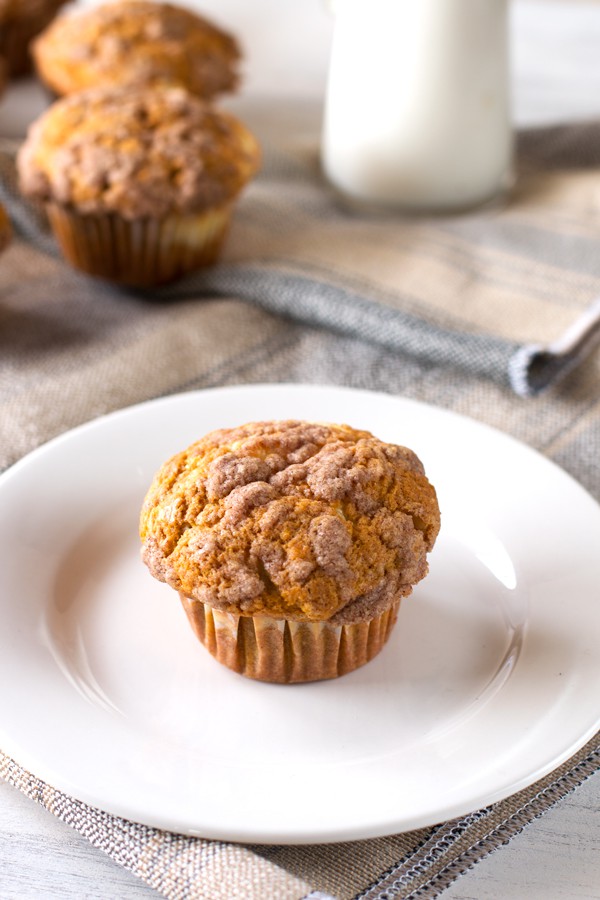 I really can't believe Thanksgiving is a mere few days away. I am both unbelievably excited and irrationally nervous for it. I always get this way in the couple of days leading up to a big event that I am cooking for. It's that last minute "oh holy crap, what if I burn the turkey" panic attack that sneaks up out of nowhere, but disappears as soon as I start cooking. 
The one thing I always do on Thanksgiving is forget to eat breakfast, which is terrible because then that first glass of wine goes straight to my head as I am trying to finish off the gravy and get the turkey carved. To me, Thanksgiving should start and end with pumpkin. Really this is the last time many of us will be eating pumpkin until next year so I want it to go out with a bang!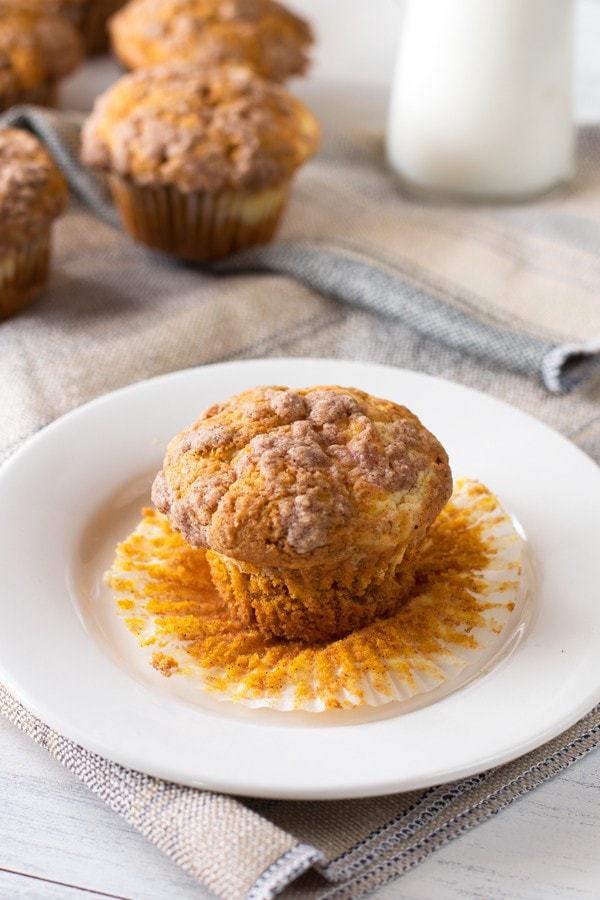 Pumpkin is stuffed into these muffins, so you'll definitely be paying homage to the pumpkin. These muffins are so light and moist. It's hard to stop with just one! The topping is my absolute favorite part (you can tell I am one of those individuals who eat the tops off her muffins first because that's the BEST part). It has just the right about of streusel and cream cheese to give you a little tang and crunch to go with that perfectly fluffy pumpkin muffin underneath.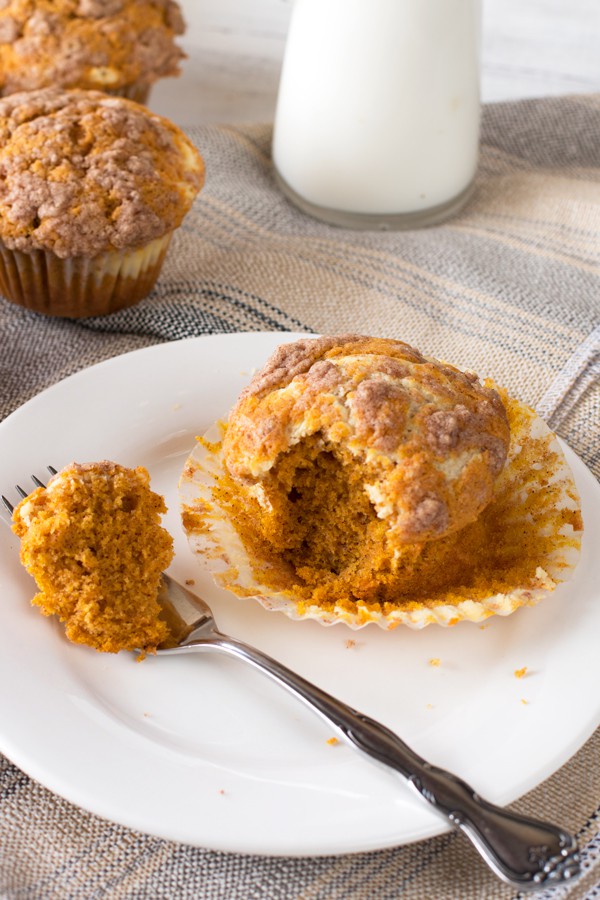 Plus they come together in minutes so feeding any guests who are staying over for the holiday is a piece of cake muffin! Dig in already!
Yes I just turned piece of cake into piece of muffin. It makes sense in my world, so just love it, use it, and make muffins. 🙂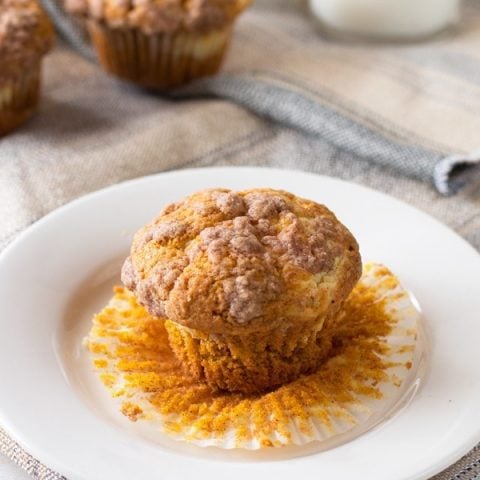 Pumpkin Cream Cheese Streusel Muffins
Yield: 12 muffins
Prep Time: 15 minutes
Cook Time: 20 minutes
Additional Time: 5 minutes
Total Time: 40 minutes
Light, moist and fluffy pumpkin muffins are perfectly complimented by the tangy layer of cream cheese and crispy streusel topping.
Ingredients
Muffins
1 1/2 cups flour
1/2 tsp baking powder
1/2 tsp baking soda
1/2 tsp salt
1 1/4 cup pumpkin puree (not pumpkin filling)
2 eggs
1/2 cup unsalted butter, melted
1 cup sugar
1 1/2 tsp cinnamon
1/4 tsp nutmeg
1/8 tsp ground allspice
1 tsp vanilla extract
Cream Cheese
8 oz cream cheese
1 egg yolk
2 tsp vanilla extract
3 1/2 Tbsp sugar
Streusel Topping
3 Tbsp flour
1/2 tsp cinnamon
2 Tbsp brown sugar
3 Tbsp cold unsalted butter, cut into ¼" cubes
Instructions
Preheat oven to 350 degrees. Line a 12-cup muffin pan with baking cups and lightly spray with cooking spray.
To make the cream cheese layer, beat the cream cheese with an electric beater until smooth and creamy. Beat in egg yolk, vanilla, and sugar. Set aside.
To make the streusel topping, combine the streusel topping ingredients in a small bowl. Use your fingers to cut in the butter until the mixture is crumbly. Set aside.
To make the muffin batter, stir together the pumpkin puree, eggs, melted butter, sugar, and vanilla extract in a medium bowl until well combined. Add the flour, baking powder, baking soda, salt, and spices to the mixture and stir until the dry ingredients are fully incorporated.
Fill the muffin cups halfway with the muffin batter. Then add one heaping Tbsp of the cream cheese mixture to the top of each muffin cup. If you want a thicker layer of cream cheese, add an additional 1/2 Tbsp of the cream cheese mixture. Add about one Tbsp or enough of the muffin batter to the top of each to cover the cream cheese layer. Each muffin cup should be filled just to the top. Sprinkle the streusel topping evenly across all 12 muffins.
Bake 18 to 22 minutes, or until a toothpick comes out clean when inserted in the center. Cool for approximately 5 minutes before serving.