Please note this post contains affiliate links.
Cacio e Pepe Grilled Wings are my take on turning the famed pasta dish into something perfect for sharing! The simple seasoning gives you the peppery burst of flavor, and when topped with plenty of freshly grated parmesan, it's just the appetizer to bust out for game day. Serves 6.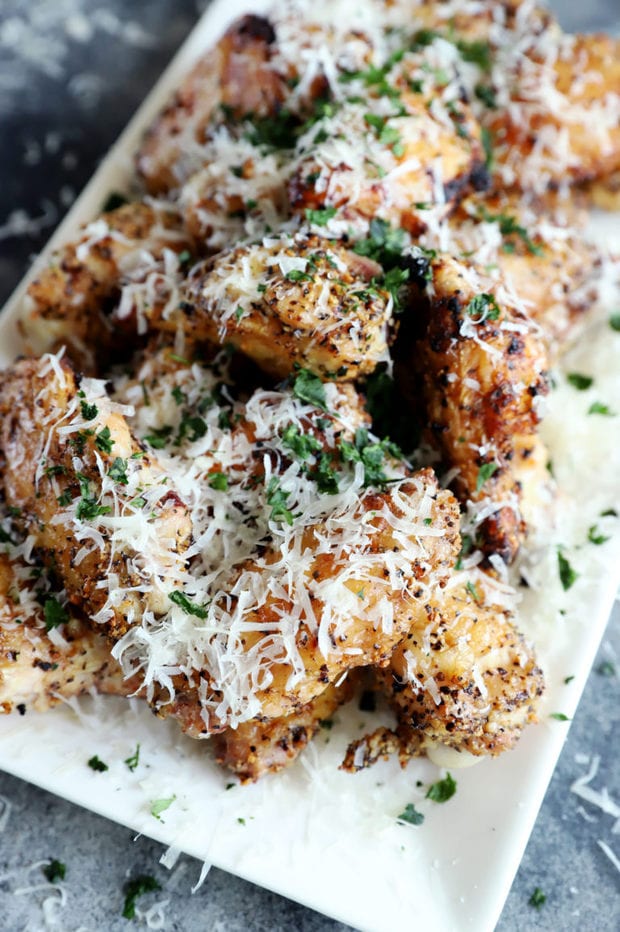 There's a new kind of cacio e pepe in town… and it's WINGS.
And you know this gal can get down on a big ol' plate of wings!
Wings are the quintessential game day snack for me. They are so dang easy to whip up, feed a crowd, and aren't too expensive!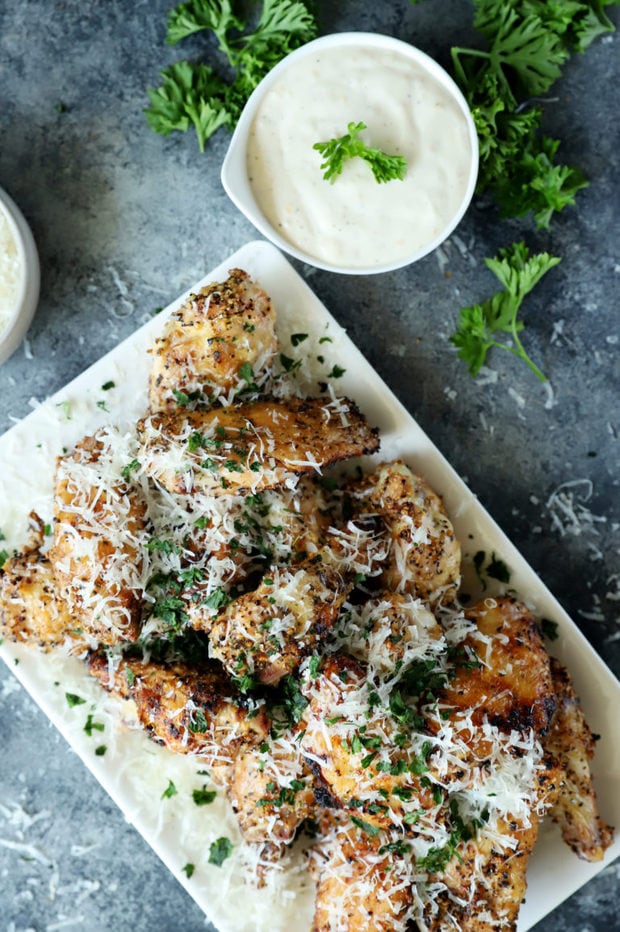 The seasoning is made up of only three ingredients and I am guessing all those ingredients are in your pantry already! Then you just need some freshly grated parmesan and parsley sprinkled on top. You get the flavor of cacio e pepe that you love, but the juiciness of the best cooked wings ever.
I personally love grilled wings because the flavor from the grill gives a little something extra to the chicken. However you can also bake them if you don't happen to have a grill and need to use the oven. I've dropped instructions for this in the notes for the recipe below!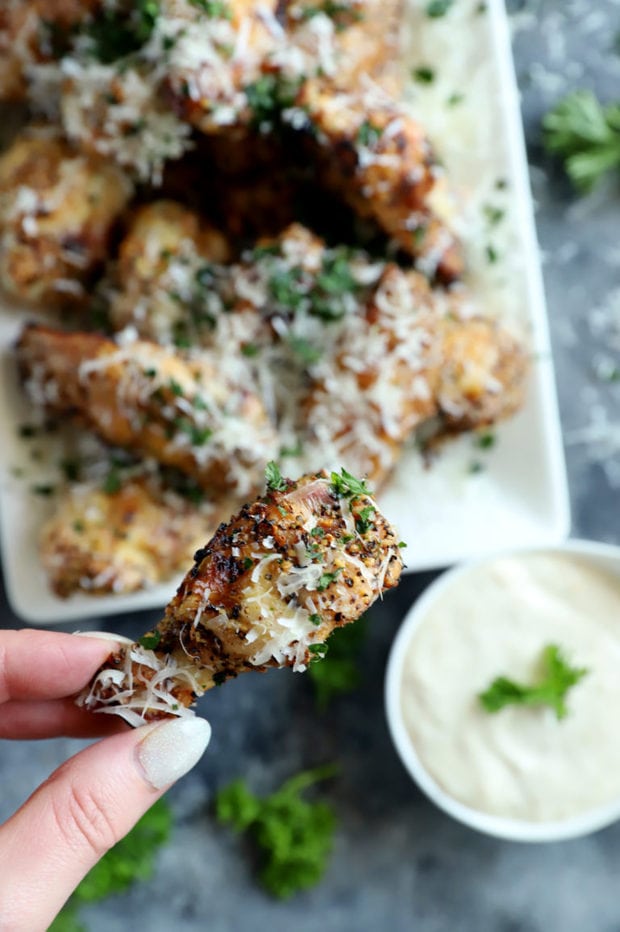 this recipe's must-haves
If you are in the market for a new grill, I have to recommend the Traeger grill. I used the Traeger grill signature pellets for this recipe, but you could also use hickory or apple for a fun flavor twist. Don't forget the grill tongs too!
To coat the wings, you'll need a couple of your metal mixing bowls to make the seasoning and then to toss the wings.
Use a cheese grater for the parmesan at the end (don't use the pre-grated stuff, fresh is SO much better!).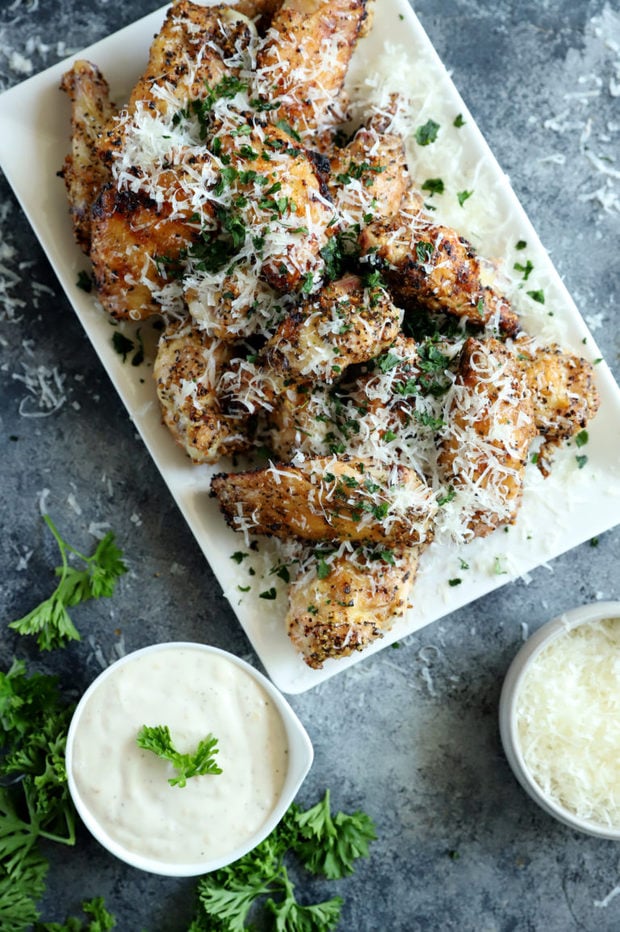 we're making cacio e pepe grilled wings!
Make Aioli
Stir together all the ingredients for the aioli together in a bowl. Set aside in the refrigerator until you are ready to use it!
Season Wings
In a small bowl, stir together the seasonings, then add to a big bowl with the wings and some oil. Toss to coat everything evenly.

Grill
Place the wings on a grill preheated to high heat. Cover and cook for about 30 to 35 minutes, until the wings are cooked through. Turn then 3 to 4 times during the cooking time to get even color and crispiness! They should reach 165˚F internally when they are done.
Finish
Add the wings to a serving platter and top with freshly grated cheese. Garnish with fresh parsley and serve with the garlic aioli you made!
Need some more inspiration for appetizers? Check out my appetizer recipes page!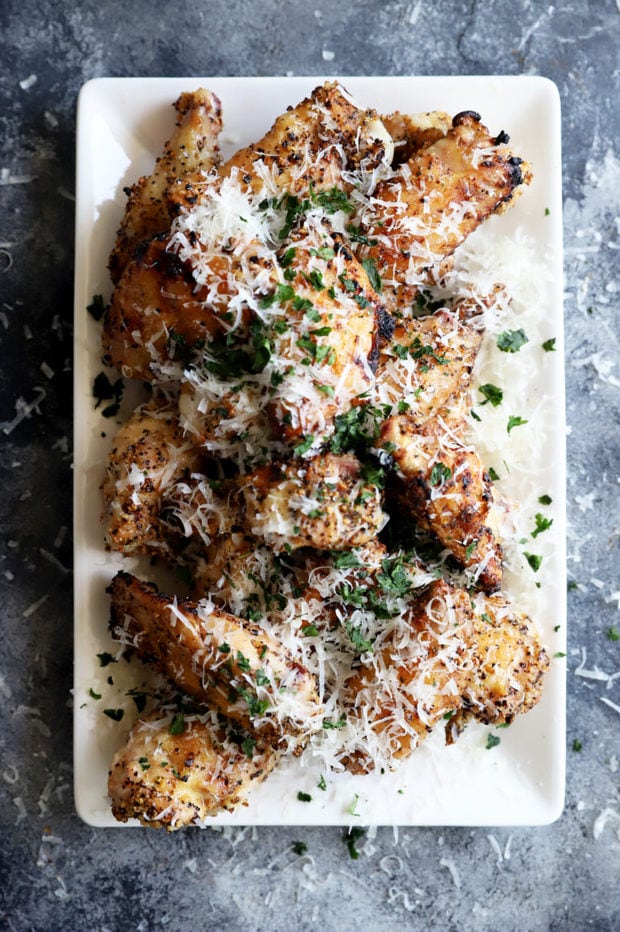 can I use a different part of the chicken to make this?
If you want to use chicken thighs or chicken breast, you can definitely use that instead! Your cooking time will vary depending on the thickness of your chicken cut, so start by cooking for about 10 to 15 minutes on the grill. Then check the temperature and continue to cook as needed. It's a great way to make these grilled wings turn into a dinner dish! Pair with pasta or your favorite grilled vegetables.
do you need a sauce for the grilled wings?
The only sauce you need for this recipe is the aioli that you dip the wings into! The wings themselves don't need a sauce because you get all the flavor from the seasoning mix and parmesan cheese.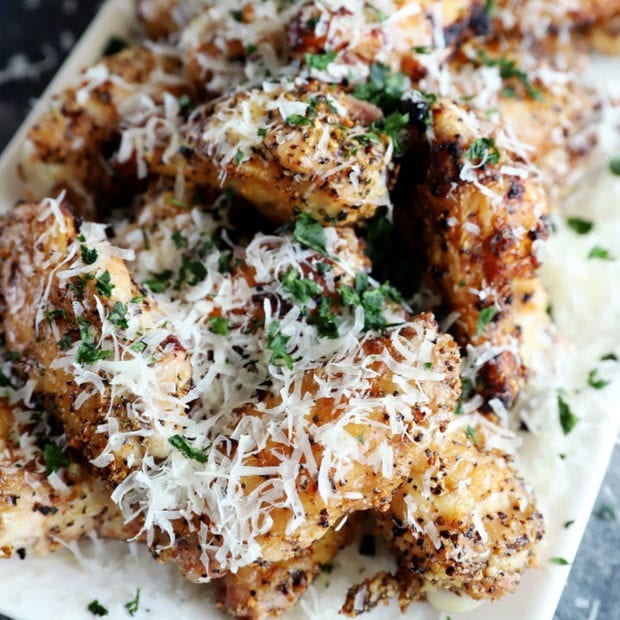 Cacio e Pepe Grilled Wings
The flavors of your favorite pasta, made into a shareable recipe to chow down on!
Ingredients
Garlic Aioli
1/2 cup mayonnaise
1 1/2 Tbsp lemonjuice
1/4 tsp Worcestershire
2 tsp minced garlic
Salt and pepper to taste
Wings
2 tsp black pepper
1 tsp salt
1 tsp garlic powder or granulated garlic
4 lbs chicken wings, broken down into drummettes and flats
1/3 cup freshly grated Parmesan cheese⁠
Garnish: freshly chopped parsley
Instructions
Preheat the grill to high heat (400˚F). ⁠
To make the aioli, stir together aioli ingredients in a small bowl. Set aside in the refrigerator until ready to serve.
In a small bowl, stir together black pepper, salt, and garlic powder for the wings.
Place wings in a large bowl. Toss wings with 2 tablespoons of oil, and then sprinkle the seasoning mix. Toss to coat evenly.⁠
Place wings on grill and cover. Cook for 30 to 35 minutes, turning frequently.⁠
Add to a platter and sprinkle with Parmesan cheese. Garnish with parsley and serve with garlic aioli.
Notes
To bake: Bake for about 45 minutes at 400˚F. Turn the wings every 15 to 20 minutes as they cook.
Recommended Products
As an Amazon Associate and member of other affiliate programs, I earn from qualifying purchases.