Please note this post contains affiliate links.
Beer Brined Turkey Breast is the juiciest way to get a delicious bird on the table for Thanksgiving! A whole turkey can be too much for smaller gatherings, making this turkey breast the ideal size. The beer brine keeps the meat moist and imparts some serious flavor.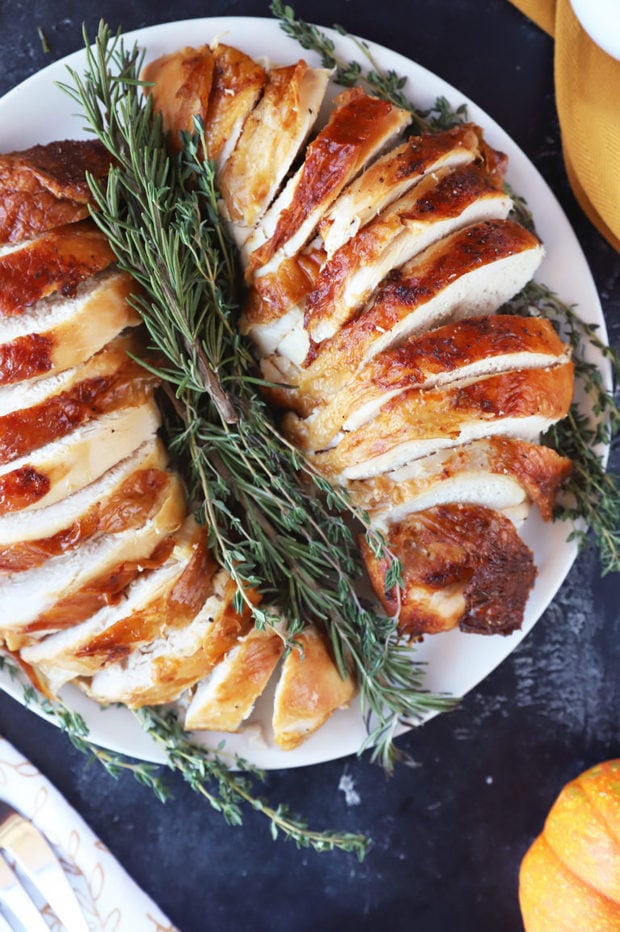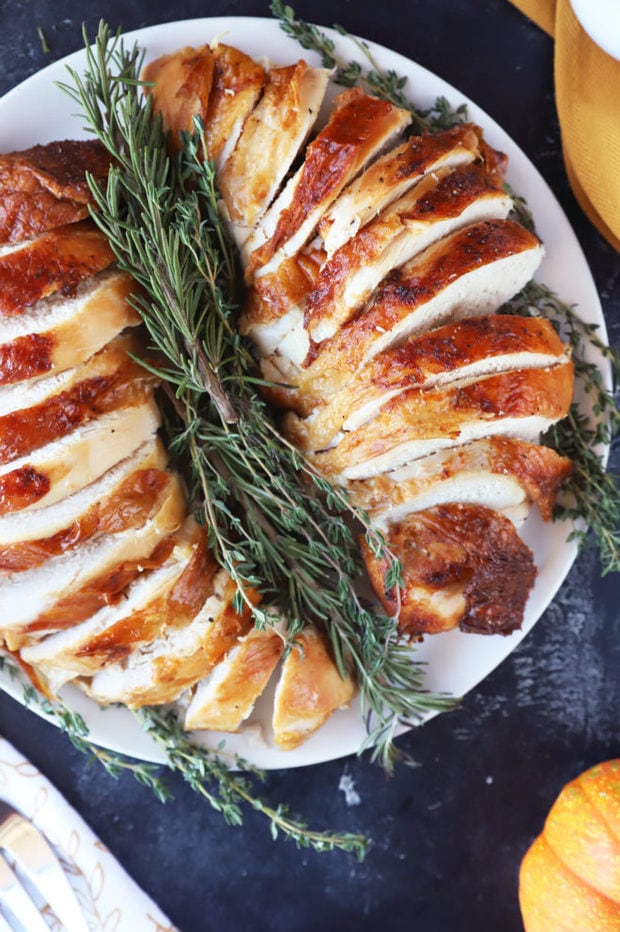 I have to tell you, after brining my turkey in beer for the first time last Thanksgiving, I am only using a beer brine for the rest of my life.
I love how moist the turkey is, even after roasting it for hours! Now this year, instead of going with an entire turkey, I went with turkey breast tenderloins. Why? Well, first, it's take sooooo much less time and effort.
Plus you can avoid that whole carving situation. I mean, I can carve up a chicken, but I have yet to find someone who can effortlessly carve a 20lb turkey. I don't know if it's the size or the fact that generally one out of 20 people in my family does it once a year.

Note: this is an updated version of the original recipe post published on November 12, 2014.
You all know I am all about taking the effort out of entertaining so these brined turkey breasts are heaven to me. Even more importantly, the flavor of the brine has less mass to sink into, making the turkey that much more flavorful and succulent.
Thanksgiving simply can't come fast enough!!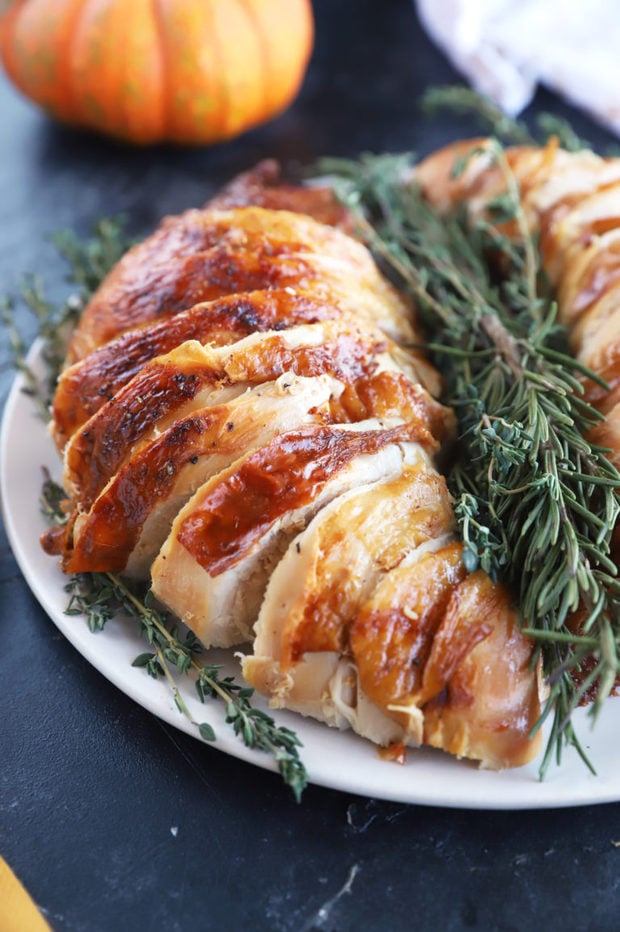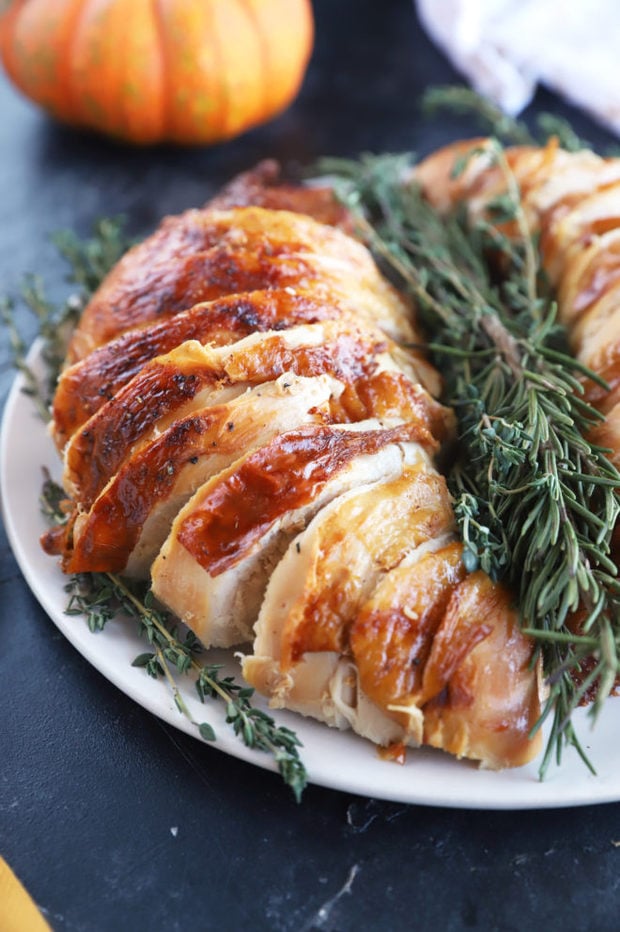 this recipe's must-haves
To make the brine, I used a dutch oven and for brining the turkey, I used a large stockpot.
You can use this stainless steel roasting pan or a nonstick roasting pan to roast the bird!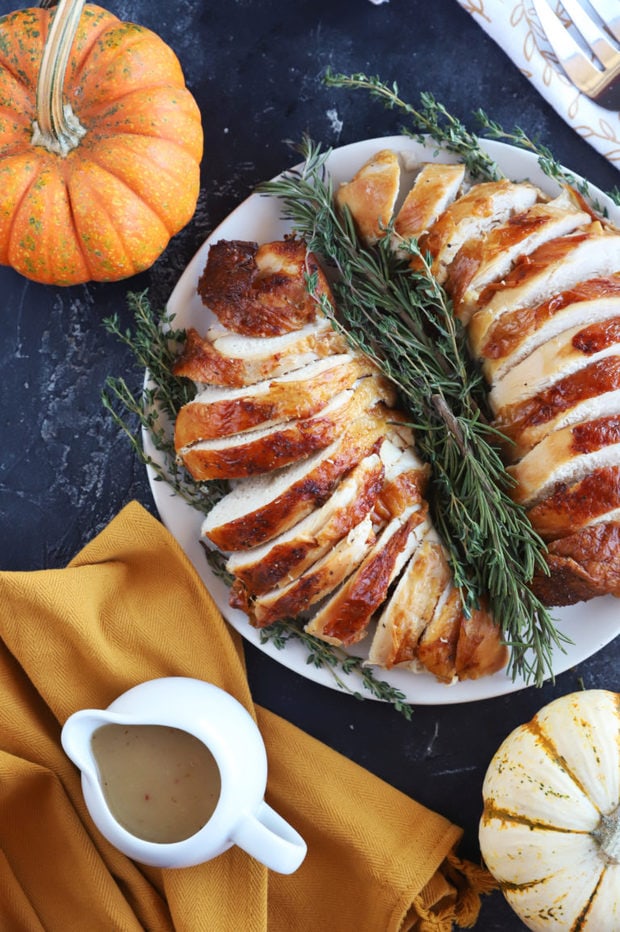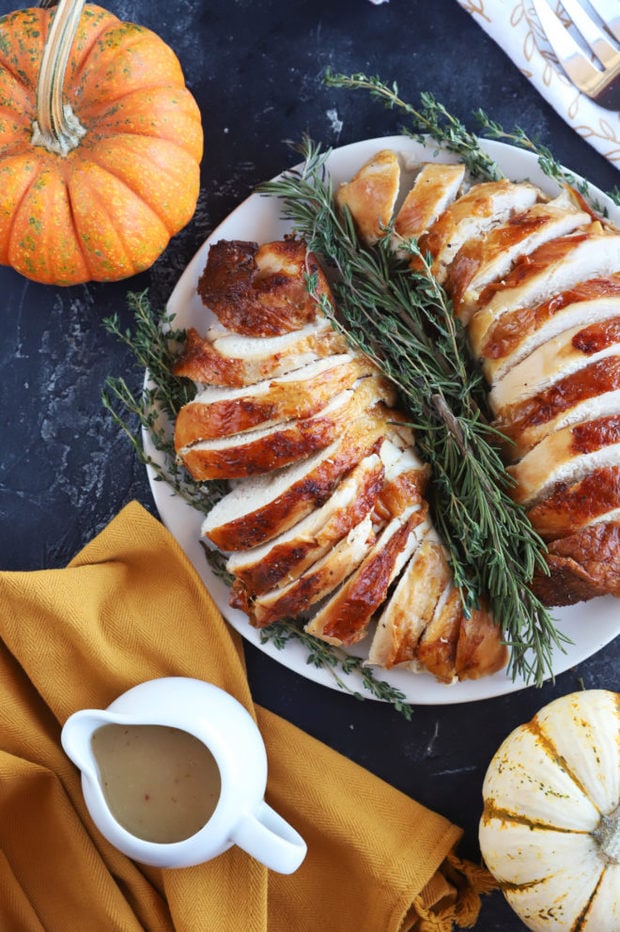 we're making beer brined turkey breast!
Make Brine
Add beer, bay leaves, peppercorns, brown sugar, salt, onion and 3 cups of water to a large pot. Bring the mixture to a boil then remove from heat, stirring until all the salt dissolves. Add in 7 cups of cold water and cool the mixture completely.
Brine Overnight
In a separate large pot big enough to fit the turkey breast and submerge it, add in the turkey breast and cover with the cooled brine. Cover the pot and place in the refrigerator. Brine for at least 12 to 16 hours. The longer the turkey is in the brine, the better it will turn out!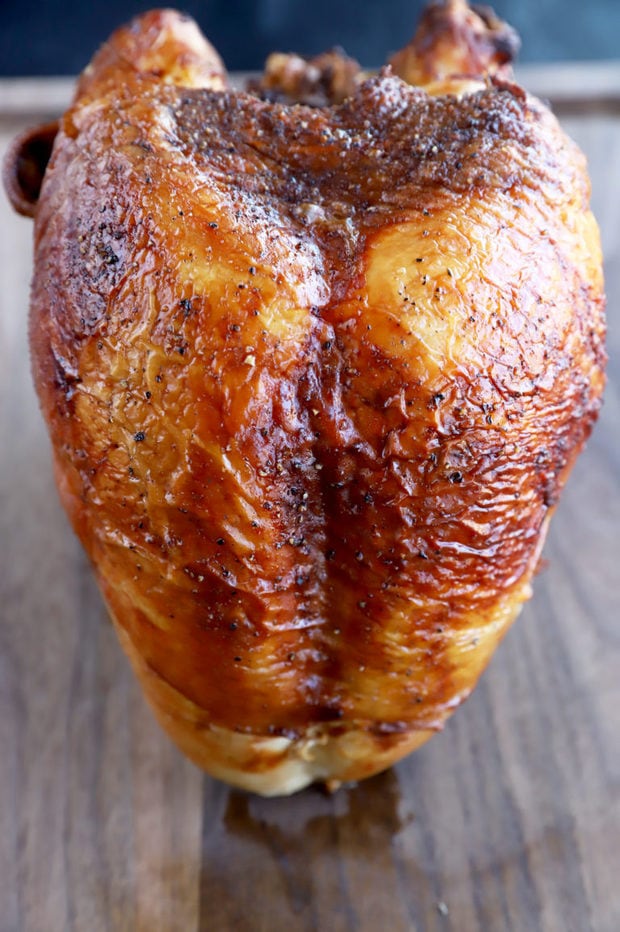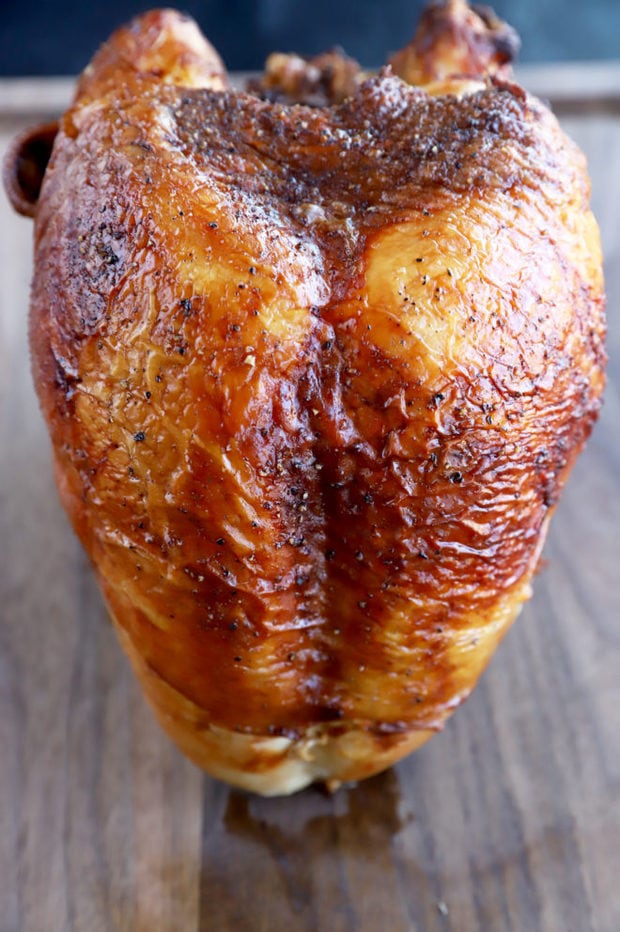 Roast
Remove the turkey from the brine and pat it dry with paper towels. Brush with oil and season with salt and pepper. Place on a roasting rack in a roasting pan, then roast in the oven at 350˚F for about 20 minutes per pound. My 7 pound turkey breast took between 2 hours and 2 hours 30 minutes to cook through. Remove from the oven and let rest for about 15 to 30 minutes before slicing. Cover it with foil to keep it warm!
Need some more inspiration for Thanksgiving? Check out my Thanksgiving recipes page!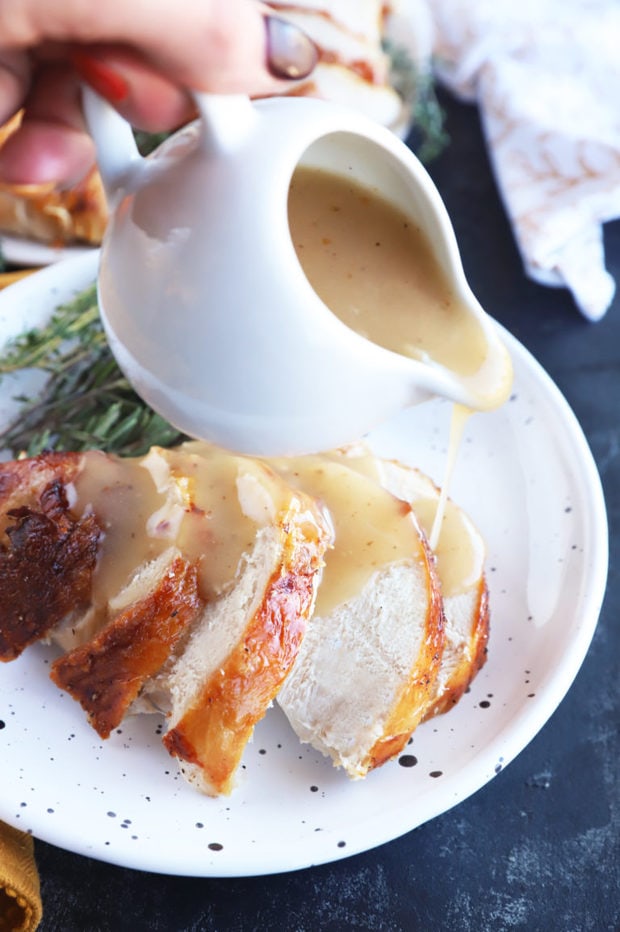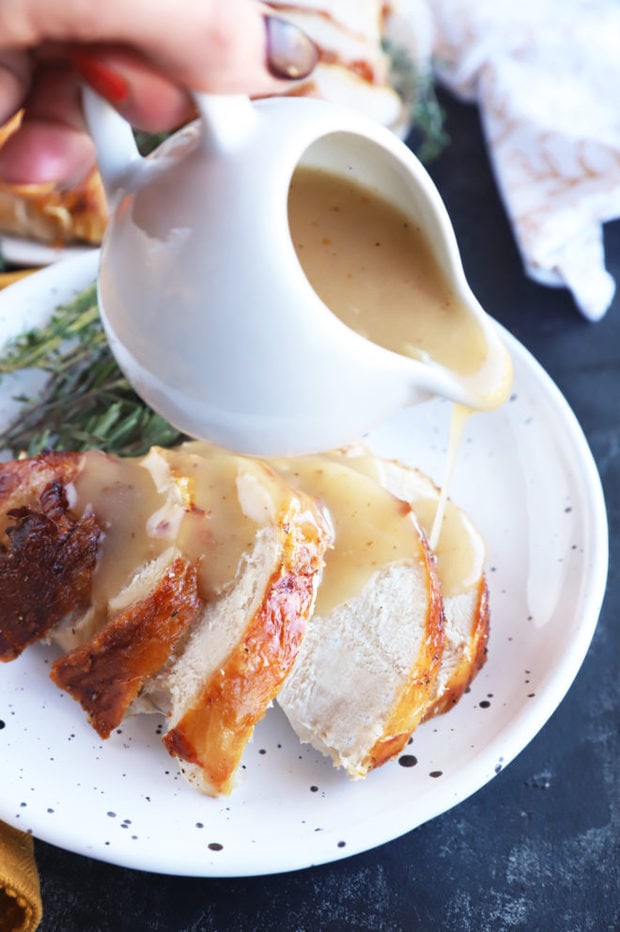 how do I keep the skin from getting too brown?
I check on my turkey breast about every hour as it cooks. If you see the skin getting too brown, simply tent it with foil for the remainder of the cook time!
what kind of beer should I use?
I like to use a robust malt beer for this brine, so I usually use Guinness.
what to serve with beer brined turkey breast
Of course the best thing to serve with beer brined turkey breast is all the holiday/Thanksgiving fixings you love. From mashed potatoes to stuffing (or this vegetarian sage and onion stuffing!), biscuits to gravy, sweet potato souffle to salad, and everything else you love for a holiday spread.
Looking for a cocktail to pair with the meal? This Thanksgiving cocktail is always a hit or make a big batch of apple sangria to serve a crowd!
If you are wondering what to do with those Thanksgiving leftovers, I have all of the Thanksgiving leftovers ideas ready and waiting for you.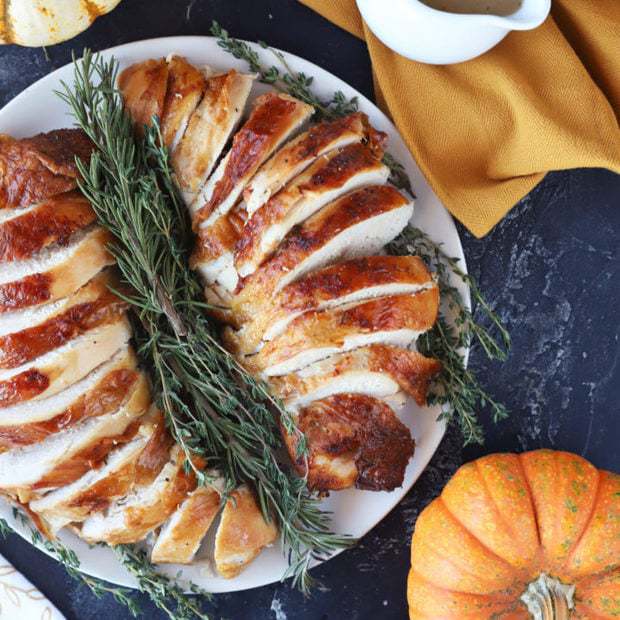 Beer Brined Turkey Breast
Cook Time:
2 hours
30 minutes
Additional Time:
16 hours
Total Time:
18 hours
45 minutes
This moist turkey is brined in beer and spices delivering a ton of flavor after you roast it!
Ingredients
1 bone-in, skin-on turkey breast, 7 to 9lbs
48 oz malt beer (I used Guinness)
5 bay leaves
3 tsp black peppercorns
1/4 cup brown sugar
1/2 cup salt
1 onion, quartered
10 cups water
2 to 3 Tbsp canola oil
Salt and pepper
Instructions
In a large pot, add beer, bay leaves, peppercorns, brown sugar, salt, onion, and 3 cups of the water. Bring to a boil and remove from heat, stirring until the salt is dissolved. Add 7 cups of cold water. Stir to combine. Allow the brine to cool completely.
Add the turkey breast to a large pot and pour the brine over the turkey. Cover the pot and place in the refrigerator. Brine for at least 12 to 16 hours. The longer the better!
When you are ready to cook your turkey, preheat oven to 350˚F.
Remove turkey breast from the brine and place on a rack in a roasting pan. Pat dry with paper towels.
Brush the turkey with canola oil. Season with salt and pepper.
Roast in the oven for 2 to 2 1/2 hrs. Check the turkey every hour to make sure the skin isn't getting too browned. If it is, tent with foil and continue to bake until cooked through. The internal temperature should be 160˚F on a meat thermometer before removing. It will cook the remaining 5 degrees out of the oven and this will ensure it doesn't dry out!
Remove from the oven, cover with foil if you haven't already, and let rest at least 15 to 30 minutes before carving.
Slice the turkey and serve immediately.
Recommended Products
As an Amazon Associate and member of other affiliate programs, I earn from qualifying purchases.

As you may have read in Monday's post, this week I am co-hosting (with my dear BFF Susannah from Feast + West) an entire week of Thanksgiving collaboration between 20 incredibly talented food bloggers from all over the U.S. and Canada sharing over 50 recipes. Pretty amazing right? You're basically being handed the ultimate Thanksgiving dinner inspiration!
Just like a traditional progressive dinner, Monday we shared cocktails, hors d'oeuvres, and soups. TODAY? It's all about the main event – entrees, salads and side dishes! Are you ready for today's menu already? Here it is!!
Salads
Pomegranate & Goat Cheese Salad from Feast + West
Persimmon & Pear Salad from Wit Wisdom and Food
Roasted Butternut Squash & Gorgonzola Salad from Hello Little Home
Entrees
The Perfect Thanksgiving Turkey from My Cooking Spot
Roasted Turducken from The Speckled Palate
Herb Crusted Pork Tenderloin with Orange-Cranberry Reduction from Home at Six
Beer Brined Turkey with Bacon Gravy from Cake 'n' Knife
Side Dish
Turkey, Apple & Sweet Potato Pot Pies from Love & Flour
Creamy Pumpkin Apple Pasta from My Cooking Spot
Mushroom Spinach Farro from Think Fruitful
Bacon and Cornbread Stuffing from Chez CateyLou
Sweet Potato Crunch from I Cook. I Eat. It's Life.
Blue Cheese & Bacon Mashed Potatoes from A Savory Feast
Sausage Stuffing from the Wetherills Say I Do
Butternut Squash Grits from Homespun Seasonal Living
Wine
Thanksgiving Wine Pairings from Twin Stripe
Don't forget to check back on Friday for the final round of Blogsgiving Dinner recipes – after-dinner drinks, dessert, and leftovers so get excited!