Please note this post contains affiliate links.
Gingerbread Christmas Crack Candy is a festive, flavorful take on the holiday treat you know and love. Made with gingerbread spices, you get a holiday kick with the cracker candy – coated with chocolate of course!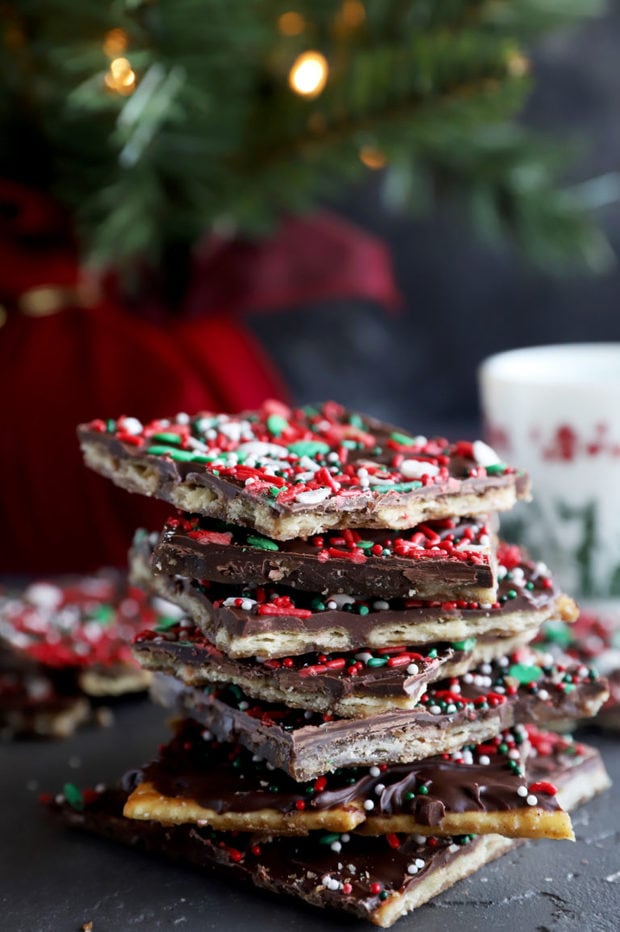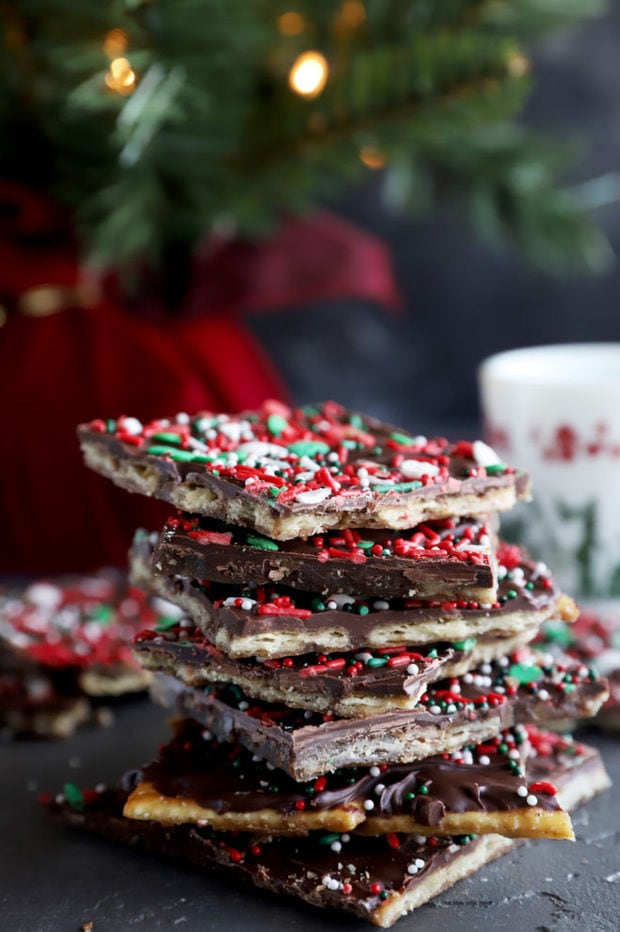 Christmas crack candy is addictive AF.
Seriously, the more you eat it, the more you want it!
I personally love this super simple recipe because it is a fantastic and EASY treat to make this time of year.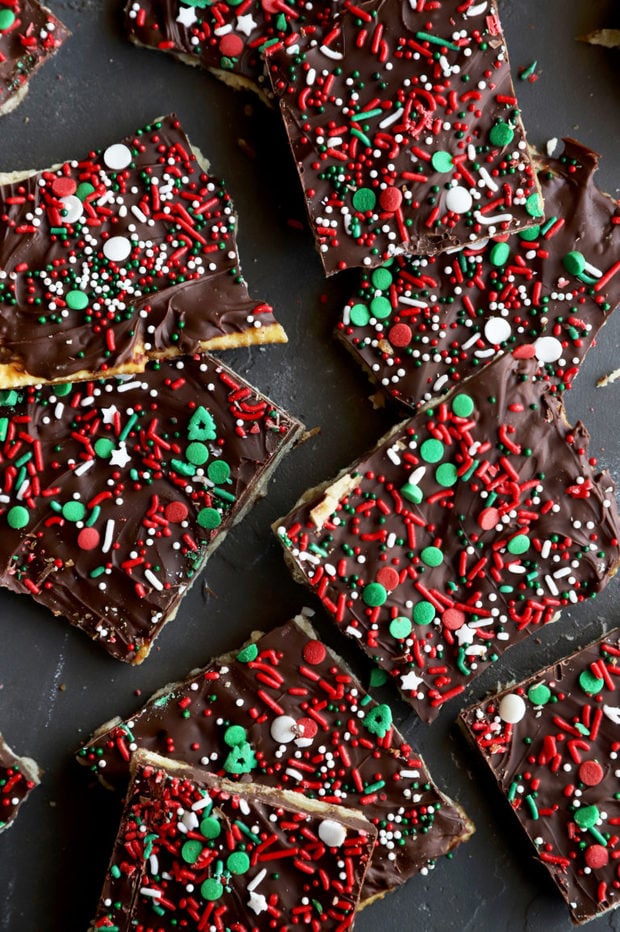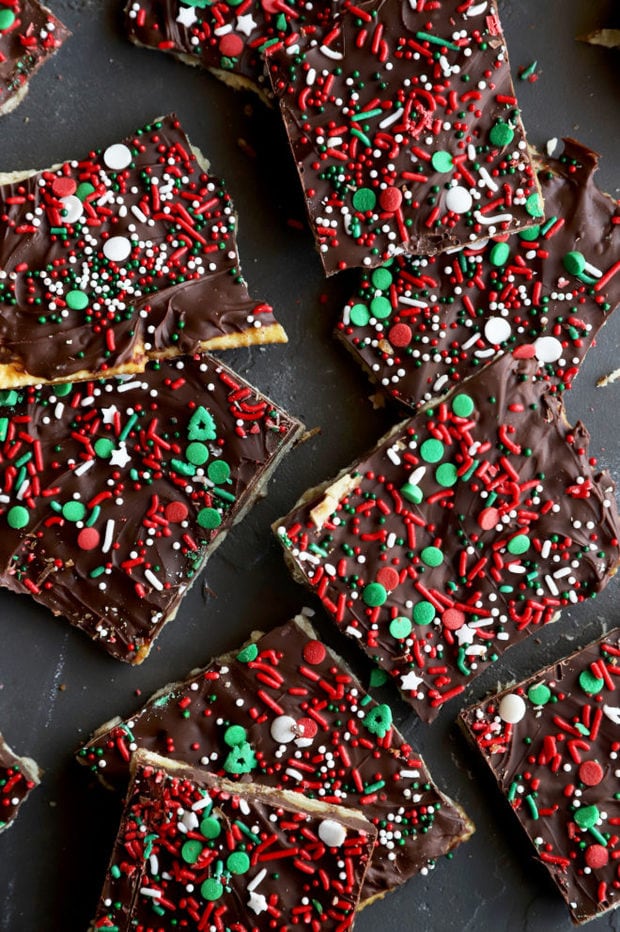 Of course, just like my king cake crack candy, I had to put my own holiday twist on the recipe! And that twist is…
Gingerbread.
Instead of just plain ol' caramel, this candy has a gingerbread toffee flavor that makes it even better than the Christmas crack candy you may have had in the past! It's downright delightful and perfect for holiday gatherings. You get the flavor of gingerbread, along with chocolate and salty crackers. It's got all the flavors you love, plus a cracker texture that is just the right CRUNCH.
Not to mention, it's easier to make than gingerbread LOL.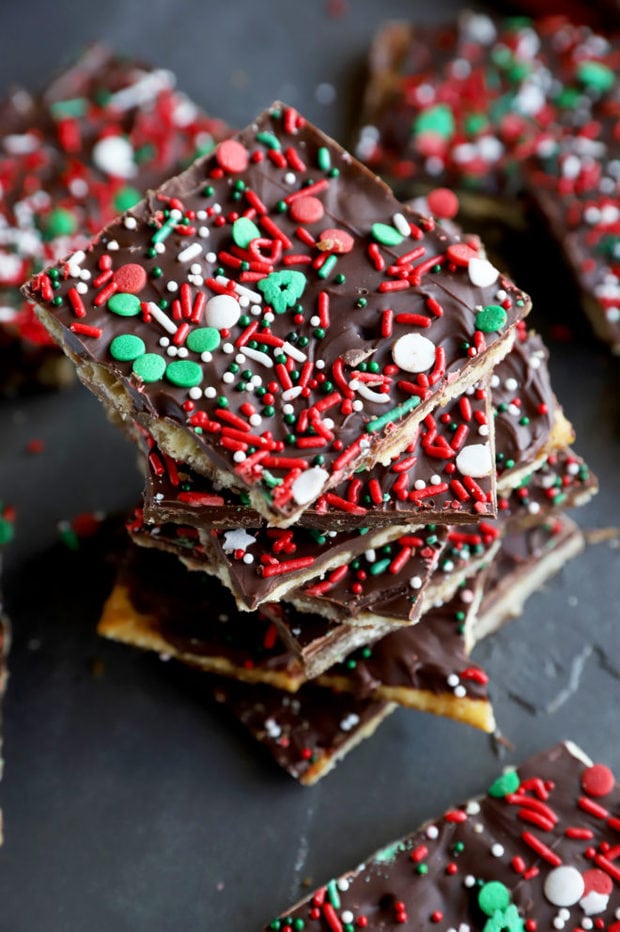 this recipe's must-haves
To bake the cracker candy, you'll need a half sheet baking sheet (make sure it's rimmed!).
For the caramel sauce, you'll need your favorite saucepan and wooden spoon!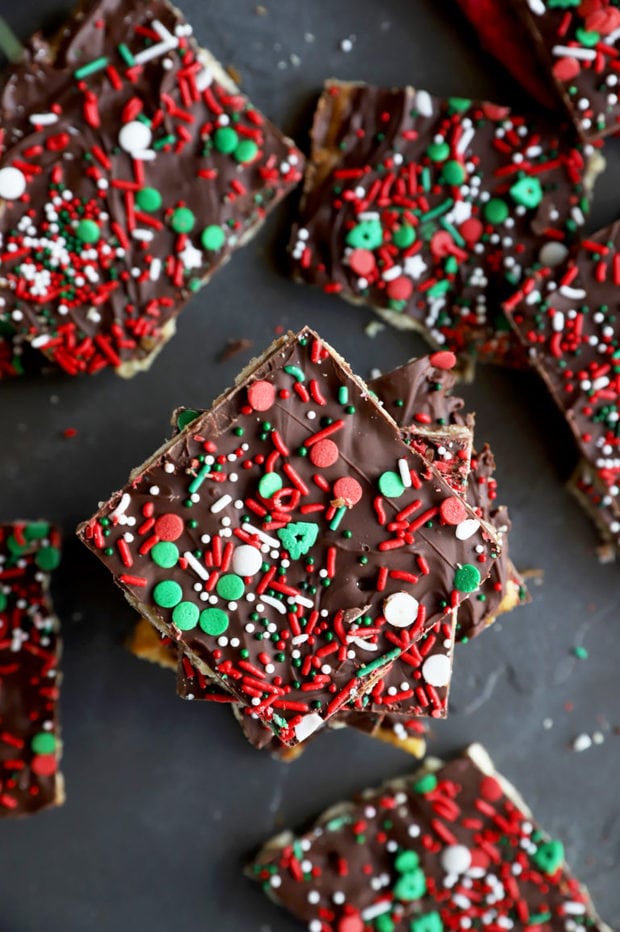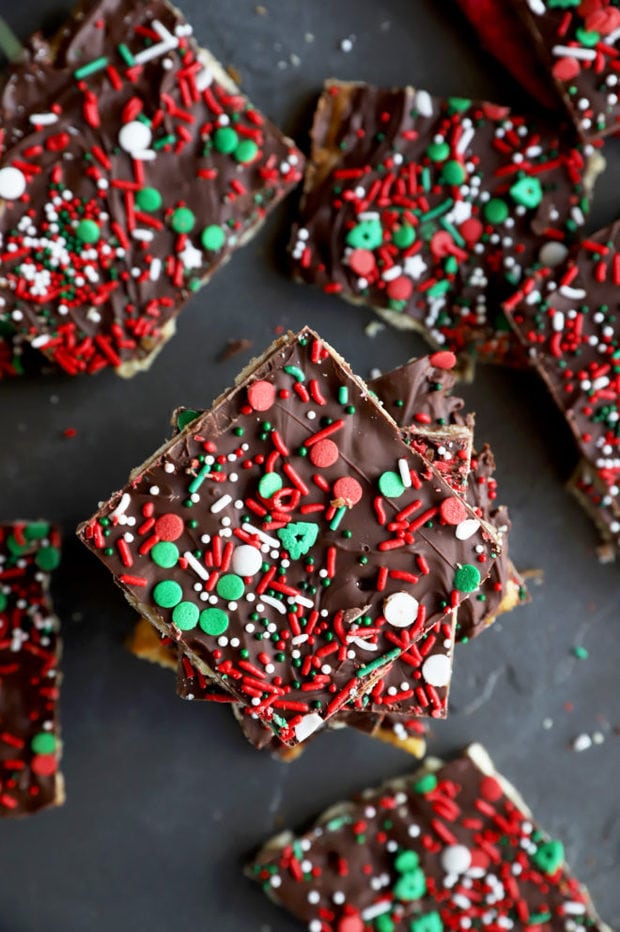 here's how to make gingerbread christmas crack candy!
Prep Crackers
Line a rimmed baking sheet lined with parchment paper and spray it lightly with cooking spray.
Add the crackers in rows to the pan, placing them side by side. Set aside for later.
Make Caramel Sauce
Melt the butter with the sugar and spices in a small saucepan over medium-high heat. Bring it to a boil, stirring constantly, and cook for about 3 minutes until smooth and thick. Remove from heat.
Stir in the vanilla – be careful as the mixture will bubble up! Stir until combined.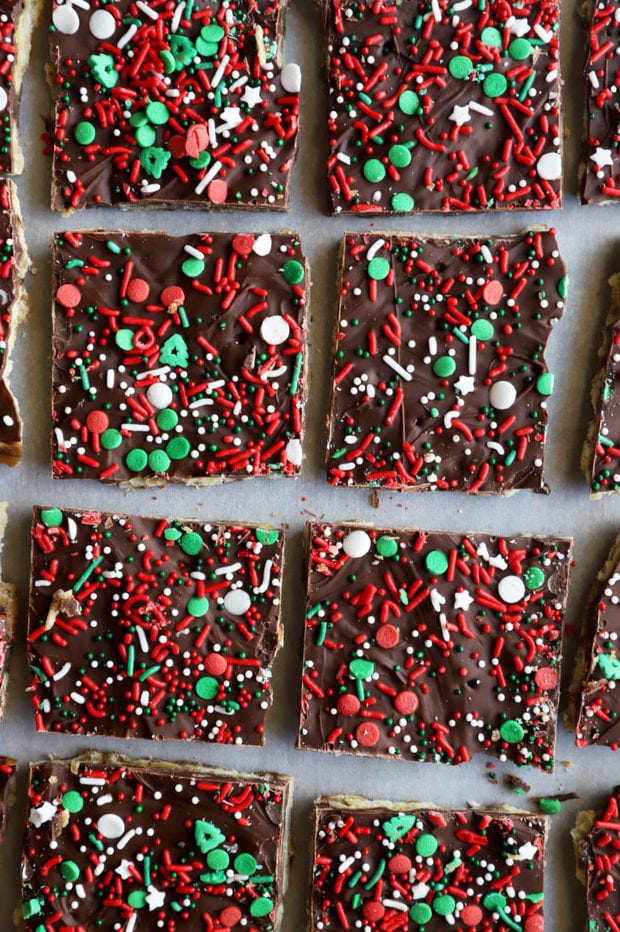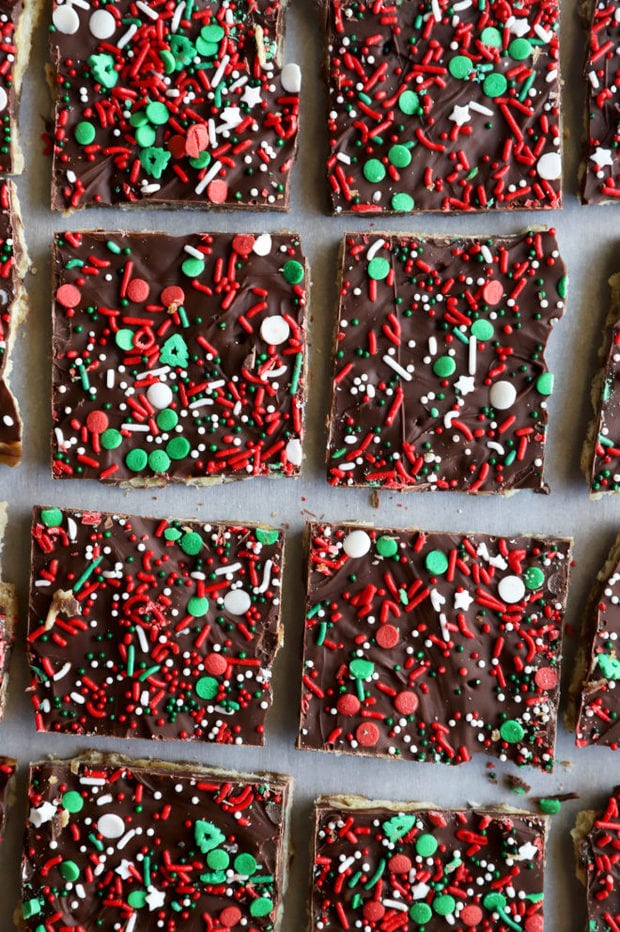 Bake
Pour the caramel over the crackers slowly, spreading it evenly over the crackers with a spatula. Bake for 5 minutes.
Remove from the oven and top with chocolate chips. Let it sit for 5 minutes and the chocolate chips should be melted. If not, you can place it in the cooling oven for about 1 to 2 minutes. Spread the chocolate to coat the candy crackers evenly.
Decorate with your favorite sprinkles!
Chill
Chill for 30 minutes in the freezer and break the candy into pieces. Store in the refrigerator in an airtight bag or container!
Need some more inspiration for dessert? Check out my dessert recipes page!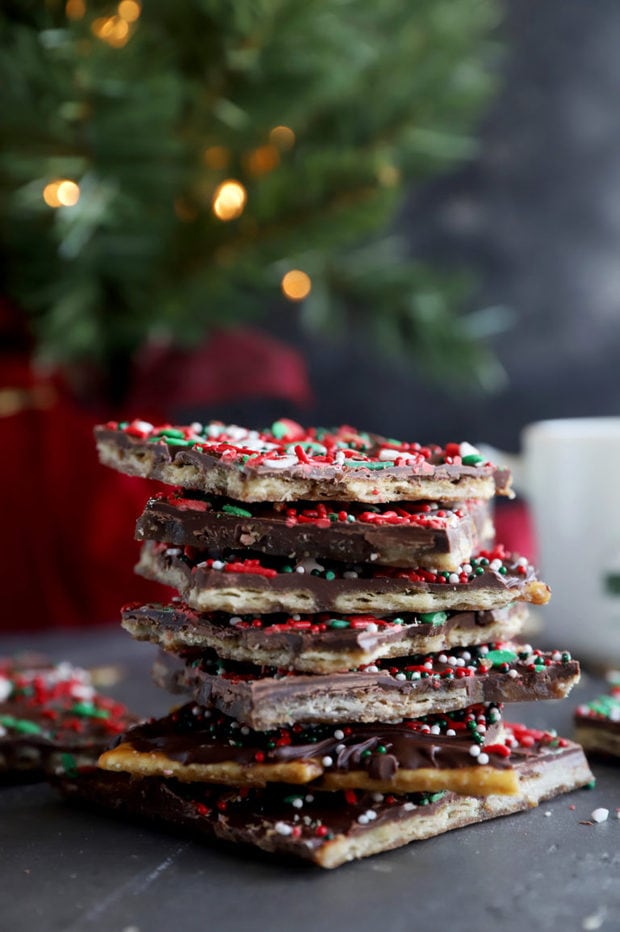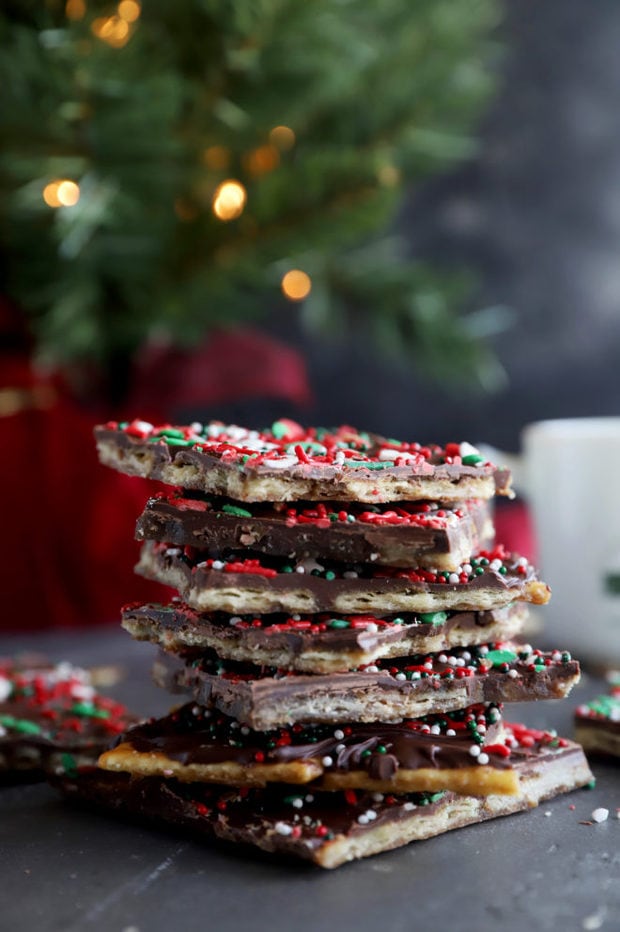 can I use a different cracker?
If you want to change things up, you can use Ritz crackers or even cinnamon graham crackers as the base for this recipe.
how long does Christmas crack candy last?
This candy will last in the refrigerator for about 1 to 1 1/2 weeks! I doubt it'll stick around that long though… But it's an easy recipe to make ahead of time for a party or for a snack on Christmas Day!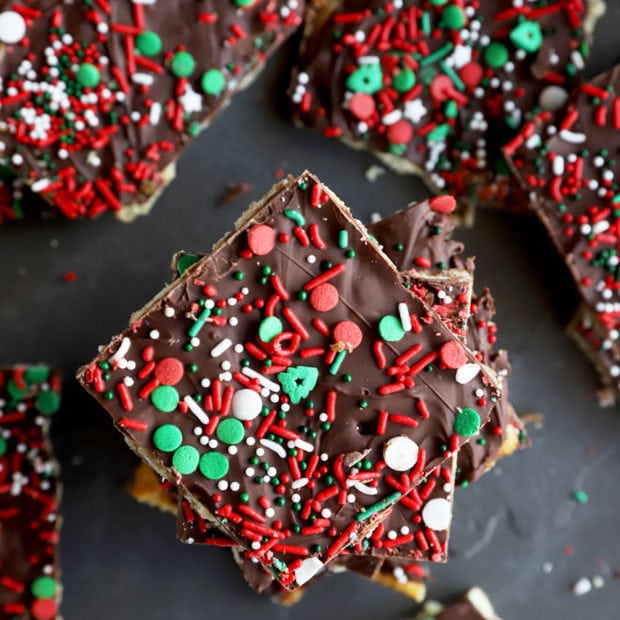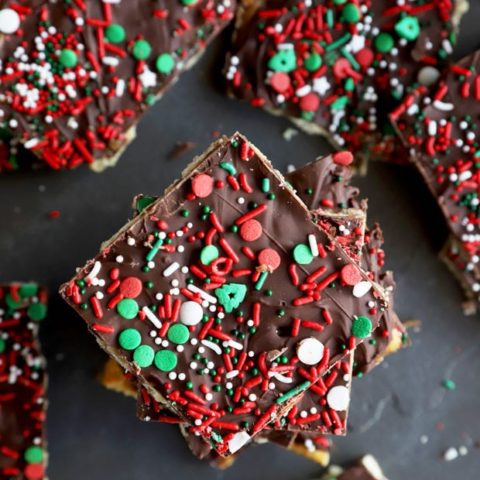 Gingerbread Christmas Crack Candy
Additional Time:
30 minutes
A crunchy candy mixture of gingerbread, chocolate, and salty crackers!
Ingredients
40-42 saltine crackers
1 cup unsalted butter
1 cup brown sugar packed
1/4 tsp ground allspice
1/4 tsp ground cinnamon
1/4 tsp ground ginger
1/8 tsp ground cloves
1 tsp vanilla extract
12 oz mini chocolate chips
Christmas themed sprinkles for decoration
Instructions
Preheat oven to 375˚F. Line a rimmed cookie sheet with parchment paper. Lightly spray with cooking spray.
Place saltine crackers side by side on the parchment paper. Set aside.
Combine butter, brown sugar, and spices in a medium saucepan. Bring to a boil over medium-high heat. Boil for 3 minutes, stirring constantly. Remove from heat and stir in vanilla.
Pour the mixture evenly over the crackers. Use a greased spatula to spread over the crackers as needed.
Bake for 5 minutes.
Remove from oven. Top with chocolate chips. Let rest 5 minutes. Use a spoon to spread the melted chocolate evenly over the crackers.*
Decorate the top with holiday sprinkles.Cool in the freezer for 30 minutes.
Break into pieces, removing from the paper. Store in the refrigerator in a ziplock bag or airtight container.
Notes
*If the chocolate hasn't melted, you can place the candy in the cooling oven for about 1 to 2 minutes to get it to melt.
Recommended Products
As an Amazon Associate and member of other affiliate programs, I earn from qualifying purchases.