Please note this post contains affiliate links.
A Hearty BBQ Charcuterie Board is just the unique idea your next gathering demands. Piled high with BBQ meat sauced up with Head Country Bar-B-Q, this spread is perfect for when that snack attack strikes! Bust it out on a lazy weekend for grazing or use it as the centerpiece of your next tailgating gathering.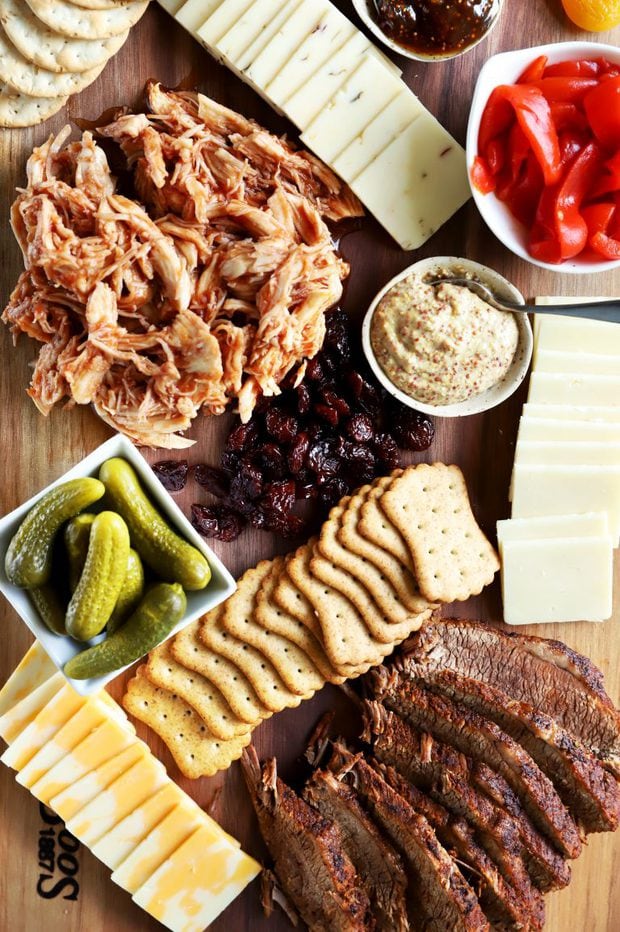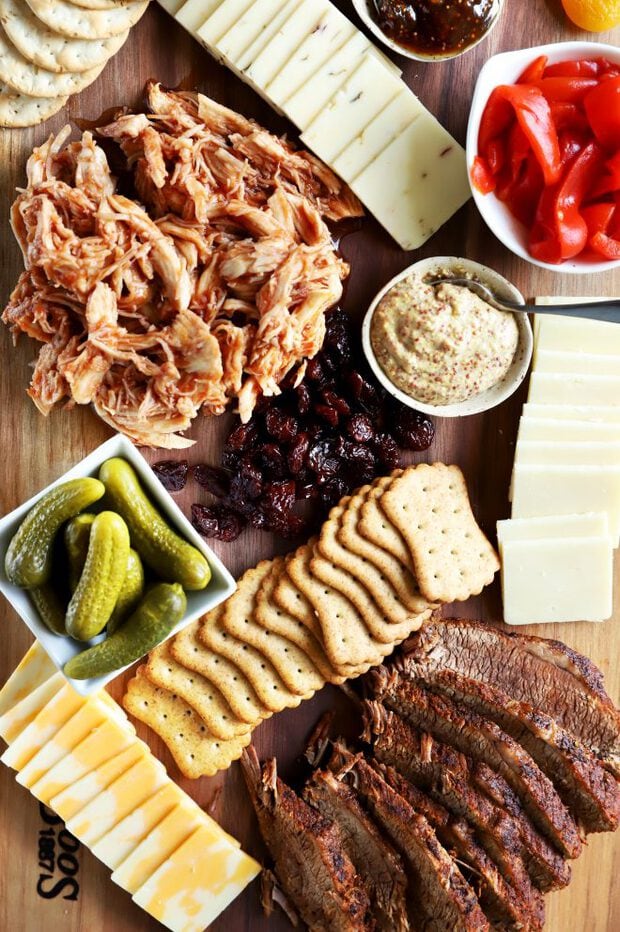 Disclosure: This post was sponsored by Head Country Bar-B-Q. As always, all opinions are my own. Thank you for supporting the brands that support Cake 'n Knife.
Charcuterie boards will forever and always be my favorite thing.
I am what people like to call a serial grazer. Honestly, I would much prefer to graze all day long than the eat three square meals a day. During the day that's exactly what I do with a little here and a little there as the hours pass.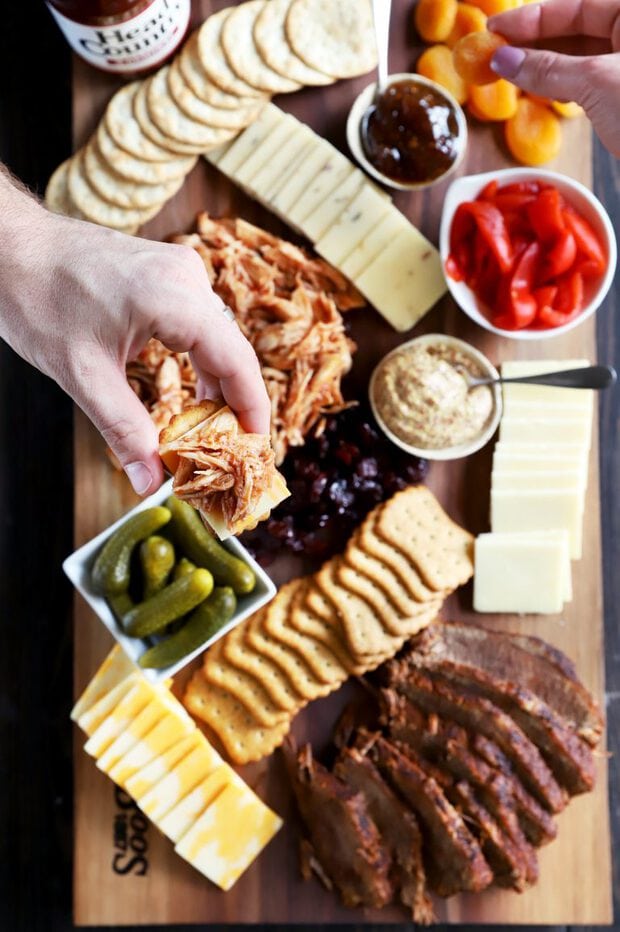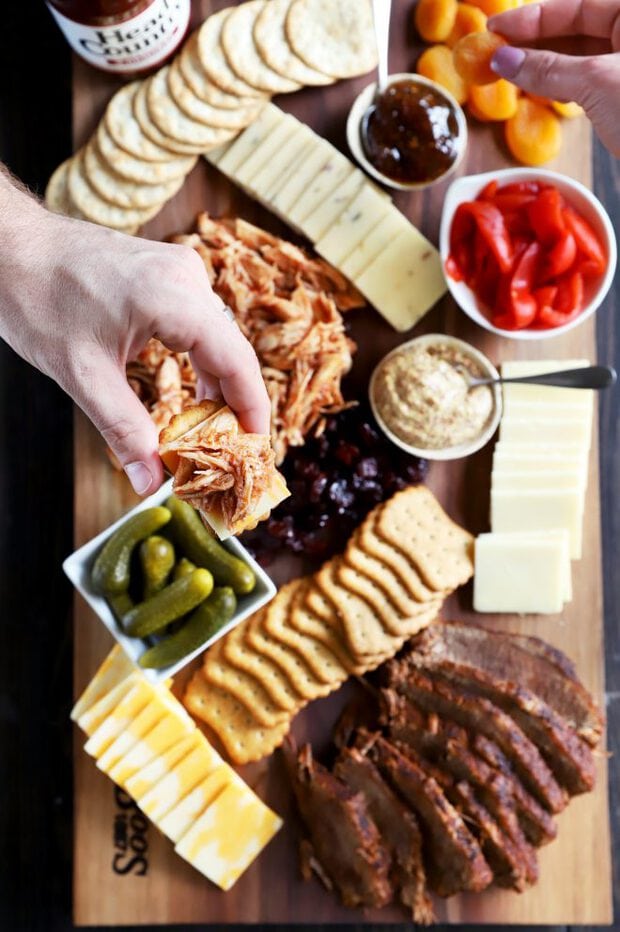 However, I really love grazing when it's part of a gathering.
When I have a house full of people, I am rarely thinking about eating. Actually, I lie. This applies to any event.
I just get so enthralled with catching up with friends and family, or watching the big game, or playing board games that the idea of stopping to sit down to a full meal is really unappealing.
Thus, I graze. I nibble. Eating in increments is my friend.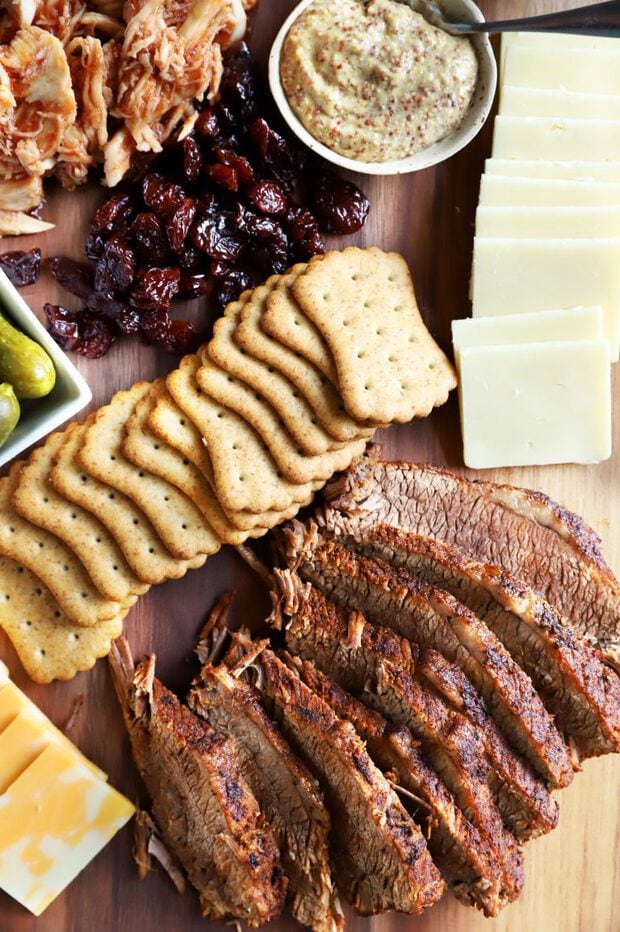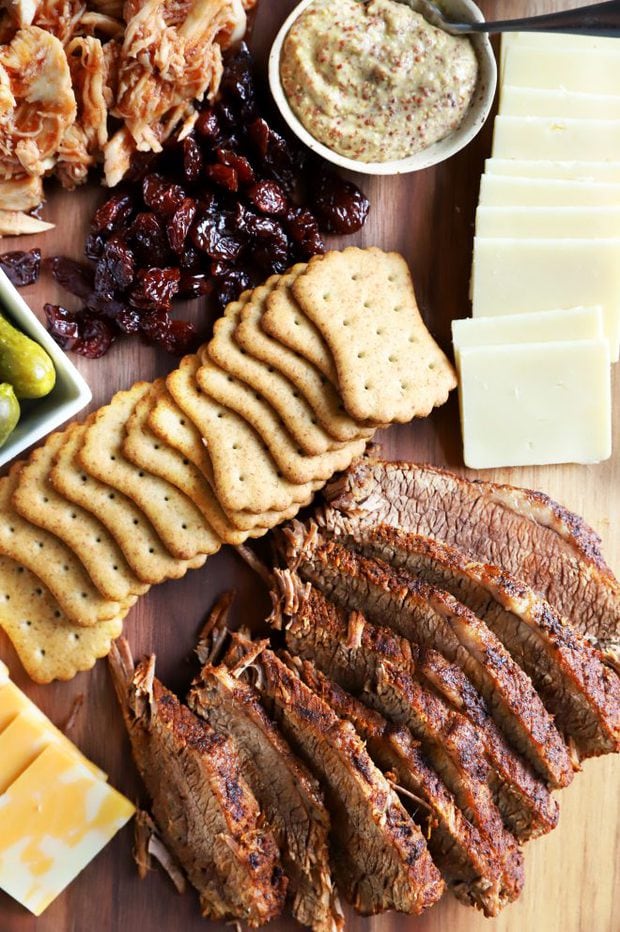 This new take on a charcuterie board might seem a little odd to some of you, but hear me out. It's basically your normal charcuterie board with sliced cheese, fig jam, dried fruit, whole grain mustard, etc. Except, instead of simply throwing on some chilled, thinly sliced meats, it gets a hearty twist.
That hearty twist is B-B-Q. I love this idea for whenever I have leftover barbecue meats that I want to use up.
Heck, I'll even cook them up special for a giant version of this board if the mood strikes me.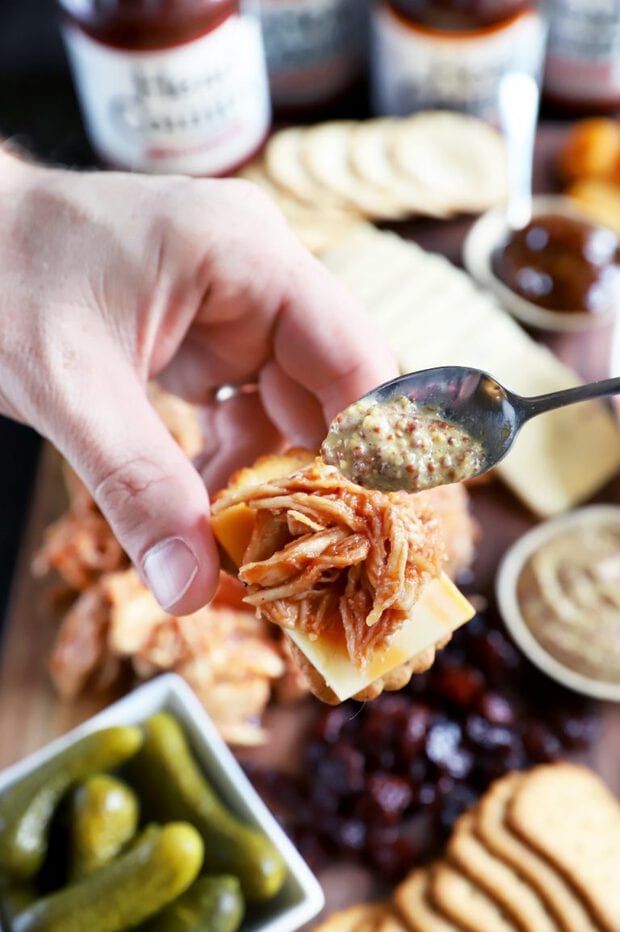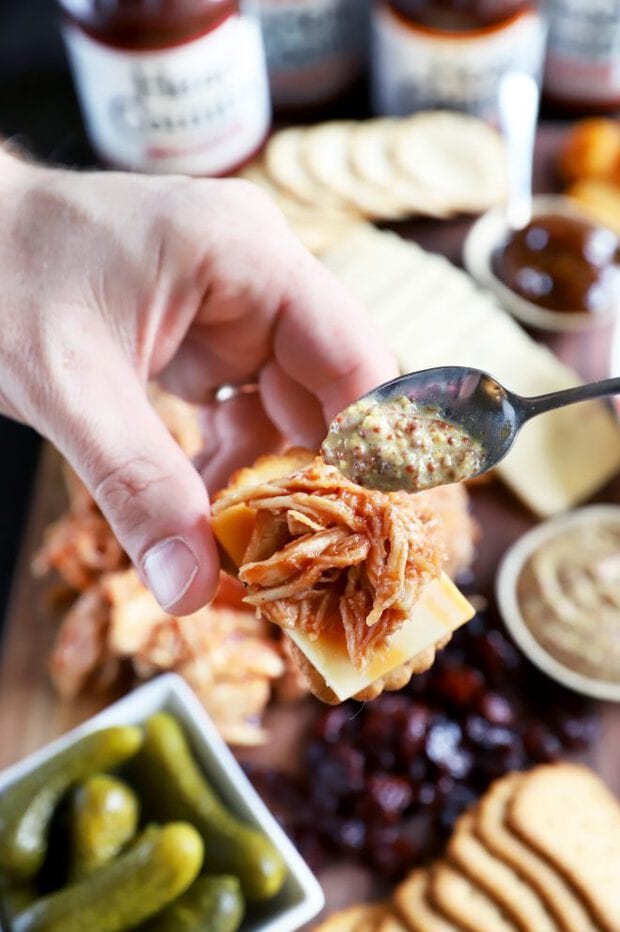 For me, it's all about the Head Country Bar-B-Q sauces that make the whole BBQ aspect of this board a reality. There are so many flavors of sauces to choose from (including a tasty sugar-free one!), but it's really the quality of the sauces that come through. The flavors are bold and straightforward, not to mention totally reasonable on the price side of things.
You can honestly use any type of meat and simply pair it with your favorite Head Country Bar-B-Q sauce! I went with the Apple Habanero for the pulled chicken and Original for the brisket (though the Hot & Spicy and Chipotle are also solid choices here!). The possibilities are endless and it's ideal for a party, no matter how many people are coming over.
I love to experiment with different types of cheese, dried fruits, and stacking it all on crackers with the meats. There's endless fun to be had, so it's the best centerpiece for people to gather around.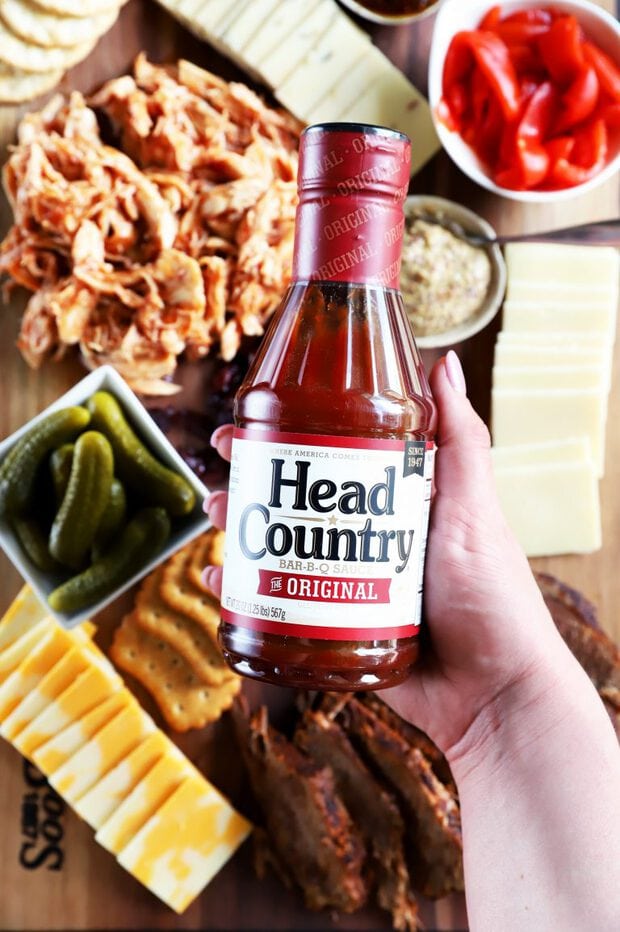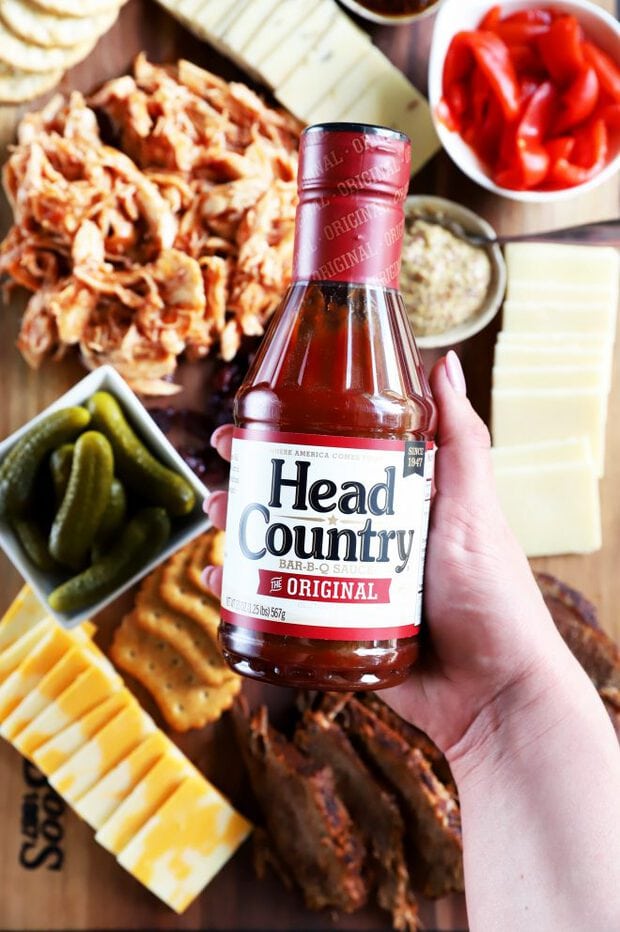 This Recipe's Must-Haves
To make the whole BBQ portion of this charcuterie board a dream come true, you obviously need Head Country Bar-B-Q sauces. The beauty of tis board is that you can choose any sauce you want to go with your meats!
If you plan to grill some of your meats for the board (I grilled the brisket for this one!), then make sure you have a Traeger grill hot and ready to do the job.
When it comes to serving this giant board of finger licking goodness, I am all about using my John Boos Co cutting board! It makes for a killer board to serve on, as well as being one that can also be used as a cutting board (no one needs giant board just sitting around to use occasionally, am I right?).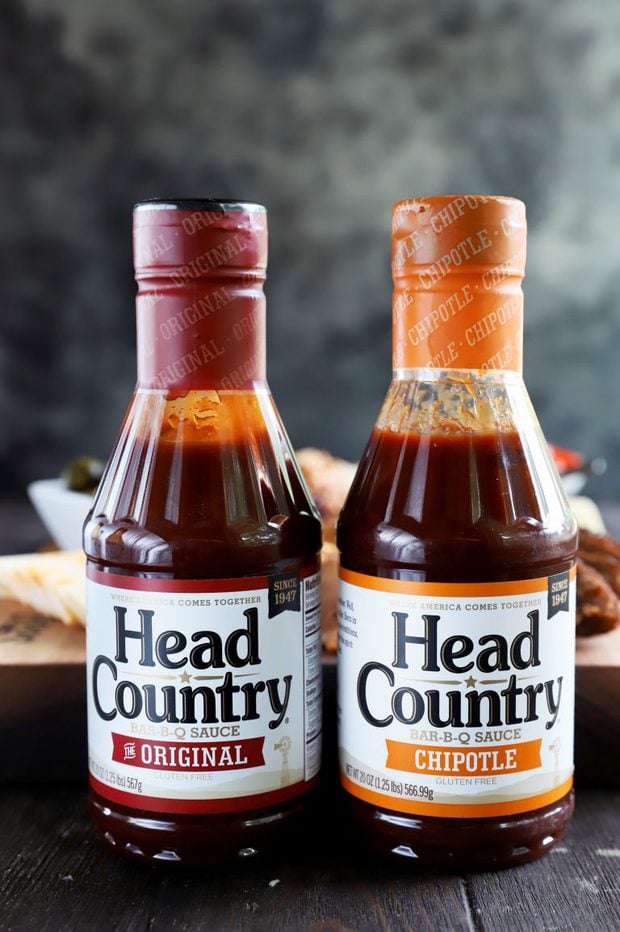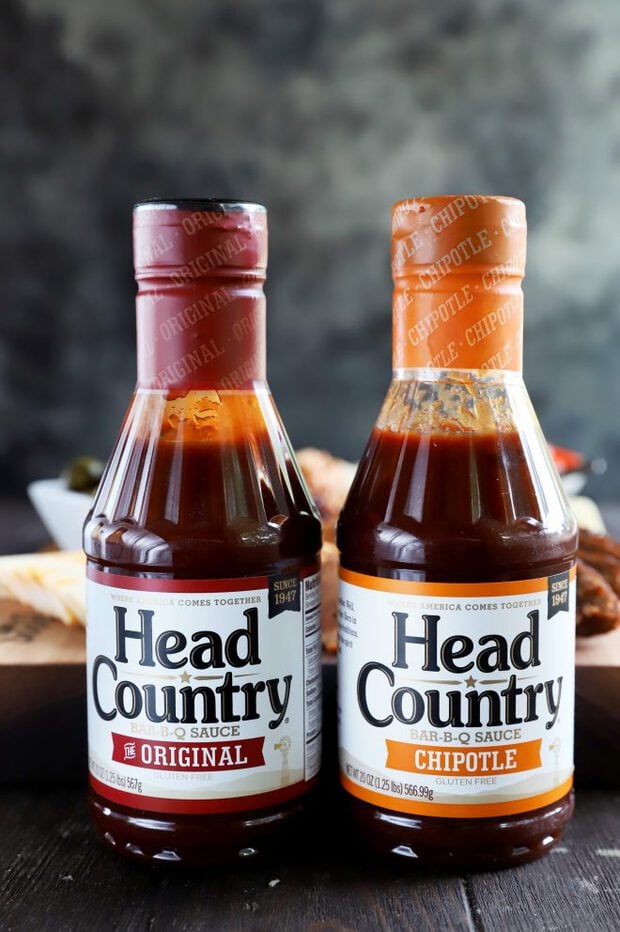 How To Make A BBQ Charcuterie Board
Pick Your Meats
Start by picking your meats. Personally I like to have at least two and up to four depending on the size of the board I am making. For this board I chose pulled chicken and brisket since it was made for about 4 to 6 people total.
Pair Them With Head Country
After you pick your meats, pick the sauces you want to serve them with. If you have pulled pork or pulled chicken, I like to go ahead and incorporate the sauce into the meat before adding it to the board.
Alternatively, if you are serving sliced meat like brisket, I simply put out the bottles of Head Country Bar-B-Q sauce for people to choose from. This makes it a mix-and-match situation that is so much fun!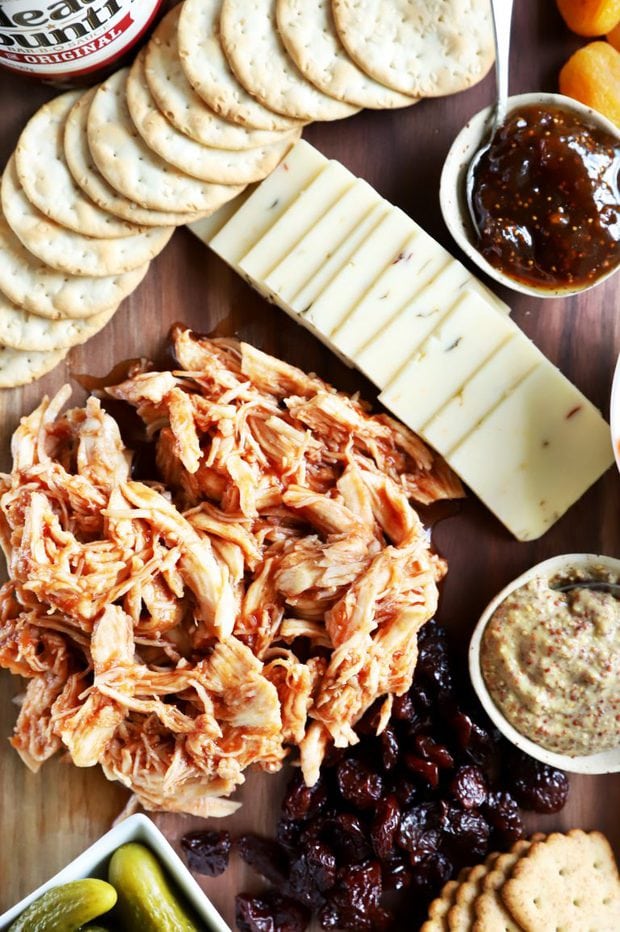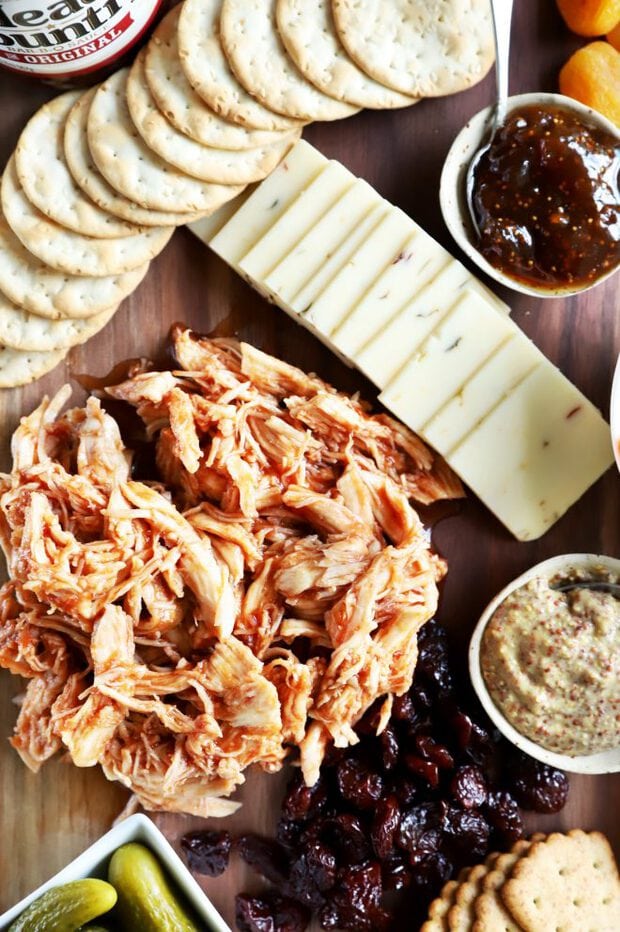 Choose Your Extras
Now it's about choosing the other elements for the board. For me that means I need cheese, obviously, and crackers (at least two kinds of each). Then I love adding dried fruit, mustards, jams, and pickles. You can also add your favorite kind of nut, fresh fruit, toasted baguette slices, and whatever else you like to see on your charcuterie boards.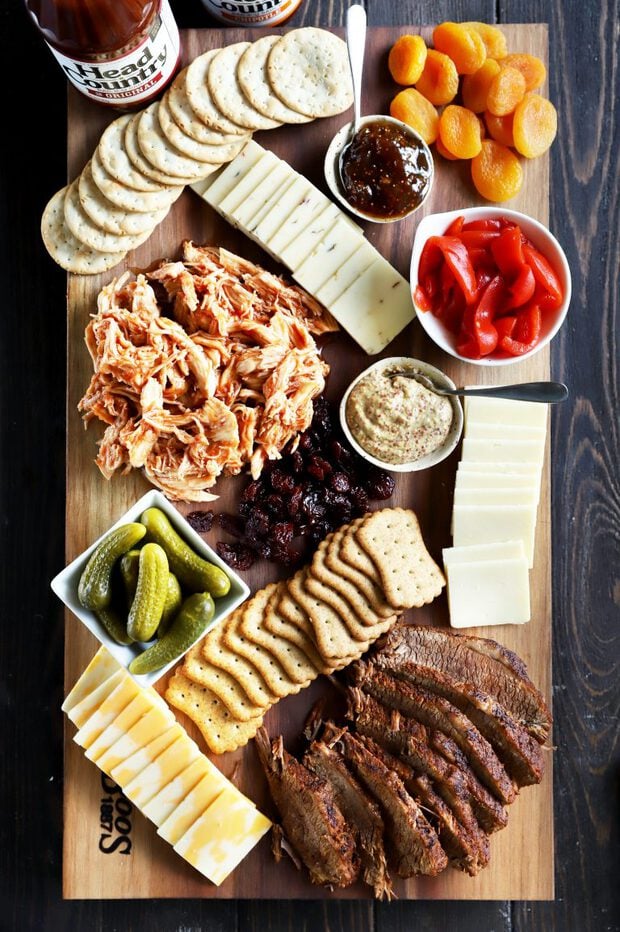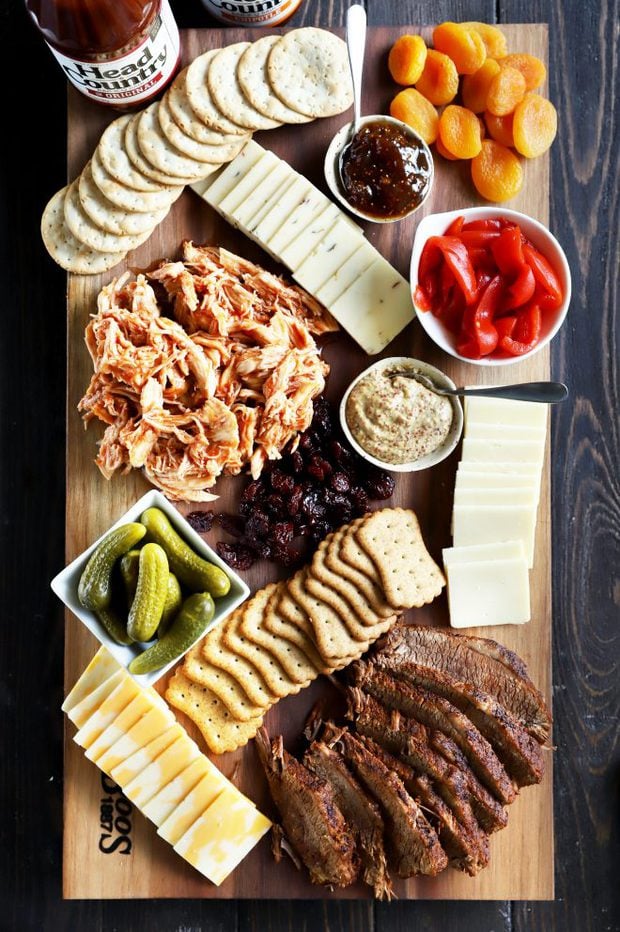 What kind of meats should I use for this charcuterie board?
The sky is the limit for what kind of meats you can use! I like to choose at least a pork/chicken and a beef to have a light and darker option. You can choose to throw meats on the grill, bake them, cook them in the Instant Pot or Slow Cooker, or even on the stove top.
It's all about how you like to enjoy your BBQ meats the best! There's honestly no wrong answer here.
How much should I make for the amount of people I have over?
The recipe as listed below feed about 4 to 6 people total. You can up this to as many servings as you like! If you are going to serve more than 8, I like to add at least one more meat choice in there. However, you can also stick to two and just serve ample amounts of each.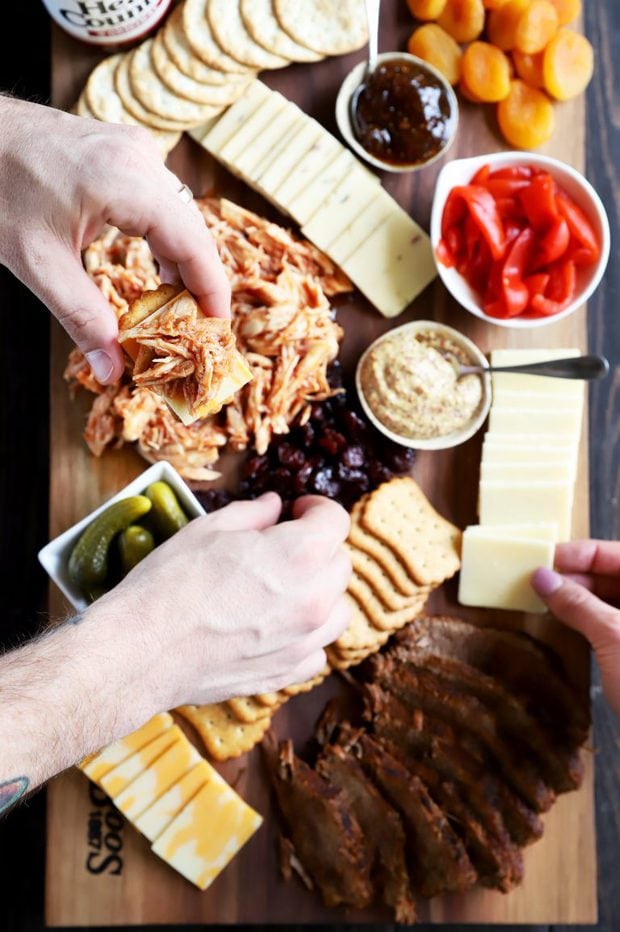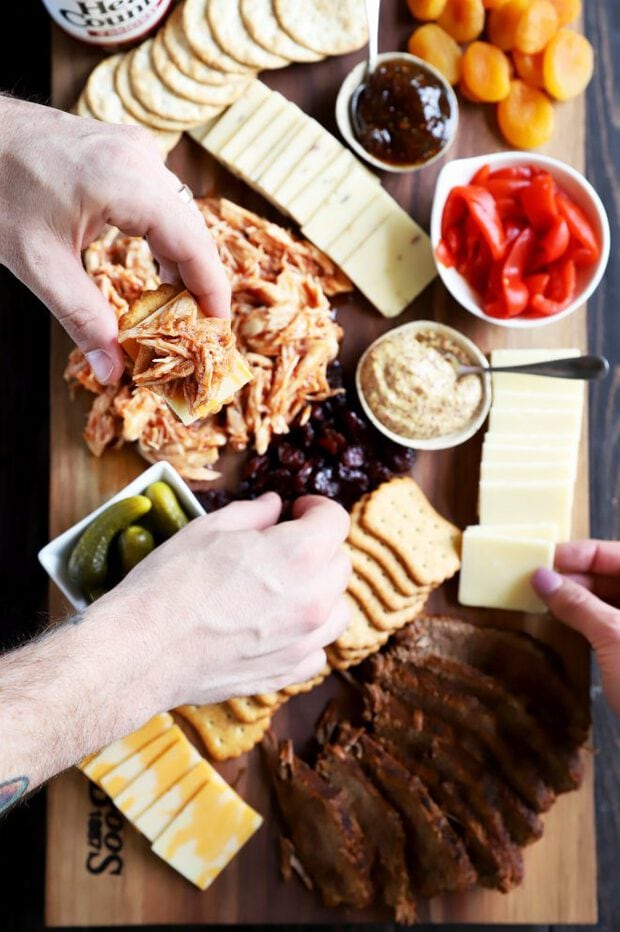 If you want a sweet treat to set out alongside this spread, I recommend a classic no bake edible cookie dough bites recipe!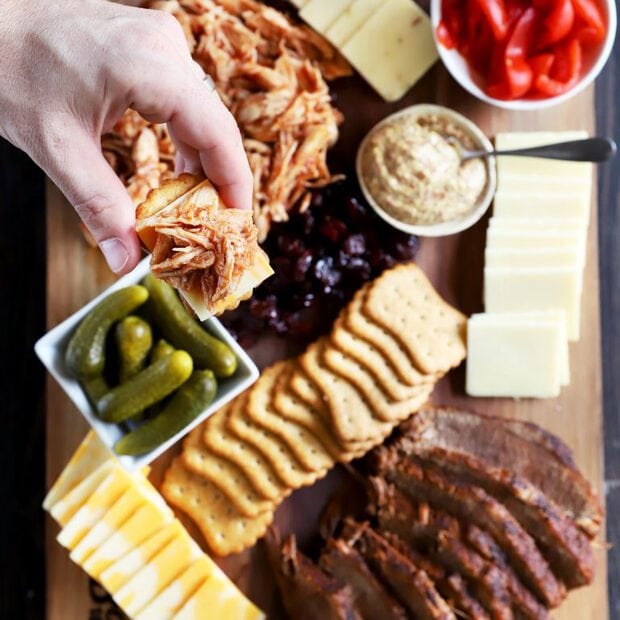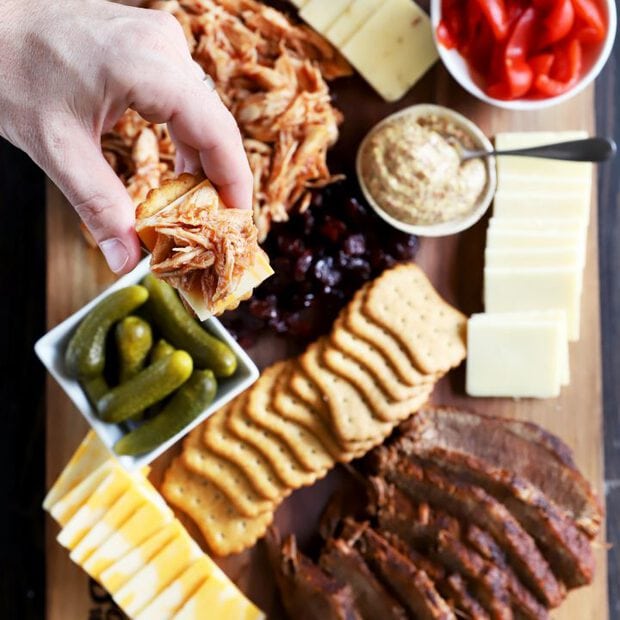 Hearty BBQ Charcuterie Board
Take your charcuterie board to the next level with BBQ! BBQ meats with Head Country Bar-B-Q makes for an awesome addition to the classic spread.
Ingredients
8 oz prepared beef (I used grilled brisket)
8 oz prepared chicken or pork (I used pulled pork with Head Country Bar-B-Q Apple Habanero Sauce)
2 to 3 bottles of your favorite Head Country Bar-B-Q Sauces
4 oz sliced colby jack cheese
4 oz sliced sharp white cheddar cheese
4 oz pepperjack cheese
1/4 cup whole grain mustard
1/4 cup fig jam
Assorted crackers
1/2 cup cocktail pickles
1/2 cup dried apricots
1/2 cup dried cherries
1/2 cup sliced pimento peppers
Instructions
Arrange meat, cheese, and sauces (served in the bottle or in small bowls or ramekins) on a large platter or cutting board.
Line up crackers between the meat and cheese.
Fill in the empty spaces with the pickles, apricots, cherries, and peppers.
Serve immediately.
Recommended Products
As an Amazon Associate and member of other affiliate programs, I earn from qualifying purchases.