Please note this post contains affiliate links.
Chai Snickerdoodle Cookies are chewy like your favorite snickerdoodle cookie, but with the addition of warm chai spices. With a chai-sugar coating, these soft cookies are totally irresistible!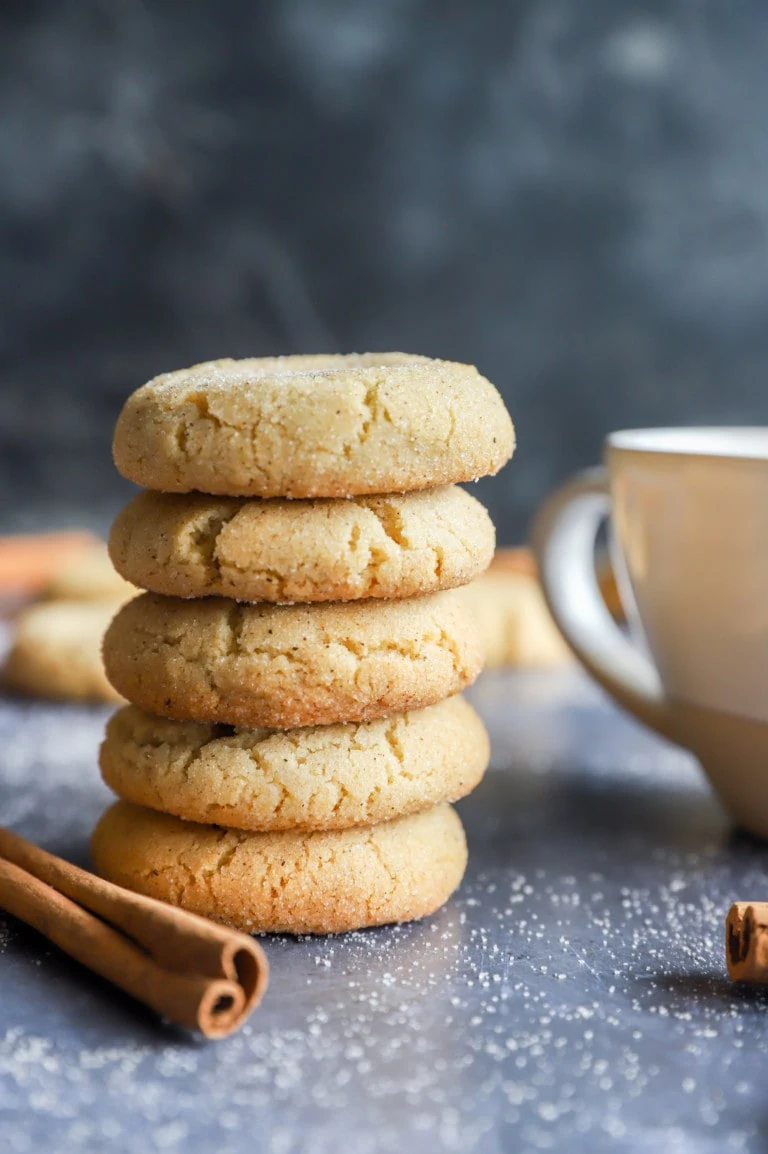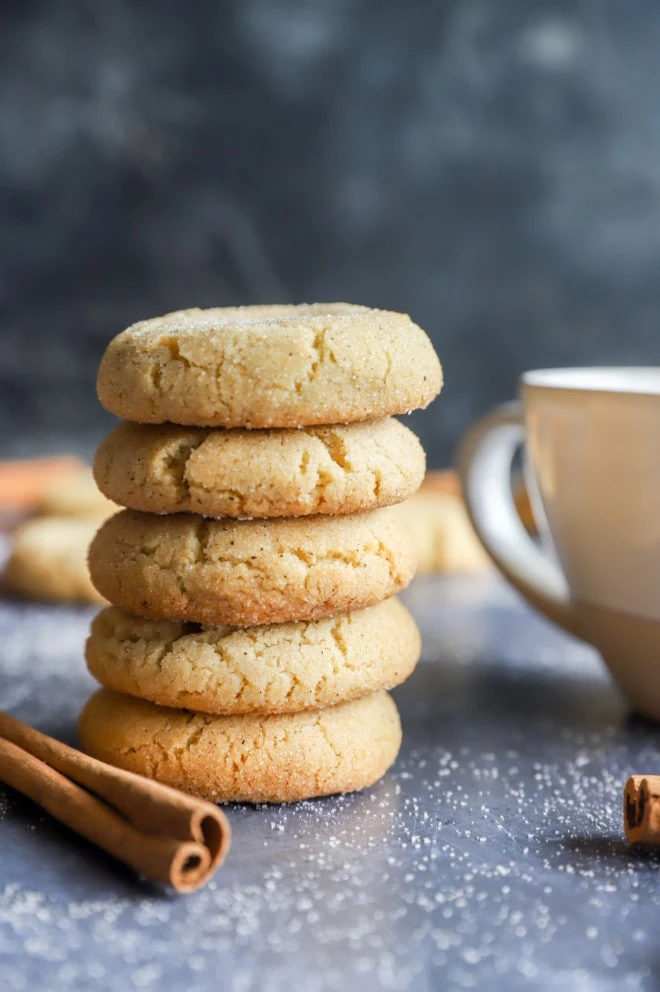 about these chai snickerdoodle cookies
I'm always in a chai mood, but in the fall, it amps up to a ridiculous level. I love all types of chai, whether it's spicy or sweet!
These chai snickerdoodle cookies are the culmination of my obsession with chai and the need for all the chewy cookies I can eat.
Snickerdoodle cookies are the perfect cookie to add the chai flavor to because the classic cinnamon flavor is already so close to the warming flavors in chai (I mean cinnamon is in chai, so this can't be too surprising, right?). The cookies are pillowy soft and chewy, with a lovely sugary chai crust that just tastes like fall.
I added chai to both the cookie dough and the coating to really amp up the flavor, so there's no shortage of that here. You'll love the robust flavor whether you are eating these chai cookies on their own, or pairing them with a chai latte.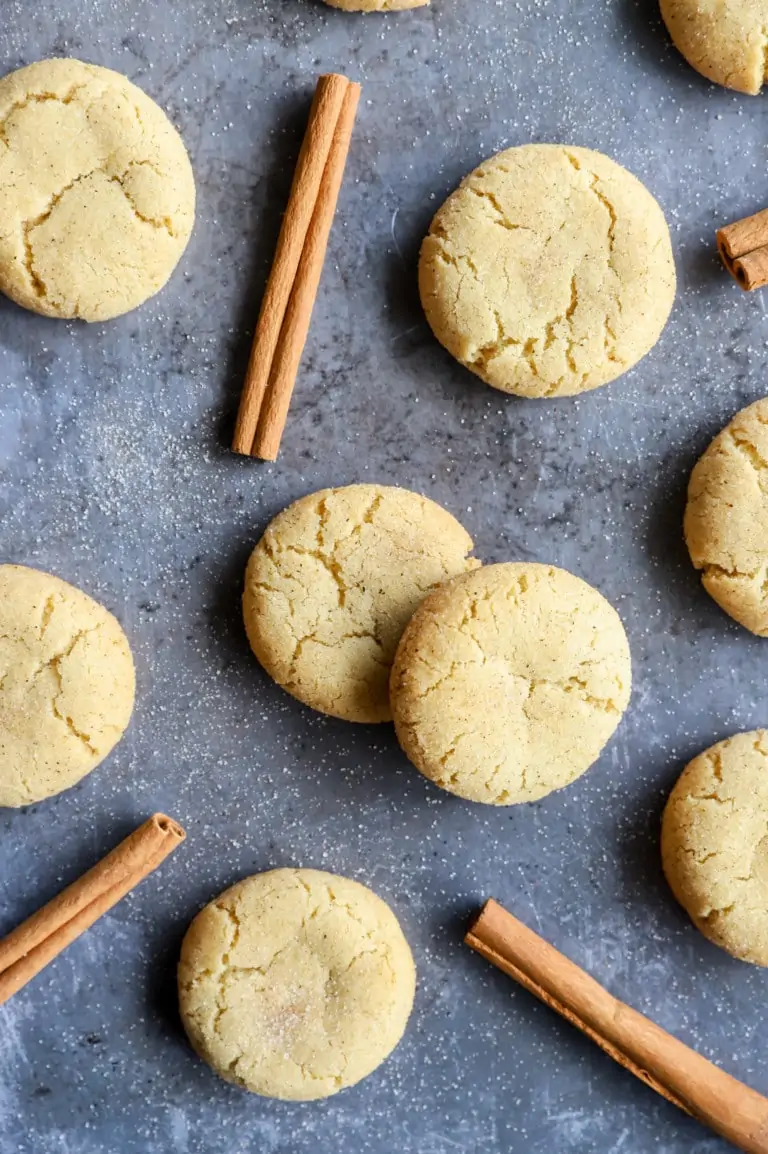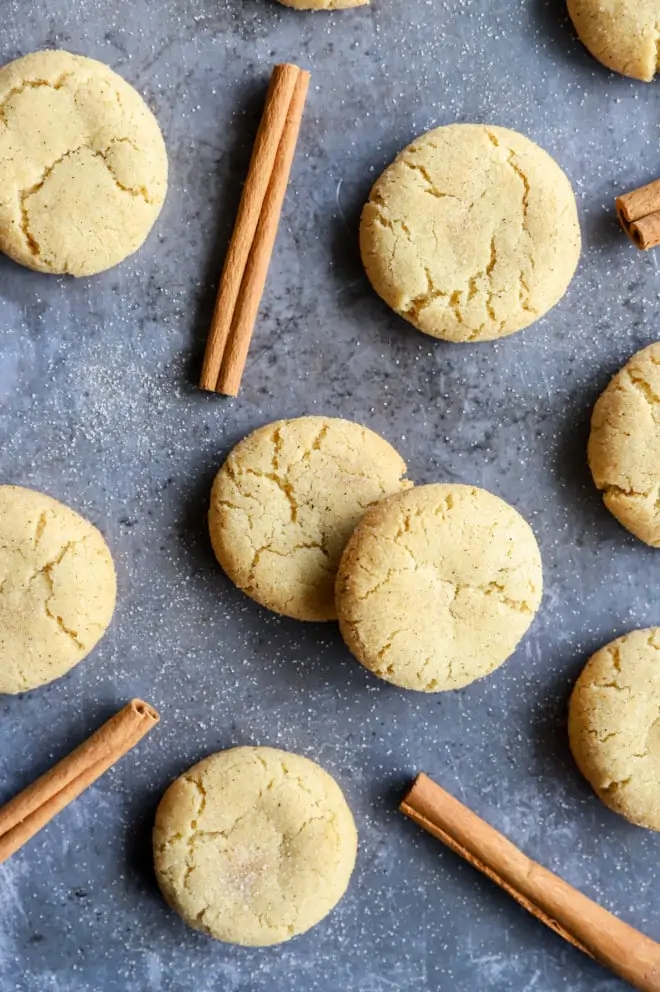 ingredients
flour – I use all-purpose flour for this recipe. You can also use a gluten-free 1-to-1 ratio flour replacement, if desired.
cream of tartar – something that I always have on hand for meringue!
baking soda – be sure to use baking soda and not baking powder.
chai seasoning – I personally like to buy my chai seasoning, but you can also make your own! I've listed my recipe for homemade chai seasoning in the FAQs below.
salt – kosher salt is all you need here.
butter – use unsalted butter for this recipe. If you only have salted butter, be sure to eliminate the added salt from the recipe or it'll be too salty.
sugar – you will need granulated sugar for the cookies and for the chai-sugar coating on the outside.
egg – one large egg plus one large egg yolk are needed here!
vanilla extract – always reach for the pure vanilla extract! My favorite is Nielsen Massey – their Madagascar Bourbon Pure Vanilla Extract is amazing.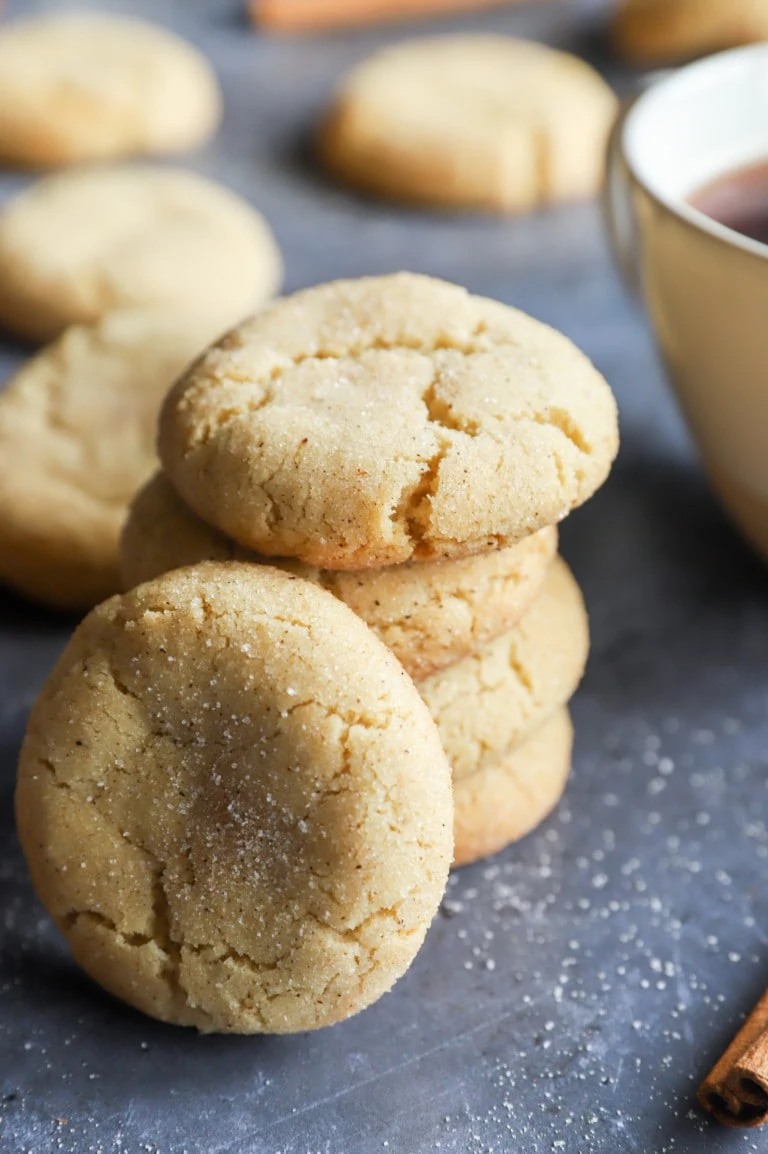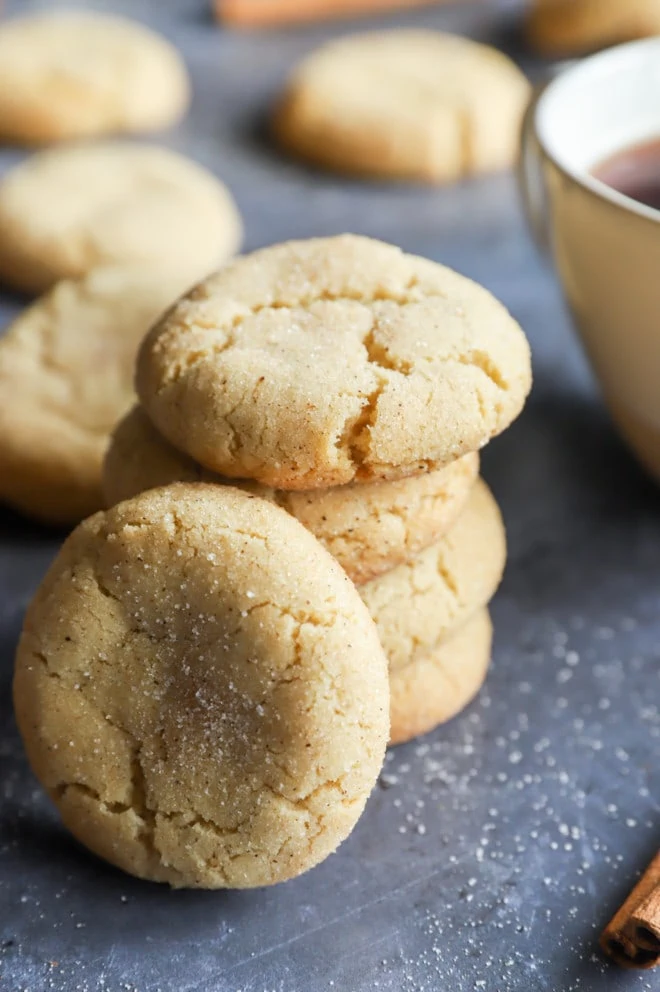 this recipe's must haves
For this recipe, you'll need all your baking must-haves! You'll need a bowl from your set of mixing bowls and a whisk.
I love using a stand mixer for making cookies, but you can also use an electric hand mixer and a large bowl.
A cookie dough scoop makes forming the cookie dough balls a lot easier.
You'll also need a few half sheet baking pans and silicone mats for baking.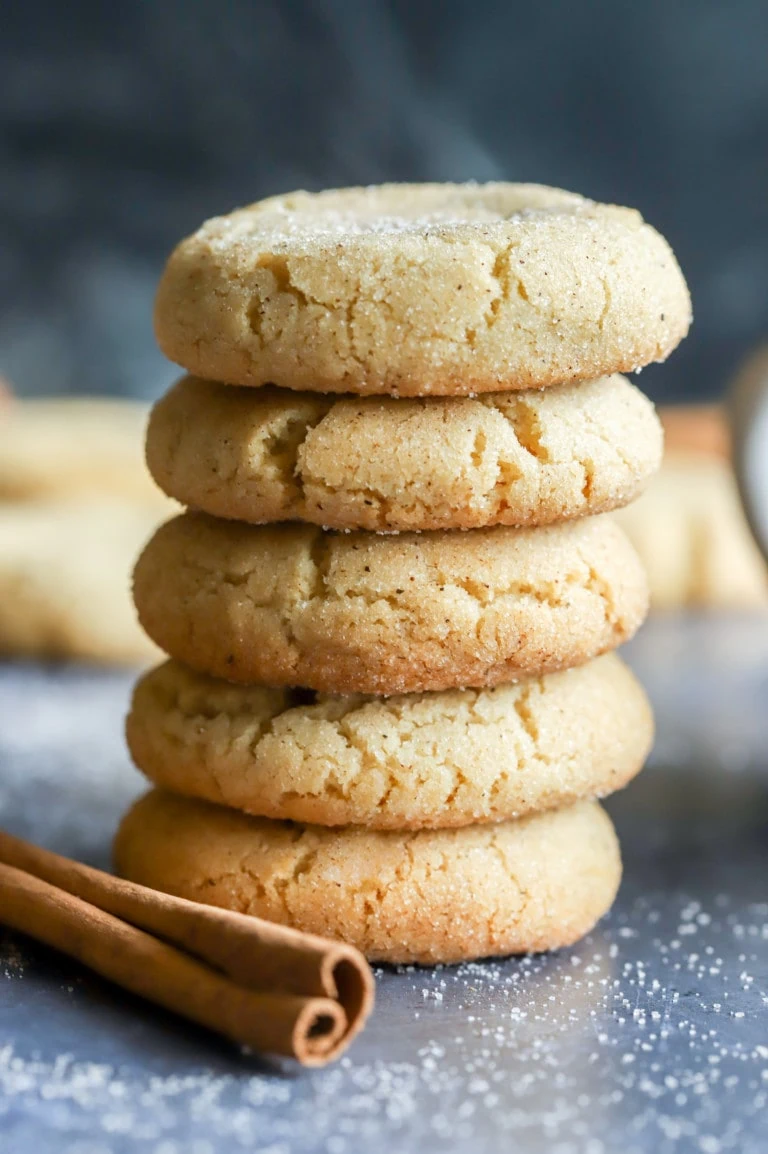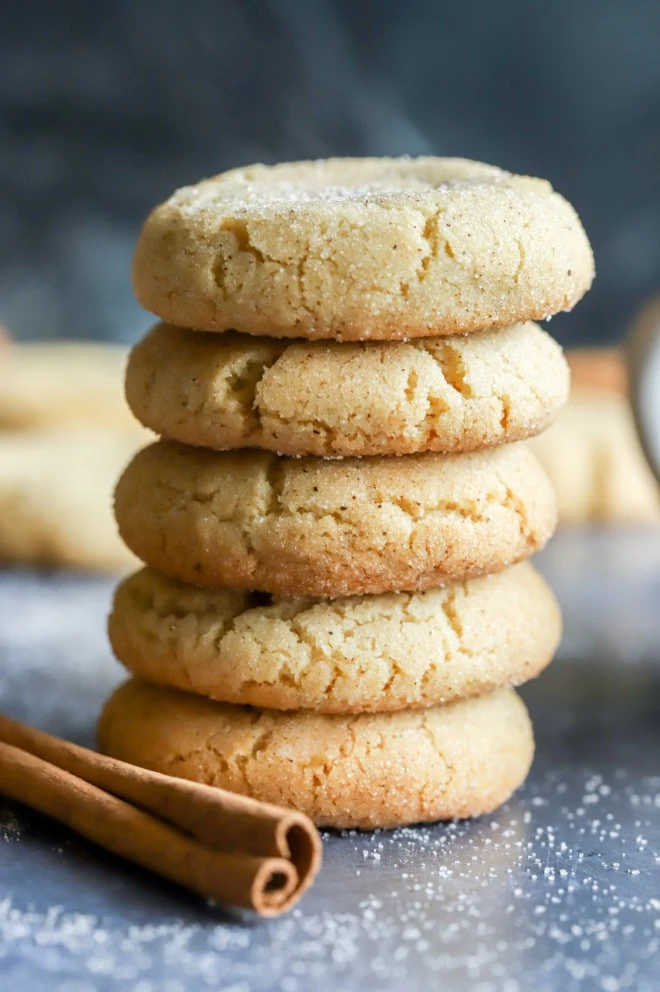 here's how to make chai snickerdoodle cookies
dry ingredients
In a medium bowl, whisk together dry ingredients. Set aside.
make dough
Add butter and sugar to a stand mixer fitted with a paddle attachment (you can also use a large mixing bowl and electric hand mixer. Beat until smooth and creamy on high speed, about 2 minutes.
Add egg, egg yolk, and vanilla extract. Beat until combined on medium-high speed, scraping down the sides as needed.
Set the mixer to low speed and slowly add the dry ingredients. Mix until just combined.
form balls and coat
Scoop out about 1 1/2 Tbsp of dough at a time, rolling into a ball. I use a cookie dough scoop for this!
Roll the balls in the chai-sugar topping. I like to sprinkle a little extra chai-sugar on top for texture.
bake
Place prepared cookie dough balls on baking sheets lined with silicone mats or parchment paper. Bake for 10 to 12 minutes at 375˚F. The cookies will be very soft and puffy.
Remove from oven and lightly tap down the tops with the back of a spoon to flatten them. I personally like mine thick and chewy, so I don't press mine down too much.
Cool on the baking sheet for 10 minutes to set, then cool completely on a wire rack.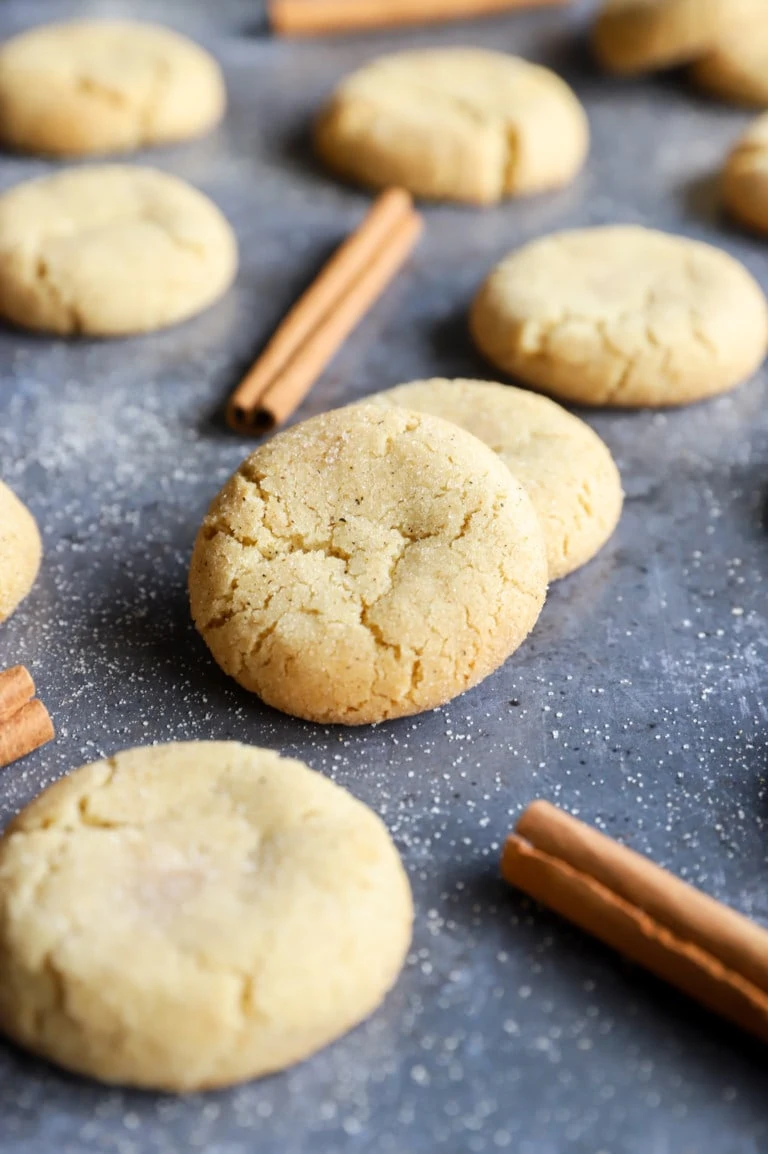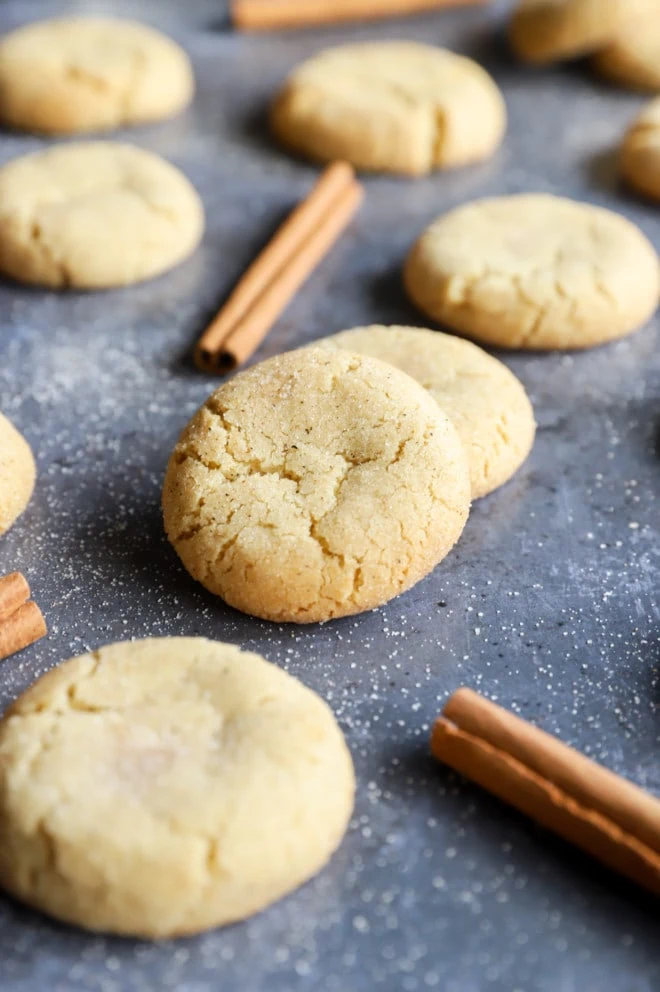 tips for success
scale back the spice. If you don't like a strong flavor of chai in your cookies, you can always cut back the amount to your liking. As always with any recipe, I recommend making it as instructed first, then making adjustments to make it your own the next time around!
freeze the dough. These cookies are great for freezing before baking, because you can whip out a handful to bake at a time whenever you want!
More tasty cookie recipes to try: Peanut Butter Oatmeal Chocolate Chip Cookies | Carrot Cake Cookies | Sea Salt Pistachio Chocolate Chip Cookies | Lemon Lavender Shortbread Cookies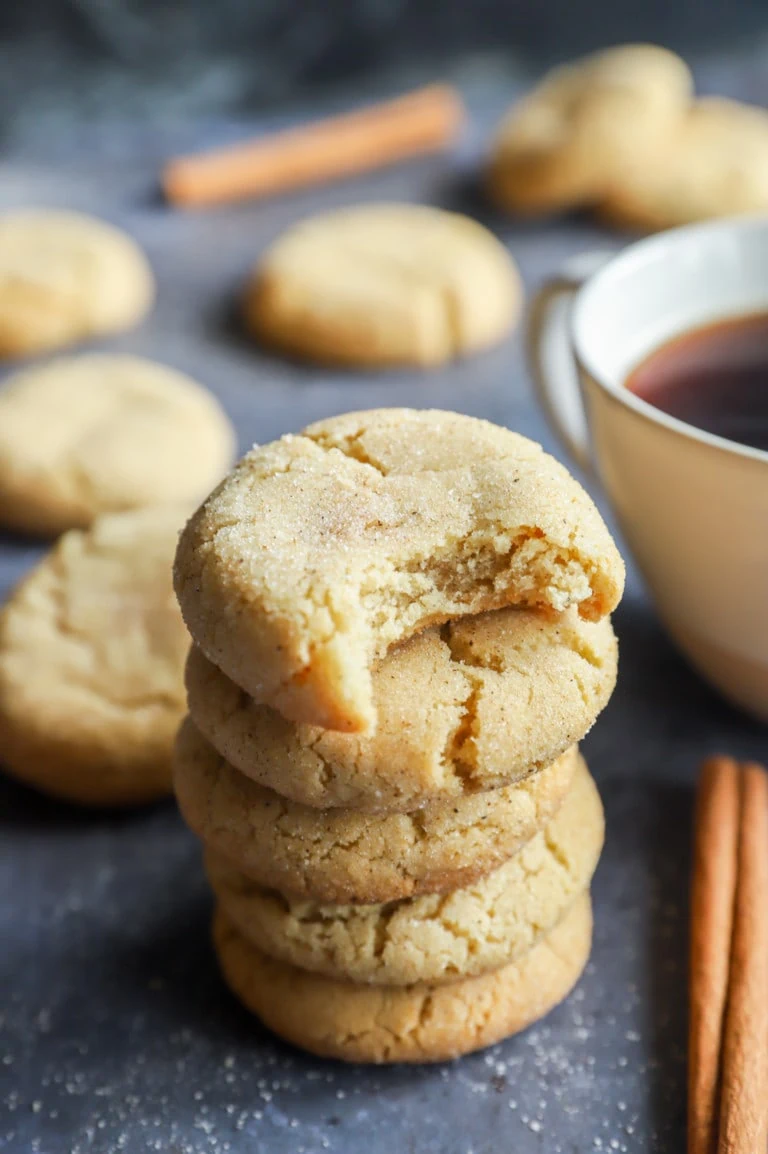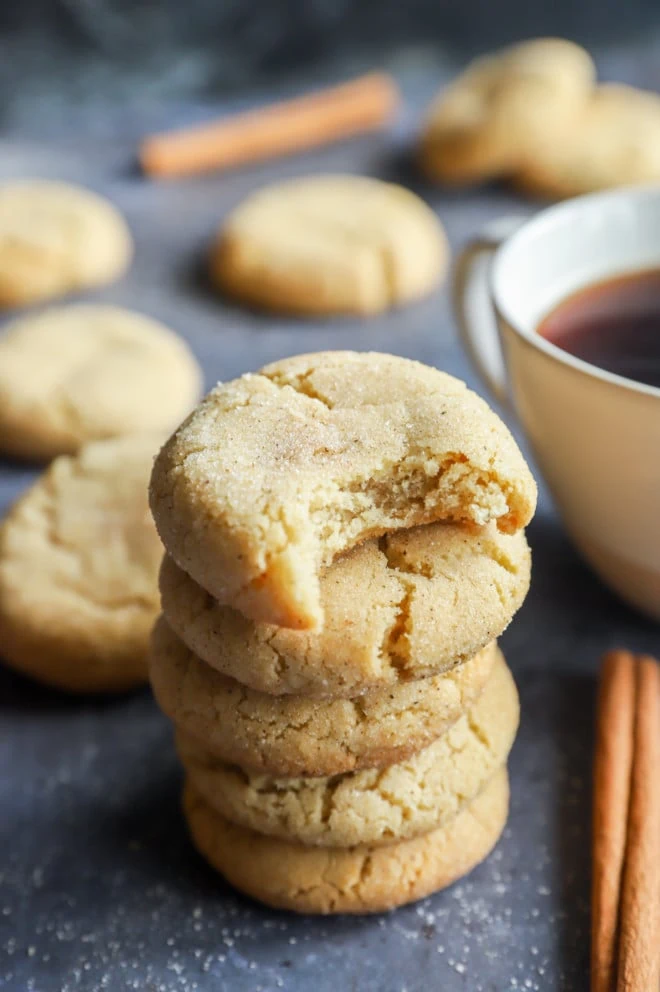 what does cream of tartar do to cookies?
Cream of tartar is used in baked goods and desserts frequently. It can stabilize whipped egg whites to create meringue. It prevent sugar from crystallizing and it also acts as a leavening agent.
can I freeze chai snickerdoodle cookies?
Yes, you can! The baked cookies or unbaked cookie dough can be frozen. I have specific instructions listed below under "how to store."
can I make my own chai seasoning?
Of course! I like to purchase my chai spice blend more often then not, but if I'm in a pinch, it's easy to make homemade chai spice with spices you likely already have on hand! Here's the ratio I like to use – 2 teaspoon cinnamon, 1/2 teaspoon ground ginger, 1/2 teaspoon all-spice, 1/2 teaspoon cardamom, and 1/4 teaspoon ground cloves. This will be enough to use in this recipe, and have a little bit leftover!
Need some more inspiration for dessert? Check out my dessert recipes page!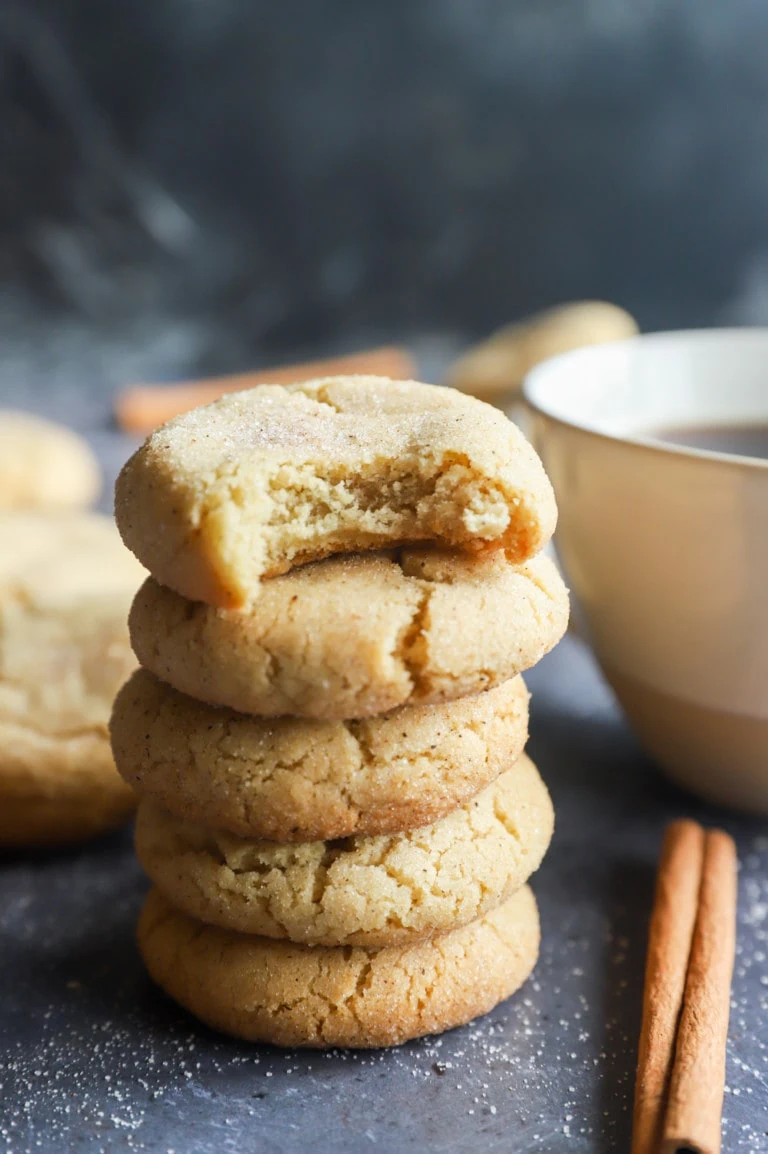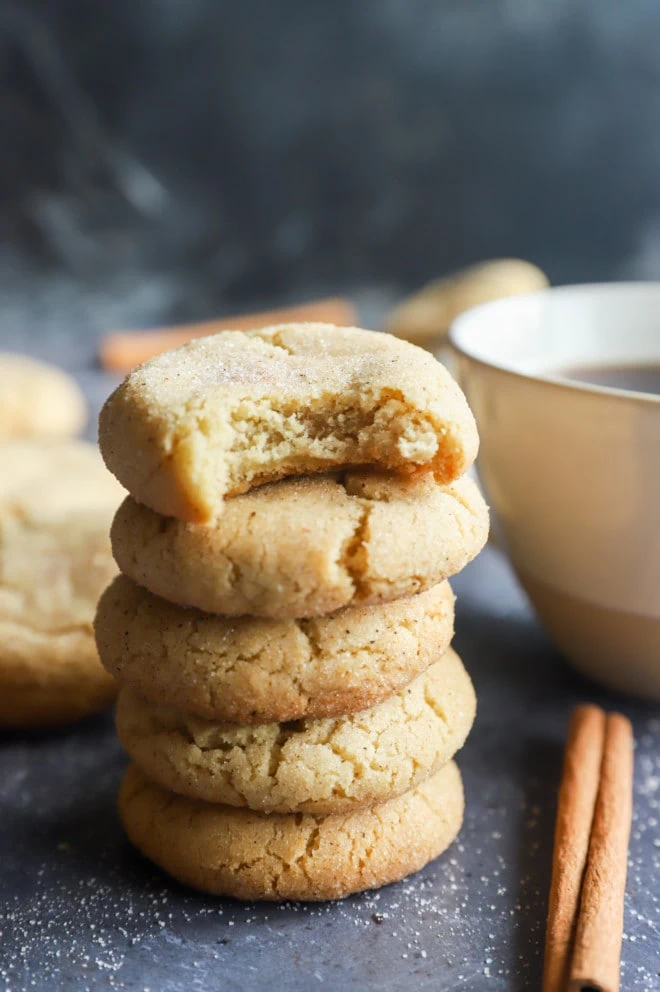 what to serve with chai snickerdoodle cookies
I love my chai snickerdoodle cookies with a big mug of coffee (with chai in it as well, of course). You can also pair it with your favorite tea, or even a big glass of milk for the kiddos.
These are great to add to cookie boxes for the holidays, because they ship really well!
If you are looking for another autumn/winter cookie to check out, pumpkin cheesecake cookies are the ultimate indulgence!
how to store
Store cookies in an airtight container at room temperature for up to 1 week.
Both baked cookies AND uncooked dough can be frozen! To freeze baked cookies, place them in an airtight resealable bags in the freezer for up to 6 months.
If you could like to freeze the dough, I recommend rolling them in balls, then placing them on a baking sheet. Place baking sheet in the freezer for about 2 hours to let the balls firm up. Then store in bags in the freezer for up to 2 to 3 months. Let them thaw 30 minutes, then roll in sugar before baking. You may need to add additional time to the total bake time (about 5 minutes or so).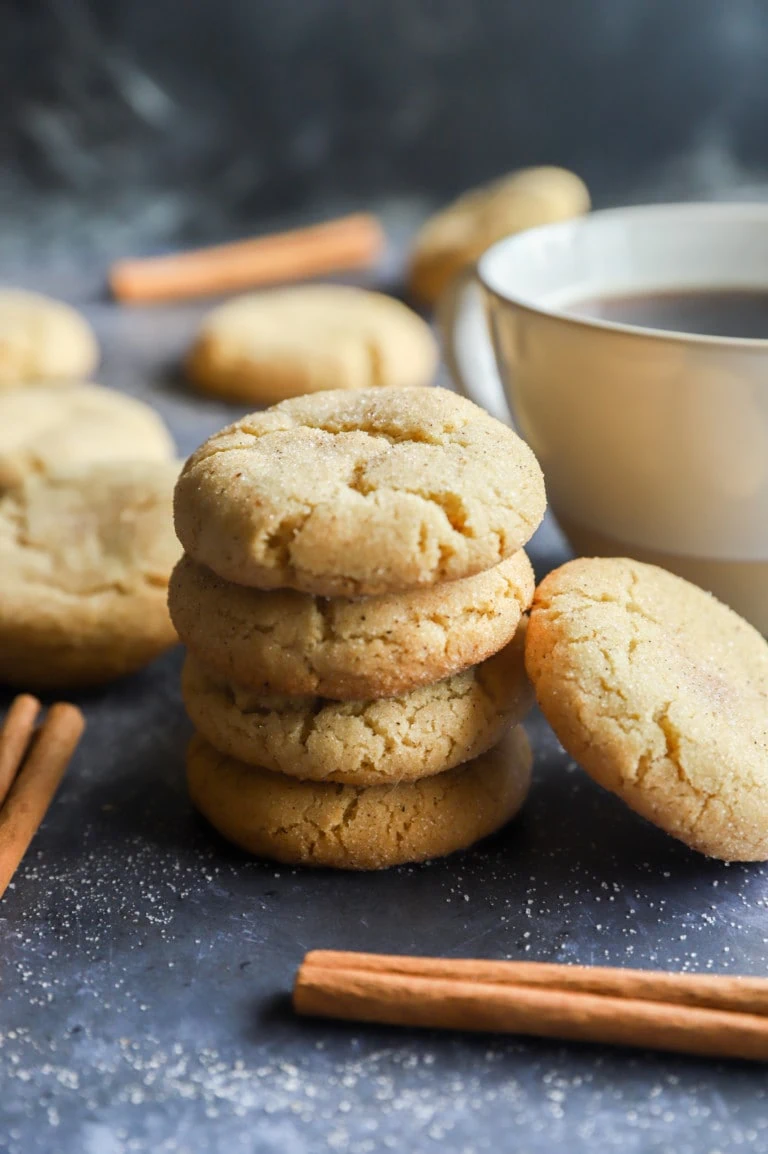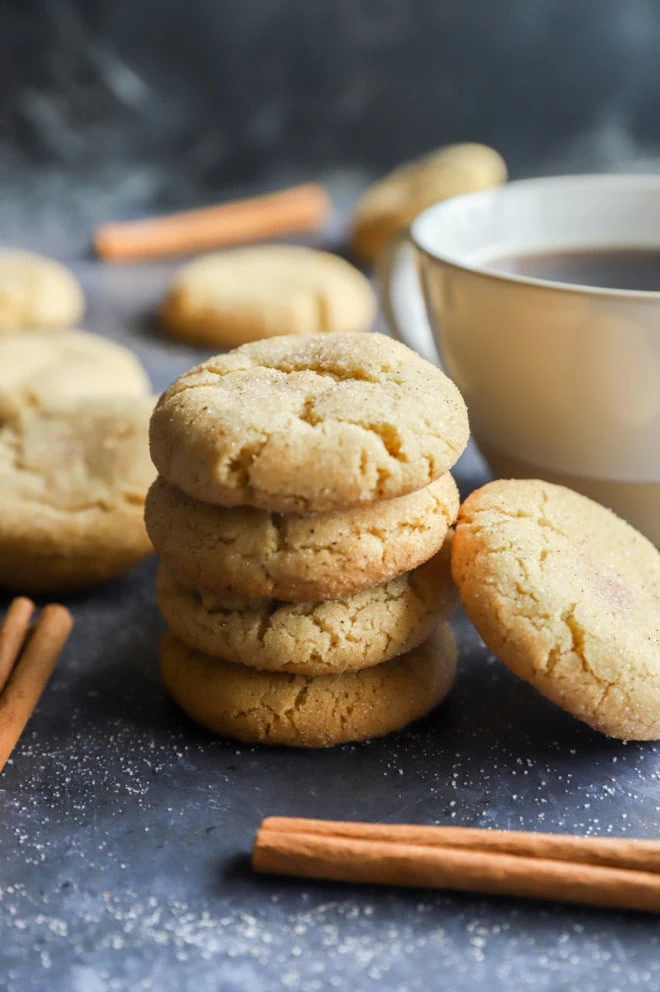 Finally, if you make these chai snickerdoodle cookies, please be sure to give this recipe a rating or leave a comment! I love to hear when you all make recipes, and I do take the time to respond to every single comment. Feel free to drop questions below too, if you have them!
Oh and be sure to tag me on Instagram if you make the recipe! Love being able to see these recipes come to live in your homes – it's my favorite thing to look through those photos. It really means the world to me!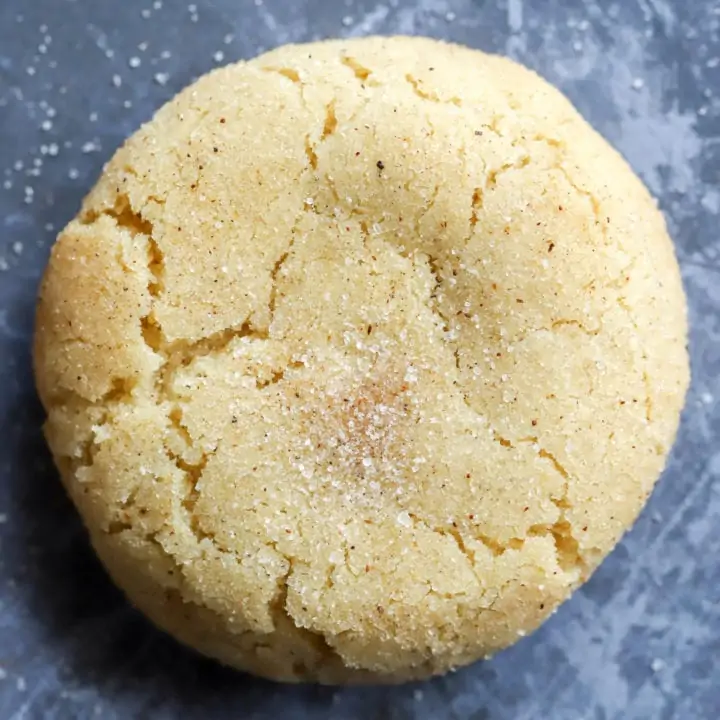 Chai Snickerdoodle Cookies
Everything you love about a chewy snickerdoodle, with a chai sugar twist!
Ingredients
cookies
3 cups all-purpose flour
2 tsp cream of tartar
1 tsp baking soda
1 1/2 tsp chai seasoning, store-bought or homemade
1/2 tsp salt
1 cup (2 sticks) unsalted butter, room temp
1 1/3 cup granulated sugar
1 large egg + 1 large egg yolk, room temp
2 tsp pure vanilla extract
topping
1/3 cup (70g) granulated sugar
1 tsp chai seasoning, store-bought or homemade
Instructions
Preheat oven to 375˚F. Line two large cookie sheets with silicone mats or parchment paper.
In a small bowl, whisk together chai seasoning and sugar for topping. Set aside.
In a medium bowl, whisk together flour, cream of tartar, baking soda, chai seasoning, and salt. Set aside.
In the bowl of a stand mixer fitted with the paddle attachment (or in a large bowl with an electric hand mixer), beat butter and sugar together on high speed until smooth and creamy, about 2 minutes. Add egg, egg yolk, and vanilla, beating on medium-high speed until combined, scraping down the sides as needed. Reduce speed to low and slowly add in the dry ingredients in batches (2 to 3), until combined.
Use a cookie dough scoop to scoop out 1 1/2 Tbsp cookie dough at a time. Roll into balls, then roll in the chai-sugar topping. Place on prepared baking sheets and sprinkle with extra chai-sugar topping as desired.
Bake for 10 to 12 minutes, until the cookies are puffy and soft. Remove from oven and use the back of a spoon to flatten them out as desired. Let cool on the baking sheet for 10 minutes, then remove to wire cooling racks to cool completely.
Cookies will keep at room temperature in an airtight container for up to one week.
Recommended Products
As an Amazon Associate and member of other affiliate programs, I earn from qualifying purchases.