Please note this post contains affiliate links.
Lemon Lavender Shortbread Cookies are buttery and flaky infused with citrus and floral notes throughout. These unique cookies are bursting with flavor and are very easy to make. They are also perfect for gifting to others! Yields approximately 2 dozen.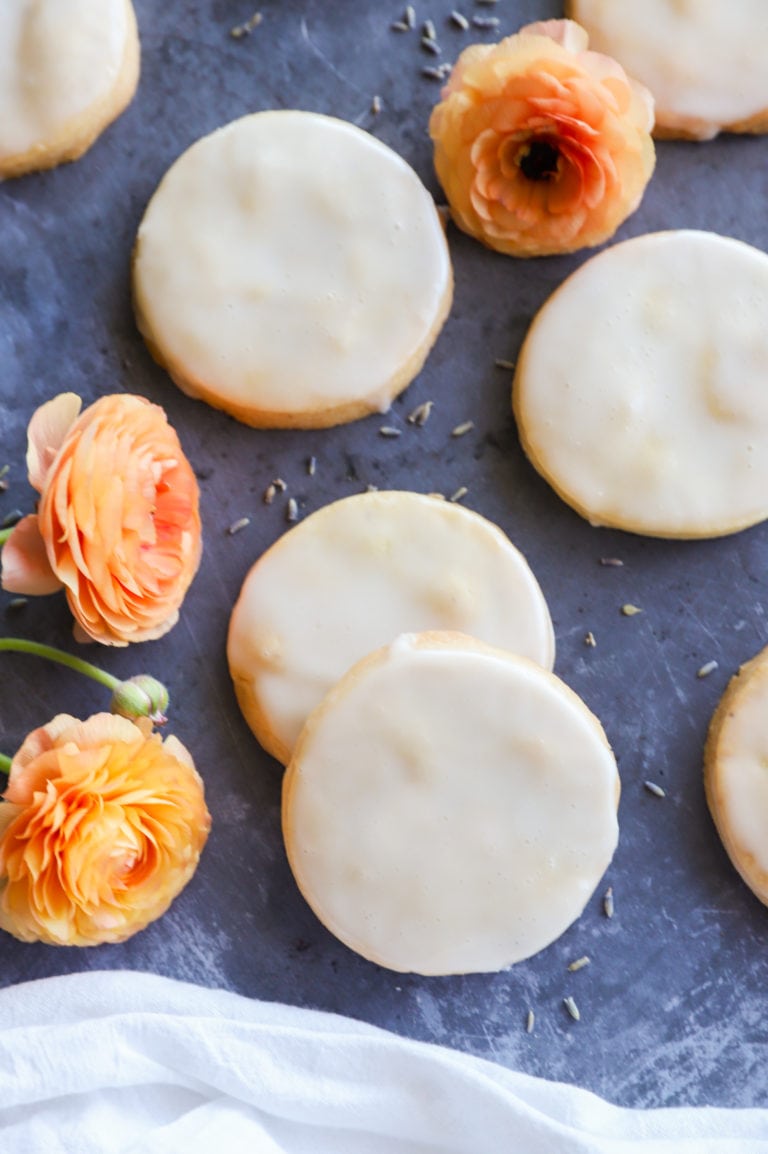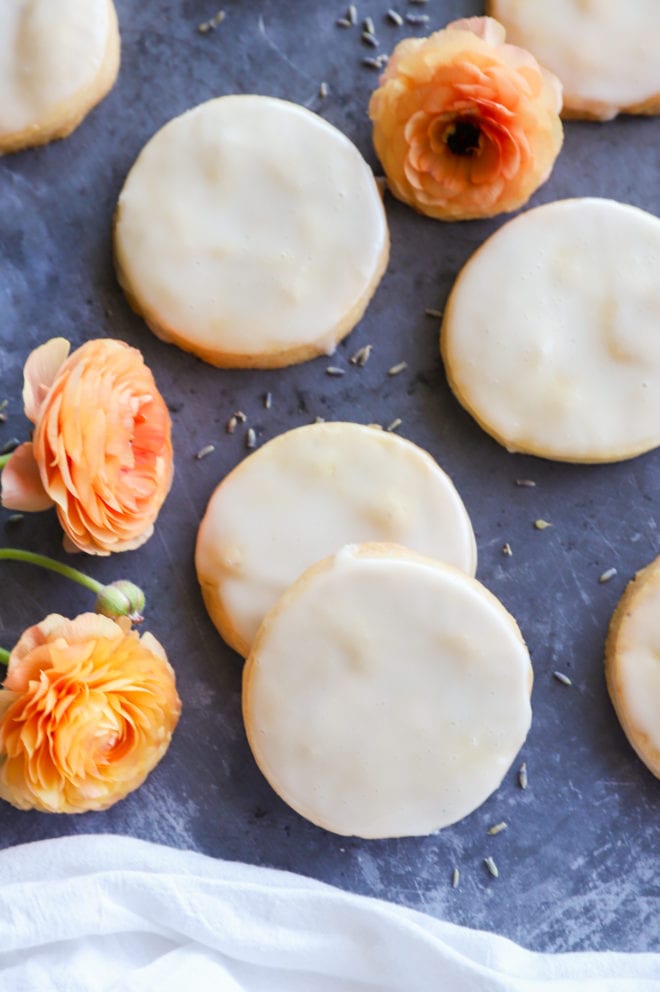 Lavender is one of those flavors that is near and dear to my heart.
It always reminds me of my grandma Alice (if you haven't heard the whole story, head over to my grandma's recipe to learn more!)
Over the past couple of weeks I've been reminiscing about my grandma with a close cousin, so she has been on my mind a lot. Maybe it's having a young kiddo or perhaps it's the time of year, but I REALLY miss her right now. I wish so much that she could have seen the person I've grown into, and the little person we've created.
Since I can't have her by my side in the kitchen, I keep her close anytime I bake, and I especially felt that connection with her as I made these bright lemon lavender shortbread cookies.
The light floral notes of the dried lavender buds with bright citrusy lemon makes this cookie ideal for any day of the week. They are perfect for pairing with coffee or tea!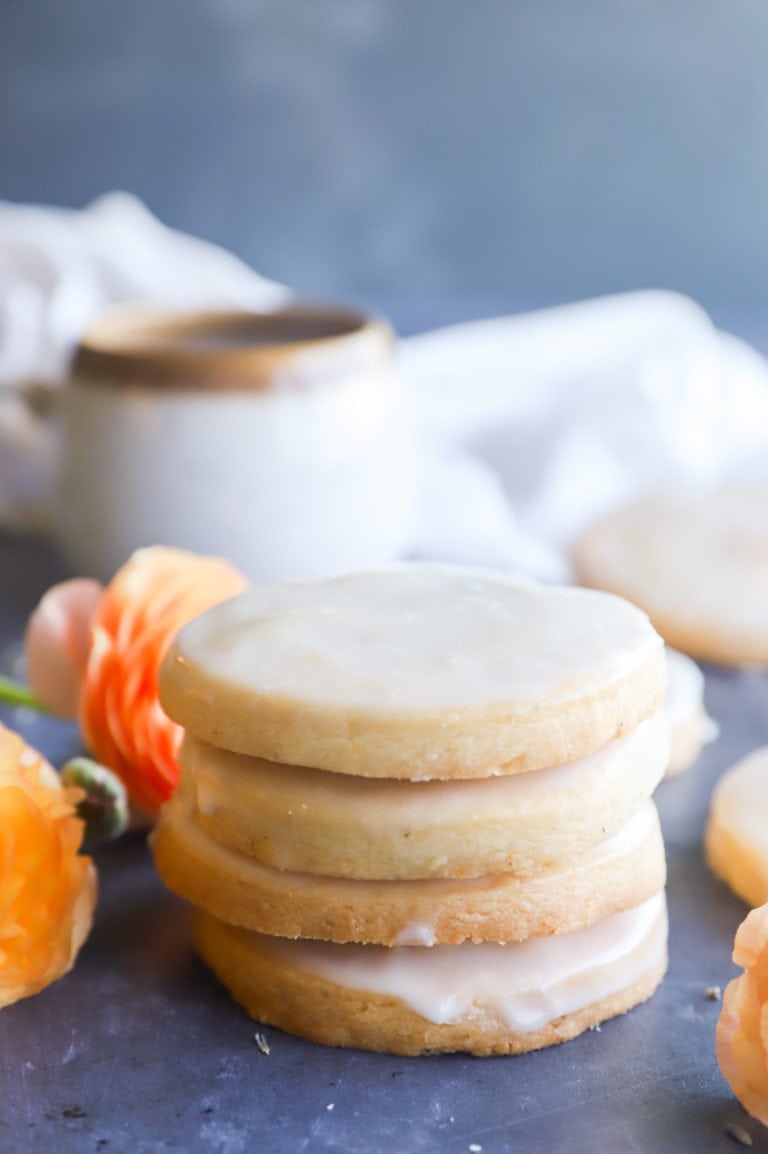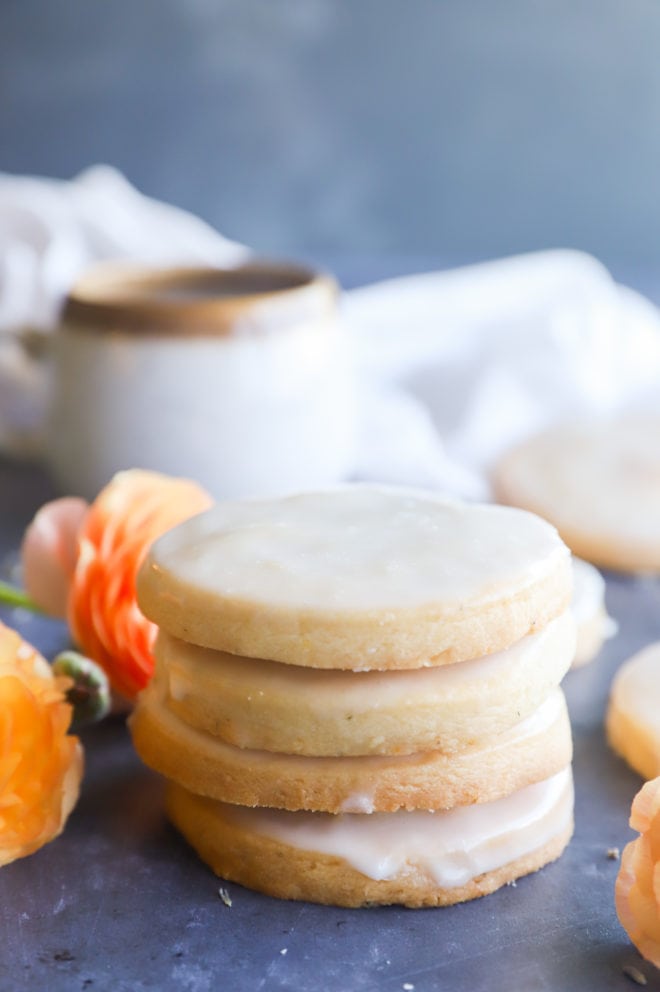 ingredients
lavender – specifically, dried lavender flowers or buds. These dried flowers have a sweet floral aroma and bring a lovely subtle flavor to these cookies. Lavender is strong, so be sure to use a light hand when using it in other dishes!
lemon – I recommend using fresh lemon juice at all times, which is convenient because you will need the zest of a lemon as well for this recipe!
sugar – all you need is granulated white sugar for this recipe.
butter – Reach for unsalted butter and not the salted butter for this recipe. The salt will overpower the flavor!
lavender extract – lavender extract gives this recipe an added flavor and depth of lavender aroma. It's something I always have in the pantry because it goes so well with other baked goods, in drinks, and even in savory marinades!
vanilla extract – I highly recommend using a high-quality vanilla extract for all recipes!. My favorite is Nielsen Massey – their Madagascar Bourbon Pure Vanilla Extract is amazing.
flour – I use all-purpose flour in this recipe!
milk – use whole or 2% milk for the icing in this recipe.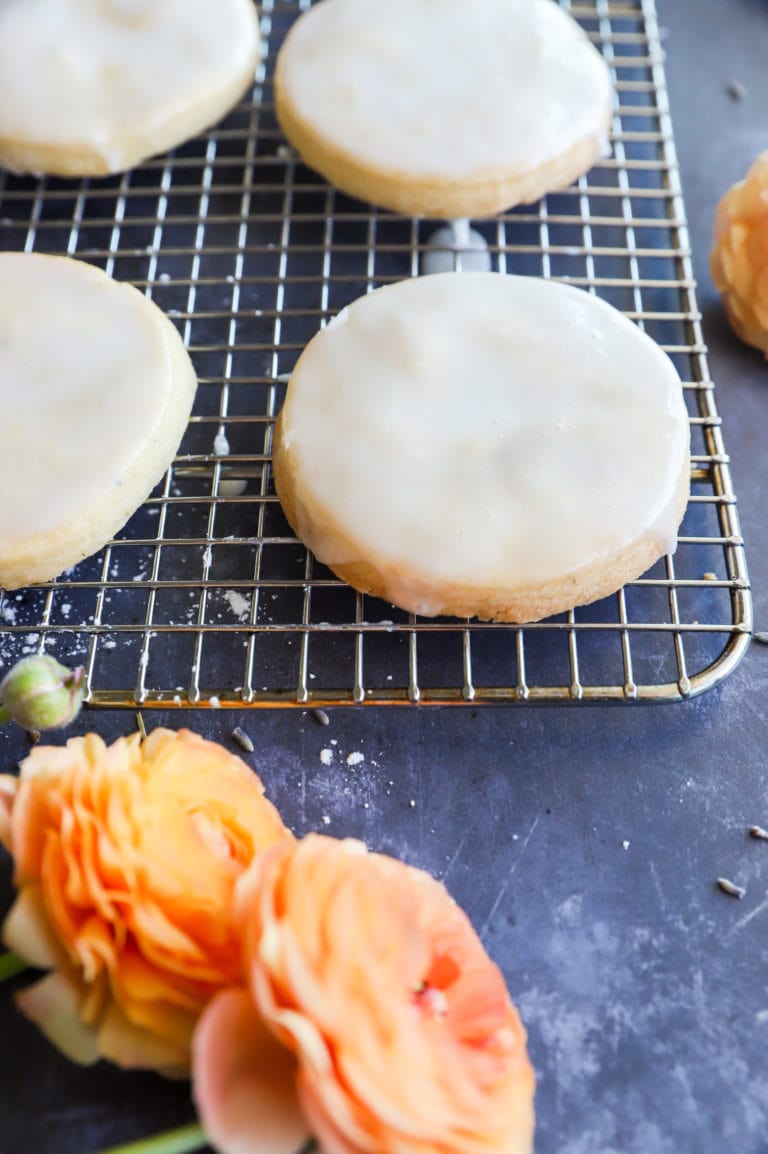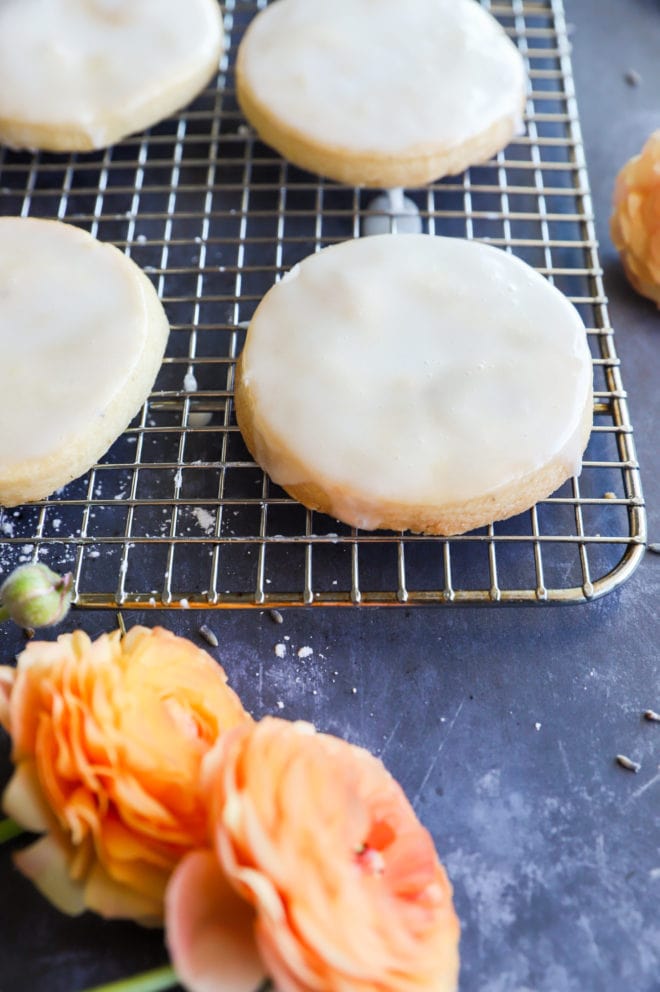 this recipe's must haves
This recipe starts with making a lavender lemon sugar, which you will need a food processor to accomplish.
You will also need a stand mixer or electric hand mixer and a large bowl from your metal mixing bowls.
I use my biscuit cutter set to cut out the rounds when you roll out the dough for these cookies.
I like to bake on a half sheet baking pan with a silicone baking mat!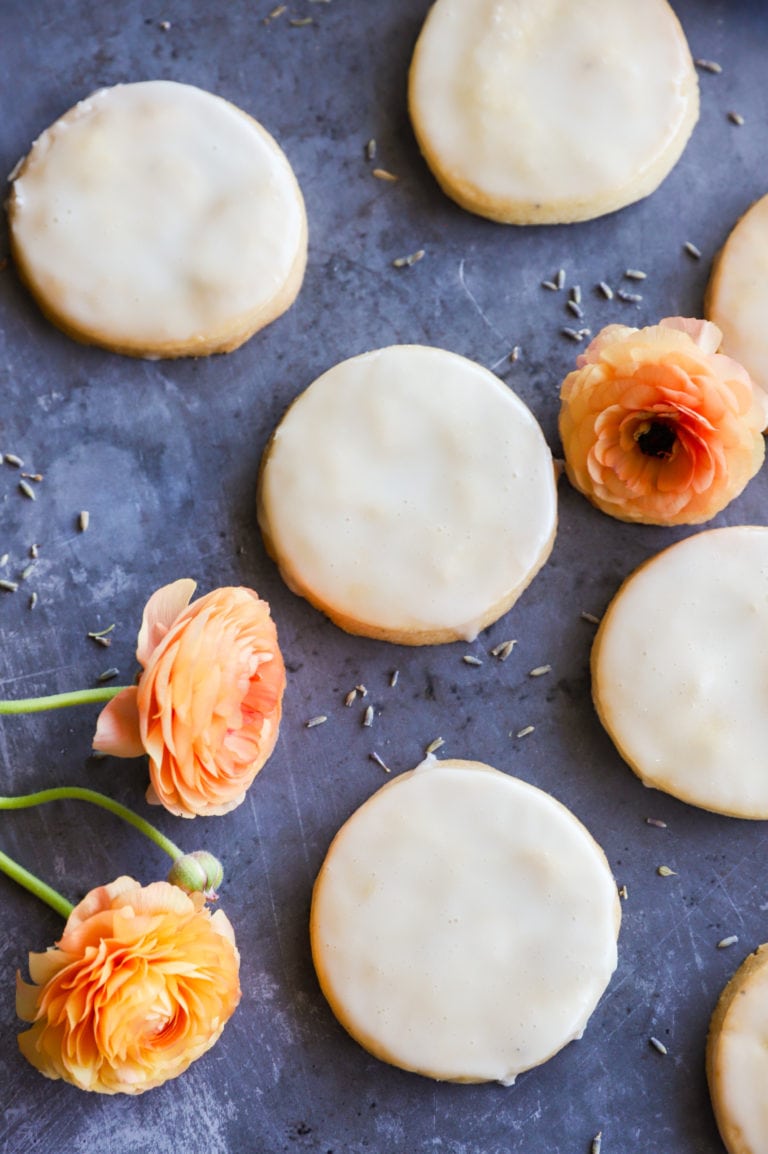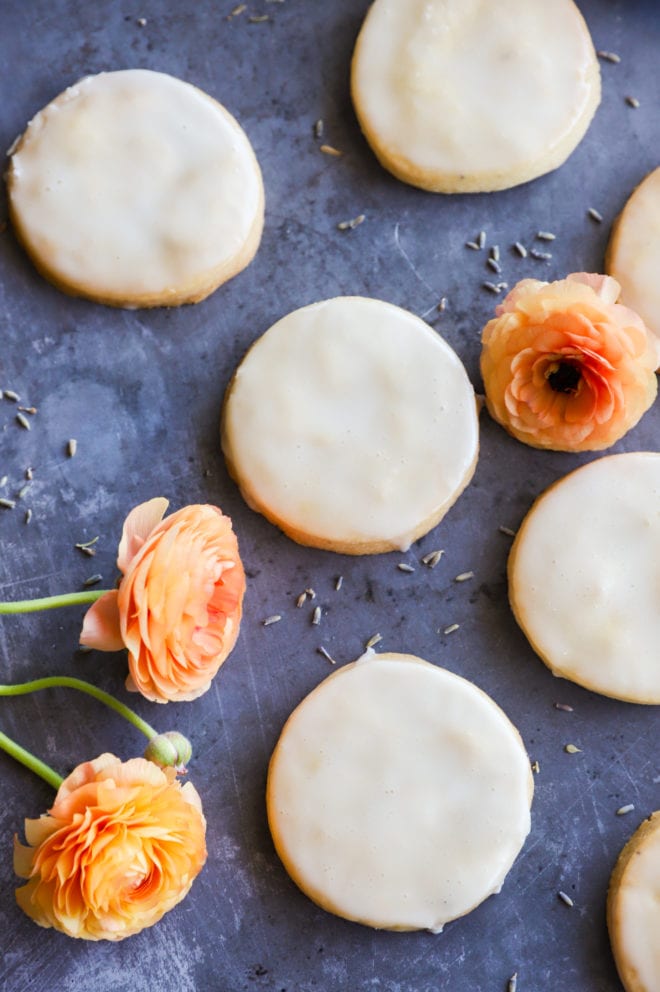 here's how to make lemon lavender shortbread cookies
make lemon lavender sugar
To make the lavender lemon sugar, add dried lavender, lemon zest, and granulated sugar to a food processor. Pulse until the lavender buds are broken down and incorporated throughout the sugar.
make cookie dough
Add butter and lavender lemon sugar to the bowl of a stand mixer. Beat until smooth on medium speed until just combined. Add extracts and beat again until combined.
Pour in flour and mix on low speed until well blended. The mixture will be slightly crumbly and soft.
Form the dough into a large disk and wrap in plastic wrap. Chill for 30 minutes in the refrigerator.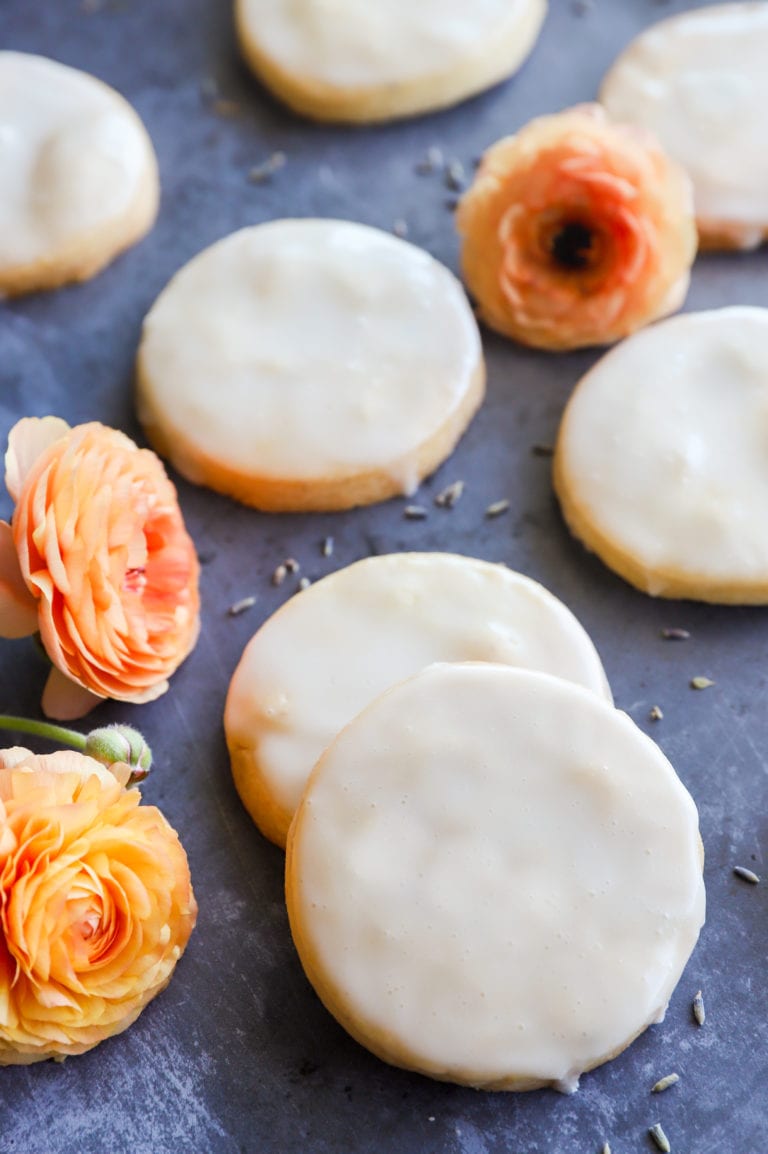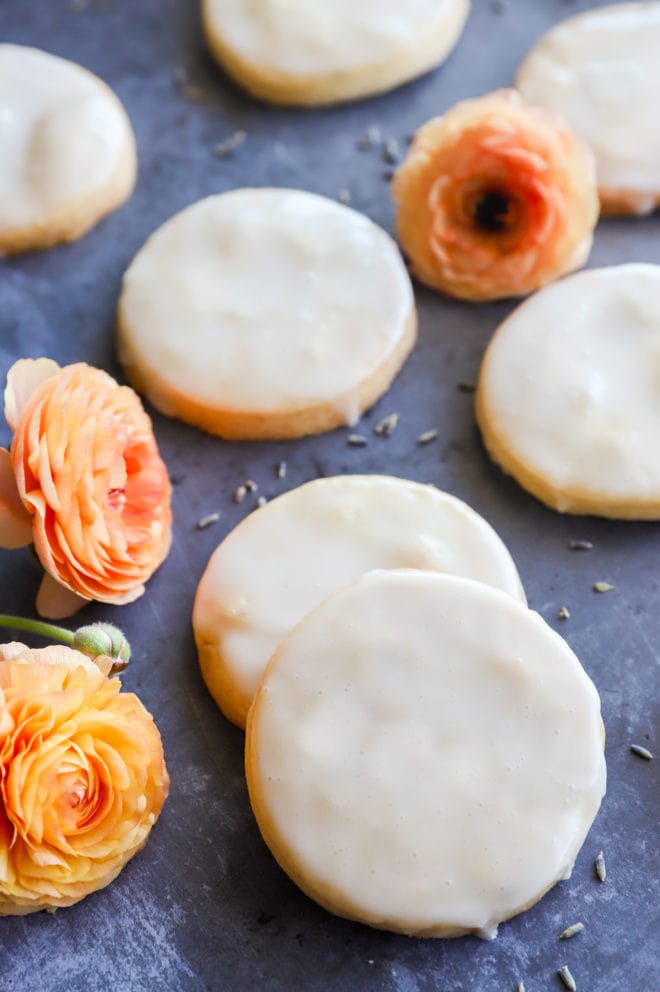 roll and bake
Roll out the dough into 1/2-inch thickness. Cut the dough out into 2 to 3-inch rounds.
Bake for 20 to 25 minutes at 350˚F on baking sheets lined with silicone mats. The edges should be light golden brown.
Cool to room temperature.
make frosting
In a small bowl. whisk together ingredients for the frosting. Dip the cooled cookies in the frosting, then set aside to set.
More delicious cookie recipes to explore: Grandma's Lavender Cookies | Carrot Cake Cookies | Sea Salt Pistachio Chocolate Chunk Cookies | Salted Caramel Butterscotch Cookies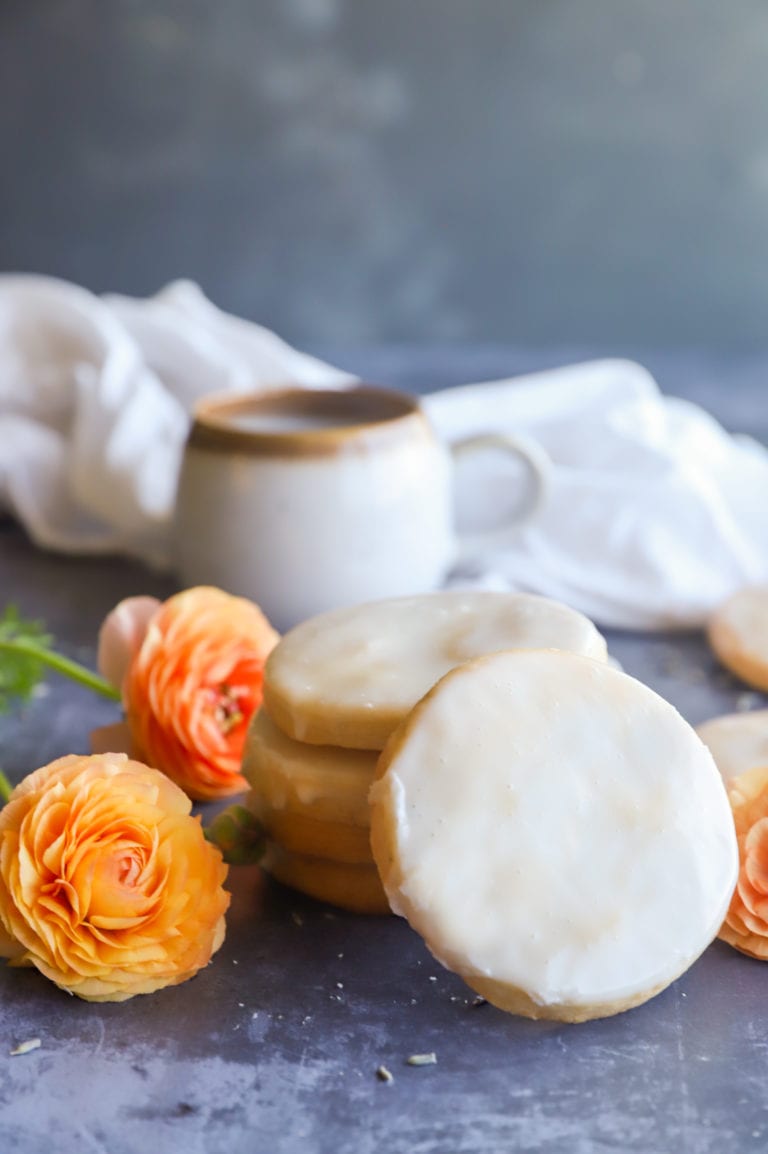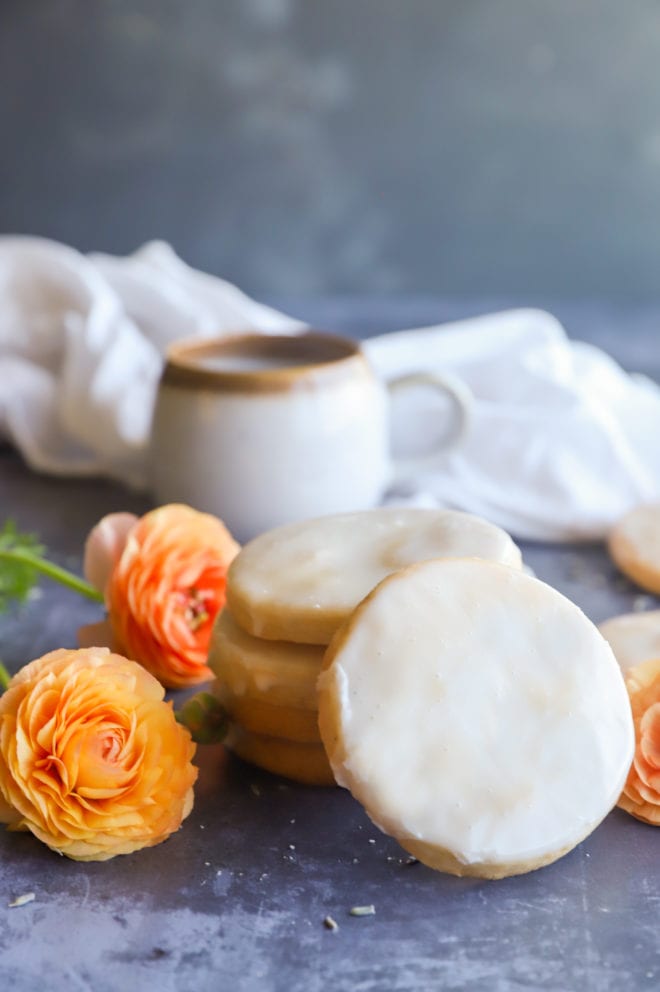 can you eat lavender?
Of course! There are many bakers and professional chefs that like to use lavender in cakes, cookies, and more. Make sure that you are buying culinary lavender, not to be confused with lavender that is used for beauty products or household cleaning products.
where do you buy lavender?
These are the links to the dried lavender flowers and lavender extract that I prefer to use. I have not had any luck finding these products at a local grocery store. Therefore, I recommend getting them at a specialty spice shop like Savory Spice Shop or you can order them on Amazon.com.
doesn't lavender taste like soap?
Lavender baked goods do NOT taste like soap. I am sure there are some haters our there that think that, but when baked and with the proper amount the floral flavor is downright delightful.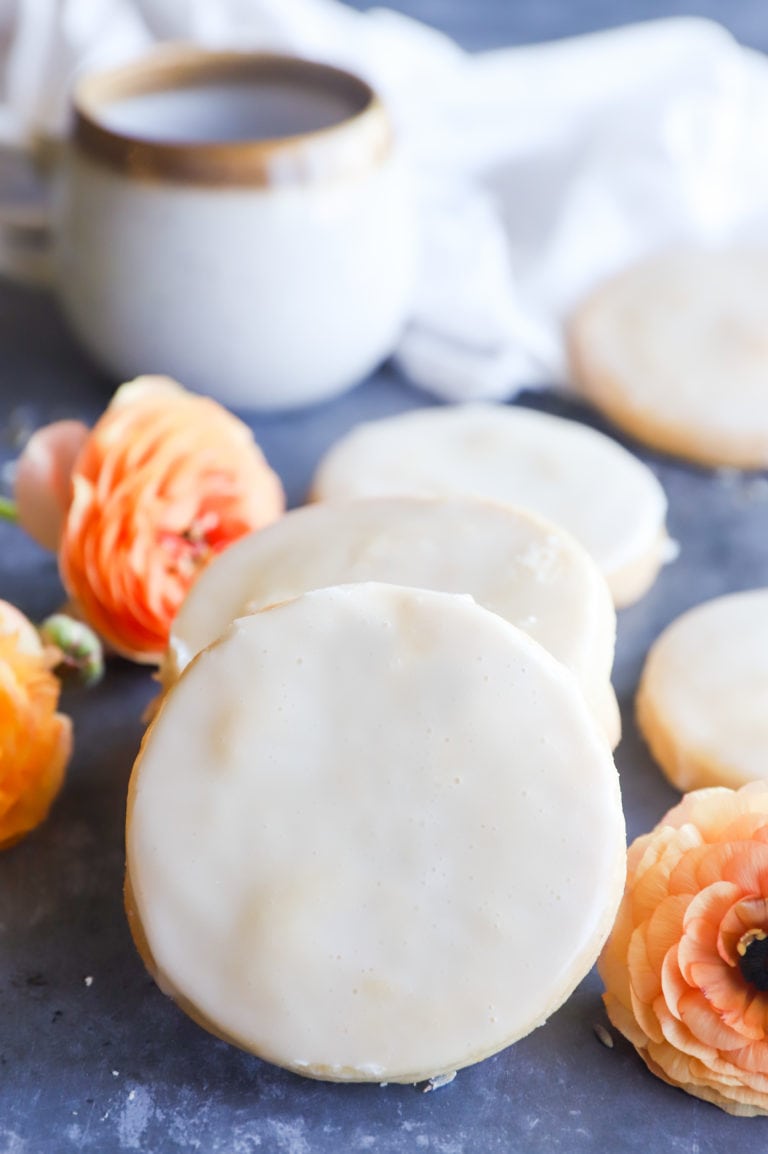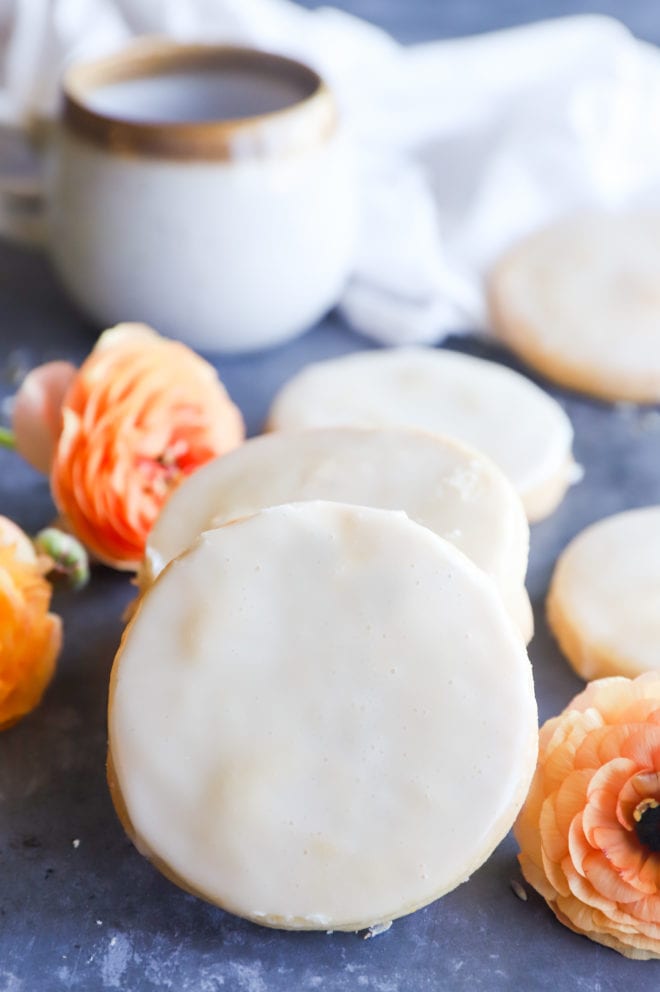 can I skip the lavender in this cookie recipe?
You can, but I don't recommend it. All you will end up with is a lemon shortbread cookie! While that is amazing, the level of lemon in this recipe isn't high enough to hold its own without the lavender flavor as well.
can I freeze the dough?
Yes, you can freeze the dough before baking! Flatten the dough into a disk, wrap well in plastic wrap, and freeze for up to 2 to 3 months. To thaw, place in the refrigerator overnight. Make sure the dough is soft enough to roll out without cracking before rolling, cutting, and baking.
You can also roll out the dough and cut out your cookie shapes prior to freezing. Arrange the cut cookie dough in a single layer on a baking sheet. Place in the freeze to freeze. Once frozen, stack them in freezer-safe airtight containers between sheets of parchment paper.
can I freeze the baked lemon lavender cookies?
Yes! I love freezing cookies and enjoying them whenever I feel like! You can freeze them in an airtight container (I recommend layering them between sheets of parchment paper) for up to 2 months. Thaw them overnight in the refrigerator and then for a few hours at room temp before enjoying.
Need some more inspiration for baking cookies? Check out my cookies recipes page!
what to serve with lavender lemon shortbread cookies
My highest recommendation to pair with these shortbread cookies? Tea or coffee! My personal favorite is a big mug of chai tea… Of course, if you need some boozy ideas, I have you covered there. This Irish coffee is an indulgence that will pair well with the flavors in these cookies!
Finally, if you make this lemon lavender shortbread cookies recipe, please be sure to give this recipe a rating or leave a comment! I love to hear when you all make recipes, and I do take the time to respond to every single comment. Feel free to drop questions below too, if you have them!
Oh and be sure to tag me on Instagram if you make the recipe! I love being able to see these recipes come to life in your homes – it's my favorite thing to look through those photos. It really means the world to me!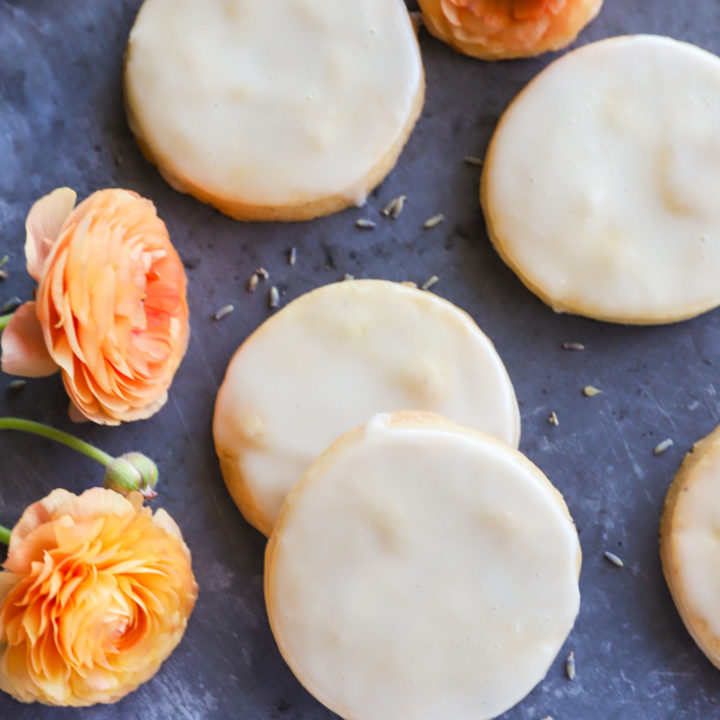 Lemon Lavender Shortbread Cookies
Additional Time:
30 minutes
Total Time:
1 hour
5 minutes
Ingredients
cookies
1 tsp dried lavender
1 tsp lemon zest (zest of 1 lemon)
1 cup granulated sugar
1 1/2 cups unsalted butter, softened at room temperature (3 sticks)
1/2 tsp lavender extract
1/2 tsp vanilla extract
3 1/2 cups all-purpose flour
Pinch of salt
icing
1 cup confectioners' sugar
2 tablespoons milk, plus more to thin
1 tablespoon freshly squeezed lemon juice (or 1 teaspoon lemon extract)
Instructions
Preheat the oven to 350°F.
In food processor, pulse the sugar, dried lavender, and lemon zest until buds are incorporated.
Add the butter and lavender lemon sugar to the bowl of a stand mixer. Beat on medium speed until just combined. Add in extracts and mix until combined.
Add flour and mix at low speed until well blended. The mixture will be crumbled and soft. Form into a disk shape, wrap in plastic and chill for 30 minutes.
Roll out dough to 1/2 inch thick and cut into 2 to 3 inch rounds.
Bake for 20 to 25 minutes until edges just begin to brown. Cool to room temperature.
In a small bowl, whisk together ingredients for the frosting. Dip the cooled cookies in the frosting, then set aside to set.
Recommended Products
As an Amazon Associate and member of other affiliate programs, I earn from qualifying purchases.