Christmas Cranberry Cobbler
Christmas Cranberry Cobbler is a great dessert on Christmas Eve that tastes even better leftover on Christmas morning. The extra sugared cranberries on top give this cobbler a sweet and tart flavor, plus the crystalized sugar that forms after baking gives it just the right amount of texture.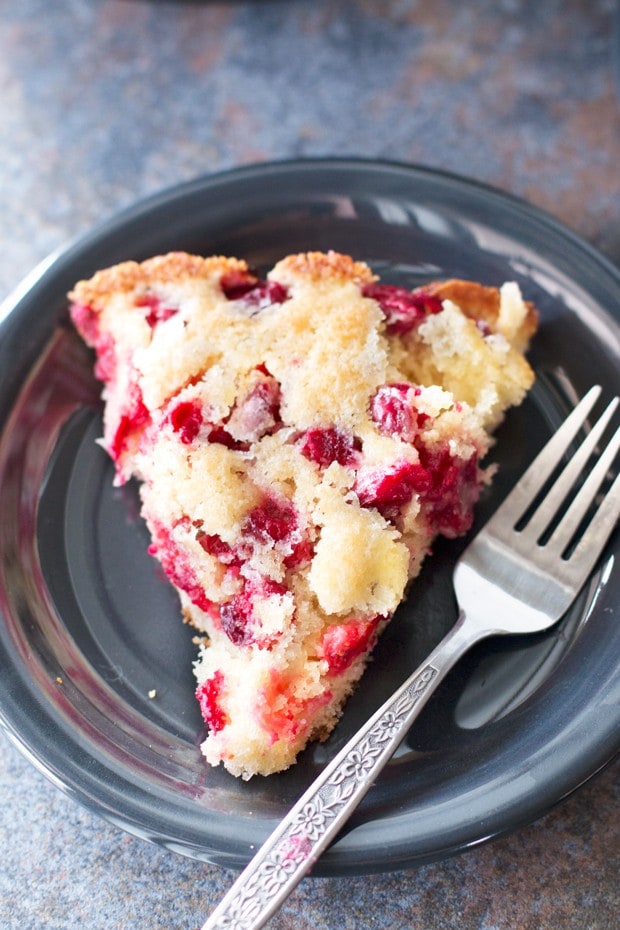 Who called for crumbly, golden, cranberry goodness?
Oh yea, I guess that was me…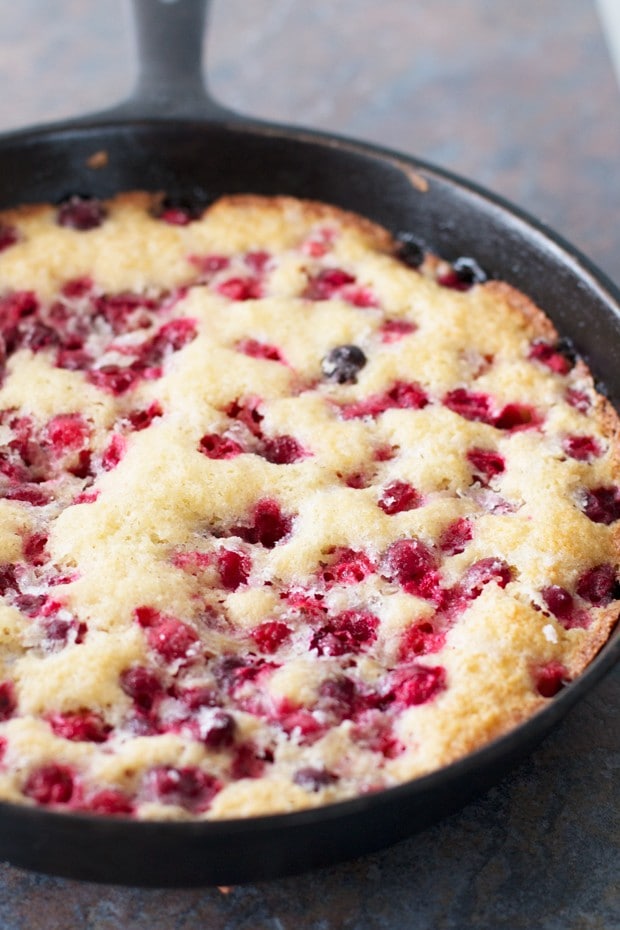 It's the lazy girl's guide to happiness, in dessert form really. This Christmas cranberry cobbler is a direct result of an incredible lazy streak when it comes to cooking for anything outside of the wedding I'm catering tomorrow.
I may seem like I'm cool on the surface, but if you could get inside my head, it's a total mess. Of course I know I can do it, and I may be guilty of putting an insane amount of pressure on myself, but there's a mild freakout happening.
It's forced my Type-A organized self to come out in full force with about 20 lists and labeling of all containers and dishes. If you walked into my kitchen, you'd turn right around because it's a big bunch o' crazy right now.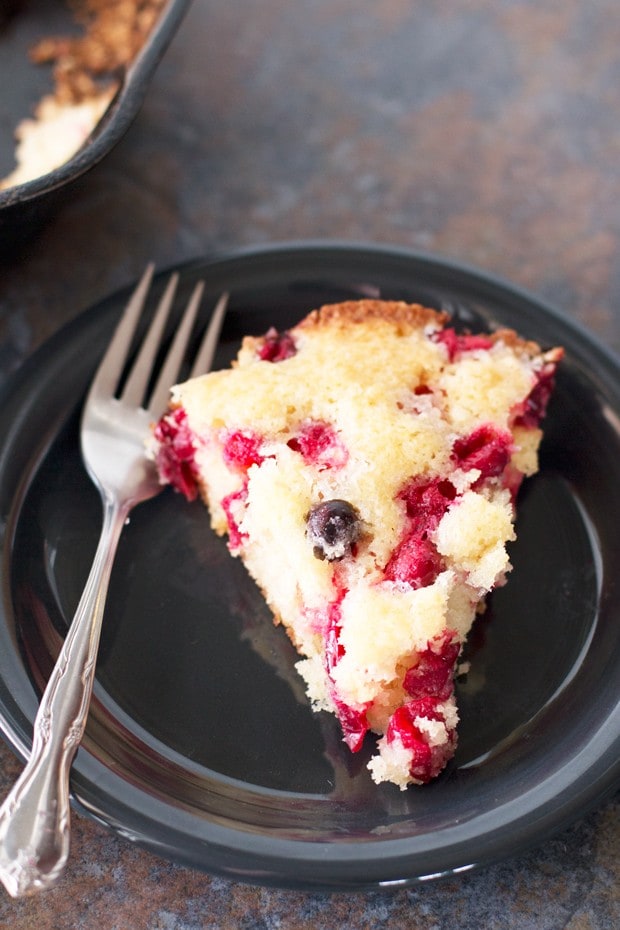 Instead of attempting to make a complicated Christmas cake (it really was on my list this year, but I couldn't make it happen), I opted for a simple dessert that also doubles as breakfast (presently eating a slice as we speak…). And when you're cooking Christmas Eve dinner the day after busting out a catering gig, there's no way I'm making things harder on myself at my favorite time of year.
My plan this Christmas? This cobbler for breakfast, mimosas, pjs, presents, card games and endless puppy snuggles (or as many as she'll allow me…).
Oh and screaming "SANTA!" at the top of my lungs as I open the gifts from Santa that'll inevitably show up under the Christmas tree. Did I mention he and I are besties?
Not as close as Alton Brown and I are in my head, but he's right up there. The big man just loves me. 🙂
I might be a little too wound up at the moment… Sugar high? Definitely.
This Recipe's Must Haves
Pin this Christmas Cranberry Cobbler recipe for later!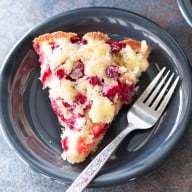 Christmas Cranberry Cobbler
Yield: Serves 6 to 8
Prep Time:10 minutes
Cook Time:30 minutes
Total Time:40 minutes
Dessert and breakfast in one sweet and tart skillet? Oh yea, baby.
Ingredients:
6 Tbsp unsalted butter, melted + more for the pan
1 1/2 cups fresh cranberries
3/4 cup + 4 Tbsp sugar
1 cup all-purpose flour
1 1/4 tsp baking powder
Pinch of cinnamon
1/4 tsp salt
1/2 cup whole milk
1 large egg
1/2 tsp vanilla extract
Directions:
Preheat oven to 350 degrees F. Generously butter a 10-inch cast iron skillet.
In a small bowl, toss together the cranberries and 4 Tbsp of sugar. Set aside.
In a large bowl, whisk together flour, baking powder, cinnamon and salt.
In a medium bowl, whisk together melted butter, milk, sugar, egg and vanilla. Add the milk mixture to the dry ingredients, stirring to combine.
Scrape the batter into the prepared cast iron skillet. Scatter the sugared cranberries over the top of the batter evenly.
Bake for 25 to 30 minutes, until golden brown. Serve warm or at room temperature (surprisingly awesome at room temp by the way!).
Yum
4 Responses to "Christmas Cranberry Cobbler"
Leave a Comment