Lemon Meringue Cookies taste like a shortbread cookie with a burst of lemon and a cloud of puffy sweetness on top. The shorter way to describe them would be heavenly.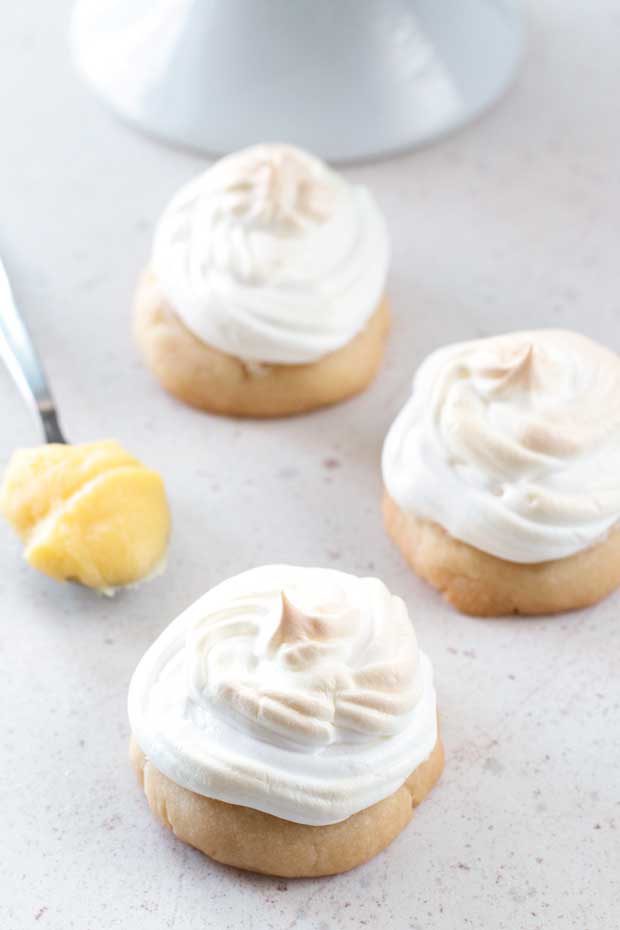 Sometimes you just want to turn a pie into a cookie, right? I don't know why I really wanted to make this pie cookie miracle happen but, you guys, it's essentially genius.
I used to have a crazy obsession with lemon curd. I mean, I still adore the stuff but I've had to pull back because I kept getting way into the expensive bottles and every summer at the farmer's markets – poof! There goes all my money.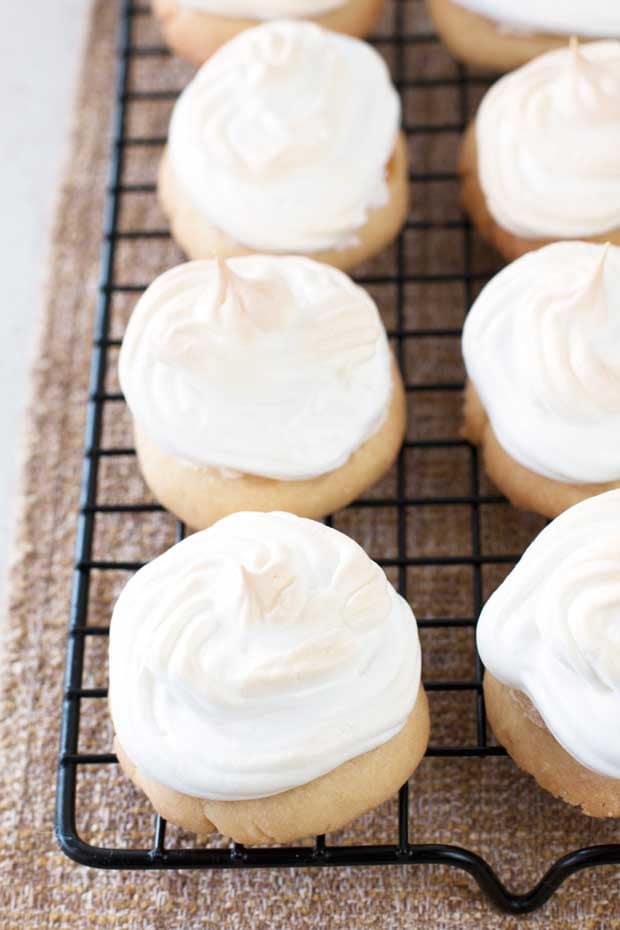 Seriously, I have to put blinders on at farmer's markets to avoid the jam/lemon curd/apple butter stands that are peppered throughout. Otherwise I'd be loaded up with way too much of all the lemon curd and apple butter…
Farmer's market season is just around the corner here in Denver so I figured it would be the perfect time to share this recipe! You all know that first taste of lemon curd after a long winter (and if you don't, change that immediately this year). That burst of lemony freshness and tart puckering thing your lips do after a teaspoon-full, is a cherished moment in my food memory every year.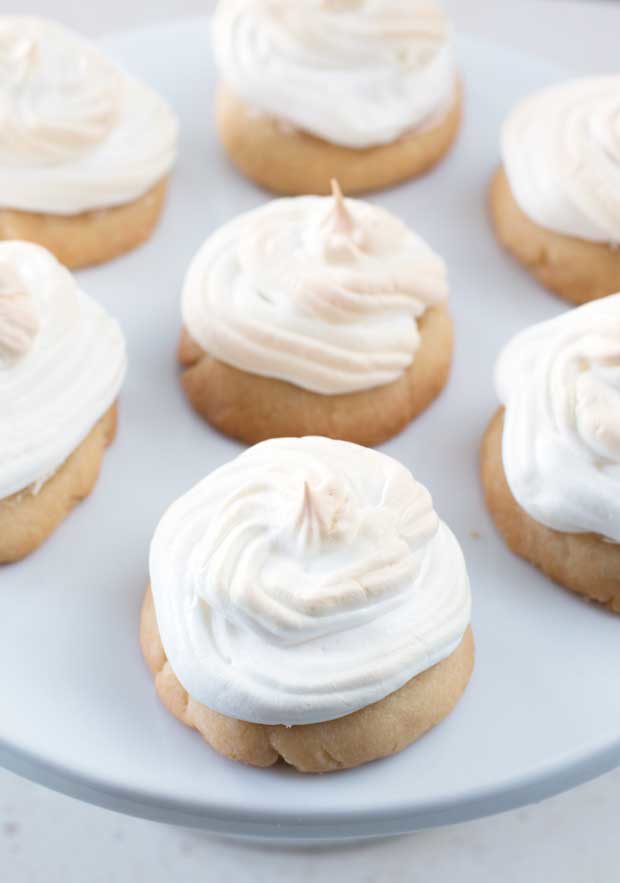 Followed promptly by me spending too much money on lemon curd.
At least this year I have a recipe to use it in, right?
The lemon meringue cookies are little pillows of heaven. The shortbread-like cookie with a filling of lemon curd, topped with a fluffy, puffy cloud of meringue. Each bite is the perfect balance of cookie, curd, and meringue.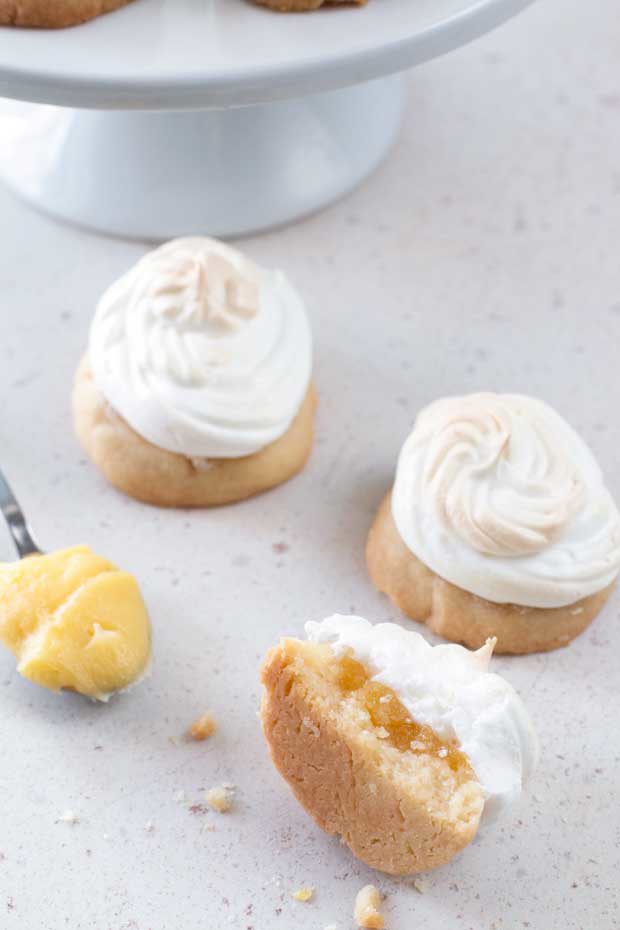 I think my pie + cookie obsession might be officially triggered. The only question is, which pie should I turn into a cookie next…? Key lime? Banana pudding?
You tell me, I'll make it!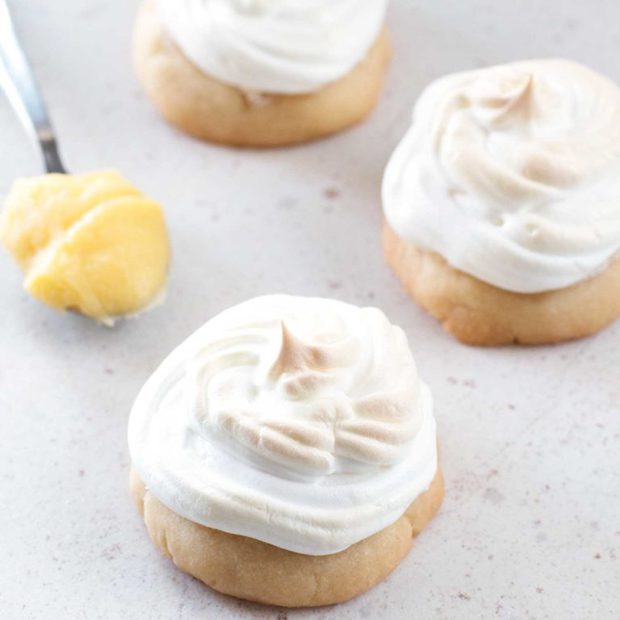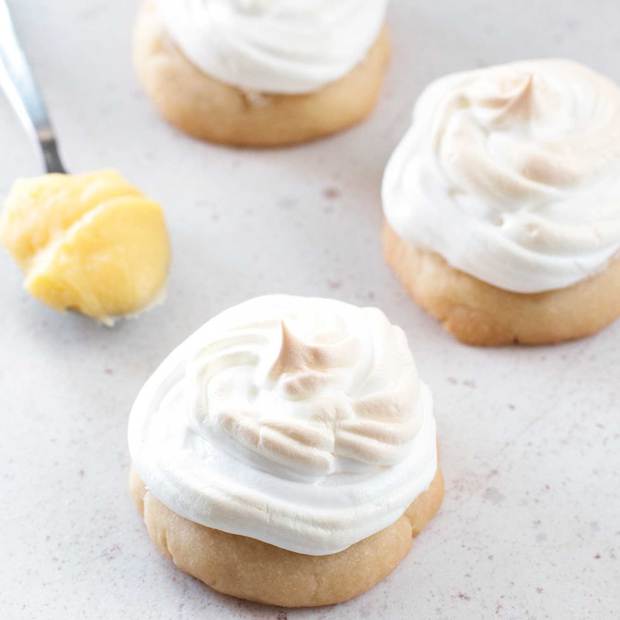 Lemon Meringue Cookies
A shortbread cookie with a burst of lemon and a cloud of puffy meringue on top.
Ingredients
Cookies
1 cup salted butter
½ cup confectioners' sugar
2 tsp. pure vanilla extract
2 cups all-purpose flour
¼ tsp. salt
1/2 cup lemon curd
Meringue
1/4 cup granulated sugar
2 egg whites
Instructions
Preheat oven to 325 degrees.
In a large bowl, cream butter and sugar together using an electric mixer. Add vanilla and beat until combined. Blend in flour and salt, mixing until thoroughly combined.
Roll 1 1/2 Tbsp of dough into a small ball about 1 inch in diameter. Place dough ball on lightly greased cookie sheets. Repeat the process with the remained dough, placing balls roughly 1 inch apart. Press down the center of each ball with a spoon, forming a small depression. Fill each with a teaspoonful of lemon curd.
Bake 15-20 minutes or until golden brown. Transfer cookies immediately to a cool, flat surface.
Increase oven temperature to 350 degrees.
Add egg whites and 1/2 cup sugar in the clean bowl of an electric mixer fitted with the whisk attachment. Whisk on medium-high speed until stiff peaks form. Dollop or pipe the meringue on top of the cooled cookies. Bake for an additional 5 to 8 minutes, until the meringue begins to brown. Cool for 5 minutes before serving.