The big game is this weekend and if you make one recipe, it totally should be these Cheesy BBQ Chicken Pull Apart Sliders! They are spicy, rich in flavor, cheesy and oh-so tangy – not to mention totally simple to make. Finger-licking good BBQ is meant to be shared, so invite the gang over and get to celebrating already!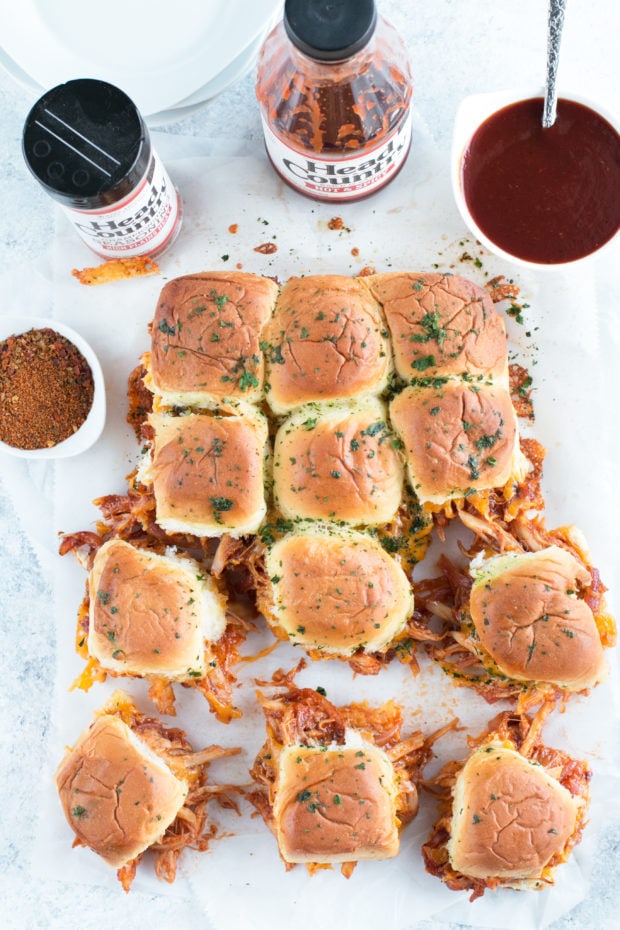 Disclosure: This post is sponsored by Head Country Bar-B-Q. As always, all opinions are my own. Thanks for supporting the brands that support Cake 'n Knife!
These. Sliders. Are. Freaking. AH-MAZ-ING.
Like so SO SOOOOOO amazing.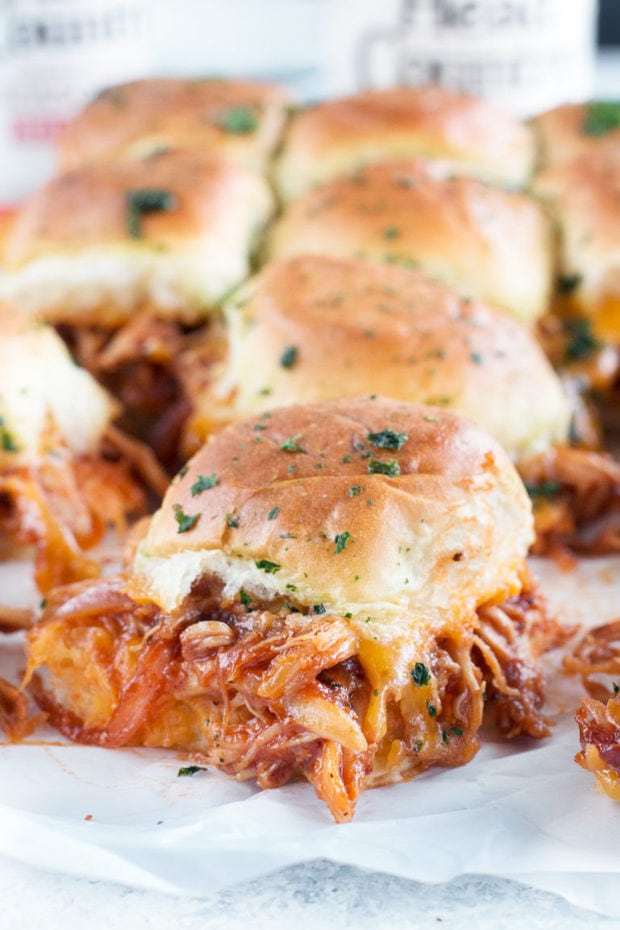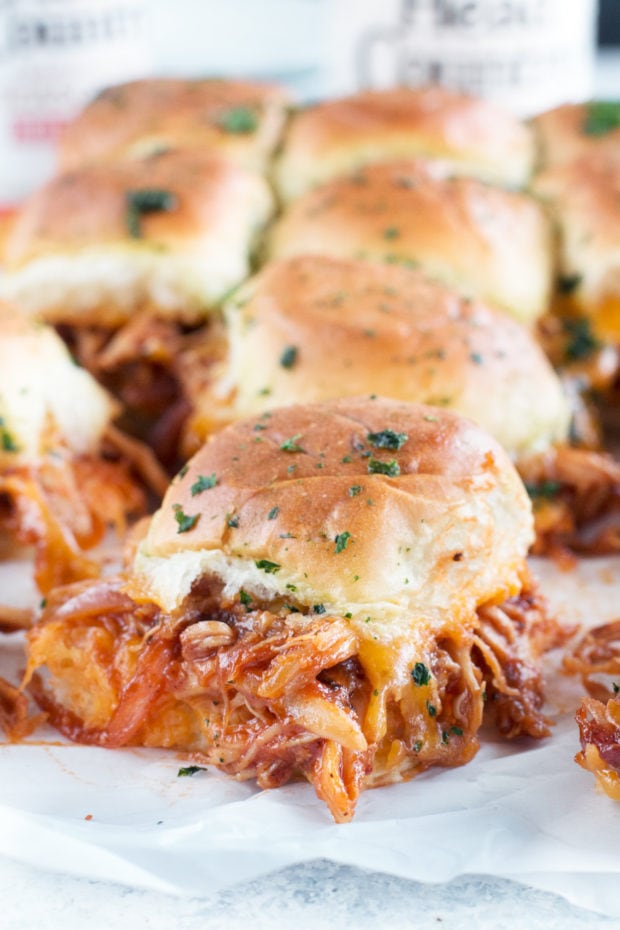 You know when you make a recipe and it's just show-stopping good?
That's seriously how I feel about these sliders!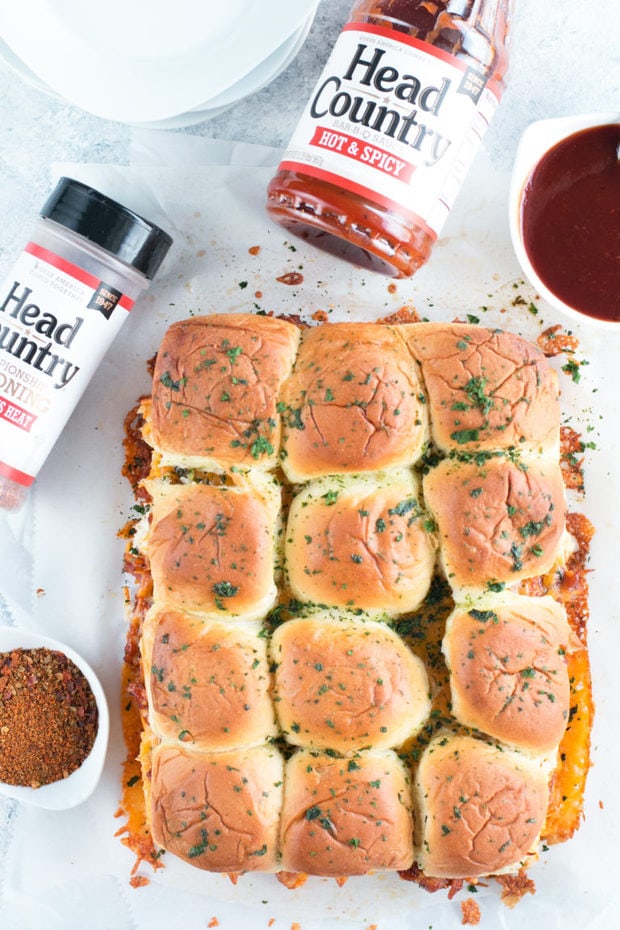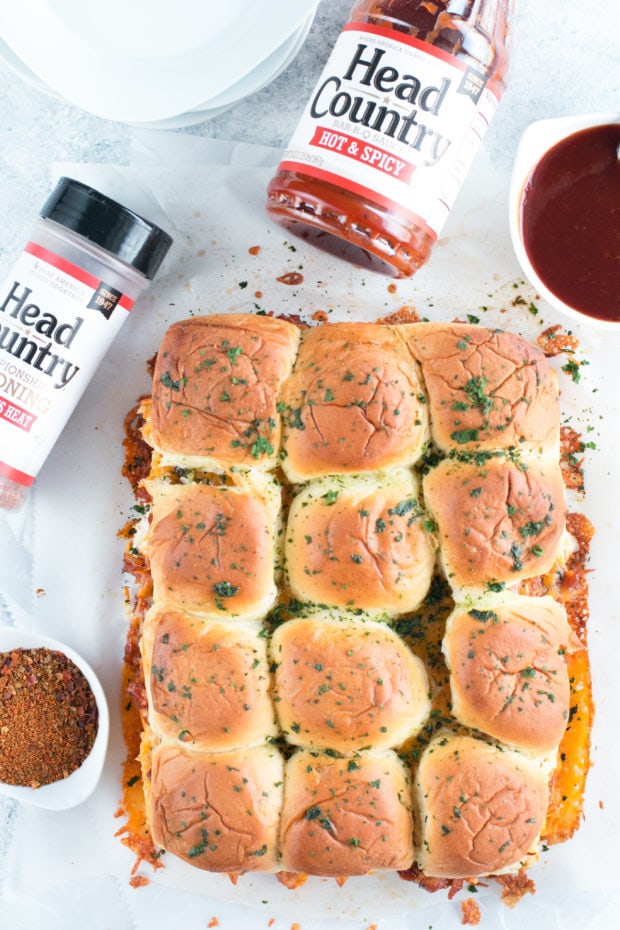 Please note that some of the links below are affiliate links. If you make a purchase through one of these links, I will receive a small commission.
I swear I am not trying to say that to boast or anything, they really are just THAT GOOD.
Not many of you may know this, but I actually spent my childhood in Kansas City growing up on the incredible BBQ there.
So lucky, right?? I only wish I appreciated it as a kid…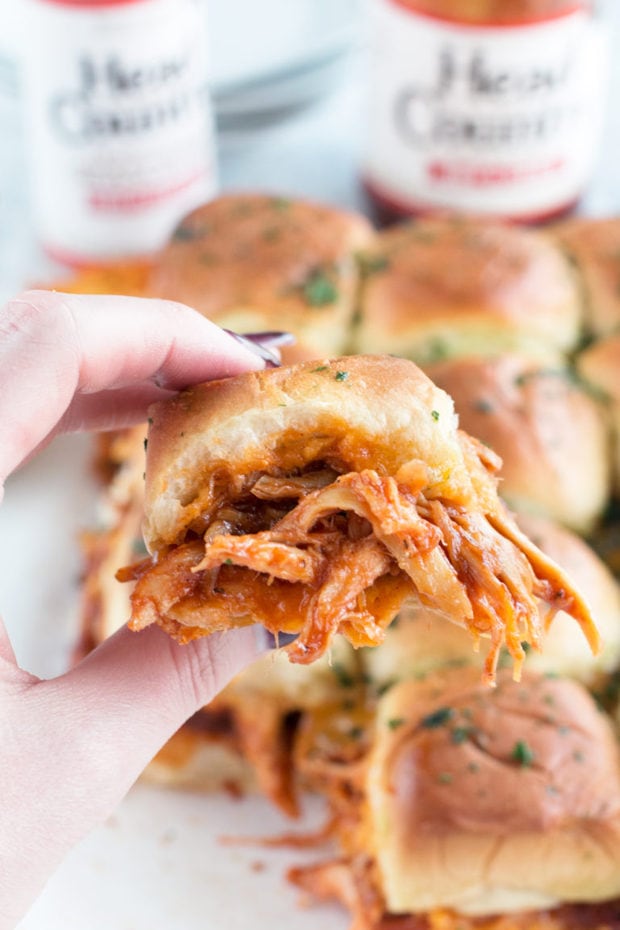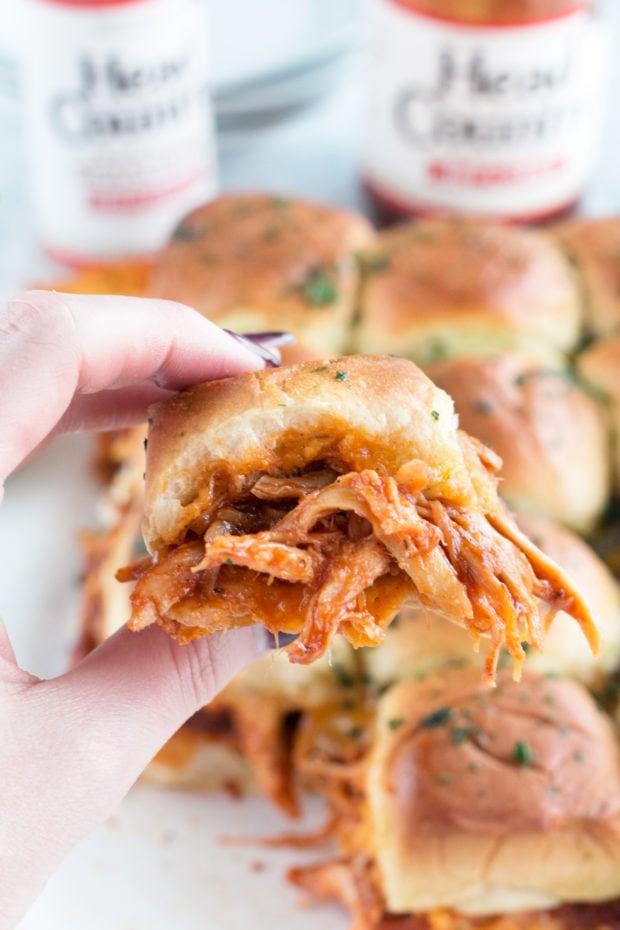 But of course 8-year-old Meghan didn't realllllly appreciate the amazingness of it all.
Being exposed to the incredible variety of BBQ sauces and seasonings as a kid is what makes BBQ a comfort food for me. It's that finger-licking good mood food that I can always make room in my belly for 😉
However it's also a party food! I mean, we've all been to BBQs and know how much of a communal food BBQ truly is.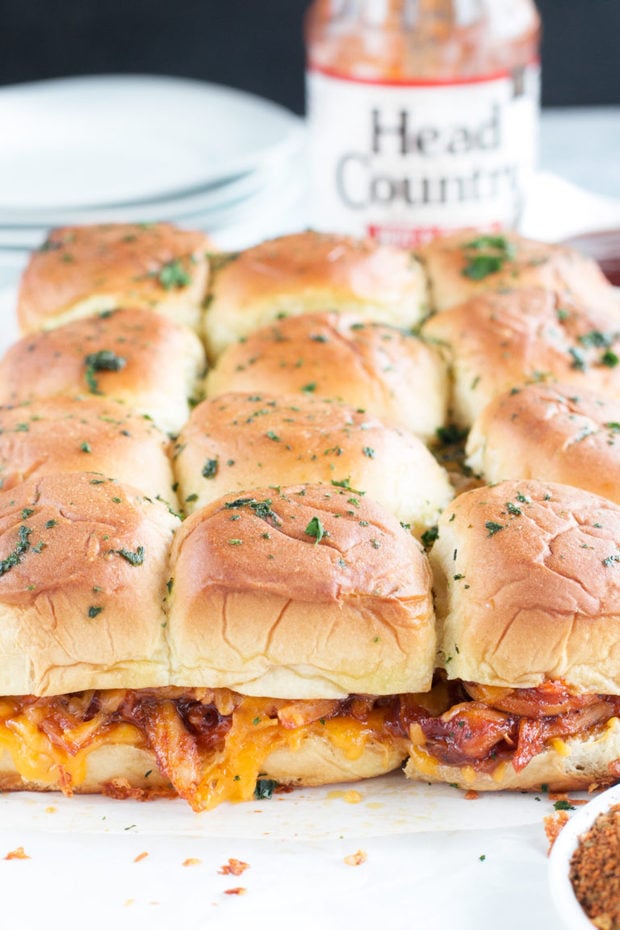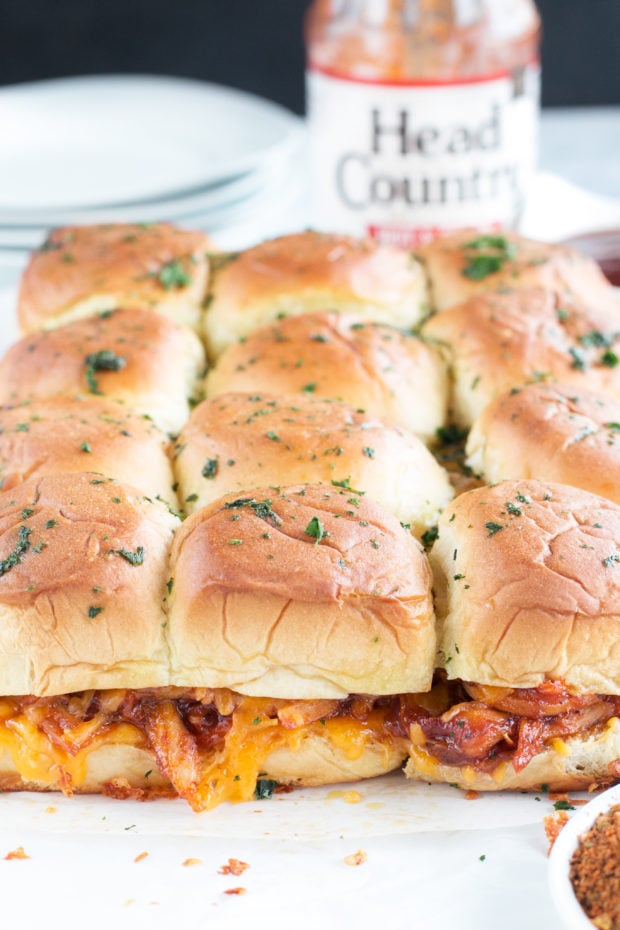 So, with the big game coming up this weekend, I am 100% turning to BBQ.
That's where my current obsession comes in… Head Country Bar-B-Q sauces and spices!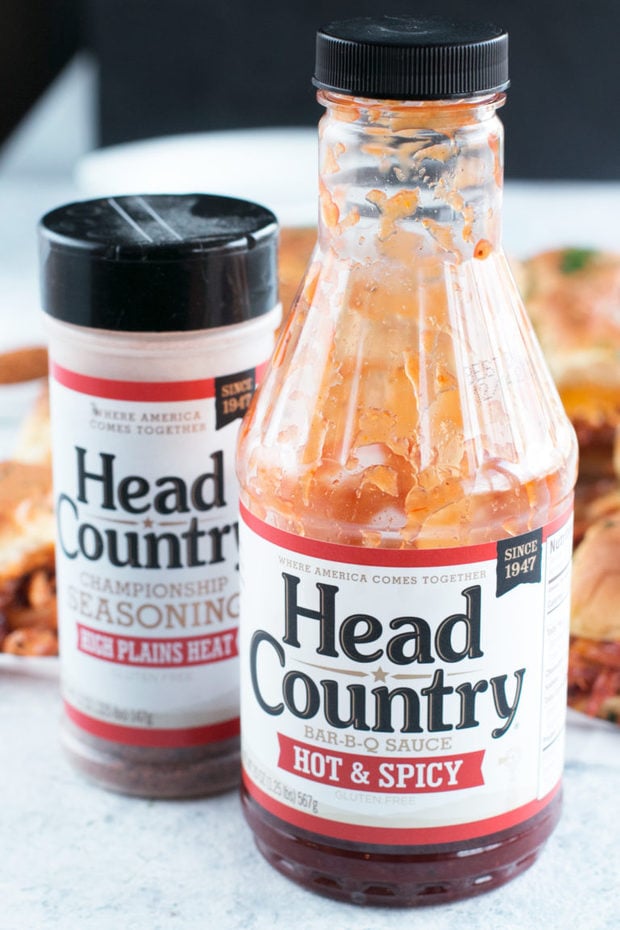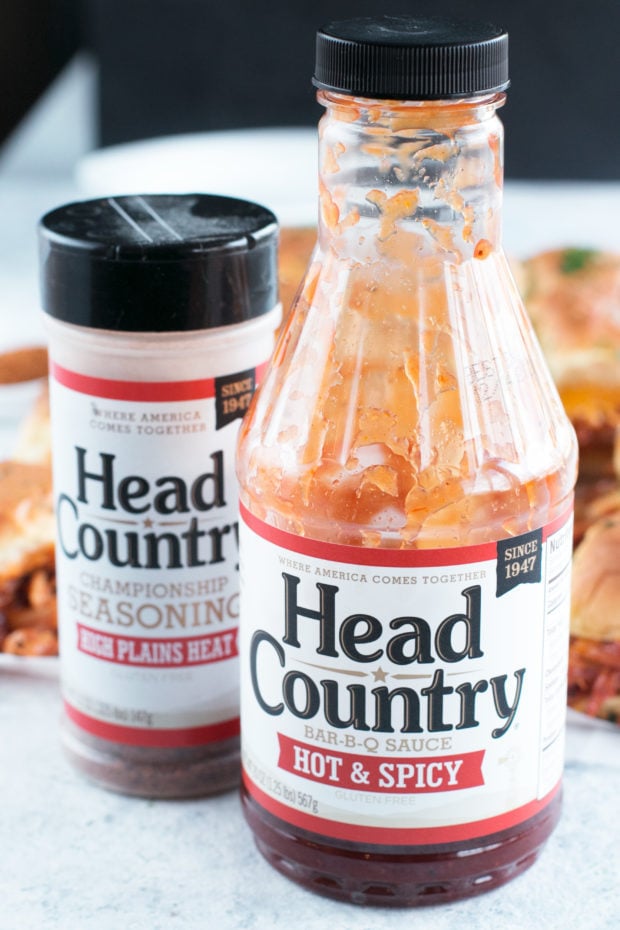 These sliders are layered with flavor and have a ridiculous amount of sweet heat in them. I used Head Country Hot & Spicy BBQ Sauce and Head Country High Plains Heat Championship Seasoning to create a flavorful and tangy slider that no one will be able to stop eating. By using rotisserie chicken, the combination of these spices and sauce, cheese and red onion, the filling of these easy-to-make baked sliders is so tender and juicy.
When you combine all that flavor with the slightly sweet Hawaiian slider rolls and a garlic herb butter…. it's pure magic.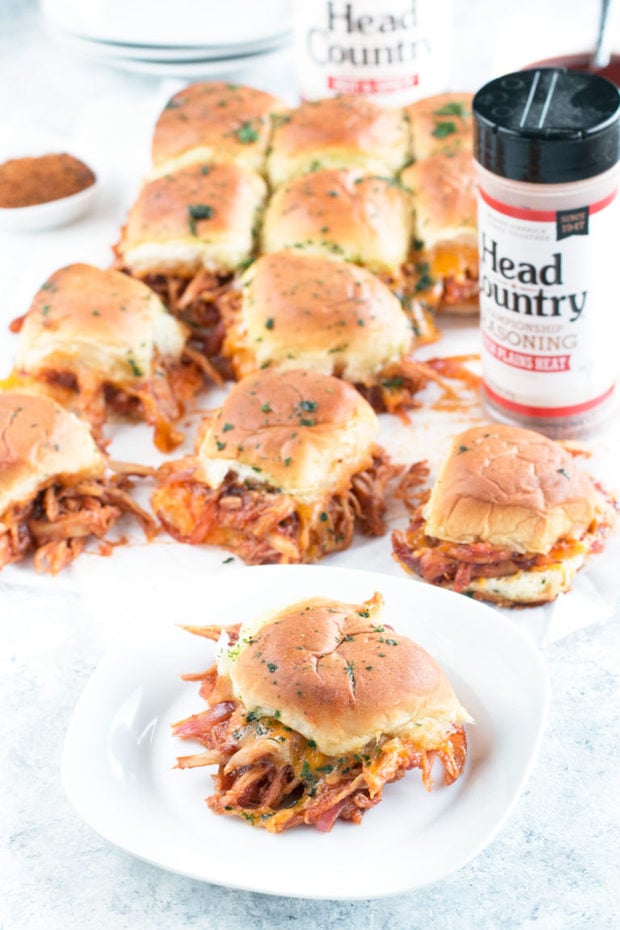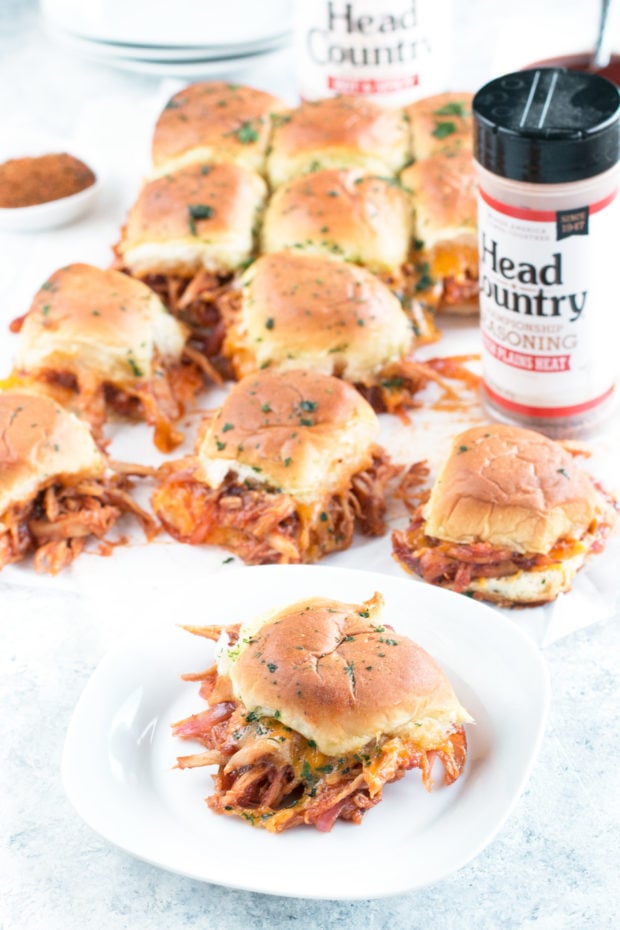 #BBQMAGICFTW
This Recipe's Must Haves
Pin this Cheesy BBQ Chicken Pull Apart Sliders recipe for later!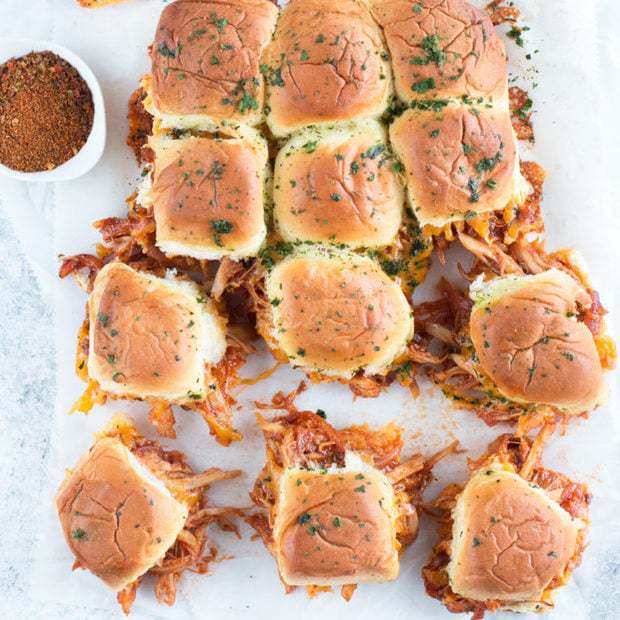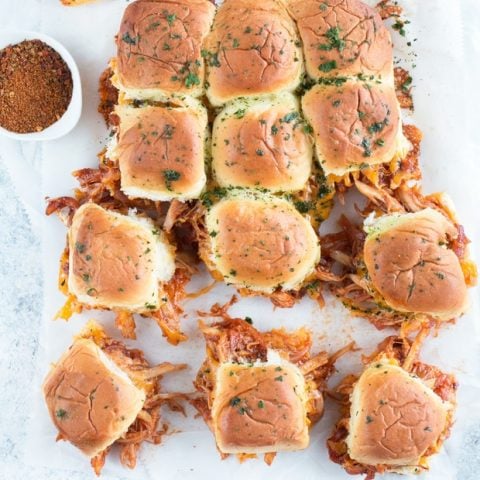 Cheesy BBQ Chicken Pull Apart Sliders
Cheesy and full of heat, these BBQ chicken sliders are the easy, finger-licking good snack everyone will be drooling over at your next gathering!
Ingredients
Cheesy BBQ Chicken Pull Apart Sliders
2 Tbsp olive oil
1 small red onion, sliced
3 cloves garlic, minced
3 cups shredded roast chicken, shredded
2 tsp Head Country High Plains Heat Championship Seasoning
1 cup Head Country Hot & Spicy BBQ Sauce
12 Hawaiian rolls
2 cups shredded cheddar cheese
Garlic Herb Butter
1/4 cup unsalted butter, melted
2 cloves garlic minced
2 tsp minced parsley
2 tsp freshly chopped basil
Pinch of salt
Instructions
Preheat oven to 350 degrees F. Line a 9x13-inch baking dish with parchment paper. Lightly grease with cooking spray.
In a small bowl, whisk together ingredients for the garlic herb butter. Set aside.
Heat a large skillet over medium heat. Add oil. Once hot, add onion and garlic. Cook until soft, approximately 2 minutes.
Stir in chicken, Head Country High Plains Heat Championship Seasoning and Head Country Hot & Spicy BBQ Sauce until combined. Cook a couple of minutes until heated through.
Cut rolls in half. Place the bottom halves of the buns in the baking dish. Make sure they are right next to each other - note they will not fill the entire pan.
Top bottom halves of buns with half of the cheese. Layer the BBQ chicken mixture on top. Add the remaining cheese evenly over the top. Place the top halves of the buns on top.
Brush the tops of the buns the herb butter.
Bake for 10 to 15 minutes, until the cheese is melted. Serve immediately.