Double Decker BLAT with Spicy Candied Bacon is just the lunch to make any lunch infinitely more special. The homemade spicy candied bacon and added crunch of golden fried bread elevate this sandwich way beyond the normal BLAT experience. You'll never find a better sandwich to serve up at lunchtime!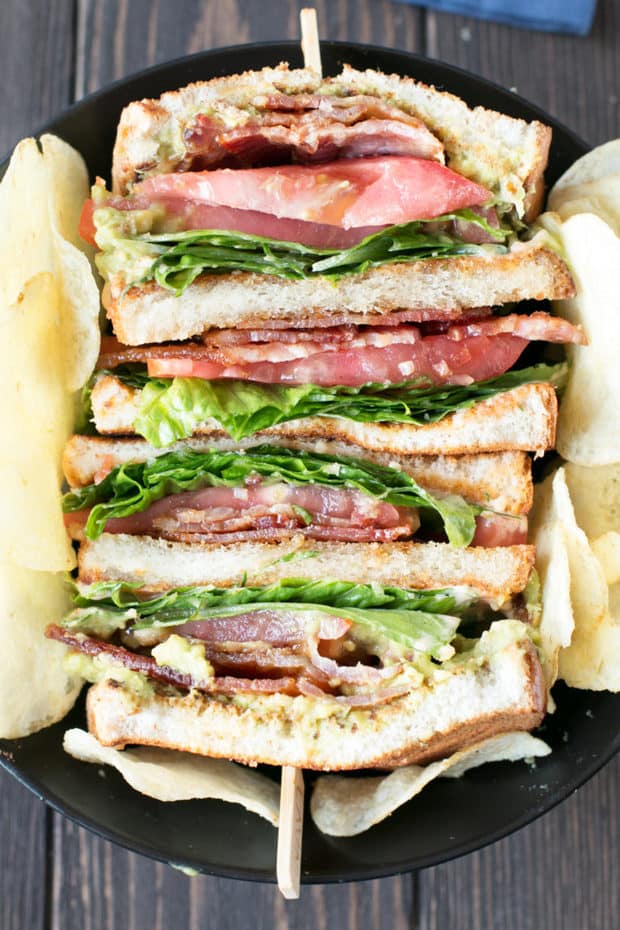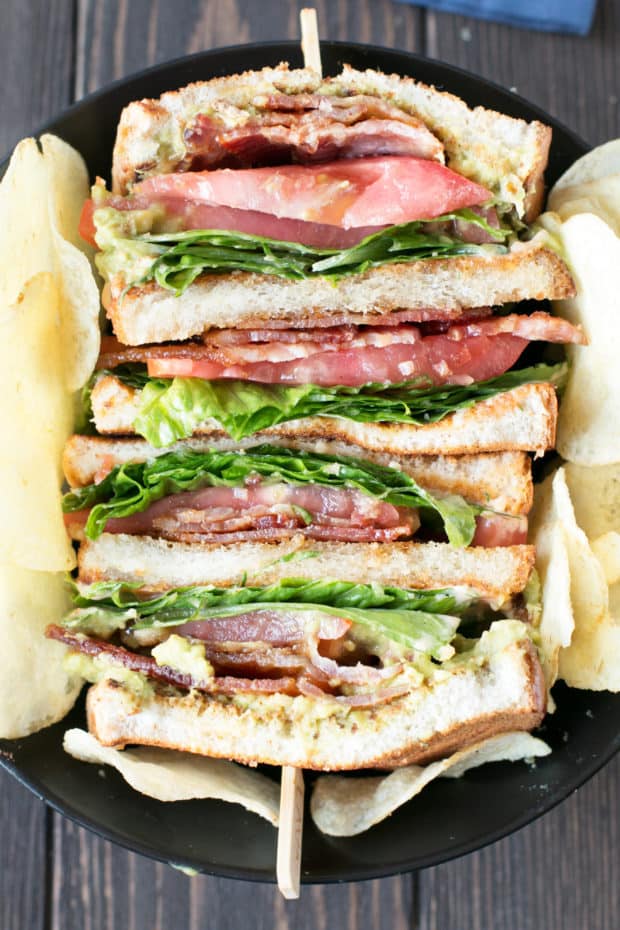 Please note that some of the links below are affiliate links. If you make a purchase through one of these links, I will receive a small commission. Thank you for supporting Cake 'n Knife!
The simplest of sandwiches is the BLT.
Bacon. Lettuce. Tomato. Slap that between a couple slices of toasted bread and some mayonnaise and you have a delicious sandwich to nom on.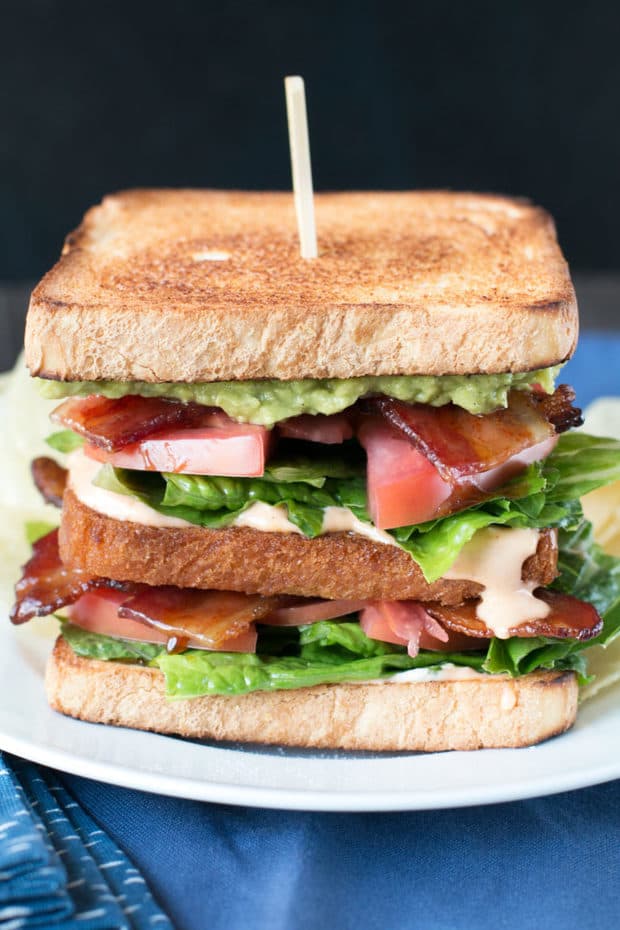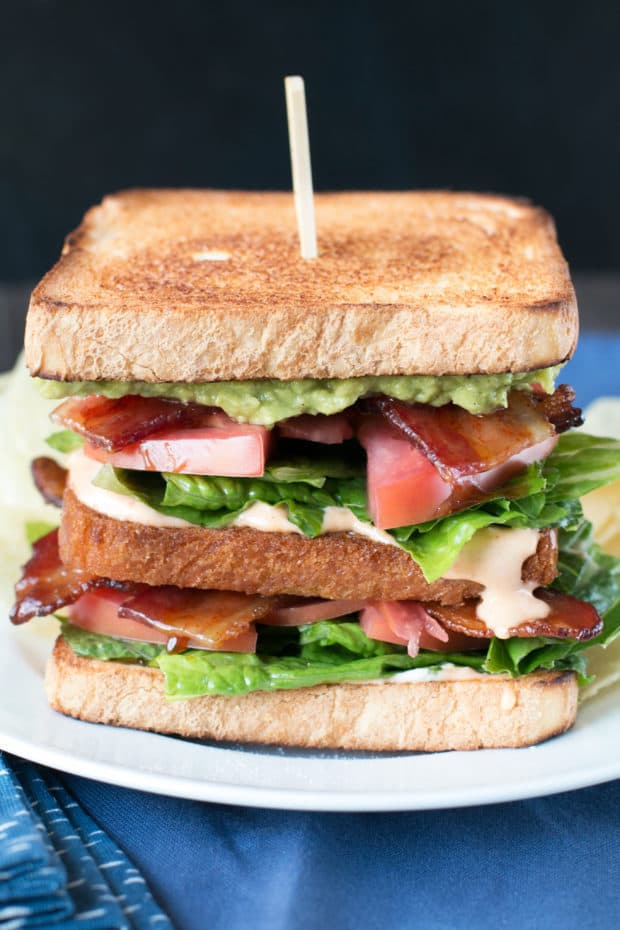 There are a few amazing BLTs I've had in my life, and I've incorporated all the best parts of those sandwiches into this epic double decker pile of goodness you see right here.
Most recently I had this KILLER BLT in a beer hall in Arvada. It had thick cut bacon they made in house. It had a creamy homemade mayonnaise. The best part of it though, was the middle layer of bread.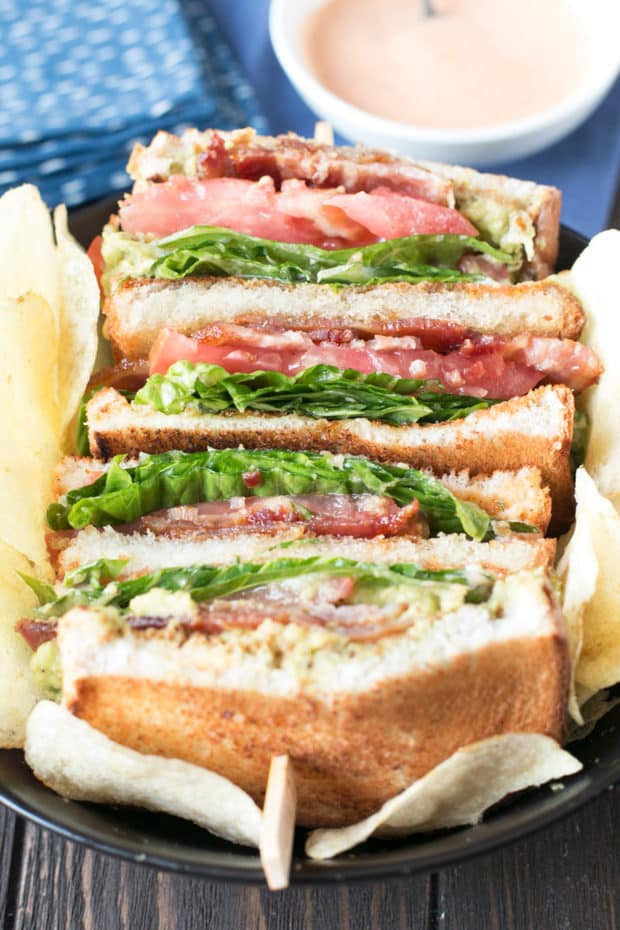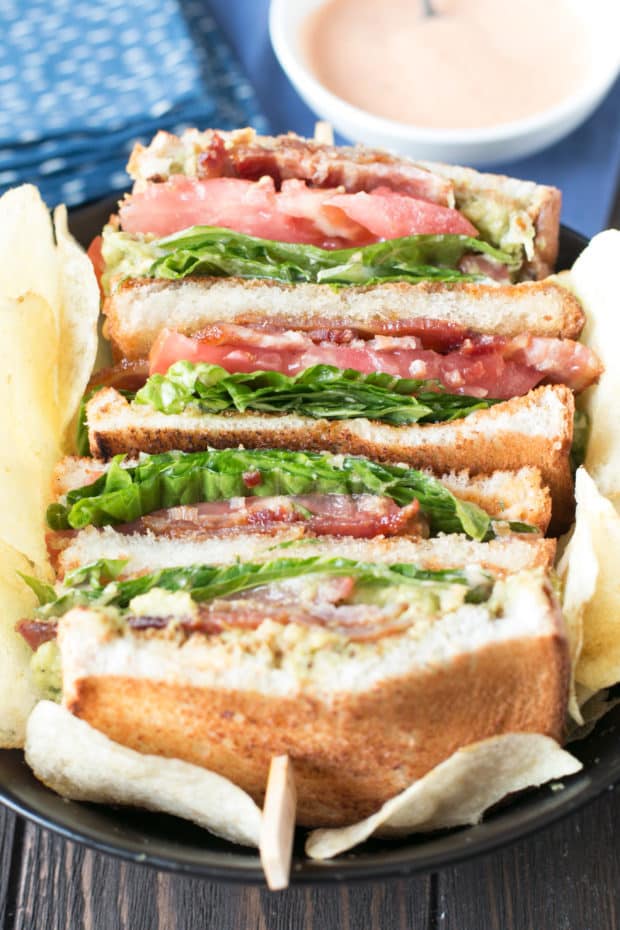 The geniuses behind the sandwich fried a piece of bread and sandwiched it in the middle of the sandwich. The crunch that it provided was…. I don't know how else to describe it but drool worthy.
I pulled this element, along with a few others from my favorite BLTs of all time into this sandwich.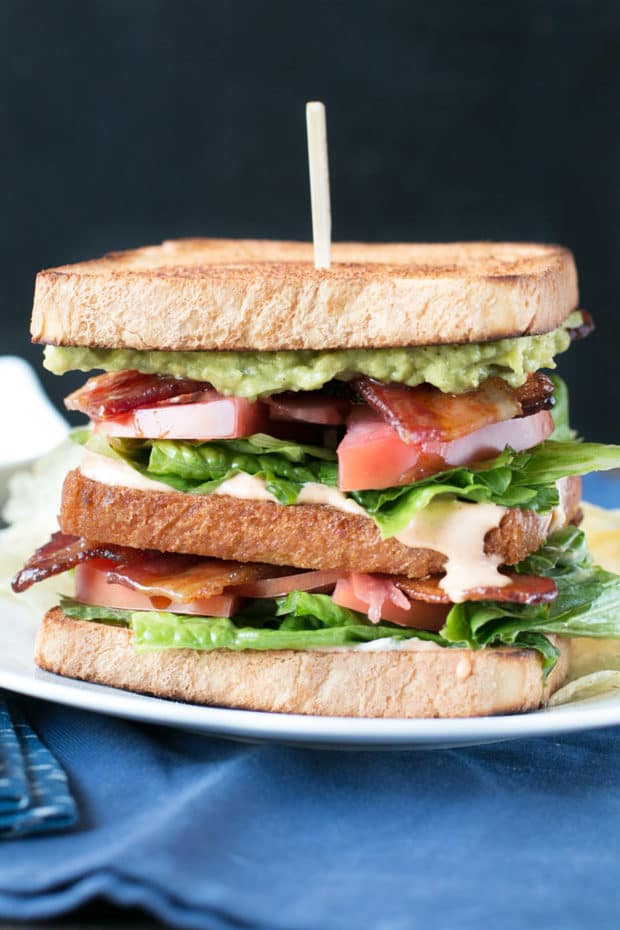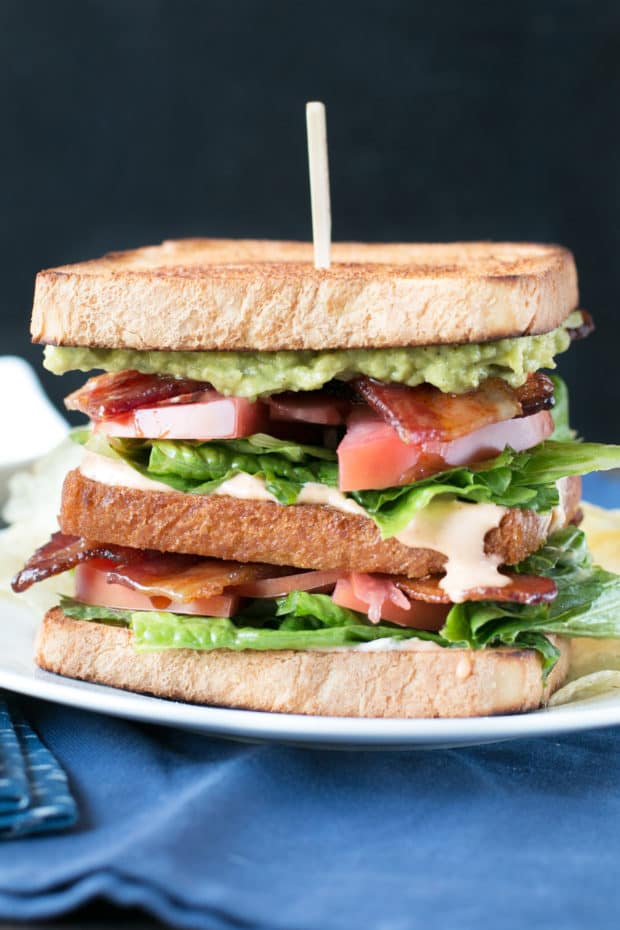 Along with what I like to call "the crunch maker" (basically the opposite of the "moist maker" from Monica's turkey sandwiches in Friends – god I hope that reference doesn't date me TOO much), I added in creamy avocado, a spicy flavorful mayonnaise and homemade candied bacon to give a hint of sweetness.
Oh, did I forget to mention that I made homemade spicy candied bacon for this BLAT?
Yea, I went there.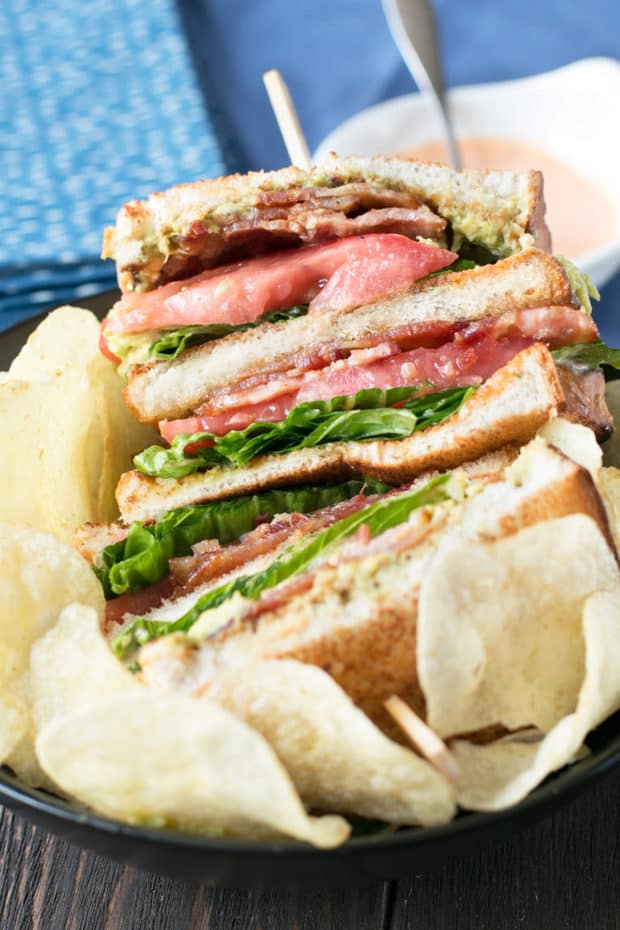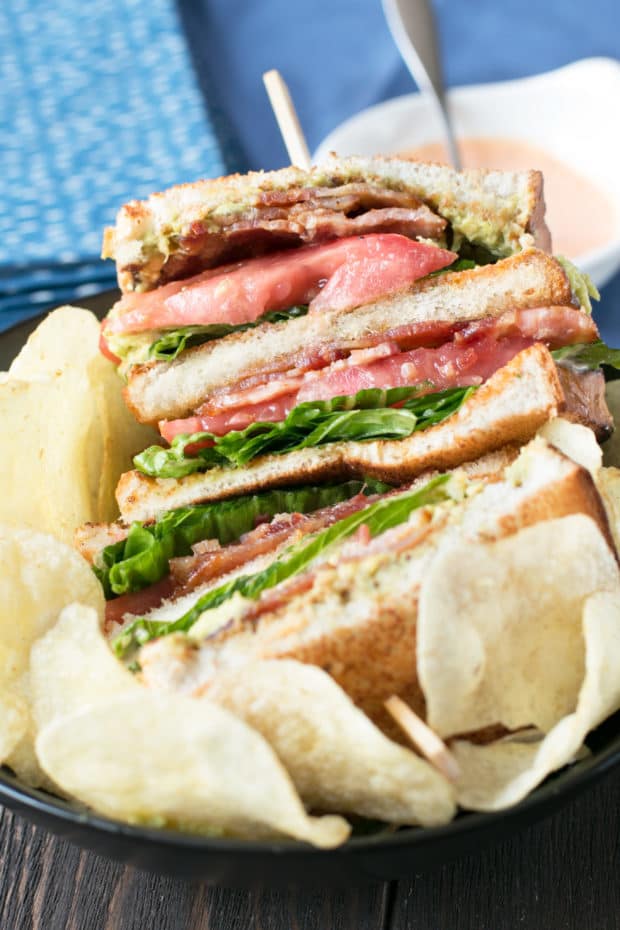 The subtle sweet and spicy notes elevate the bacon, and really the entire sandwich, making this dish an experience instead of a mere lunch that you slap together.
Every element comes together to create memorable flavors that will have you thinking you are in a five-star restaurant as you happily chow down on it at your own dining room table.
Serve it up for a luncheon or pack some up for a picnic during these last perfect fall days!
This Recipe's Must Haves
Pin this Double Decker BLAT with Spicy Candied Bacon recipe for later!