Please note this post contains affiliate links.
When I want the best nachos EVER, I reach for the carne asada nachos. With this carne asada, you get all the flavor without hours of work, along with plenty of cheese, veggies, avocado, hot sauce, and MORE.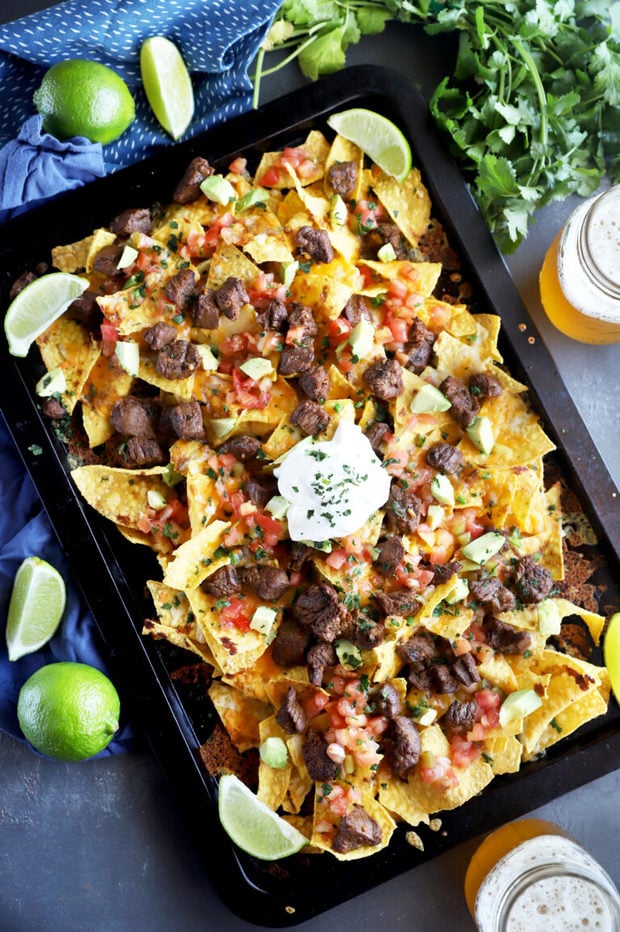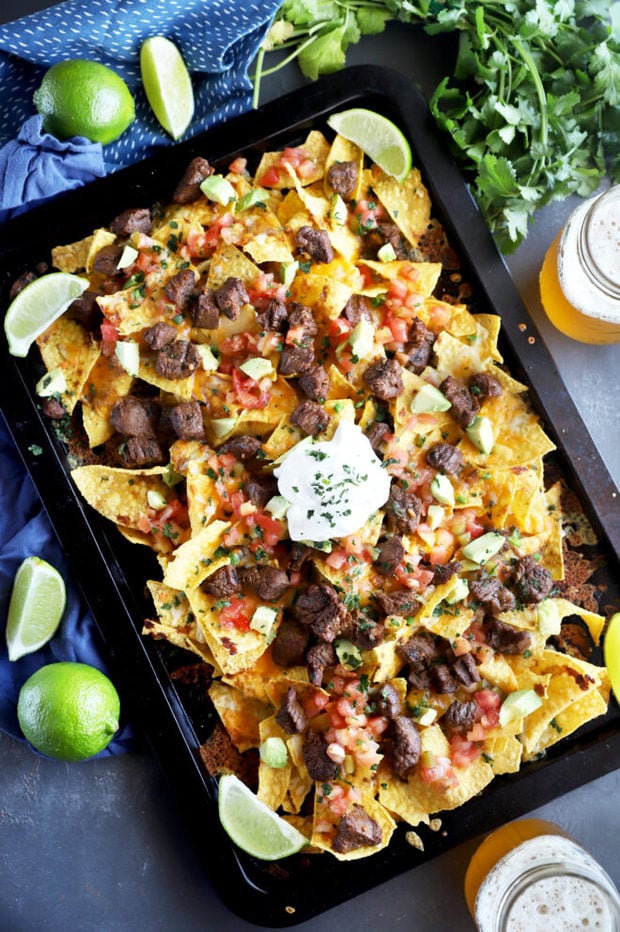 Nachos are kinda a thing for me. More like an obsession.
I remember when I first struck out on my own, after quitting a corporate marketing gig. This was a time when nachos were a staple in my diet. I didn't have a ton of money to burn as I was saving and trying to make this whole food blogger/recipe developer/food photographer thing work.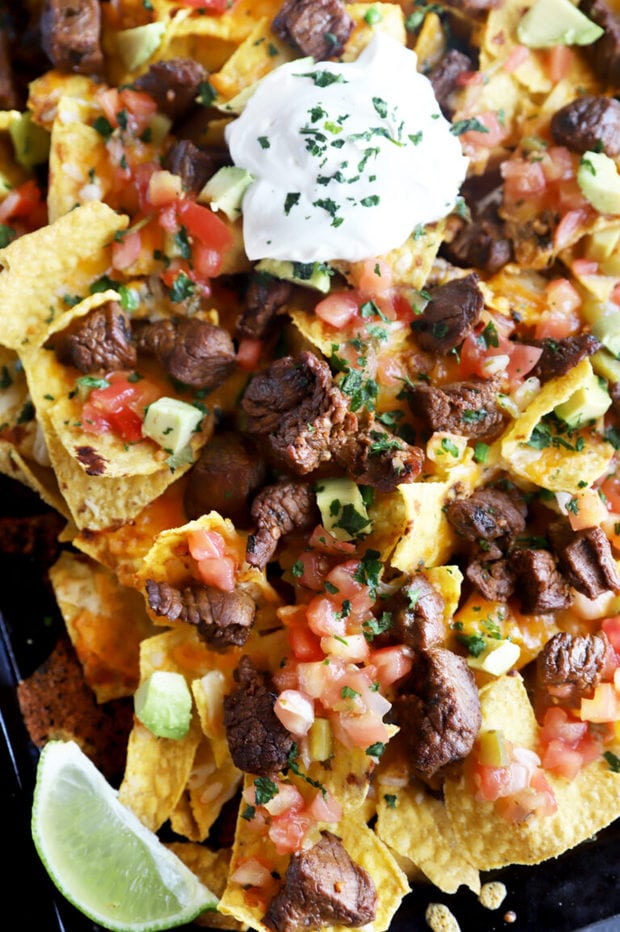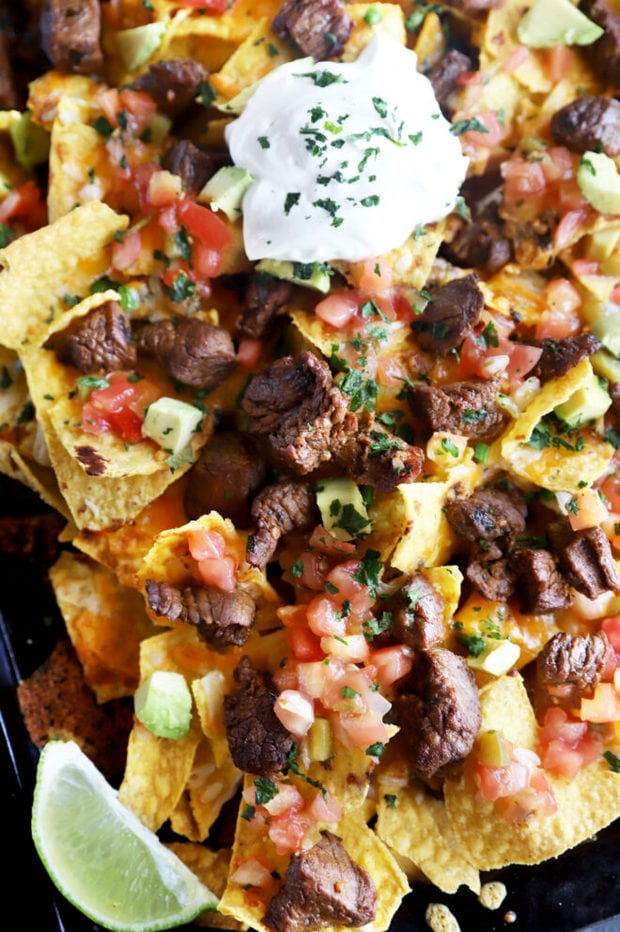 So I made nachos. All. The. Time.
They weren't fancy nachos. Actually they were a little sad and boring. But as I made those nachos on the daily, I thought of all the ways I could up the deliciousness factor of them and started making a list. I've made the classic loaded nachos and I've even made bite-sized nachos with hatch green chile and fries.
These carne asada nachos have been on that list for a long time. I LOVE carne asada, but I've always wanted to find a way to make it at home that doesn't give me a headache. I want nachos NOW so I don't want to wait for a marinade.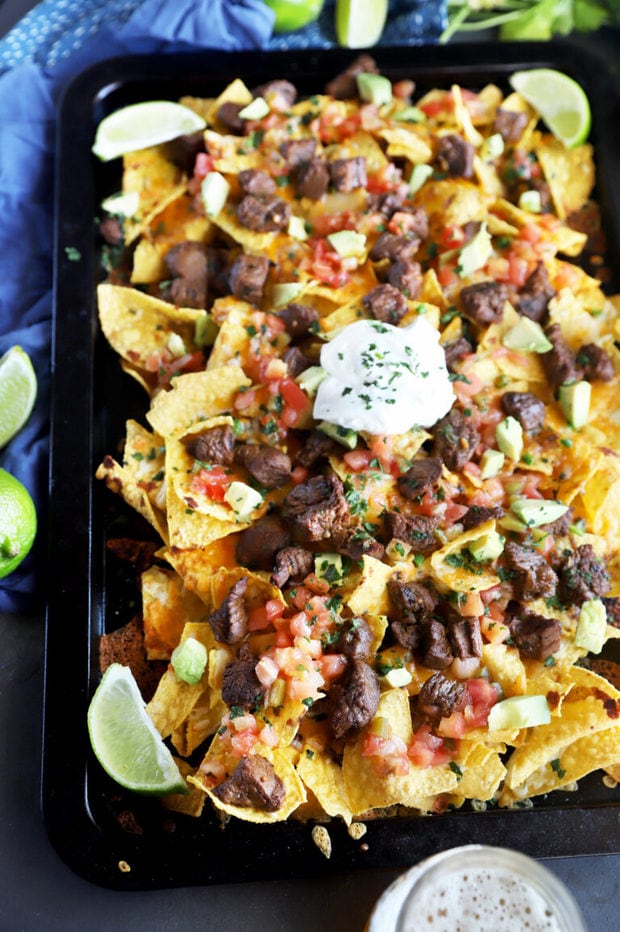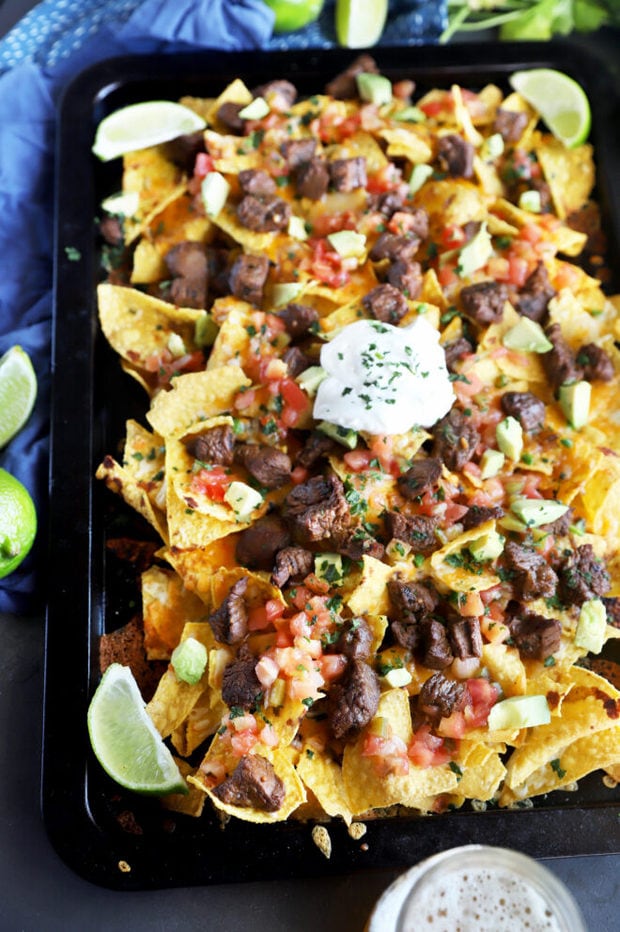 This is my shortcut workaround for carne asada that makes a really flavorful meat, ideal for topping chips along with all the other fixings that I personally love to see on nachos.
I love to combine a couple different types of cheeses, along with a drizzle of queso on my nachos because it's OH SO YUM. The heavy dairy gets broken up by the savory meat, tons of vegetables, and freshly chopped cilantro leaves.
Every bite is loaded with flavor and the way that I make them really puts the whole pan of goodness over-the-top. I LAYER FOR A REASON PEOPLE.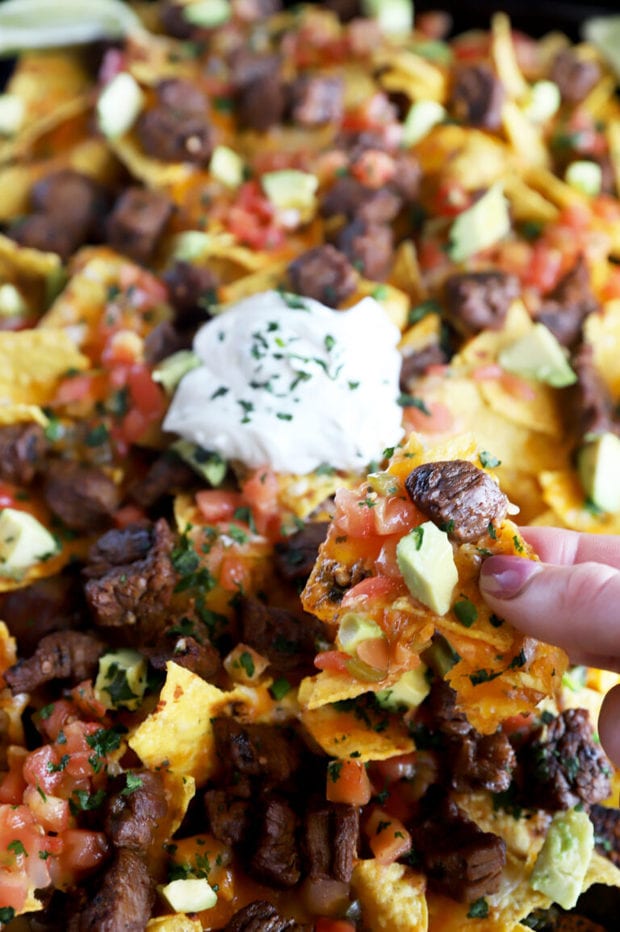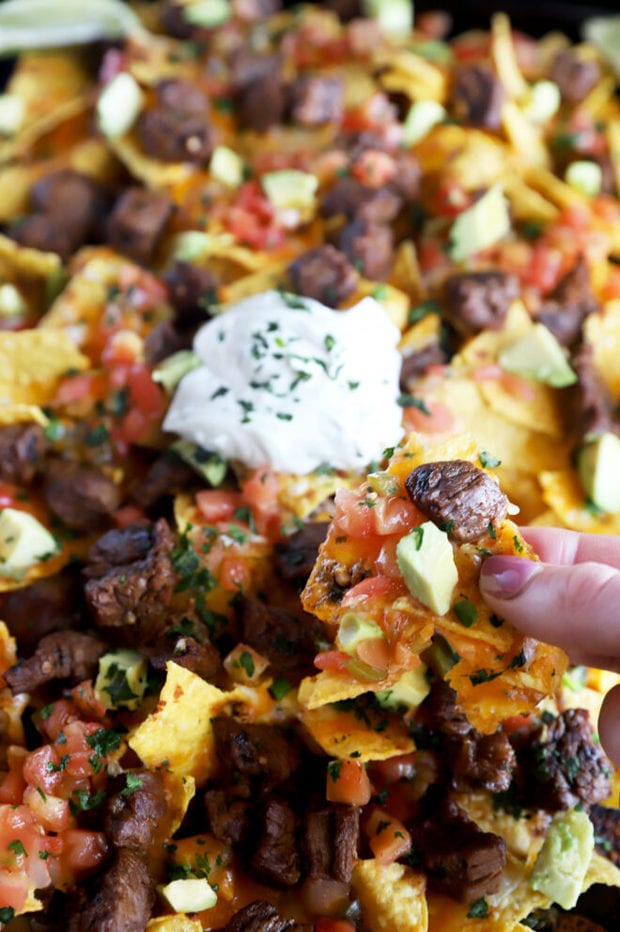 This Recipe's Must-Haves
You don't need too much equipment for this recipe! For prep, you'll want your favorite chef's knife and cutting board.
You'll also need one of your mixing bowls and a whisk to make the sauce come together.
Everything cooks up in a skillet and then gets baked on a baking sheet pan!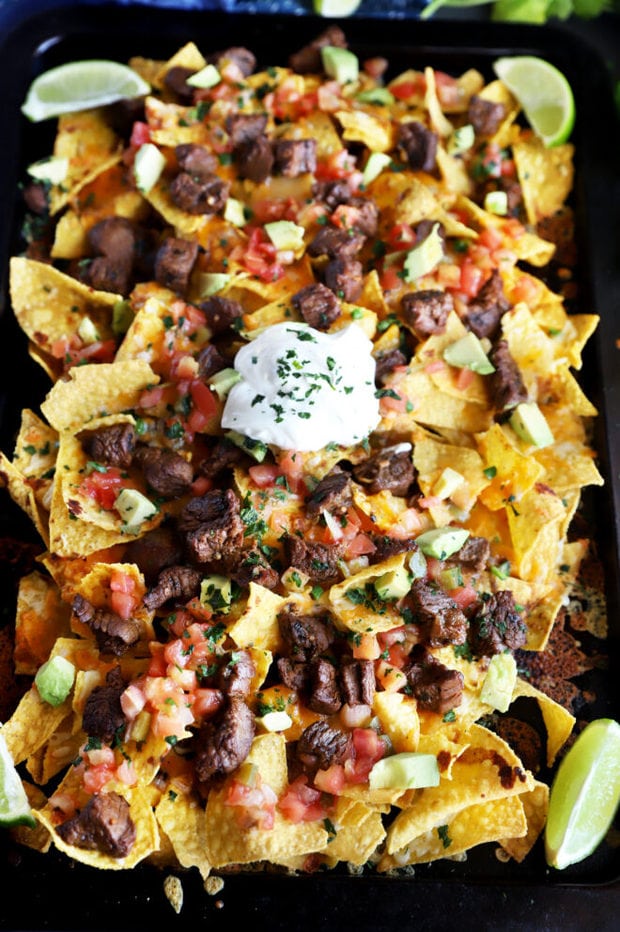 Let's make carne asada nachos!
Make Carne Asada
To start, you'll make the sauce for the carne asada. The sauce is made of white vinegar, soy sauce, lime juice, lime zest, cilantro, garlic, chili powder, and cumin.
You'll add the steak and the sauce directly to the skillet, cooking until the meat is cooked through and the sauce is reduced.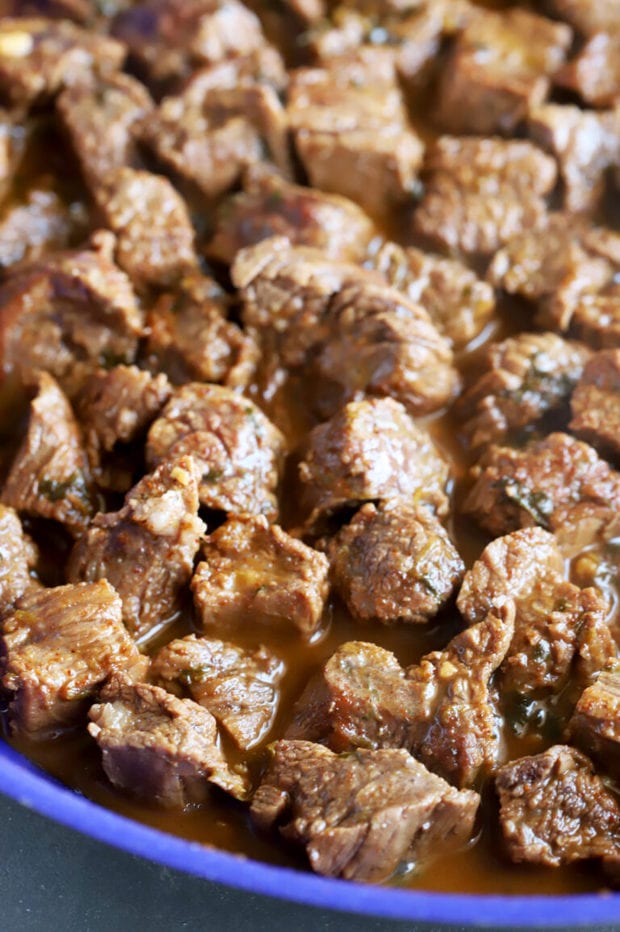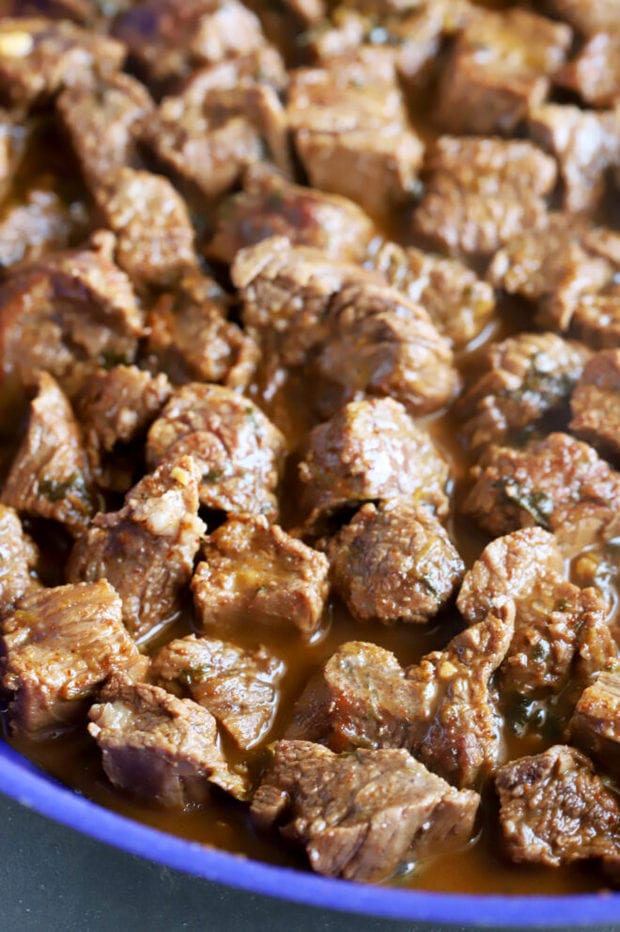 Assemble & Bake
Now it's time to assemble and bake! To start, half of the tortilla chips are spread on a baking sheet. These are then topped with half the cheese, half the jalapeño slices, and half the steak. You repeat these layers once more and bake until the cheese is bubbly and melted.
All you have to do is top it with your favorite toppings and you're ready to dig in!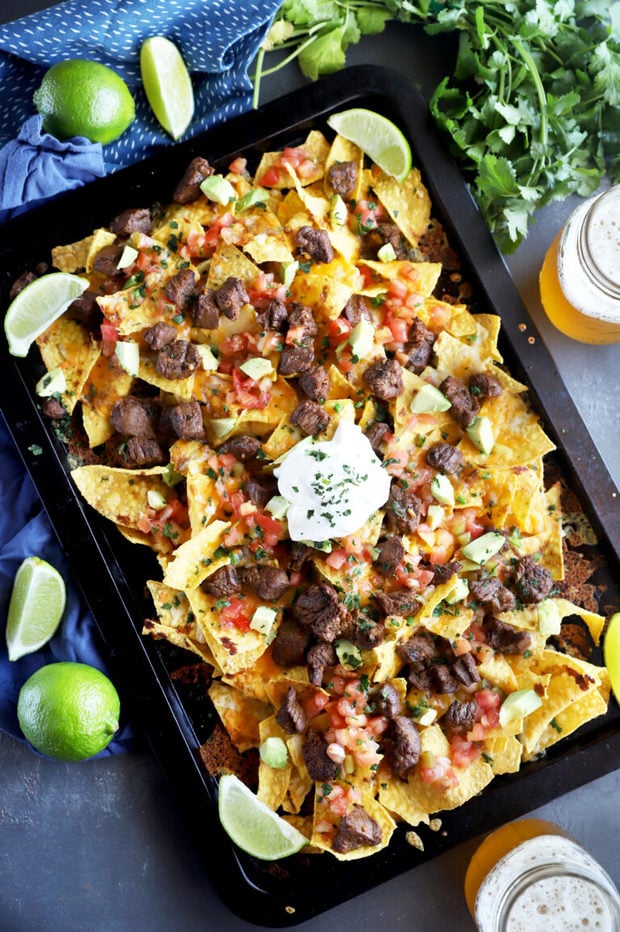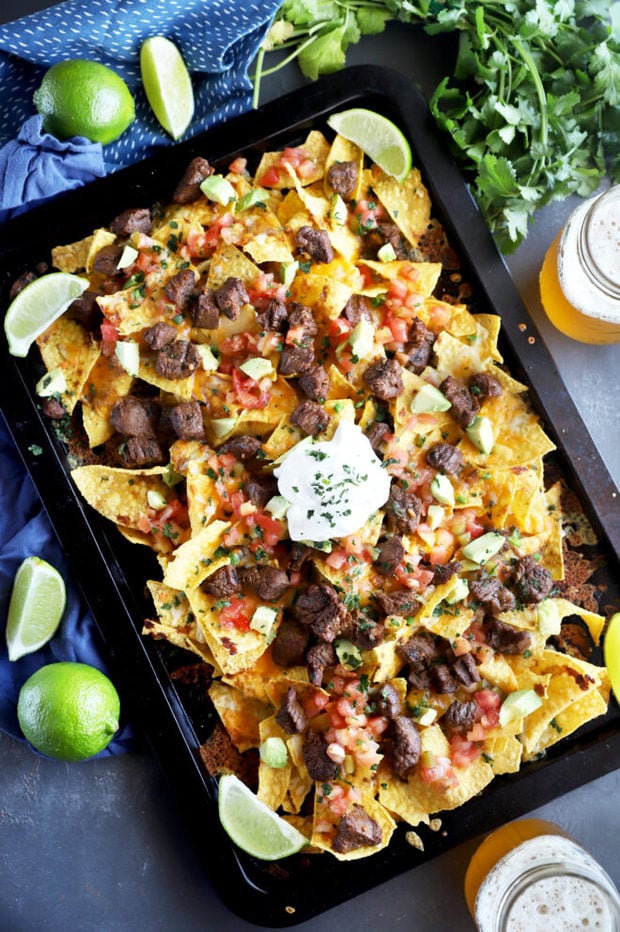 Got questions?
What is carne asada?
Carne asada literally means "grilled meat" in Spanish. Obviously, this meat isn't grilled so we are kinda taking the asada out of the carne asada. Instead of grilling, this meat has all the flavors of the traditional marinade in the sauce. You still get all the flavor, but you don't have to worry about firing up the grill and taking time to marinate it!
Is carne asada spicy?
This carne asada is actually not spicy at all! The meat itself is super savory with just the right amount of citrus to brighten things up. Don't worry, there's jalapeño in the nachos so you still get some heat 😉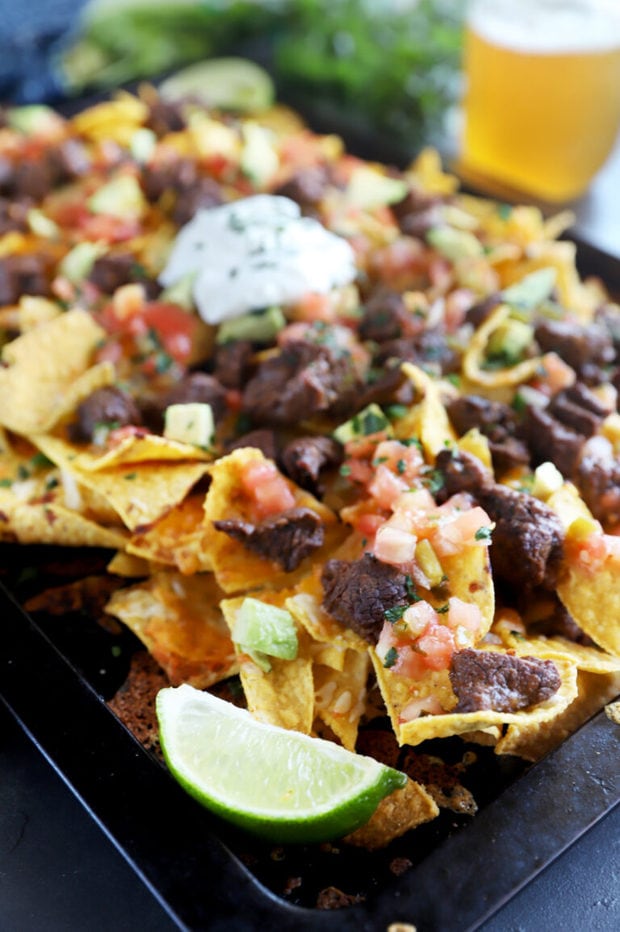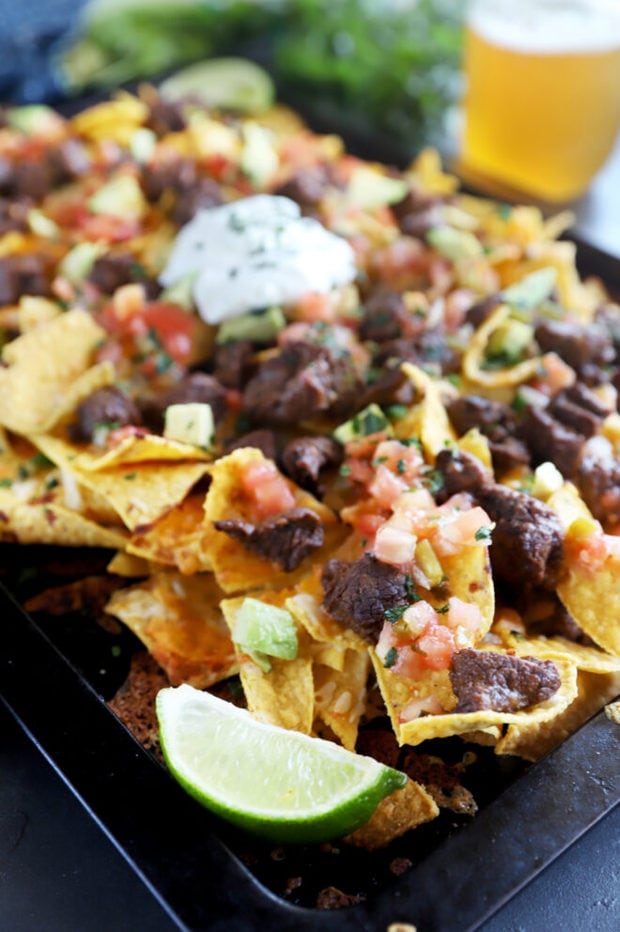 Some Tips For Making These Nachos AWESOME
• Don't like too much heat? Seed the jalapeño before you slice it!
• If you have an aversion to cilantro (the Man thinks it tastes like soap!), you can totally skip it.
• If you are having trouble finding skirt steak, you can also use flank steak or even sirloin in a pinch.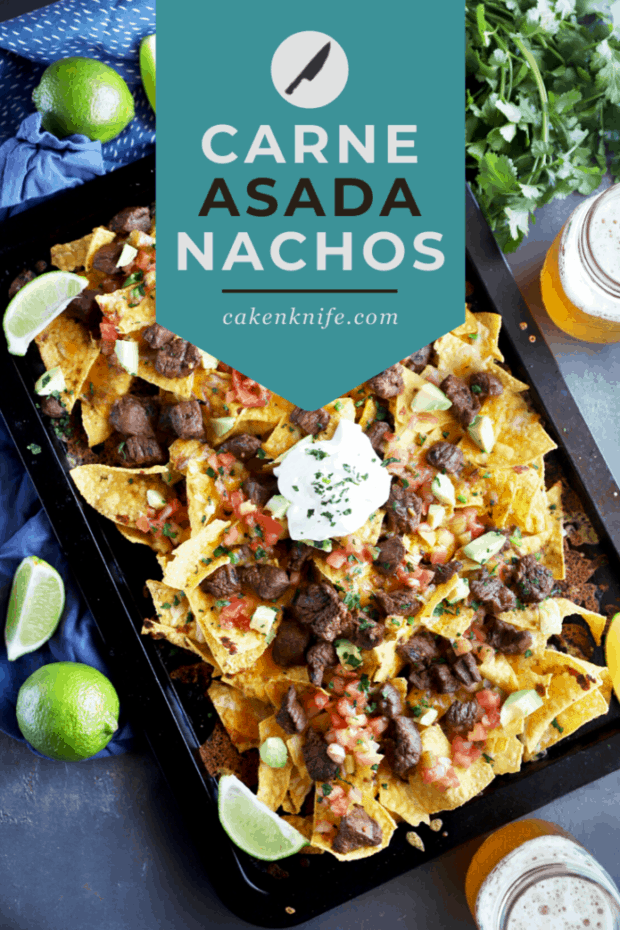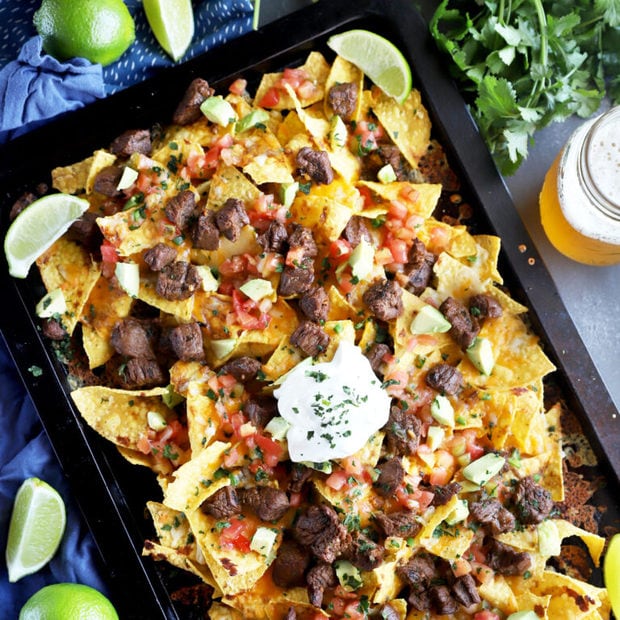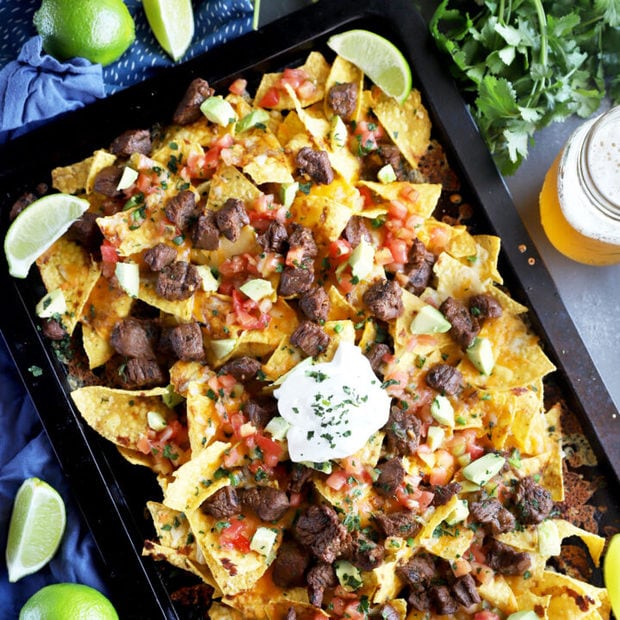 Carne Asada Nachos
Super flavorful carne asada is the best part of these easy-to-make nachos!
Ingredients
Carne Asada
1 Tbsp white vinegar
1 Tbsp soy sauce
2 Tbsp freshly squeezed lime juice
Zest of 1 lime
2 tsp chopped fresh cilantro
3 cloves garlic, minced
2 tsp chili powder
1 tsp ground cumin
1 Tbsp canola oil
1 1/2 pounds skirt steak, cut into 1/2-inch pieces
Nachos
12 ounces tortilla chips
8 ounces extra-sharp cheddar cheese, grated
1 jalapeno, thinly sliced
3/4 cup pico de gallo, homemade or store-bought
1 avocado, halved, peeled, and diced
1/4 cup sour cream or greek yogurt
1/2 cup chopped fresh cilantro leaves
2 limes, quartered
Instructions
Preheat oven to 400˚F. Spray a large rimmed baking sheet with cooking spray. Set aside.
In a small bowl, whisk together white vinegar, soy sauce, lime juice, lime zest, cilantro, garlic, chili powder, and cumin.
Add oil to a large skillet over medium-high heat. Once oil is simmering, add steak and sauce mixture. Cook until the steak is browned and the sauce is reduced. This will take about 5 to 6 minutes, stirring occasionally. Remove from heat.
Spread half of the tortilla chips on the prepared baking sheet. Top with half the cheese, half the jalapeno slices, and half the steak. Repeat these layers with remaining chips, cheese, jalapeno, and steak.
Place in the oven and bake for 10 to 15 minutes, until cheese is bubbly and melted.
Top with pico de gallo, avocado, sour cream, and cilantro. Serve with lime wedges.
Recommended Products
As an Amazon Associate and member of other affiliate programs, I earn from qualifying purchases.