Please note this post contains affiliate links.
Baileys Fudge is rich, easy to make, and only requires four ingredients! There's no cooking necessary, all you need is a microwave so you can melt and mix it all together. The creamy deliciousness is well worth the mere 15 minutes of active work.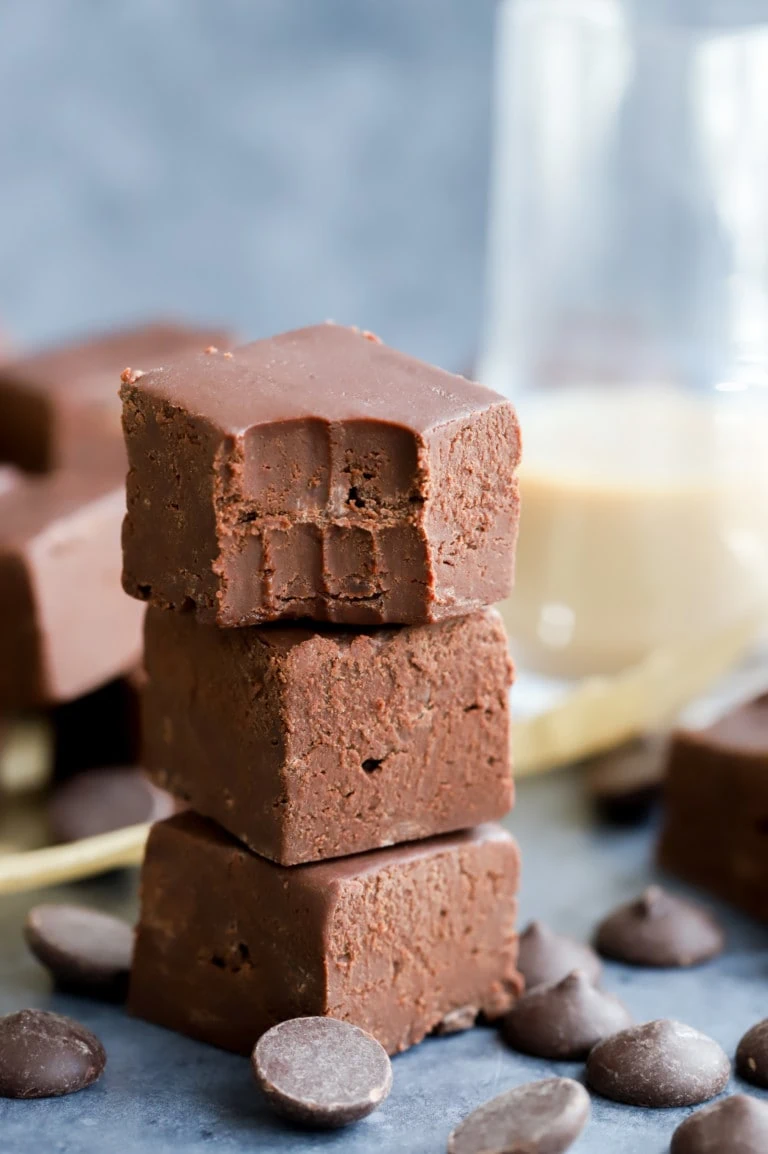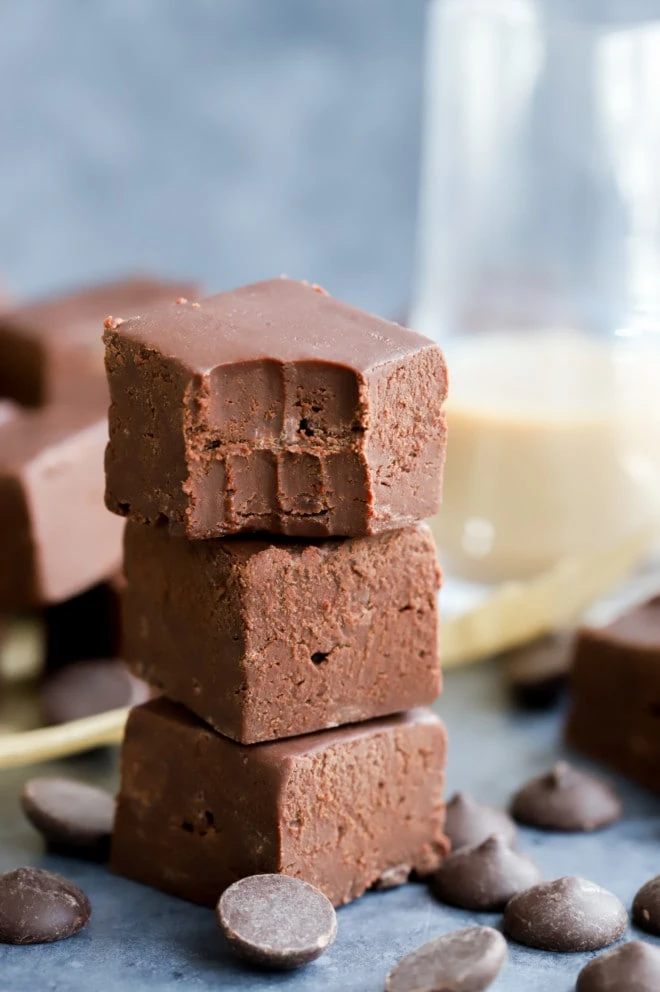 about this baileys fudge
Say hello to your new favorite adult chocolate fudge treat! I'm obviously on a bit of a Baileys Irish Cream kick lately since I just brought my Baileys hot fudge sauce recipe back to the front of the recipe index.
There's something about the creamy liqueur that brings me back to so many special memories. I remember my grandmother pouring it over her ice cream, which I was NOT allowed to eat until I was much older.
It always smelled SO good, so when I finally was old enough to try it, I was immediately hooked. Especially over chocolate ice cream! The sweet chocolate flavor with Irish cream liqueur is simply the best combination.
This four ingredient irish cream fudge recipe is the perfect combination of sweet and creamy, making it the ideal adult treat for any occasion. Not only is it a cinch to make, but it's also incredibly decadent!
As anyone who's tried Baileys fudge can attest, it's like no other dessert. The creamy texture of the fudge combined with the ultra-rich flavor of the Irish cream liqueur creates an unforgettable experience. With the right combination of sweetness, chocolate, and the smooth flavor of Baileys, this fudge will tantalize the taste buds.
Say goodbye to boring desserts and hello to your new favorite treat. Get ready to enjoy a truly indulgent experience, only with this Irish cream flavored fudge.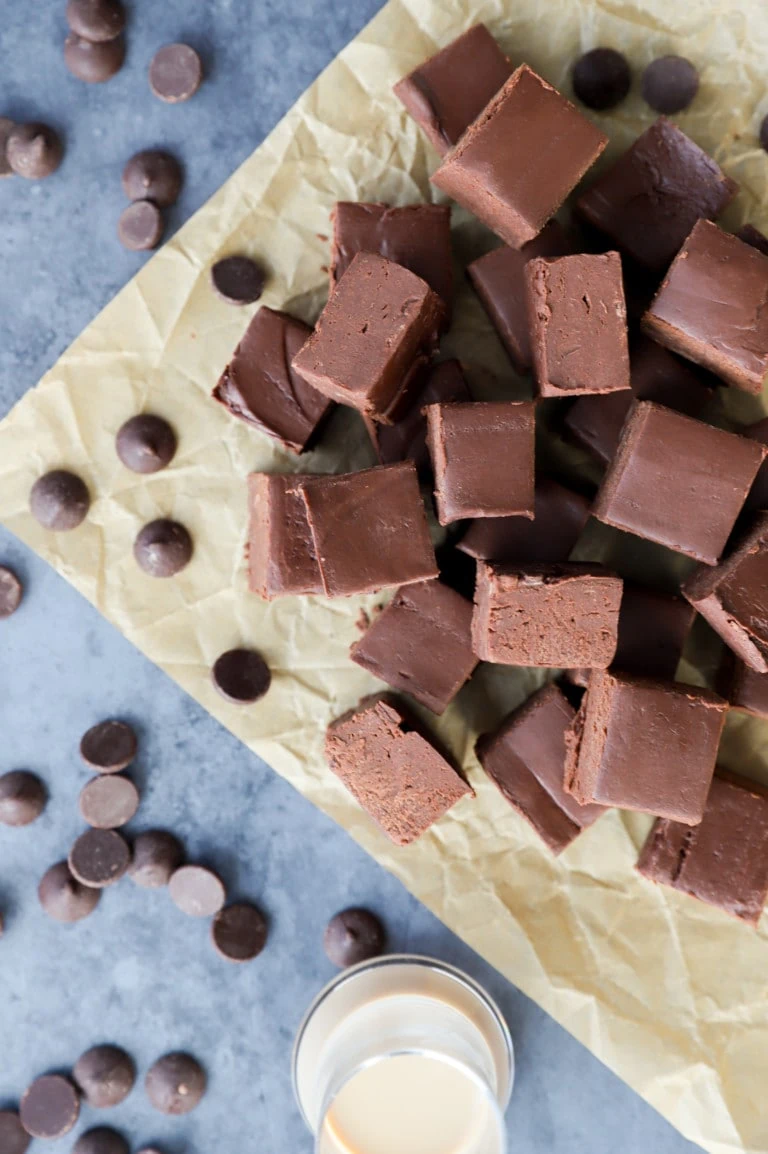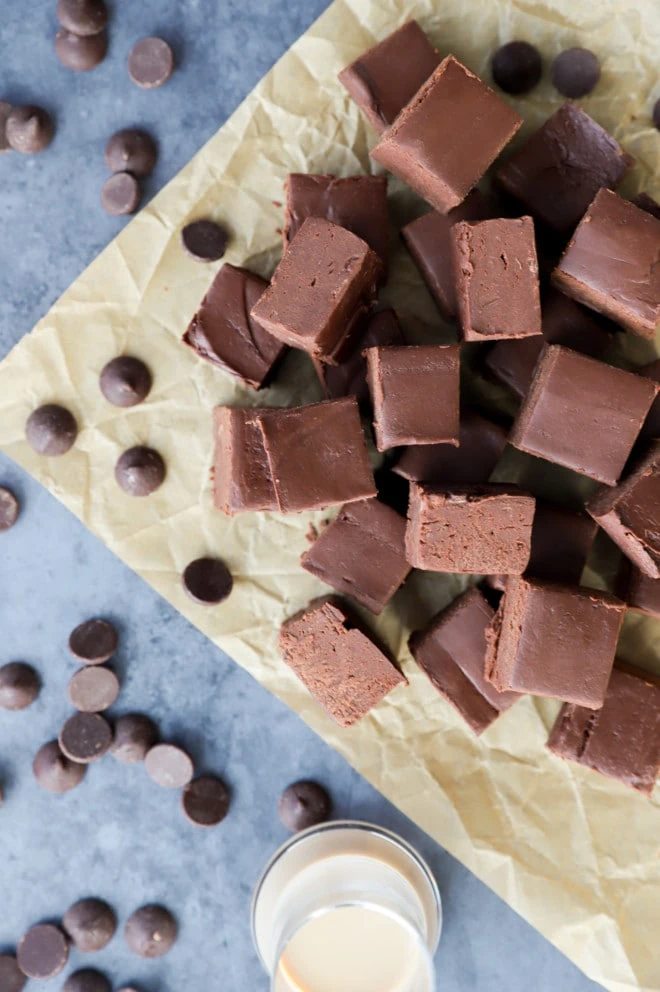 ingredients
chocolate. I personally love to use dark chocolate chips for this recipe! However, you can use semi-sweet or milk chocolate chips instead if you prefer.
sweetened condensed milk. Make sure that you get sweetened condensed milk, and not condensed milk. This is the biggest mistake I see when readers make fudge! The condensed milk will never harden, so make sure to double-check the label.
Irish cream liqueur. Obviously I use Baileys Original Irish Cream liqueur! Of course, you can use whatever brand you prefer. You could even use homemade if you want!
vanilla. be sure to use a high-quality vanilla extract for all of your recipes, including this fudge. My favorite is Nielsen Massey – their Madagascar Bourbon Pure Vanilla Extract is amazing.
this recipe's must haves
To melt the chocolate for the fudge, you will need a microwave-safe bowl. Then you'll just need a spatula to stir it all together.
All of the ingredients get added to the melted chocolate in the same bowl!
I chill my fudge in a standard loaf pan (9×5-inches) but you can also use an 8×8-inch baking dish (the fudge will be a little thinner than what you see pictured here).
Don't forget the parchment paper to line the pan before chilling! This is a must for easily removing the fudge from the pan. Otherwise it will stick and be a nightmare to scrape out of the pan once it sets.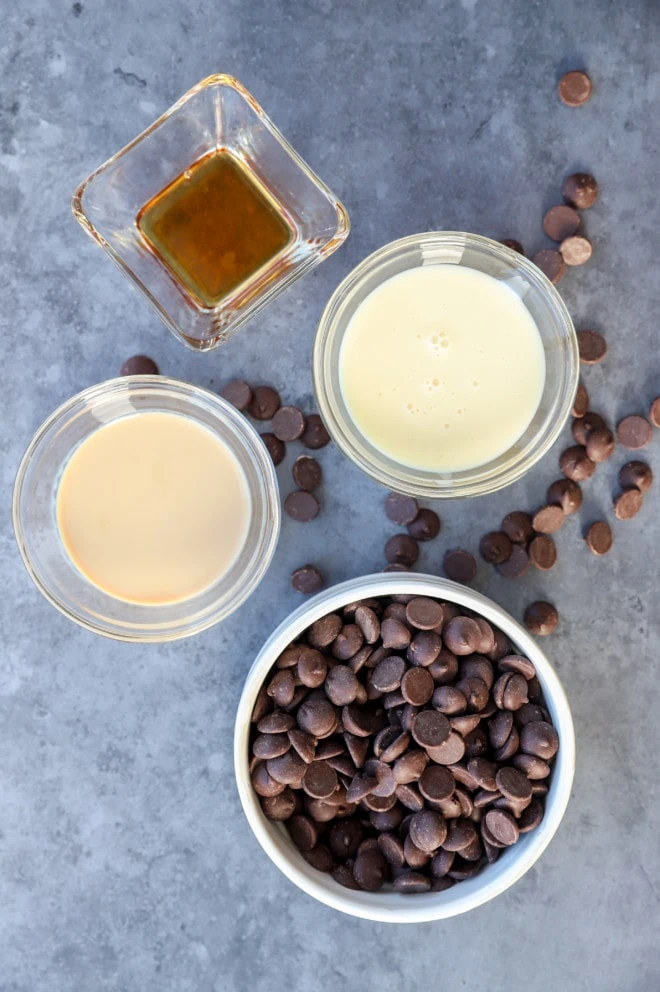 here's how to make baileys fudge
melt chocolate
In a microwave safe bowl, melt chocolate chips in the microwave. Be sure to heat in 30-second increments, stirring well in between each.
mix
Once the mixture is smooth, add in the sweetened condensed milk and stir until combined and smooth.
Stir in Baileys and vanilla until the mixture is smooth and combined.
chill
Add fudge mixture to a parchment paper-lined loaf pan (9×5-inches). Spread into an even layer and chill for at least 2 hours (up to overnight).
Remove from the refrigerator and cut into pieces.
Store in an airtight container for up to 2 weeks at room temperature.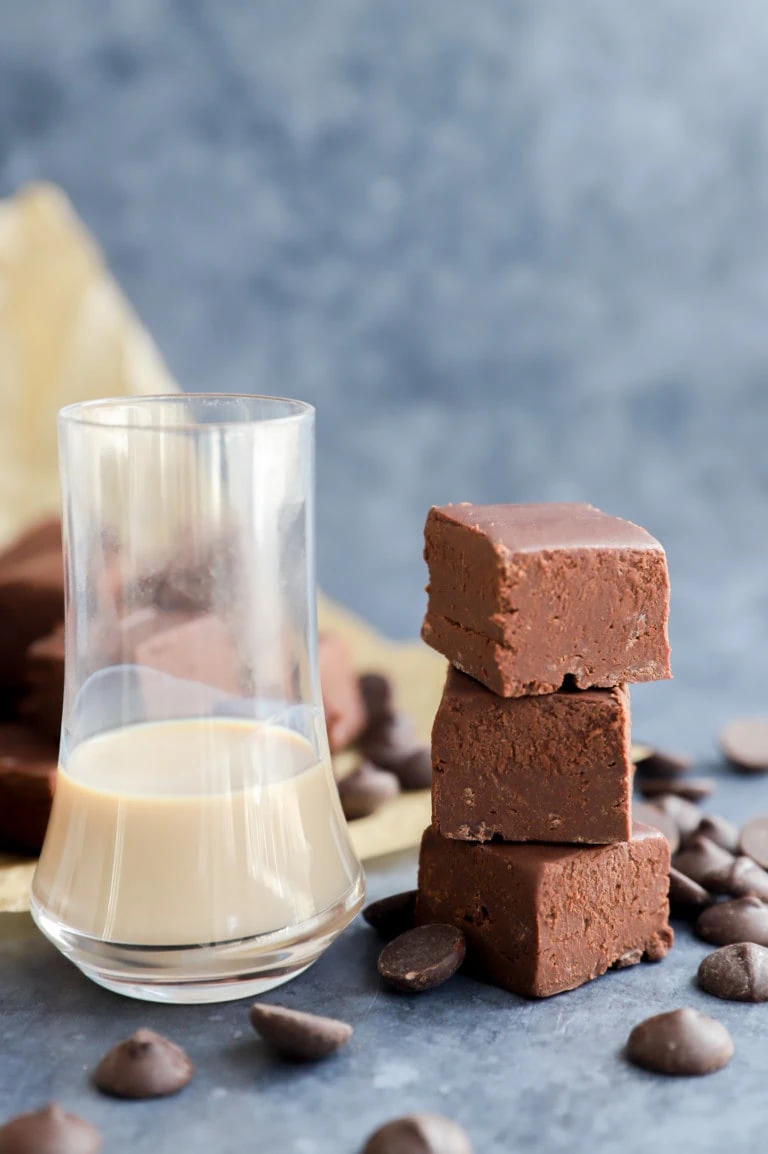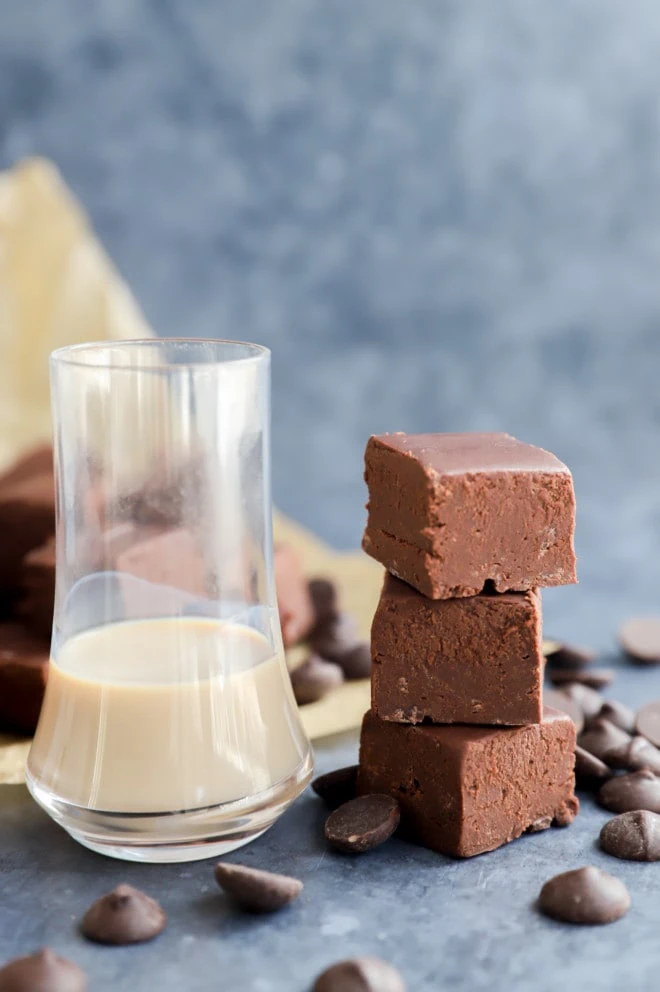 tips for success
like a softer fudge? If you like a softer fudge, you can add an additional 1 to 2 Tbsp sweetened condensed milk to the mixture. This will provide you with a softer gooey fudge, if that's the texture you prefer.
do not mix types of chocolate. I have not had an issue making this recipe with semi-sweet chocolate or dark chocolate chips. Make sure that you do not mix the types of chocolate – use only one type in the recipe. If you don't, you will run the risk of your fudge not setting properly.
More Irish cream recipes to explore: Oreo Baileys Truffles | Espresso Brownie Cups | Baileys Chocolate Chip Bundt Cake | Baileys Hot Fudge Sauce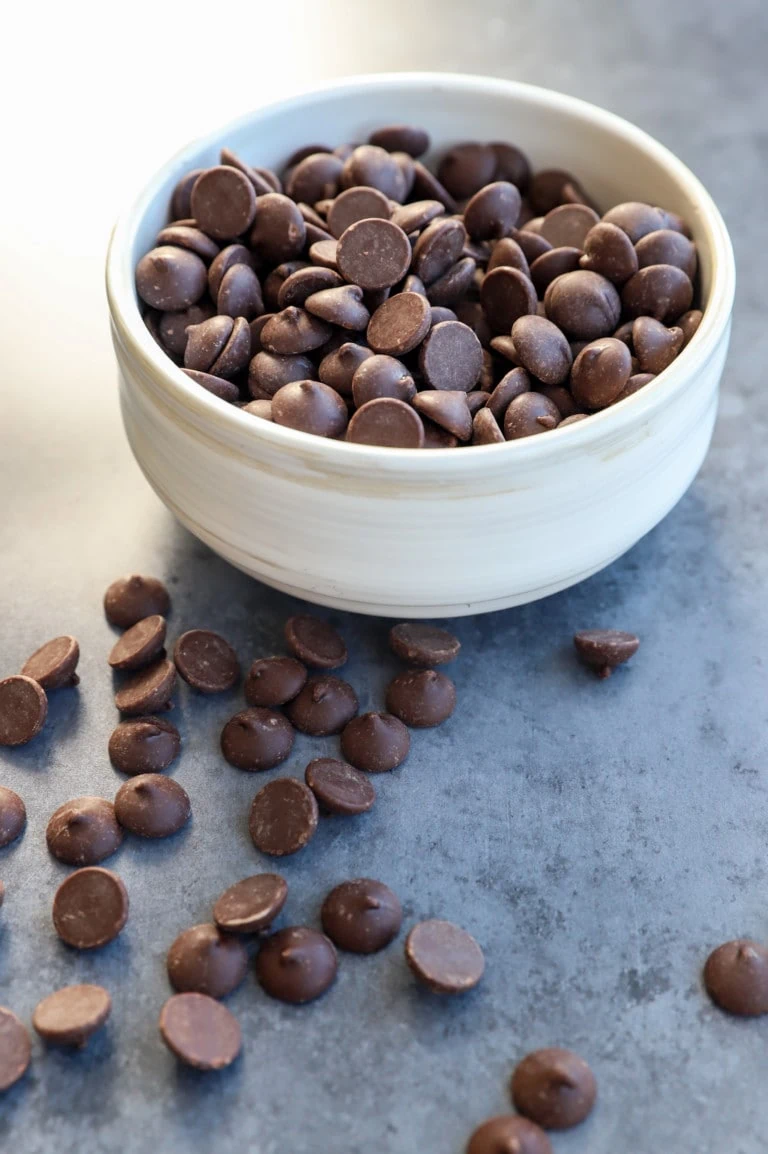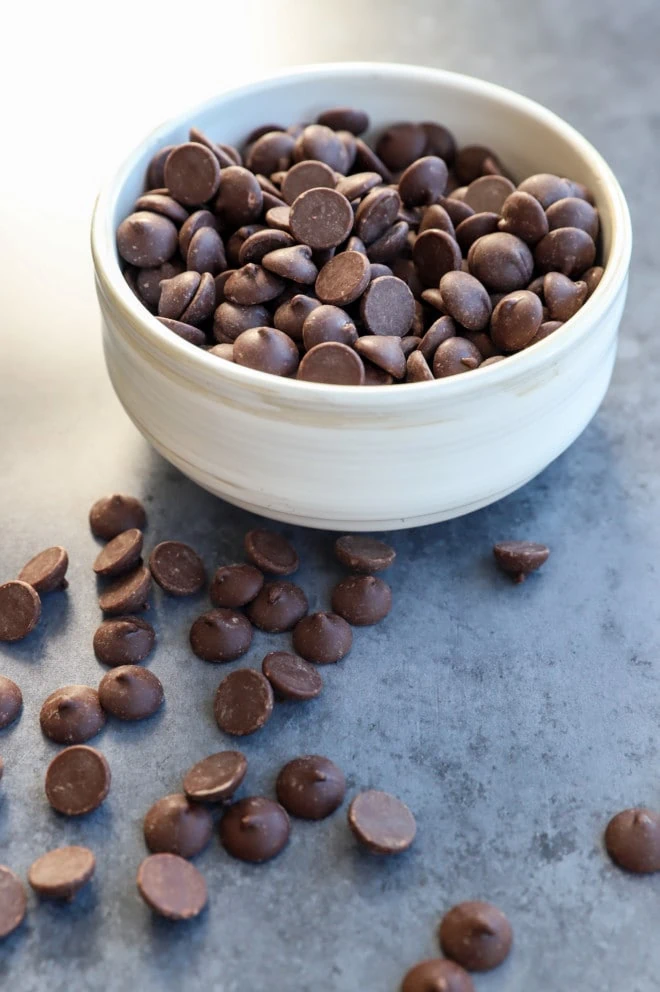 my chocolate isn't melting right – what do I do?
Make sure that you are melting the chocolate in increments in the microwave! Stirring between each will help make sure the chocolate doesn't seize.
If you are still having issues, you can add a small amount of coconut oil or shortening to help smooth out the chocolate.
does baileys fudge contain alcohol?
Yes, this Baileys fudge does contain alcohol. Since the alcohol is not cooked out of the fudge (this is a no cook recipe!), this is a grown up treat. Be sure not to share it with anyone under the legal drinking age.
can you freeze baileys fudge?
Generally I do not recommend freezing fudge. It changes the texture of the treat so it ends up being less creamy. It's definitely still enjoyable, it just won't be the same as when you first make it!
You can freeze it if you aren't worried about the texture changing. If you do, be sure to cut it into pieces before freezing! Store in an airtight container for up to 4 months. Thaw in the refrigerator overnight before enjoying.
can I make this fudge non-alcoholic?
You sure can! Instead of using Baileys Original Irish Cream, you can use the Baileys coffee creamer (or a homemade version of non-alcoholic Irish cream) instead. You'll get the flavor without the alcohol!
Need more inspiration for dessert? Check out my desserts recipe page!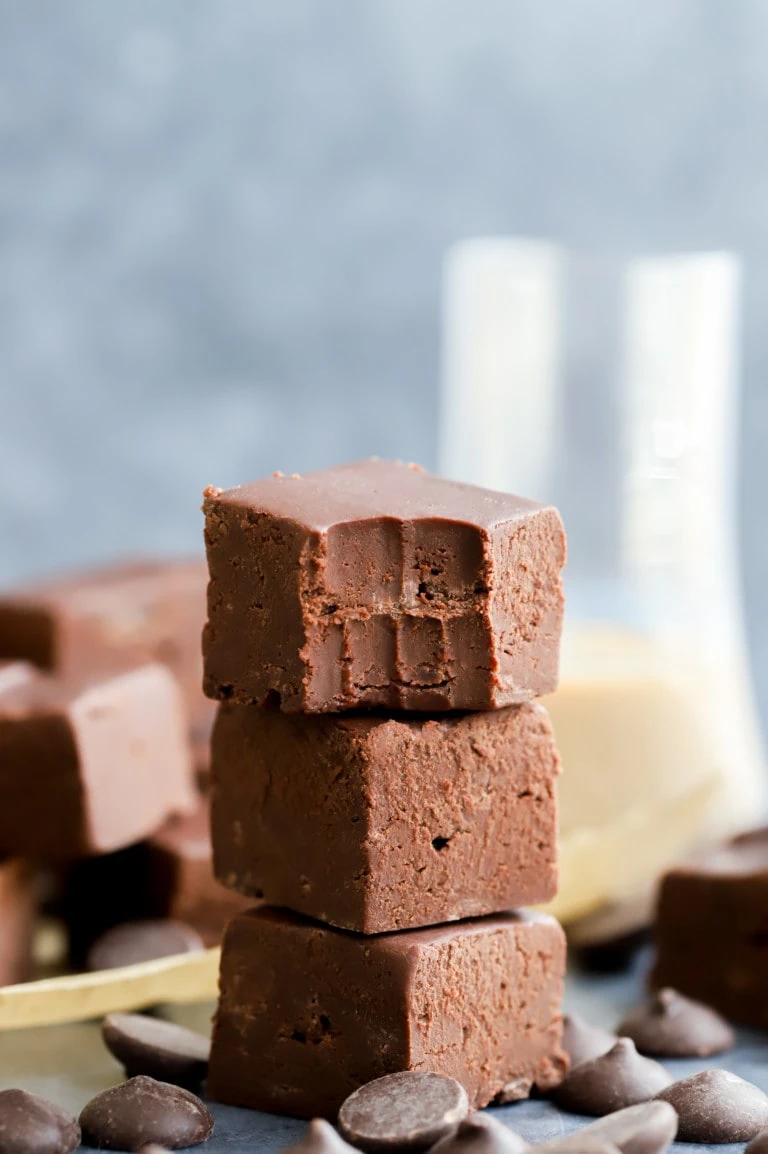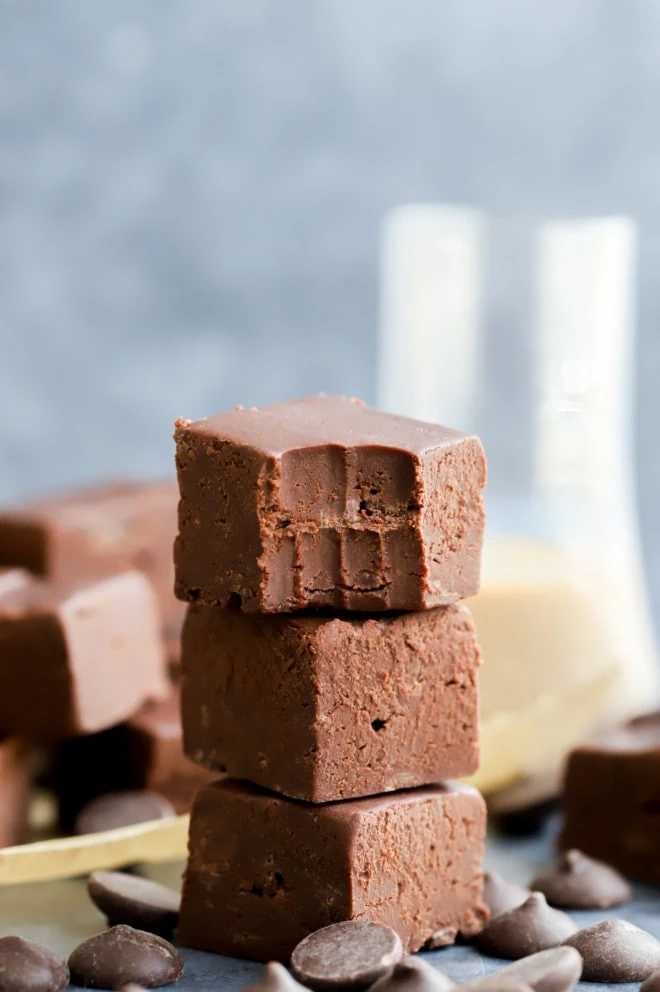 what to serve with baileys fudge
Baileys fudge is such a tasty and indulgent treat, you don't need to serve it with anything for dessert or a little midnight treat! If you want to add a little more to the plate, I love to pair it with some fresh berries.
An Irish coffee is always a tasty pairing with this fudge as well! Honestly any of these essential Irish whiskey cocktails would be a delightful pairing for the end of a meal treat.
how to store and reheat
Store. Fudge can be stored in an airtight container at room temperature for up to 2 weeks. If your house is hot, be sure to store it in the refrigerator.
Freeze. I do not recommend freezing fudge as it usually changes the texture. If you do need to freeze it, be sure to cut it up into pieces before you freeze it. It will last in an airtight container up to 4 months. To thaw, place in the refrigerator overnight until it's no longer frozen.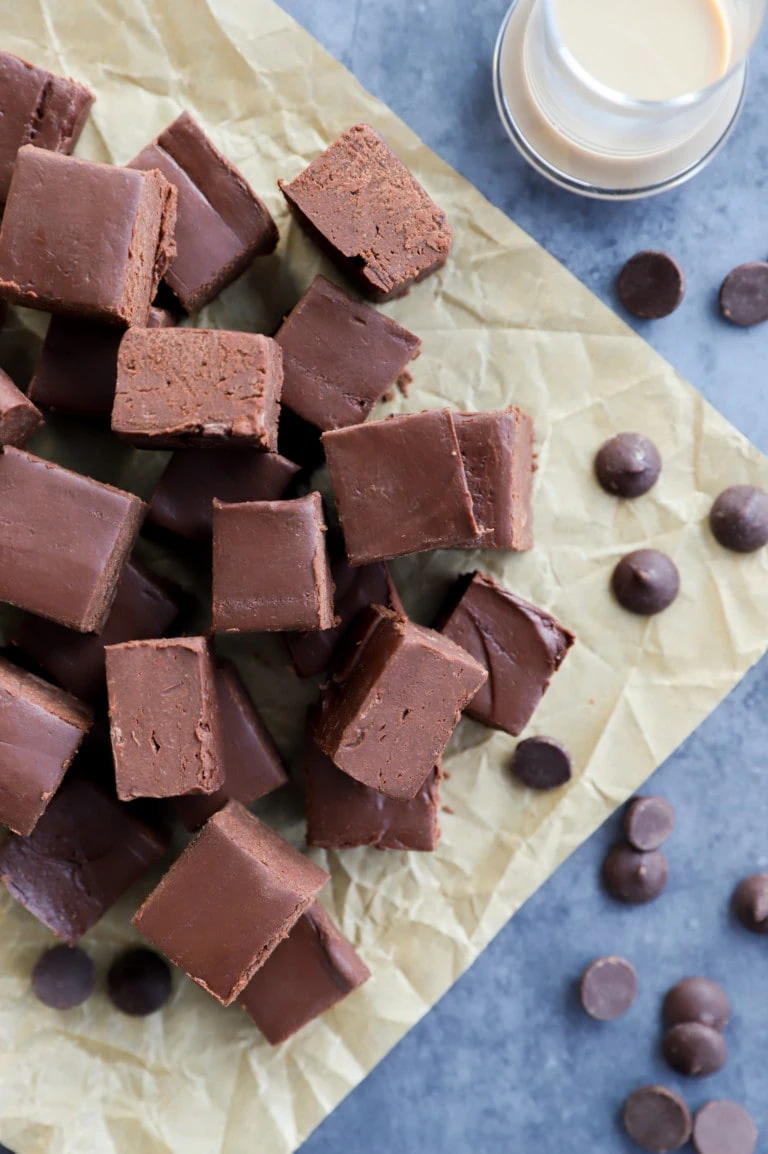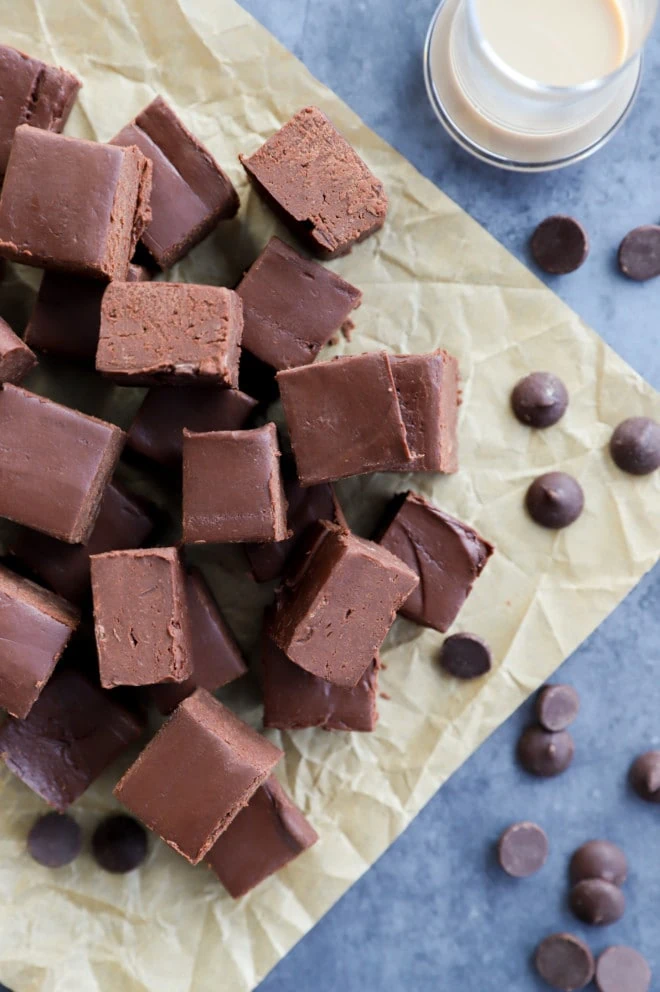 Finally, if you make this baileys fudge recipe, please be sure to give this recipe a rating or leave a comment! I love to hear when you all make recipes, and I do take the time to respond to every single comment. Feel free to drop questions below too, if you have them!
Oh and be sure to tag me on Instagram if you make the recipe! I love being able to see these recipes come to life in your homes – it's my favorite thing to look through those photos. It really means the world to me!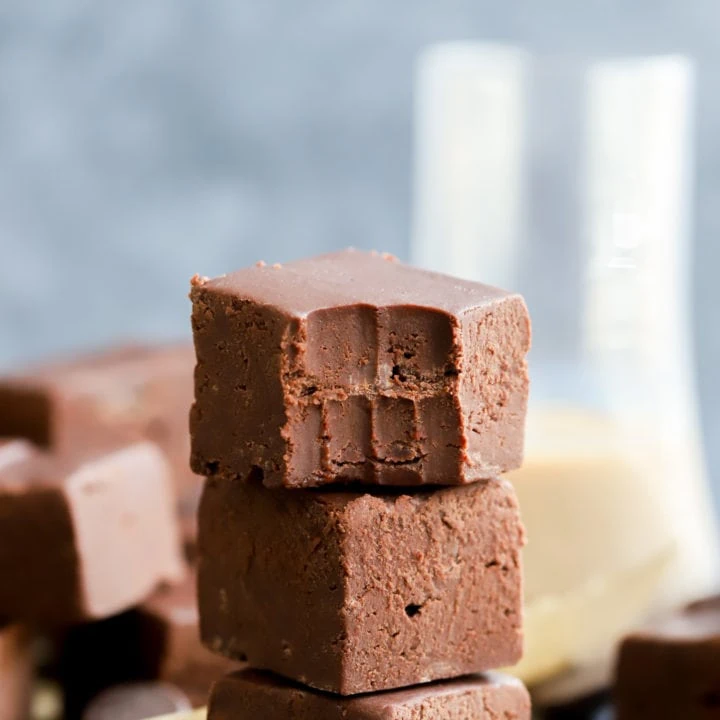 Baileys Fudge
Yield:
Makes approx. 32 to 40 pieces
Total Time:
2 hours
5 minutes
Creamy and rich, this adult treat is ideal for any chocolate lover!
Ingredients
2 cups dark chocolate chips
1/2 cup sweetened condensed milk
1/3 cup Bailey's Irish Cream
1 1/2 tsp vanilla extract
Instructions
Line a 9x5-inch loaf pan with parchment paper. Set aside.
Add chocolate to a microwave safe bowl. Heat in the microwave for 30 seconds. Stir well and heat for another 30 seconds. Stir until the chocolate chips melt completely. If you need, you can heat for another 10 to 20 seconds to fully melt the chocolate.
Once smooth, stir in sweetened condensed milk until combined.
Stir in Baileys and vanilla until well-combined.
Add the fudge mixture to a loaf pan and spread until smooth on top. Refrigerate for 2 hours or overnight.
Remove from the loaf pan and cut into pieces. Store in an airtight container at room temperature.
Notes
Note that the alcohol does not cook off in this recipe! This is an adults-only treat.
Recommended Products
As an Amazon Associate and member of other affiliate programs, I earn from qualifying purchases.