Please note this post contains affiliate links.
Christmas Shortbread Cookies are the EASIEST cookie to make for the holidays. The dough comes together in the food processor, and with 5 simple ingredients, it's perfect for your holiday cookie platters! Plus you can add variety with different decoration ideas. Makes 2 dozen.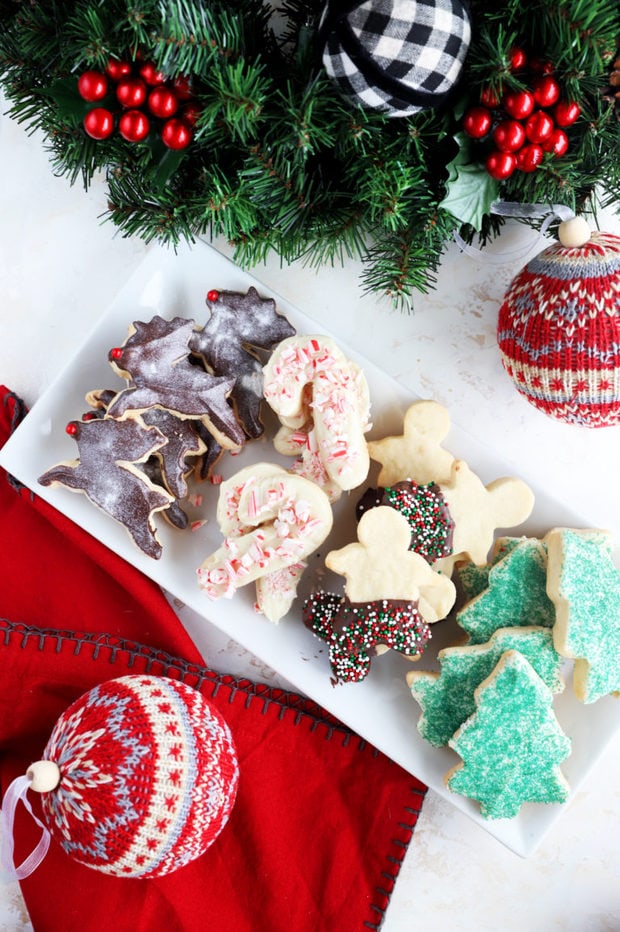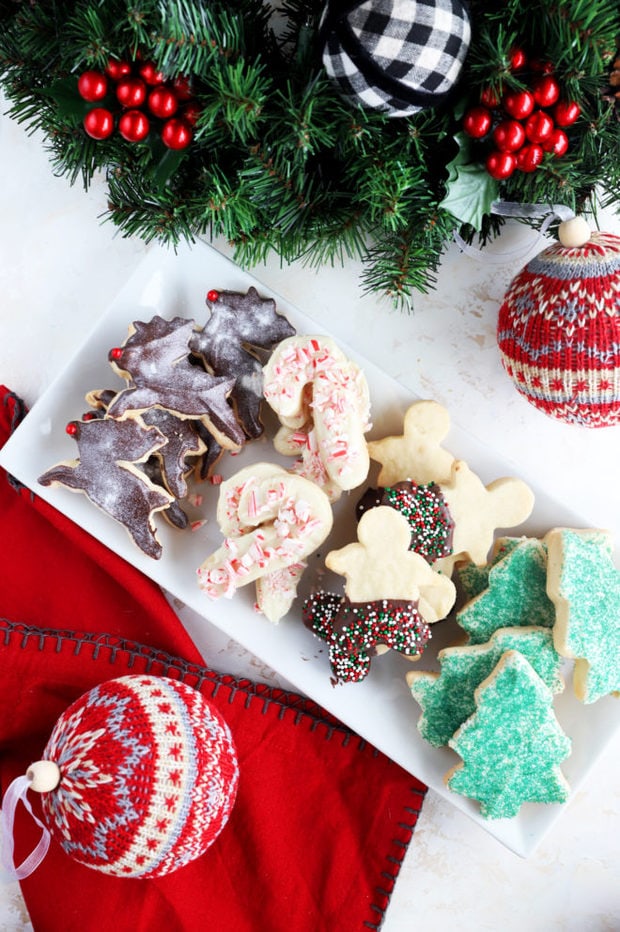 about these christmas shortbread cookies
Christmas shortbread cookies are just classic. They are so simple to make, and to me, they are better than the classic sugar cookie.
I personally prefer to make shortbread christmas cookies instead of Christmas sugar cookies for cutout cookies!
The flavor is so delightfully buttery and they aren't as sweet as the traditional sugar cookie.
Sugar cookie lovers, please don't be mad at me for this LOL.
When it comes to making cookie boxes and sending baked gifts, these easy Christmas cookies are just what you need to make! Instead of making different types of cookies (because I just don't have that kind of time right now), I make a GIANT batch of these Christmas shortbread cookies.
Then I get creative with decorations. You can vary up the flavor by using different types of chocolate or icing on top. Try out different sprinkles! Add some crushed candy canes or other candies. You can even roast and chop nuts for more flavor variation. The possibilities are just endless with these Christmas cookies!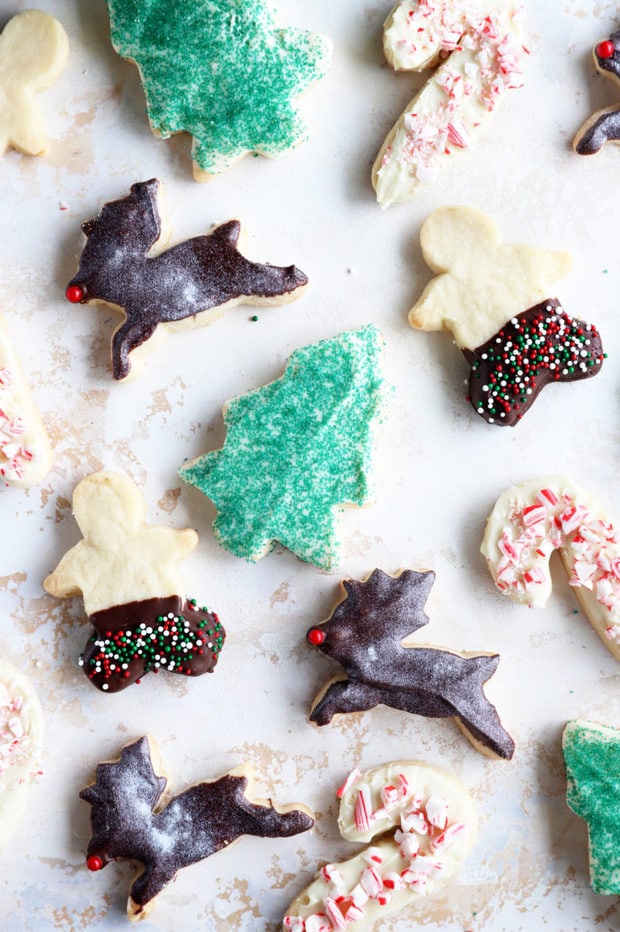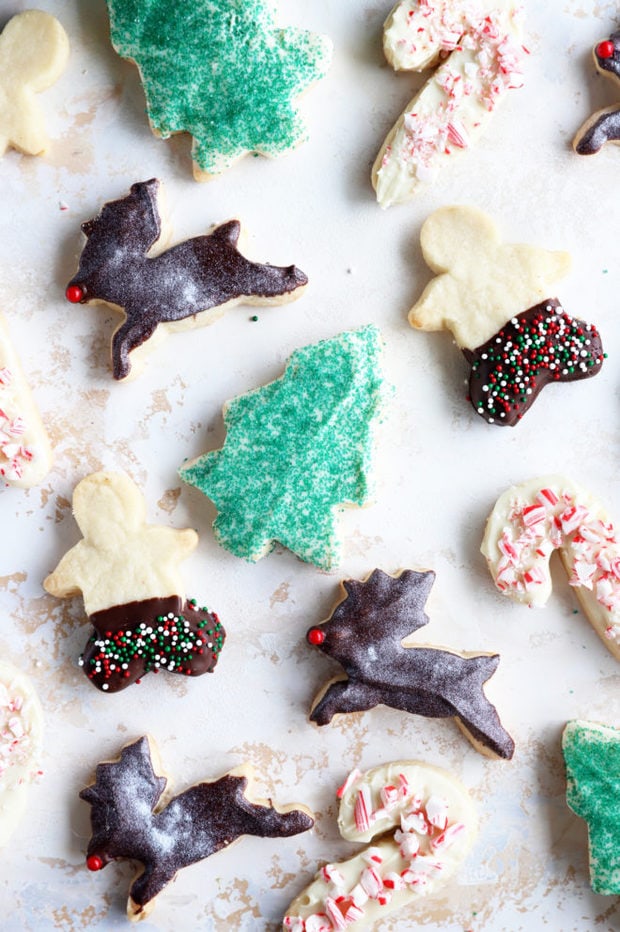 This year, I am honored to be a part of The Sweetest Season Cookie Exchange (something I missed out on last year because BABY)! This is a week led by my lovely friend Erin from The Speckled Palate. This year we are baking up a storm, and I wanted to bring your attention to an amazing cause!
Cookies for Kids' Cancer.
Cookies for Kids' Cancer is a recognized 501(c)3 non-profit organization dedicated to funding research for new, innovative and less-toxic treatments for childhood cancer. Since 2008, Cookies for Kids' Cancer has granted nearly $17 million to pediatric cancer research in the form of 100+ research grants to leading pediatric cancer centers across the country. From these grants have stemmed 35+ treatments available to kids battling cancer today.
With cancer being the #1 cause of death by disease of children in the U.S., it's so important to show our support and help Cookies for Kids' Cancer fund research for new, improved and less toxic treatment options for kids.
Cookies for Kids' Cancer is in a matching window with their friends at OXO, who will be matching every dollar raised through the end of 2021, up to $100,000. Whatever money we raise will automatically double on our fundraising page! So here's a link to this year's fundraising page – whether it's $1 or $100, every single dollar counts. Thank you for your support with this effort!
Other yummy Christmas cookie recipes: Chewy Snickerdoodle Cookie Bars | Italian Rainbow Cookies | Gingerbread Cookies with Eggnog Cream Filling | White Chocolate Dipped Dark Chocolate Peppermint Cookies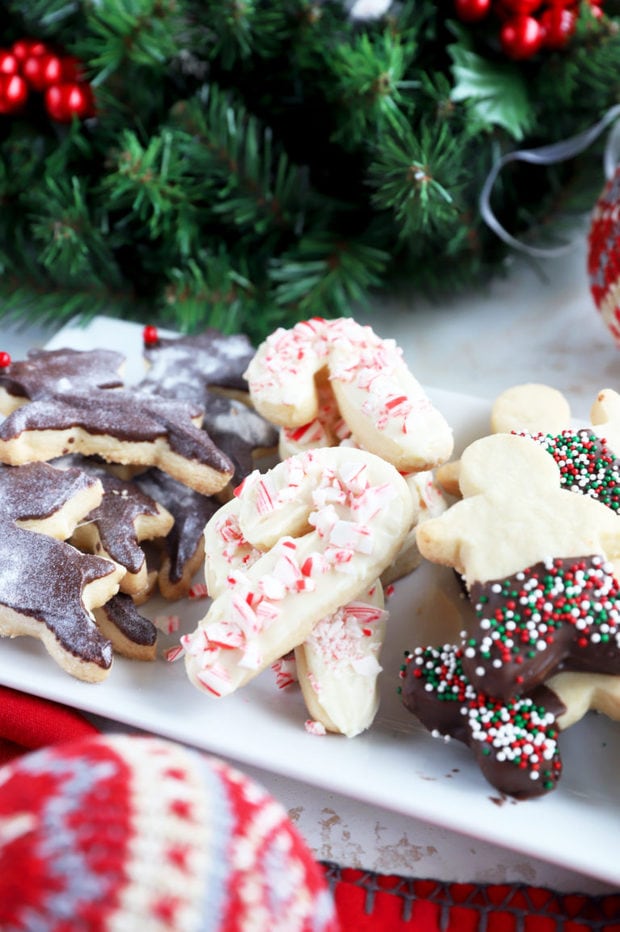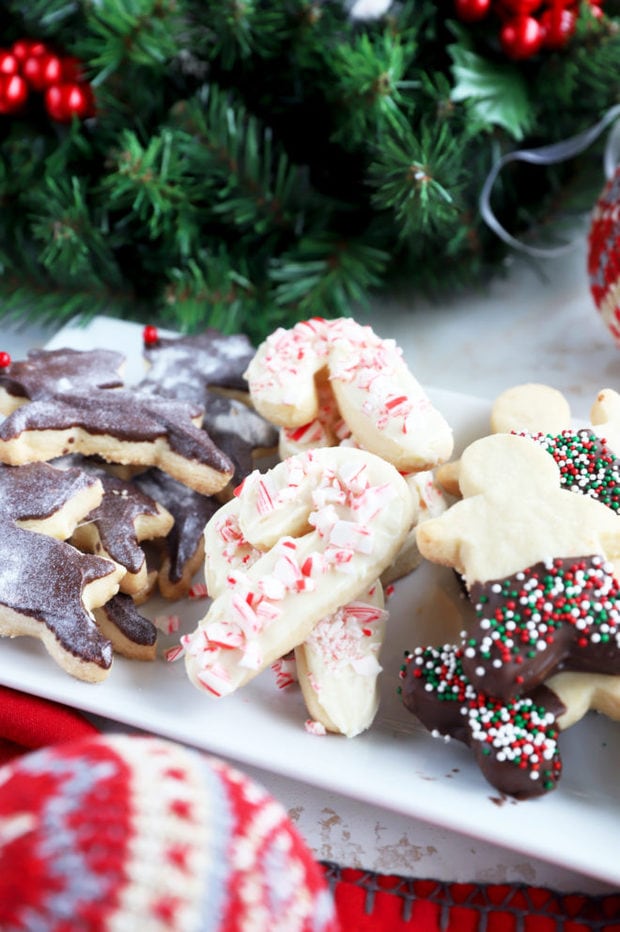 ingredients
flour. I use all-purpose flour in this recipe. If you want to make them gluten-free, you can use a 1-to-1 ratio gluten-free all purpose flour instead.
sugar. All you need is granulated sugar to sweeten these cookies!
butter. You can use unsalted butter or salted butter in this recipe. There's a bit of a flavor preference here, as some prefer to have a little saltiness to their cookies and others do not. I personally use unsalted butter because I like my cookies on the sweeter side. Be sure that the butter is chilled before using it!
heavy cream. Plain heavy cream is all you need for this recipe.
salt. Use fine kosher salt.
decorations. I like to decorate my cookies with melted chocolate! You can dip them and then decorate with sprinkled, chopped nuts, crushed candy canes, and more. You can also use royal icing or skip the decorations completely.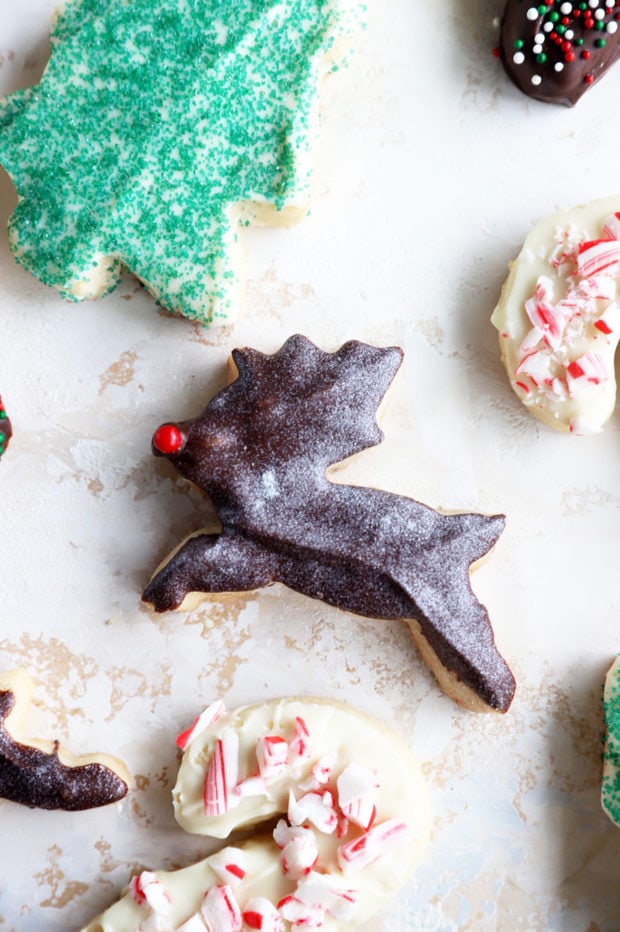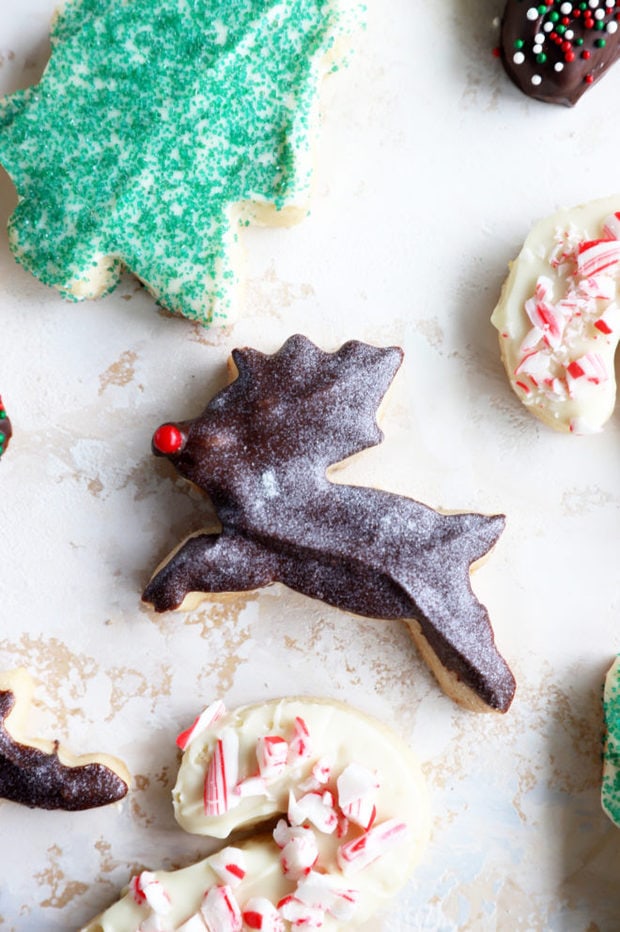 this recipe's must-haves
All you need to make the dough for this recipe is a food processor! Oh, and some measuring cups and measuring spoons of course.
For baking, grab your favorite half sheet baking pan (I usually use two!) and silicone mats.
here's how to make Christmas shortbread cookies!
make dough
Add all five ingredients for the dough to a food processor. Pulse until the mixture resembles fine crumbs, then process on low until the dough begins to clump together.
roll & cut
Dump the dough onto a lightly floured work surface and knead for a few minutes until the dough comes together. It should be smooth and pliable. If the dough feels dry still, add about 1 tsp of heavy cream to help out.
Roll the dough with a rolling pin to 1/2-inch thick and cut out cookies with your favorite cookie cutters! I like to make a variety, personally. Re-roll any remaining scraps and cut out cookies. Repeat until all the dough has been used.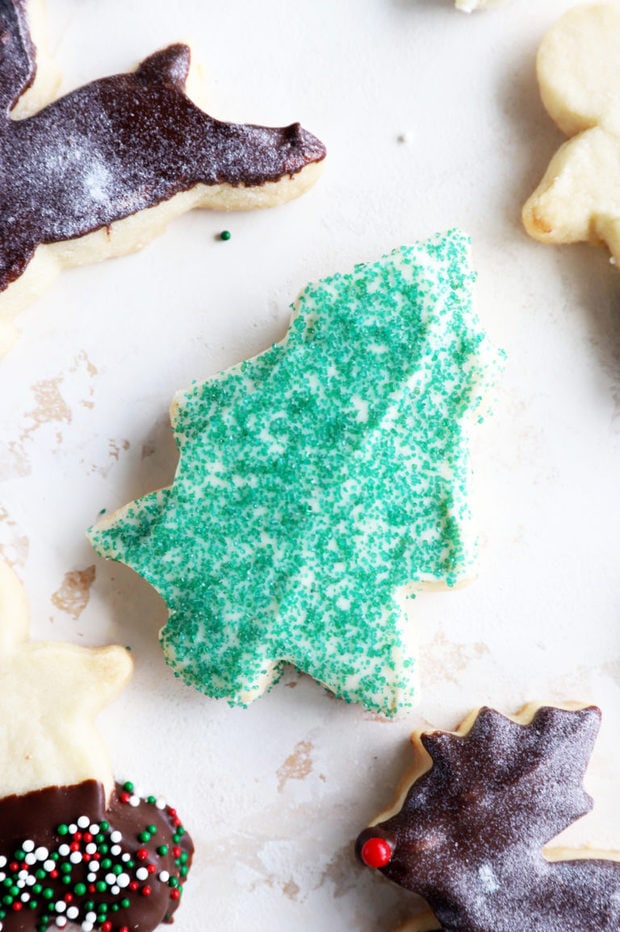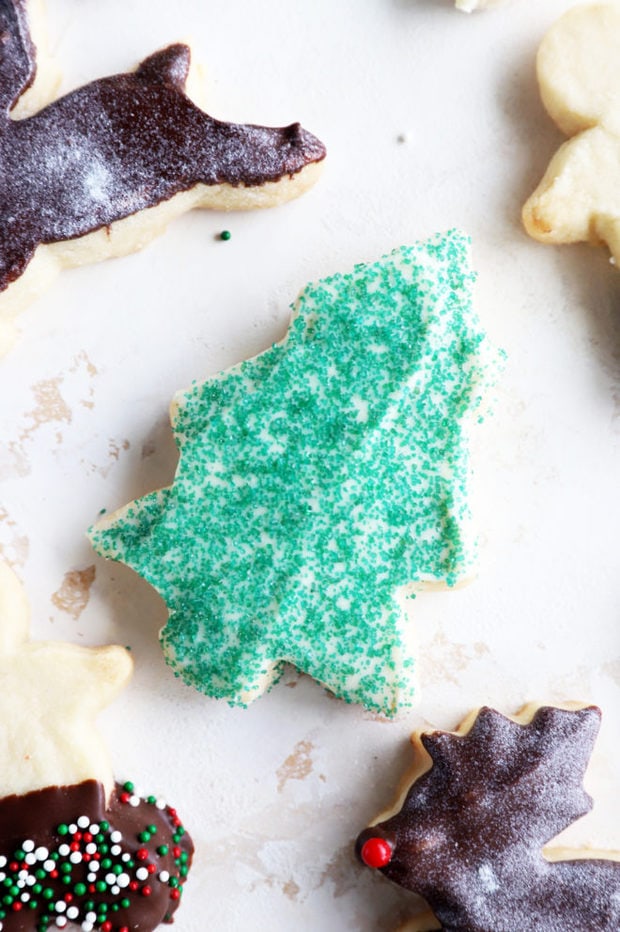 bake
Place the cookies on lined baking sheets (I use silicone mats but you can also use parchment paper) and bake for about 20-25 minutes. The edges should JUST be turning golden. They will still feel soft to the touch. Remove from the oven and cool completely on wire racks before decorating.
decorate
Decorate however you like! Dip in chocolate, sprinkle with nuts, frost with royal icing, or just leave them plain. Store in an airtight container at room temperature.
Need some more inspiration for sweet treats? Check out my dessert recipe page!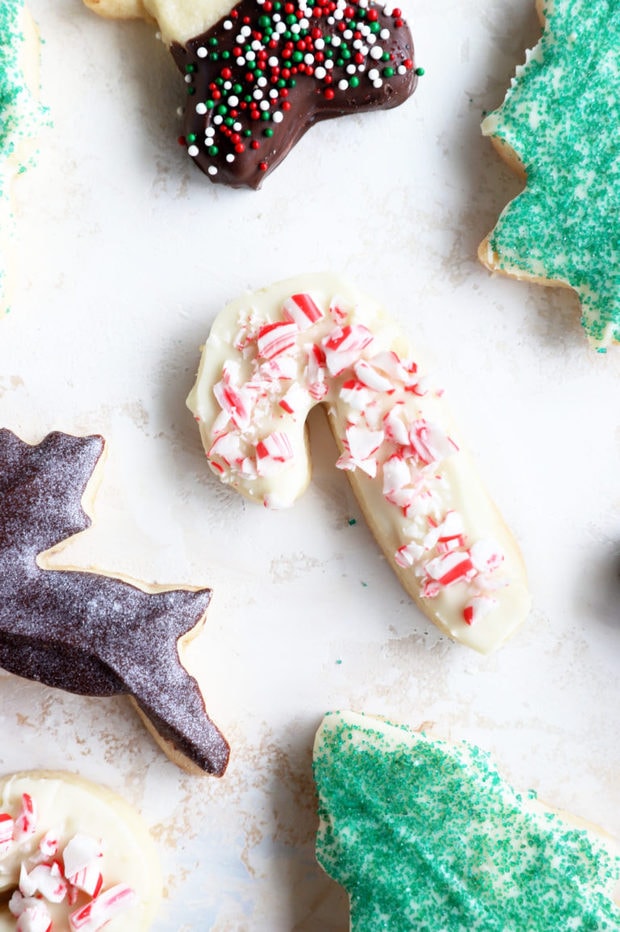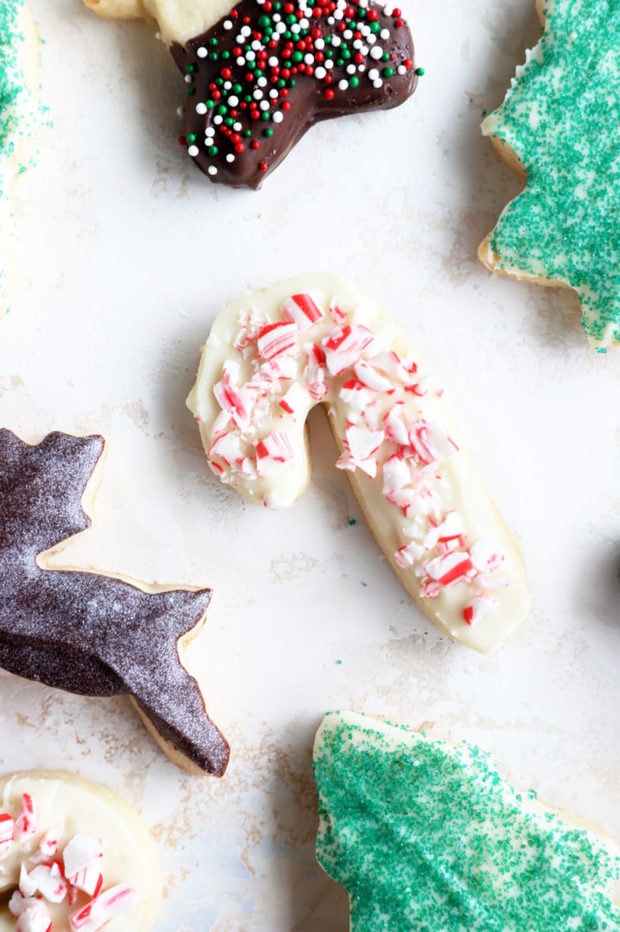 is shortbread traditional at Christmas?
Yes it is! Shortbread dates bake to the 12th Century as a sweet biscuit bread. Originally this treat was reserved only for celebrations such as christenings, weddings, and family gatherings at Christmas.
what is the secret to good shortbread?
If you want to make great shortbread, there are a few things you can do to make it exceptional. First, make sure you are using high-quality ingredients, especially the butter. The buttery flavor is the best part of the recipe!
Second, be sure not to over bake the recipe! Bake until the edges JUST start to turn golden. If you over bake the recipe, it will get too crumbly and the cookies will fall apart when you bite into them instead of having the perfect shortbread texture.
can I make the dough ahead of time?
Christmas shortbread cookies are PERFECT for making ahead of time! I recommend rolling the cookie dough out and cutting out the cookies before you store them in the refrigerator or freeze them.
For the fridge, the cookies can be stored (covered) for up to 3 days before baking. It may take a few more minutes to bake through after being chilled.
To freeze them, add to a platter or baking sheet, then freeze for 2 hours before adding to a freezer bag. They can be stored like this for up to 3 months. When you are ready to bake, simple bake from frozen, making sure to add on more time to the baking time.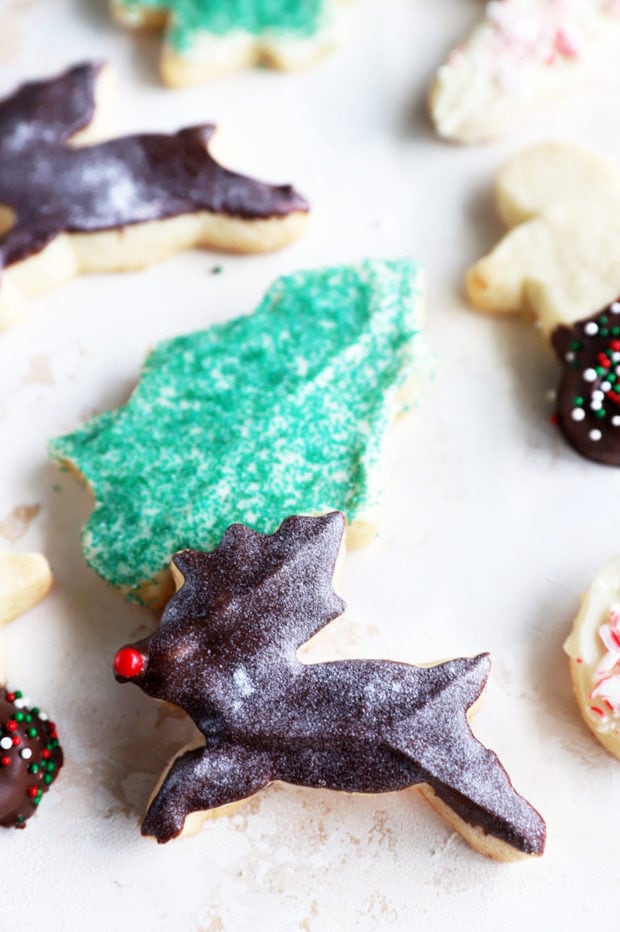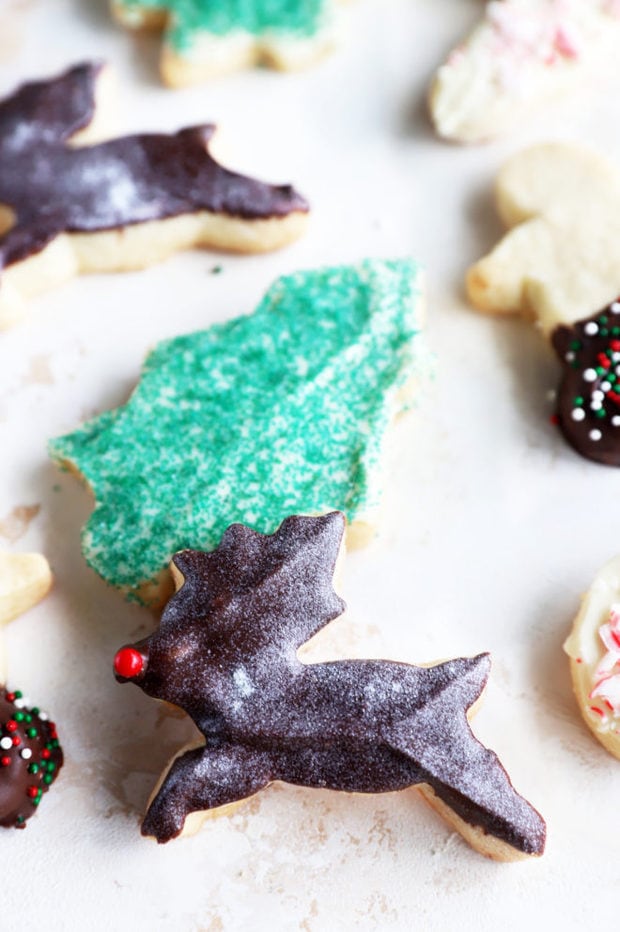 If you need another festive recipe to enjoy, these chocolate dipped orange slices and cranberry pistachio biscotti are always a fantastic addition to a cookie box.
Finally, if you make these shortbread cookies recipe, please be sure to give this recipe a rating or leave a comment! I love to hear when you all make recipes, and I do take the time to respond to every single comment. Feel free to drop questions below too, if you have them!
Oh and be sure to tag me on Instagram if you make the recipe! I love being able to see these recipes come to life in your homes – it's my favorite thing to look through those photos. It really means the world to me!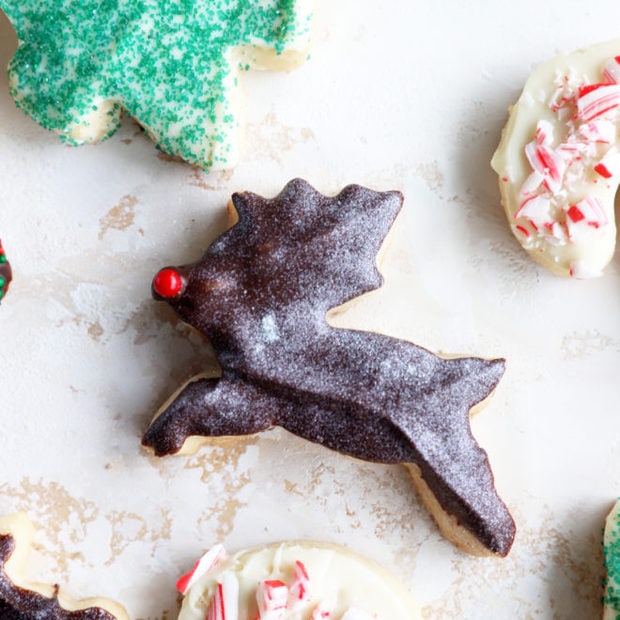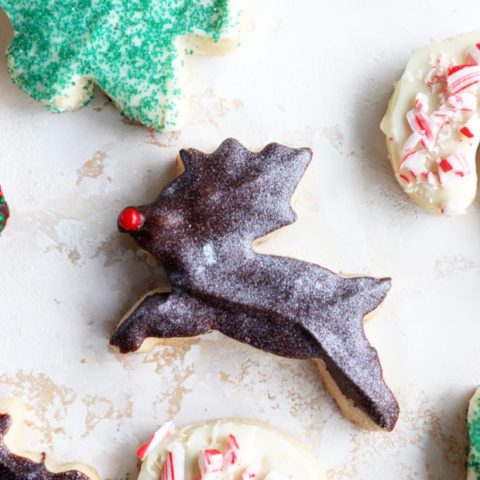 Christmas Shortbread Cookies
These holiday cookies are great for cookie swaps, parties and also for shipping to out of state friends and family.
Ingredients
2 1/2 cups all-purpose flour
2/3 cup granulated white sugar
1 cup chilled butter, cut up into chunks
1 tsp heavy cream
1/4 teaspoon salt
Decorations (optional): melted dark/milk/white chocolate, sprinkles, chopped nuts, crushed candy canes or other candies, royal icing
Instructions
Preheat the oven to 325˚F. Line two baking sheets with silicone mats or parchment paper.
Add flour, sugar, butter, heavy cream, and salt to the bowl of a food processor. Pulse until the mixture resembles fine crumbs. Process on low speed until the mixture clumps together.
Remove dough from the processor and knead on a lightly floured surface until the dough is smooth, approximately 3 minutes. If the dough is too dry, you can add a dash of heavy cream (I need this at higher altitudes or drier climates generally). Roll out the dough until it is 1/2" thick. Use your favorite holiday cookie cutters to cut out the cookies! Press together the scraps to roll them out and cut until you run out of dough.
Bake for 20 to 25 minutes, until the edges are just turning golden brown. Allow to cool completely before decorating.
Store in an airtight container for up to one week at room temperature. They can also be stored in the fridge!
Recommended Products
As an Amazon Associate and member of other affiliate programs, I earn from qualifying purchases.