Please note this post contains affiliate links.
A Sparkling Thanksgiving Cocktail is just about the easiest cocktail you can make for the holiday dinner. It only has 4 ingredients and it goes with whatever dishes you plan to serve!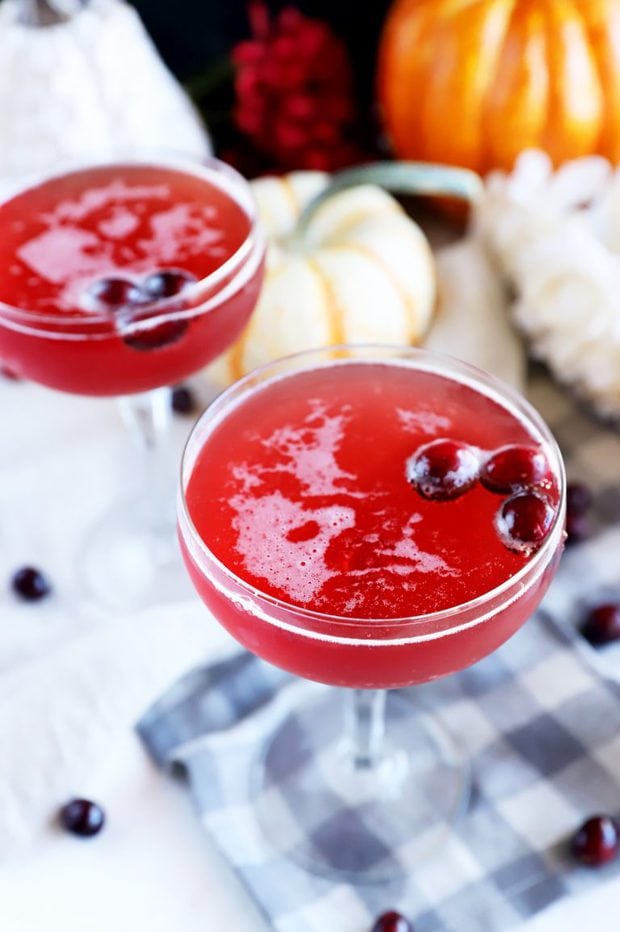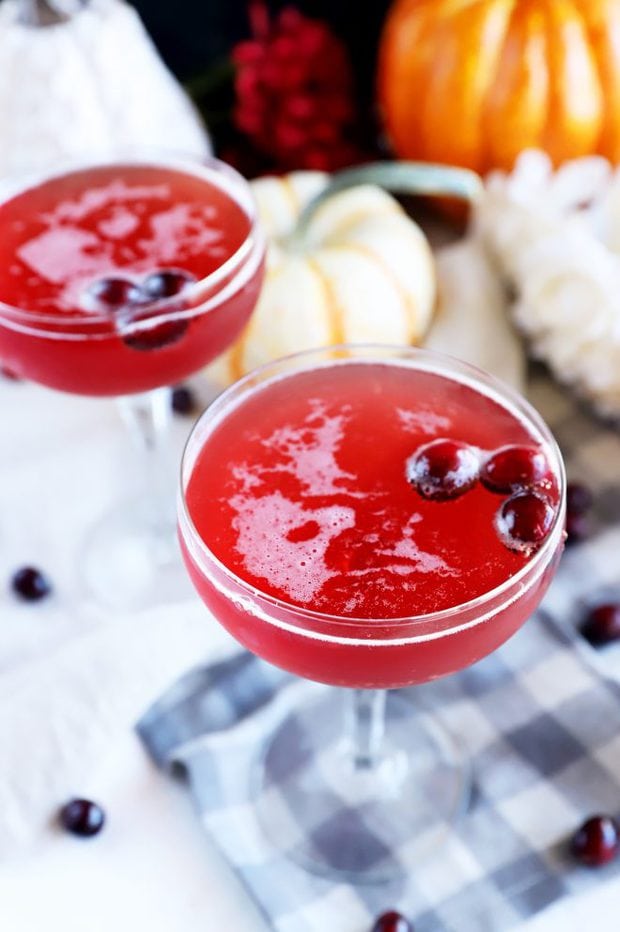 about this sparkling thanksgiving cocktail
Well I couldn't send you off to Thanksgiving with a cocktail, could I? For me, having thanksgiving cocktails really helps round out the day. There's nothing like a themed cocktail to bring in the festive vibe, and it also makes it easy for you to prep ahead of time! While classic cocktails are always lovely, it's nice to have something special for a holiday gathering.
This sparkling Thanksgiving cocktail the perfect cocktail to bring out right for your guests when you are finishing cooking your turkey tomorrow.
Don't have your turkey recipe ironed out yet? Try a smoked turkey or smoked turkey breast!
It's got just the right amount of sweet and tangy flavor to get your taste buds ready for the feast ahead.
Plus it goes perfectly with all the classic Thanksgiving dishes so you can sip and taste to your heart's content before the cooking is done and everyone starts to dig in.
how to serve it on Thanksgiving Day (or for any party!)
I honestly love to make and serve this cocktail as a "do-it-yourself" kind of station.
Start by setting up your champagne, juices, and vodka. I put a carafe of vodka and bottle of champagne in a small ice bucket to keep everything cool.
Then add chilled juices to their own carafes, making sure to label everything that isn't easily identified.
I have a chalkboard stand to write out the recipe, but you can use an index card or something similar to write the full recipe. Then include jiggers/fluid measurers so guests can measure out the exact ounces (oz) and let everyone have fun making the cocktail. You can serve them in flutes, or if you like the look here, coupe glasses!
You can also choose to make this a big batch punch by multiplying the recipe by however many servings you need. Then grab the champagne bottle and pop the happiness!
why you'll love this recipe
There's only four ingredients! You don't need to worry about any special simple syrup, squeezing limes for fresh lime juice, no complicated sugar rim, or having a shaker on hand to whip up individual drinks. You don't even have to worry about having a strainer to strain it into a rocks glass. This cocktail comes together right in the glass, or you can turn it into a big batch and make it in a pitcher.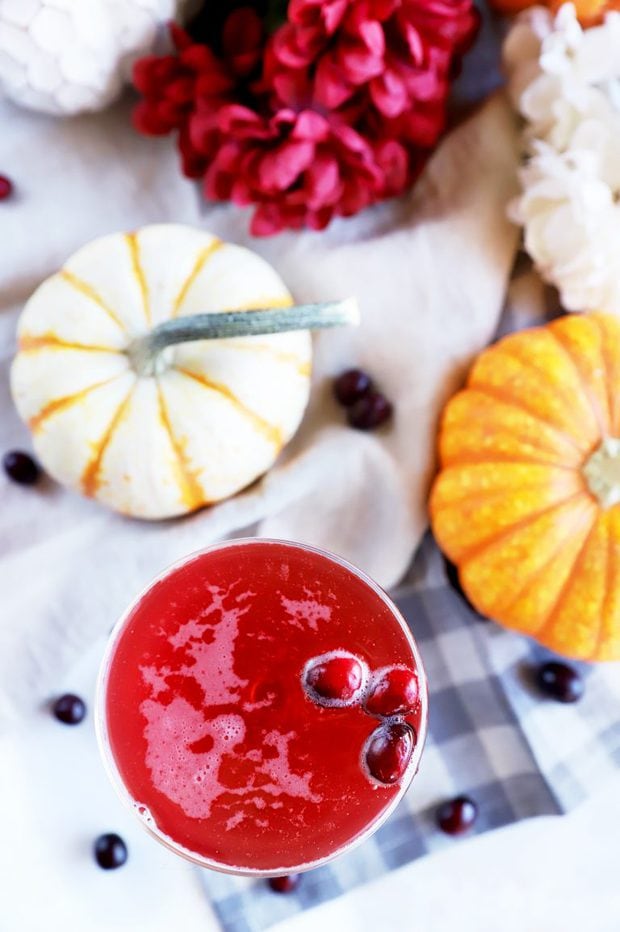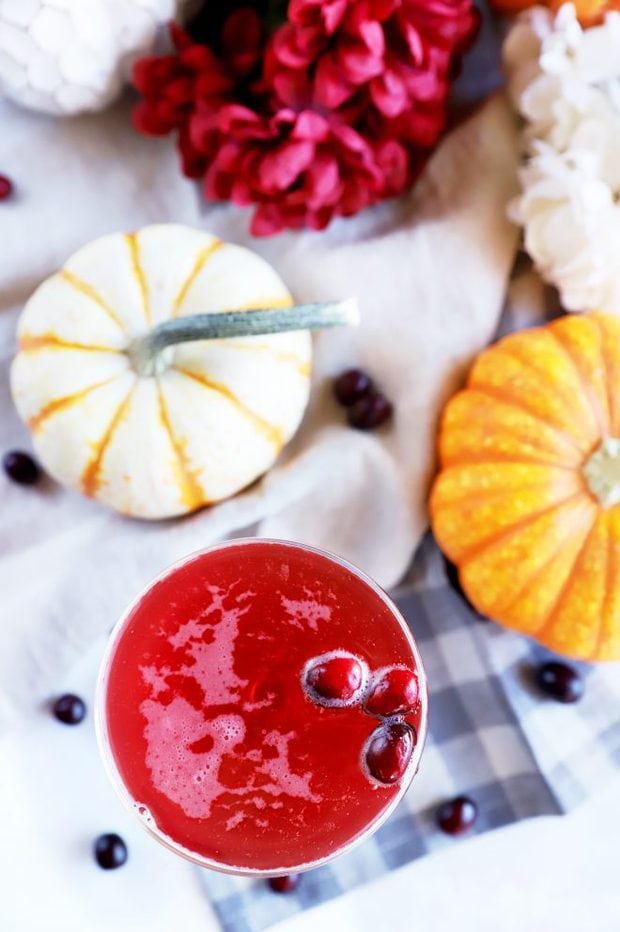 ingredients
vodka – when it comes to choosing a vodka, I always say pick the best vodka that is in your price range. Since you are using this vodka in a cocktail, there's no need for it to be the top end that you might use for a martini where vodka is the star of the show. I recommend Tito's or Absolut (splurge for Absolut Elyx if you want to!).
apple juice – I like to grab 100% apple juice for this cocktail. You can also use apple cider if that's what you happen to have on hand – just be sure to use a brut champagne and not prosecco so the cocktail isn't too sweet as an end result.
cranberry juice – Do not pick up cranberry juice cocktail! Be sure to use 100% cranberry juice for the tart element in this drink. If you can't get your hands on cranberry juice for some reason, pick up 100% pomegranate juice instead.
sparkling wine – I like to use a brut champagne for this cocktail! However, if you like things a little sweeter, reach for the prosecco.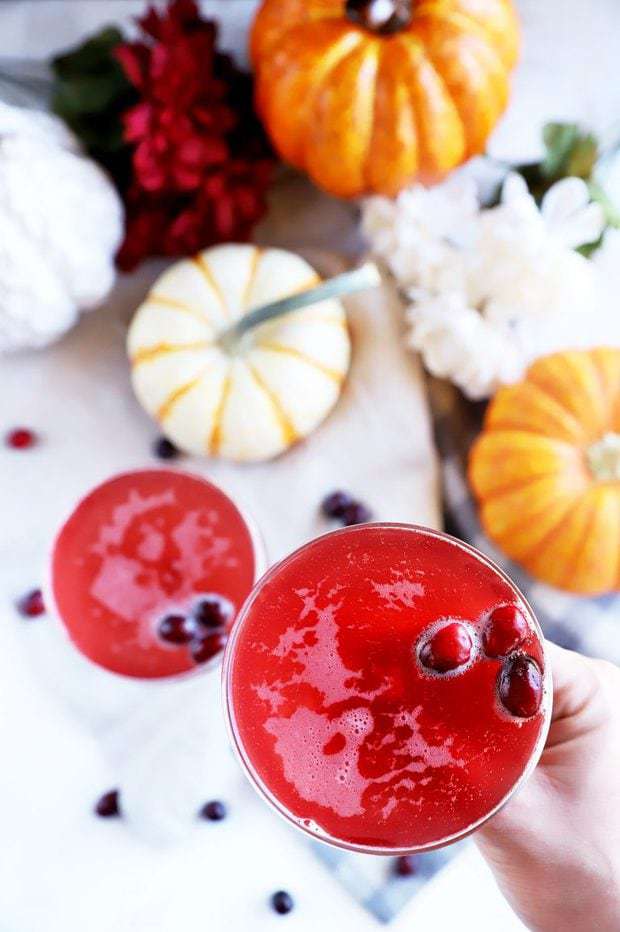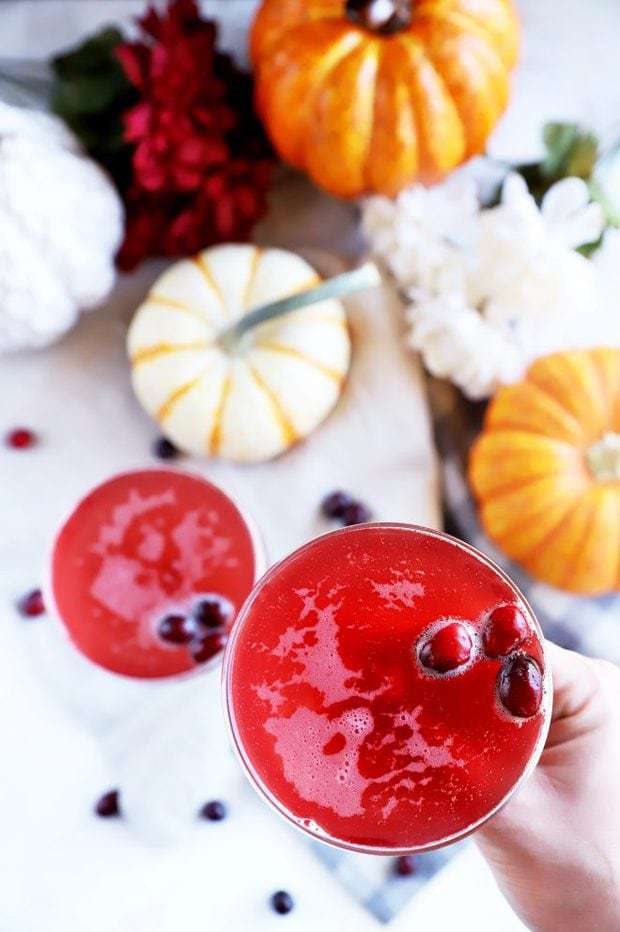 this recipe's must haves
For the serving look you see here, you can pick up these coupe glasses!
I also absolutely LOVE how elegant these Schott Zwiesel Tritan Crystal Glass Pure Stemware Collection Champagne Flutes are! They aren't photographed here but they are GORGEOUS. If you like the ones you see here, these Ikea Svalka Champagne Flute Glasses are very similar. Finally, if you prefer stemless, these stemless champagne flutes are simple and stunning.
If you are thinking about making a fun cocktail bar with this recipe, grab these simple, affordable, and durable wine carafes to serve the juices and vodka in!
I love this message chalkboard – it's perfect for setting out the recipe for this cocktail or whatever other gatherings you may have planned. You can even just set it out with the title of the cocktail if you prefer!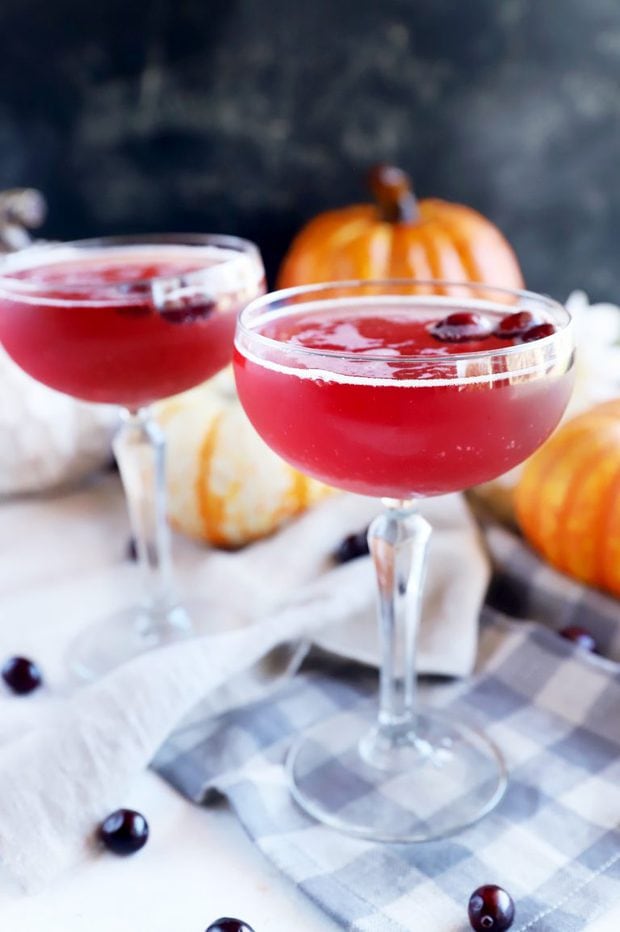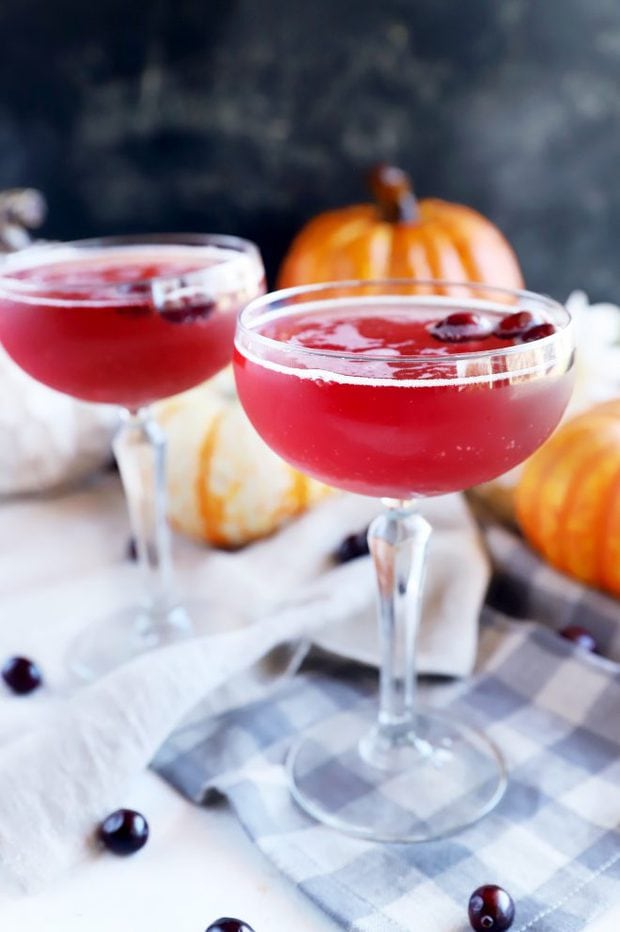 here's how to make a sparkling thanksgiving cocktail
combine ingredients
In a coupe glass, champagne glass, or even highball glass, combine vodka, apple juice, and cranberry juice. Stir lightly to combine.
top with bubbly
Top with champagne (or prosecco, if using). Garnish with a couple of cranberries, or an orange wheel, and enjoy!
tips for success
use 100% juice. Don't use any juice cocktails or any other versions of the juice that have added sugars in them. 100% juice is the best way to go for your cocktails to make sure the balance is correct.
chill everything. A great way to make sure everything is chilled through? Chill every ingredient before creating the cocktail! You can chill the vodka in the freezer, and everything else in the refrigerator.
More tasty Thanksgiving cocktails to try: Cranberry Spice Sparkler | Pumpkin Pie Martini | Last Minute Apple Pie Sangria | Apple Pie Old Fashioned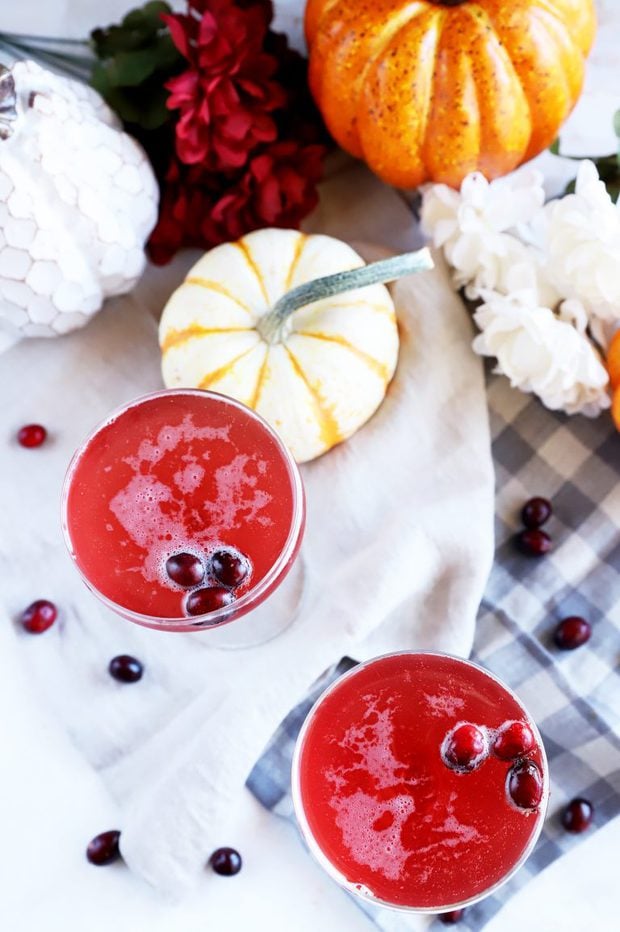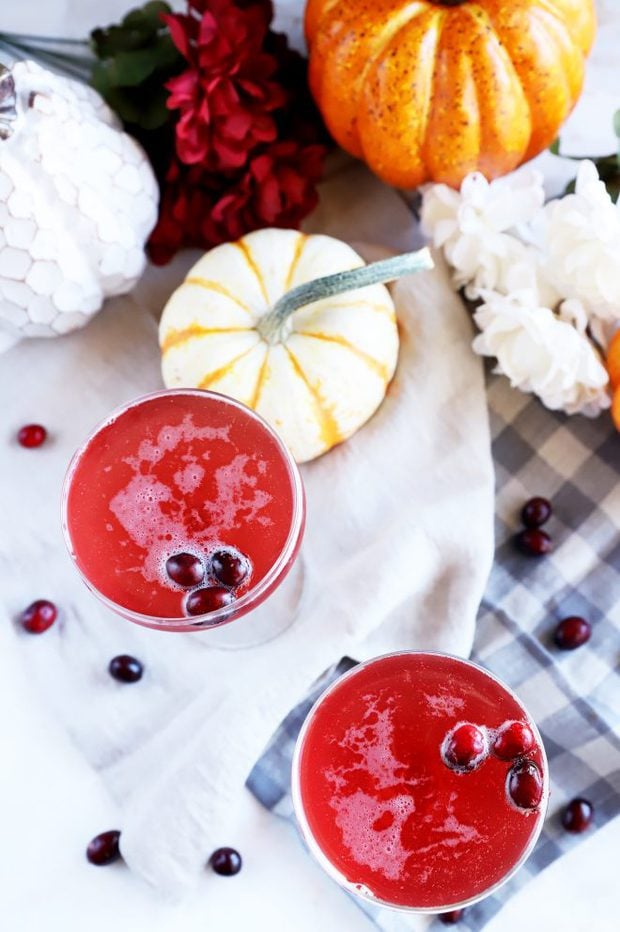 what type of sparkling wine should I use?
Champagne is my personal preference! Particularly a brut champagne so that the cocktail isn't too sweet.
However, if you like a sweeter drink, feel free to use prosecco!
what's a good garnish for the cocktail?
As you can see, I like to use fresh cranberries since I tend to have them on hand this time of year. However, you can also use a wheel of apple or even an orange twist! For an elegant spice garnish, you can drop in star anise or a cinnamon stick to get the scent in the mix too.
I need help with Thanksgiving planning! I don't know where to start…
That's what I'm here for, friends! I have a MASSIVE Thanksgiving Q&A on the blog to answer any question you could possibly have about the holiday from menu planning to recipes to timing to entertaining. If you find that you have a question that isn't on the list, be sure to comment on the post and I'll be there to answer it for you!
Need some more inspiration for Thanksgiving? Check out my Thanksgiving recipes page!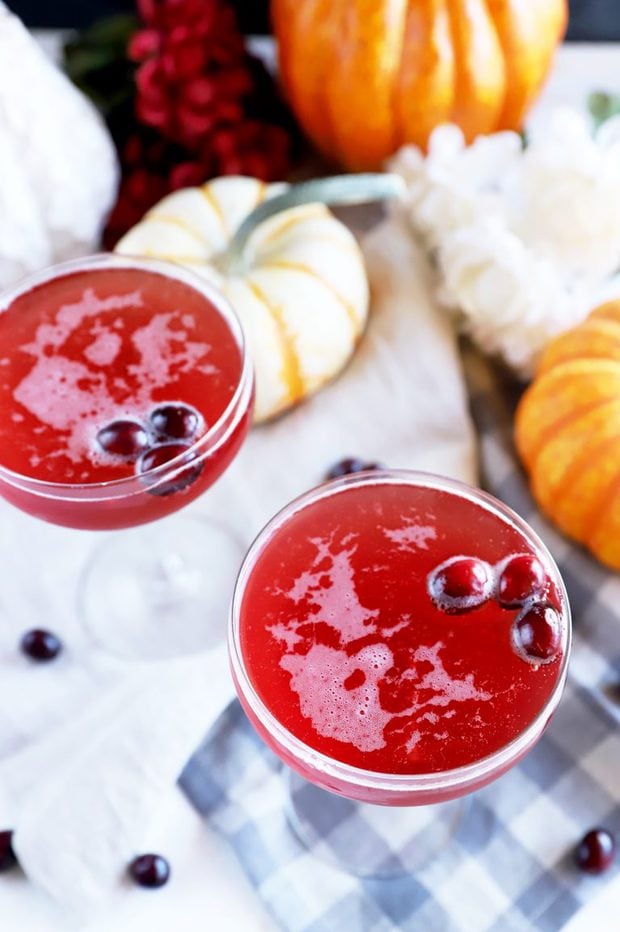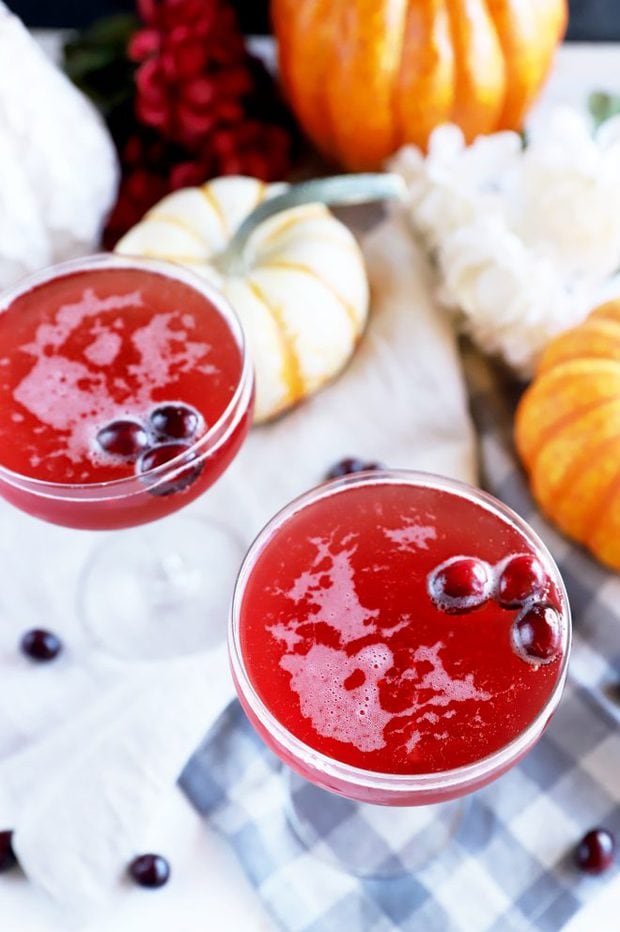 what to serve with a sparkling thanksgiving cocktail
This is a killer cocktail with such a subtle amount of flavor, it literally goes with anything. Below I've listed some Thanksgiving appetizers that I love to pair this cocktail with:
Bite-Sized Baked Bacon Brie Bites
Individual Ginger Acorn Squash Soup
Cranberry Walnut Goat Cheese Ball
Roasted Grape & Balsamic Crostini
Don't want to pair it with savory? Save the sparkling Thanksgiving cocktail for the end of the evening and pair it with any of these desserts! The galette is a personal favorite of mine that my family can never get enough of.
Mini No-Bake Pumpkin Spice Cheesecakes
Chocolate Chip Apple Pie Bread Pudding
Easy Individual Bourbon Apple Pies
Remember, this Thanksgiving cocktail goes with all the classic dinner recipes as well from the turkey to the Thanksgiving side dishes you know and love.
If you're looking for another cocktail to serve for a group that's a warmer option, try out our Instant Pot mulled wine! For a non-alcoholic warming drink, this is the best slow cooker hot chocolate ever.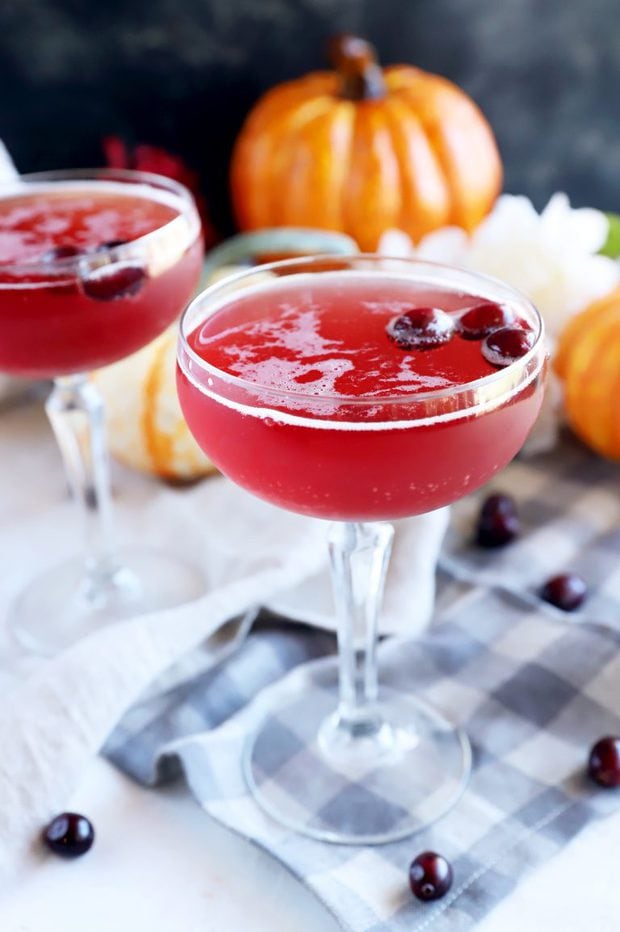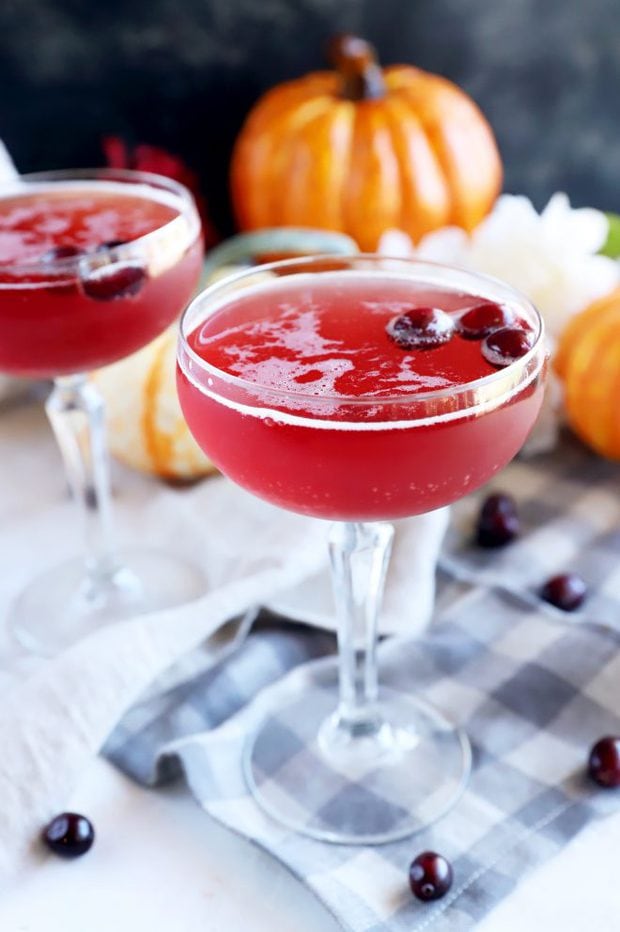 Finally, if you make this sparkling thanksgiving cocktail, please be sure to give this recipe a rating or leave a comment! I love to hear when you all make recipes, and I do take the time to respond to every single comment. Feel free to drop questions below too, if you have them!
Oh and be sure to tag me on Instagram if you make the recipe! Love being able to see these recipes come to live in your homes – it's my favorite thing to look through those photos. It really means the world to me!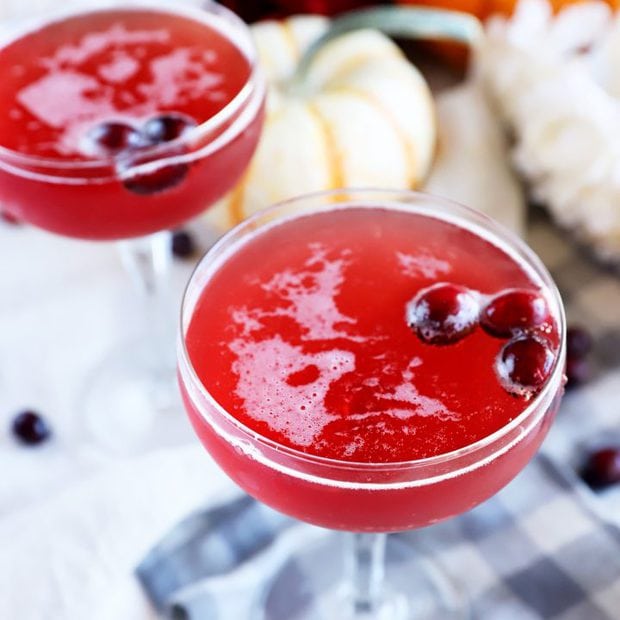 Thanksgiving Sparkling Cocktail
The perfect cocktail to kick off you Thanksgiving feast!
Ingredients
1/2 oz vodka, chilled
1/2 oz apple juice, chilled
1/2 oz cranberry juice, chilled
Champagne (or Prosecco), chilled
Instructions
Add vodka, apple juice, and cranberry juice to a champagne glass or highball glass.
Stir and top with champagne. Toast to everything you are thankful for and another great year!
Recommended Products
As an Amazon Associate and member of other affiliate programs, I earn from qualifying purchases.