Please note this post contains affiliate links.
Learn how to seed a jalapeño so you can easily dice them, chop them, or turn them into jalapeño poppers! You'll also find our favorite jalapeño recipes to use your freshly seeded jalapeños in. Let's dive into this easy guide.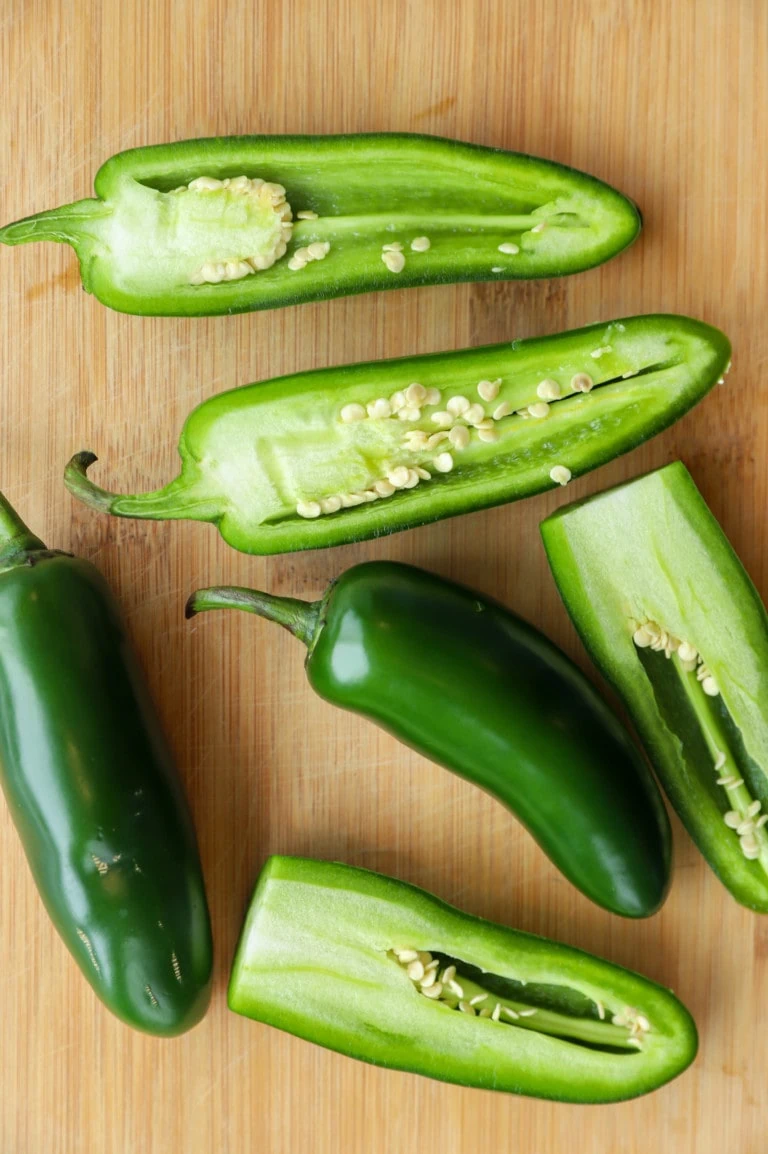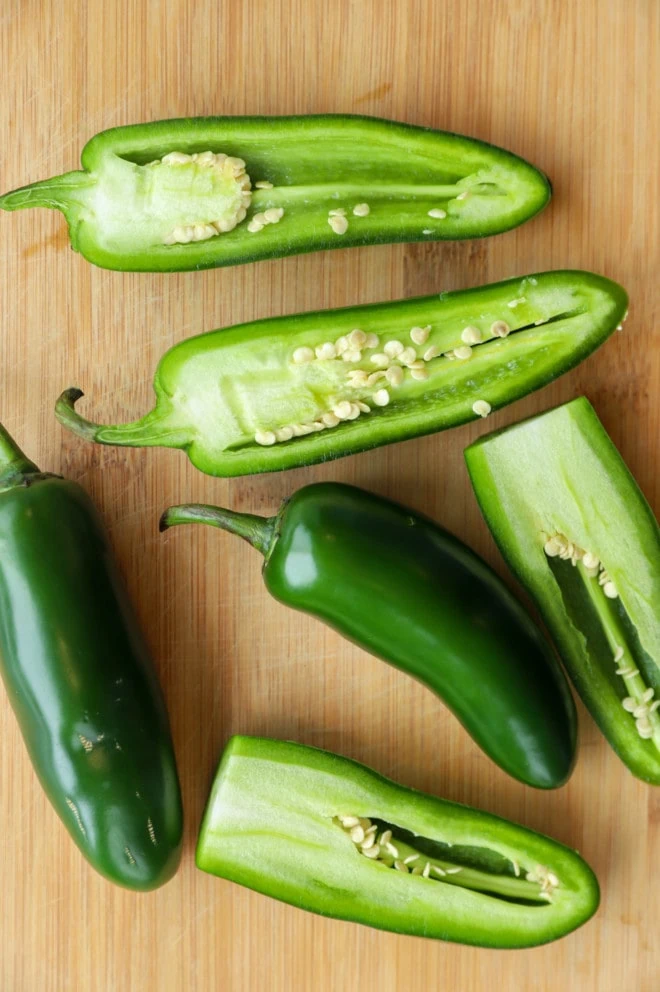 There's nothing like a hit of fresh jalapeño (or any fiery pepper really) to add a punch to our favorite meals. The variety of hot peppers out there always boggles my mind because there are so many with a wide variety of heat levels and flavor profiles.
Today we are focusing on jalapeños.
Did you know that the larger the jalapeño, the spicier it will be?
This has been the best tip I've ever gotten, because it allows me to quickly and easily figure out which pepper to use depending on how spicy I want a recipe to be that day.
The heat from chile peppers comes from capsaicin, the compound that can sting sensitive areas like your eyes and cause burning.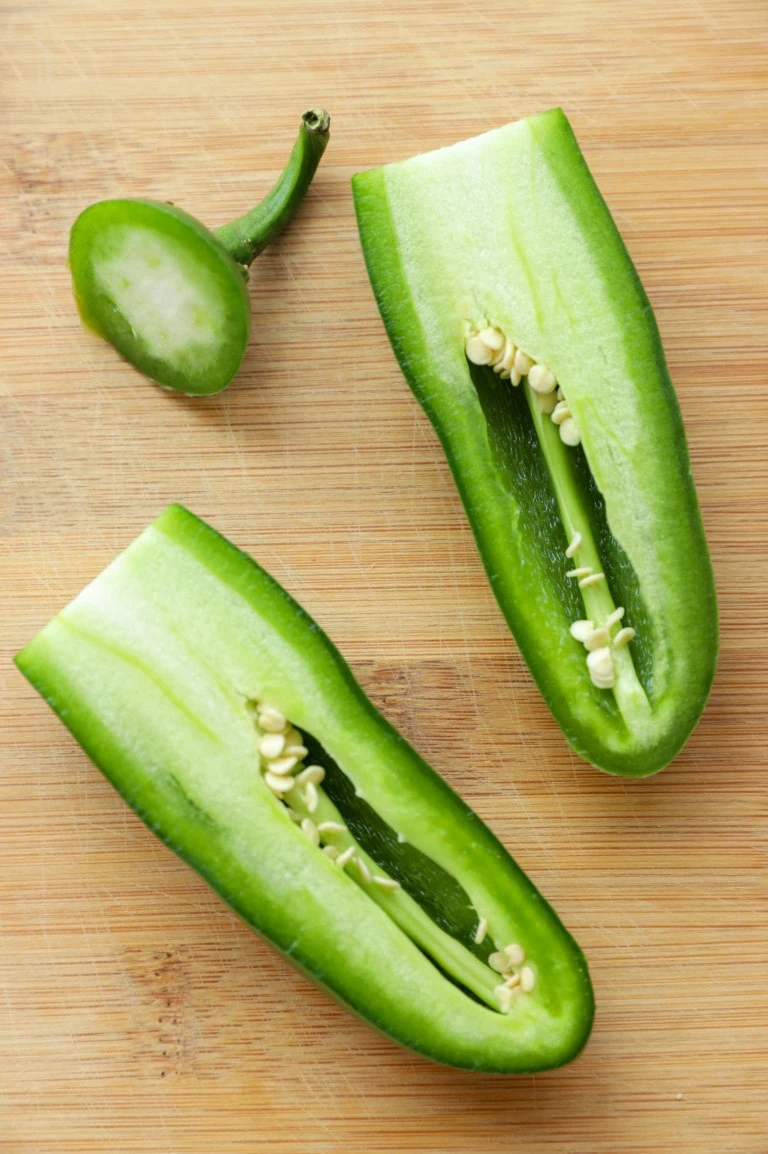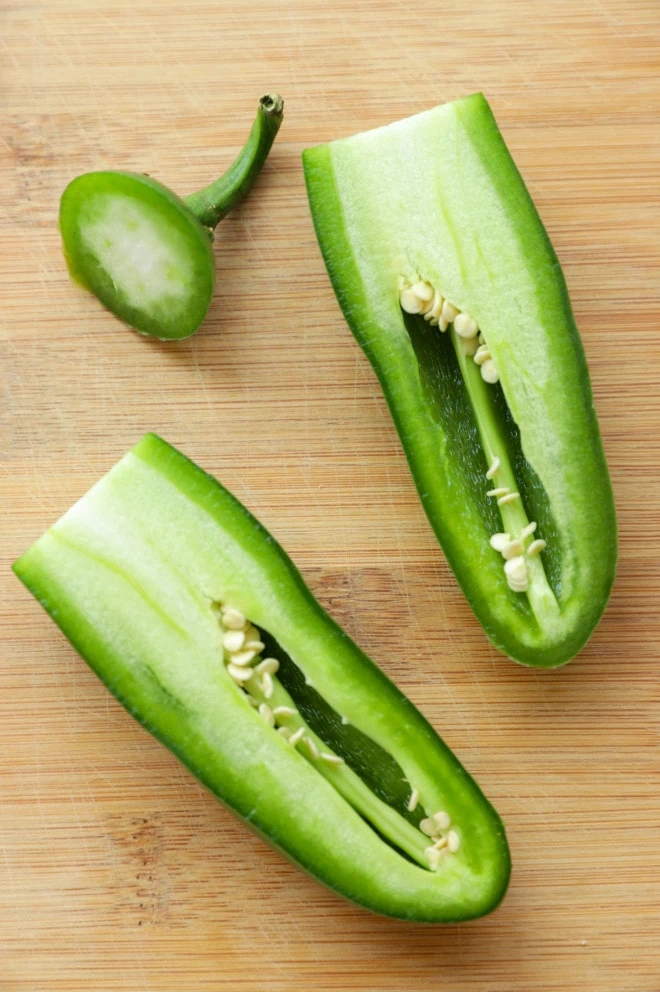 how to avoid the burn
Normally, I am pretty brazen when handling jalapeños. However, now that I have toddler who wants to be picked up every 10 minutes, I am trying to be more careful.
The best way to avoid the burn is to wear plastic latex gloves. I find this is the easiest solution to avoid having your skin come into direct contact with the pepper.
However, if you forget to put the gloves on and are in a desperate situation to stop the burn, you can use olive oil! It helps to dissolve the capsaicin, and even though it won't completely erase the burning, it will help reduce it. Rub olive oil all over your hands well, then wash away with soap and water. The burn should go away within a couple of hours!
Note: you can also use vegetable oil instead of olive oil (helpful to know if you only purchase pricey olive oil and don't want to waste it!).
what you'll need
Jalapeño peppers, of course! Note that the larger the jalapeño pepper is, the spicier it will be.
You will only need a few pieces of equipment to seed a jalapeño. Grab your favorite chef's knife and a cutting board. Then all you need is a spoon!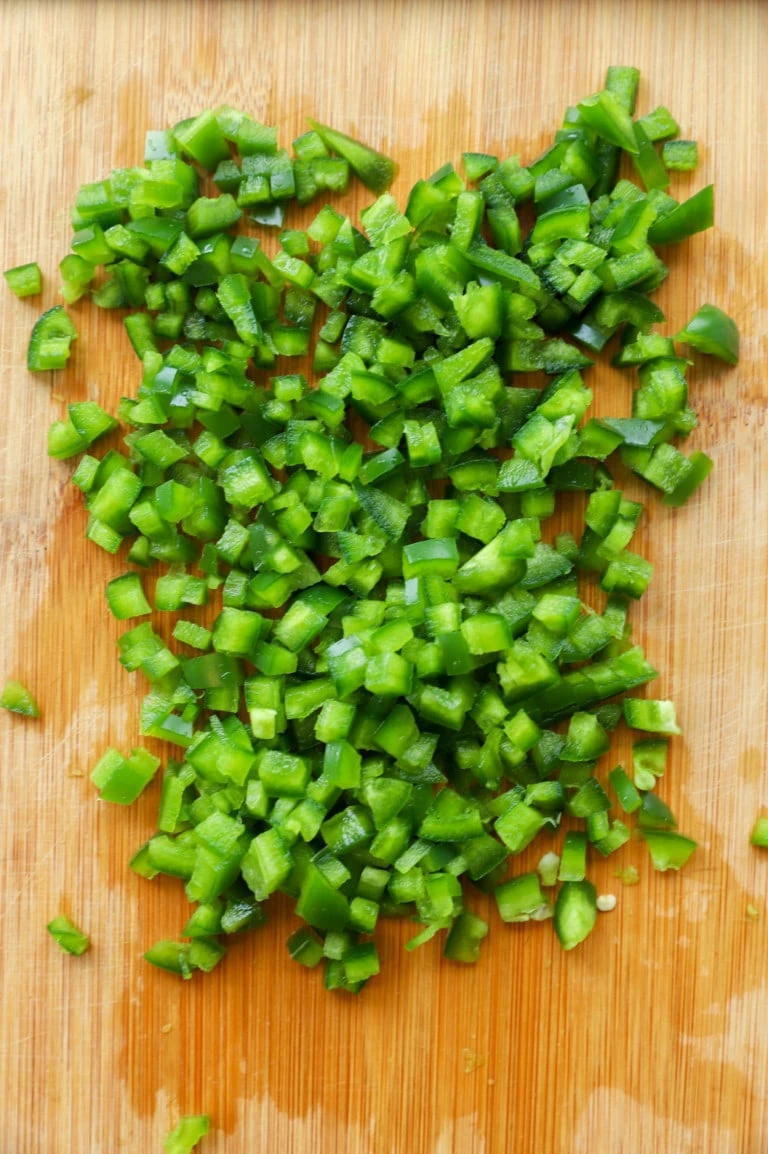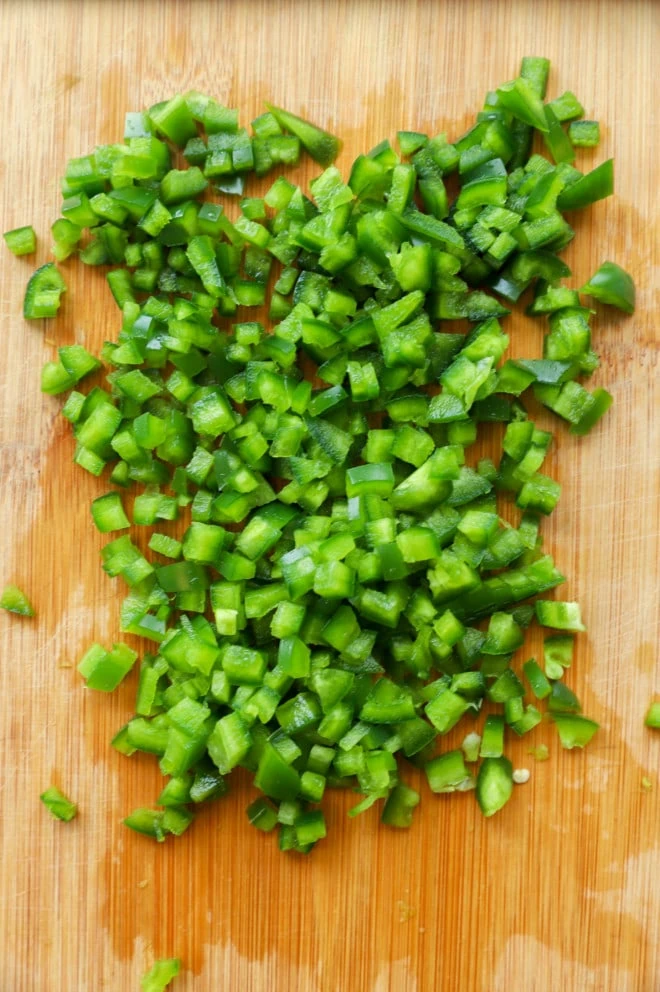 here's how to seed a jalapeño
cut
Start by removing the stem. This will make chopping and dicing the pepper much easier!
If you are using them for a jalapeño popper recipe, I recommend leaving the stem on to give yourself the best vehicle. I also like the look of the stem on top!
remove seeds and membrane
Use a spoon to scoop out the seeds and membrane from the bottom of the pepper half to the top. It's easier to remove the seeds in this upward motion because the seeds tend to get clustered at the bottom of the pepper when you scoop downwards. By scooping up, you can easily get all the seeds and membrane pieces out.
Should I be able to get it all out in one motion? Over time you will! Sometimes it still takes me a few motions to get it all out of there. Don't stress about it if it takes a little time with the first couple of peppers. You will get used to the motion and improve with practice.
Make sure to remove all of the seeds and membrane if you want a mild flavor added to the recipe. If you want some heat, you don't have to be as thorough with scraping out every last seed and pieces of membrane.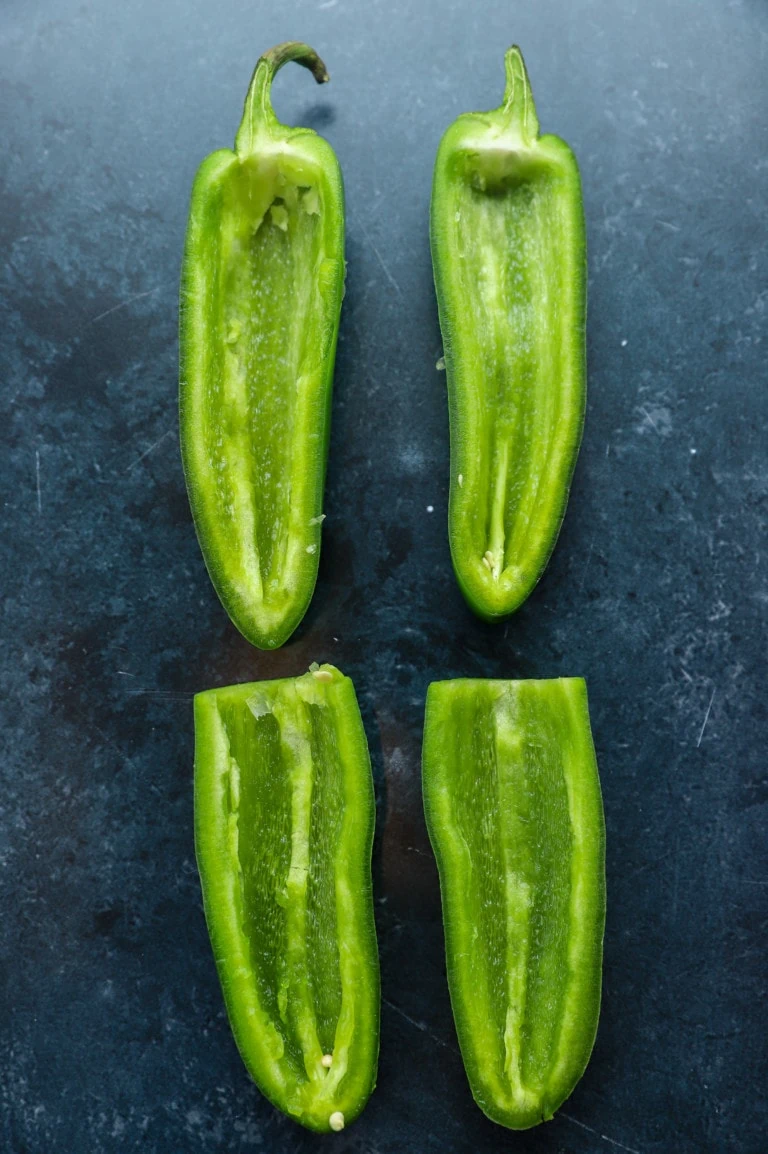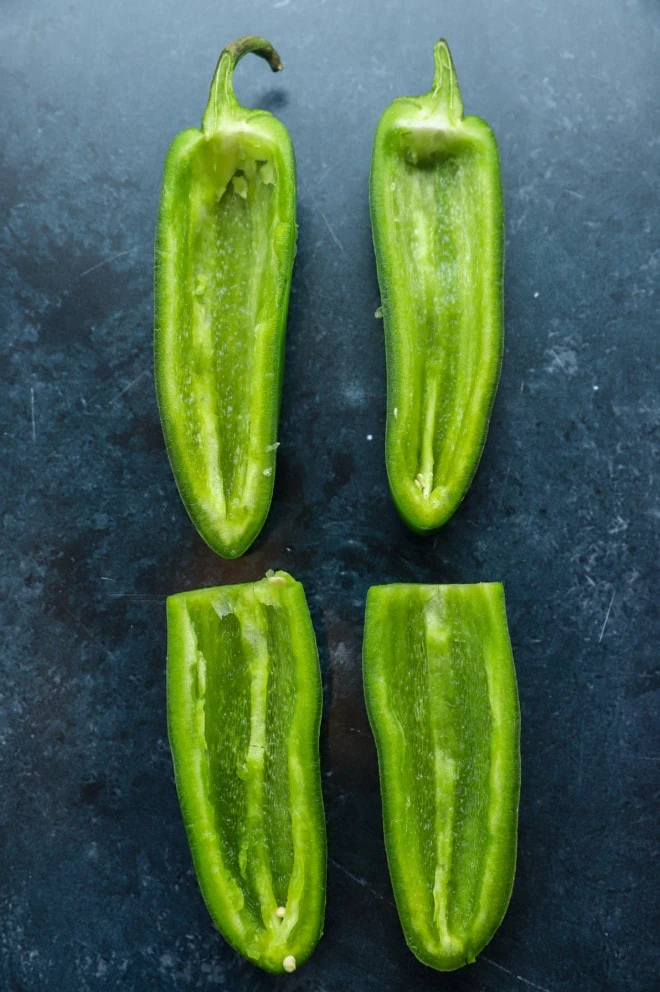 tips for success
dice or mince by slicing the seeded jalapeño halves into long strips. Then cut crosswise into small bits.
wash up well! Don't forget to wash your hands well after cutting any pepper if you aren't using gloves! Also be sure to wash the cutting board and knife you used thoroughly. Generally, I recommend avoiding contact with your eyes, face, any cuts or sensitive areas until all the capsaicin is off your fingers. Use olive oil if you need to, as I mentioned above.
can I eat raw jalapeños?
Yes you can! You will find raw jalapeño in a variety of places from salads to salsas to dips. The biggest note to remember is that raw jalapeño is spicier than cooked jalapeño!
how to store jalapeño peppers
I refrigerate my jalapeños to help them last longer, about 1 to 2 weeks. Whole peppers can also be stored at room temperature for 3 to 5 days.
After they've been seeded and diced, they can last in the refrigerator in an airtight container for 2 to 4 days.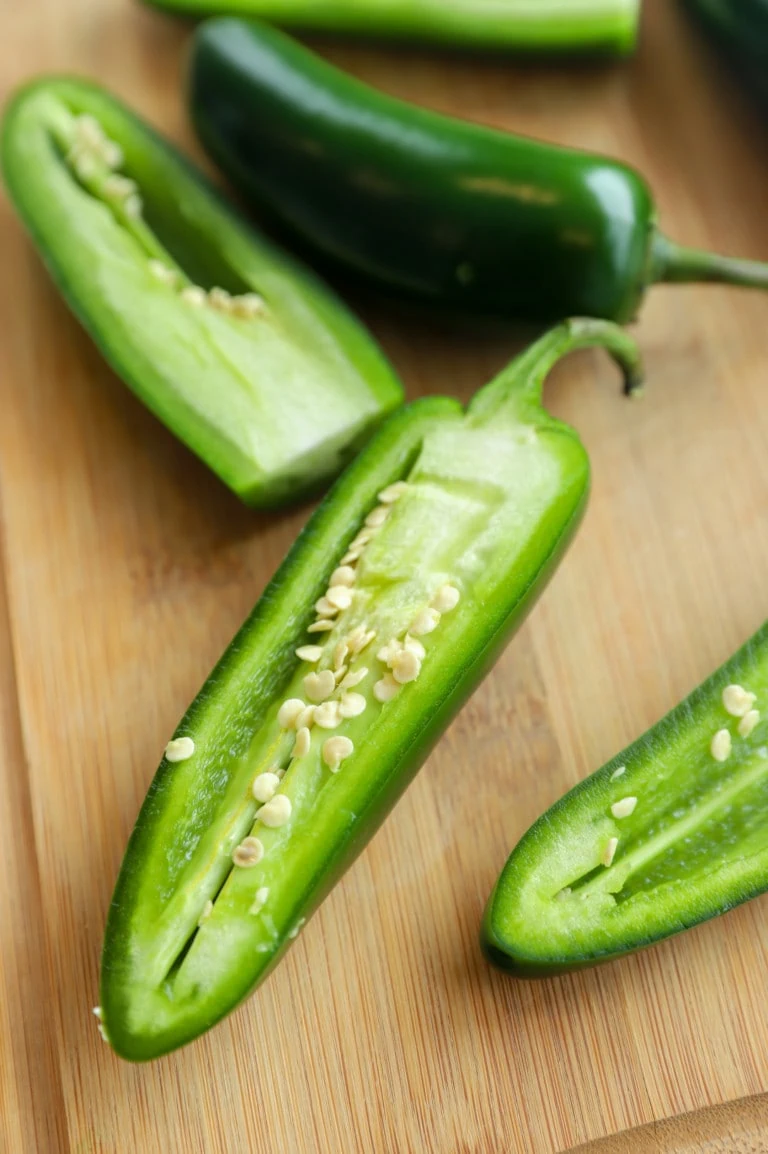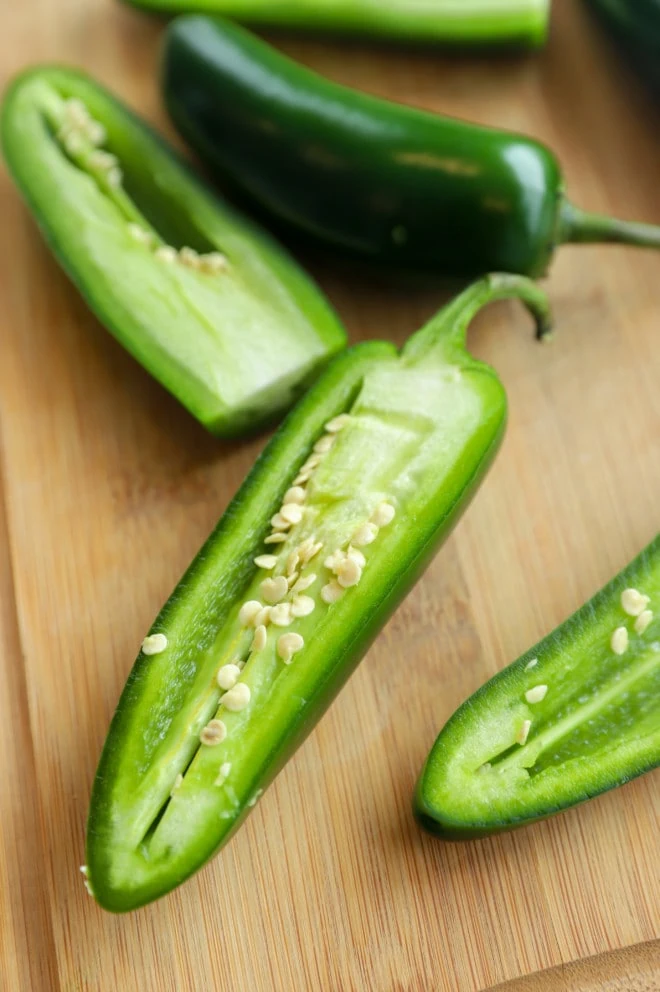 how do I know if my jalapeños have gone bad?
When these peppers start to go bad, they start to wrinkle. They are still safe to eat, but when you see the skin start to wrinkle, try to use them up quickly before they go bad and are unusable.
how to use a jalapeño
One of my favorite ways to use a seeded jalapeño pepper is in a jalapeño popper recipe! You can stuff these peppers with cheese, meat, and so much more for a simple appetizer that anyone will love.
Honestly, the options are endless when it comes to using this pepper. You can use diced jalapeño in salsas, dips, salads, and more!
our favorite jalapeño recipes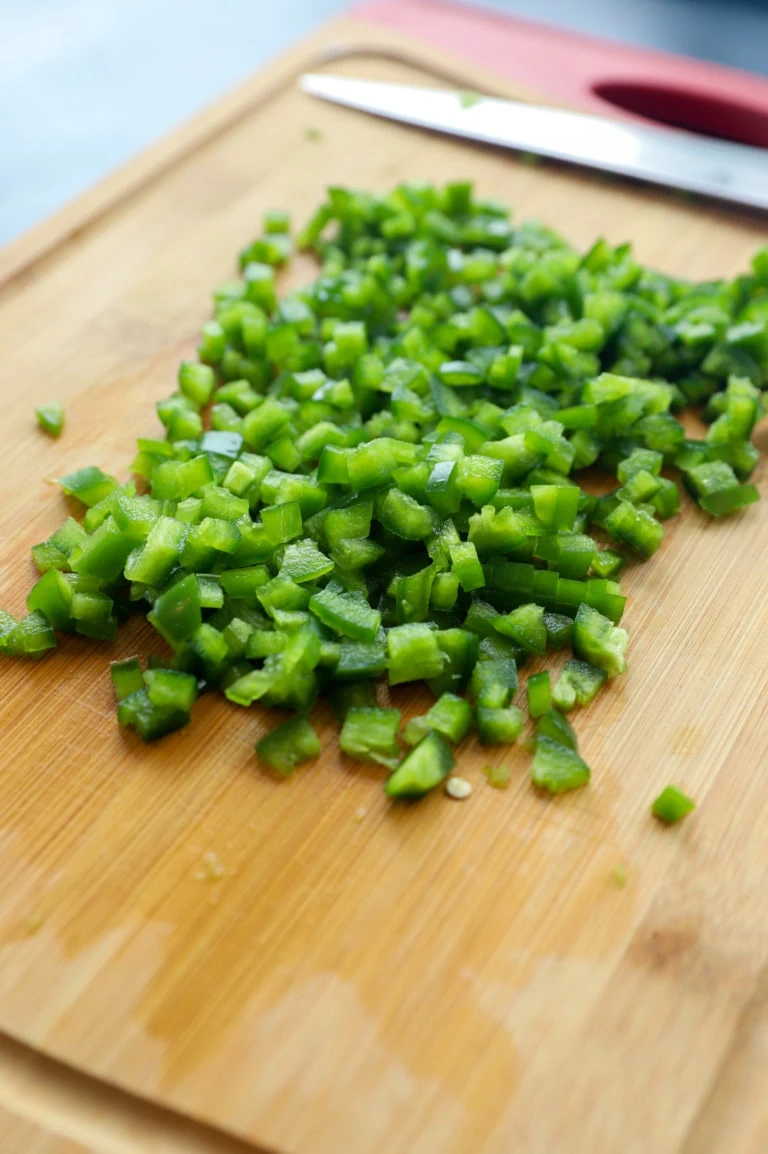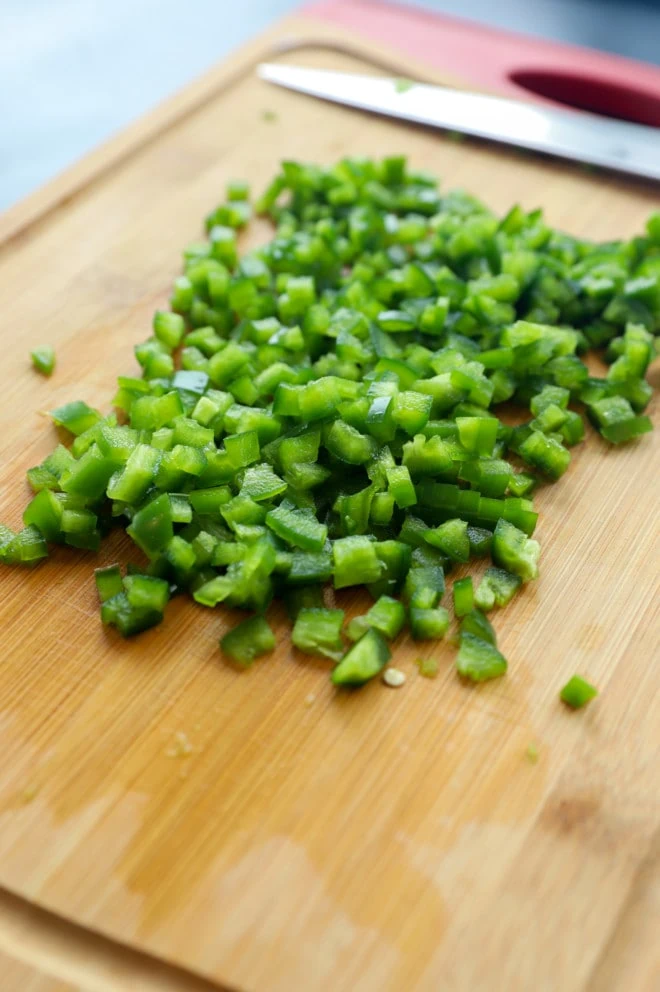 Finally, if you use this guide to seed jalapeños, please be sure to give this how-to a rating or leave a comment! I'd love to hear how you used your jalapeños, and I do take the time to respond to every single comment. Feel free to drop questions below too, if you have them!
Oh and be sure to tag me on Instagram if you make the recipe! I love being able to see these recipes come to life in your homes – it's my favorite thing to look through those photos. It really means the world to me!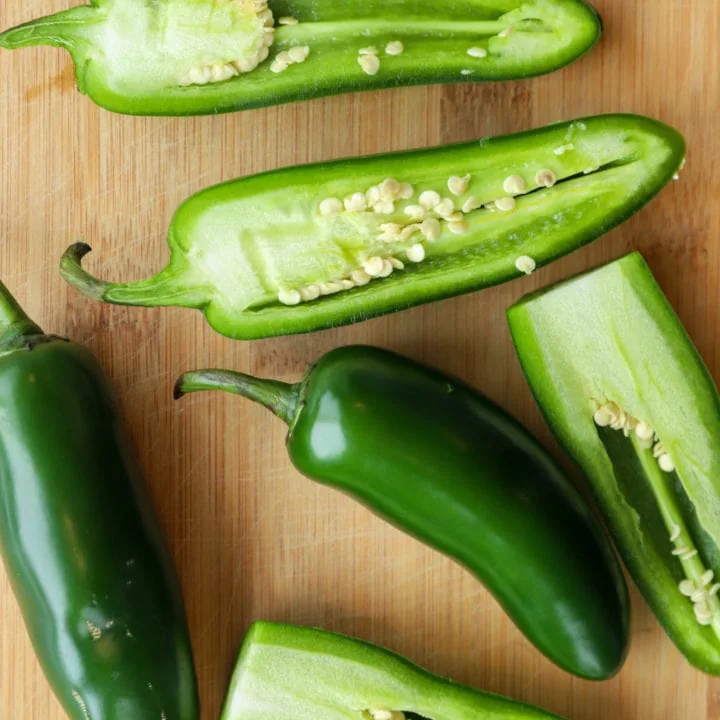 How to Seed a Jalapeño
The easiest way to seed your jalapeños to use in a variety of recipes!
Ingredients
Jalapeño peppers
Chef's knife
Cutting board
Spoon
Instructions
Remove the stem. If you are using them for a jalapeño popper recipe, leave the stem on.
Use a spoon to scoop out the seeds and membrane from the bottom of the pepper half to the top.
Dice/mince or use as desired.
Recommended Products
As an Amazon Associate and member of other affiliate programs, I earn from qualifying purchases.