Please note this post contains affiliate links.
Tart and sweet Homemade Cranberry Jam is an easy recipe that's ideal for your favorite breakfasts, desserts, and more. You can use fresh or frozen cranberries. With just 5 ingredients, you'll find yourself making this over and over again!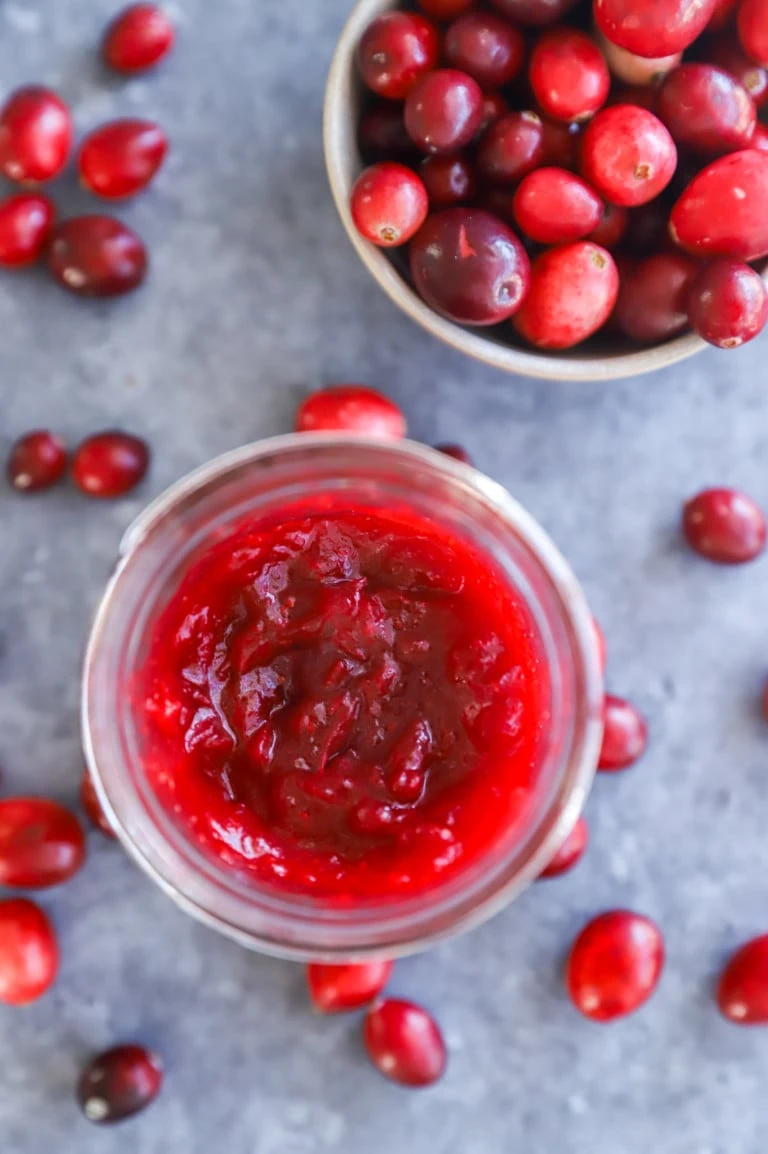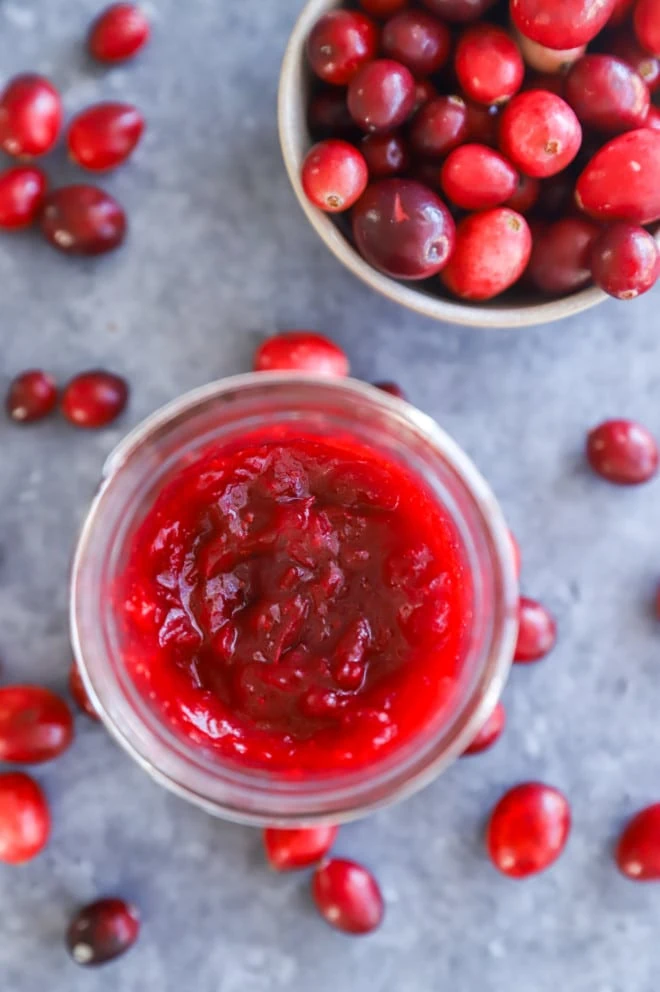 about this cranberry jam
When it comes to jam, I am one of those people who loves the perfect balance of tart and sweet. Really nothing achieves that as well as cranberry jam. Since cranberries are already so tart, you just need a touch of sugar to bring out their bright flavor.
The first time I made this jam, I stood over the stove, blowing on spoonfuls of it to cool it off faster so I could stuff it in my mouth. It's so delicious you can eat it right of the spoon – no biscuit, scone, or toast required!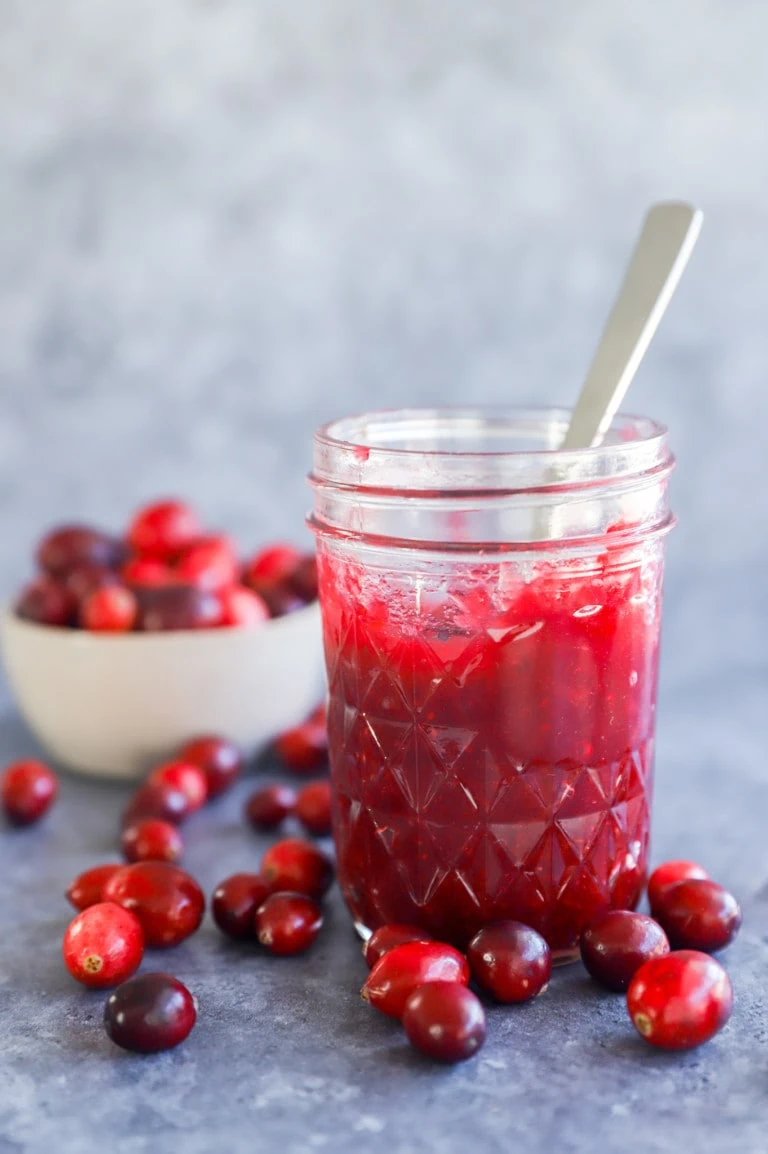 Jams like this are a must during fall and winter when fresh cranberries are at their peak ripeness. The flavor of cranberry is elevated just a little more with fresh orange juice and orange zest. This is a combination that just screams Thanksgiving, Christmas, and the entire holiday season to me.
However, the good news is, this recipe can easily be made with frozen cranberries so you can enjoy the vibrant flavor all year long!
Make this jam to spread on toast and biscuits, dollop in on pancakes, or bottle it up and give it to a friend or family member as a little gift. In this post you'll find out not only instructions for how to make this jam, but all of my tips and tricks to make it perfect.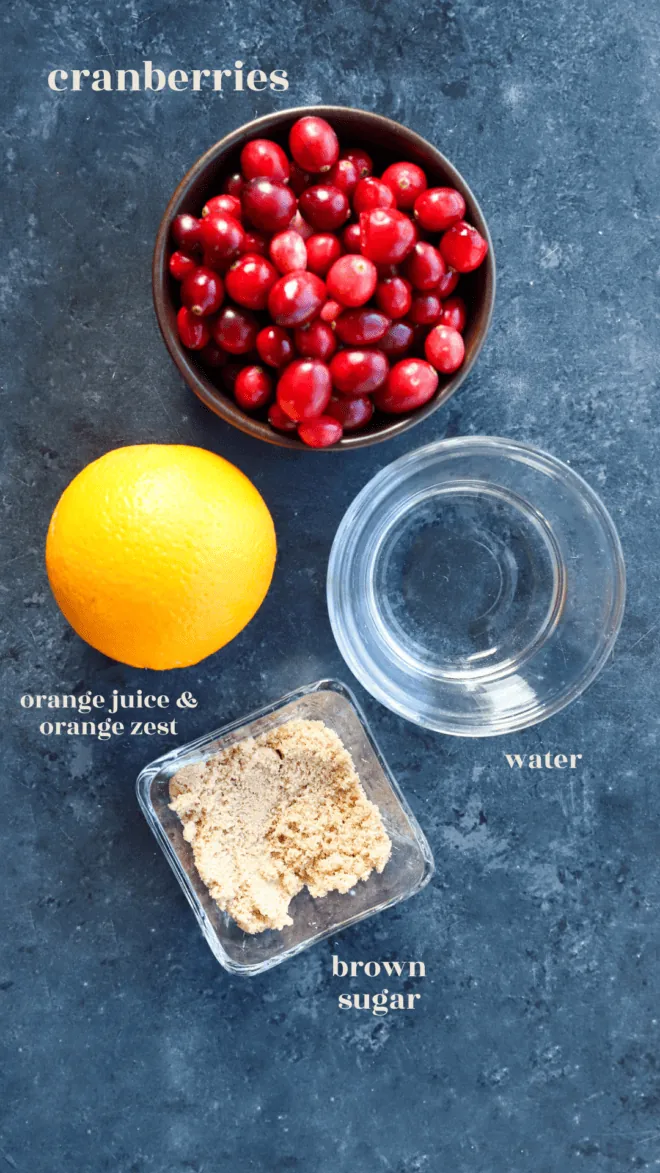 ingredients
cranberries. You can use fresh or frozen berries for this recipe! If you are using frozen cranberries, you should thaw them first and drain them of an excess liquid before using in the recipe.
sugar. You will need brown sugar for this recipe. Either light brown sugar or dark brown sugar will work.
orange. Grab a large orange as you will need it for both the juice and the zest.
water. Tap water is just fine in this recipe.
salt. A pinch of salt brings out the sweetness in the jam!
this recipe's must haves
For this recipe you will need a saucepan and a wooden spoon.
You will also need an immersion blender or high-speed blender like a Vitamix to blend the jam until it is smooth.
Don't forget the mason jars for storing the finished and cooled jam! You can use full pint jars or half pint jars, depending on how you prefer to store it.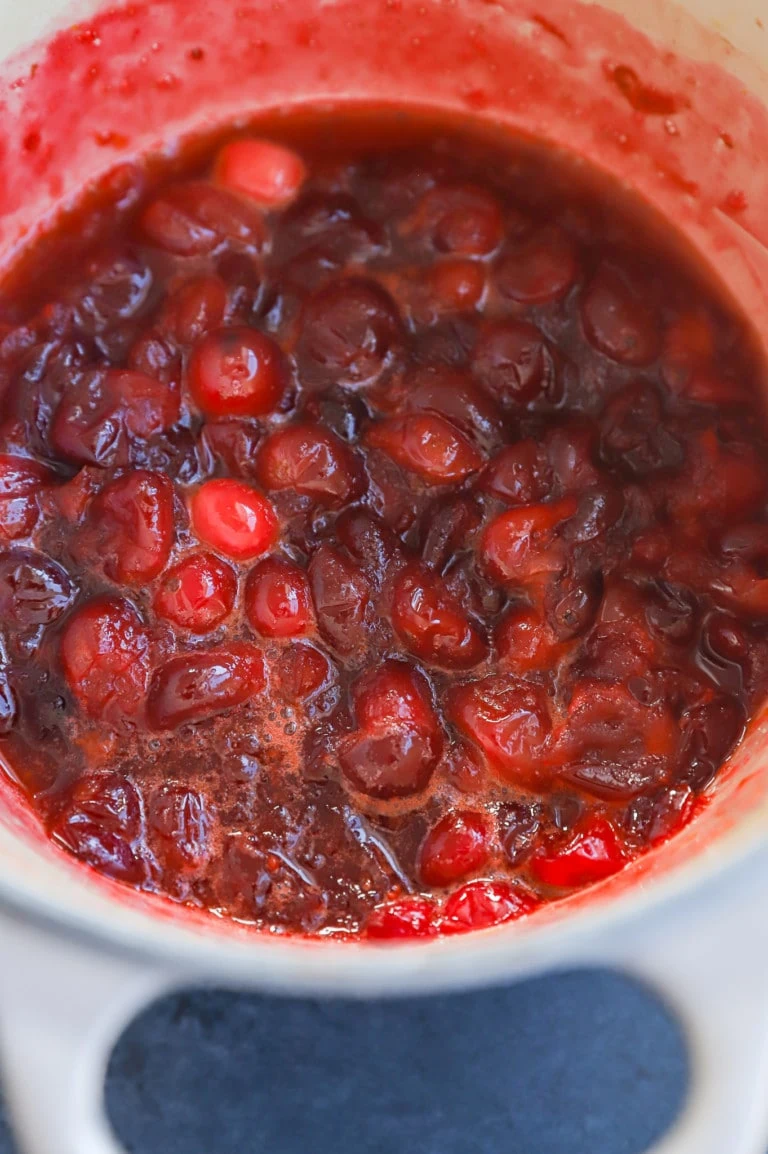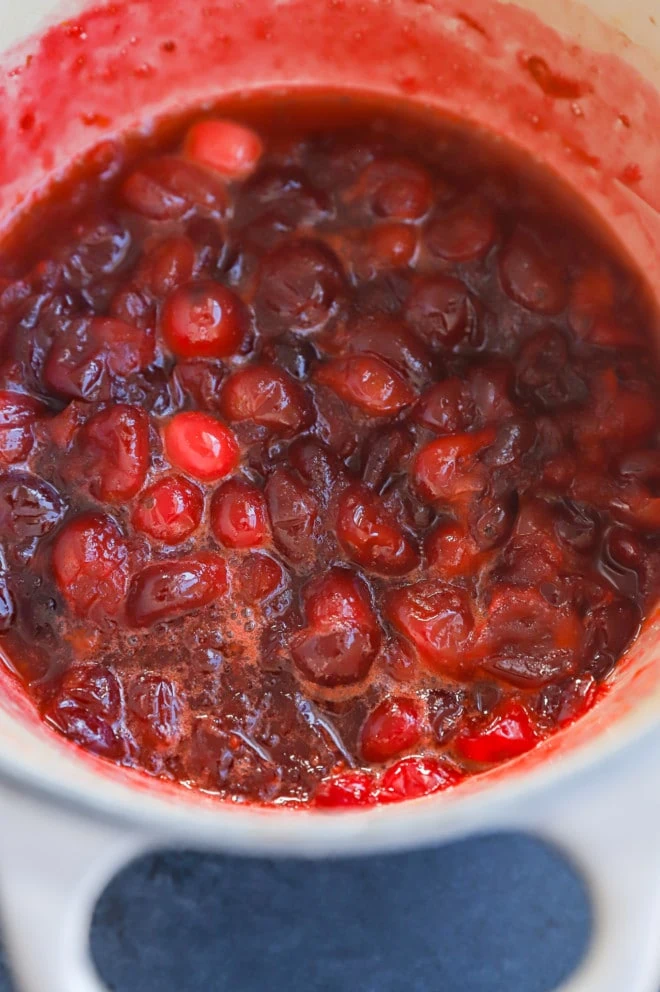 here's how to make cranberry jam
bring to a boil
Add ingredients to a saucepan over medium heat. Bring to a boil, stirring occasionally, until the sugar is dissolved.
simmer
Reduce heat to a simmer. Cook, stirring frequently, until cranberries are bursting and softened. This will take about 10 minutes.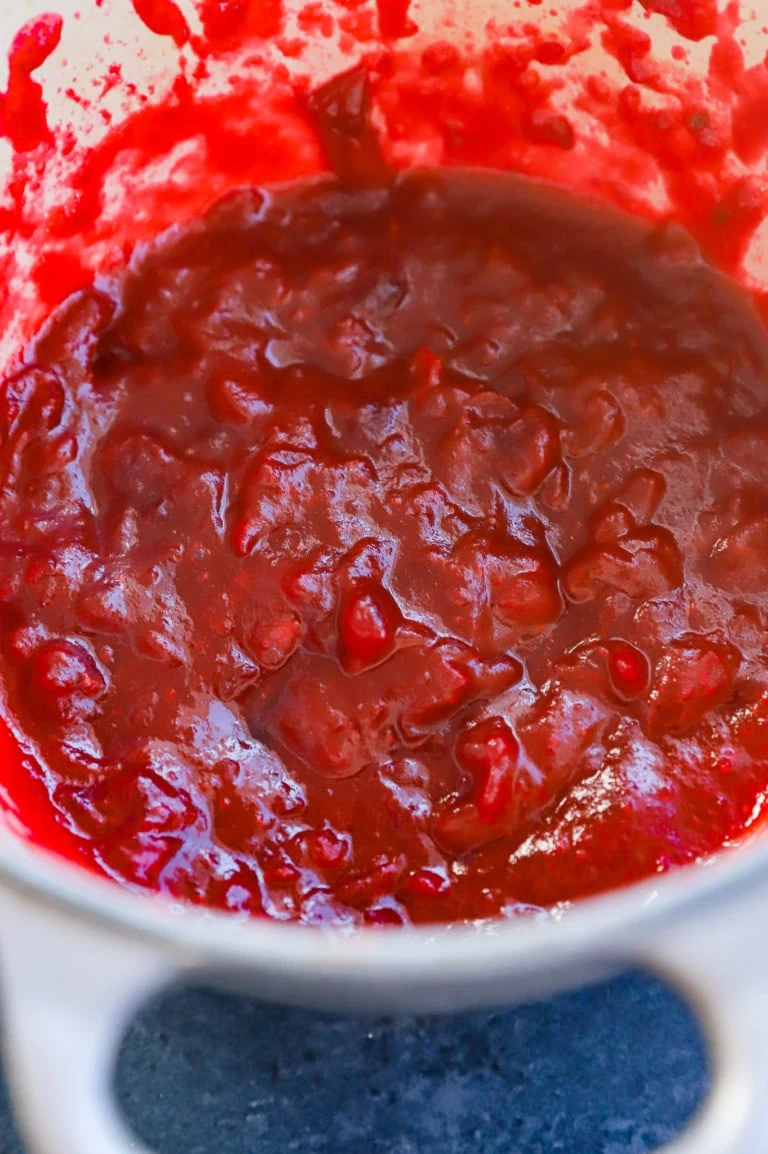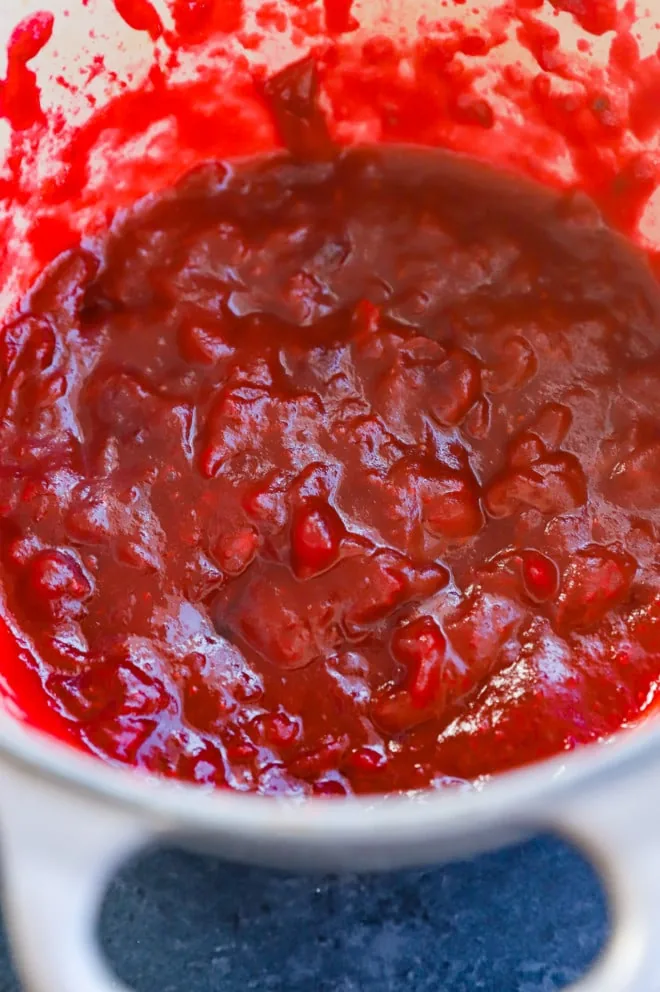 cool
Remove pot from heat. Use an immersion blender to puree the mixture until it is smooth. Let cool before storing. It will thicken as it cools!
tips and tricks
use the best cranberries. Whether you are using fresh or frozen, choose the best quality berries you can. This will yield the best flavor!
cool before storing. Make sure that you cool the jam completely to room temperature before storing. The jam will continue to thicken as it cools, plus storing warm food before it cools can cause bacteria growth.
scale up the recipe. Want to give this as a gift or just really love jam? You can easily double or triple this recipe!
adjust the sugar. If you like a sweeter jam, don't be afraid to add additional sugar to sweeten it to taste.
add your own flavors. Use whole spices like allspice berries or cinnamon sticks to change the flavor. Add them at the beginning of cooking and fish them out before you blend the jam.
More tasty ways to use fresh or frozen cranberries: Christmas Sangria | Cranberry Cobbler | Cranberry Cheesecake Mousse | Cranberry Mimosa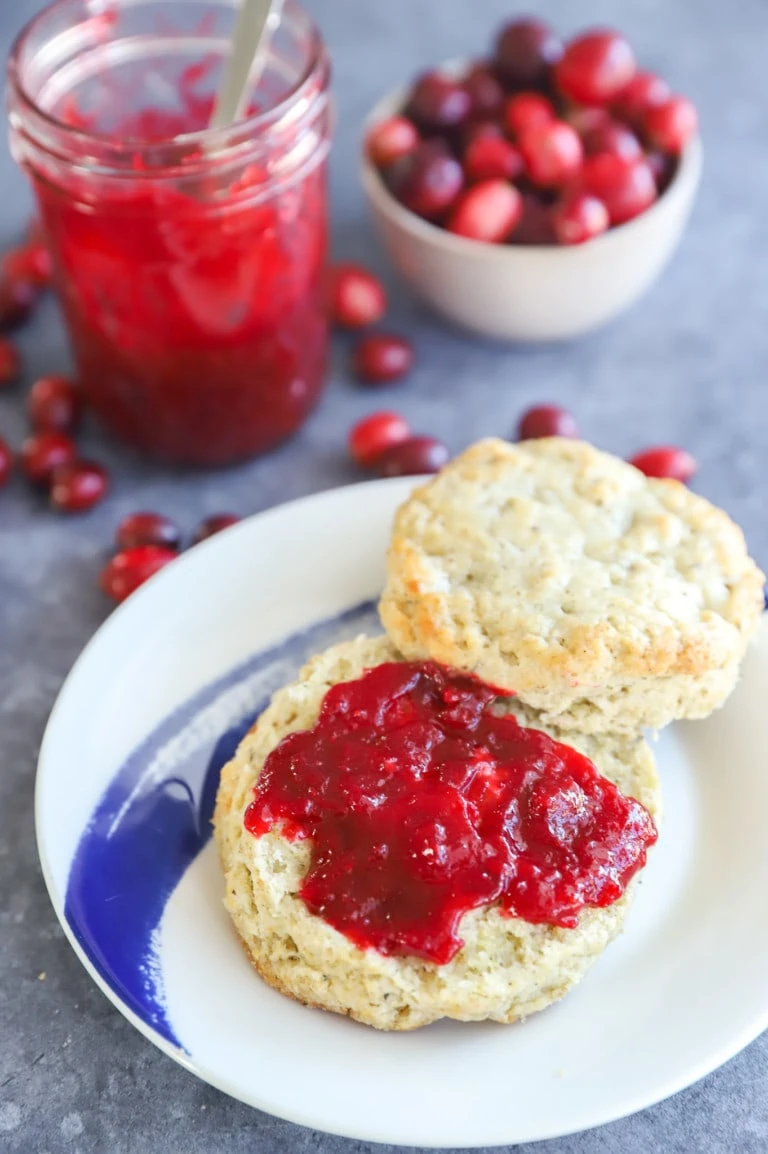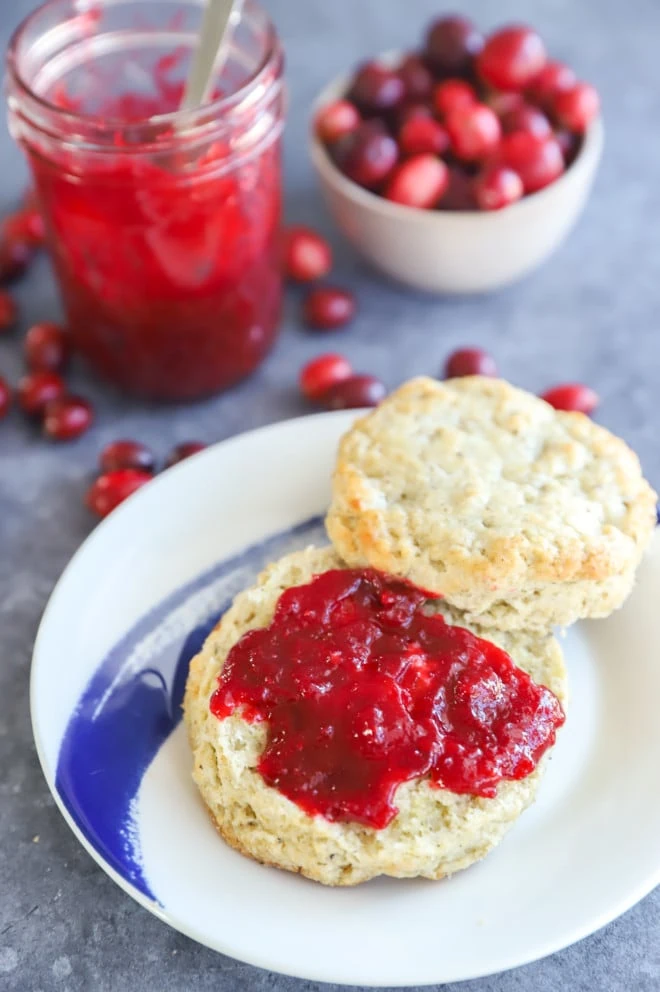 is cranberry jam good for you?
Cranberries are very good for you! They are high in Vitamin C and fiber, as well as other minerals. While this recipe does have sugar in it, there isn't a ton of sugar to offset the health benefits of the cranberries.
I don't have an immersion blender. Can I use a regular blender?
Yes, you can use a regular blender for this if you do not have a stick blender.
what is the difference between cranberry sauce and cranberry jam?
Both are cranberry spreads, so it's a little hard to tell the difference, depending on the recipe being used! However, they do tend to differ in two major ways – sweetness and texture.
Cranberry sauce is very thick and usually very tart. Cranberry jam is smoother and easy to spread, with a sweet flavor to balance out the tartness of the fruit.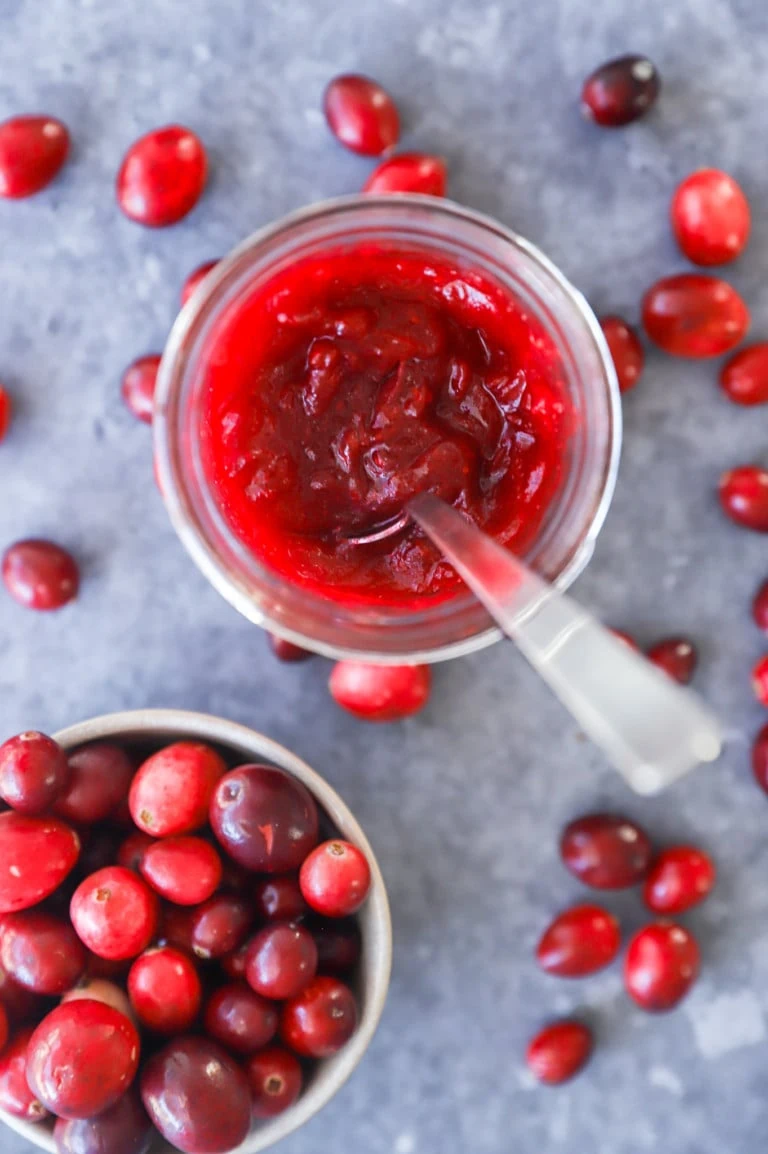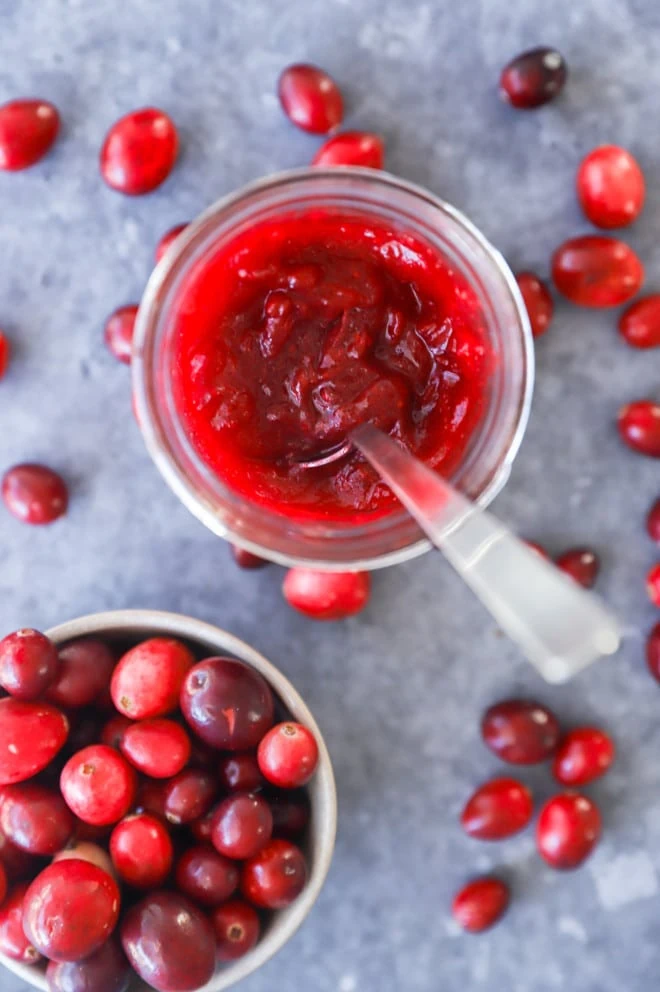 is cranberry jam vegan?
Yes, all of the ingredients in this recipe are vegan!
can I can this jam?
I am not familiar with the canning process and what can or cannot be canned. Therefore, I don't have a good answer for you! I do not know if this would be a good recipe to can, but it will last up to 2 weeks in the refrigerator. Since this is a smaller batch, that should be plenty of time to get through it.
can I make this recipe with dried cranberries?
I have not tried to make this recipe with dried cranberries, but I don't think it would work. The recipe relies on plump cranberries to make the jam! Of course, feel free to try it and report back.
Need more inspiration for fall cooking or baking? Check out my Fall recipes page!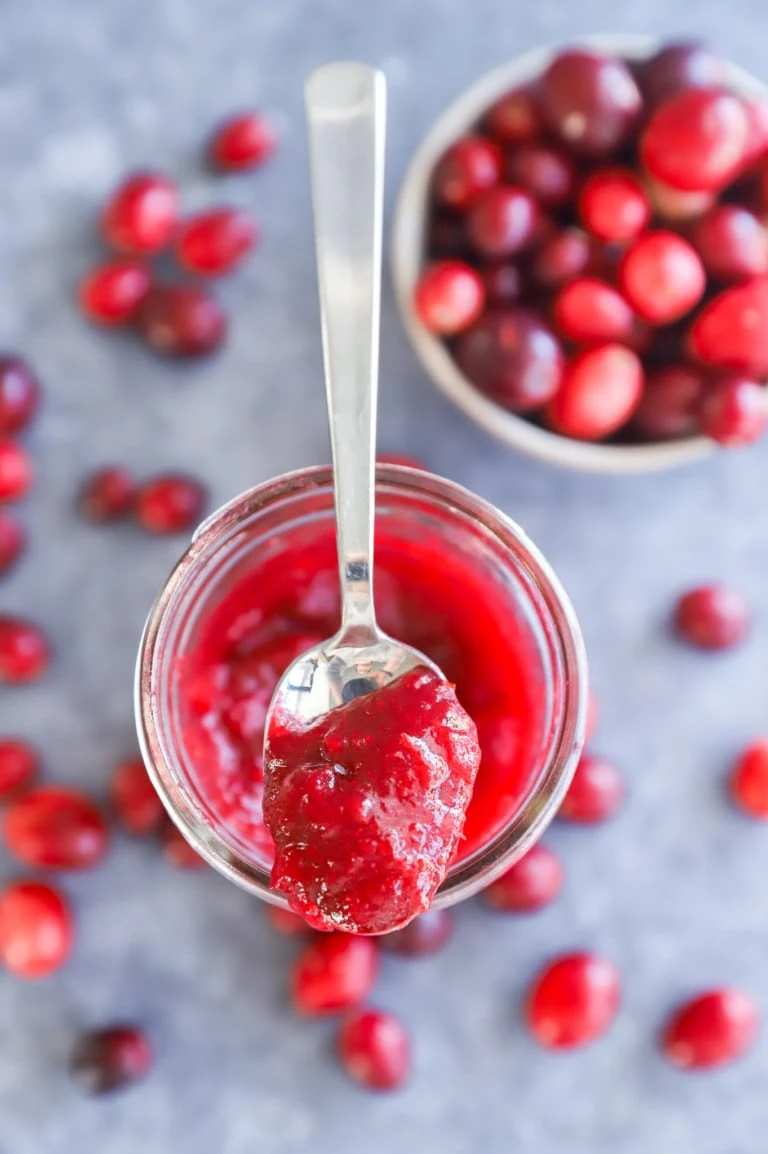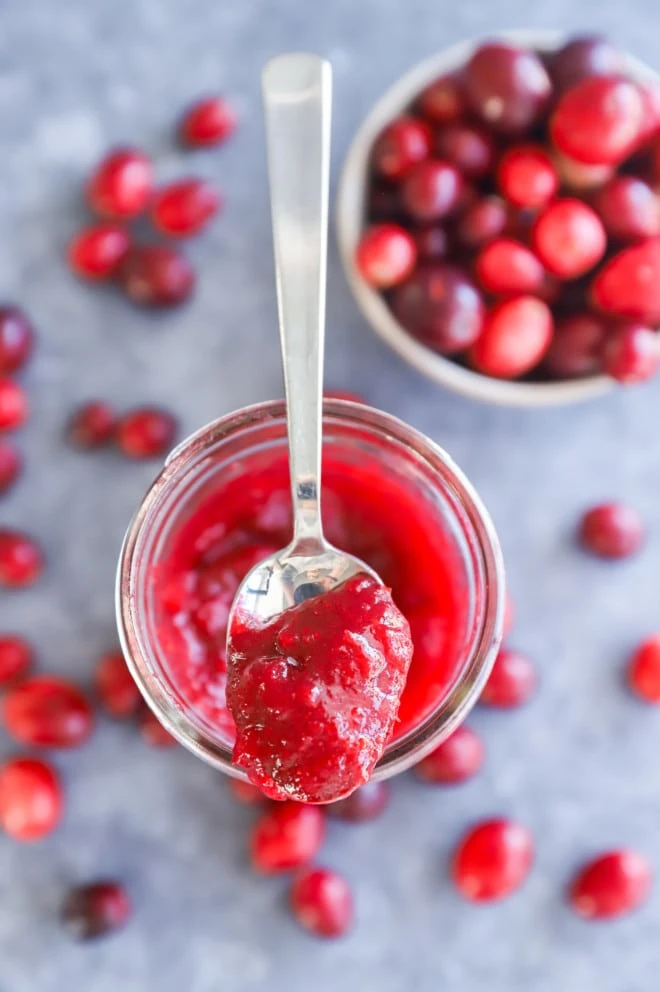 how to use cranberry jam
This homemade jam is super versatile and can be used in so many different ways. We love to spread it on toast, add it to cocktails, and more. Here's some inspiration for how to use it:
Slather it on biscuits or scones. Bonus points if you add a layer of softened butter underneath. If you know, you know.
Use it on your favorite muffins!
Add it to your breakfast routine whether you spread it on toast, waffles, French toast, or pancakes.
Use it as the jam component of your favorite charcuterie board.
This jam can be used as a topping for your favorite desserts! From pound cake to ice cream, there's no end to the options for this tart and sweet treat.
Stir it into your next bowl of oatmeal! It's especially delicious when paired with apples and ground cinnamon.
how to store
Store. Cranberry jam will last up to two weeks when stored in an airtight container in the refrigerator.
Freeze. Add jam to a clean jar with a lid. It will last for 6 to 8 months in the freezer.
Thaw. Thaw overnight in the container in the fridge.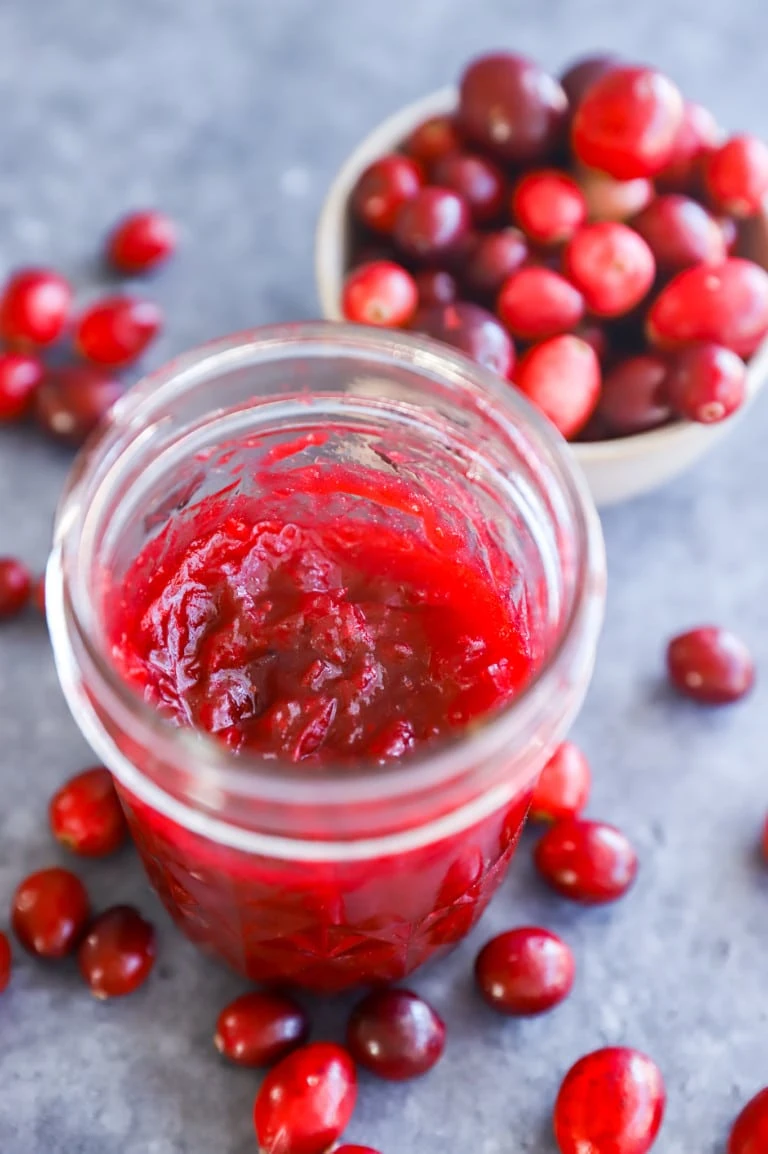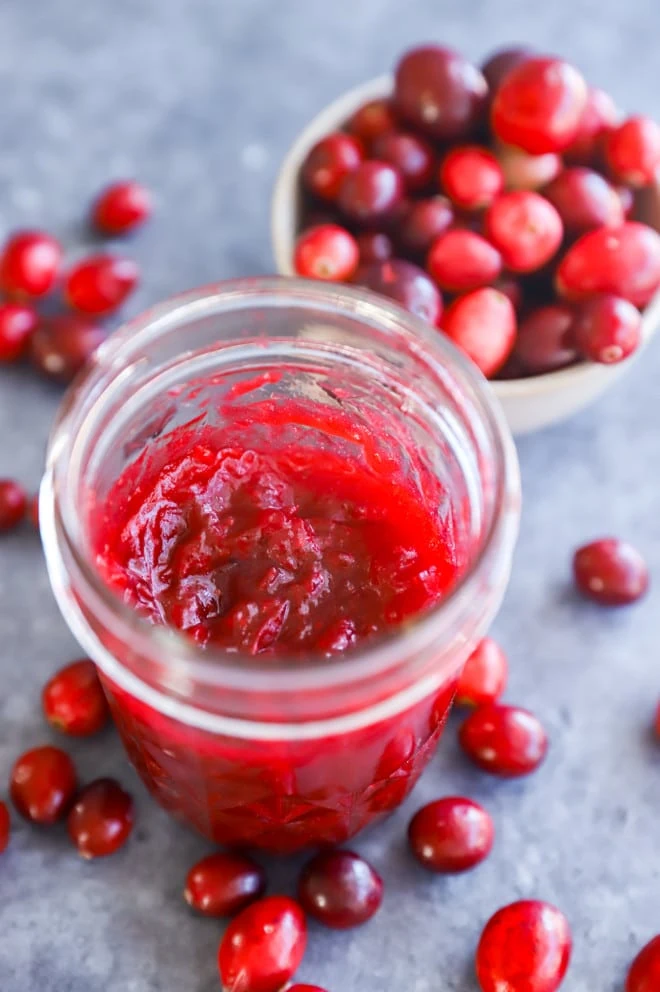 more easy sauce recipes
Smashed raspberry compote is a simple sauce that's ideal for using on ice cream, pavlova, and more!
Bailey's hot fudge sauce is decadent and chocolate-packed. You'll never need another hot fudge sauce again.
If you are looking for a new BBQ sauce, this bourbon peach BBQ sauce is the best way to make the most of your peaches!
seasonal tip
Use ripe cranberries if you are using fresh cranberries! Ripe berries will be scarlet or fire-engine red. The deeper the color, the older they are. You want firm cranberries that give slightly when they are squeezed.
Finally, if you make this easy homemade cranberry jam recipe, please be sure to give this recipe a rating and/or leave a comment! I love to hear when you all make recipes, and I do take the time to respond to every single comment.
Feel free to drop questions below too, if you have them!
Oh and be sure to tag me on Instagram if you make the recipe! I love being able to see these recipes come to life in your homes – it's my favorite thing to look through those photos. It really means the world to me!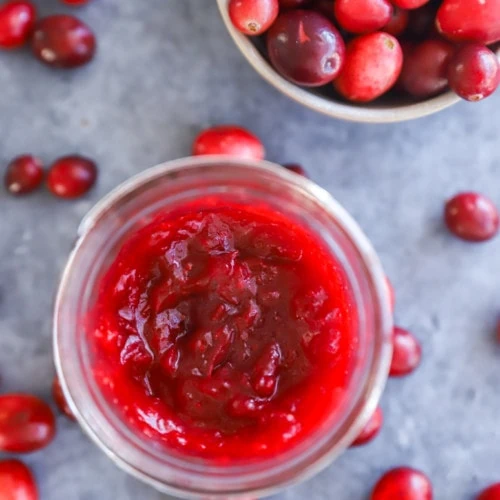 cranberry jam
With just 5 ingredients, you'll find yourself making this over and over again!
Print
Pin
ingredients
2

cups

fresh cranberries

1/4

cup

+ 2 Tbsp brown sugar

1/2

cup

water

1/4

cup

+ 2 Tbsp fresh orange juice

1

tsp

orange zest

Pinch

of salt
instructions
Add all ingredients to a saucepan over medium heat. Bring to a boil and stir occasionally, until the sugar is dissolved.

Reduce heat to a simmer over low heat. Cook, stirring frequently, until the cranberries have burst, about 10 minutes.

Remove from heat. Use an immersion blender to puree the mixture until it is smooth.

Let cool completely. Transfer to a jar or serve.
nutrition
Calories:
222
kcal
|
Carbohydrates:
57
g
|
Protein:
1
g
|
Fat:
0.2
g
|
Saturated Fat:
0.02
g
|
Polyunsaturated Fat:
0.1
g
|
Monounsaturated Fat:
0.04
g
|
Sodium:
17
mg
|
Potassium:
228
mg
|
Fiber:
4
g
|
Sugar:
48
g
|
Vitamin A:
156
IU
|
Vitamin C:
38
mg
|
Calcium:
50
mg
|
Iron:
1
mg