Please note this post contains affiliate links.
Jalapeño Cheddar Biscuits are flaky, warm, and full of buttery flavor (and a hint of spice!). These biscuits are so darn easy to make, you can whip them up any night of the week! Plus the leftovers are fantastic for biscuits and gravy or sandwiches the next day. Makes 8.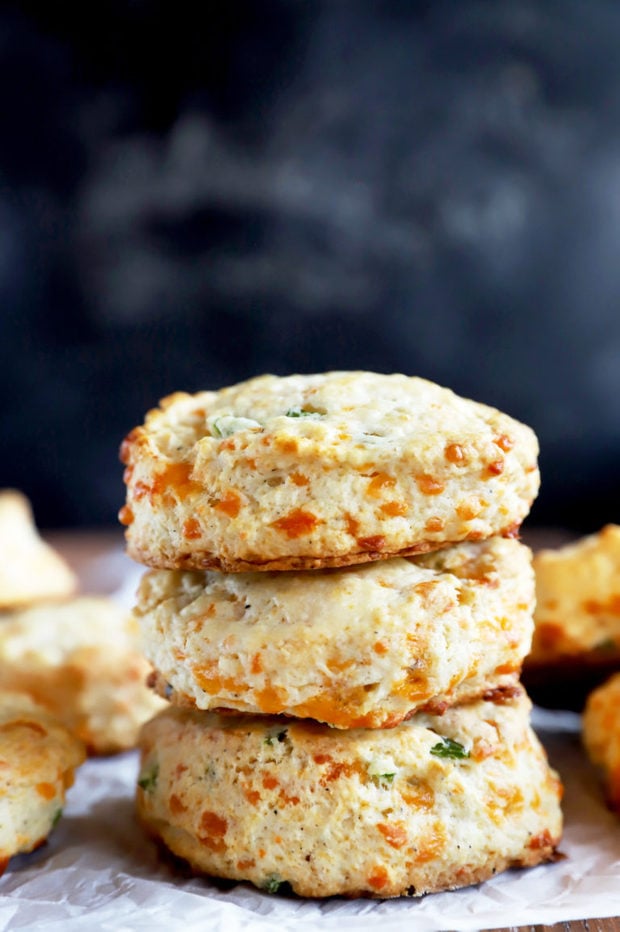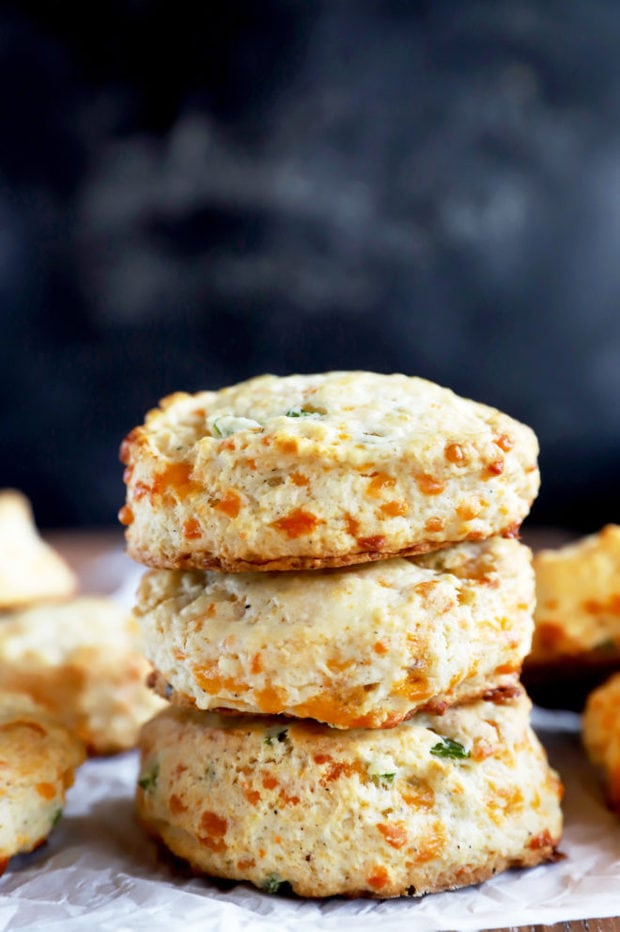 There's nothing better than a warm flaky biscuit, is there?
I used to think biscuits were too intimidating to try to make. However, after I started this blog, I started going back through old recipes that my grandmother had.
I went back to her scone recipe first, because they were always my favorite, but then I stumbled upon biscuits.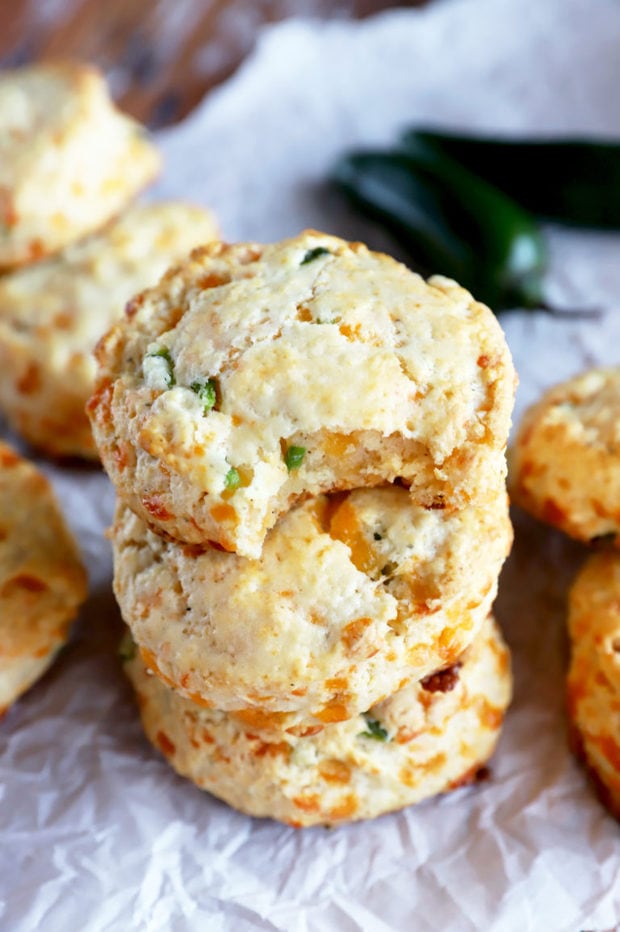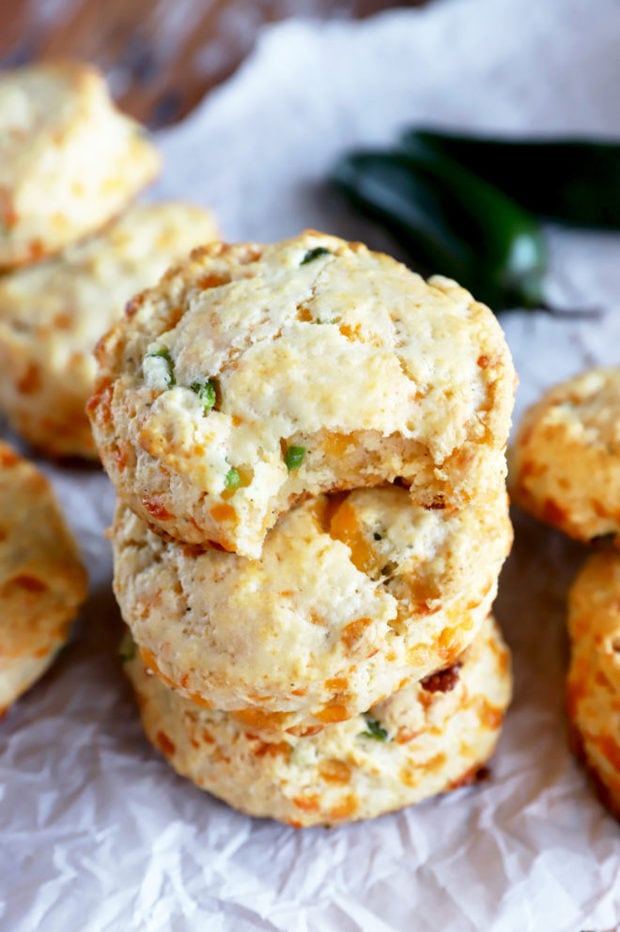 Who knew that biscuits are just as easy to make as scones?! I sure didn't.
Ever since I discovered how simple they are to make, I absolutely adore making them. You get your hands involved. The options for mix-ins are endless. Plus they are the little touch on the table that reminds me of Sunday meals with the whole family!
The jalapeño flavor comes through without being overly spicy, and the sharp cheddar gives the ideal compliment to the buttermilk biscuits that are oh-so flavorful. They just melt in your mouth… Plus using the leftovers for breakfast the next day is the best idea EVER. Use them with your favorite gravy recipe for biscuits and gravy, or make a breakfast sammie with them!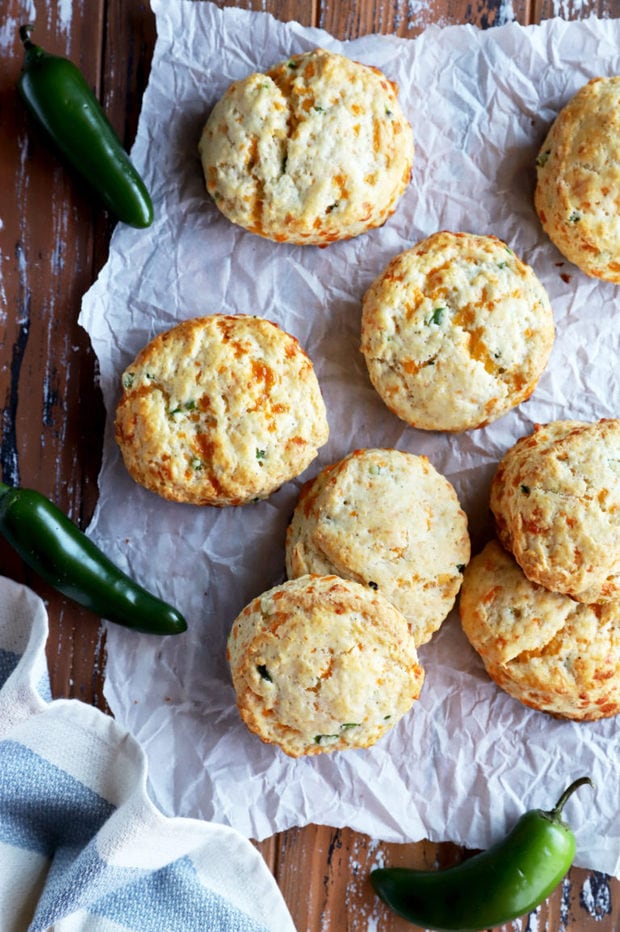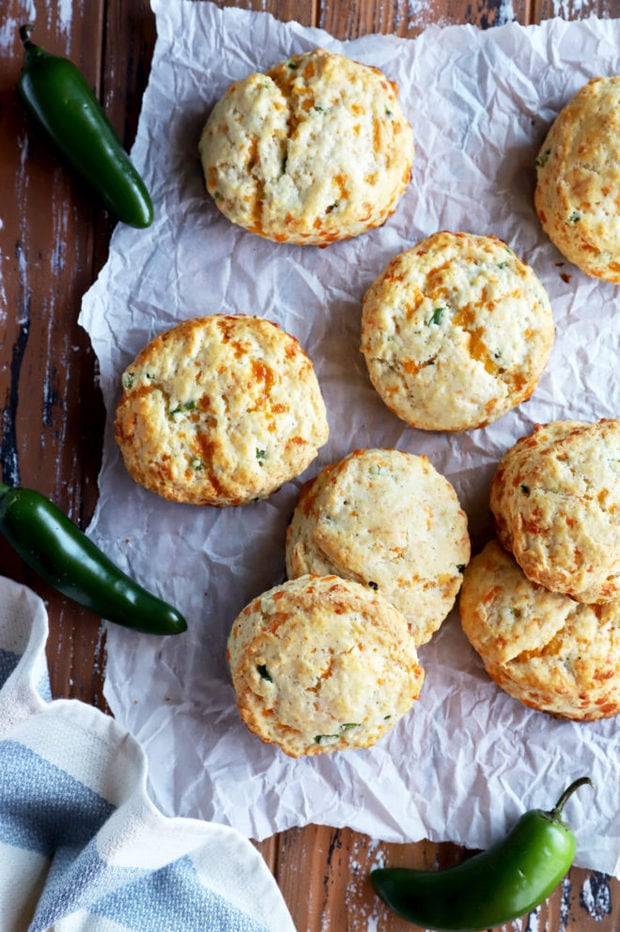 this recipe's must-haves
To chop up the jalapeño for the recipe, you'll need a chef's knife or paring knife and cutting board.
For the dough, I like to use one of my large metal mixing bowls and my hands to cut the butter in. You can also use a wooden spoon.
When ready to roll out the dough, I love this marble rolling pin!
Finally, to cut out the biscuits, I love this biscuit cutter set.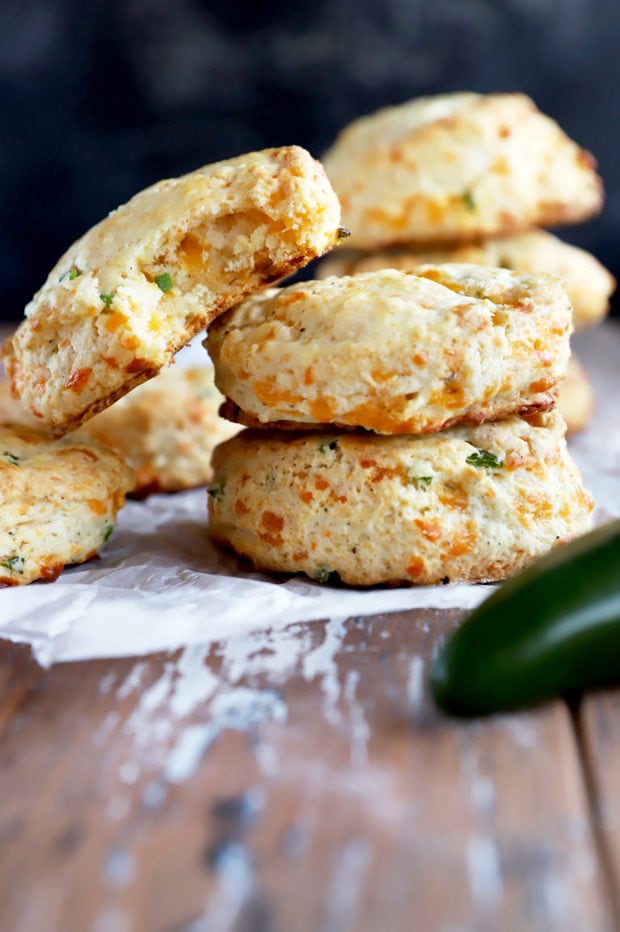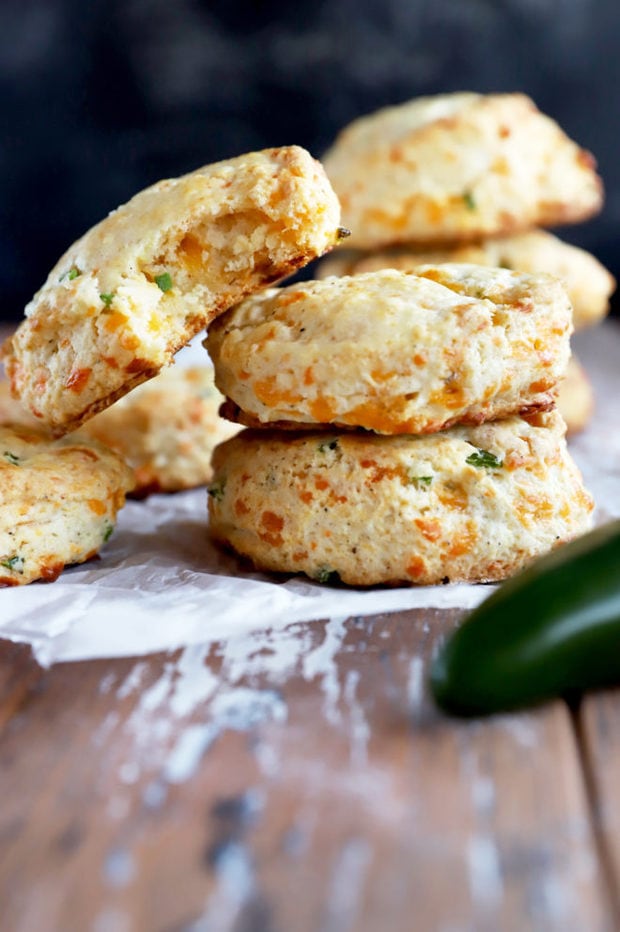 let's make delish jalapeño cheddar biscuits!
Make Dough
Start by mixing together the dry ingredients in a large bowl. Add 1/2 cup butter and cut it in using either two knives, a pastry cutter, or your hands. Personally I like to use my hands. Once the mixture resembles coarse crumbs, stir in the cheese, jalapeño, and buttermilk until it just starts to come together.
Roll & Cut
Turn the dough out onto a floured surface, then knead the dough about 8 to 10 times until it comes together in a bowl. Roll out until it's about 1-inch thick.
Cut into circles that are 2 to 2 1/2 inches in diameter. Reroll any scrapes and cut as needed.
Bake
Place dough rounds on a parchment paper-lined baking sheet. Brush the tops with buttermilk.
Bake for 18 to 22 minutes, until golden brown, at 425˚F. Serve warm.
Need some more inspiration for baking bread? Check out my bread recipes page!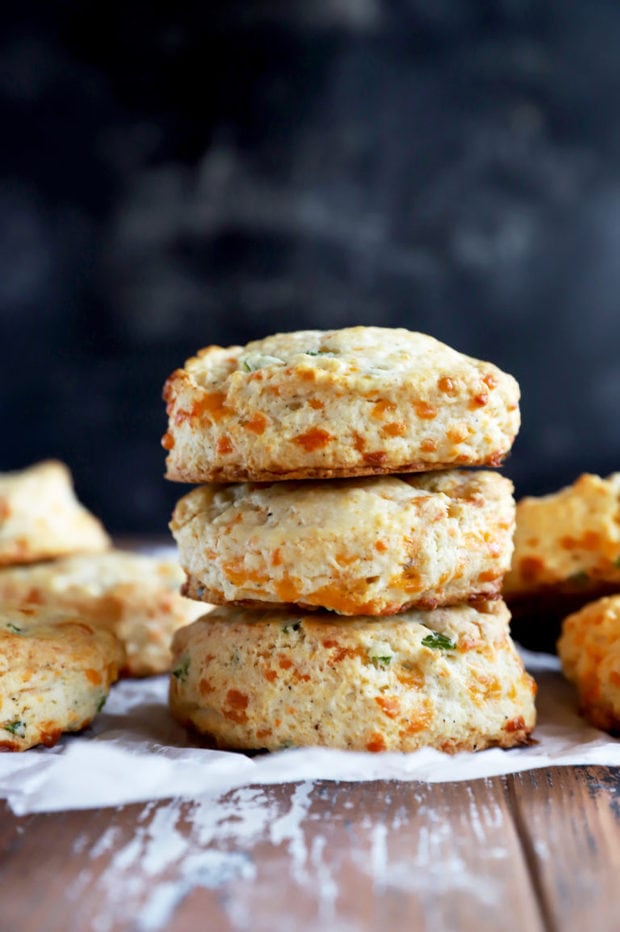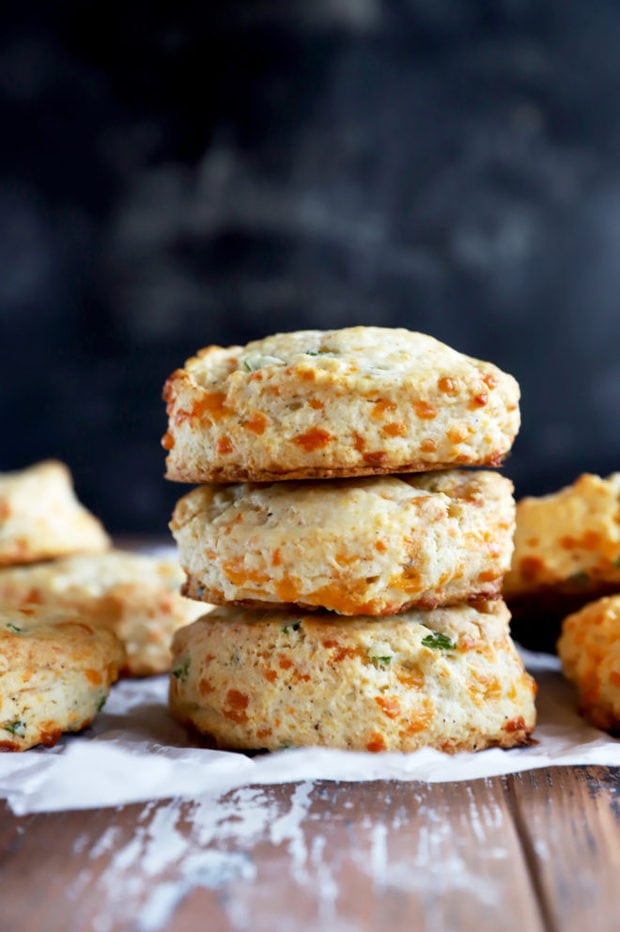 can I use a different type of cheese?
Yes you certainly can! I love sharp cheddar cheese, but you can also use pepper jack, Monterey jack, medium cheddar cheese, or even gouda for a smoky flavor.
are these biscuits spicy?
They have a very slight hint of heat, but they are not spicy. Really, you are getting the jalapeño flavor over the heat. If you'd like them to be spicy, dice the jalapeño without removing the seeds.
how long do they last?
These jalapeño cheddar biscuits will keep for 1 to 2 days at room temperature. To store them longer, keep in an airtight container for up to a week in the refrigerator.
what should I serve these with?
For me, the classic serving option is always salted butter! However these are also great as the bread for sandwiches, eggs benedict, with gravy, and so much more. If you love the sweet, spicy, and savory combo, I love slathering them with salted butter and some strawberry rhubarb jam or cranberry jam!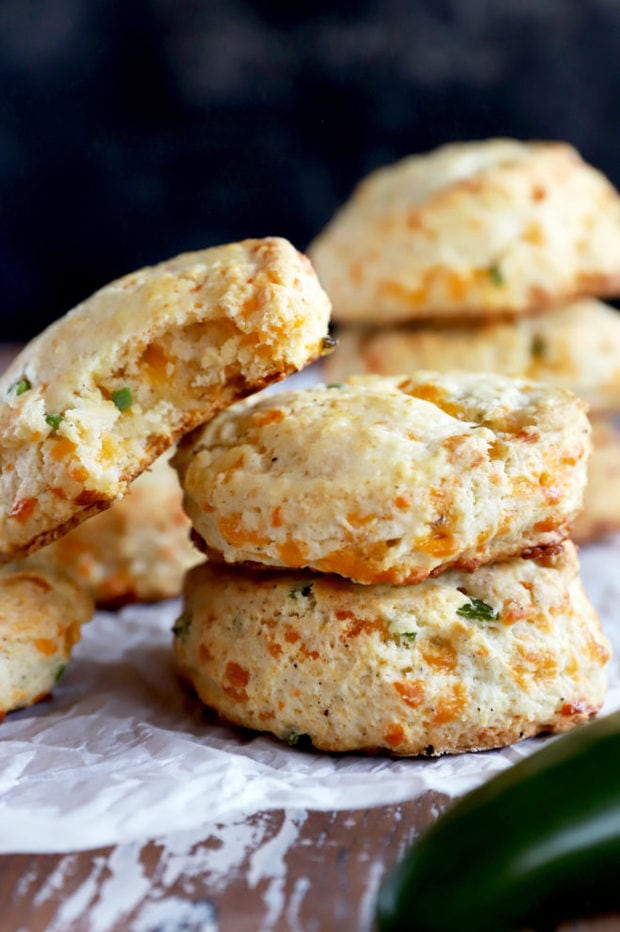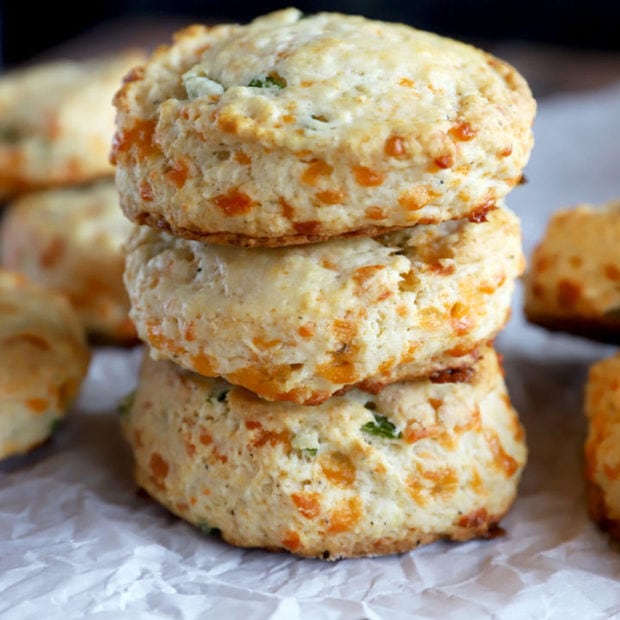 Jalapeno Cheddar Biscuits
A little bit of spice and cheese make these flaky biscuits even more delicious!
Ingredients
1 3/4 cups all-purpose flour
2 1/2 tsp baking powder
2 Tbsp granulated sugar
1/2 tsp salt
1/4 tsp black pepper
1 tsp garlic powder
1/4 tsp baking soda
1 jalapeno, seeded and finely chopped
1/2 cup cold butter
1 cup cheddar cheese
1/2 cup plus 1 Tbsp buttermilk, divided
Instructions
Preheat oven to 425˚F. Line a baking sheet with a silicone mat or parchment paper.
Add flour, baking power, sugar, salt, black pepper, garlic powder, and baking soda to a large bowl. Stir to combine.
Cut in 1/2 cup butter using two knives, a pastry cutter, or your hands until mixture resembles coarse crumbs. Stir in cheddar cheese and 1/2 cup buttermilk, until just moistened.
Turn dough out onto a lightly floured surface.Knead the dough 8 to 10 times. Roll out until it's 1-inch thick. Cut into circles that are 2 to 2 1/2-inches in diameters.
Place biscuits 1 inch apart on the prepared baking sheet. Brush the tops with remaining buttermilk.
Bake for 18 to 22 minutes, until golden brown. Serve warm.
Recommended Products
As an Amazon Associate and member of other affiliate programs, I earn from qualifying purchases.