Please note this post contains affiliate links.
Oreo Bailey's Truffles are creamy, rich, and a little bit boozy! The festive bites are ideal for your St. Patrick's Day celebrations. You can easily make them ahead of time and they are make fabulous gifts too! Makes approx. 1 1/2 dozen.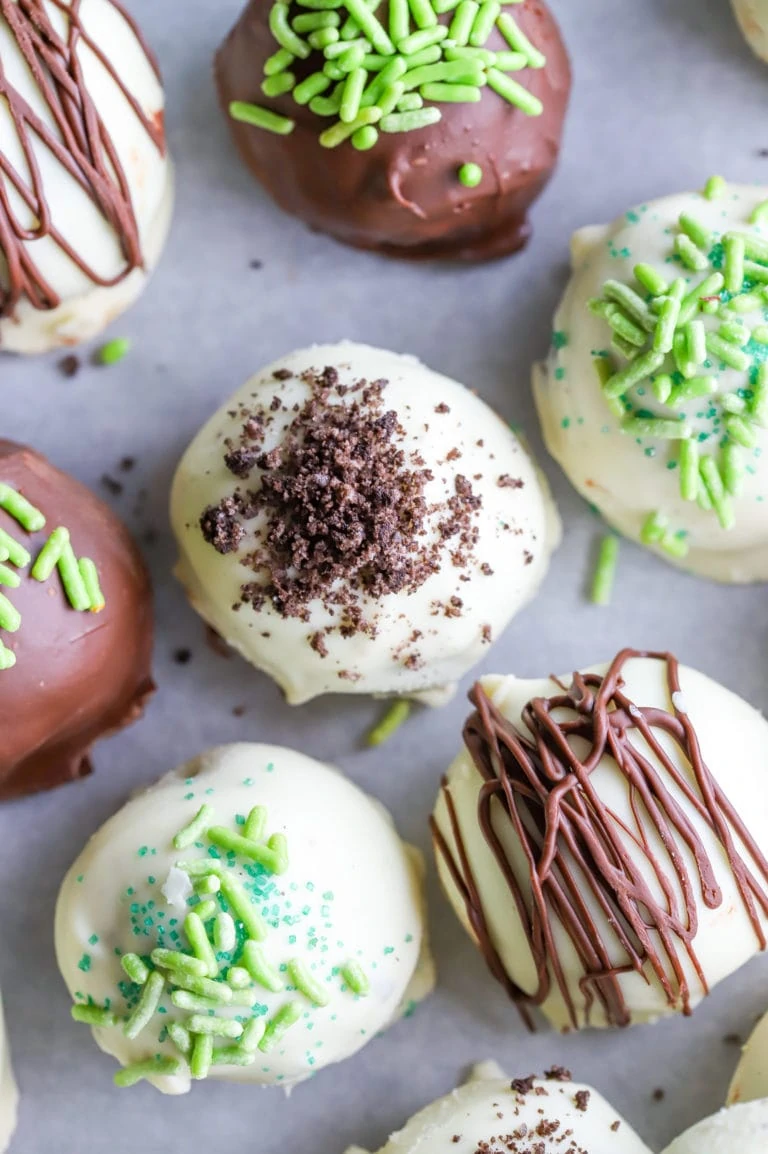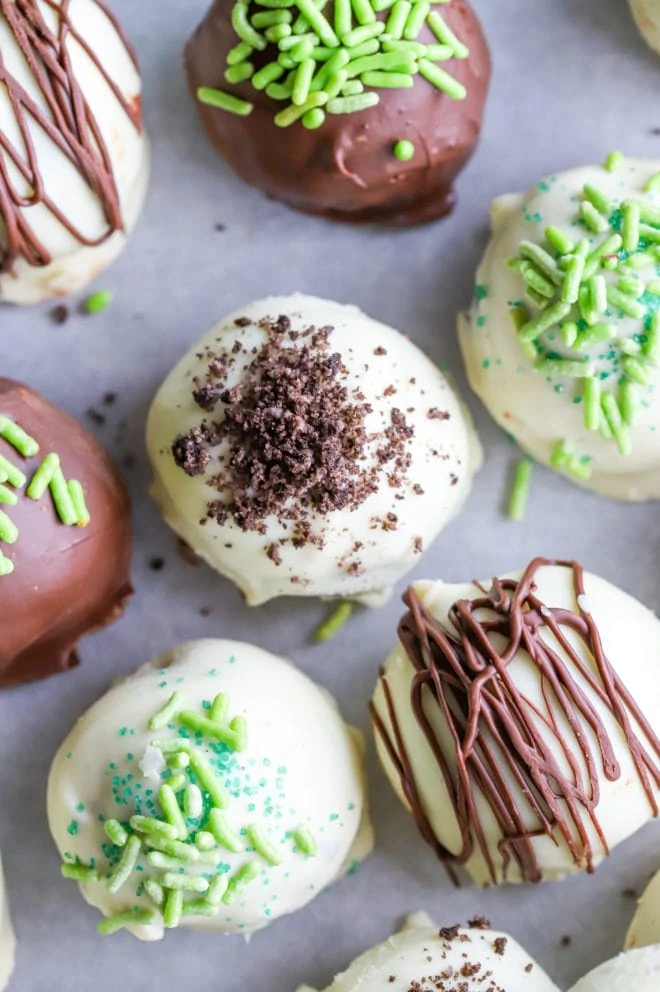 I know I've been sharing lots of fun recipes for St. Patrick's Day and today is no exception!
Now, I absolutely LOVE Oreos – it's a little bit of an addiction…
So of course, making truffles with Oreos always has my vote! But what kind of twist to put on it to celebrate the holiday?
Well, Irish cream of course! The boozy, creamy kick that the liquor gives this recipe is so indulgent and perfect for the adults.
Plus, this makes about 1 1/2 dozen truffles total, so you can easily serve them at a party or bring them to whatever gathering you are headed to this week.
They also make fantastic gifts for friends, family, teachers, etc!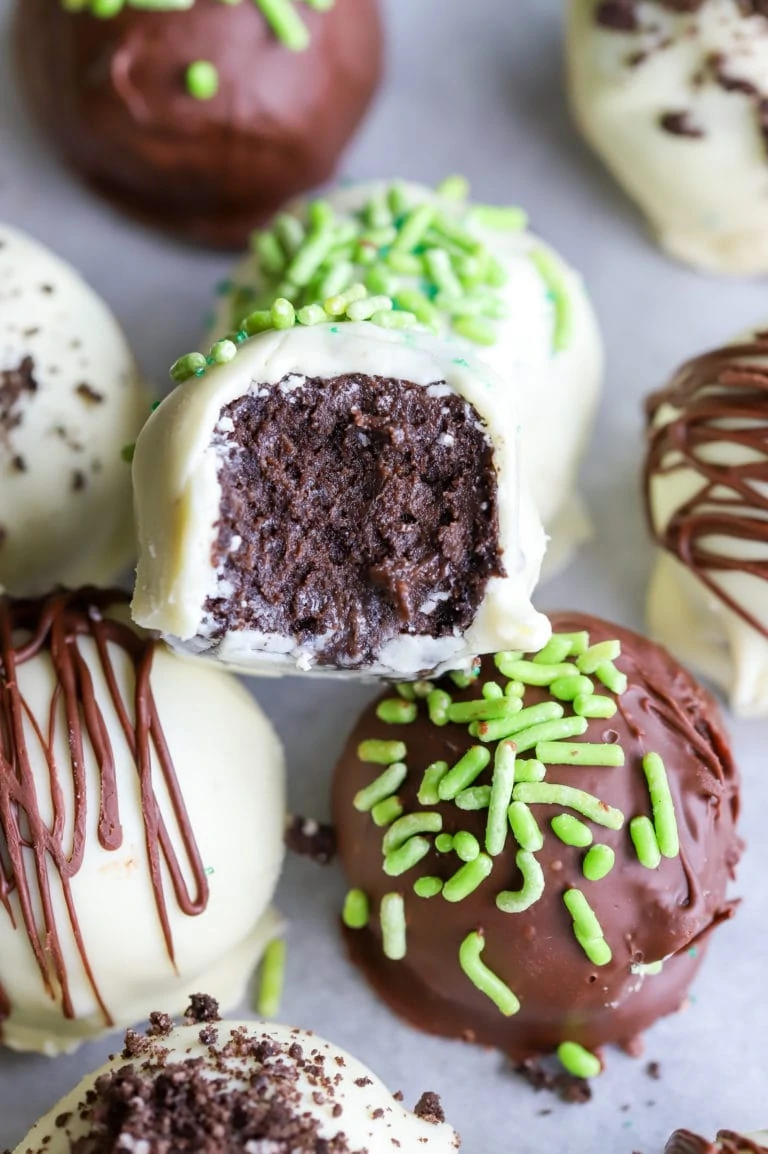 ingredients
oreos – the star of the show! I use regular Oreos – don't use Double Stuff or any of the other crazy specialty flavors because those will throw off the flavor and texture of the recipe.
cream cheese – this is what helps the truffles hold together! I prefer full fat because the flavor is better.
vanilla extract – It's best to use a high-quality vanilla extract for your recipes. My favorite is Nielsen Massey – their Madagascar Bourbon Pure Vanilla Extract is amazing.
Bailey's Irish Cream – this is the boozy element of the truffles! I love the creamy flavor it adds to the mixture, making it festive for St. Patrick's Day celebrations! If you prefer a different Irish Cream, you can use another brand.
chocolate – to coat these truffles, I used both white chocolate and semi-sweet chocolate. You can also use milk or dark chocolate, depending on your flavor preference.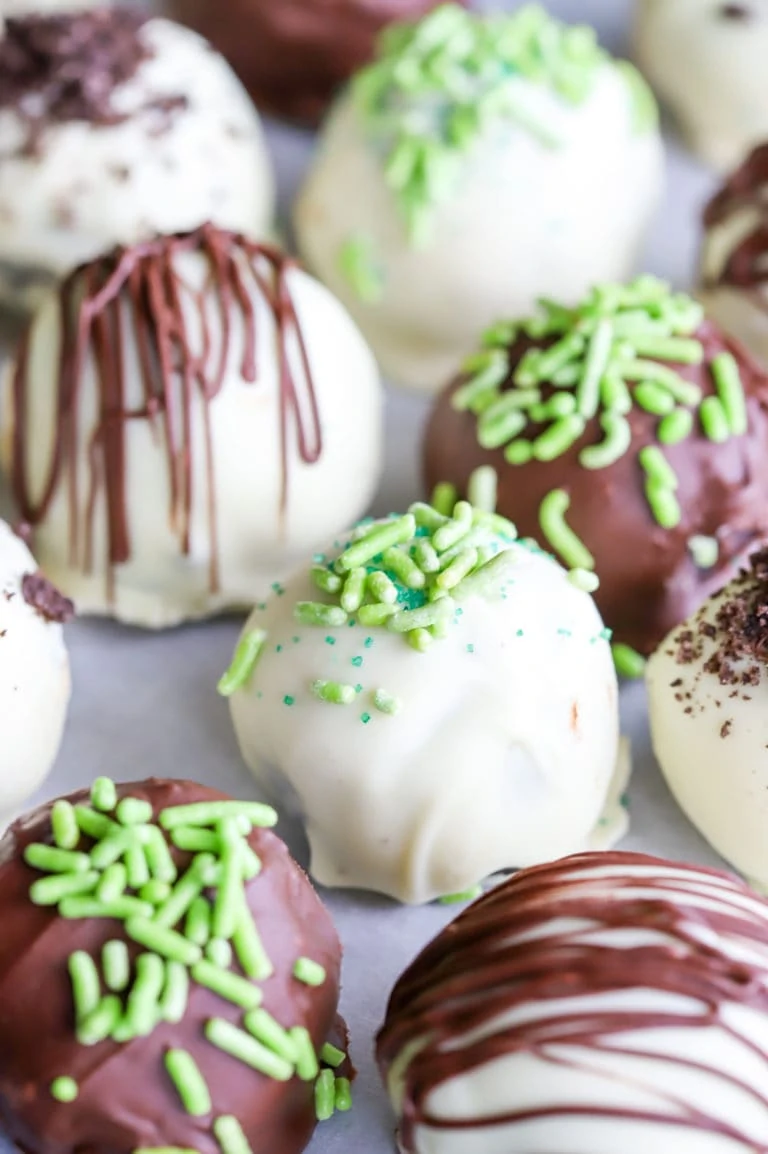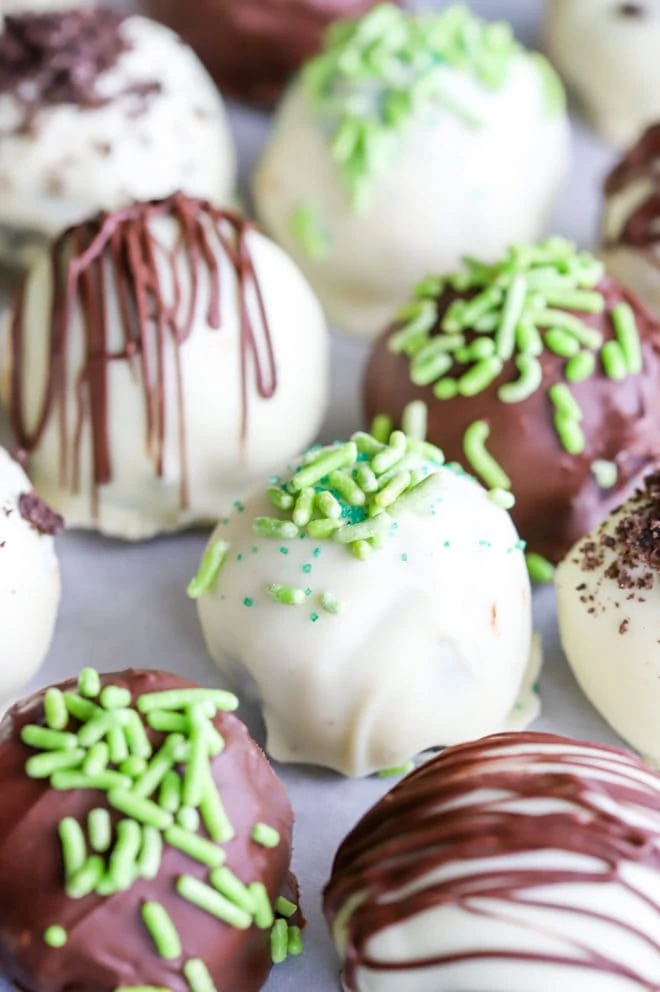 this recipe's must haves
There are just a few tools to make these truffles! First, you'll need a food processor to crush up the Oreos into crumbs.
You will also need the largest of your metal mixing bowls, as well as a spatula or a wooden spoon to mix everything together.
Finally, I like to use a cookie dough scoop to form the truffles themselves.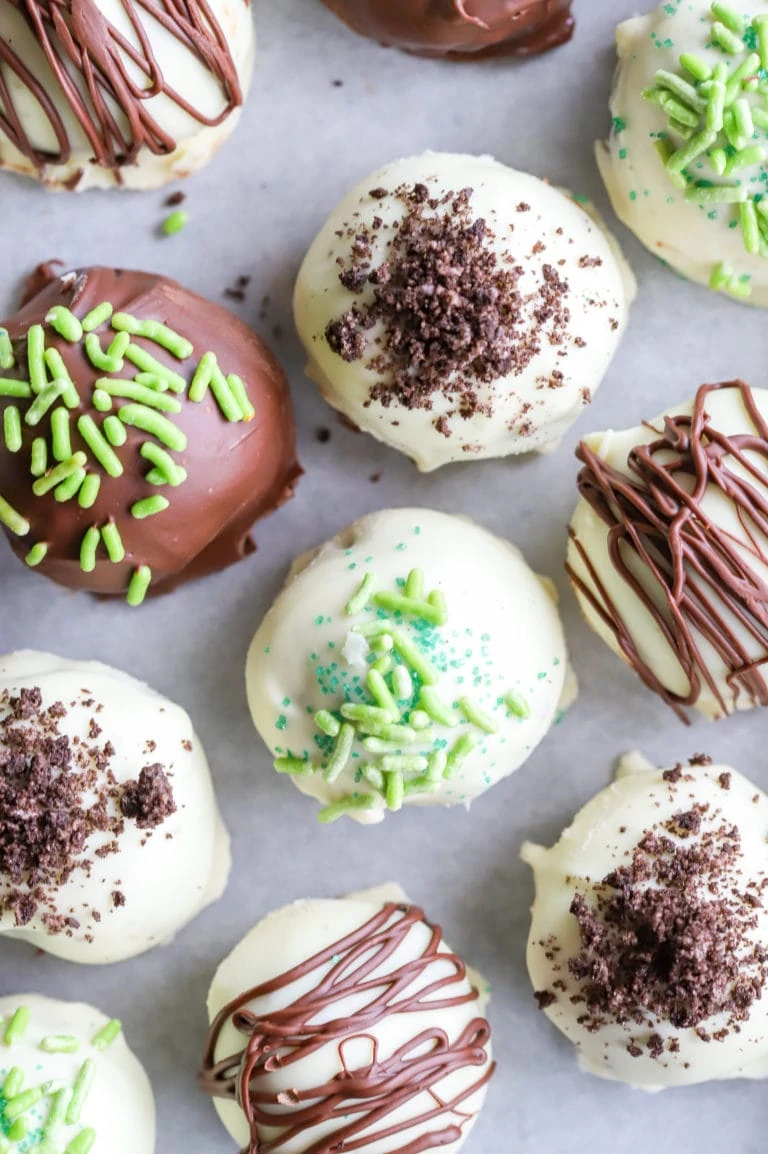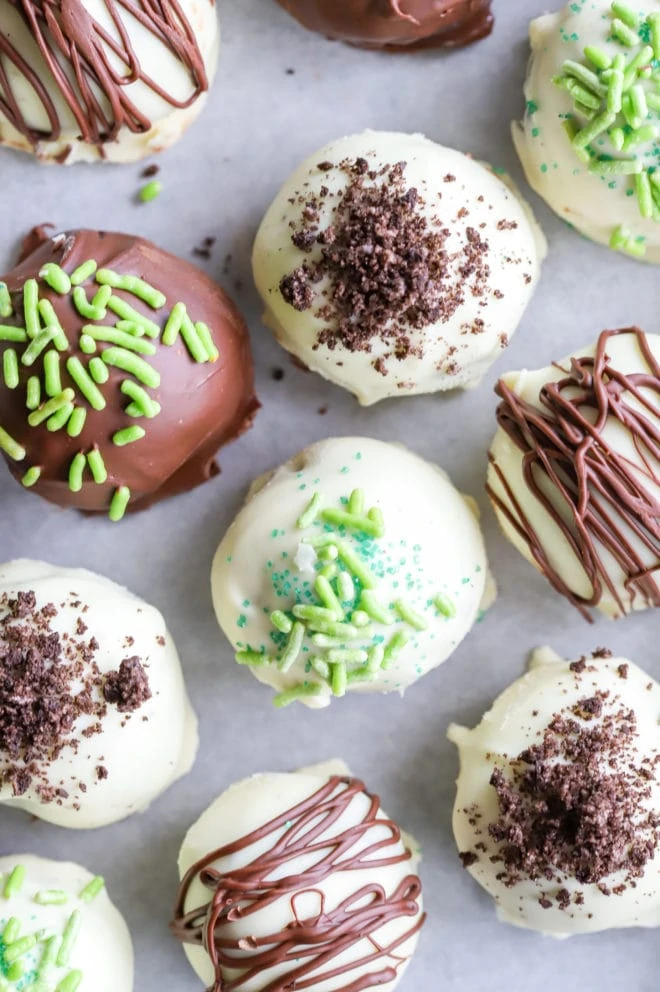 here's how to make oreo bailey's truffles
crush oreos
Add Oreos to a food processor and process on high until the cookies are crushed into crumbs. Pour the crumbs into a large bowl. Be sure to set aside a couple of tablespoons to use for decoration!
combine
Add cream cheese, vanilla extract, and Bailey's Irish Cream to the crumbs. Stir together well until combined and you can no longer see chunks of the cream cheese.
freeze
Form the mixture into balls and place on a baking sheet lined with parchment paper. Freeze for 30 minutes.
coat and decorate
Coat the truffles in the melted chocolate of your choice. Decorate with chocolate, sprinkles, and crushed Oreos. Freeze for another 15 minutes until the chocolate is set.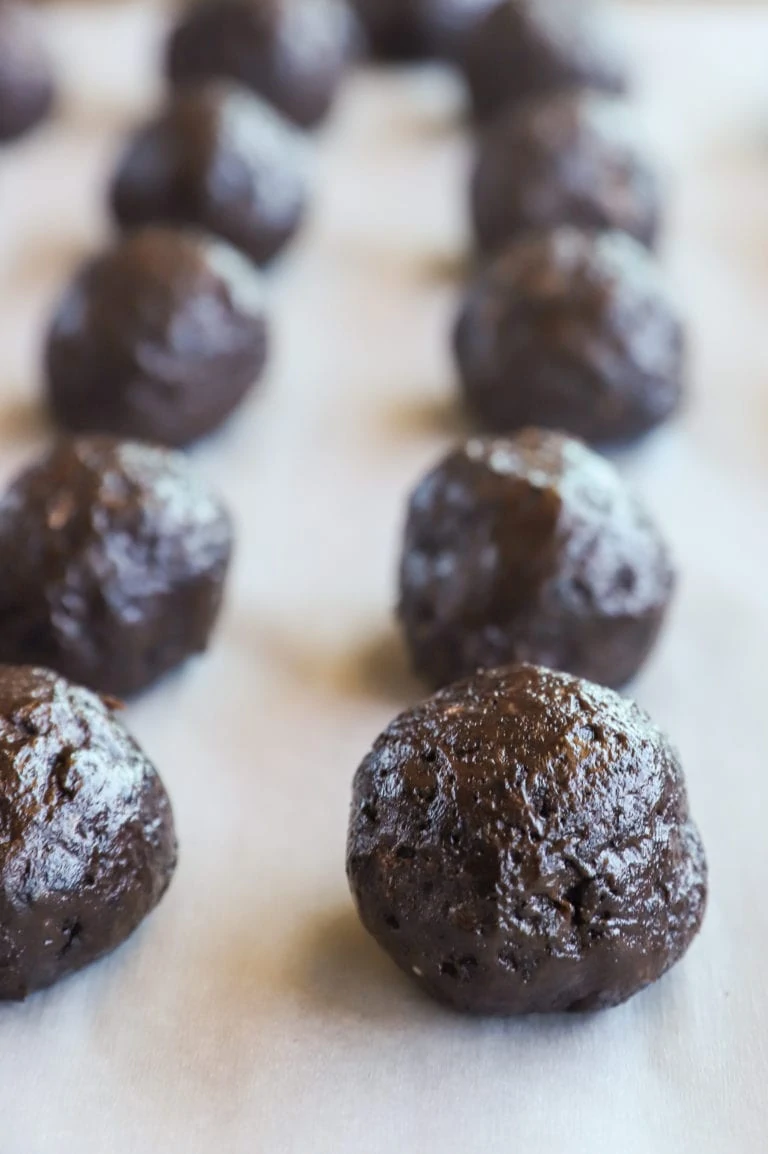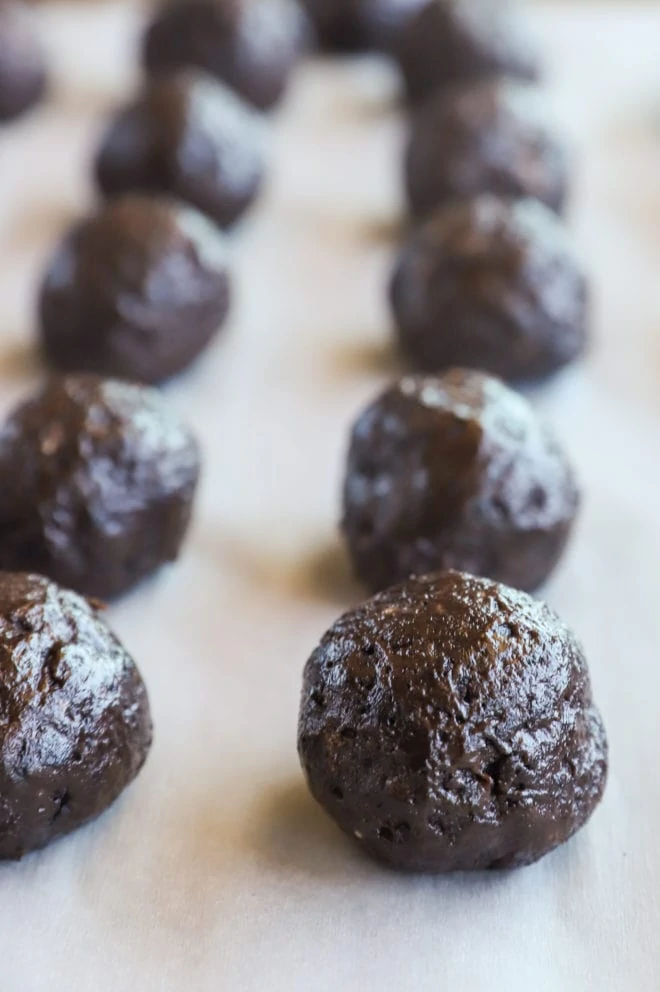 tips for success
Use the right Oreos. Don't use Double Stuf because the filling will be too much. Also avoid the flavor variations that are out there.
Don't have a food processor? If you don't have one, you can simply place the cookies in a large bag and crush with a rolling pin.
Don't skip freezing them. Freezing the balls is a must because this ensures they will hold their shape when dipped in melted chocolate.
Other Irish cream recipes to explore: Bailey's Chocolate Chip Bundt Cake | Bailey's Irish Coffee Shake | Boozy Bailey's Hot Chocolate | Espresso Brownie Cups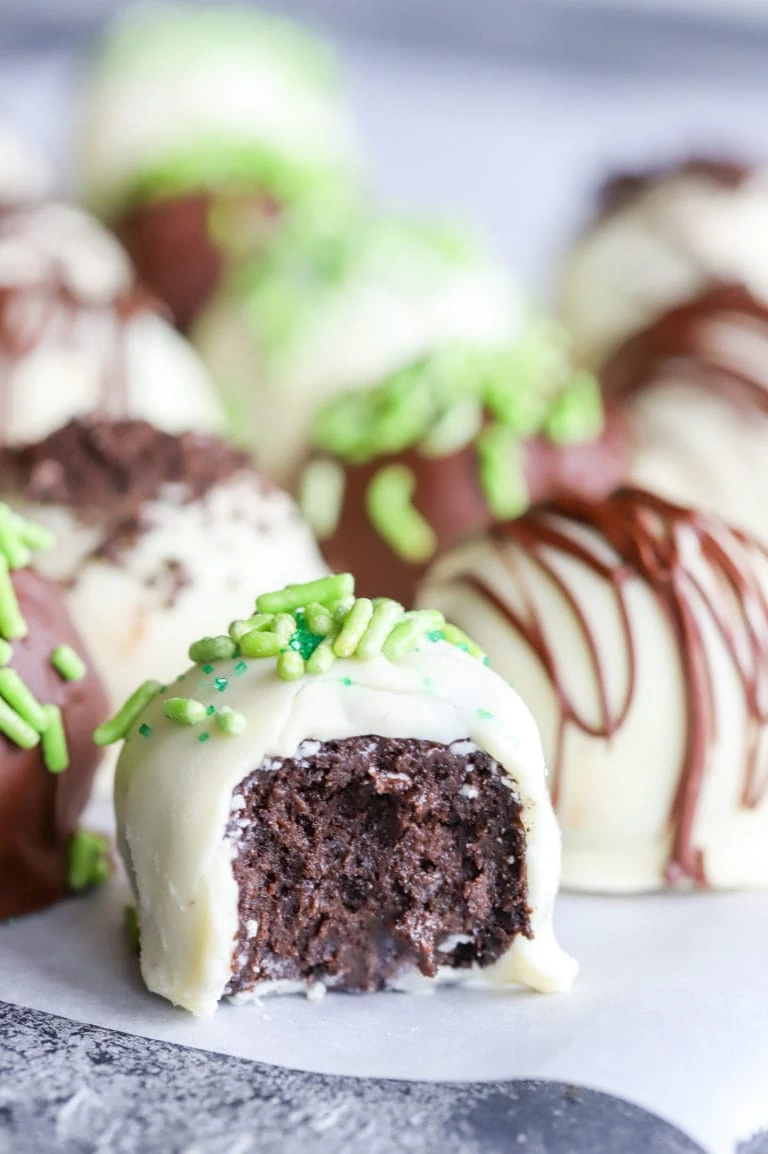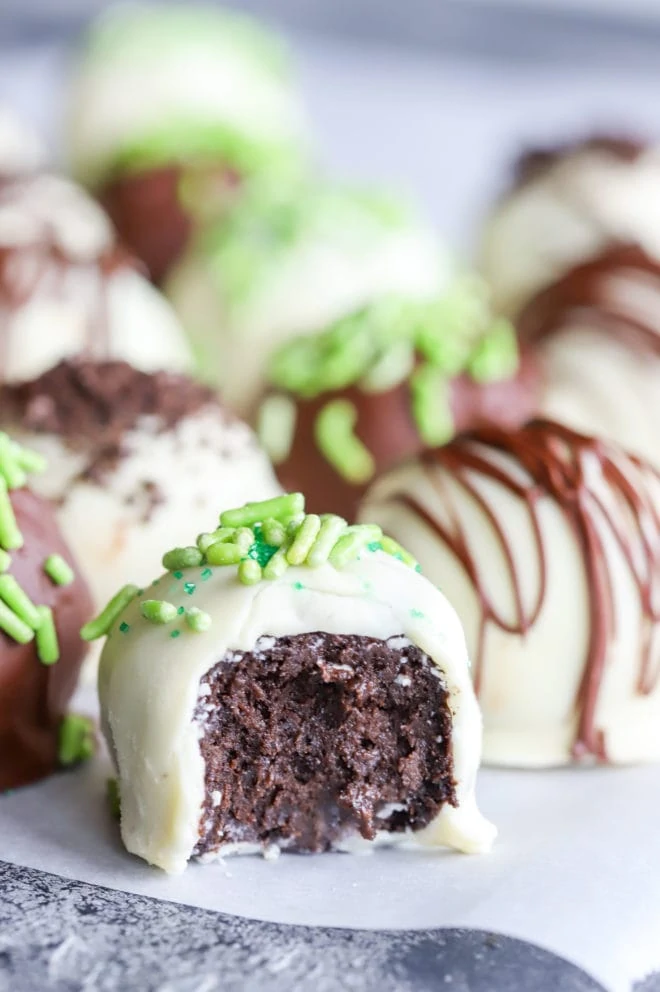 How should oreo truffles be stored?
You will need to store these in an airtight container in the refrigerator because of the cream cheese in them. You can set them out for up to 2 hours for serving, making it great for party spreads!
Can the truffles be froze
Yes! Freeze them in an airtight container for up to 3 months. You will need to thaw them in the refrigerator overnight.
Need some more inspiration for the St. Patrick's Day? Check out my St. Patrick's Day recipes page.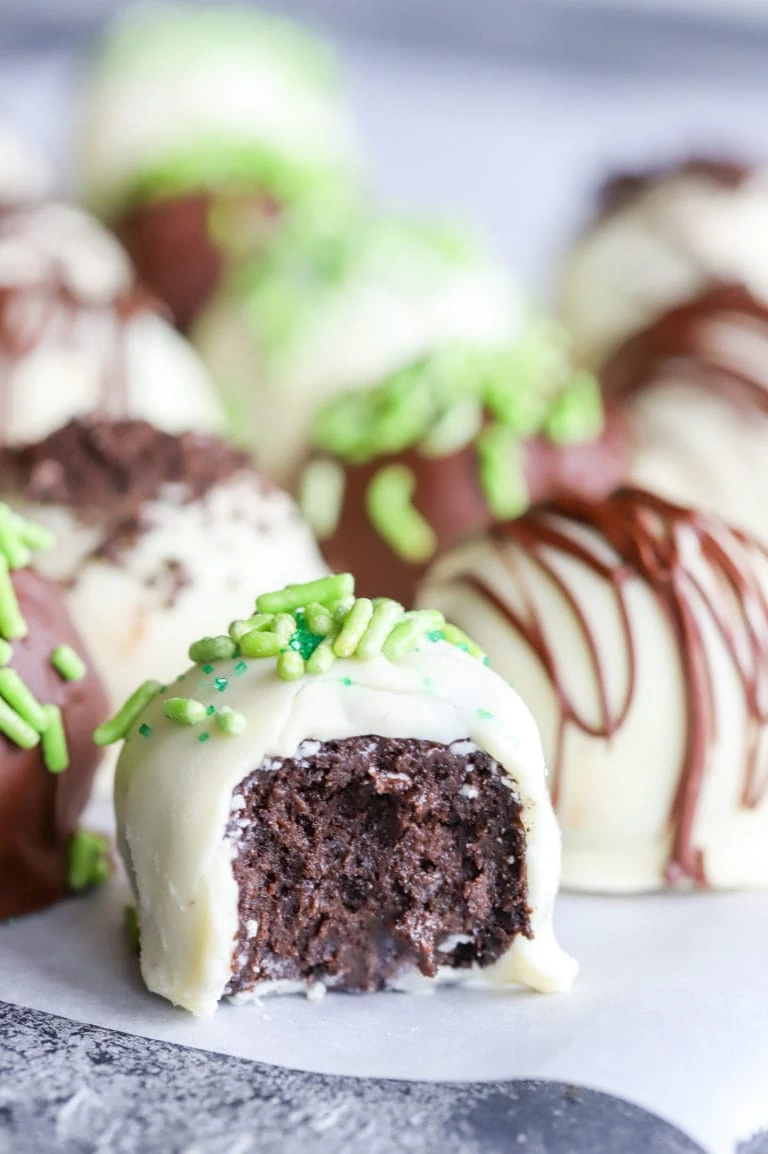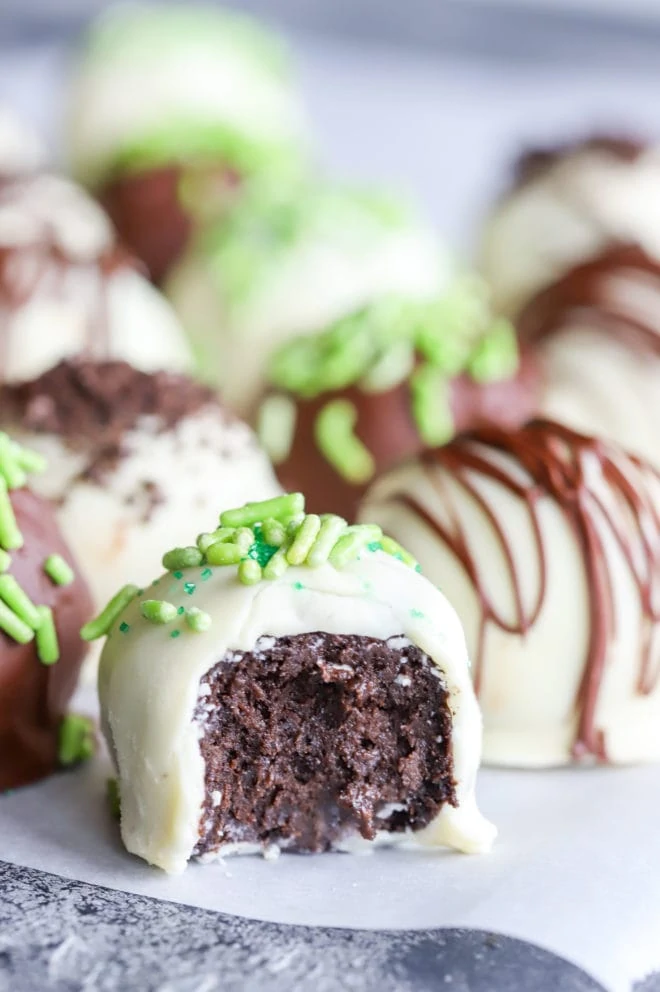 what to serve with Oreo Bailey's Truffles
My guess is you might be hosting a party when you plan to serve these? Or perhaps you are making them as the treat at the end of the night! Either way, here's the menu I'd recommend for St. Patrick's Day!
For an appetizer, I love these festive avocado reuben bites! Layers of corned beef, Swiss cheese, and sauerkraut are enhanced by creamy avocado – YUM.
Instant Pot Guinness Corned Beef is how to make corned beef the easy way! Tender, juicy, and flavorful.
A signature cocktail needs Irish whiskey! So a Jameson Manhattan is the easiest one to add to the menu.
Want more Baileys in your life? Whip up a jar of this baileys hot fudge sauce to keep in the fridge!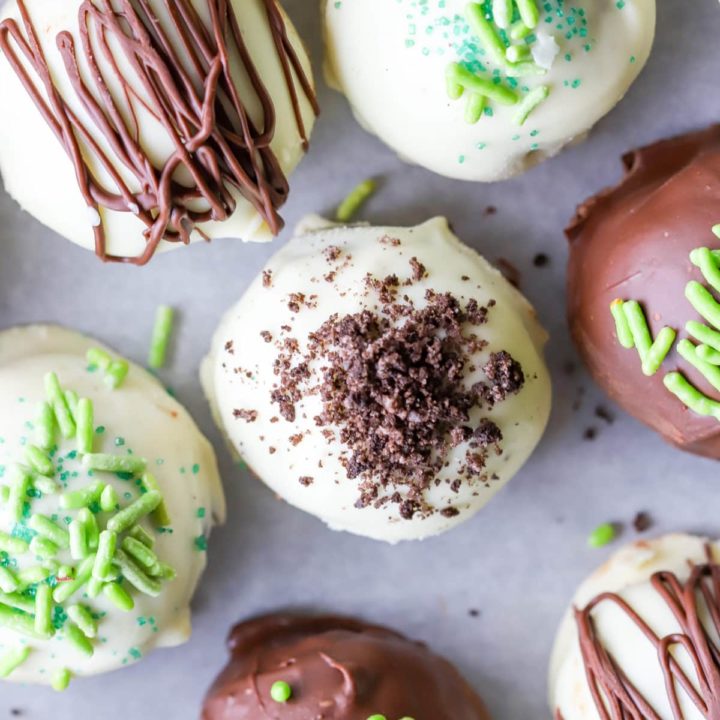 Oreo Bailey's Truffles
Yield:
Makes approx. 1 1/2 to 2 dozen
Additional Time:
45 minutes
Creamy, rich, and indulgent, these truffles are extra festive!
Ingredients
1 (14 oz) package Oreos
8 oz cream cheese, room temperature
1 tsp pure vanilla extract
2 Tbsp Bailey's Irish Cream
2 cups white chocolate chips, melted
1 cup semisweet chocolate chips, melted
Decoration: sprinkles, crushed oreos, etc.
Instructions
Add Oreos to the food processor. Process into fine crumbs.
Pour crumbs into a large bowl, reserving 2 tablespoons to the side for decoration.
Add cream cheese, vanilla, and Irish cream to the bowl with the crumbs. Stir well until combined and there are no streaks of white left.
Line a large baking sheet with parchment paper. Use a small cookie scoop or tablespoon to scoop out the mixture. Form it into balls and place on the prepared baking sheet. Freeze for 30 minutes.
Dip the frozen balls into the melted chocolate until coated and return to the prepared baking sheet. I dipped 2/3 of mine in white chocolate and the rest in semisweet chocolate.
Drizzle with the opposite chocolate, decorate with sprinkles and the remaining crushed oreos. Freeze again for 15 minutes until hardened.
Store in the refrigerator in an container.
Recommended Products
As an Amazon Associate and member of other affiliate programs, I earn from qualifying purchases.