Discover the bounty of June produce with our comprehensive guide to what's in season. From luscious strawberries and vibrant tomatoes to refreshing cucumbers and crisp lettuce, this is the list of the freshest fruits and vegetables that thrive during this month. Explore the vibrant colors, flavors, and nutritional benefits of seasonal produce, and get inspired to create delicious summer dishes bursting with seasonal goodness.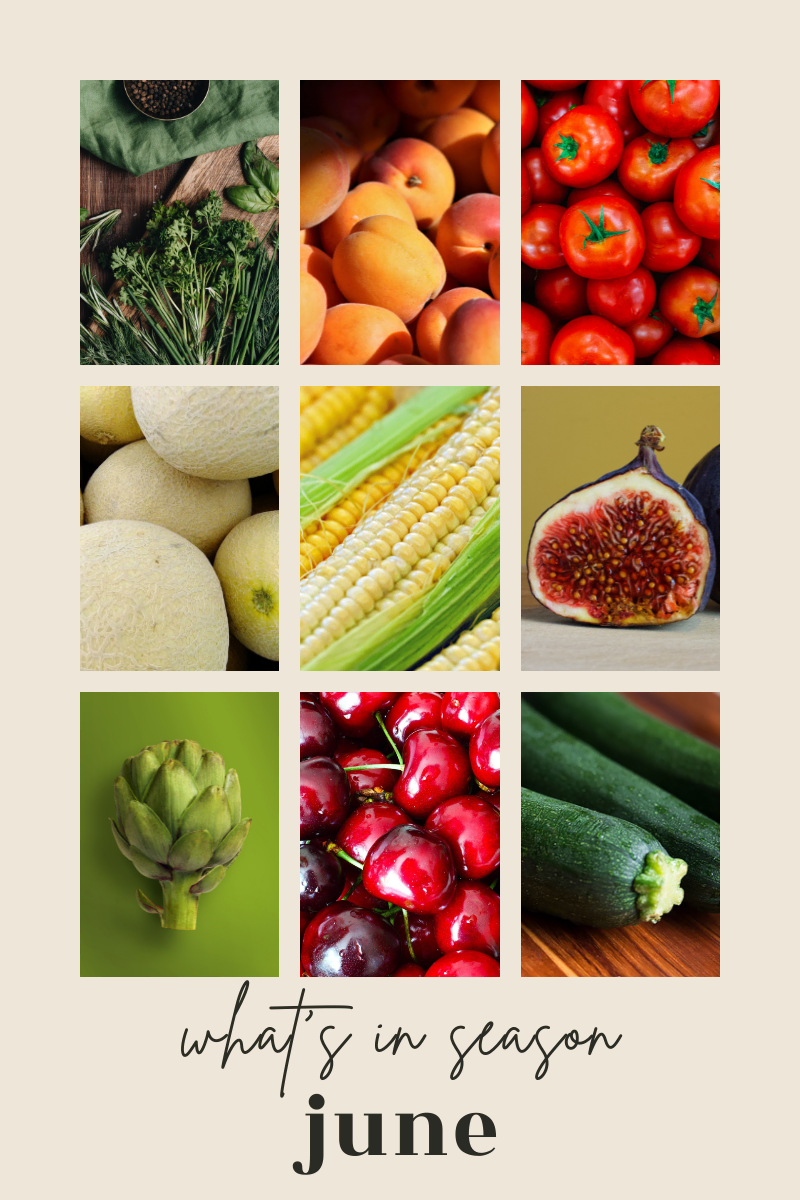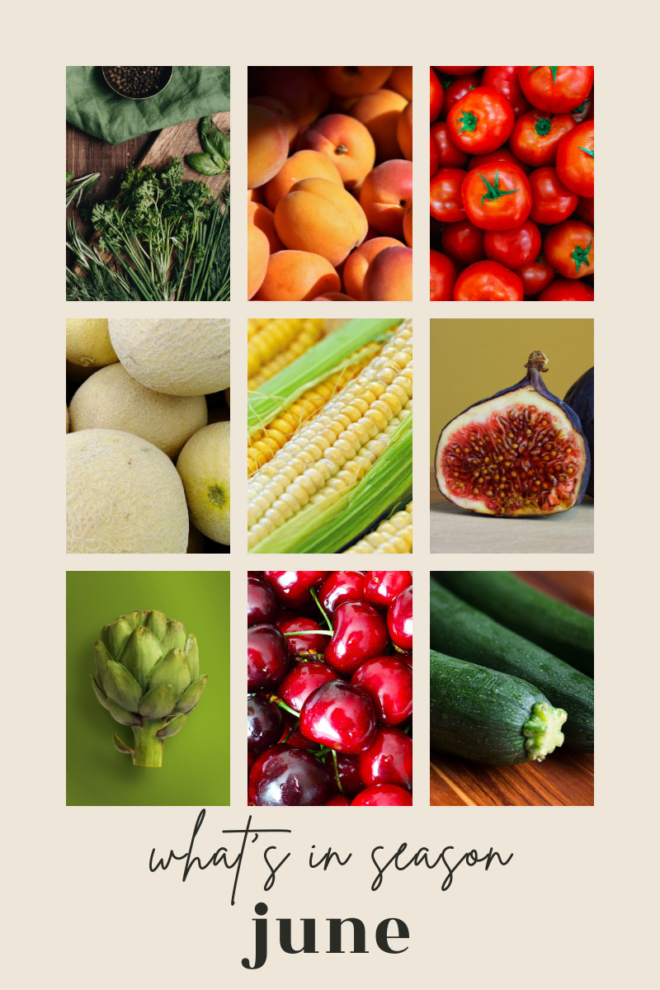 As we enter into June, we enter into the official beginning of summer. The weather is warm, the sun is shining, and the bounty of the season is starting to fill shelves at the local stores. Every weekend there's a farmers market to peruse the freshest fruits and vegetables that are locally sourced. It's honestly one of my favorites times of the year.
June's bounty presents an exciting opportunity to connect with nature's freshest offerings. By embracing the seasonal produce available, you not only support local farmers but also nourish yourself with the vibrant flavors and nutrients that are at their peak during this time. So, head to your local farmer's market or grocery store and celebrate the flavors of June with an array of luscious strawberries, vibrant tomatoes, refreshing cucumbers, and more.
The variety that begins to grace our fridges and pantries is increased ten fold as the summer months roll in! This guide to what produce is in season in June is a comprehensive list to look out for in the next handful of weeks. These are the items you want to add to your basket to take advantage of all those tasty flavors and incredible nutrients that are packed in June produce when they are at their peak.
vegetables in season in june
Below is the ultimate list of everything that is in season in June. Think of this as your guide to shopping the produce section or your local farmers market for vegetables!
Artichokes
Arugula
Asparagus
Avocado
Beets
Bell Peppers
Bok Choy
Broccoli
Cabbage
Cauliflower
Chard
Chilies
Collard Greens
Corn
Cucumbers
Eggplant
Endive
Fennel
Garlic
Green Beans
Greens
Herbs – chervil, chives, dill, green onions, mint, sorrel and thyme
Kale
Leeks
Mushrooms
Mustard Greens
Okra
Peas
Radishes
Rhubarb
Scallions
Shallots
Spinach
Summer Squash
Sweet Onions
Tomatillos
Tomatoes
Zucchini
fruits in season in june
Now is the time to start picking up fruit and making your favorites snacks, desserts, mains, and cocktails with them!
Apples
Apricots
Blackberries
Blueberries
Cantaloupe
Cherries
Currants
Figs
Grapes
Honeydew
Mango
Nectarines
Oranges
Peaches
Plums
Raspberries
Strawberries
Watermelon
june seasonal recipes
With summer officially in full swing late this month, the options are certainly endless for seasonal cooking inspiration!
Below I'm sharing my favorite June seasonal recipes. These recipes are ideal for any occasion, whether you are hosting a backyard bbq or simply want to try a new way to use up those berries. Be sure to scroll to the bottom of this post for a handy graphic to save! That way you can always know what's in season in May.
Need more inspiration for summer cooking/baking? Check out my summer recipes page!
what's in season in june?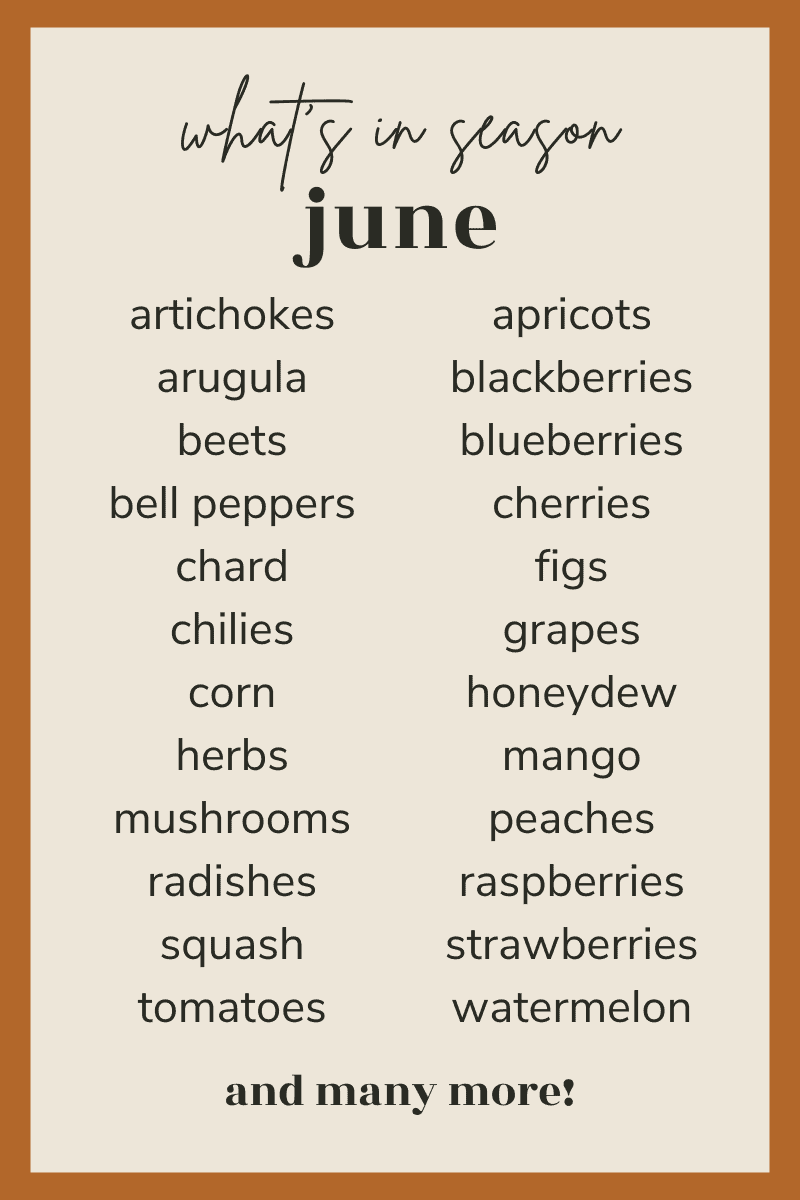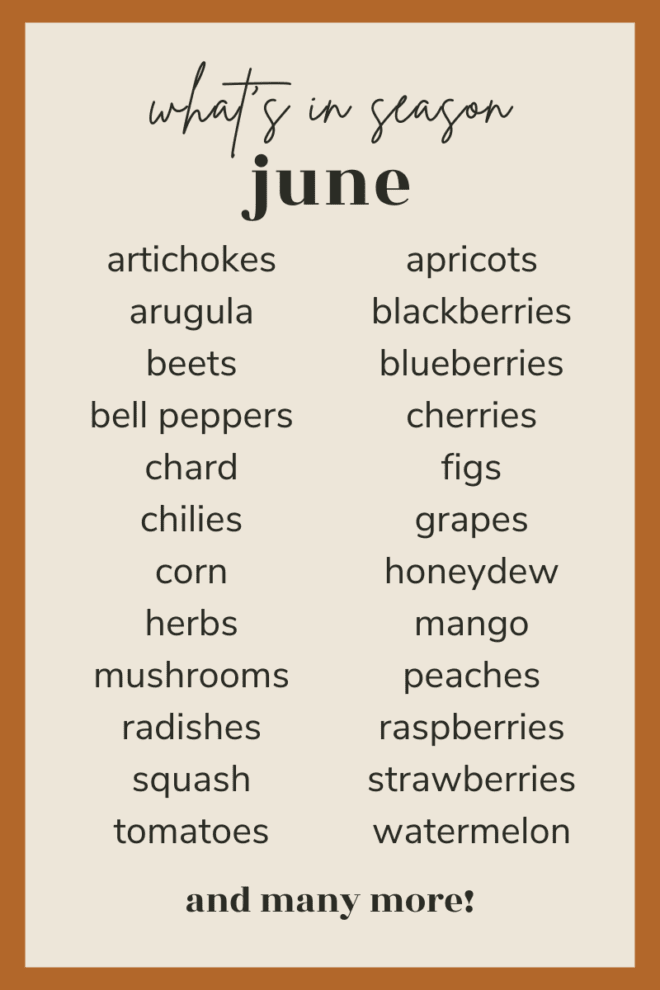 Be prepared for the upcoming months with my guides on what's in season in July!