Please note this post contains affiliate links.
Triple Berry Cheesecake is THE dessert of the summer! Creamy, light, and lemony cheesecake is topped with a triple berry puree, then decorated with a bunch of fresh berries. Plus it can be made ahead of time!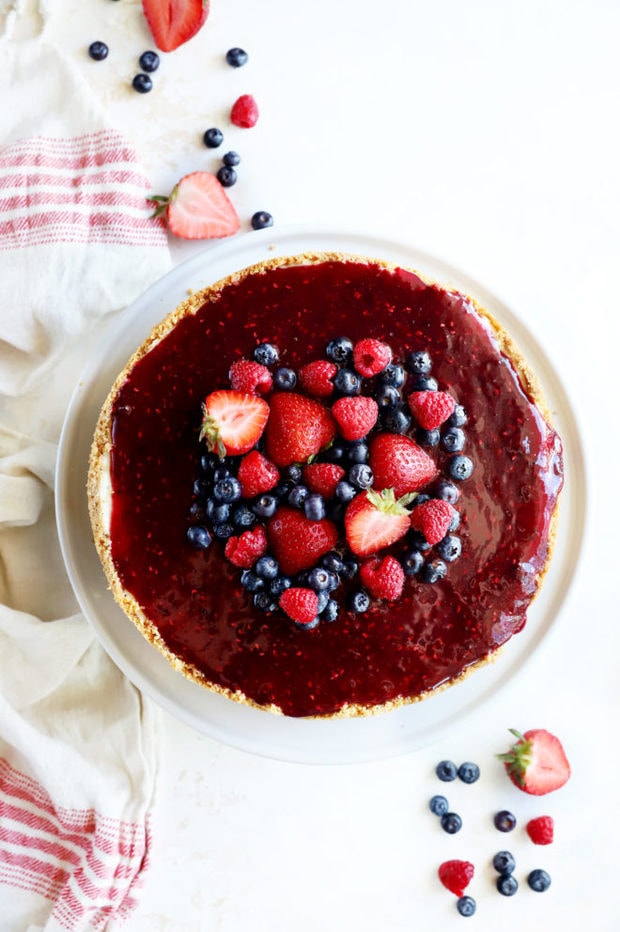 about this triple berry cheesecake
With it being Fourth of July weekend and all, I thought it would be fitting to bust out this triple berry cheesecake!
You get the red, white, and blue all in one dessert that is highly addictive… and not cheesy.
While I love getting in a theme for cooking, I am not so much into artificial colors and usually you see a bunch of those being whipped out this holiday weekend.
Instead, get your favorite colors from red berries, blue berries, and a creamy lemon cheesecake.
This cheesecake is the absolute best. Period. It's creamy, a little tart, and just the right amount of sweetness! I love the triple berry combination for the puree because it brings a lot of flavor and really feels like a slice of summer.
You can also make this summer berry cheesecake and the topping up to 3 days ahead of time, storing them separately until you are ready to serve. It's the best dessert to serve for a party – it's always a hit!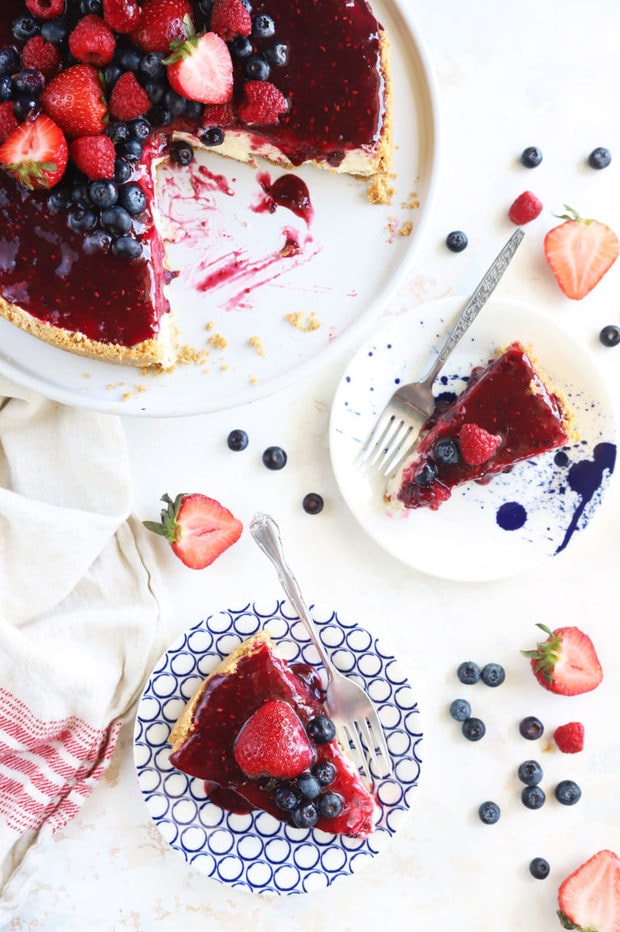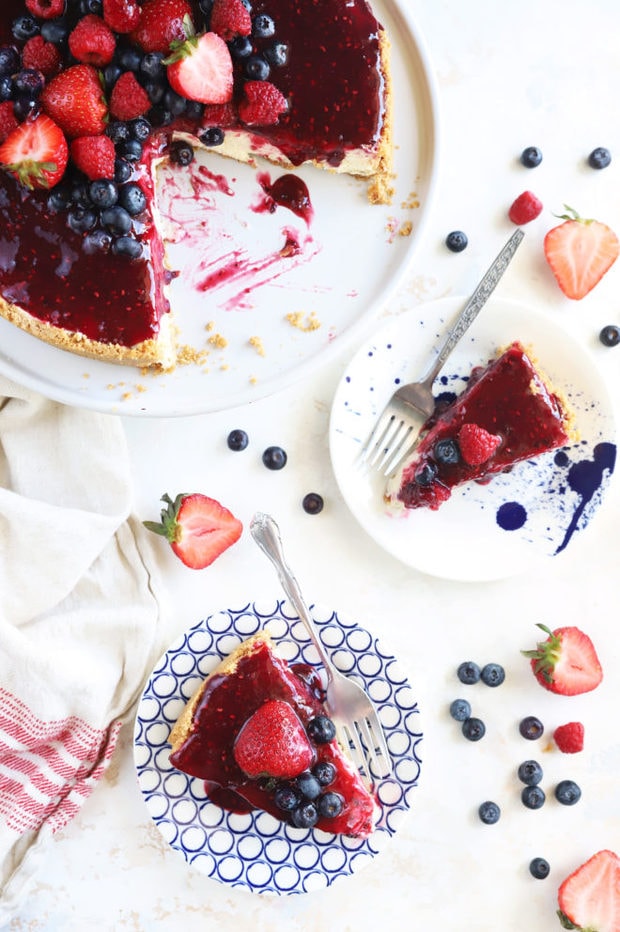 ingredients
berries. You will need a combination of raspberries, strawberries, and blueberries to make the topping for this triple berry cheesecake! Be sure to pick up some extra berries for decorating the top of the cake too.
sugar. For the topping and the filling you will need granulated sugar. For the graham cracker crust, you will need brown sugar.
lemon. Grab a lemon! You'll need the juice and the zest for the topping and the filling.
graham cracker crumbs. I like to make my own graham cracker crumbs by putting graham crackers in a food processor and pulsing until they turn into crumbs. However, you can also purchase them if you are short on time and don't already have graham crackers in the pantry.
butter. Use unsalted butter in this recipe! If you use salted, you will need to omit the salt called for in the recipe.
cream cheese. Both light and full fat cream cheese works in this recipe! Use whichever you prefer.
flour. You'll need all-purpose flour for the filling.
vanilla extract. I always recommend using high-quality vanilla extract. My personal favorite is Nielsen Massey – their Madagascar Bourbon Pure Vanilla Extract is amazing.
eggs. I use large eggs in my recipes. Make sure that your eggs are at room temperature!
salt. Use fine salt for this recipe!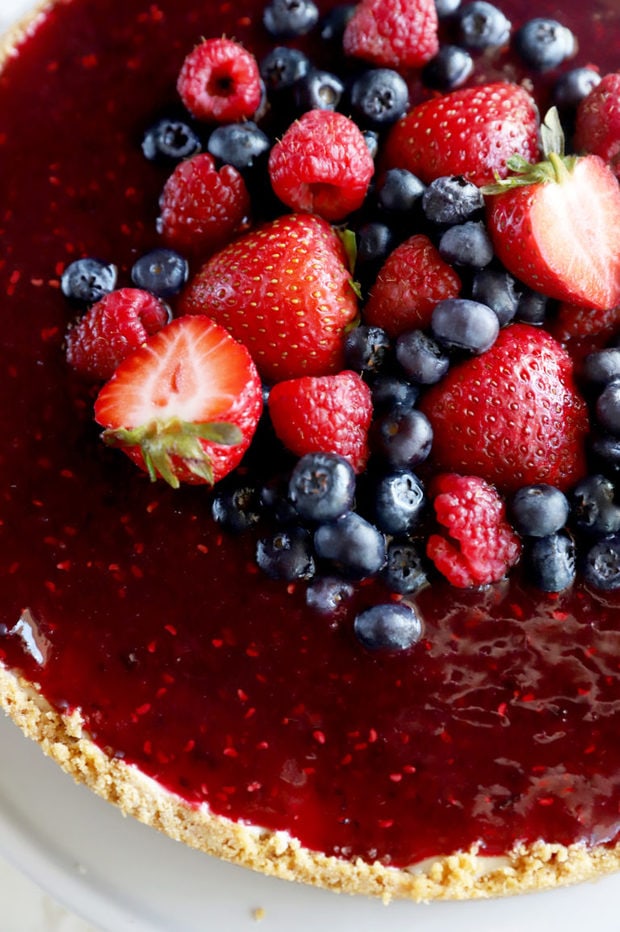 this recipe's must-haves
A 9-inch springform pan is just the pan to make this delightful lemon cheesecake in!
To make the crust you'll need a bowl from one of your metal mixing bowls. You will also need a wooden spoon to stir everything together.
For the cheesecake filling, I use my favorite stand mixer with the paddle attachment.
To make the topping, you'll just need a saucepan and either a stick blender or a Vitamix blender to blend up the sauce.
Other yummy cheesecake recipes: Pecan Pie Cheesecake | Instant Pot Eggnog Cheesecake | No-Bake Pumpkin Spice Cheesecakes | Raspberry Lemon Ricotta Cheesecake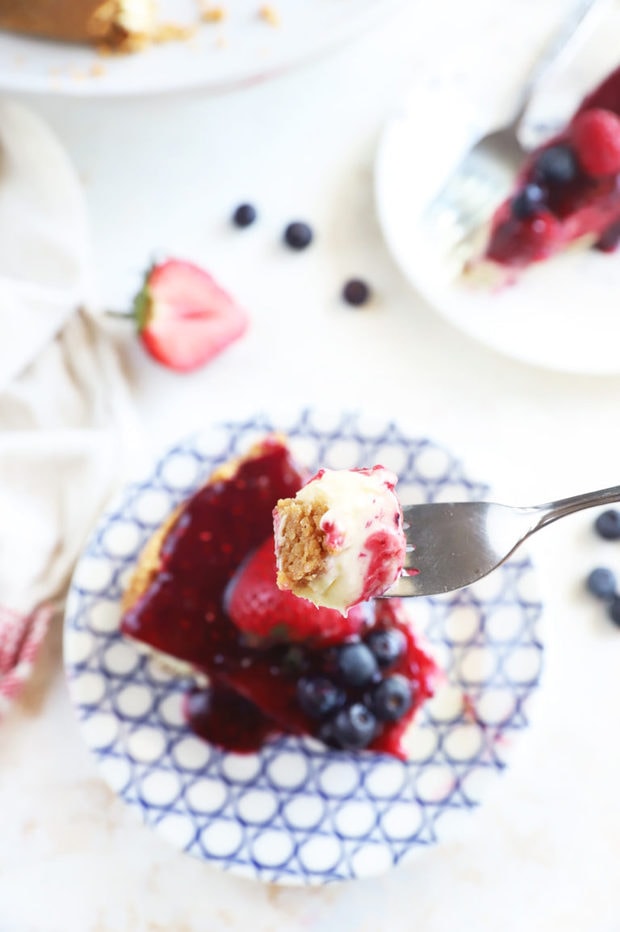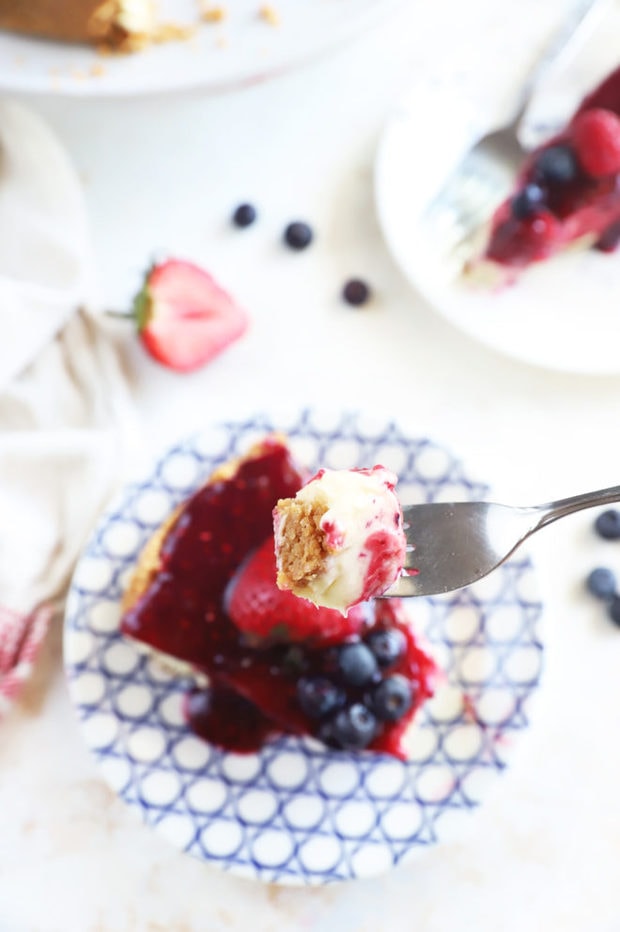 let's make yummy triple berry cheesecake!
make topping
For the topping, all you have to do is combine berries, sugar, and lemon juice in a saucepan. Let it all simmer together until the berries are soft. Use a stick blender to blend it all together (or add it to your blender and puree until smooth)!
make crust
Mix together all the ingredients for the crust and press it into the prepared springform pan. Be firm in pressing the crust into the pan and up the sides about 2 inches.
Bake it for about 10 minutes or so until the crust in golden brown. Be sure to cool the crust completely before you add the filling in.
make filling
The filling comes together in a stand mixer! Beat cream cheese together with flour, and salt until it's all smooth and fluffy. It takes about 5 minutes so let it keep going until there are no lumps.
Add in sugar, vanilla, and lemon zest, beating until combined. Beat in the eggs one at a time, making sure each gets incorporated before adding in the next.
bake and chill
Pour the cream cheese mixture into the crust and bake it until it's puffed and the center jiggles a little like Jell-o in the center. This will take about 55 to 65 minutes.
When it's finished baking, let the cheesecake cool on a wire rack, then place in the refrigerator for 8 hours and up to 3 days so it can cool completely.
When you are ready to serve, top the cake with the berry puree and decorate with all the berries!
Need some more inspiration for dessert? Check out my desserts recipe page!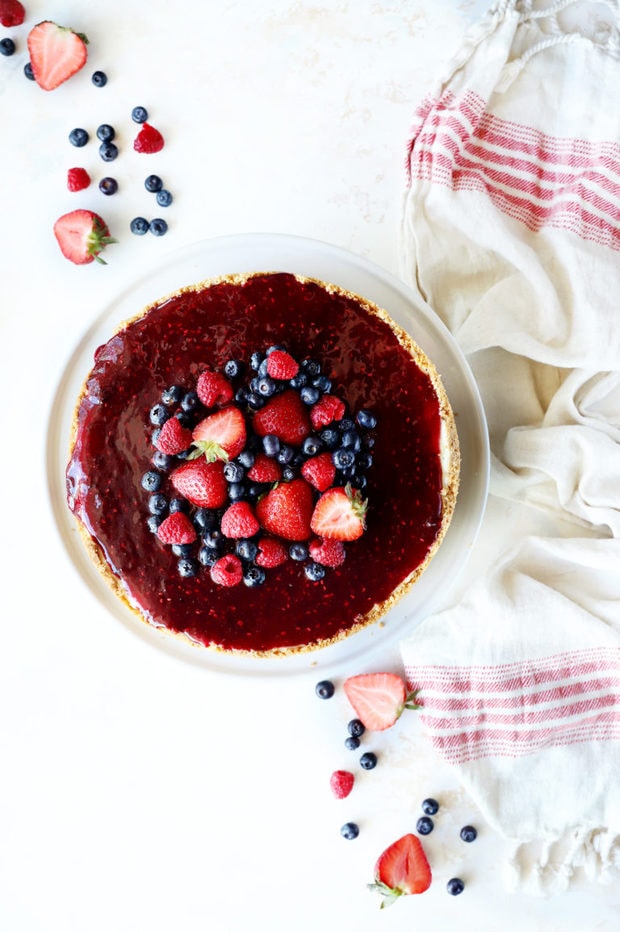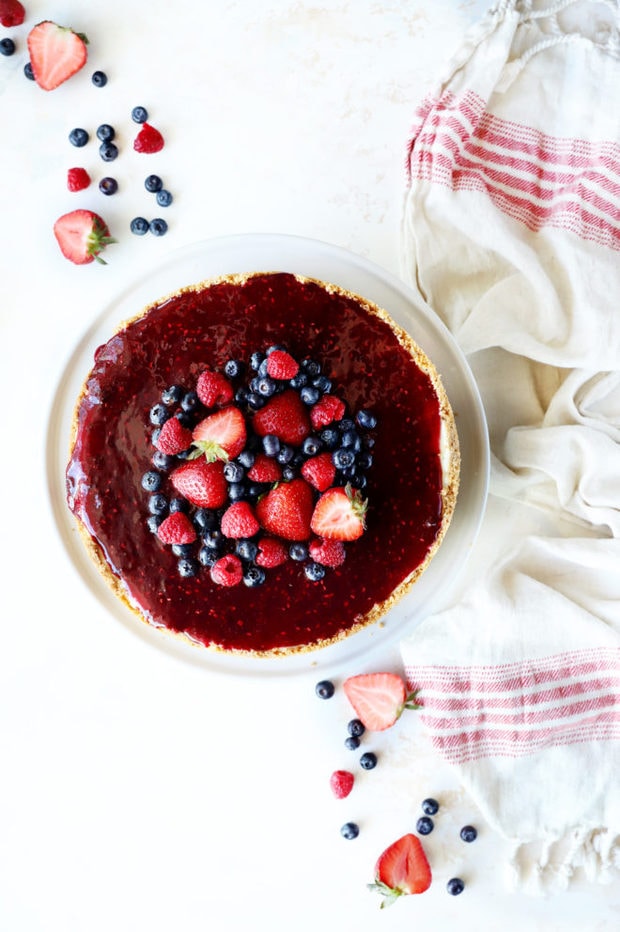 tips for success
use fresh berries. I recommend using fresh berries when they are at their peak ripeness for this recipe (i.e. late spring into summer). If you are making this another time of year, you can certainly use frozen berries to make the topping! Simple thaw the berries completely and strain out any excess liquid before using them.
make it in advance. This cheesecake will last for up to 5 days in the refrigerator! If you are making it ahead of time, I recommend storing the cheesecake and the topping separately. Top the cheesecake with the topping and fresh berries just before serving.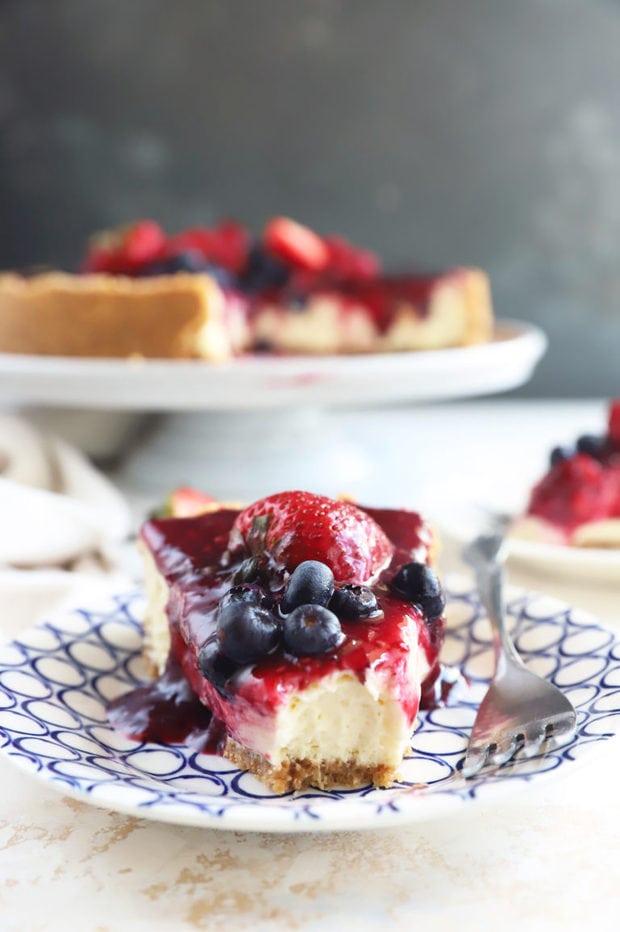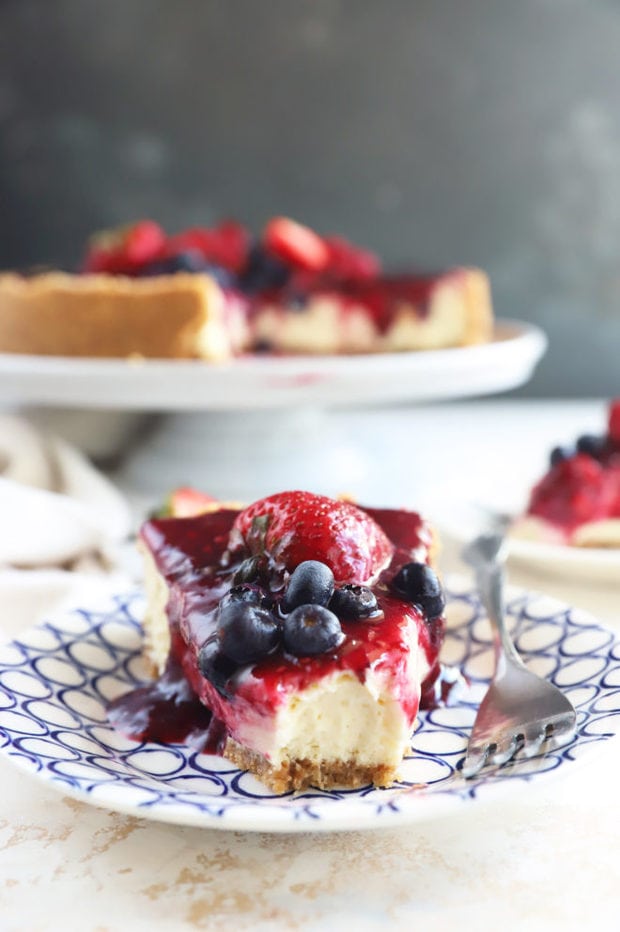 do you need a water bath?
No need for a water bath with this recipe! There are other recipes that require it and it can help eliminate cracks, but I've found that this recipe doesn't result in cracks at all. I love it because it eliminates the need for a water bath which is kind of an annoying step, in my opinion LOL.
how long does this mixed berry cheesecake last?
When stored in an airtight container or wrapped tightly in foil, cheesecake will last 5 days in the refrigerator.
what to serve with triple berry cheesecake
Since this creamy cheesecake is served at the end of the meal, I typically serve it with whatever cocktail I'm serving already or perhaps a cup of tea or coffee. You could also serve it with ice cream or whipped cream, but I find that is usually too much since this cheesecake is already so creamy and rich. If you are looking for some ideas to serve for the meal before the treat at the end, here's some of my favorites:
This grilled burrata pizza is my favorite pizza of the summer. It's fresh, bright, and has creamy burrata on top – what's not to love?
If you love french onion soup, this french onion burger is one that you absolutely HAVE to try!
Grilled chipotle bbq chicken skewers are savory and spicy, with a sauce that only requires three ingredients.
For cocktails, these festive cool cocktails are all winners:
Homemade vodka lemonade is simple and totally refreshing!
If you want something different than lemonade, but just as tart and refreshing, a bright lemon agave margarita always does the trick.
A classic gin sling is simple to make and always goes down smooth.
Finally, if you make this triple berry cheesecake recipe, please be sure to give this recipe a rating or leave a comment! I love to hear when you all make recipes, and I do take the time to respond to every single comment. Feel free to drop questions below too, if you have them!
Oh and be sure to tag me on Instagram if you make the recipe! I love being able to see these recipes come to life in your homes – it's my favorite thing to look through those photos. It really means the world to me!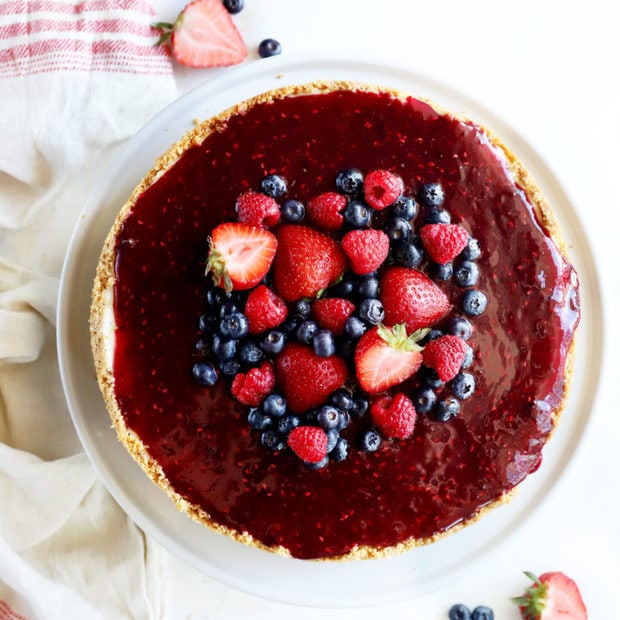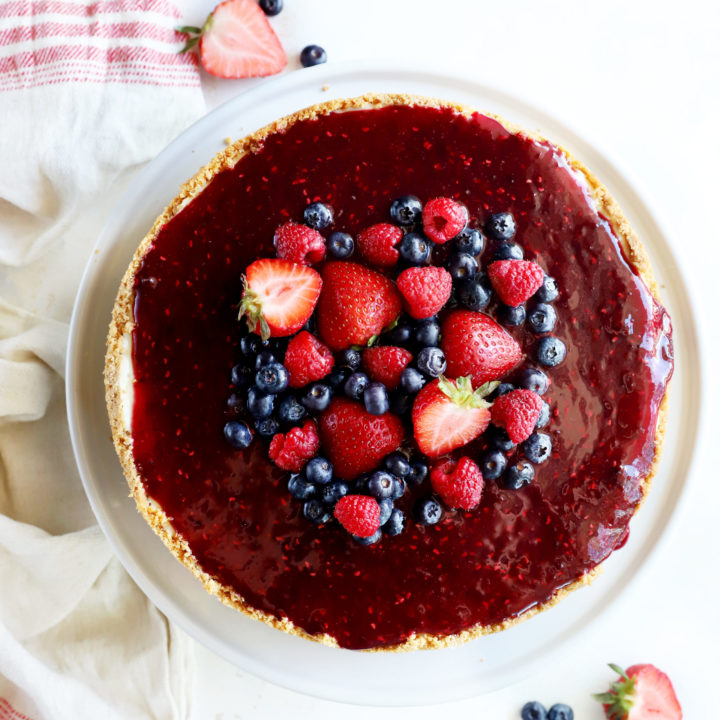 Triple Berry Cheesecake
Cook Time:
1 hour
35 minutes
Total Time:
9 hours
45 minutes
Three types of berries make this delicious topping burst with flavor!
Ingredients
Topping
2 oz raspberries
3 oz strawberries, quartered
3 oz blueberries
1/3 cup granulated sugar
1/2 tsp lemon juice
Crust
8 oz graham cracker crumbs (2 cups)
3 Tbsp brown sugar
7 Tbsp unsalted butter, melted
Filling
4 8oz cream cheese packages
2 Tbsp all-purpose flour
Pinch of salt
1 1/4 cups granulated sugar
1 Tbsp vanilla extract
1 Tbsp lemon zest
4 large eggs, room temp
Garnish
4 oz raspberries
6 oz strawberries
6 oz blueberries
Instructions
Add berries for the topping to a saucepan with sugar and lemon juice. Bring mixture to a simmer and cook for 15 minutes, stirring occasionally. Use a stick blender to puree in the pan, or add the mixture to a high-speed blender. Cover and cool until ready to use. This topping can be made up to 3 days ahead.
Preheat the oven to 375˚F. Line the bottom of a 10-inch springform pan with parchement paper. Spray the bottom and sides with cooking spray.
In a medium bowl, stir together ingredients for the crust until well combined. Add the mixture to the prepared pan, pressing into the bottom and up the sides about 2 inches.
Bake the crust for 9 to 12 minutes, until golden and fragrant. Let cool completely.
Lower oven temperature to 300˚F.
In a stand mixer fitted with a paddle, beat cream cheese, flour, and salt until the mixture is smooth and fluffy. This will take about 5 minutes. There should not be any lumps in the mixture.
Add sugar and blend until combined. Add vanilla and lemon zest, stirring until combined.
Beat in eggs, one at a time, until just combined after each.
Pour filling into cooled crust and smooth the top.
Bake for 55 to 65 minutes until puffed and the center jiggles a bit, like Jell-O.
Cool on a wire rack until cooled completely. Place in the refrigerator for at least 8 hours, up to 3 days.
Before serving, top cheesecake with berry puree. Gently spread it over the top with a spatula in an even layer. Top with fresh berries, decorating however you like.
Release cheesecake from springform pan and serve.


Notes
If you are making this in advance, store the cheesecake and topping separately. Top the cheesecake with the topping and fresh berries just before serving.
Recommended Products
As an Amazon Associate and member of other affiliate programs, I earn from qualifying purchases.